The largest island in the country and a getaway to the famous Great Blue Hole in Belize, Ambergris Caye (pronounced key) is a must-stop on your Belize itinerary. Besides being a fun destination with stunning wildlife and laid-back Caribbean vibes, Ambergris Caye has a unique identity and offers a great home base for tourists who want to spend at least a few days in this tropical paradise.
If you need help planning your Belize itinerary, but don't know where to begin, read my guide to some of the best places to visit in Belize.
How to get to Ambergris Caye
Ambergris Caye is a 25-mile island in the middle of the Caribbean located about 35 miles northeast from Belize City.
You can get here by boat from Belize City or by a 15-minute flight from Belize City airport, which is a more pricy but quicker option. Tropic Air, a Belizean airline operates multiple flights per day from Belize City to San Pedro, the only town on Ambergris Caye.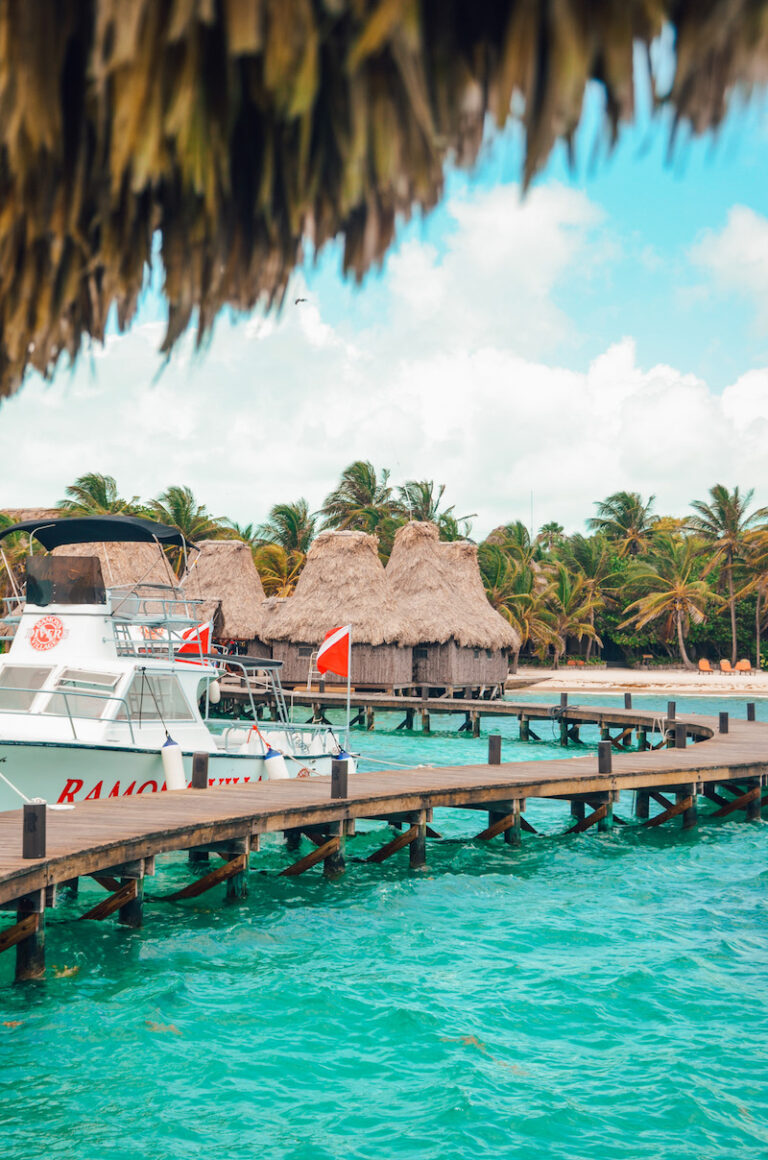 Things to do on Ambergris Caye
Ambergris Caye sits near the Great Mesoamerican Barrier Reef, the second largest barrier reef in the world.
Although some of the best things to do on Ambergris Caye revolve around spending time in the nature, this island also offers plenty of other activities. From exploring hidden corners of this island to enjoying food and mingling with locals, Ambergris Caye is an adventurer's paradise.
1. Snorkel at Hol Chan Marine Reserve
A visit to Hol Chan Marine Reserve is a must stop for any traveler who comes to Ambergris Caye.
Hol Chan is small area around Belize Barrier Reef that is protected by the Belizean government which means only snorkeling and diving is allowed here.
Hol Chan means "Little Channel" in the Mayan language which refers to the 28-feet deep cut in the barrier reef. Snorkeling and diving in Hol Chan is one of the most popular things to do on Ambergris Caye, as this area is less than 10 minutes by boat from the island.
At Hol Chan, you can see coral formations, and watch incredible wildlife such as stingrays, turtles, and all kinds of fish. Visiting Hol Chan Marine Reserve is possible only with a guided tour, and there are many companies in San Pedro who offer them.
Popular tour packages in Hol Chan Marine Reserve include snorkeling and diving options. Most companies provide snorkeling and diving equipment.
GOOD TO KNOW: Another popular area for diving and snorkeling near Ambergris Caye is Mexico Rocks. This is a bigger diving site than Hol Chan and it's also less crowded. It's also relatively flat which makes it a great place for newbie divers.
2. Feed nurse sharks at Shark Ray Alley
One of the major highlights of Hol Chan Marine Reserve is Shark Ray Alley, a spot within Hol Chan where you can snorkel alongside nurse sharks, the mellow and friendly creatures who are used to being fed by tour boats that come here regularly. Most tour operators include a stop of Hol Chan on their itinerary.
PRO TIP: Hol Chan Marine Reserve is an incredible place, and you should bring a GoPro to take some photos and videos.
3. Dive in the Great Blue Hole
The crown jewel is Belize, the Great Blue Hole is a designated UNESCO World Heritage Site located in an offshore atoll called Lighthouse Reef.
A popular site among experienced divers, the Great Blue Hole was created thousands of years ago when the rising sea level flooded a vast network of caves that have stalactites and stalagmites. It is over 400 feet deep and is the largest sea hole of its kind in the world.
FUN FACT: The Great Blue Hole was formed centuries ago after the huge cave above the sea level collapsed. The area gradually filled with water, and today it's a popular spot for divers thanks to stalactite and stalagmite formations. The Great Blue Hole was discovered in the 1970's by marine biologist Jacques Cousteau who declared this area one of the top diving spots in the world.
Things to know about diving in the Great Blue Hole
The Great Blue Hole is located about 43 miles off the coast of Belize.
The majority of tours to Belize Blue Hole leave from San Pedro, Caye Caulker, or sometimes, Belize City, and take about 2 hours one way. It's also possible to snorkel in Blue Hole, however, you will not see much here because most cool things such as stalagmites and stalactites are located much deeper.
The Great Blue Hole is an advanced diving site. If you are a newbie diver, get comfortable diving in more shallow areas with the depth of at least 30 feet before booking a diving tour of the Great Blue Hole.
The Great Blue Hole is one of the most popular diving places in the world. It's a good idea to book tours ahead of time, especially if you travel during the high season.
The Great Blue Hole is deep and diving here will feel colder than at Hol Chan. Consider wearing a wet suit to stay warm.
If you don't want to dive, you can also snorkel in the Blue Hole and around the surrounding reefs.
PRO TIP: You can also book a flight over Blue Hole from San Pedro with Tropic Air or Maya Island Air to see the Blue Hole and the Belize Barrier Reef from above.
Diving Blue Hole is one of the best things to do on Ambergris Caye among thrill-seekers and adventure lovers. This is a day-long adventure, so make sure to allocate at least an extra day if you want to dive in Blue Hole.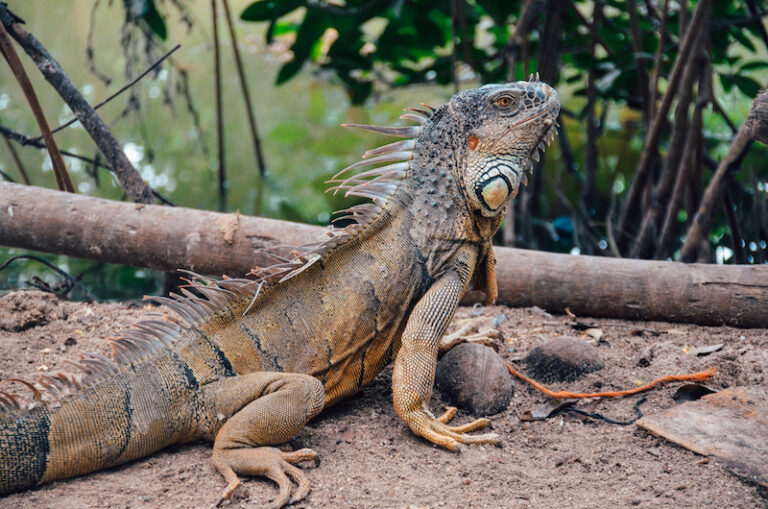 4. Visit Iguana Eco Center in San Pedro
Now let's get back on the island. Aside from some classic things to do on Ambergris Caye such as diving and enjoying nightlife, the island also has many hidden gems. One of them is the Iguana Eco-Center, a sanctuary tucked behind one of San Pedro's residential streets where you can see tons of beautiful green iguanas roaming around freely and even feed them a tasty banana.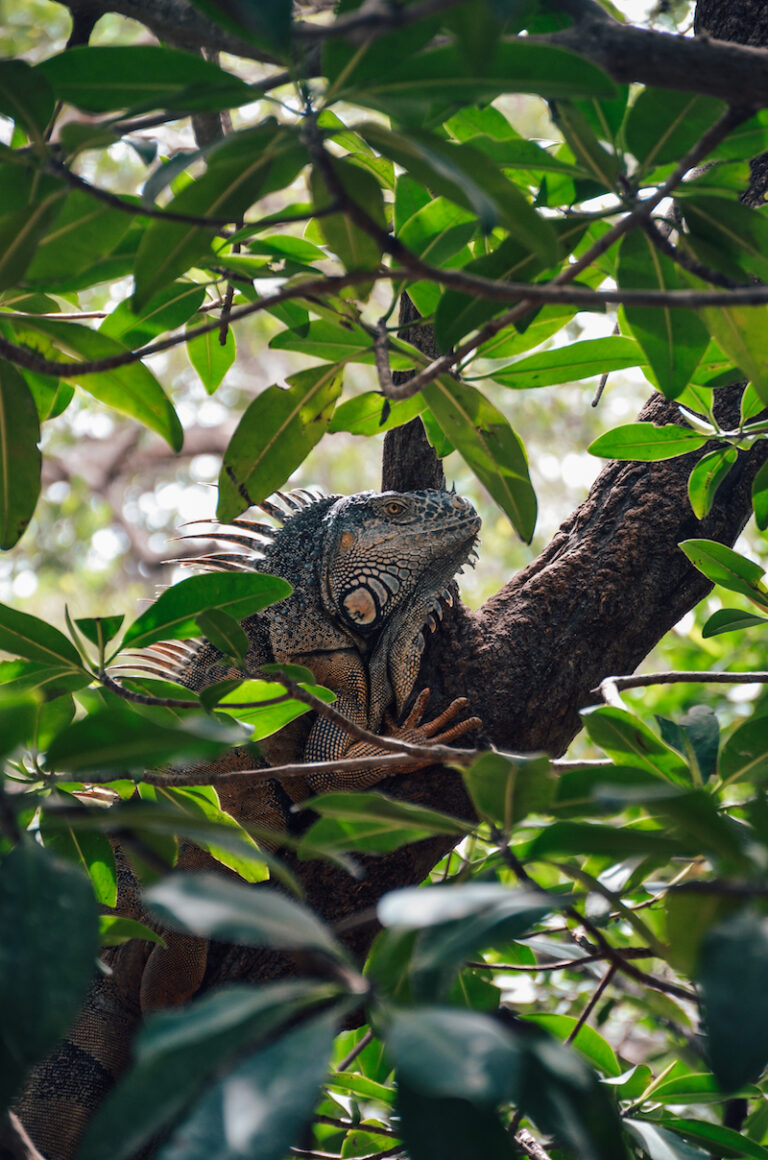 Besides being a fun experience, this place also does a stellar job at providing safe heaven for these endangered reptiles that are unfortunately still hunted in Belize sometimes. The entrance is free, however, you are encouraged to leave a donation that will help to support this place.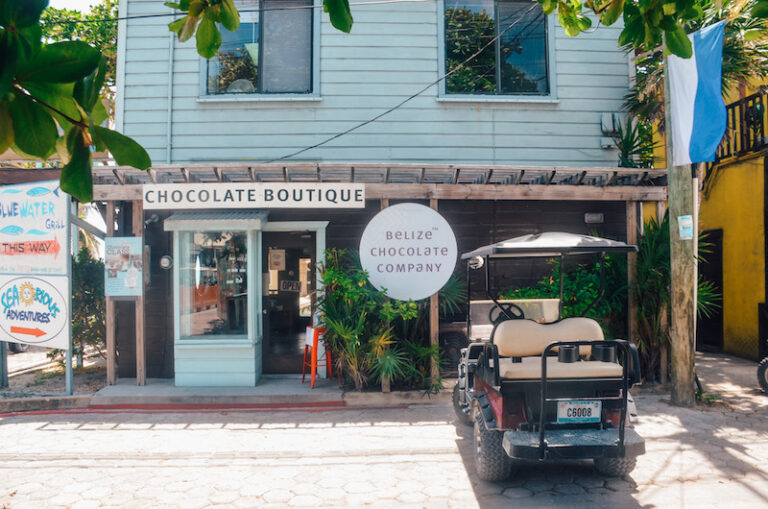 5. Try some Belizean chocolate
If you have a sweet tooth, stop at Belize Chocolate Company, a small store where you can sample delicious Belizean chocolate. Not many people know that Belize has cocoa plantations on its mainland where the climate is different from the islands. Aside from Belize Chocolate Company, you can buy Belizean chocolate at many stores around Ambergris Caye.
Trying Belizean chocolate and trying delicious cocoa drinks is one of the best things to do on Ambergris Caye, because it will directly support local business.
Belize Chocolate Company is located along Barrier Reef Drive in downtown San Pedro.
6. Relax on Secret Beach
Not so secret anymore, Secret Beach is the local's favorite hangout spot.
Located north of downtown San Pedro, it is a quiet area that is great to visit, especially after a day full of activities. Located just over 30 minutes north of San Pedro by golf cart, it offers a mix of quiet beaches with clear blue waters and overwaters bars and restaurants. The road to Secret Beach is bumpy and has swampy mangroves on both sides.
Sometimes, you can see crocodiles here!
Although Secret Beach is a fairly well-known spot these days, it's definitely one of the best things to do on Ambergris Caye, if you want to relax and enjoy the atmosphere.
7. Grab some food at Truck Stop
One of the most popular spots for eating out and socializing in San Pedro, Truck Stop is a food court made up of shipping containers converted into cute restaurants. Here you can try a variety of food such as Asian, Latin American, and traditional Western dishes. A shop that sells the famous Belizean ice cream is particularly worth a stop.
Truck Stop is located about 20 minutes north of downtown San Pedro and can be reached by golf cart or a quick car ride.
8. Explore Marco Gonzalez Archaeological Reserve
Hidden on the southern end of the island in the middle of the jungle, Marco Gonzalez Archaeological Reserve is one of the most underrated things to do on Ambergris Caye. While it is not the most impressive ruin site, it has some remaining foundations and it provides a great escape from the touristy San Pedro and shows signs of prehistoric development in the area.
If you decide to make your way here, don't forget to bring plenty of water and bug spray, to avoid getting bad bites from mosquitos that are common at the Mayan ruins in Belize.
9. Shop at San Pedro Artisan Market
The small artisan market of San Pedro is one of the best places to visit on Ambergris Caye. Here you will find local artisans selling a variety of goods including souvenirs, jewelry, arts, and crafts. The vendors here are very friendly and will happily talk to you about their goods.
San Pedro Artisan Market is located at 2101 Almond Street in San Pedro.
PRO TIP: If you plan to visit San Pedro Artisan Market, don't forget to bring some cash with you. Credit cards are widely accepted around San Pedro, however, street vendors use only cash.
10. Get lost in Bacalar Chico National Park
If you want to get off the beaten track, take a boat ride to Bacalar Chico National Park and Marine Preserve, one of the most remote areas on Ambergris Caye. Located on the northern side of the island, Bacalar Chico is a UNESCO World Heritage Site that stretches for more than 60 miles across from the Bay of Chetumal in Mexico.
This stunning natural area is home to many cool animals such as jaguars and ocelots and it sees very few tourists. Snorkeling is also possible and since waters are so calm here you will have a good chance to spot manatees, turtles and many types of fish. The day tour typically takes all day and includes stops at secluded beaches, as well as time for lunch and exploring.
Taking a boat tour of Bacalar Chico is one of the best things to do in San Pedro, Belize although many travelers still don't know about it.
Several local tour companies in San Pedro offer trips to Bacalar Chico including Searious Adventures and Seaduced by Belize.
11. Take a day trip to Caye Caulker
The close neighbor of Ambergris Caye, Caye Caulker is a small sleepy island that is perfect for a day trip. This is a much smaller island and is great for exploring at your own pace. You can get here by catching a water taxi from San Pedro.
Many travelers end up spending a few days on Caye Caulker after visiting Ambergris Caye before heading to mainland Belize.
Boats to Caye Caulker depart from the main boat terminal in San Pedro several times per day. To find good inexpensive hotels on Caye Caulker, check out Agoda.com, a great website with many deals on accommodations in many countries.
PRO TIP: Ambergris Caye tends to be a bit more expensive than Caye Caulker that has a bit more of a backpacker vibe to it and offers more accommodations catering to budget travelers.
Browse the best hostels in Caye Caulker on HostelWord!
12. Check out best restaurants in San Pedro, Belize
Restaurant hopping is one of the best things to do in San Pedro for foodies. Despite being a small island, San Pedro has many restaurants for every taste and price point. As a vegan, I especially enjoyed Iguana Juan's for burritos and tamales, and Juice Dive for delicious acai bowls, smoothies and breakfast wraps.
Many restaurants in San Pedro, Belize offer vegan and vegetarian options, in addition to popular staples such as seafood. For example, Elvi's Kitchen is one of the most popular restaurants on the island and Sandbar offers delicious vegan pizza.
Other popular restaurants in San Pedro Belize are El Fogon, Wild Mango's and Blue Water Grill.
13. Go on a day trip from San Pedro
When you finish the list of the best things to do on Ambergris Caye, it's time to visit mainland Belize. Since the country is very small, you can visit some of the best places in Belize on a quick day drip from San Pedro.
Here's a quick overview of the best day drips from San Pedro
Belize Zoo – a sanctuary where you can find injured and orphaned animals native to Belize including jaguars, macaws and tapirs.
Lamanai – one of the best Mayan ruins in Central America, Lamanai sits along the shores of New River Lagoon in Northern Belize. It's most famous for cool crocodile art, and impressive Mayan temples (High Temple, Mayan Temple) that house many Mayan artifacts.
Best tours from San Pedro
Xunantunich Mayan Ruins + Zipline Adventure is one of the best tours from San Pedro that allows you to explore one of the best Mayan ruins in Belize and have fun zip lining later.
Actun Tunichil Muknal (ATM) Cave – When in Belize, make sure not to skip the famous ATM cave profiled by the National Geographic. A visit here will allow you to wander and swim in the cave and get a glimpse into the Mayan culture.
Cave Tubing and Zip Line Adventure – A Belizean-style adventure featuring both an aerial zipline course cave tubing, the country's signature outdoor activity
14. … And don't forget to explore other cayes in Belize
Ambergris Caye is no doubt the most popular island in Belize. While it has the most developed infrastructure and amenities of other cases in Belize, it's far from being the only island that is worth your attention.
Belize has over 450 islands around its coastline, and every one of them has its guardian. Sounds like a dream job, right?
If you have extra time and are up for a little adventure, visit one of Belize's lesser-known cayes such as Half Moon Caye, Laughing Bird Caye, and Sapadilla Cayes Marine Reserve, a collection of dreamy islands located about 36 miles east of Punta Gorda in southern Belize.
Where to stay on Ambergis Caye
Caye Ambergris is a place where you can either stay at a modest hostel or splurge on a swanky resort, the options are endless! The island has a great variety of accommodations, so whether you are a budget traveler or have a little bit of money to spend, there are many places to choose from.
Find the best hotels on Ambergris Caye
Budget hotels on Ambergris Caye
Althrough Ambergris Caye is slightly more expensive than its smaller neighbor Caye Caulker, it has plenty of affordable accommodations, so you don't have to break your bank.
For example, Drift Inn is a beautiful hotel that also has a dorm room, if you are a budget traveler. Drift Inn also has a kitchen, free water and towels and also can help you to book diving and snorkeling tours to Hol Chan Marine Reserve. And the staff there is super friendly too 🙂
Medium price hotels on Ambergris Caye
If you are willing to spend a bit more money, Ambergris Caye has many gorgeous hotels that come with small kitchens and many amenities.
Another popular property in San Pedro, Belize is The Palapa House. This medium-budget hotel offers gorgeous views of the Caribbean, private parking and a nice terrace.
Hotel Del Rio is a beachfront hotel located less than 0.6 miles from downtown Belize. It's a great mid-budget hotel that boasts a lush garden, free private parking and a terrace. There's also a tour desk and luggage storage space. Free WiFi throughout the property.
Luxury hotels on Caye Ambergris
Luxury travelers absolutely love San Pedro, because it offers a ton of luxury accommodations such as beautiful resorts and private houses where you can relax and enjoy the serene scenery between diving, snorkeling and exploring San Pedro.
PUR Boutique Cabanas is one of most beautiful hotels on Ambergris Caye with six cabins. PUR boasts build-your-own taco bar, a big pool and is only 7 minutes away from downtown San Pedro by golf cart. Another popular place with luxury travelers is Mahogany Bay Resort that has great amenities.
Most frequently asked questions about Ambergris Caye
How to get around Ambergris Caye
Golf carts are by far the most popular mode of transportation around Ambergris Caye. You can rent a golf cart at many shops around downtown San Pedro.
Bringing your drone to Belize
Belize has very strict rules when it comes to bringing a drone here.
To be allowed to bring a drone here and to operate it, you are required to have a special permission. So don't make my mistake, and have your drone confiscated at the airport in Belize City when you try to clear the customs. If you want to fly your drone in Belize, get proper paperwork ahead of your trip.
What is Ambergris Caye known for?
Ambergris Caye is known for its white-sand beaches, crystal-clear Caribbean waters, world-class diving and laid-back atmosphere. Most tourists know Ambergris Caye as the home to San Pedro, a former fishing village and major tourism destination in Belize today.
Is Ambergris Caye worth visiting?
Ambergris Caye boasts wonderful scenery, unparalleled diving and snorkeling and great nightlife. A gateway to the famous Blue Hole, one of the top diving sites in the world, Ambergris Caye is an unmissable stop on your Belize itinerary!
Is Ambergris Caye Belize safe?
Ambergris Caye is one of the most popular destination in Belize thanks to world-class scuba diving, snorkeling and relaxed Caribbean vibes. It's is also one of the safest places to visit in Belize.
While it's perfectly safe to walk around and explore the island, always keep an eye on your belongings as most of the crime here tend be pickpocketing and petty theft.
Getting travel insurance for your Belize trip
If safety is a concern, consider getting World Nomads insurance that will protect you in case of lost or stolen luggage, accidents, hospital visits, and many other unforeseen events. Another option is Safety Wing, which is perfect for long-term travelers who plan to stay in Belize for a couple of weeks
What's the best time to visit Ambergris Caye?
Just like many Caribbean destinations, the winter season is the busiest on Ambergris Caye.
June through November is the hurricane season in Belize when the weather the country is often hit by storms and hurricanes. Mid-November through January is the best time to visit Belize when the hurricane is over and the vacationing crowds haven't yet arrived.
Belize also sits out of the way from the main track for hurricanes, unlike many other popular destinations in the Caribbean. Still, Ambergris Caye gets inundated with rains and mosquitoes during that time, so keep it in mind.
Final word on visiting Ambergris Caye
Ambergris Caye might be one of the most touristy places and more expensive than many other areas in the country, however, being a tropical paradise, it is worth a stop on your Belize itinerary. I recommend you spend at least a few days in San Pedro before heading to other destinations in Belize.
Disclaimer: This post contains affiliate links. At no cost to you, I might earn a small commission if you make a purchase through the links in this article.