Disclaimer: This post contains affiliate links. At no cost to you, I might earn a small commission if you make a purchase through the links in this article.
Taxco de Alarcon or Taxco is one of the most beautiful places to visit in Mexico.
Nestled along the hills of Guerrero State in southwestern Mexico, Taxco boasts gorgeous colonial architecture and fascinating history. Taxco is also one of the oldest mining towns in the Americas, where silver was part of the local economy long before the colonization began.
The Aztecs who lived here mined Taxco to create jewelry as offerings for the Gods and for various religious ceremonies.
Taxco is the only Pueblo Magico in the State of Guerrero. It's considered one of the best places to visit near Mexico City, and many travelers come here to enjoy the town and surrounding areas for a couple of days. 
What is Taxco Guerrero known for?
Taxco is know for its spectacular colonial architecture and silverware with production dating back to the pre-Columbian times. William Spratling, an American who lived in Taxco, revived the craft or silver works in Taxco in the 1930's.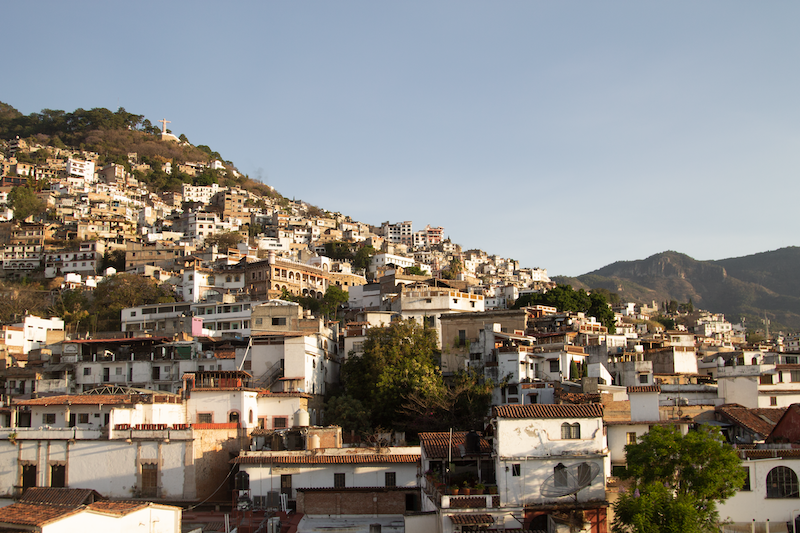 A brief history of Taxco Guerrero
The history of silver mining in Taxco goes back to pre-colonial times. The town was established in the early 1500s by the Spanish conquistador Hernan Cortes, who recognized the value of silver produced here.
The mining activity in Taxco decreased in the early 1700's but resurged when José de la Borda discovered a big silver deposit and became the richest man in Mexico. He also constructed the Santa Prisca Church, the ornate cathedral on the main square of Taxco.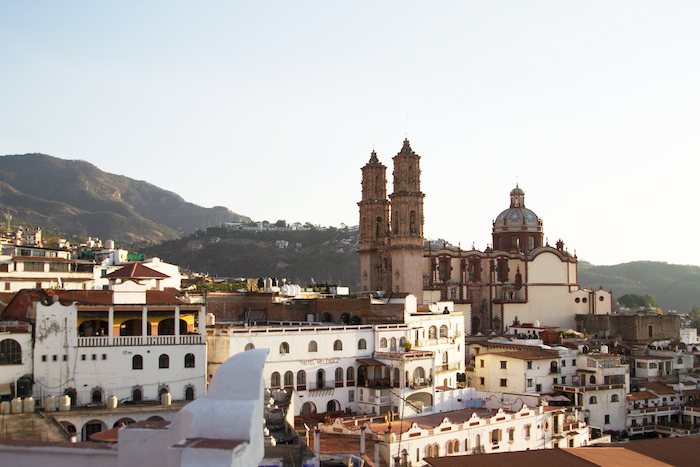 The local artisanship started when William Spratling, an American artist and architecture professor moved to Taxco and began teaching local designers how to create intricate jewelry. Spratling had a big influence on the craftsmanship of silver jewelry in Taxco and even got the nickname El Padre de la Plata de México – The Father of Mexican Silver.
Taxco has gained worldwide recognition for its silver jewelers, and today you can find gorgeous silver jewelry in many stores around town.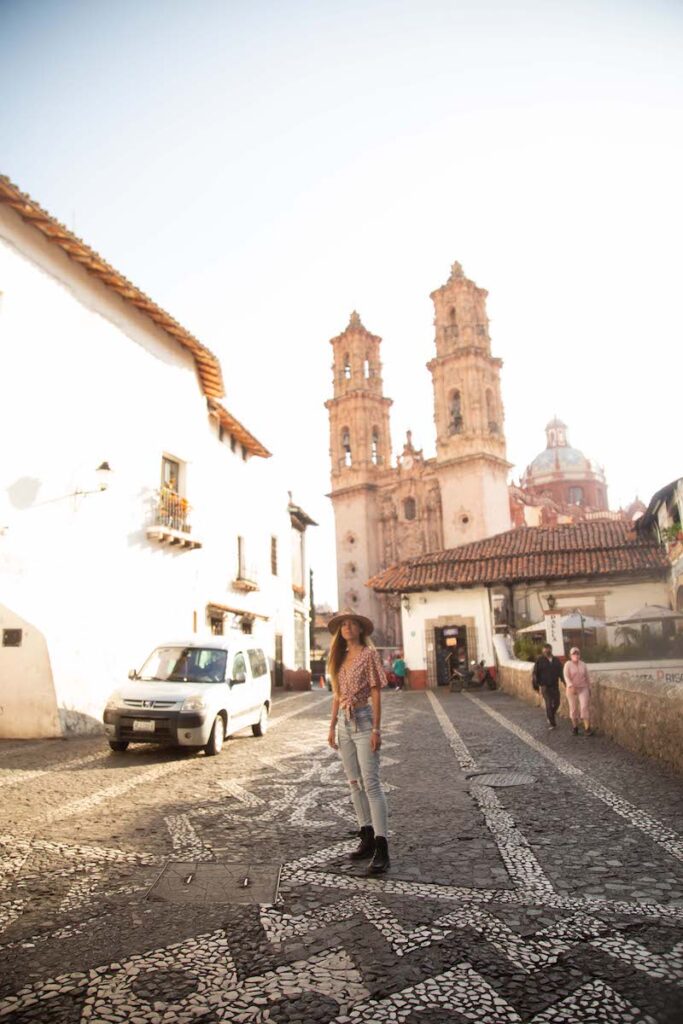 Best things to do in Taxco Guerrero
Although Taxco is a small pueblo, it has plenty of highlights to keep you busy for a couple of days. In this article, we will take a look at some of the best things to do in Taxco and the nearby area to help you better plan your trip.
Check my top tips for Mexico travel before heading to Taxco. They will help you stay safe on the road, avoid most common mistakes and have an overall better experience.
1. Santa Prisca De Taxco and Zocalo
The magnificent baroque Templo De Santa Prisca heralds the main square of Taxco, Zocalo. 
The impressive Baroque-style church with ornate details, Santa Prisca De Taxco is considered one of the most beautiful churches in Mexico. Built between 1751 and 1758 by Jose de la Borda, a famous silver businessman, this cathedral was the tallest building in Mexico when it was built.
To appreciate the beauty of Templo De Santa Prisca, take a step inside where you can find altarpieces decorated with gold as well as paintings by the famous artist Miguel Cabrera. Admiring this cathedral is a great cultural experience and one of the best free things to do in Taxco.
2. Zocalo
The central plaza of Taxco, Zocalo is a small square where you can find several stores and restaurants beside the famous cathedral. There's also a small park (Borda Square) in the middle where you can buy street food like churros and sit down on one of the benches to enjoy the atmosphere. 
Zocalo is a great way to start your tour of Taxco, as several cobble-stoned streets begin at the main plaza. It's also a good spot to watch local artists and performers as concerts often take place here in the evening.
3. El Monumento Al Cristo El Rey – The highest Point of Taxco
No trip to Taxco is complete without a stop at El Monumento Al Cristo El Rey, the highest point of Taxco perched atop the Cerro del Atache hill that offers a sweeping panorama of the town. Since the monument is high up on the hill, it's better to take a quick taxi which should cost no more than 100 Pesos one way.
4. Take Telerifico
The Teleferico de Taxco (the Taxco Cableway) is one of the best things to do in Taxco that takes you from the town to Hotel Montetaxco located on the side of the hill. When you finish the first leg of your trip on top of the tall hill, you will enjoy some of the most magnificent views of the city and surrounding areas scattered along the mountainous hills. 
GOOD TO KNOW: Here, you will also find a bar and a restaurant where you can enjoy the views and grab a bite before heading back. Prices here are more expensive than in most restaurants in Taxco, but they are still very reasonable (you can expect to pay about 130-140 pesos for a regular dish).
For the ultimate experience, spend the night in Hotel Montetaxco where you can enjoy a nice swimming pool, gym, and other facilities. This is one of the best hotels in Taxco, and if you want to treat yourself, it's hard to find a better place than Hotel Montetaxco. The cable cars stop running around 7 p.m., so make sure to get back before then.
Book your stay of Hotel Montetaxco here
5. Casa Borda
When visiting Taxco, make sure not to miss Casa Borda, the cultural Center of Taxco. Built in 1759, this colonial building is home to over a dozen of exhibits and is a perfect place if you like arts and culture. You can easily spend a couple of hours here checking out a collection of artifacts including paintings, sculptures, and other artworks across several floors.
6. Visit Museums in Taxco Guerrero
Taxco has several museums that are worth a stop on your itinerary.
Museum of William Spratling – this impressive museum offers a mix of history and anthropology and is home to a large collection of Aztec jewelry, pottery, and silverware as well as other artworks. Here you can also find over 200 artifacts from Mesoamerica from Spratling's collection.
Museo de Arte Virreynal – If you want to get a glimpse into the history of Taxco, this museum is a must. Located in the Humboldt House, which was given this name after the famous scientists stopped here, Museo de Arte Virreynal features an extensive collection of artifacts from Taxco, particularly from the 18th century when the city's two most important landmarks, the Parroquia de Santa Prisca and the Casa Borda were built.
Museo de La Plateria – Visiting the silver museum is one of the best things to do in Taxco. It's basically like a small factory where you can see an extensive collection of silver items and watch the local silversmiths create jewelry on the spot and purchase authentic silver pieces on the spot.
Explore several exhibits in the museum and take a look at the silver mine and factory to learn about the process of silver mining and the creation of silver jewelry.
7. Check out the Old Mine of Taxco
One of the best ways to learn the history of silver mining in Taxco is by taking a tour of the old mine Taxco.
Sadly, the mining history of Taxco involved a lot of exploration of the indigenous population, as many of them were forced to work in the mines under Spanish rule.
In 2014, when the Hotel La Mission was doing some remodeling work, an old mine was discovered on the property, and it's believed that it had been hidden by the Chontales people, so the Spanish conquistadors wouldn't find out about it.
Today, La Mission offers tours of the mine where you can see what it looked like back in the day. La Mission also has a nice restaurant where you can relax after the tour and enjoy spectacular views of the city.
Book your stay of Hotel La Mission here.
8. Shop around Taxco markets
Now that you have learned about the history of Taxco Guerrero, it's time to do some shopping.
Exploring local markets is one of the best things to do in Mexico, and Taxco has several markets where you can buy everything from arts and crafts to home goods and sweet treats. Taxco Market is located right below the Parroquia of Santa Prisca and extends through Calle Pajarito, and Callejon Menendez.
Silver Street Market is a great place if you are looking for affordable silverware and trinkets.
9. Visit miradores around Taxco
Taxco has several miradores (or viewpoints from where you can enjoy panoramic vistas of the city)
Santuario de Ojeda
This is a smaller church with a great view of Taxco that is perfect for watching the sunrise. It's not as well known as other popular miradores around Taxco, and you will not find a lot of tourists here.
Paroquia De Guadalupe
This is another great spot from where you can enjoy the magnificent Taxco views. To reach this church, you will need to walk uphill from the Zocalo, but you can also catch a taxi, which will be much faster. This is a perfect place to watch the sunrise and also appreciate this beautiful church.
10. Try Tepoznieves
Tepoznieves is a special kind of ice cream which is more like fruit-flavored shaved ice. Tepoznieves are sold in many shops around Taxco and come in many exotic flavors, many of which only exist in Mexico. You can get a cup with two balls of Tepoznieves for just around 50-70 Pesos which is about $3.
11. Shop for silver
When you travel around Mexico, there's a chance you will hear about Taxco. Taxco is mostly famous for its silver, and a lot of silver jewelry that you will see in stores around Mexico comes from Taxco and a couple of other places around the country.
Today the silver is no longer minded in Taxco. The silver mines are located in the Taxco region and are brought to Taxco because the town has many incredible silver artisans who are considered some of the best in the world.
Taxco Viejo has the Spratling silver workshop.
If you are thinking about bringing an authentic present to your friends or family, Taxco silver jewelry is the best choice.
Best day trips from Taxco Guerrero
Taxco is located in the mountainous region, and while spending a few days in this town is a must, you should also spare some time to explore the area. There are several cool places near Taxco that make for a perfect day trip.
12. Pozas Azules
Pozas Azules was my favorite place to visit near Taxco, and, if you like the outdoors, you will equally enjoy this place!
Located about 35 minutes away from Taxco by car, Pozas Azules is a group of six pools with bright turquoise water that comes from the mountains. While the color is most bright from November through March, the water in the pools is freezing during this time, so if you want to take a swim in one of the pools, be prepared!
Here you can also find a couple of cool cafes and even get a mini-tour from one of the local guides who will accompany you on a mini trip. Unlike many popular destinations around Mexico, Pozas Azules remain uncrowded, and you will not find a ton of tourists here.
As of 2022, the entrance to Pozas Azules costs 100 Pesos per person, and there's also parking before the entrance where you can leave your car for a small fee. Make sure to bring cash with you, because credit cards are not accepted. For a separate fee, you can rent a table, get a drink, and some snacks.
This is a gorgeous place and is totally under the radar. For now, very few people know about Pozas Azules, so come here before everyone else figures it out!
The best way to reach Pozas Azules from Taxco is by car, but you can also take one of the combis or shared vans. Now, I didn't visit Pozas Azules with a combo, so I don't know much about it, but you can find them in front of several stores in Taxco.
Grab a combo toward Pozas Azules or Atzala.
13. Mil Cascadas
Deep in the mountains of Guerrero state sits another natural wonder, Mil Cascadas or Las Granadas, which is the series of waterfalls and freshwater pools along the Granados River.
Visiting Mil Cascadas is possible on your own if you have a car rental or with a guided tour.
When you arrive at the entrance, you will need to pay the fee and get a guide who will accompany you to the caves and help you to rappel 100 feet down the wall alongside the waterfall. It is an epic experience and one of the best-hidden gems in Mexico.
After you rappel down, you will tour the series of freshwater pools where you can take a refreshing swim. The water here stays cold throughout the year, so don't expect a pool temperature here. If you want to visit the waterfalls in their full glory, visit during the rainy season from June through October.
14. Parque Nacional Grutas de Cacahuamilpa 
One of the largest cave systems in the world, Grutas de Cacahuamilpa is one of the best places to visit near Taxco. The stalactites and stalagmites inside this cave system are still growing, and numerous artifacts that have been found here led scientists to believe that these caves have been used by the pre-Hispanic population for various religious rituals.
Book this small group of Taxco that includes a stop in Grutas de Cacahuamilpa
Visiting Parque Nacional Grutas de Cacahuamilpa is possible only with a guide.
You can book a tour in Mexico City, which will also include a stop in Taxco. Aside from touring the caves, you will also have an opportunity to enjoy zip-lines, some rock climbing, and a botanical garden.
Visiting Grutas de Cacahuamilpa from Taxco
If you are going to visit Grutas de Cacahuamilpa on your own, you can catch a bus from the Estrella de Oro station in Taxco. Bring enough cash to pay for the ride, because credit cards are not accepted. The bus takes you to Vrucero de Grutas from where it's another 15 minutes by taxi to the entrance of the caves. 
Where is Taxco located?
Taxco (or Taxco de Alarcon as it's officially called) sits in the northeastern part of Guerrero State. It is about 177 kilometers (miles) south of Mexico City and 243 km north of Acapulco.
How to get to Taxco?
Whether you decide to rent a car in Mexico City for your trip to Taxco or catch a bus, a trip to this place is such a great experience! The road to Taxco takes you through the gorgeous mountainous landscape when you arrive in the Guerrero State. It's a fun drive, and you will never feel bored looking outside your window. 
Taking a bus from Mexico City to Taxco
You can catch a bus from Mexico City to Taxco every day from the Taxquena terminal, and costs about 250 Pesos (USD 13) one way. While you can visit Taxco on a day trip from Mexico City, and get back the same night, I recommend spending at least one night in Taxco because you will not have enough time to enjoy all of the best things to do in Taxco Guerrero in just one day.
Renting a car for your trip to Taxco
While taking a bus from Mexico City to Taxco is the most economical option, renting a car in Mexico City for your trip to Taxco is a better idea. Renting a car will allow you to travel at your own pace and spend as much time as you want in Taxco before continuing your trip. To get from Mexico City to Taxco, take major highways where you will need to pay a cash fee.
GOOD TO KNOW: Read my article to learn how to avoid mistakes when renting a car in Mexico.
Best Taxco tours from Mexico City
If time is short, and you want to visit Taxco, booking a guided tour of Taxco from Mexico City is the best option. This way, you will have a chance to enjoy all of the highlights of Taxco and also get an overview of the area from a professional guide who will tell you all the history of the area.
Guided tours of Taxco from Mexico City depart early morning and last all day before going back to Mexico City in the evening. You can book your guided tour of Taxco from Mexico City here
Best hotels in Taxco Guerrero
Hotel Santa Prisca – a gorgeous historic hotel in the heart of Taxco, this hotel is located near Santa Prisca Church and 5 minutes' walk from Taxco's Silver Market. Hotel Santa Prisca has a restaurant serving Mexican-style breakfast from 08:30 to 12:00 p.m., and a bar opened from 3 p.m. to 10:30 p.m.
Hotel Agua Escondida – One of the best hotels in Taxco, Hotel Agua boasts views of Templo De Santa Prisca, a swimming pool and a rooftop terrace. A range of massage and beauty treatments are available at Agua Escondida spa, including a Hot Stone Massage or a chocolate exfoliating body wrap.
Boutique Pueblo Lindo – A stylish boutique hotel with an outdoor swimming pool and spa. It offers luxury accommodations and spectacular city views. Guests love the central location and great prices.
Taxco Guerrero: FAQ's
How to get around Taxco?
Taxco is a small town with narrow winding streets and little space. While I recommend renting a car to come here, driving around Taxco in a car is challenging to say the least. The best way to explore Taxco is by walking around or taking one of those cute vintage VW beetle taxis which is an incredible cultural experience in itself! 😃
How many days do you need in Taxco?
I recommend about 2-3 days in Taxco. Although the town is small, there are many things to do in Taxco and surrounding areas, so time will go by very quickly! While you can visit the town in just a few hours, you will miss out on many places, that's why you need to set aside at least a couple of days for your trip to Taxco Guerrero.
What's the weather like in Taxco?
Taxco offers a perfect climate year-round, and temperatures don't drop below 15 degrees Celsius, even during that time. The rainy season is from June through October which coincides with the rest of the Southwest region in Mexico.
Spring and summer see higher temperatures with the high 20s and low 30s, but you can escape the heat in nearby Pozas Azules (more about how to visit this gorgeous destination below). 
Is Taxco Mexico worth visiting?
Taxco, is a former silver-mining city with winding cobblestone streets, wonderful colonial architecture, and fascinating history. The combination of culture and history make it a worthy stop. Nearby, you can also find natural landmarks like Pozas Azules or Mil Cascadas, which make for a perfect day trip from Taxco if you want to spend time in the nature.
Taxco Guerrero: final thoughts
A charming colonial pueblo, Taxco Guerrero is one of the best places to visit in south-central Mexico. Taxco provides an incredible lesson in history and local traditions that are still alive well in this part of the country. Spend a few days exploring Taxco and the surrounding areas for a chance to see one of the most beautiful Pueblos Magicos in Mexico.