Disclaimer: This post contains affiliate links. At no cost to you, I might earn a small commission if you make a purchase through the links in this article.
With its wide beaches fringed by skinny palm trees, year-round sunshine, and relaxed vibes, Orange County is the quintessential image of Southern California that so many travelers picture they think about this part of the Golden State.
But there's more to this stretch of California than just a pretty face: it boasts a thriving art scene, beautiful outdoor areas, and surfing culture. Orange County is an urban area with over 30 cities, but it doesn't mean that you can't find a quiet coastal paradise here.
With so many activities, it is not easy to narrow down your list. But the good news is that you are in good hands:
I've visited this part of California several times and enjoyed my visit every time I went there. In this article, you will find advice from me and fellow travel bloggers on some of the best things to do in Orange County.
Best things to do in Orange County
1. Enjoy Laguna Beach
Where to stay: Crescent Bay Inn
Pacific Coast Highway winds along the coast and eventually straight through one of the best coastal towns in California, Laguna Beach. This small community is filled with shops, restaurants, art galleries, great hikes, and of course, beaches.
Laguna Beach boasts stunning coastline views with some of the best beaches in California. From Thousands Steps Beach with a cool sea cave to Shaws Cove with the perfect surf break, this area offers a taste of quintessential California.
One of the prettiest beaches in the area is Victoria Beach. It has the distinction of having a pirate tower that was built in 1926 as an enclosed staircase to the beach.
Once on the beach, you may have to walk over rocks or through the water to get there. Arrive before the sunset for the best photo opportunities.
Contributed by Jenifer from the Evolista
2. Spot some wildlife at Orange County Tide Pools
Where to stay: Laguna Beach Oceanfront
Many areas around Orange County are known for their tide pools where you can spot many aquatic animals year-round. Some of the most well-known tide pools in Orange County can be found in Dana Point, Laguna Beach, and Crystal Cove.
When you visit tide pools, always make sure to keep your distance from the animals – as it can scare them and disturb their rest time. Many areas have posted signs about it but be sure to enjoy these beautiful creates from afar.
Address: 375 Cliff Drive, Laguna Beach, CA 92651
3. Have fun at Disney California Adventure Park
Many people know Orange County because of theme parks like Disney.
It's hard to overlook this popular destination, when you have thousands of visitors coming here every week from all over the state and beyond.
The world-famous Disney California Adventure Park in Anaheim has something for everyone, not just for the children like you might assume. Aside from meeting Mickey Mouse, you can explore the Star Wars: Galaxy's Edge area along with Avengers Campus and enjoy other wonders of the magical Disneyland Hotel.
If you want to enjoy your time and skip the drive back home after a day of fun, book a stay at Abby's Anaheimer Inn across from Disneyland Park.
Address: 1313 Disneyland Dr, Anaheim, CA
4. Take a day trip to Balboa Peninsula
Where to stay: Balboa Inn
Visiting the scenic Balboa Island is one of the most fun things to do in Orange County for nature lovers.
The quaint and charming island draws locals as well as tourists thanks to stunning scenery and tons of activities. Whether you want to grab a bite at one of the quaint restaurants, stroll along Marine Avenue, or shop till you drop in those cute boutiques, you will fall in love with this island.
Best tours of Balboa Peninsula
After breakfast, go for a stroll around the island. On your walk, you will pass the Balboa Island Ferry. For a small fee (about $1.25 per person), the ferry will take you to the Balboa Peninsula.
One of the top attractions of the area is the Balboa Fun Zone is located on Balboa Peninsula across from Balboa Pier off Balboa Blvd. This area offers great dining, attractions, beach views and whale watching tours.
Contributed by Michelle from The Trav Nav
5. Discover Upper Newport Bay Ecological Reserve
Where to stay: Newport Beach Hotel
Hidden within a residential community of Newport Beach, the Upper Newport Bay Ecological Reserve is a 752-acre coastal wetland.
The reserve includes an estuary where fresh and saltwater mix to create a home to close to 200 species. Here you can spot migrating birds such as pelicans, terns, and egrets or rare and endangered species like the least Bell's vireo or the Ridgway's rail.
There are several activities for visitors, like visiting the Peter and the Mary Muth Interpretive Center, walking/jogging, kayaking, biking, and bird watching. There are a few walking paths, including the 3-mile scenic Back Bay Drive, where you can get close to the water.
If you prefer to get out on the water with a guide, the Newport Bay Conservancy, in collaboration with Newport Aquatic Center, offers a guided kayak tour ($25 per person) every Saturday and Sunday from Northstar Beach.
Reservations are required.
Address: 2301 University Drive, Newport Beach
Contributed by Michelle from The Trav Nav
6. Enjoy the nature at Crystal Cove State Park
Where to stay: La Casa Del Camino
With over 3 million people, Orange County is a densely populated area of Southern California, but that doesn't mean that you can't escape the urban sprawl and enjoy the great outdoors.
Spanning over 2,400 acres of backcountry, Crystal Cove State Park is a great stop for nature lovers as it features 3.2 miles of undeveloped beach as well as tide pools, towering bluffs, and space for hiking, camping and picnicking.
One of the best ways to explore the beautiful wilderness at Crystal Cove State Park is by hiking the 9-mile Park Perimeter Trail Loop. If you are visiting for the first time, download an offline map and bring plenty of water and snacks, as you will be hiking under the hot California sun.
Another cool activity at Crystal Cove State Park is scenic Moro Canyon, a relatively easy 3-mile hike that begins at the Ranger Station and takes you to the scenic backcountry. Make your way back to the beach for an epic sunset to enjoy the incredible colors.
Crystal Cove State Park is open from 6 a.m. until sunset. The entrance fee is $15 per vehicle.
Address: 8471 N Coast Hwy, Laguna Beach, CA 92651
7. … And visit other state parks in Orange County
If you are craving more adventure, Orange County offers plenty of other state parks where you can hike, enjoy the wilderness, and disconnect.
Here are a couple of options for your future trip to Orange County:
Dinosaur Park Laguna Hills
Santiago Park Nature
Citrus Ranch Park
Top of the World in Laguna
PRO TIP: Consider purchasing California State Parks Pass to save money. You can purchase the pass at one of the parks or online ahead of your visit.
8. Get your surfing game on at Huntington Beach
Where to stay: Comfort Inn&Suites Huntington Beach
Huntington Beach, one of the most popular places for surfing in Orange County is a popular destination year-round. It's a perfect warm winter getaway in December and January!
Nicknamed "The Surf City USA," Huntington Beach is California's capital of surfing with many local shops offering surfing lessons. Whether you are a newbie or an experienced surfer, grab your board and give it a go!
Take a surfing lesson in Huntington Beach
Rent a bike from a vendor on the pathway and pedal as far as you like. All along the path, you'll find food stands where you can grab a bite and a drink.
Surfing reigns supreme as evidenced by the history displayed along the Surfing Walk of Fame. On the same walk, you'll find many cool surf shops to browse. If you can't find a piece of surfing gear in Huntington Beach, it probably doesn't exist.
When you get tired of the beach go to the Shipley Nature Center that is open on Fridays and Saturdays between 9 a.m. and 1 p.m.
Contributed by Lori of Travelinmad.com
9. Learn about surfing culture at Surfing Walk of Fame
Where to stay: Huntington Surf Inn
A testament to Orange County's surfing culture, the Surfing Walk of Fame boasts plaques of many surf legends, some of which come from Orange County. Also nearby, there's the International Surfing Museum where you can learn the history of surfing and the evolution of the surfing culture throughout the world.
Exhibits featured in the museum are mostly focused on some of the most prominent surfers and major events that took place throughout the history of surfing. Although this museum is especially popular with surfing fans, it's a fun place to learn the history of the famous sport.
Address: 101 Main St, Huntington Beach, CA 92648
10. Check out the Painted Ladies of Huntington Beach
You probably heard about the Painted Ladies in San Francisco, but did you know that Huntington Beach also has its own version of the famous landmark?
While they might be less famous, they are just as beautiful, and the best part is you will not see tons of tourists here like in San Francisco.
If you like colorful architecture and want to snap a few cool photos, Painted Ladies is a good stop for your Orange County itinerary.
Address: 313 21st Street in Huntington Beach, CA
11. Spend a day in San Clemente
Where to stay: Casa Tropicana
One of the most beautiful towns along Orange County's coast, San Clemente has been dubbed "the Little Spanish Village by the Sea" because of its heavy Spanish influence.
San Clemente boasts a photogenic pier and has a strong surfing culture and is home to some of the best surfers in the world. Here you can find the Surfing Heritage and Culture Center, a museum dedicated to preservation of the surfing culture.
Want to spend a lazy day at the beach? San Clemente offers a variety of wide beaches with enough room for everyone. San Clemente State Beach, Califia Beach Park, and Riviera Beach are some of the options.
Or head to Avenida Del Mar and El Camino Real, the two main streets in Downtown San Clemente where you can shop and enjoy food at local restaurants.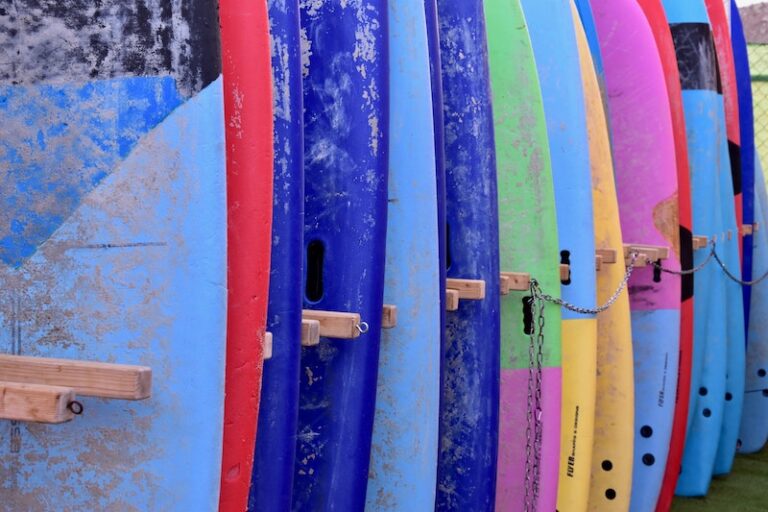 12. Visit best surfing locations in Orange County
Speaking of surfing, if you ever wanted to learn this type of sport, there's no better place than Orange County. Blessed with perfect surfing conditions, mild climate, and plenty of sunshine year-round, this is the place to grab a board and ride the wave.
Orange County boasts many surfing beaches, but conditions can differ depending on location and weather. Here are some of the most popular ones:
Huntington Beach
Newport Beach – one of the most popular surfing areas in Orange County
San Onofre Beach
Trestles Beach
Laguna Beach
13. Enjoy the outdoors in Laguna Coast Wilderness Park
Where to stay: Pacific Edge Oceanfront Hotel
Located near Laguna Beach, Laguna Coast Wilderness Park is a 7,000-acre wilderness that makes for a great escape from the urban area if you want to enjoy the unspoiled views of Southern California's coastline.
If you come here for just a couple of hours, you might as well spend your entire day here: Laguna Coast Wilderness Park boasts over 40 trails where you can hike, bike, or watch wildlife, all free of charge after paying just $3 for parking.
Address: 18751 Laguna Canyon Road, Laguna Beach, CA, 92651
Hours: 7 a.m. – sunset
14. Go for a picnic in Heisler Park
Where to stay: Seaside Laguna Inn&Suites
Heisler Park is an urban beachside area with trails on top of the sandstone bluffs and spectacular views of the Pacific Ocean.
Take a stroll through Heisler Park if you are craving beachy vibes and some relaxation. It's also a popular spot for water sports like surfing and body-boarding and having a yummy lunch at one of the picnic tables.
Heisler Park is one of the most popular places to visit in Laguna Beach. Weekends can get particularly busy at Heisler Park as scores of locals and visitors make their way here to enjoy this spectacular oceanfront park. The park is open from 5 a.m. until midnight.
Address: 375 Cliff Dr, Laguna Beach, CA 92651
15. Learn local history at Casa Romantica Cultural Center
Where to stay: San Clemente Inn
One of the unmissable highlights of San Clemente, Casa Romantica Cultural Center and Gardens is one of the most important cultural landmarks of Orange County.
Originally known as the home of Ole Hanson, the founder of San Clemente, today Casa Romantica is a non-profit organization established by a charter of the city of San Clemente, and that strives to preserve the cultural heritage of this town.
Address: 415 Avenida Granada, San Clemente, CA 92672
16. Go on a whale watching tour in Dana Point
Where to stay: Dana Point Marina Inn
The capital of whale and dolphin watching, Dana Point is a small coastal town in Orange County that attracts travelers who are interested in close encounters with these marine giants.
Dana Point offers access to the areas frequented by migrating gray whales and blue whales in spring and summer. Several companies offer daily whale watching tours such as Capt. Dave's Dolphin & Whale Watching Safari and The Ocean Adventure Catamaran cruise.
Best whale watching tours in Orange County
Seeing a whale is never a guarantee, as these marine creatures can be tricky to spot at times. If you want to learn more about marine wildlife, head to the Ocean Institute at 24200 Dana Point Harbor Drive in Dana Point.
17. Get fresh fruits at Irvine Farmers Market
Irvine Farmers Market is the best place to get fresh fruits and vegetables from local farmers. Here you can get plenty of fresh produce that was grown and handpicked by farmers on the Great Park Farm as well as other farms in Orange County.
You can also find arts and crafts, artisan cheeses and pastas.
The Farmers Market takes place in Great Park every Sunday from 10 a.m. to 2 p.m., weather permitting.
Parking and admission are free.
18. Adore Mission San Juan Capistrano
Where to stay: Best Western Capistrano Inn
No trip to Orange County is complete without visiting Mission San Juan Capistrano.
This historic building is one of the 21 Spanish missions in California, religious outposts that were constructed in coastal areas of the state by Spaniards to convert the natives to the Catholic religion.
The 21 missions comprise California's Historic Mission Trail that goes along El Camino Real (The Royal Way in Spanish) that was named to commemorate the quest of the Spanish monarchy to expand its empire.
Established in 1775, Mission San Juan Capistrano is one of the most prominent landmarks of the region. Stop here to learn the history and culture of the area.
Mission San Juan Capistrano hosts exhibits and many types of special events like guided tours. Make sure to check the schedule ahead of your visit.
Address: 26801 Ortega Hwy, San Juan Capistrano, CA 92675
19. Walk around Los Rios Historic District
Los Rios Historic District is another proof that Orange County is not just about beach vibes (although who doesn't like them). The district features many historic buildings some of which date all the way back to 1794, and is the oldest occupied neighborhood in the entire state of California!
The history of the Los Rios Historic District is closely linked to Mission San Juan Capistrano, so it's a good idea to combine these two places in one visit. When you explore the town, keep your eyes peeled for information plaques that talk about the history of this place.
Address: 31831 Los Rios St, San Juan Capistrano, CA 92675
20. Try local wine
Orange County might not be the most famous wine region of California, and yet, there are some excellent wineries here, where you can find a great assortment of wine from across the state.
Laguna Canyon Winery is an award-winning establishment that is an excellent place if you are looking for a casual atmosphere.
Join best wine tasting tours in Orange County
Stone's Throw Winery in San Juan Capistrano is one of the bigger and most popular wineries in Orange County that makes for a great day trip combined with a visit to Mission San Juan Capistrano. And finally, Cowboy Canyon Winery tucked in the eastern hills of Orange County specializes in handcraft wines.
21. Relax at Doheny State Beach
Where to stay: Dana Point Marina Inn
Doheny State Beach educates visitors about avian and marine animals native to this part of California. When you enter the park, make your way to the visitor center, where you can find several interpretive programs, talk to a ranger and pick up some brochures.
Aside from enjoying wildlife, this is an excellent place to spend a day at the beach and do some picnicking.
Address: 25300 Dana Point Harbor Dr, Dana Point, CA 92629
22. Watch birds at Bolsa Chica Ecological Reserve
Where to stay: Best Western Surf City
If you are an avid bird watcher, don't forget to visit Bolsa Chica Ecological Reserve. This wetlands area along the Pacific Coast Highway is frequented by many local and migrating birds and provides a good insight into conservation efforts.
Stop by the interpretive center to learn more about educational programs and check out exhibits.
Address: 18000 CA-1, Huntington Beach, CA 92648
23. Explore Orange County street art
Orange County has a thriving art community, and you can find gorgeous murals on many streets in coastal towns.
For example, The Costa Mesa Art Walk is home to the local art scene, and it's a great way to explore the city before deciding what to do next.
Many towns in the area have weekly art walks that are free to visitors. Here are a couple of ideas:
PRO TIP: Keep in mind that the timing and dates of each walk tend to change from time to time, so visit their websites before making any plans.
24. Soak up some sun at Salt Creek Beach Park
Where to stay: Laguna Cliffs
A great spot to learn surfing or spend your day at the beach, Salt Creek Beach Park is one of the most popular destinations among surfers in Orange County. If you are looking to relax and soak up some sun, make a quick stop here.
The area is located near the Pacific Coast Highway, so you don't have to drive too far to enjoy this little slice of paradise.
Address: 33333 Pacific Coast Hwy, Dana Point, CA 92629, USA
25. Get cultured at Bowers Museum
Where to stay: Holiday Inn Express Santa Ana
One of the most popular cultural venues and one of the best things to do in Orange County for any art lover, Bowers Museum offers a wide array of artifacts from different periods.
Here you will find a good variety of artworks dedicated to Orange County and enjoy events, book readings, and talks organized by this museum.
Bowers Museum is often called one of the best museums in Orange County where you can explore all things art and culture in Orange County.
Address: 2002 N Main St, Santa Ana, CA 92706, USA
26. Visit Old Courthouse Museum
Where to stay: Hampton Inn&Suites Santa Ana
If your Orange County itinerary includes a stop in Santa Ana, the county's capital, make sure to visit the Old Courthouse Museum. It is one of the most famous landmarks in Orange County, where you can learn the history of the region. This building is in Historic Downtown District on Civic Center and Broadway streets.
Address: 211 W Santa Ana Blvd, Santa Ana, CA 92701, USA
27. Have a lazy day at Old Town Orange
Where to stay: Orange Tustin Inn
The quaint town of Orange sits smack in the middle of Orange County and offers a glimpse at what a proud and diverse community makes this place. The historic district of Orange is particularly worth a stop as it offers beautiful architecture, shopping, and many events with live music.
The City of Orange (or Orange Circle as it's called by locals) and its Old Town District is the great destination for a weekend day trip if you want to grab a bite at one of the unpretentious eateries, check out antique shops and relax on a bench.
FUN FACT: The Old Town's Historic District was placed on the National Register of Historic Places in 1997, and includes more than 1,300 buildings.
28. Chill out at Fullerton Arboretum
Where to stay: Holiday Inn Express
Think you need to break your bank to have a fun vacation in Orange County? Thank again!
There is a surprisingly high number of free things to do in Orange County, and Fullerton Arboretum is just one of them.
While donations are suggested, visitors can enter for free and enjoy this 26-acre botanical garden with a great collection of plants from many corners of the globe.
Home to more then 4,000 plants, Fullerton Arboretum is dedicated to wildlife conservation and preserving species that are rare or face extinction. It's a great place to visit if you want to take a quick break and enjoy a nice tranquil atmosphere.
Address: 1900 Associated Rd, Fullerton, CA 92831
29. Dive into art culture of Costa Mesa
Where to stay: Cozy Inn
Nicknamed "The City of The Arts," Costa Mesa is considered the art capital of Orange County thanks to its art galleries and artist residency community for visual artists. This city is the primary spot where artists come to present their work in exhibitions, workshops, residencies, and other special events.
The Costa Mesa Theater District boasts Segerstrom Center for the Arts and the Arts Plaza, and the city continues to attract many spectacular artists who come here show their art.
30. Take a trip to Catalina Island
Where to stay: Catalina Canyon Inn
Taking a day trip to Santa Catalina Island is one of the most overlooked day trips from OC, and yet, more visitors are starting to find out about this hidden gem of Southern California.
One of the best things about this place is you can totally unplug and disconnect here, and spend your day hiking, and exploring the wilderness in places like Two Harbors or Blue Cavern.
31. Stop in Buena Park
If you like a good dose of adrenaline, make a stop at Buena Park, home of several tourist attractions, including popular Knott's Berry Farm – a theme park on a one-time berry farm.
The Knott family turned their simple 1920s berry stand and tea room into a popular theme park. While the berry fields are no longer here, you can still enjoy delicious food made with the berry created by original owners.
32. Enjoy the views along the Pacific Coast Highway Drive
If you like a scenic drive, hop in your car and make your way from Seal Beach toward San Clemente – one of the most scenic drives in Southern California that will spoil you will gorgeous views.
The road will take you past many beaches and plan fringed boulevards. Make sure to allocate extra for your trip through, as you will most likely want to stop and explore one of the places along the way.
Best time to visit Orange County
Thanks to perfect sunny weather year-round and an endless amount of sunshine, there is no bad time to visit Orange County.
Still, there are some factors to consider when planning your trip to this part of California. One of them is the season. While summers typically have 80-degree weather with a mild breeze, the colder season lasts from October through February, and even brings some rainy days.
Winter is still a good time to visit Orange County, as rain is relatively scarce and temperatures hover in the 60s.
How to get around Orange County
Located between Los Angeles and San Diego, Orange County is one of the best California road trips. To get around the area, you will need a car. You can rent it at major airports in the area such as John Wayne in Santa Ana, Lindbergh Field in San Diego or LAX.
I recommend DiscoverCars that offers a great inventory in many destinations in the United States, including Orange County. They have no hidden fees and a good selection of vehicles at affordable prices.
Where to stay in Orange County
Hotels in Orange County tend to be on the pricey side, but some cities are more expensive than others.
For example, inland areas like Santa Ana, Irvine, or Orange tend to be more budget-friendly than high-end coastal cities like Dana Point, Laguna Beach, or Huntington Beach.
San Clemente is a great place for a mid-budget stay with plenty of things to do in the area. Likewise, Costa Mesa is a good option if you are looking for mid-budget accommodations.
👉Click here to book a hotel for your trip to Orange County
How to get around Orange County
Orange County doesn't have a good public transportation system, so if you need to get around quickly, and scratch some of the best places in Orange County off your bucket list, you will need a car.
If you don't have your own car or car rental you can simply take Uber to around.
Public transportation in Orange County
If you want to use public transportation while visiting Orange County, you can take OCTA (Orange County Transit Authority) buses which cost $2 per ride. You can check OCTA schedule here.
You can purchase tickets from the bus driver or through the OC Bus Mobile App.
Another option for getting around Orange County is Metrolink Trains that serve 11 stations around the region. This is a good option if you are traveling between Orange County and other destinations in Southern California.
You can purchase tickets at train stations or through the Metrolink app.
Tips for visiting Orange County
Budget your trip – Orange County is expensive. You can spend a pretty penny here without going on a splurge, that's why it's better to plan your trip ahead of time. Agoda is my favorite platform for finding bargains on accommodations.
Parking in Orange County is expensive – Orange County is one of the most densely populated areas in California. Although you can find plenty of things to do in Orange County on a budget, you often have to pay for parking. Parking lots fill up quickly, and you can expect to pay between $15-20 for a spot. If you are going to an event, or one of the most popular places in Orange County, arrive ahead of time.
Use rideshares – using a rideshare will allow you to escape the hassle of finding a parking spot and paying for it. You can also use public transport to save time and money.
Get California Explorer Annual Day Pass – If you are staying in Orange County for a longer period of time, or if you planning to drive along the California Coast, get California Explorer Annual Day Pass. In order for it to pay off, you will need to visit (at least 13 beaches in California as well as other attractions). This is a great way to cut down on parking.
Get outside – Some of the best things to do in Orange County are FREE. Spend some time exploring Orange County beaches and state parks to enjoy the beautiful sunny weather that Orange County has to offer.
Orange County is more than just Disneyland – When you visit Los Angeles, you will often hear locals talking about taking weekend trips to Disneyland. Although a trip to Disneyland is one of the most classic things to do in Orange County, there's a lot more to this part of California than famous theme parks.
Combine Orange County with other places in SoCal – Orange County is one of the best road trips in Southern California. If you are exploring the region, spend a few days here before going to Los Angeles or San Diego.
Is Orange County worth visiting?
Yes! Orange County is absolutely worth your time! Not only it'd home to some of the best beaches in California, it also has plenty of history and culture to keep you busy for days.
Final word
Orange County is one of the most popular day trips from Los Angeles, and an unmissable stop on your itinerary if you want to take a road trip around the state. Whether you are craving the great outdoors, culture, or some local restaurant scenery, this is one of the best destinations in California that has it all.