Disclaimer: This post contains affiliate links. At no cost to you, I might earn a small commission if you make a purchase through the links in this article.
The capital of Campeche State, Campeche (or San Francisco de Campeche) is a hidden gem of the Yucatan Peninsula. Most travelers are familiar with destinations like Merida, Holbox, or Tulum, while Campeche has been quietly flying under the radar for years.
And that's a shame because Campeche has so much to offer!
Located along the Gulf of Mexico, Campeche offers plenty of culture and history, rich gastronomy, and beautiful beaches framed by emerald-green waters. And the best thing is you will not find any crowds here, unlike the popular beaches of the Rivera Maya.
Whether you want to learn about the pirate history of the region or explore spectacular Mayan ruins near Campeche, there are plenty of things to do in Campeche to keep you busy during your stay.
Where is Campeche located?
Campeche sits on the western side of the Yucatan Peninsula. It's located along the Gulf of Mexico and is bordered by the states of Yucatan and Quintana Roo.
Best things to do in Campeche: an overview
1. Centro Historico
Exploring the city's UNESCO-listed historic center on foot is one of the best things to do in Campeche for first-time visitors. It's one of the best things to do in Campeche, as the city offers a quiet, small-town atmosphere that lacks in many popular destinations in the region.
Campeche Historic Center boasts beautiful churches and pastel-colored facades that make a perfect backdrop for your photos. The best time to explore the city is early morning until noon. The historic center of Campeche has very little shade, and it gets hot here in the afternoon.
2. Take a guided tour of Campeche
A good way to explore the best things to do in Campeche is by taking a guided tour! Guided tours are available daily and are excellent if you are visiting Campeche for the first time!
3. Our Lady of the Immaculate Conception Cathedral
The main square of Campeche is dominated by the ornate colonial cathedral, Our Lady of the Immaculate Conception, or Campeche Cathedral. Built between 1540 and 1760, it's now declared Cultural Patrimony of Humanity. Come early morning to snap a few photos in front and take a step inside the cathedral. 
4. Calle 59
Part of Campeche's Historic Center, Calle 59 is a lively street with pastel facades that are homes to restaurants and stores. Calle 59 is a perfect place to take photos, and grab some food. In the evening, this street comes alive with many restaurants and cafes, and you can find everything from traditional Mexican food to international dishes.
Calle 59 is a pedestrian-only street, if you walk all the way down Calle 59, you will reach Malecon, of the waterfront. This street also links Puerta De La Tierra (Earth Door) and Puerta Del Mar (Sea Door).
5. Campeche Malecon
Watching a colorful sunset from the Malecon is one of the best free things to do in Campeche. Malecon is a promenade along the Gulf of Mexico that stretches for about 4 miles. 
Here you can also find a colorful Campeche sign that is perfect backdrop for your photos, and the statue of the Bride of the Sea.
El Malecon is a popular spot for walking, bicycling, and running. There are normally a lot of people here, so it's a perfect place for some exercise and people-watching.
6. Campeche Old City Walls 
The Spanish conquistadors established Campeche after conquering a Mayan settlement in the area. But because of its location along the Gulf of Mexico, Campeche was constantly attacked by pirates.
The Sack of Campeche that occurred in 1663 was the biggest pirate attack in history. The King of Spain ordered to build of Campeche's walls to protect the city after it happened.
The walls around Campeche took more than 50 years to build. Following the construction of the 2-kilometer-long wall, the city hasn't seen any major attacks from pirates.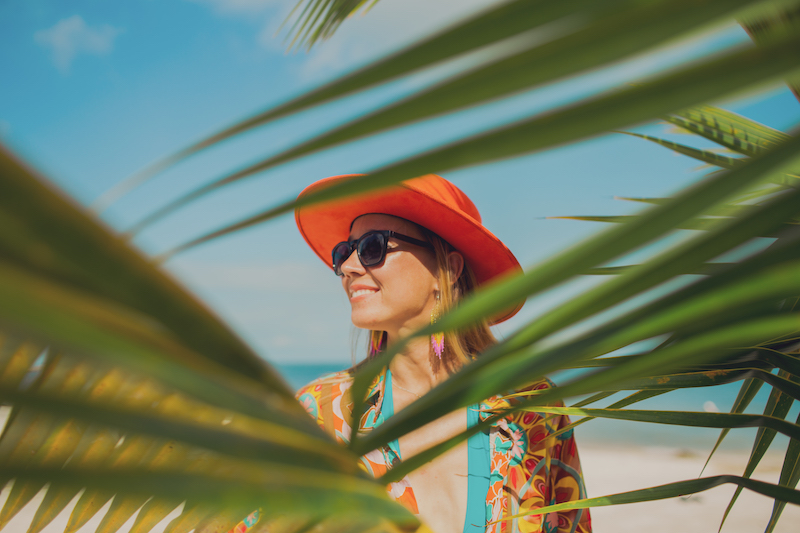 7. Playa Bonita
After learning Campeche's cool history, it's time to soak up some sun. Take a quick drive to Playa Bonita, the closest beach to Campeche, about 15 minutes away by car. Playa Bonita is a gated beach and you have to pay a fee of 10 Pesos for parking. Each passenger in a vehicle has to pay a separate entrance fee of 40 Pesos. 
Payments can be made only in cash.
The palapas (or umbrellas) are free and you can rent a sun lounger for an additional price. Unlike the Caribbean beaches in Quintana Roo, Campeche beaches don't have a problem with seaweed, so you can enjoy a great swim here 🙂
8. Stay in a Hacienda 
Campeche boasts several impressive haciendas – old-style colonial mansions that have been converted to hotels. One of the most beautiful hotels in Campeche is Hacienda Puerto Campeche which sits by the "Puerta de Tierra" along Calle 59.
It's one of the most beautiful hotels I've seen in Mexico with gorgeous interiors and overwater hammocks.
✅ Book your stay here to enjoy this magical place! 
Hacienda Uayamon 30 minutes away from Campeche is another option if you want a more quiet retreat.
9. Fuerte De San Jose
If you choose to do a self-guided tour of Campeche, a visit to Fuerte De San Jose is a must. Located on the hill overlooking the Gulf of Mexico, this small fortress is one of the most famous historic buildings in Campeche.
El Fuerte De San Jose was built in the 18th century to protect the city from the pirates roaming the region. Today it houses a small museum that offers a mix of history and local geography.
10. Visit Xmuch'haltún Botanical Garden
The Xmuch'haltun Botanical Garden is inside the Santiago Bastion. The name of this garden translates as "water that springs from the earth" from the Mayan language.
Walk around the garden to learn about the many tropical plants that are housed here. Some of the plants that you can find here are used for making traditional Mayan medicines, while others are used for dying fabrics and other domestic purposes.
The Xmuch'haltun Botanical Garden is open every day from 8 a.m. to 8 p.m. Tickets are 25 pesos ($0.50 USD) per person.
11. Take the tram tour of Campeche 
If you want a more detailed look at the history of Campeche, take a tram tour of Campeche. The trams (tranvia de la ciudad) are parked along the main square of Campeche right in front of the Cathedral, and you can make a payment on the spot to take a tour.
12. Centro Cultural Casa No 6
Centro Cultural Casa No 6. is a museum housed in a 19-century mansion that provides a glimpse into the history of the region. The museum has a quiet courtyard, a bedroom, a living room, and a kitchen with old-style furniture.
This small museum is not the only place where you can see the well-preserved heritage of Campeche. If you check out any of the local stores or homes in the area, you will be amazed at how authentic they look!
Address: Calle 57, centro histórico, 24000 San Francisco de Campeche, Campeche.
Hours: 8 a.m.-9 p.m. from Monday through Friday and Saturday and Sundays 9 a.m.-9 p.m.
Entry fees: 20 Pesos
13. Campeche market
Head to Campeche market to get a taste of the local gastronomy. Located near the Baluarte de San Pedro, this indoor market has many restaurants and cafes that serve a variety of food like tortas, tamales, and tacos. Come hungry and bring plenty of cash, as most vendors here don't accept credit cards.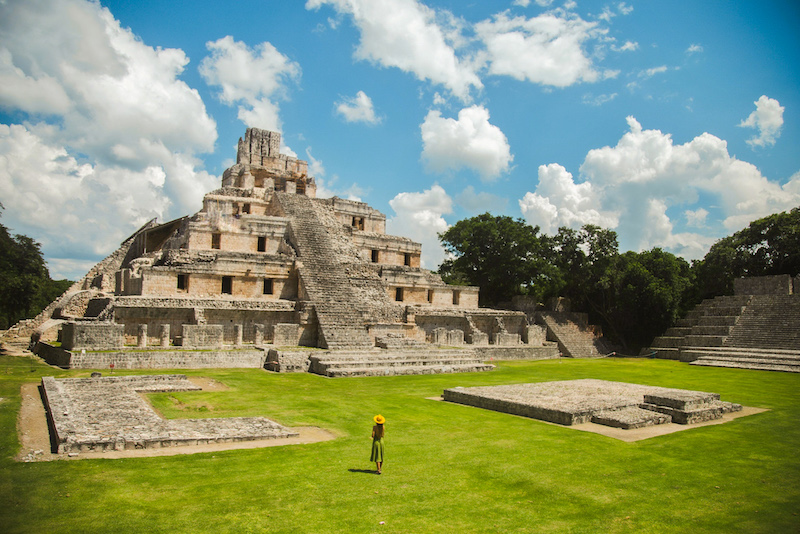 14. Edzna
Visiting Edzna ruins was one of my favorite things to do in Campeche, and I can't recommend it enough!
Although Edzna ruins are not as famous as Chichen Itza or Palenque, they are just as beautiful. Dominated by the large five-tiered pyramid (El Edificio de Los Cinco Pisos) that you can access with a quick climb along the stairs, Edzna is one of the most impressive Mayan ruins in Mexico that I've ever seen!
Translated as "The House of Etazaes" from the Mayan language, Edzna flourished from the 7th until 9th century, and was abandoned in the 1500s for the reasons that are still unknown. 
Take a guided tour of Edzna from Campeche if you don't have a rental car!
Why visit Edzna in Campeche
When I visited Edzna in the middle of the day on Wednesday, I saw only 3 other tourists in the area, and as soon as they left, I had the entire place to myself. This is unheard of for many popular archaeological areas in Mexico that see thousands of visitors every day.
Edzna is a hidden gem, and coming here is absolutely worth it if you like history and culture! The entire area covers 6 square km and has plenty of space to roam.
The entrance to Edzna is only 85 Pesos which is much cheaper than most Mayan ruins in Mexico. The site opens daily from 8 a.m. to 5 p.m.
The best way to get to Campeche is by renting a car. You can also get here by taking a guided tour.
Best day trips from Campeche
15. San Miguel Colorado
Home to the only cenote in Campeche State, San Miguel Colorado is a small recreational area that has a pier, kayaks, and a zipline. The entrance to the area is 200 Pesos per person, and if you come here early morning if you will most likely have the entire place to yourself. If you choose to do kayaking or zip lining, you will need to pay extra.
This is a rare gem that most tourists don't go to. The road to San Miguel Colorado goes through a smalll village. As you drive through the area, the road will get more rough with many bumps and potholes, so take your time.
16. Isla Aguada
Isla Aguada is one of the best off-the-beaten-track destinations in Mexico's Yucatan Peninsula. Located near the bridge across the Laguna de Termino, Isla Aguada means "watered island."
The main draw of this small village is the 2-hour tour that takes you to different points of the Laguna de Termino where you can spot the dolphins roaming around. The tour offers one of the best wildlife-watching experiences in the Yucatan Peninsula, and you can hire a private boat for less than $50 per person. You can find local fishermen offering these tours along the Isla Aguada Malecon.
There's also a photogenic sandbank right in the middle of the lagoon where you can snap some shots.
17. Sabancuy
Sabancuy is home to one of the most underrated beaches in Mexico I've ever seen. If you want to see more Campeche beaches after stopping at Playa Bonita, Sabancuy is the perfect place for it. Located along the Gulf of Mexico, Sabancuy beaches offer amazing views and none of the crowds! 
18. Uxmal 
Uxmal is one of my favorite Mayan ruins in the Yucatan state close to the border with Campeche State. It makes a perfect stop if you are traveling between Campeche and Merida. Uxaml boasts wonderful architecture built in the Puuc style which is different from Chichen Itza or Tulum Ruins. It's a great stop to add to your itinerary, if you have a rental car and more flexible with your time.
19. Calakmul
The UNESCO-listed Calakmul is one of the most impressive archaeological areas in Mexico with magnificent Mayan pyramids peeking from the dense jungle.
I visited Calakmul several times and really loved it! I've seen monkeys, snakes, tapirs, and even a toucan in the Calakmul Biosphere Reserve surrounding the archaeological area. When you climb to the top of the tallest pyramid, you will enjoy the 360-degree of the jungle and see neighboring Guatemala in the distance!
Visiting Calakmul on your own requires a rental car. And the tour will take most of your day, so you will be very tired by the time you are done.
Guided tours of Calakmul from Campeche
To make things easier, take a guided tour of Calakmul from Campeche that will help you to save a lot of time and money. A professional guide will accompany you to the site and tell you about the history of this spectacular archaeological area and help you to spot the animals.
I highly recommend taking a day trip from Campeche to Calakmul, because there's nothing quite like it!
Visiting Calakmul on your own
If you decide to rent a car for your trip to Calakmul, you will need to drive for a couple of hours before you arrive to the ruins. You will have to pay several separate fees to enter the Calakmul archaeological area which will total between 160-200 Pesos. Make sure to bring cash, because credit cards are not accepted.
PRO TIP: I recommend hiring a guide at the main entrance who can give you an overview of Calakmul and provide more context of the area. Calakmul was once home to 50,000 people living here during the 7th century and even dominated the famous Tikal in Guatemala. You will have little chance to learn its history on your own aside from the small plaques near the ruins.
A separate tour of Calakmul Biosphere Reserve involves wildlife watching and can be added to your tour of the ruins. I hired a guide for both of these tours and paid around $100 altogether. The wildlife watching tour was a lot of fun as we walked through the dense jungle where we spotted spider monkeys, tapirs and many birds.
20. Balamku 
Located just a few kilometers away from the entrance to Calakmul, Balamku is often overlooked by travelers, but it's worth a stop, as this site sits off the beaten track. Both Calakmul and Balamku require a car rental, as you can't visit them by public transportation.
✅ Another option is to take a guided tour that includes both Balamku and Calakmul.
21. Xpujil 
Xpujil is a small town along the busy highway between Calakmul and Bacalar. The main draw of Xpujil is a group of ruins including Becan, Hormiguero, Chicanna, and Xpujil. While the town has no major landmarks, you can spend a night here if you want to see some of the least-visited Mayan ruins in Yucatan.
Becan and Chicanna were my favorites, and I highly recommend you stop here too! Book your overnight stay in Xpujil here. 
How to get to Campeche
Campeche is located off the beaten tourist route, and getting here takes a bit more time. You can catch a bus to Campeche from Cancun, Merida, Valladolid, Tulum and Chetumal. Check ado.com for ticket prices and bus schedules.
Another platform where you can buy bus tickets to Campeche is busbud.com
What's the best way to get to Campeche?
The best way to travel to Campeche is by renting a car. It will cost you more than taking a bus to Campeche, but you will have a much better experience. First, you can stop at many Campeche beaches like Playa Bonita or Sabancuy. Second, you can visit Mayan ruins like Edzna and Calakmul without taking a guided tour. And third, you can travel at your own pace without worrying about catching the bus.
Campeche is full of hidden gems, and there's just no way you can visit them with public transportation. I've rented a car for my trip to Campeche and can tell you that it's well worth the money!
🚗 My preferred platform fore renting cars in Mexico is DiscoverCars. They have good inventory, no hidden fees and budget-friendly rates. You can also get a Mexican rental car insurance through them.
Campeche to Merida
Distance – 2 hours 15 min (184 km) via Carretera Costera del Golfo O/México
To get from Campeche to Merida, you can rent a car, take a taxi or catch a bus, the most popular option, if you are on a budget. This is a very easy drive as you will take Costera del Golfo north from Merida to Campeche.
While renting a car will give you the ultimate freedom and allow explore Campeche beaches, getting from Campeche to Merida is the cheapest option. You can look for tickets from Campeche to Merida on busbud.com or ADO.com. It's also possible to buy tickets on the spot at the bus station, but make sure to have cash on you, as credit cars are not always accepted.
Campeche to Bacalar
Distance – 5 hours 20 min (419 km) via Villahermosa – Chetumal/México 186
To get from Bacalar to Campeche you can either catch a bus or rent a car. This is a longer drive with many points of interest along the way like Isla Aguada, Balamku and Calakmul Mayan ruins, and San Miguel Colorado (the only cenote in Campeche). If you are planning on making a trip from Campeche to Bacalar, I recommend renting a car with DiscoverCars, because you will be able to visit many amazing places along the way that can't be reached by public transportation.
Campeche to Tulum
Distance – 5 hr 30 min (432 km) via Carretera Costera del Golfo E
Just like a trip from Campeche to Bacalar, the drive from Campeche to Tulum will take you quite a bit of time, but the good news is that you can make a stop in Merida to take a break. If you don't want to take a bus, you can rent a car.
Campeche has somewhat limited car rental options, so you can take a bus from Campeche to Merida and grab a car rental in Merida for your trip to Tulum since Merida is a bigger city with more car rental options. If you rent a car in Merida, you will be able to stop in many amazing cenotes and Mayan ruins along the way.
Best things to do in Campeche: FAQ's
How long to stay in Campeche?
If you are visiting Campeche for the first time spend about 3 days in the city Campeche. Plan a few extra days to enjoy some of the best day trips from Campeche like Isla Aguada, Calakmul, or San Miguel Colorado. 
Is Campeche safe?
Campeche is one of the safest places in all of Mexico. It is away from the major tourist route, and unlike places like Playa Del Carmen or Cancun, it doesn't have a problem with drug trafficking. 
As a foreign tourist, you are mostly safe in Campeche. The historic center of Campeche is the safest part of town, and you can walk around and go out for a dinner at night without being afraid for your safety. Always keep an eye on your belongings and be aware of your surroundings. Petty crime can occur even in a relatively safe destination like Campeche.
Get travel insurance to protect yourself in case of stolen valuables, hospital visits, or any accidents.
Is Campeche worth visiting?
Yes, Campeche is worth visiting. Most travelers are not familiar with it yet, but I encourage you to explore this colonial city that is full of charm and history. The town boasts historic buildings, a gorgeous plaza, and uncrowded beaches. It's also a perfect budget destination if you are looking to save some money. 
If you like a combination of rich culture, friendly people, and reasonable prices, Campeche should be on your list!
What is the best time to visit Campeche, Mexico?
The best time to visit Campeche is from October through December. It's a shoulder season when the rainy season is over, but the busy winter season hasn't started yet. I visited Campeche in late September and had a great time, as it was quiet and prices on accommodations and car rentals were very low.
Best hotels in Campeche
Casa Don Gustavo – one of the most popular boutique hotels in Campeche in the historic center
H177 – a small hotel with a cozy feel in central part of the city that makes you feel like home away from home
Best things to do in Campeche: final word
Campeche is one of my favorite destinations in the Yucatan Peninsula. It offers most things that you can find in places like Merida or Valladolid, but for less money and with no tourist crowds. Campeche is also home to some of the best beaches in Mexico that most tourists don't get to visit. Campeche is full of charm and people here are super friendly, so you will most likely want to extend your stay when you come here!