Switzerland is renowned for its beautiful Alpine landscapes and top-notch infrastructure. It also boasts a reputation as one of the safest countries in Europe which helps to attract a lot of solo travelers.
Many people dream about visiting Switzerland and spend a long time planning their trip to this country when they get a chance to come here. However, if you have never been to Switzerland, it's not uncommon to make mistakes that could cost you time and money.
As someone who has spent time in this beautiful country, I want to give you some tips on how to avoid some of the most common pitfalls during your Switzerland trip.
Travel resources for your trip to Switzerland
1. Not budgeting
Switzerland is not cheap.
You probably heard about how much money you can shell out on simple things like a hotel or a basic meal at a fast-food restaurant in Switzerland. If you don't do planning ahead of your trip, you could end up spending tons of extra money simply because you didn't bother to look for deals and discounts on tickets, transportation, and popular tourist attractions in Switzerland.
To save on accommodations in Switzerland, check out HostelWorld or Agoda, great resources for budget stays that will help you save hundreds of dollars.
👉 Book your hotels in Switzerland ahead of your trip by clicking here
Bills add up very quickly when you travel in Switzerland, so don't forget to create a daily budget for your trip.
2. Not buying Swiss Pass
Do you want to save hundreds of dollars?
When you travel in Switzerland, the Swiss Pass is your best friend. It allows you to save tons of money on transportation such as buses, trains and tour boats. It also provides free admission into many museums in Switzerland and discounts on many cable cars and funiculars.
PRO TIP: Download the SBB app on your phone to check train schedules, platforms, and connections. You can even book your train tickets on the app.
✅ BOOK THE MOST POPULAR TOURS IN SWITZERLAND
3. Using wrong transportation
The fastest way to get around Switzerland is by train.
It's reliable, fast and connects most parts of the country. However, when you travel by train in Switzerland, you have to stick to a specific schedule which gives you a bit less freedom.
If you are spending a few days in a major city like Zurich, bern or Geneva, Uber in Switzerland is a great way to get around and avoid expensive taxis.
✅ Check my complete guide on how to from Zurich to Lucerne
If you want more flexibility, you can rent a car in Switzerland, but you will have to pay for additional expenses such as gas and parking. Switzerland has strict road rules and radars are very common in Swiss cities and along highways, so it's paramount that you follow the road rules and don't go above speed limit.
💰 Click here to save money on rental cars in Switzerland!
Discover Cars is my favorite place for renting cars in Switzerland and beyond. It has a great inventory, competitive prices and superb customer service. I used their services many times, and always loved it!
4. Buying bottled water
Water quality is excellent in Switzerland.
This means that you can fill up your bottle in public places and water fountains in big cities like Bern, Zurich, or small villages like Morcote. You can also drink tap water in your hotel, hostel or wherever you stay. Skipping bottled water will not only save the planet from plastic but also help you avoid unnecessary expenses during your Switzerland trip.
✅ GET A REFILLABLE WATER BOTTLE FOR YOUR TRIP
5. Not buying insurance
Medical service is very expensive in Switzerland.
This means you could be looking at a very steep bill if something goes wrong and you have to go to a hospital. That's why you should buy insurance for your trip to make sure that your adventure is not going to be ruined.
To spare yourself from losing thousands of dollars, get World Nomads insurance that will protect you in case of lost or stolen luggage, accidents, hospital visits, and many other unforeseen events. Another option is Safety Wing, that is great for long-term travelers who plan to explore Switzerland for a couple of weeks.
6. Not getting proper hiking gear
Please don't show up on hiking trails in flip flops.
Hiking in the Swiss mountains requires proper outfit and gear, and, if you come unprepared. Good hiking shoes, sunscreen, layers and hiking pants are musts.
7. Not checking the weather
Don't underestimate mountains as the weather there can change rapidly.
The weather in places such as the Jungfrau region can change at a moment's notice, which means you have to have several layers to stay warm.
A lot of the Alps have snow year-round which means a snowstorm could hit any time. However, the Swiss weather can change quickly even if you are in a city such Zurich or Bern, so make sure you are ready and have an umbrella or a raincoat.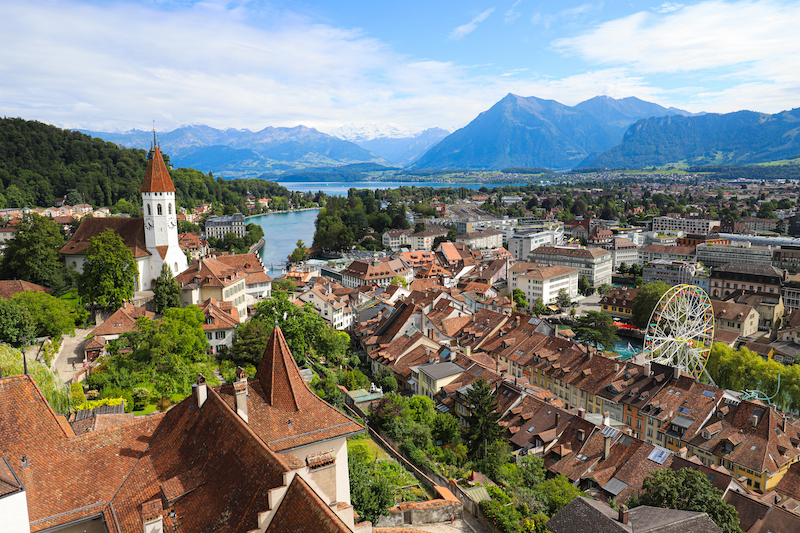 LET ME HELP YOU PLAN YOUR TRIP TO SWITZERLAND!
Besides being a travel blogger, I also create itineraries for my readers 😃 If you want me to plan your trip to Switzerland, provide insider tips and do all the research for you, fill out the form.
My custom itineraries include information on popular landmarks, restaurants, and hidden corners that most tourists miss. As part of my services, I also create suggestions on flights, hotels and activities.
Can't wait to hear from you! 💛
8. Spending too much time in cities
Swiss cities are pure magic.
They boast great cultural attractions, unique architecture and tons of museums and galleries.
However, what makes Switzerland so popular is its incredible landscapes with snow-capped Alps, gurgling rivers, and waterfalls. Even if you are in Switzerland only for a quick visit, get out in the mountains.
In case, you are short on time, consider a tour to Grindelwald and Interlaken from Zurich.
Need help planning your Switzerland itinerary? Check my guide where you can find 3,7 and 14 days itinerary for Switzerland.
9. Skipping Swiss dishes
Rosti, Raclette, or Fondue.
These are all traditional Swiss dishes that should be on your list when you travel in this country. Of course, it might be tempting to stop in a fast-food restaurant that is cheaper and more accessible, however, trying a Swiss dish will help you have a more authentic experience.
Other things you should try are Swiss cheese, chocolate and wine.
To see how the Swiss wine is made, head Swiss Rivera, the region along the shores of Lake Geneva. The best area to see the lush vineyards is Lavaux, and if you want to visit it, my guide is here to help you.
10. Sticking only to popular places
Switzerland offers tons of cool places beyond the classic tourist route that includes Zurich, Zermatt or Luzern. How about Ticino, an Italian-speaking canton that boasts a Mediterranean flare and amazing Alpine valleys?
Switzerland might be a small country with a well-trodden tourist path, but it still has many less touristy spots that you should try to explore if time allows.
11. Asking if there's a Swiss language
In case you are wondering if there's a Swiss language, I'm here to tell you that there is not.
Switzerland has four official languages: German, French, Italian, and Romansch. English is widely spoken and understood in most parts of Switzerland. Note that Swiss German is very different from the traditional Hoch Deutsch (or classic German) that's often taught in schools, and has its own pronunciation and spelling.
12. Spending too little time in Switzerland
Switzerland is a small country but it's jam-packed with incredible scenery.
This means that visiting places such as Zermatt, Lauterbrunnen and Jungfrau in addition to stops in Luzern and Zurich in 3 or 5 days might be difficult. If you have never been to Switzerland and are trying to create your itinerary, I recommend no less than 7 days to have enough time for Swiss cities and a couple of destinations in the mountains.
✅ GET THIS PERFECT HIKING BACKPACK FOR HIKING IN SWITZERLAND
13. Planning your trip during peak season
September is a beautiful month in Switzerland.
While tourist crowds begin to dissipate following the summer, the weather is still pleasant enough where you can do things like hiking, sightseeing, and other stuff.
14. Not learning basic Swiss history
Switzerland was founded on August 1, 1291. The country fought hard for its independence before declaring itself a neutral state in the early 16th century. If you plan to take a trip to Switzerland, you should learn some basic facts about this country to get a better context and understanding of how things work here.
PRO TIP: Taking organized tours in Switzerland is a great way to learn the country's history.
15. Eating out all the time
When you travel to Switzerland, it's a good idea to buy food in-store and cook it, because dining in restaurants is going to be very expensive in the long run. Food is expensive in Switzerland and if you don't watch prices, you could spend a ton of money.
16. Trying to shop on Sunday
Many stores and restaurants are closed in Switzerland on Sunday. This means that you have to buy groceries and other things beforehand.
17. Tipping too much
Salaries are high in Switzerland and waitresses and waiters are able to make living wages without having to depend on customers' tips. This means that while gratuity is appreciated, it's not always expected at the end of the service.
However, as I've been told by a few of my friends, people who leave no tip at all are considered rude. Switzerland is still a very expensive place to live, and people who work in the service industry don't earn high enough wages to live comfortably, so your gratuity goes a long way.
18. Trying to do small talk
Swiss people don't do small talk. While you will generally experience a friendly attitude as a visitor, don't expect strangers trying to start a conversation with you on every corner.
19. Not watching your surroundings
Switzerland is one of the safest countries in the world. And while it's safe to walk at night or travel by yourself, you should still use common sense when you go to a large event like a Street Parade in Zurich that is attended by over a million people every year.
✅ GET THIS ANTI-THEFT BAG TO KEEP YOUR BELONGINGS SAFE
20. Don't forget to be polite
Staying courteous and saying simple things like "thank you" and "please" will get you a long way.
After all, you represent your country when you travel in Switzerland and leaving a bad impression is the last thing you want to do.
Happy exploring!
Disclaimer: This post contains affiliate links. At no cost to you, I might earn a small commission if you make a purchase through the links in this article.