Disclaimer: This post contains affiliate links. At no cost to you, I might earn a small commission if you make a purchase through the links in this article.
Trying to create a list of the best things to do Guadalajara is not easy, as it's the second-largest city in Mexico with rich history, wonderful regional cuisine and is home to some of the most famous Mexican brands like tequila and Mariachi.
Many travelers overlook Guadalajara in favor of Mexico City – and they really miss out! Aside from being a cultural mecca, Guadalajara is also more friendly to your wallet than the trendy capital.
Whether you want to have fun on a budget, indulge in delicious lonches and tortas ahogadas – Jalisco's signature delicacies, or explore the history of Mexico's culture hub, a stop in this city is a great idea!
What is Guadalajara known for?
Guadalajara is known as the birthplace of some of the most famous staples of the Mexican culture like Mariachi and Tequila. It's also the second largest city in Mexico by population that hosts many important annual events including Guadalajara International Film Festival.
Best things to do in Guadalajara, Mexico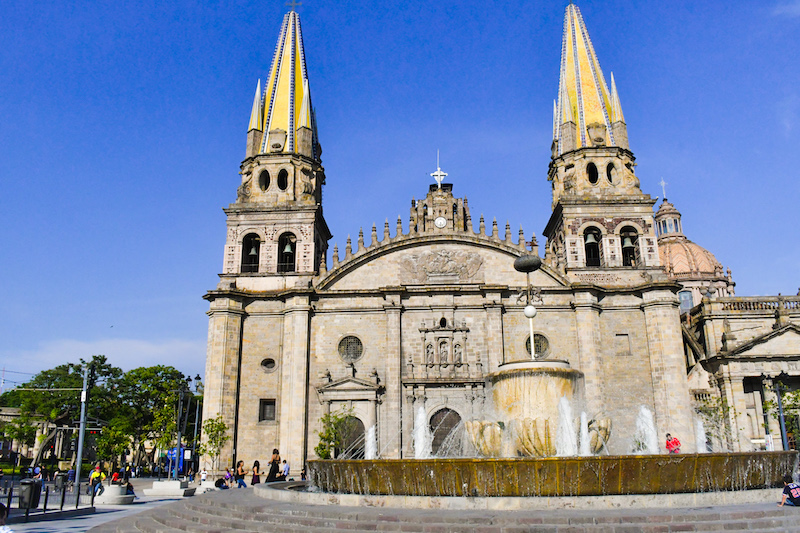 1. Take a walking tour of Guadalajara
The best way to get familiar with Guadalajara and its colorful neighborhoods are by taking a private walking tour of the city. The tour is offered by a local guide who can give you an insight into the city's culture and history.
The 3-hour walking tour covers 10 fundamental Guadalajara landmarks like the Guadalajara Cathedral, the city square, the main plazas; Chapultepec cultural corridor, and other major landmarks.
It's a fully-private tour, which means that your guide will give you exclusive attention and provide a tour at your own pace.
The tour begins in Colonia Americana: a cosmopolitan neighborhood in Guadalajara that was founded in the early 1900s. The area is known for its eclectic architecture and a collection of bars and restaurants. 
Best walking tours of Guadalajara
These tours are a great way to support local tour guides who work every day to show their city to visitors like you 🙂
2. Go to Tequila on a day trip
Tequila is a designated pueblo magico that is known for the production of the namesake drink. It's also one of the most popular day trips from Guadalajara.
Tequila is one of the most famous Mexican exports and is the trademark. Only drinks made in five states Guanajuato, Jalisco, Michoacan, Nayarit, and Tamaulipas, and following a strict set of production rules could bear a legal name of tequila. 
How much is the drive from Guadalajara to Tequila?
Tequila is 41 miles away from Guadalajara, and it can take anywhere between 50 minutes to one hour to get there, depending on the traffic.
Tequila is one of the most famous pueblos magicos in Mexico. Pueblos magicos are towns that have been given a special status by the Mexican government because of their cultural significance. Going on a day trip to Tequila from Guadalajara is a perfect way to learn about how tequila is made from the agave plants.
Best Tequila tours from Guadalajara
During the tour, you visit fields where agave grows, and head to La Rojeña, the distillery for Jose Cuervo that opened in 1812. The tour includes a visit to a local distillery and a sampling of tequila. The tour is followed by lunch and free time when you can explore the town of Tequila. The tour also includes round-trip transportation and drop-off and pick-up at your hotel. 
3. Take Jose Cuervo Express to Tequila
One of the most fun experiences in Guadalajara, Jose Cuervo Express is a train that takes you straight to the town of Tequila from Guadalajara Train Station. The train takes about 4 hours and allows you to see some of the most beautiful countryside in the state of Jalisco, as well as learn about tequila production and sample the famous drink along the way. 
How to visit Tequila on your own?
If you have a rental car, you can also visit Tequila on your own. This way, you explore the town at your own pace, visit local shops and distilleries and spend the night at one of the hotels in Tequila before returning to Guadalajara or continuing your adventures in the state of Jalisco. 
✅ Check my complete guide to renting a car in Guadalajara Airport
4. Visit artisan villages Tonalá and Tlaquepaque
When you want to escape the busy Centro Historico of Guadalajara, head to the artisan villages of Tonala and Tlaquepaque a quick drive from the heart of Guadalajara.
These colorful neighborhoods boast colonial villages, authentic Mexican restaurants where you can try Jalisco cuisine, and visit artisan markets. The best thing is that you can visit both of these places with a private guided tour that can give you a complete overview of these pre-Hispanic towns.
5. Wander around Guachimontones Archaeological Area
The Guachimontones ruins are one of the most interesting archaeological areas in Mexico that are famous for their circular pyramids. A UNESCO World Heritage Site, The Guachimontones is home to the only round pyramids in Mesoamerica.
Formed by the Teuchitlán culture that lived in the Tequila Valley between 300 BC and 900 AD., this archaeological area is one hour outside of Guadalajara and is a popular day trip among many travelers.
The largest pyramid at Los Guachimontones is over 60 feet and has 52 steps, which corresponds to the number of weeks in a year.
Best tours of Guachimontones from from Guadalajara
One of the best ways to visit this archaeological area is with a guided tour that will provide round-trip transportation and a local guide who can tell you everything about the ancient civilization that once lived here.
6. Admire Guadalajara Cathedral
Guadalajara Cathedral is a centerpiece of the city's historic center, and visiting it is one of the best things to do in Guadalajara if you want to learn about local history.
The cathedral has survived many disasters including seven earthquakes. Most of the cathedral dates back to the 16th and 17th centuries while the earthquake in 1818 destroyed its dome and towers which had been rebuilt in a Neo-gothic style and are different from the rest of the construction.
Guadalajara Cathedral is part of the city's Centro Historico, home to cultural landmarks, street markets, and museums. It's a great place to stay in Guadalajara with many hotels and you can also find many good restaurants here.
Address: Av Alcalde 10, Zona Centro, 44100 Guadalajara, Jalisco, Mexico
7. Rotunda of the Illustrious Jaliscienses
Located on the left side of the Guadalajara Cathedral, the Rotunda of the Illustrious Jaliscenses is a monument dedicated to the many prominent people hailing from the state of Jalisco. Here you can find statues of famous Mexican architects, artists, poets, and philosophers.
Address: Av. Miguel Hidalgo s/n, Zona Centro, 44100 Guadalajara, Jalisco, Mexico
8. Walk around Centro Historico Plaza
The four plazas surrounding the Guadalajara Cathedral are a great stop to take in the atmosphere of the place and admire its unique designs. Most walking tours of Guadalajara include a visit to these plazas, but you can also visit them on their own.
Plaza Guadalajara is a busy thoroughfare with plenty of greenery that is a perfect place to grab some street food and hunker down in a shade. Plaza de la Liberación offers the best views of the Guadalajara Cathedral, and Plaza Tapatia, is home to many street and food vendors.
9. Templo Expiatorio and Plaza Expiatorio
Many travelers miss this hidden gem located between Centro Historico and Avenida Chapultepec. I came across this orange church on my way to one of the vegan restaurants in Guadalajara and was surprised at how pretty it was!
The entrance is free, and you can also grab some street food from one of the vendors on a plaza in front. 
10. Go on a food tour
Guadalajara is known for its regional delicacies, and you will miss out big time if you don't try them on your trip. As a vegan, I can't recommend any restaurants that serve meat or animal products, but the good news is that there are many plant-based options for famous Jalisco dishes like lonches and torts ahogadas.
If you want to sample regional delicacies, join a guided food tour organized by a local guide. The tour offers an overview of the Historic Center of Guadalajara from a gastronomic, cultural, and historical perspective.
The adventure begins with a typical breakfast of the region, sweet treats, and drinks and ends with a tequila tasting in a local canteen where you can mingle with the locals. 
11. Try typical Guadalajara foods
When you visit Guadalajara restaurants, you will find many dishes that you haven't seen in other parts of Mexico. Some of the most common foods in Guadalajara and in Jalisco are birria, torta ahogada and jericalla. 
Torta ahogada (drowned sandwich in Spanish) is stuffed with meat before being drenched in a spicy tomato chili sauce. It's served with a combination of vegetables like avocado and onions. Tortas ahogadas are sold on street corners and in restaurants.
Birria – a traditional Jalisco meat stew, Birria is made with spices like oregano, cilantro, or ginger and is garnished with lime. You can try this signature dish in many birrierias in Guadalajara. 
Lonche – a staple of Guadalajara street food, lonche is a sandwich made with a "birote" baguette, which is also used in tortas ahogadas. The birote bread is filled with many types of ingredients and heated on a grill similar to a panini. 
Bionico – a popular dessert that's said to have originated in Guadalajara in the late 90's bionics are made with fruits, yogurt and come with a variety of toppings like granola, shredded coconuts and nuts.
Garrafas – popular Guadalajara ice cream also known as "nieve" in Spanish. Churned by hand, this type of ice cream is made in a wooden barrel where salt is mixed with ice. 
12. Check out Mazamitla Pueblo Magico 
Jalisco is home to one of the largest numbers of pueblos magicos in Mexico. It's surrounded by lush green hills and provides a nice refresh from the busy Guadalajara. Mazamitla is one of the most popular day trips from Guadalajara and can be visited as part of the guided trip.
13. Listen to Mariachi music 
One thing you can't miss while visiting Guadalajara is the Mariachi Bands. There's no Mexican music that is more famous than Mariachi, and you can find it in restaurants around Guadalajara, and tourist hubs like Centro Historico, Tlaquepaque, or Zapopan.
Mariachi music is listed as the object of UNESCO's Intangible Cultural Heritage and Jalisco is where it originated. The best place to listen to Marichi music is the Plaza de Los Mariachis, where you can ask the band to sign a song for you in exchange for a tip. 
14. Get cultured in Zapopan 
Zapopan is a small town that's part of Guadalajara's metropolitan area. Some of the top attractions of Zapopan are the Basilica of Zapopan, one of the oldest churches in the city built in 1690's that boasts gorgeous ornate facades, as well as the Huichol Art Museum where you can learn about one of the most fascinating indigenous cultures of Mexico and the Museum of Virgin of Zapopan. 
15. Pop into the Cultural institute Cabanas
One of the best things to do in Guadalajara for culture buffs is visiting the Cultural Institute Cabanas. This popular museum was started in 1791 as an orphanage and later became a cultural center. The Cultural Institute Cabanas boasts several galleries and frescoes by Mexican artist Jose Clemente Orozco. One of his famous artworks is The Man of Fire (Hombre de Fuego).
Like most museums in Mexico, the Cultural Institute Cabanas is closed on Mondays. The entrance is free on Tuesday and is $2 on all other days.
Address: C. Cabañas 8, Las Fresas, 44360 Guadalajara, Jalisco, Mexico
16. Visit Mercado Libertad (Mercado San Juan De Dios)
If you want to try street food and do some shopping, head to Mercado Libertad, a typical Mexican market in the heart of Guadalajara. Here you can find fresh fruits and vegetables, street food, souvenirs, clothing, shoes, and many other things. The market has three floors and you can easily indulge in some local dishes made right on the spot. And the best thing is, it's budget-friendly! Don't forget to bring cash, because credit cards are rarely accepted in Mexican markets.
Check out this private market tour that is popular with Guadalajara visitors.
Address: San Juan de Dios, 44360 Guadalajara, Jalisco, Mexico
17. Check out Avenida Chapultepec 
Home to some of the best restaurants, bars, and nightclubs in Guadalajara, Avenida Chapultepec (or Chapu as it's often called) is known for its nightlife. It's a great place to go and have fun on a weekend, and there's also a small market in the middle of the street where you can find many local arts and crafts. 
18. Visit Colonia Americana
Avenida Chapultepec is the heart of Colonia Americana is one of the most popular neighborhoods in Guadalajara known for its trendy bars and restaurants as well as live music.
In addition, Colonia Americana boasts gorgeous neoclassical buildings and cultural landmarks like the Templo Expiatorio del Santísimo Sacramento (Expiatory Temple of the Blessed Sacrament) and The MUSA (University of Guadalajara Art Museum).
19. Take a day trip to Lake Chapala 
The largest natural lake in Mexico is just a short drive from Guadalajara and taking a day trip here offers a nice reprieve from the busy street of Jalisco's cultural hub.
A popular stop along Lake Chapala is Ajijic, a town that was recently awarded a status of a pueblo magico. Ajijic is a small but colorful town with plenty of restaurants, local stores, and fantastic mountain views.
Check out this popular guided tour of Lake Chapala from Guadalajara.
20. Spot Guadalajara murals 
Exploring this city through its murals is one of the best things to do in Guadalajara! While you can spot many colorful murals on the streets of the city, you might not always know their meaning.
A guided half-day tour is a perfect way to discover the architecture and the cultural significance of Guadalajara. The tour will give you an overview of the most famous Mexican muralists, including Jose Clemente Orozco, and their most famous artworks. You will also visit historical landmarks like the Cabañas Orphanage, which is home to 57 of Orozco's fresco murals, along with the Cathedral, the Degollado Theatre, and other places.
21. Visit Government Palace 
The beautiful building housing government officers is an unmissable stop on your Guadalajara itinerary. Visiting it is one of the best things to do in Guadalajara if you want to learn more about Mexican murals by the famous artist Jose Clemente Orozco. Here you will also find a figure of Miguel Hidalgo, an important figure in Mexican history, and one of the revolution leaders.
The Government Palace is free to the public on weekdays and is closed on weekends.
Address: Av Ramón Corona 31, Zona Centro, 44100 Guadalajara, Jalisco, Mexico
22. Try Mexican craft beer 
Besides being famous for its tequila, Guadalajara also has a good craft beer scene. As someone who is not a beer lover, I can't speak to their tastes and flavors, but fellow travelers told me that Guadalajara has many good types of beer.
While you can sample local brews in bars and restaurants, you can also join a guided tour with a more curated experience.
23. Hike La Barranca de Huentitan (Barranca de Oblatos)
One of the hidden gems of Guadalajara, La Barranca de Huentitlan is a big canyon with grand views. It is a site of many battles between native battles that populated Mexico in the pre-Hispanic times and the Spanish conquistadors.
Besides being a historic site, it's also good for hiking and getting out in nature. Although most trails here are paved, they are steep, so bring enough water and good hiking shoes. The place can easily be accessed from Guadalajara by a quick Uber drive.
24. Go for a stroll in Bosque Colomos Park
Bosque Colomos is one of the best green spaces in Guadalajara located in Zapopan. Here you can take a walk and relax after a day of activities, especially if you decide to put Zapopan on your itinerary. Whether you want to relax, exercise, or have a picnic, you will enjoy this gorgeous and tranquil park.
If you want to spend a bit more time at the park, bring good hiking shoes, as there are many walking trails in the area. It's easy to spend a few hours here enjoying the scenery. 
25. Shop in Tonal Street Market
Shopping in Tonala Street Market (also called Tianguis Tonala) is one of the best cultural experiences in Guadalajara. This market takes place every two weeks, so be sure to leave some time for it on your trip.
Here you can buy everything from local produce to handcrafts and home goods. Like most Mexican Market, Tonala is also a great place to try traditional dishes like tacos, tamales, birrias and so much more!
Buying locally made goods and produce at Tonala Street Market is a great way to support locals who put so much love and effort into their trade.
Best hotels in Guadalajara, Mexico
Best things to do in Guadalajara: FAQ
Is Guadalajara worth visiting?
Guadalajara is definitely worth a visit. It's one of the most culturally important cities in Mexico where you can learn more about the country's history, admire impressive architecture and enjoy local gastronomy. The city's historic center boasts many landmarks and points of interest and you can take a few day trips from Guadalajara to explore places like Tequila or Lake Chapala.
How to get around Guadalajara?
Guadalajara is a big city, but most of the best things to do in Guadalajara are located around Centro Historico, so you can easily explore the city on foot. If you want to visit places that are further like La Barrance de Huentitlan, take an Uber.
Is there Uber in Guadalajara?
Yes, there's Uber in Guadalajara, and it's the best and safest way to get around the city quickly and inexpensively. Uber is cheaper in Mexico than in the United States, and you can pay below $10 for a short ride.
Is Guadalajara a walkable city?
Guadalajara is perfectly walkable You can easily get around the historic center on foot and catch Uber if you want to visit areas like Zapopan or Tlaquepaque which are further away.
What is the best month to visit Guadalajara?
The best time to visit Guadalajara is between from November through December when the rainy season is over and but the busy tourist season hasn't started yet. Another option is to visit the city from January through March, when the weather is pleasantly warm.
Renting a car in Guadalajara
If you want to see Guadalajara and take some day trips, rent a car. I recommend renting a car with DiscoverCars at Guadalajara airport. You will save money on public transportation and taxis and have a chance to explore the city and surrounding areas at your pace. 
Read my guide renting a car in Mexico to avoid common mistakes and save money
Getting around Guadalajara by bus
If you are looking to get around Guadalajara on a budget, a bus is your best friend. Buses can take you to most parts of Guadalajara, and many of them have varying routes. If you speak Spanish, things will be a lot easier, as you can ask for directions and stops. It pays off to speak at least some Spanish if you want to use public transportation in Mexico.
Private transfer from Guadalajara Airport to your hotel
If you don't plan to rent a car in Guadalajara, book a private transfer from Guadalajara airport to your hotel. It's a perfect option for those travelers who are not comfortable haggling on a price with taxi drivers or taking public transportation.
A private transfer will bring you to your hotel and save you time.
Is Guadalajara safe?
Guadalajara used to have a bad reputation for kidnappings and drug-related criminal activity. But the city has cleaned up its image over the last decade. Today Guadalajara is safe for visitors, but that doesn't mean you can forget about following safety precautions.
If safety is a concern, consider getting World Nomads insurance that will protect you in case of lost or stolen luggage, accidents, hospital visits, and many other unforeseen events. Another option is Safety Wing, which is perfect for long-term travelers who plan to explore Mexico for a while.
Stay in one of the tourist areas in Guadalajara, Mexico
It's best to stay in busy areas frequented by other visitors and avoid unwanted attention.
Among the safest areas in Guadalajara are Centro Historico, Tlaquepaque, Zapopan, Financial District, and a few other areas where you can find many cultural and historical attractions, bars and restaurants.
Try to limit your activities to daytime, and avoid secluded dark streets. Leave your expensive clothing and designer brands back home and keep a low profile.
What areas of Guadalajara are not safe?
Oblatos is safe during the day but not at night. The same is true about much of the center of Guadalajara, which is not recommended for hanging out at night. Some neighborhoods in Guadalajara are not safe. El Cerro Del Cuatro, Tlapuepaque is not a place to be at any time, and outer parts of Tonala are pretty sketchy, so it's better to avoid them.
Is Guadalajara safe for solo female tourists?
In general, Guadalajara is safe for solo female travelers. The city tends to be more progressive and has a higher percentage of educated people than rural areas of the state. Machismo culture which is an issue in other parts of the country is not as pronounced here.
However, as a female traveler, you should always err on the cautious side. Keep your friends and family posted about your plans, avoid drugs and alcohol, and be very careful about accepting drinks from strangers. Keep a low profile and blend in with the crowd.
What is the best time to visit Guadalajara, Mexico?
October through December is the best time to visit Guadalajara thanks to dry weather, and perfect temperatures in the lower 80s. January through March is a good time to visit Guadalajara if you want to save money on accommodations. July through October is a rainy season that sees the most precipitation.
How many days is enough for Guadalajara?
I recommend between 3-4 days to see Guadalajara and some of the surrounding areas like Lake Chapala, Tequila, and Mazamitla. Plan about 5 days for your Guadalajara trip if you want to enjoy the city and its surroundings without rushing.
What are the best areas to stay in Guadalajara, Mexico?
Many tourists like to stay in Centro Historico, because of its convenience, however, this part of the city also has older buildings with old infrastructure, so if you are looking for more modern accommodations, you should stay elsewhere.
Colonia Americana is a popular area with tourists where you can find many cool cafes and restaurants, and walk easily from place to place. Another popular spot is Colonia Providencia which is slightly more expensive but has a good variety of places to eat, as well as bars and shops. Chapalita is a quiet residential area of Guadalajara if you want to experience more of a local vibe and visit a street market that takes place every Sunday.
What is the weather like in Guadalajara, Mexico?
Guadalajara has a dry climate with plenty of sunshine throughout the year. The warmest months are from April to June before the beginning of the rainy season, which starts in June. The dry season in Guadalajara is from November through May, and August is the wettest month with the most precipitation.
Guadalajara sits at almost a mile-high elevation, and you will not see any humidity here.
Which is better to visit Guadalajara or Mexico City?
Guadalajara and Mexico City are two important cities in the country, each with its own unique flair. Guadalajara feels less crowded and chaotic than Mexico City, and you can easily explore some of the best things to do in Guadalajara on foot, especially in the historic center. Mexico City has a lot more traffic than Gudalajara and driving distance between points of interest can be really long.
Best things to do in Guadalajara: final thoughts
Guadalajara is one of the best destinations in Mexico for culture buffs. Although not quite as touristy as Mexico City, Guadalajara is a great place to visit if you want to experience the authentic Mexican culture, listen to Mariachi bands, and eat yummy torts ahogadas. There's a long list of things to do in Guadalajara, and you will not run out of activities while spending time in this city.