If you have traveled to Mexico, you probably heard about pueblos magicos, or magic towns that were given a "magical" status by the Mexican government because of their cultural, historical, or architectural significance. Visiting pueblos magicos in Mexico is one of the best ways to get a lesson in the country's culture and get outside of the tourist bubble.
As of the time of writing this post, there are 132 pueblos magicos in Mexico, and while some of them have become popular with tourists from all over the world, others remain hidden jewels waiting to be discovered.
How did Pueblos Magicos come about?
With many travelers flocking to the country's coastal regions, the Mexican government decided to diversify its tourism back in 2001 and created the first group of pueblos magicos, Huasca de Ocampo in Hidalgo, Tepoztlan in Morelos and Real de Catorce in San Luis Potosi, to bring more visitors to inland areas of Mexico.
The program has turned out to be a great success for many rural parts of Mexico, as they have seen big improvements in infrastructure, jobs, and as a result, an influx of tourism dollars.
Meanwhile, the list of Pueblos Magicos has grown considerably since the program was initiated and now includes dozens of pueblos magicos all over the country.
Why visit Pueblos Magicos?
Pueblos Magicos in Mexico offer a glimpse into the country's colorful history helping to understand how Mexico's pre-colonial past helped to shape the identity that you see today. Many Mexican Pueblos Magicos are located in the regions that boast delicious regional cuisines, distinct cultures, and even their own dialects!
This list of the best Pueblos Magicos in Mexico was put together by fellow travel bloggers who had a chance to visit them while traveling the country. I hope this article will inspire you to put a few of these wonderful destinations on your travel list and hit the road in the near future.
PRO TIP: Learn my Mexico travel tips that will help you to stay safe on the road and avoid some of the most common tourist mistakes.
The best way to see Pueblos Magicos
While many pueblos magicos in Mexico can be accessed by regional buses from major metropolitan areas like Mexico City, Cancun, or Guadalajara, the most convenient way to see them is by renting a car.
This will allow you to have time and freedom to explore pubelos magicos at your own pace without worrying about catching the bus on time. My favorite place for renting cars in Mexico is City Car Rental that offers services in many popular destinations in Mexico including Cancun, Puerto Vallarta, and Mexico City, among others.
Their service is always super friendly and prices are fantastic, so I recommend you book a car with them for your next trip to Mexico.
1. Palenque, Chiapas
Where to stay: Hotel Maya Bell
Located in Mexico's state of Chiapas in the heart of Selva Lacandona is one of the most well-known Pueblos Magicos in Mexico: Palenque. This small town sits near one of the best-preserved Mayan ruins in Mexico, and a UNESCO World Heritage site, Palenque.
This ancient Mayan city was founded around 226 BC, and was once called Lakamha. Palenque flourished in the 7th century when its main opponent was the city of Tonina, located more inland not far from San Cristobal de las Casas. The archaeological site covers a large area, and boasts fascinating history, so consider hiring a guide for your visit to Palenque. 
If you decide to visit Palenque on your own, it's pretty hard to miss some of its main features. For example, The Temple of the Inscriptions is the largest in the entire complex, and it takes its name from the hieroglyphic Inscription Tablets found inside.
Other highlights of Palenque are the Plaza del Artesano, where you can shop for souvenirs to bring home; and the Iglesia de Santo Domingo de Guzman. Palenque is also a great starting point to visit the beautiful waterfalls of Misol Ha – a one jump waterfall with a stunning swimming hole; and Agua Azul, which has a series of small natural pools perfect for swimming.
Contributed by Claudia of My Adventures Across The World
2. Chiapa de Corzo, Chiapas
Where to stay: Hotel la Ceiba
Another pueblo magico in the wild and diverse state of Chiapas, is Chiapa de Corzo. This small village sits close to the capital of Chiapas, Tuxtla Gutiérrez, and makes a convenient stop for travelers coming from San Cristobal de las Casas.
Chiapa de Corzo has a lovely open plaza, streets with vendors selling artisanal crafts, and the Ex-convent of Santo Domingo, which hosts a small museum.
But the real draw of this pueblo magico is the nearby Cañón del Sumidero (or Sumidero Canyon) which can be explored via a scenic boat ride along the Sumidero River. A ride through this deep canyon includes viewing of birds and crocodiles – you will feel minuscule next to towering scenic cliffs and cascading waterfalls.
If you want to see the canyon from another angle, stop at one of the viewpoints that look down into the depths of the gorge. The best way to reach Sumidero Canyon is via a day trip from San Cristobal de las Casas, one of the most popular stops among travelers who come to Chiapas.
It is also possible to visit Sumidero Canyon independently by boat from Chiapas de Corzo, but the tour is cheaper, more convenient, and comes without the hassle of arranging public transportation.
Remember that Chiapas is the perfect state in Mexico for intrepid travelers where you should rent a car to explore some of the best natural and historical treasures.
Contributed by Megan of Packing Up The Pieces
3. San Cristobal De Las Casas, Chiapas
Where to stay: Hotel Casa Margarita
San Cristobal de las Casas is considered the most magic of the Pueblos Magicos in Mexico, and for more than one reason.
Nestled in the Central Highlands region of Chiapas, this town is the cradle of the indigenous Mayan culture in Mexico and you can see it in local architecture and in the famous Market, brimming with colorful traditional artifacts and textiles.
Walk around the historical center to check out the baroque-style churches and decadent pastel-colored houses with a unique colonial feel, and see the street art representing social conflicts and religious syncretism.
From San Cristobal, you can explore natural wonders by joining locally organized tours – the best (and most economical) way to travel around the state, since the local transportation is not always reliable. Take a bike tour in the surrounding area, or visit the Cañon del Sumidero, the Lagunas de Montebello, or El Chiflon Waterfall.
San Cristobal de las Casas is the perfect base for your adventures in Chiapas and, in the past few years, it has also become one of the main hubs for digital nomads, thanks to the improvement of wi-fi service in many cafes and co-working spaces where you can mingle with fellow expats and find new friends.
If you visit San Cristobal, you may never want to leave.
Contributed by Isabella of Boundless Roads
4. Mazunte, Oaxaca
Where to stay: Casa Balu
Mazunte, Mexico's hidden gem along the Pacific Coast offers laid-back atmosphere, gorgeous sunsets, and stunning natural landscapes – and until recently it was known only to a handful of travelers, but things are quickly changing.
Today, this small town is one of Mexico's best destinations for eco-tourism, yoga, and unspoiled scenery.
Eco-tourism has become a big part of the local economy since the Mexican government replaced the sea turtle fishing industry with conservation which paved the way to establishing the Centro Mexicano de La Tortuga, a local conservation center.
Also in Mazunte, you can learn about sea turtle conservation efforts. A group of beaches around Oaxaca's coast including Mazunte is home to the world's prime nesting regions for endangered sea turtles.
All around Mazunte you can find tons of stunning beaches amid the craggy coast. Make sure to admire them from the distance: swimming is not recommended in many areas around Mazunte due to dangerous currents.
One of the best points for taking in scenic views of the area is Punta Cometa that can be reached via a steep rocky trail.
5. Taxco, Guerrero
Where to stay: Hotel Mi Casita
One of the most beautiful pueblos magicos in Mexico, Taxco is located in Guerrero state, around 100 miles west of Mexico City.
There are several things that make Taxco unique, one being its silver mining history. One of the best things to do in Taxco is to shop for beautiful silver jewelry – an excellent way to learn its significance in the region's history. It's believed that silver was mined from the ground as early as the Aztec era when the local people used it to pay for their protection.
You can also take the cableway up to majestic Hotel Montetaxco for panoramic views over the region. Another option is driving, taking a taxi, or hiking to the hillside El Cristo Panoramico statue.
For an adventurous day trip from Taxco, visit Pozas Azules de Atzala (Blue Pools) which is located about 40 minutes away. You can rent a car for your trip or take a drive with a local taxi driver.
PRO TIP: Want to know how to negotiate a taxi price and avoid mistakes while renting a car? Check my Mexico travel tips.
If you are looking for a place to stay in Taxco, there are plenty of lovely guest houses in Taxco including Boutique Pueblo Lindo which has an excellent restaurant on site (order the hibiscus mole). For a more luxurious option, splash out on Hotel Montetaxco.
Driving to Taxco from Mexico City by car takes 2 hours and getting there by public bus (from Taxqueña Terminal de Sur) takes about 2 hours 20 minutes.
Contributed by Rose of Where Goes Rose
6. Tequila, Jalisco
Where to stay: Hotel Villa Tequila
Designated as a UNESCO World Heritage Site in 2006, Tequila is one of the most famous Pueblos Magicos in Mexico thanks to the famous drink that's been produced here for centuries. It is located in the state of Jalisco, about four hours from Puerto Vallarta.
If you'd like to learn more about the history of tequila and how it's made, there are a couple of museums in town, the most famous of them is the National Museum of Tequila as well as Museo Los Abuelos. There are also distilleries Casa Sauza, Disteleria la Alborada and Casa Orendain that offer tours and samples.
The town of Tequila has a very nice main square, Plaza Principal, one of the most popular places for taking photos. There is artwork, a sculpture "Tequila" spelled out in bright colorful letters, and a gazebo. Next to the square is the town's main church, Parroquia Santiago Apóstol, which was built in the 18th century. Right nearby, you will find many restaurants and shops selling souvenirs.
You can easily do a day trip to Tequila from Guadalajara or Puerto Vallarta or spend a few days there.
FUN FACT: Did you know that tequila is registered by the Mexican government? According to its stipulations, only drinks made in five states (Guanajuato, Jalisco, Michoacan, Nayarit, and Tamaulipas) and following a strict set of production rules could bear a legal name of tequila.
Although Mexico has 220 types of agave, the true tequila is made only with the specific type of agave that grows in parts of Jalisco.
Contributed by Vicky of Buddy The Traveling Monkey
7. Ajijic, Jalisco
Where to stay: Real De Chapala
Ajijic is the ninth Pueblo mágico in Jalisco, and one of Mexico's newest Pueblos Magicos that was designated in December 2020.
Located on the outskirts of busy Guadalajara, Ajijic makes for a perfect escape from the second-largest city in Mexico thanks to its beautiful and quiet setting on the shores of Lake Chapala.
Most travelers are not familiar with Ajijic, however, this town has a big expat community. Ajijic's year-round sunshine and tropical climate have become magnets for many people from all over the world who call this place home.
Besides natural scenery, Ajijic boasts wonderful colonial architecture with cobblestone streets and a thriving art scene. Cool murals grace many walls around town and you can easily explore the area on foot.
8. Sayulita, Nayarit
Where to stay: Casa de Ballena
Located just one hour north of the international airport in Puerto Vallarta, is the Pueblo Magico of Sayulita, a charming beach town in the heart of Mexico's beautiful Riviera Nayarit. Blessed with spectacular beaches and year-round sunshine, Sayulita is also home to world-class surfing, talented artists, and excellent shopping.
There is something here for just about everyone who loves the surf, sun, and Mexican culture. Bird watching and nature tours are great activities when you get tired of the beach. Or get your yoga groove on in a tropical setting at one of yoga studios in Sayulita.
Here you will find many stores selling everything from native arts and crafts, handmade jewelry, beach clothing and outfits for a night out.
Since surfing is the biggest draw of Sayulita, grab a board and take a lesson or two at a local surf shop.Sayulita also boasts some of the best food in Mexico not only in the excellent restaurants but also when it comes to its street food scene.
Plan to stay in Sayulita for 5 days or more to soak up the atmosphere and enjoy all the cool things that this photogenic town has to offer. The best time of year is the high season during the winter months. For a more laid back and quiet experience go during the summer when it's hotter and less crowded.
Contributed by Lori of Travlinmad
9. San Sebastián del Oeste, Jalisco
Where to stay: Los Arcos Del Sol
Nestled in the Sierra Madre mountains in the state of Jalisco, San Sebastián del Oeste is a charming Pueblo Magico nearly 4,900 feet above sea level.
The town was first conquered by the Spaniards in the 15th century and quickly became one of the most important mining centers of the Spanish. Today, you can still find local goldsmiths and jewelers making unique pieces to take home as souvenirs.
One of the best things to do in San Sebastián del Oeste is to walk around and take in the historic beauty. The main square is home to a quaint 18th-century church and local restaurants serving delicious traditional Mexican cuisine.
If you're looking for some adventure, you can rent ATVs from town and drive them an hour to La Bufa viewpoint, where you will literally be in the clouds! The views from the top are incredible, and there's a beautiful forest there perfect for hiking.
San Sebastian is a small town, making it a perfect day trip from Puerto Vallarta. It only takes 90 minutes to get to this gorgeous village. The weather here is much cooler due to the elevation, so it's a great place to cool off if you get too hot in the city.
Contributed by Lora of Explore with Lora
10. Peña de Bernal, Queretaro
Where to stay: Hotel Boutique Palomas
Located at the foothills of the Sierra Gorda mountain range in the Queretaro State, Bernal is one of Mexico's most photogenic pueblos magicos. This tiny mountain town became famous for the unique monolith towering over the valley, the Peña de Bernal that draws so many visitors here.
Visitors love to take the short but steep hike to a lookout halfway through the peak and leave the last part to expert climbers with the right equipment.
After the hike, take a walk around town to see the architecture and try delicacies such as local homemade pastries. If you spend the entire day in Bernal, make sure to have lunch at El Negrito, a restaurant where you can taste the local Gorditas, thick tortillas that come with a great variety of fillings.
You can visit Bernal on your own and get there from Queretaro by bus. If you decide to do that, spend the night in Bernal and enjoy a full day exploring the town and surroundings. You can also join an organized tour from Queretaro, which is a convenient way to see the town.
Contributed by Isabella of Boundless Roads
11. Valladolid, Yucatan
Where to stay: Casa Flamingo
Despite its strategic location just miles from the popular Mayan ruins at Chichen Itza, the magical town of Valladolid is still missed by many travelers to Mexico's Yucatan peninsula. Those who do venture to Valladolid will discover why it's one of the most special Pueblos Magicos in Mexico.
Besides Chichen Itza, Valladolid is the perfect base for exploring the lesser-visited Mayan ruins at Ek Balam. Plus, Valladolid's position in the middle of the peninsula means it is home to some of the most dramatic and photogenic cenotes around. Cenote Suytun offers Instagram-famous shots of its platform, or you can take a dip in Cenote Zaci right in the middle of town.
For your hotel, the top places to stay include the gorgeous historic Hotel Posada San Juan and Hotel Zentik Project, a Tulum-style hotel that features its own private saline cave. Wherever you stay, be sure not to miss the incredible cuisine at the highly-rated Casa Conato Cultural restaurant.
Valladolid is the perfect Pueblo Magico to add a little authentic Mexican culture to your Riviera Maya beach vacation! Valladolid is easily accessible from Cancun, Tulum, or anywhere on the Riviera Maya by ADO Bus or by renting your own car and driving.
Contributed by Nate of Travel Lemming
12. Izamal, Yucatan
Where to stay: Hotel Hacienda Izamal
Nicknamed the yellow city (la Ciudad Amarilla in Spanish), Izamal is a hidden gem and in my opinion, one of the best places to visit in Yucatan Mexico because of its wonderul heritage and one-of-a-kind architecture.
The main landmark of Izamal is Convento de San Antonio de Padua that was built by Spanish conquistadors on top of the Mayan pyramid Pop-Hol-Chac in 1561 and was used to convert the native Mayan population to the Catholic religion.
Izamal has several Mayan ruins including the Kinich Kakmo Pyramid that provides amazing 360-degree views of Izamal and the surrounding jungle. It's a perfect place to watch the sunset and the entrance is free!
Wandering around the streets of Izamal is so much fun! Instead of stopping for a couple of hours, make sure to spend a day here before spending a night in one of its cozy hotels, such as Hacienda Hotel Santo Domingo.
There's very little shade in Izamal and if you decide to spend a few hours walking its streets, make sure to bring a hat. If possible, visit Izamal in late fall or winter when temperatures are mild.
To learn about the best things in Izamal and plan your trip, read my article.
13. Tulum, Quintana Roo
Where to stay: Azucar Hotel Tulum
Easily recognized by its white-sand beaches and ancient Mayan ruins framed by turquoise Caribbean waters, Tulum is one of the most popular Pueblos Magicos in Mexico's Yucatán Peninsula.
Tulum can be accessed by public transportation or private transfer from the Cancun International Airport. And while Tulum is not as developed as big resort towns like Cancun and Playa del Carmen, it has become more busy in recent years.
This town remains a popular alternative for backpackers, remote workers, and digital nomads who come here because of its proximity to some of the best cenotes in Yucatán, amazing Mayan ruins, and some of the best beaches in Mexico's Caribbean.
Tulum is a safe destination, even if you come to Tulum as a solo traveler, but still, make sure to watch out even if you are arriving late at night.
Tulum is divided into two main zones: the beach area where you will find the trendy and more expensive hotels, as well as bars and restaurants, and the downtown (aka Pueblo Tulum) which has plenty of budget hotels and fantastic restaurants, stores and tons of street vendors.
If you need help finding a good hotel in Tulum that will match your budget, check this article.
Plan to spend at least three days in Tulum, to have enough time to soak up the atmosphere.
The best things to do in Tulum include visiting the Mayan ruins on a cliff overlooking the turquoise sea, and scuba diving or snorkeling in the cenotes – natural limestone water holes with crystal-clear water.
You can also swim with sea turtles at nearby Akumal beach, take a day trip to the stunning Sian Ka'an Biosphere Reserve or just chill on the beach. No matter what you choose to do, Tulum is a perfect place to relax and enjoy the stunning scenery.
Contributed by Claire of Tales of a Backpacker
14. Isla Mujeres, Quintana Roo
Where to stay: Casa Ixchel
Located off the coast of Cancun, Isla Mujeres is a tiny tropical island and one of the most picturesque pueblos magicos in Mexico.
Translated as "Island of Women" from Spanish, Isla Mujeres offers wonderful tropical beaches, clear turquoise water, and a variety of fun activities. Visiting Isla Mujeres is one the best things to do in Riviera Maya, and makes for an unforgettable day trip or overnight stay.
The island can be reached by taking a quick 15-minute ferry ride from the Puerto Juarez ferry terminal in Cancun. Once you arrive, you'll have the option to take a taxi, rent a golf cart, or simply walk to your destination.
One of the most popular things to do in Isla Mujeres is spending the day relaxing at Playa Norte, which is the best beach on the island and where you'll find numerous beach clubs and restaurants.
Aside from relaxing at the beach, other popular activities include going on a catamaran tour, snorkeling at an underwater sculpture museum, or shopping for Mexican souvenirs and handicrafts.
No matter what you do on the island, you'll be amazed by the unbelievably turquoise water and tropical island views.
Contributed by Allison of Viva La Travelista
15. Bacalar, Quintana Roo
Where to stay: Hotel Diosa Del Agua Bacalar
Located in southern part of Mexico's Quintana Roo, just north of the Belize border, Bacalar is a massive natural lagoon and one of the most underrated pueblos magicos in Mexico. Translated from Spanish as "Laguna de Los Siete Colores" (Lagoon of the Seven Colors), Bacalar gets its name from its varying depths and different shades of striking blue water.
The town of Bacalar is special and lives up to its pueblo Magico distinction with its incredible natural beauty and lack of mass tourism. It's a less well-known destination which makes it one of Mexico's hidden gems and the perfect place for a tranquil getaway.
The easiest way to get to Bacalar is by renting a car, or by taking the ADO bus from Tulum or Playa del Carmen.
There are many hotels and vacation rentals located directly on the lagoon, where you spend the day relaxing on wooden docks and overwater hammocks. There are also many colorful restaurants on the lagoon, like Los Aluxes, where you can eat, drink, and swim on overwater swings and structures.
Aside from relaxing on the lagoon, other more adventurous activities in Bacalar include kayaking, standup paddleboarding, and sailing tours on the lagoon.
Another popular attraction is visiting Los Rapidos, which is a restaurant and excursion where you can float down the rapid canals of the lagoon.
Contributed by Allison of Viva La Travelista
16. Tepoztlan, Morelos
Where to stay: Hotel Real Del Valle
Looking for a destination off-the-beaten-path near Mexico City? Look no further than the pueblo magico Tepoztlan (pronounced tep-pose-lon), about one hour south of Mexico City, in the state of Morelos.
Tepoztlan is known as one of Central Mexico's most spiritual places, and it attracts yogis, healers, artists, and holistic practitioners.
Many will visit for the weekend, to escape the hustle and bustle of Mexico City, and to take part in things like temazcal (sweat lodge ceremony) and cacao (chocolate) ceremonies. For those who want a traditional style spa resort, Tepoztlan has plenty of those as well.
When in Tepoztlan, many will make the strenuous climb to the Tepozteco pyramid (pronounced tep-pose-teck-oh).
It is by no means an easy climb to the top, but the views are well worth the sweat. This pyramid, located high atop the town, is dedicated to Tepoztēcatl, the Aztec god of pulque (pronounced pull-kay).
Pulque is an ancient adult beverage made with the fermented agave plant — the same plant used to make both tequila and mezcal. Though an acquired taste, make sure to try some pulque while in Tepoztlan. You can find it sold throughout town, both by street vendors and at the lively Tepoztlan City Market.
In this traditional local mercado, you'll find many other unique, prehispanic foods to try. These include quelites and alaches (two dark green veggies), and itacates (fried corn cakes) — all of which are vegan!
Contributed by Shelley of TravelToMerida.com
17. Valle De Bravo, Mexico State
Where to stay: Loto Azul Hotel and Spa
One of the most beautiful Pueblos Magicos near Mexico City, Valle de Bravo boasts beautiful colonial architecture and gorgeous scenery along Lake Avándaro.
Located in central Mexico, this small town is rimmed by lush towering hills shrouded in fog. But despite being a popular destination for weekend getaways from Mexico City, Valle de Bravo is still relatively unknown to the majority of travelers.
Many activities in Valle De Bravo revolve around spending time on the lake, shopping local markets, and exploring the town. One of the most popular places to visit in the area is Avandaro that has become famous because of the Velo de Novia Waterfall. Hike a trail to Mirador La Peña for the great overlook of the area.
Mountain biking is one of the most popular activities in Valle De Bravo, due to its hilly, mountainous terrain.
And, don't forget to make a stop at the Santuario Piedra Herrada Monarch Butterfly Reserve, home to millions of migratory butterflies. The butterfly season in Mexico is from November through April, and if you happen to be in the area during this time, make sure to visit this magical place.
18. San Juan Teotihuacan, Mexico State
Where to stay: Hotel Quinto Sol
The pueblo magico of San Juan Teotihuacan (pronounced tay-oh-tee-wok-on) is one of the best day trips from Mexico City. While a charming town in its own right, the main draw is undeniably the Teotihuacan Ruins — a UNESCO World Heritage Site.
Each year, Chichen Itza and Teotihuacan both see about two million visitors, as the two most important ancient ruins sites in Mexico. But unlike Chichen Itza, you can climb the ruins at Teotihuacan!
There are three large Teotihuacan pyramids and several smaller structures. The largest pyramid, the Pyramid of the Sun is quite a climb to the top but offers the best views of this ancient wonder.
If that one's a bit too high, there's the Pyramid of Quetzalcoatl (pronounced ketz-al-co-ah), built in honor of the Aztec Feathered Serpent God, and the Pyramid of the Moon.
As this is a massive site, with thousands of years of history and many of its most interesting points invisible to the naked eye — you'll want a guide.
You can hire a guide at the entrance for about $1,000 pesos ($50USD), which can accommodate six or eight guests, depending on the guide's limit. To save some money, wait for others to approach a guide, then ask if you can form a group and split the cost.
After working up an appetite climbing ancient pyramids, head to the nearby La Gruta restaurant. In Spanish, gruta means cave, and as the name says, this restaurant is located underground in a cave.
Contributed by Shelley of TravelMexicoSolo.com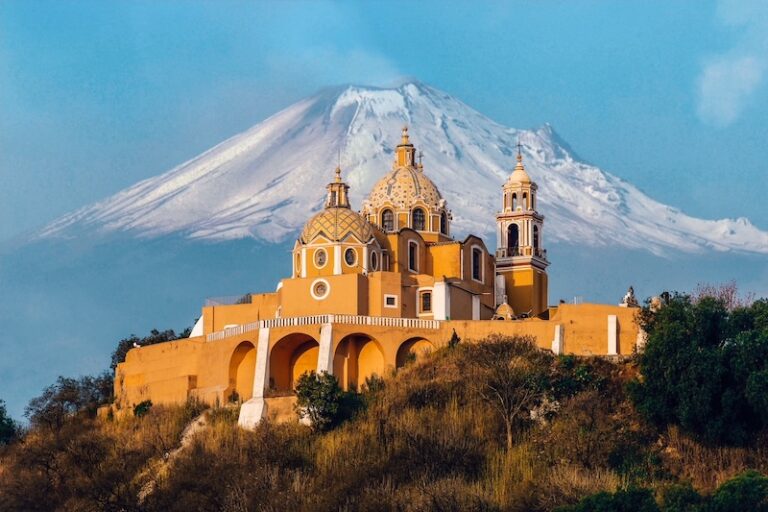 19. San Pedro Cholula, Puebla
Where to stay: Quinta Alhóndiga Galindo Hotel Boutique
San Pedro Cholula or Pueblo Mágico de Cholula is one of the most colorful Pueblos Magicos in Mexico in the state of Puebla.
Located about 30 minutes away from Pueblo City (or Puebla de Zaragoza), the capital of the state, Cholula offers a cool mix of stunning architectural and natural wonders.
Puebla is one of the most distinct Pueblos Magicos in Mexico with its own distinct culture, traditions, and cuisine. Foodies particularly love this place thanks to native Poblano dishes.
One of the highlights of Cholula is the bright yellow Iglesia de Nuestra Señora de Los Remedios (Church of Our Lady of Remedies) that sits on the hill against the backdrop of the Popocatépetl volcano. Right below the church, you will find the Great Pyramid of Cholula in the Cholula Archaeological Zone.
FUN FACT: Did you know that the state of Puebla boasts (nine!) the biggest number of Pueblos Magicos along with Jalisco and Mexico State? While Cholula remains the most popular option, other Pueblos Magicos in Puebla are Cuetzalan, Atlixco, Pahuatlan, Xicotepec, and Chignahuapan.
20. Dolores Hidalgo, Guanajuato
Where to stay: La Casa Del Milagro
The cradle of Mexico's independence (or la Cuna de la Independencia in Spanish), that played a key role in the Mexican Revolution, Dolores Hidalgo was one of the first Pueblos Magicos in Mexico.
One of the best places to learn about Mexico's path to independence, this town is full of charm and incredible history.
The centerpiece of Dolores Hidalgo, Iglesia de Dolores, played an important part in establishing the country's independence, even though it was constructed almost a century before the historic event took place.
To feel the atmosphere of this place, walk around Plaza Principal, where you can buy snacks, souvenirs and watch local people going about their routine.
Continue your trip to the Independence Museum, Casa de Visitas (a popular stop for Mexican presidents who come here every couple of years), Museo Casa de Hidalgo and Casa Museo José Alfredo Jiménez dedicated to a famous Mexican musician José Alfredo Jimenez.
While Dolores Hidalgo is a small town, it's worth a visit, as you will get a better understanding of Mexico's history.
Located in the state of Guanajuato, Dolores Hidalgo makes for one of the best day trips from the popular San Miguel De Allende about 28 miles away. It's also only about 37 miles away from Guanajuato, the state capital.
21. Santiago, Nuevo Leon
Where to stay: Santiago Suites
Not many people think of northern Mexico as a touristy destination, and yet, there is a handful of Pueblos Magicos in this part of the country that are worth your attention.
One of them is Santiago, a small municipality about 35 minutes from Monterey in the state of Nuevo León. Santiago is an easy drive from Monterey via highway and is an excellent place to visit on a day trip.
This town in the Cumbres de Monterrey National Park has grown popular with visitors thanks to its opportunities for eco-tourism and all things adventure.
Santiago boasts wonderful colonial architecture and its main landmark, the 18th-century church of Santiago Apóstol is the most prominent piece of architecture that sits on the edge of the Prietos and Santa Rosalía haciendas.
Near Santiago Apostol, you will also find Museo de Historia that covers the history of Santiago. Other points of interest in Santiago are Palacio Municipal, the Los Muros Gallery and Casa De La Cultura.
If you would like to do the hikes within Santiago, you may need an extra day or two. Matacanes Canyon offers stunning scenery, however, the hike is pretty long and you might need your entire day to complete it. There is also Cola de Caballo and Cascada del Chipitin that are worth your attention.
Contributed by Venaugh of Venaugh.com
22. Creel, Chuhuahua
Where to stay: Hacienda Don Armando
When traveling in northern Mexico, don't forget to add Creel in Chihuahua to your list of Pueblos Magicos.
Since this is one of the more off-the-beaten-track towns in Mexico, you can expect to find some natural landmarks that are unique to the surrounding area and region. The copper canyon train ride in Chihuahua is the most popular way to arrive in Creel, the unofficial capital of the region and one of the important stops along the epic train journey.
Creel is the region's second-largest town and with many hotels, restaurants and private tours to do it makes it perfect for a day trip or as an overnight stay.
Here, you can find San Ignacio Church which was built by Jesuits in the 18th century, or do one the hikes to popular landmarks such as Valle de las Monjas where you can see some interesting rock formations.
You can also connect with the local indigenous Rarámuri tribe, who can be seen around town and offer many unique souvenirs. If you get the chance to visit this remote region in Mexico be sure to stop off in Creel and spend the night so you have enough time to do one of the many outdoor activities in the area.
Contributed by Daniel of Layer Culture
23. Real De Catorce, San Luis Potosi
Where to stay: Hotel Hacienda Encantada
Real de Catorce is a ghost town in the state of San Luis Potosí that was founded in 1779 as a silver mining town and rapidly declined in the early 1900s when silver prices started to drop.
Today, this desert town in the Sierra Cartoce mountain range has a mix of abandoned buildings from the mining era and new hotels and restaurants oriented toward travelers coming here to learn this place's unique history.
Visitors enter the town through a mystical tunnel, Tunel De Ogarrio that was built in 1901 before the town began to decline. A parking lot is located just outside of the tunnel.
Among the most popular tourist attractions in Real De Catorce are are Templo de la Purísima Concepción (the largest building in town), Casa do Moneda that once created coins from locally produced silver; Plaza de Armas and Capilla de Guadalupe.
While you can explore the town in a couple of hours, it's the attractions in the area of Real De Catorce that require extra time and effort.
For example, it takes about 30 minutes from Real de Catorce to reach Socavon de Purisima along the road to Estacion de Catorce that will take you through the desert hills and toward Cerro Trocado.
Whatever you decide to do on your visit, make sure you have enough time to explore this cool historic town.
Contributed by Utkarsh of Journeys from Heart
24. Todos Santos, Baja California Sur
The only Pueblo Magico in Mexico's Baja California Sur, Todos Santos is a small town that boasts rich history and beautiful cobble stone streets with well-preserved colonial facades.
Some of the highlights of this historic city include the Mission of Nuestra Senora del Pilar de Todos Santos, Playa Pescadero where you can release the newborn baby turtles into the ocean and the stunning Hacienda Cerritos that anchors the city's skyline.
Take a guided tour of Todos Santos to learn about how this area was formed by Jesuit Missioners and played an important role in the Mexican Revolution.
Punta Lobos is one of the most popular places to visit near Todos Santos with a wide sandy beach located about 2 miles (3 kilometers) away. You can get a taxi to get here, or rent a car which will also also allow you to explore the area at your own pace.
One of the most popular activities in Todos Santos is hiking. Some of the best hiking trails in the area are located around the Sierra de la Laguna Montanas. From here you can enjoy the stunning views of the desert and the cobalt-blue Pacific Coast. There are several protected reserves in the area such as the Sierra de La Laguna Biosphere Park where you can choose from several guided eco-tours.
Todos Santos is also one of the most popular pueblos Magicos in Mexico among artists and surfers thanks to its relaxed atmosphere. Located less than two hours away from the popular resort Cabo San Lucas, Todos Santos is known for its pristine uncrowned beaches, and many eco-friendly things to do.
Surfing is a big game in many small towns along the Todos Santos Bay such as Playa Los Cerritos, Playa San Pedrito and Playa Pescadero, with many surfers of all levels coming here to ride the waves. You can also take a lesson in many surfing schools in the area.
25. Orizaba, Veracruz
Orizaba is one of the most magical públicos mágicos in Mexico surrounded by gurgling rivers, lush hills and overlooked by the majestic Citlaltepetl Volcano. Nestled in the Altas Montanas region of Veracruz State, it is one of the largest cities in the state of Veracruz.
Located well off the beaten tourist track in Mexico, Orizaba is full of charm: from historic downtown Orizaba to with its wonderful colorful buildings, museums and historic landmarks.
Orizaba is mostly known for its natural landscapes and history: The city played an important role in the trading with New Spain. Begin your trip to Orizaba with the visit to its downtown where you can find the famous mural created by the Jose Clemente Orozco, or the State Art Museum where you can find a large collection of the paintings by Diego Rivera, one of the most famous Mexican painters.
Other points of interest in Orizaba are the Cathedral of San Miguel and Ex Convent of San Juan de la Cruz. Palacio de Hierro, a de-facto symbol of Orizaba. And don't forget to catch a cable car in Orizaba, that offers spectacular views of the city and the surrounding areas.
If you are an outdoorsy person, check out Pico De Orizaba, the highest point of Mexico. At the foothills of the volcano, you can find many hiking trails and scenic areas from where you can admire the grand views of this area.
The entire state of Veracruz is an adventurer's paradise thanks to its landscape dotted with volcanoes, waterfalls, and rainforests and so much more. And unlike other popular national parks and places you typically see on social media, Veracruz natural gems are virtually devoid off tourists which means you might very well have one of these places to yourself.
26. Papantla, Veracruz
Another Pueblo Mágico in Veracruz State, Papantla is gorgeous pueblo mágico that is commonly known as the birth place of vanilla. If you are looking for a place to experience the real Mexico, this is the place you should visit!
While some Pueblos Mágicos in Mexico are located along major tourist corridors and can at times feel like they cater specifically to visitors, Papantla is not one of them: Here you can see what life is like in a typical Mexican pueblo.
Aside from the rich culture, Papantla is known for its gastronomy: In Papantla, you can taste regional dishes and drinks like Torito that you will not find anywhere else in Mexico.
Many people come to Papantla to see the famous "voladores," or the flyers that have been named part of Mexico's Intangible Cultural Heritage of Humanity by UNESCO. This impressive ritual dates back to Mexico's Mesoamerican period and involves four costume-clad dancers who climb to the top of the pole and fly around the pole in circles suspended by their feet.
For best experience, combine your visit to Papantla with El Tajín, one of the most striking Mayan ruins in Mexico that makes a perfect half day trip from Papantla, since it's located just 13 kilometers away from the town. The exact origin of El Tajín is still a mystery, however, archeologists believe that this ancient city has been built by the tribe closely related to Maya.
27. Xico
Another incredible pueblo mágico in Veracruz, Xico (or Xicochimalco) offers a stunning mix of incredible scenery and old traditions.
This scenic pueblo mágico sits at the altitude of 3700 feet in the Eastern Sierra Madre Mountains, so don't forget to bring your jacket when you come here. Jokes aside, Xico is a small town, built it packs on a punch when it comes to things to do in the nature.
Begin your trip by exploring the colorful streets of this town with landmarks like La Plaza de los Portales, El Templo de Santa María Magdalena, El Puente Viejo and La Capilla del Llanito. Continue by exploring nearby hiking trails and waterfalls such as Cascada De Texolo just outside of town.
If you are a coffee lover, you should know that Xico is located in one of the so-called zonas cafeteras, the regions of Veracruz where coffee is grown.
28. Pátzcuaro, Michoacán
The most famous of eight pueblos mágicos in Michoacán State, Pátzcuaro is located along the namesake lake Pátzcuaro. The town boasts a distinct architectural style with adobe-style buildings with tiled roofs and red stripes at the bottom.
Top highlights of Pátzcuaro include the Plaza Grande – the second largest Zocalo in Mexico after the one in Mexico City; Pátzcuaro's artisan markets where you can buy colorful clothing and souvenirs made by local artisans and the spectacular Pátzcuaro Lake which can be explored by ferry.
Pátzcuaro is also home to the indigenous Purépecha people whose culture is found only in this part of Mexico. This is one of those Pueblos Mágicos in Mexico where you can find some incredible heritage and ancient history, so make sure to put Pátzcuaro on your list of Pueblos Mágicos in Mexico.
Patzcuaro is located about 40 minutes from Morelia, the capital of Michoacán and makes for an incredible trip since it offers a glimpse into the state's history.
29. Xilitla
One of the most popular pueblos mágicos in Mexico, Xilitla is well known thanks to the impressive sculpture garden that had been created by Sir Edward James. While the famous sculpture garden is located near Xilitla, it is not the only thing that makes this pueblo mágico worth a trip: this place has a great coffee scene and some quirky culinary things like zacahuiles (jumbo-like tamales) and pilonchillo, a raw sugar flavored coffee.
30. Atlixco
Located in Puebla, Atlixco is a photogenic town and is one of the best pueblos mágicos in Mexico, in my opinion, simply because it hasn't been affected by mass tourism, and if you visit it during off season, you might not find too many pother tourists here.
You can reach Atlixco by colectivo from Cholula. This colorful town makes for a perfect day trip as it offers a less touristy option compared to popular Cholula.
When you visit Atlixco, simply take some time walking down the streets of this town. The town's main square, Zocalo is anchored by The Parroquia de Santa María de la Natividad that was built in 1585. The main municipal building on the main plaza boasts wonderful murals through which you can learn the history of this area.
As you explore Atlixco, you can't miss the grand view of the Popó (or Popocatepetl), the second tallest peak in Mexico – an active volcano that occasionally has a puff of smoke coming out from the top. Many visitors say that Atlixco offers better views of the famous volcano than Cholula where it's often obstructed by snow.
For panoramic views of the city, make your up Cierro San Miguel, but be sure to wear comfortable walking shoes, as this is a steep hill.
What qualifies a destination as Pueblo Magico?
Although you might think that Pueblos Magicos are simply handed their status, this is not the case. To be designated as Pueblo mágico, a town needs to meet a certain set of requirements and maintain them down the road, as the Mexican government reviews them every year.
First, it needs to have at least 5,000 people and a designated Pueblo Mágico committee that is charged with applying for special status. If granted the name of Pueblo mágico, a committee needs to make sure that the town adheres to all protocols that include developing tourism and maintaining efforts to promote the destination.
For example, several Pueblos Magicos have lost their special designation, while others have been granted it.
Just to give you an idea, some pueblos magicos like Taxco in the state Guerrero or Cholula in the state of Puebla are well-known among travelers, while newer pueblos magicos like Sisal in Yucatan, Isla Aguada in Campeche, and expat's paradise Ajijic that have been added to the list in 2020, are only starting to gain popularity.
Pueblos Magicos in Mexico By State
AGUASCALIENTES: Real de Asientos, San José de Gracia, Calvillo
BAJA CALIFORNIA: Tecate
BAJA CALIFORNIA SUR: Todos Santos, Loreto
CAMPECHE: Palizada
CHIAPAS: San Cristóbal de las Casas, Chiapa de Corzo, Comitan, Palenque
CHIHUAHUA: Creel, Casas Grandes, Batopila
COAHUILA: Parras de la Fuente, Cuatrociénegas de Carranza, Arteaga, Viesca, Candela, Melchor Múzquiz
COLIMA: Comala
DURANGO: Mapimí, Nombre de Dios
GUANAJUATO: Dolores Hidalgo, Mineral de Pozos, Jalpa de Cánovas, Salvatierra, Yuriria, Comonfort
GUERRERO: Taxco
HIDALGO: Huasca de Ocampo, Real del Monte, Huichapan,Tecozautla, Zimapán
JALISCO: Tapalpa, Tequila, Mazamitla, San Sebastián del Oeste, Lagos de Moreno, Mascota,Talpa de Allende
Mexico State: Tepotzotlán, Valle de Bravo, Teotihuacán, El Oro, Malinalco, Metepec, Ixtapan de la Sal, Aculco De Espinoza, Villa del Carbón
MICHOACÁN: Pátzcuaro, Tlalpujahua, Cuitzeo, Santa Clara del Cobre, Angangueo, Tacámbaro, Jiquilpan, Tzintzuntzan
MORELOS: Tepoztlán, Tlayacapan
NAYARIT: Sayulita, Jala, Compostela
NUEVO LEÓN: Santiago, Linares, Bustamante
OAXACA: Capulálpam de Méndez, Mazunte, Huautla de Jimenez, San Pablo Villa de Mitla, San Pedro y San Pablo Teposcolula
PUEBLA: Cuetzalan, Zacatlán, Pahuatlán, Chignahuapan, Cholula, Tlatlauquitepec, Xicotepec, Atlixco, Huauchinango
QUERÉTARO: Bernal, Jalpan de Serra, Cadereyta de Montes, Tequisquiapan, San Joaquín, Amealco de Bonfil
QUINTANA ROO: Bacalar, Isla Mujeres, Tulum
SAN LUIS POTOSI: Real de Catorce, Xilitla, Aquismón
SINALOA: Cosalá, El Fuerte, El Rosario, Mocorito, Magdalena de Kino
SONORA: Álamos
TABASCO: Tapijulapa
TAMAULIPAS: Ciudad Mier, Tula
TLAXCALA: Tlaxco, Huamantla
VERACRUZ: Orizaba, Xico, Papantla, Coatepec, Coscomatepec de Bravo, Zozocolco de Hidalgo
YUCATAN: Izamal, Valladolid
ZACATECAS: Jerez de García Salinas, Teúl de González Ortega, Sombrerete, Pinos, Nochistlan, Guadalupe
Disclaimer: This post contains affiliate links. At no cost to you, I might earn a small commission if you make a purchase through the links in this article.