Disclaimer: This post contains affiliate links. At no cost to you, I might earn a small commission if you make a purchase through the links in this article.
Not long ago Phoenix was just a city in the Sonoran Desert far off the travel radar. But now Phoenix is a major destination for recreation in the Southwest with more than 300 days of sunshine – a combination that attracts visitors from all over the United States and beyond.
Although Phoenix has experienced dramatic growth in the last decade, it still boasts many pockets of wilderness where you can hike, mountain bike, and camp to get away from the urban sprawl.
Since there is so much to explore in the surrounding mountains, it's clear that some of the best things in Phoenix revolve around being in nature.
But Phoenix also has world-class museums, restaurants for many tastes, and some of the best state and national parks in the region. If you come here for the outdoors, you might very well stay for the culture!
With so much to cover, let's dig in and start a brief tour of Phoenix and everything that it has to offer.
Best things to do in Phoenix: a complete overview
1. Hike Camelback Mountain
If you love spending time outdoors, Phoenix is your place. This city boasts dozens of trails from the famous Camelback Mountain, to less explored hikes on the outskirts.
Let's start our list with Camelback Mountain, a natural landmark to the northeast of Phoenix. The mountain got its name because it resembles the silhouette of a kneeling camel, but the quirky name is not the only thing that attracts so many hikers – Camelback Mountain offers tons of activities and boasts 360-degree views from the summit.
Things to do in Phoenix besides hiking
If you want to take in the incredible views of Phoenix, but don't feel like climbing up the mountain, take a hot air balloon ride – a perfect way to enjoy the magnificent landscape without the tough exercise!
It is a difficult climb to the top of Camelback Mountain, it's well worth the effort because it's one of the best Phoenix hikes. Two trails reach the top of Camelback Mountain: Echo Canyon and Cholla. The Echo Canyon trail is steeper and reaches the summit from the west. The Cholla trail is longer and reaches the summit from the east.
PRO TIP: Another great option is a private hiking tour of Camelback mountain with an experienced tour guide who can show you some of the best views and help navigate the area.
Echo Canyon is an out and back trail, and at times you will be scrambling up steep steps and rocks. On one of the hardest parts, there is a rail to hold on to. The bad part is that rail gets pretty hot in the Arizona sun. Once you get to the summit, you're rewarded with some pretty amazing views of Phoenix.
Make sure to bring water on your hike. You should also wear sunblock and a hat. Gloves are also a good idea to protect your hands while climbing.
Contributed by Vicky from Buddy The Traveling Monkey
2. Hit the trail at Papago Park
If hiking Camelback Mountains is too much challenge, try Papago Park, one of the best parks in Phoenix thanks to its gorgeous desert landscape and outdoor opportunities. It encompasses many areas such as Desert Botanical Garden, several lakes, and running trails.
Book one of the best hiking tours in Phoenix
If you are not comfortable hiking by yourself (or don't have a car), join one of the guided hiking tours of the Sonora Desert, a perfect escape from the city without having to plan the entire adventure by yourself!
This cool desert park also features many rock formations such as Hole in the Rock and Big Butte in addition to several sports facilities. It's a great place to get some exercise and enjoy the scenery without having to drive outside the city.
Address: 625 N Galvin Pkwy, Phoenix, AZ 85008
3. Enjoy Street Art at Roosevelt Row Art District
Enjoying local street art is one of the best FREE things to do in Phoenix!
Roosevelt Row is the city's walkable art district that is home to galleries, boutique stores, bars, and restaurants. Another unique part of the neighborhood is all of the beautiful street art you will find as you explore between 7th Street and 7th Avenue.
Some of the most notable pieces of street art are by local artists like Ashley Macias and Lalo Cota. Be sure to visit the 1 ½ Street Mural Project next to The Churchill.
There are so many unique murals that make exploring the streets a lot of fun. A great way to explore the neighborhood to see the artwork is by electric scooter. This is an older area of Phoenix with many historic buildings and old-style homes that give it a distinct look.
Popular events in the area include the monthly First Fridays Art Walk as well as the annual M3F Music Festival and Phoestivus.
Roosevelt Row is also a great place for a dinner. There are lots of great restaurants with outdoor seating, fireplaces, and yard games. The Vegan House and Green New American Vegetarian are two great vegan restaurants in the area.
Be sure to check out the First Friday Art Walk held monthly. It is a great time to explore the local art galleries and enjoy the fun atmosphere. Lots of food trucks come in for the event.
Contributed by Candice from CS Ginger
4. Learn about Native American heritage at The Heard Museum
Visiting one of the local museums is one of the best things to do in Phoenix when it's hot. The Heard Museum is home to a collection of Native American art, featuring both historical and contemporary works.
Decorative and functional arts on display include boldly patterned pottery, intricate turquoise necklaces, Katsina (Kachina) dolls, and colorful textiles such as rugs and blankets.
The galleries also provide insight into cultural aspects of Native American life. The Heard Museum has a theater, and a sculpture garden. You can download their smartphone app to access audio guides for more information as you view the exhibits.
You can enjoy a light lunch at the Courtyard Café, whose Southwest-inspired menu includes dishes featuring indigenous foods. Or, visit the Coffee Cantina for a gourmet caffeine fix.
Address: 2301 N. Central Avenue, Phoenix
Price: The entry fee for an adult is $23, with discounted rates available for advanced online purchases, seniors, students, and children. Entry for American Indians (with tribal ID) is free.
How to get there: The Heard Museum is located about five miles from Sky Harbor Airport and is conveniently located on Phoenix's light rail line. If driving, there is plenty of free on-site parking available.
Contributed by Lisa from Waves and Cobblestones
5. Shop one of Farmers' Markets in the area
Did you know that there are several farmer's markets throughout the Phoenix area?
If you want to grab some local produce, head to one of the local farmer's markets that can be found in major areas of Phoenix such as Mesa Farmers Market & Flea, Uptown Farmers Market, and Downtown Phoenix Farmers Market.
There you can find many delicious goods such as freshly baked bread, pasta, fresh fruits and veggies among other things from local producers.
6. Explore downtown Tempe
The metro Phoenix area consists of more than 20 cities and towns, there's a good chance you heard about Tempe, home to Arizona State University.
Tempe may be home to the ASU campus, but this city has so much more to offer and is well worth a visit while you are in Phoenix. Start your day with an active urban adventure by exploring the Desert Botanical Garden, kayaking down Tempe Town Lake, or taking an e-bike tour through Papago Park.
The view at the top of the 'Hole-in-the-Rock' at Papago Park offers sweeping 360-degree views of the greater Phoenix area. For a more centrally located Tempe hike that doesn't require a car, take a stroll up the 'A' mountain butte.
Best guided tours of Phoenix
Downtown Tempe boasts many restaurants, breweries, and coffee shops that cater to w die variety of tastes. Spend the afternoon at Ghost Ranch, The Social Hall (don't miss the 'Get Together Tempe' mural!), or Four Peaks Brewing before heading to Mill Avenue for Tempe's famous nightlife scene.
If you are visiting in summer, don't forget to check out Big Surf Waterpark a short distance from Mill Avenue. This place is known as the home to the third-largest wave park in the country and provides a great retreat during hot summer months.
You can get to Tempe from downtown Phoenix via a short 15-minute drive or ride-share. You can also get on the Valley Metro Light Rail and arrive in downtown Tempe in 30 minutes or less.
How to Get There: 15 minutes from downtown Phoenix by car, 30 minutes by Valley Metro Light Rail
Contributed by Rachel-Jean from RachelOffDuty.com
7. Enjoy the panoramic view of Phoenix from Hole in The Rock
Visiting the famous Hole-in-the-Rock during sunset is one of the best things to do in Arizona for any visitor!
This unique rock formation is located in Papago Park and has access up to a lookout point which provides some unbeatable views over the city, and the mountain ranges off in the distance. Parking is free but limited, so arrive an hour or so in advance to get a good spot.
How to find the Hole in the Rock Trail
Follow the well-marked path to the left to begin the short ascent. With minimal elevation gain – approximately 200 feet (60 meters) – you can expect to reach Hole-in-the-Rock in 15-20 minutes, making it suitable for families! Ensure you know how to pack for a day hike, as there are some sections of loose gravel and rocky terrain which may require specialized equipment or footwear.
Stay here for a little bit longer after the sunset to take photos of the skyline and enjoy the place, as many people will start leaving. Descending in the dark will be a breeze with a flashlight, and you're much more likely to have Hole-in-the-Rock to yourself too!
Contributed by Natasha of Planes, Trains and Karcz
8. Admire historic Eisendrath House
Located just south of Phoenix, Eisendrath House is a historic attraction and one of the most fun things to do in Tempe, Arizona.
This lovely Pueblo Revival adobe house was built in 1930 and is listed on the Historical Registry. It was built during the Depression as the residence of the remarkable Rose Eisendrath, widow of a wealthy Chicago glove manufacturer, Joseph N. Eisendrath.
When she was refused entry at a local resort because of her Jewish heritage, Eisendrath bought a 44-acre piece of land in Tempe and built the adobe villa where she lived until she died in 1936.
After building her resort, she hosted frequent dinner parties and even invited the hotelier who had denied her service. Touring the house is like walking back in time, into the fascinating history of Phoenix and Tempe.
Guided tours are by appointment only. Visitors can schedule a docent-led tour of this historic house after May 2022. The House encourages a donation of $10 from those touring the home.
Address: 1400 N College Ave, Tempe, AZ 85281
Contributed by Claudia from Claudia Travels
9. Take a walk through Desert Botanical Garden
Phoenix is one of the best places for weekend trips in the US, and one of the top things to do in this sun-drenched city is a visit to the Desert Botanical Garden.
The 140-acre garden showcases the plants of the desert, from giant saguaros to tiny cacti and succulents. Divided into several different sections, the garden features trails for convenient exploration.
You will find many species of birds in the garden, and wildlife, so bring your binoculars! Roadrunners, quail, cactus wrens and birds of prey are often sighted.
The wildflower loop trail is beautiful when the flowers are blooming, generally in early spring. The butterfly garden sees many of the delicate creatures when the flowers in the garden are in bloom.
You will also find trails that lead out of the landscaped areas of the garden into the native landscape at the fringes. There is also a section where you can see how people lived in the desert in the past, and how they adapted to it.
The garden is in Papago Park, centrally located in both Phoenix and Scottsdale. Drive yourself to the garden, or take a taxi or rideshare. The Desert Botanical Garden is open every day, but check the official website for special closures before you go. At the time of writing, general adult admission is $24.95-$39.95.
Address: 1201 N Galvin Pkwy, Phoenix, AZ 85008
11. Explore one of the best hikes in Phoenix
Phoenix is home to some of the best hikes in the Southwest USA thanks to a variety of parks in the area, and the best part is that you don't even have to drive too far to explore them.
To reach some hikes, you need to drive as little as 20 minutes from town where you will be able to explore spectacular desert scenery. Not only do you get to work out a bit but you also enjoy gorgeous cacti, and a variety of desert wildflowers, especially during the spring season.
Although summers are too hot to spend time outside, hiking is one of the best things to do in Phoenix from late fall through early spring when there's plenty of sunshine and the temperatures are mild.
Here's a quick breakdown of the best hikes in Phoenix by area
South Phoenix
South Mountain Park – One of the best hiking spots in Phoenix, South Mountain Park is the biggest municipal park in the United States with a great variety of trails that range from easy to difficult. The main entrance to the park is located at 10919 S. Central Avenue in Phoenix, AZ, 85042
East Phoenix
Superstition Mountains – Located on the far eastern side of the Phoenix Valley, Superstition Mountains (or Superstitions as they are called by locals) provide some of the best views of the area. There are many cool hikes in the area and ranging from easy to moderate and difficult trails suitable for experienced hikers.
West Phoenix
White Tank Mountain Regional Park – Covering almost 30,000 acres in size, White Tank Mountain Regional Park is the largest in Arizona's Maricopa County Parks system in and around Phoenix. The park includes stunning white granite bedrock. This rock has many natural basins – or tanks called tinajas – which collect water.
White Tank Mountain Regional Park has around 30 miles of trails.
Waterfall Canyon Trail
Waterfall Canyon Trail is the perfect introductory hike. This short and easy, less than 2-mile in and out walk to a box canyon waterfall also leads past hundreds of Hohokam petroglyphs. This rock art dates back to between 500-1100 AD. Signs along the route help interpret this incredible cultural resource.
Ford Canyon Trail
If you have time, another must-do hike is Ford Canyon. You can loop out of the Willow campground up Ford Canyon Trail and return Willow Canyon Trail for a 10 ½-mile. The scenic trail climbs the narrow canyon past small white tanks, up over ledges, and around large boulders. At the top, it follows the wash. Watch for the well-flagged junction that climbs up to a pass before descending into Willow Canyon.
The park is located at the west end of Olive Avenue, about 15 miles west of the Agua Fria Highway. You can find driving directions here.
The entry fee at Ford Canyon Trail is $7 USD per day. If you opt to stay in the campgrounds overnight (highly recommended), sites run from $22-32 USD per night.
Contributed by Megan from Time.Travel.Trek.
Thunderbird Conservation Park – A cozy neighborhood park, situated in the northwest part of Phoenix, Thunderbird is home to three hikes that are less popular and see far fewer people than more famous trails in the Phoenix area.
Address: 22800 N. 59th Avenue in Glendale, AZ 85310.
12. Go camping in Lost Dutchman State Park
Located at the foothills of the Superstitious Mountains, Lost Dutchman State Park is a popular spot among nature lovers and outdoor enthusiasts thanks to many spectacular trails from where you can observe wildlife in its prime habitat.
Located near the historic Goldfield Ghost Town, this state park boasts gorgeous desert landscapes. If you are looking to escape the hustle and bustle of the city, spending a night here is one of the best things to do in Phoenix!
It boasts several campsites and cabins where you can spend the night if you want to get a glimpse of the clear dark sky at night. Many people stay here longer because there's simply too much to do here: Lost Dutchman State Park is home to a multitude of hiking and biking trails that beg to be explored.
Address: 6109 N Apache Trail, Apache Junction, AZ 85119
13. Take a tour of Taliesin West
In the rural desert foothills of the McDowell Mountains in Scottsdale Arizona, Frank Lloyd Wright designed, built, and started his desert laboratory at his winter home, Taliesin West.
Today, Talesin West is managed by the Frank Lloyd Wright Foundation and is a UNESCO World Heritage Site. Take a tour to enjoy multiple buildings connected by walkways, pools, gardens adorned with sculptures and fountains.
Tours of Taliesin West run 60-90 minutes and cost $35 to $49 per person, depending on whether they are guided or self-guided, and if they are outdoor only or include indoor touring.
Address: 12621 N Frank Lloyd Wright Blvd, Scottsdale, AZ 85259
Taliesin West is approximately 25 miles and a 35-minute drive from Phoenix. If you don't have a car, the 514 bus takes 1 hour 41 minutes from Phoenix.
Contributed by Wendy from Adventurous Retirement
14. Spend a day in Scottsdale
Scottsdale is Arizona's third-largest city and part of the Phoenix metropolitan area. Although some travelers think of Scottsdale as a destination with upscale hotels and golf courses that is suitable for more wealthy travelers, this is not true!
Scottsdale boasts some of the best things to do in Phoenix, from its many restaurants to wine tasting and proximity to the great outdoors – it has something for everyone!
Want to have a fun night out? Scottsdale has the best nightlife scene in Phoenix and you absolutely should check it out!
Best things to do in Scottsdale:
Scottsdale Wine Trail – a collection of some of the best Arizona wineries in downtown Scottsdale that include Aridus Wine Company, LDV Winery Tasting Room, Salvatore Vineyards Tasting Room, Carlson Creek Tasting Room, and Merkin Vineyards. Arizona has a wine region about 3 hours from Phoenix.
McDowell Sonoran Preserve – Exploring the gorgeous desert landscape is the ultimate experience you can have in Arizona. Located just 20 minutes outside of Scottsdale, this preserve covers 30,500 acres of the Sonoran Desert and features 5 trailheads that connect more than 200 miles of prime desert habitat.
Salt River – Salt River is the local's favorite spot to cool down during hot summer days. You can easily book a kayaking tour or just grab some tubes and float down the river with a glass of drink.
Scottsdale Museum of Contemporary Art – One of the best museums in Phoenix, (SMoCA as it's called shortly) features great interactive exhibits that show how art and technology can create wonderful artworks!
Scottsdale's Museum of the West – Take a step back in the Wild West and explore what has been called one of America's best western museums. Here you can find many rotating exhibits of Western art and history.
15. Dive into the history of music at Musical Instrument Museum
Imagine traveling to each country of the world through the wonderful notes and rhythms of musical instruments native to that specific location. With over 4,300 instruments on display, guests of the Musical Instrument Museum embark on a journey around the globe through music.
The museum is divided into geographic galleries. Each gallery displays culturally or historically significant instruments of that region but also videos of local performances.
Want to try your hand in playing instruments from around the globe?
The experience gallery is specifically made for guests to interact and play instruments from various regions of the world that most have never been able to touch, feel, or play before.
The Musical Instrument Museum is about a twenty-minute drive from downtown Phoenix and is open daily from 9 a.m.- 5 p.m.
Address: 4725 E Mayo Blvd, Phoenix, AZ 85050
Contributed by Marquita from Marquitas Travels
16. Spend your afternoon at Phoenix Art Museum
Phoenix Art Museum is a perfect place to get a break from the heat in Phoenix on a hot summer day.
The venue is home to more than 18,000 artworks, this museum boasts artworks of many renowned artists such as Frida Kahlo, Georgia O'Keeffe, and Frederic Remington. Here you can find several permanent exhibits as well as many rotating ones.
PRO TIP: You can adopt a digital firefly from the art installation and get unlimited invitations, exclusive member perks, and access to many events such as workshops, premiers, and lectures.
Phoenix Art Museum is the largest art museum in the Southwest, and it can get busy. Make sure to reserve your tickets online ahead of time which will allow you to enter the museum through a no-touch check-in.
Address: 1625 N Central Ave, Phoenix, AZ 85004
17. Find your zen at Japanese Friendship Garden
A perfect place to find your zen, the Japanese Friendship Garden is modeled after a traditional garden in Japan and is a perfect spot to enjoy the greenery and serene environment in the heart of the city.
For a change of scenery head to the Japanese Friendship Garden that will transport you to a different environment. It's a nice break from the Arizona desert as it boasts green trees and plants spread over 3.5 acres and features bridges, traditional Japanese gazebos, and even a tea house with regular ceremonies.
Address: 1125 N 3rd Ave, Phoenix, AZ 85003
18. Go on a tour at vegan restaurants in Phoenix
When it comes to the vegan food scene, Phoenix is often overlooked in favor of more popular cities in the southwest such as Las Vegas, Los Angeles, and even San Diego.
Although this might come as a surprise, Phoenix has a booming restaurant scene with plenty of vegan eateries. From popular staples like plant-based burgers and burritos to sophisticated dishes from international cuisines, Phoenix has a great variety of plant-based restaurants for all tastes and price points.
Best restaurants in Phoenix:
Ruchi Vegetarian Indian Cuisine – A strictly vegetarian and vegan place only, Ruchi is a must-stop on your Phoenix itinerary even if you are not a plant-based eater. This restaurant has a great variety of Indian dishes that can be modified upon request, and the friendly staff is more than happy to help you.
Pachamama – In the mood for some delicious vegan Mexican food? Head over to Pachamama, one of the most popular vegan Mexican restaurants in Phoenix where you can find some of the best tacos and burritos you have ever tried!
Urban Beans – If you are looking for a neat vegan place with a great atmosphere, head over to Urban Beans, an eclectic eatery that serves breakfast, lunch, and dinner 24/7. This is one of the best vegan restaurants in Phoenix if you are looking for great comfort food, and desserts, with many non-vegans, loving this place!
Pomegranate Cafe – This cute cafe puts a healthy spin on traditional vegan food with the menu boasting items like nachos, pancakes, raw options, as well as fresh juices and smoothies. Customers love the signature POM burger, as well as numerous gluten-free options.
Green New American Vegetarian – One of the most popular vegan restaurants in Phoenix close to the airport, Green New American Vegetarian offers everything that a traveling vegan needs: a great atmosphere, friendly staff, and an impressive variety of dishes from Asian bowls to wings and burgers that come in good portions.
19. Visit ancient ruins
When it comes to the best historic landmarks in Phoenix, Pueblo Grande Museum and Archaeological Park tops the list!
Pueblo Grande is a national landmark and is the largest preserved archaeological area in Phoenix that is home to the ancient Hohokam Village. Once home to about 1,000 people that have mysteriously disappeared in A.D. 1450, Hohokam Village is located right next to Sky Harbor International Airport.
The area is open 9 a.m.-4:45 p.m. from Monday through Saturday, and from 1 p.m.-4:45 p.m. on Sunday. The entrance fee is $6.
The area is home to a 2/3 mile trail that takes you through the village and partially excavated areas that feature a ball court and prehistoric sites.
Address: 4619 E Washington St, Phoenix, AZ 85034
20. Escape the heat at Arizona Science Center
Arizona is famous for its triple-digit temperatures, and while many locals and tourists head to the pool to cool off, visit Arizona Science Center, one of the top education destinations in the United States where you can enjoy countless exhibits and displays, learn more about physics, chemistry, and astronomy.
Some of the highlights of Arizona Science Center include the Dorrance Planetarium, the W.O.N.D.E.R. Center, and IMAX Theater.
Arizona Science Center is conveniently located in the city's downtown, so you can easily combine it with many cool things to do in Phoenix, especially if you don't have a car.
Address: 600 East Washington, Street, Phoenix, AZ
Best road trips from Phoenix
Phoenix is that it's located near some of the best outdoor destinations in the United States. Although most visitors know Arizona because of the Grand Canyon National Park, there are tons of other places near Phoenix that you can visit on a road trip.
Here are some best scenic areas near Arizona's largest city that you can explore during your visit.
21. Saguaro National Park
Outdoor enthusiasts wishing for a breath of fresh air and a day in nature should strongly consider a day trip to Saguaro National Park. Located less than two hours from Phoenix, is a treasure trove of Sonoran Desert life and hiking trails separated down the middle by the city of Tucson.
The park is home to the largest cacti in the US that reach up to 40 feet. Additionally, the oldest known cactus in the world was found in Saguaro National Park. Named "Old Grandaddy," the saguaro cactus was around 300 years old when it died in the 1990s. Today, many of the cacti in the park are 100-200 years old.
If you've never seen a saguaro cactus, close your eyes and imagine the American desert. If you're seeing a large stick man-shaped cactus with its arms up high, you're seeing a saguaro!
Saguaro National Park is divided into two sections; East (Rincon District) and West (Tucson Mountain District). You will find a denser population of saguaro cacti in a smaller area within West Saguaro, making it a better option for a short day trip.
Alternatively, East Saguaro has 128 miles of the 165 miles of hiking trails, making it ideal for hiking and backpacking if time permits.
Camping is available within the park or you can find lodging in nearby Tucson.
The entrance to Saguaro National Park is $25 per vehicle.
Contributed by Sophie and Adam from We Dream of Travel
22. Sedona
If you're visiting Phoenix, the small town of Sedona, with its ethereal red rock formations and mystical vibes, is an absolute must-visit. Sedona is just under two hours north of Phoenix but is well worth the detour.
The city is known for its stunning red rock canyons and mesas, made even more beautiful by the Ponderosa pine tree forests that carpet its desert floor.
The best way to explore Sedona is on foot. For example, with countless hikes like The Birthing Cave, an easy two-mile hike that will take you up to a cavern with a soaring ceiling, carved over millennia into the cliffside, that overlooks vistas of breathtaking red rock formations.
PRO TIP: Consider visiting Sedonia on a guided day trip from Phoenix if you don't have a car rental.
If you're looking for something less physically stressful than a hike, you can join one of the city's famed Jeep tours, taking you along dusty roads to admire the impossibly red rock formations or participate in a yoga session or other kind of spiritual practice at one of Sedona's alleged vortexes, which are believed to emanate energy conducive for relaxation, meditation, and self-exploration.
Is Sedona expensive?
Visiting Sedona can be as cheap as you want (e.g., as little as the price of gas as you explore Sedona's natural beauty at absolutely no charge) up to bougie spa retreats at upscale resorts. And that's kind of what makes Sedona so special- no matter what your objective, you can find exactly what you're looking for in this spectacularly gorgeous town.
Contributed by Jessica Schmit from Uprooted Traveler
23. Casa Grande
Casa Grande is about 50 minutes southwest of Phoenix and is brimming with its own unique culture.
One of the must stops in Casa Grande is the neon sign park that has a broad collection of vintage neon signs that wind backs Casa Grande's clock and tell a story of its development over the years. The signs have been restored and are free for all who wish to step back in time and imagine what the town was like when each of these places was open.
No trip to Casa Grande would be complete without hiking the notorious Radio Tower Trail on Casa Grande Mountain – a challenging trail that provides a good dose of exercise.
Contributed by Natasha of Planes, Trains, and Karcz
24. Havasupai Falls
Havasupai Falls is a 3.5-hour drive from Pheonix located in Havasupai, Arizona.
This iconic hike sits a few miles to the west of the Grand Canyon. Havasupai Falls belongs to the Indian Tribe called the "Havasupai Tribe" or "the people of the blue-green water."
How to hike Havasupai Falls
This hike is 19 miles roundtrip and considered moderate. To get there, drive 63 miles down Indian Road 18 before reaching the trailhead at Hualapai Hilltop Parking Lot so make sure to fill up your car in Kingman. The campground is located 4.5 miles from the trailhead and you will arrive at Supai Village.
Whoever's name is on the reservation will need a photo ID and a printed copy of their reservation. You will also need to provide them with your driver's license number for your car in the trailhead parking lot.
There are a few important things to take note of before planning to hike Havasupai. You will need a reservation and permit to enter. Spots fill up fast so your best bet is to grab one at the beginning of the year (Feb 1st).
Price of Havasupai Falls permit
ALL campground reservations are 3 Nights / 4 Days.
$100 per person per weekday night
$125 per person per weekend night (Friday/Saturday/Sunday nights)
Lodging at Havasupai Falls
$440.00 per night – Up to 4 people
$100.00 deposit per room / per night
There is also a $110.00 entrance/ environmental fee charged per person.
Contributed by Chelsey from Chelsey Explores
25. Sabino Canyon Recreation Area
Sabino Canyon Recreation Area is a gorgeous destination in the Sonoran Desert that is often overlooked by visitors (but well-loved by locals). Situated 2 hours southeast of Phoenix, the canyon features soaring mountains and deep canyons that are great fun to explore.
One of the best ways to see the canyon is on foot. There are miles of trails to choose from, the most popular of which leads to the Seven Falls waterfall.
This hike is 8-miles in length (roundtrip) and is moderately difficult – although the distance can be shortened by taking the tram. Easier trails are also available, including the Sabino Lake Loop and the Bajada Loop Nature Trail.
If hiking isn't your thing, take a shuttle tour with an educational audio narration. This is a great way to see the desert up-close, especially since cars aren't allowed inside the Recreation Area.
Tickets for the Sabino Canyon Crawler range in price from $4 to $12, depending on the route and the age of the visitor.
How to get to Sabino Canyon from Phoenix
The best way to reach Sabino Canyon from Phoenix is by car. There is an $8 fee to park at Sabino Canyon Recreation Area, with weekly and annual rates. Due to its desert climate, the best time to explore the canyon is from September to April. Avoid hiking in the summer months unless in the evening or early morning and should always carry a map.
Contributed by Katy from A Rambling Unicorn
26. Wickenburg
If you are looking for an adventurous destination near Phoenix, look no further than an all-inclusive ranch experience.
There are two extraordinary ranches in Wickenburg, Arizona, within an hour's drive of Phoenix which make an ideal day trip or add-on to your travel itinerary.
Kay El Bar Guest Ranch, which used to be owned by Val Kilmer's family, is a smaller ranch offering an authentic western experience. Ranchos de Los Caballeros is a luxury ranch that also offers an 18 hole golf course and full spa experience.
The best part is that you don't have to worry about arranging anything, you can just sit back and relax. The most difficult decision you will have to make at an all-inclusive dude ranch is what activity you want to do after your horseback ride.
Both ranches are located a few minutes away from the historic town of Wickenburg, which offers many unique shops and restaurants.
If you are interested in getting out of the city and experiencing the beauty of the Arizona desert, either of these dude ranches is a great choice. The cost per night starts at $555 for double occupancy, which includes all meals, horseback riding, and ranch activities.
If you are looking for a truly spectacular experience, sign up for a sunrise trail ride. Watching the sun come up out over the Arizona desert on horseback is something you won't soon forget.
Contributed by Casandra from Karpiak Caravan
27. Antelope Canyon
Antelope Canyon is spectacular slot canyon just outside of Page in Northern Arizona.
The canyon has grown in popularity during recent years because of its stunning beauty. The wind-carved sandstone walls range in color from orange and red to purple and blue, depending on the time of year. It has become the most photographed slot canyon in Arizona due to the light beams in Upper Antelope Canyon. However, there are tours of Lower Antelope Canyon as well.
My guide to booking a tour Antelope Canyon will help you save money and avoid common mistakes.
Guided tours of Antelope Canyon from Phoenix
No one can enter Antelope Canyon without a tour. Each tour company sets its rates, dependent on which part of the canyon is being visited (Upper or Lower). Tours start at $45 for Lower Antelope Canyon during the low season and can go up to $80+ for specialty photography tours in the Upper Canyon during the high season.
Visitors planning to explore Antelope Canyon should wear closed-toe shoes. The floor of the canyon is sandy, so sneakers or hiking boots are best.
Contributed by Brodi of Our Offbeat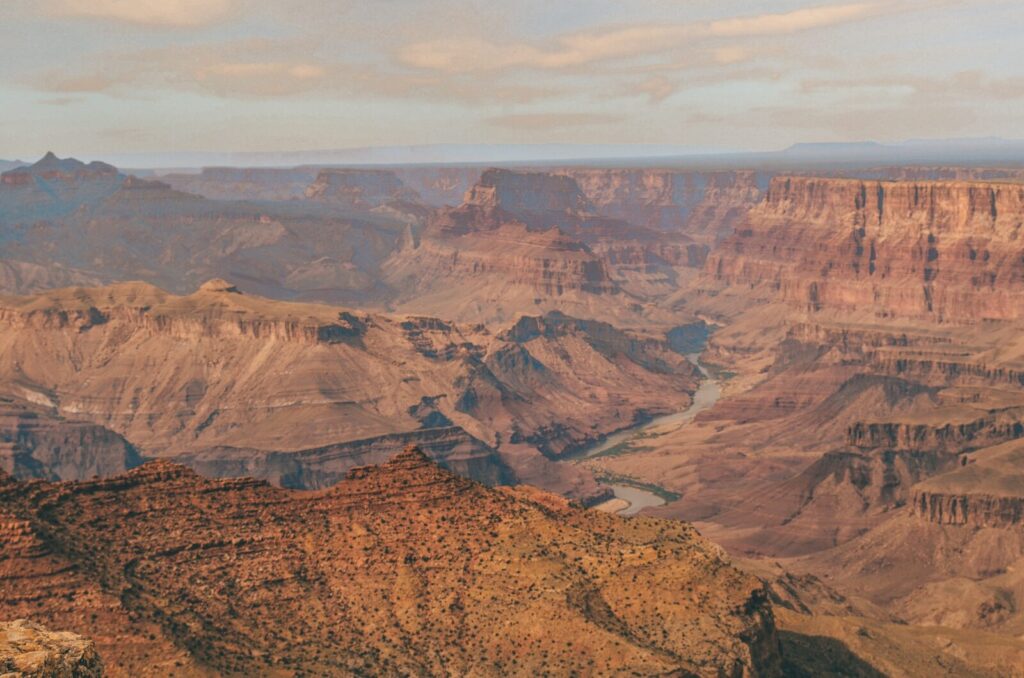 28. Grand Canyon National Park
No trip to Arizona is complete without a stop at Grand Canyon, one of the most popular national parks in the United States.
Grand Canyon is located about 3,5 hours from Phoenix and can be reached via a combination of state routes and Interstate. Grand Canyon offers a perfect combination of easily accessible scenic vistas and easier hiker at the South Rim, and more remote areas and trails for advanced hikers at the northern Rim.
Best guided tours of Grand Canyon from Phoenix
PRO TIP: Many travelers stop at the Grand Canyon as part of their West Coast road trip. If you too want to visit other national parks in the region, make sure to check my complete guide that will help you to plan your itinerary.
I suggest at least a couple of days in Grand Canyon, because of the long distances that you will need to cover to reach different areas of the park. If you are visiting from May through September, bring plenty of water and plan all your activities for early morning or early evening to avoid the afternoon heat.
Best hotels in Phoenix
Phoenix is a big city comprised of many areas, and it takes over an hour to cross the entire metropolitan area from one side to another.
There are many hotels in Phoenix depending on your plans and travel style. Sta in the area that you plan to explore (or close nearby), so you could avoid driving or taking public transportation or Uber if you don't have a car rental. Create a plan with all the places you want to visit in Phoenix and look for a hotel after that.
Some of the most popular areas of Phoenix among tourists are downtown Phoenix, Scottsdale, and Tempe thanks to the many activities that each of these areas has to offer.
CIVANA Wellness Resort
My top pick for staying in the Phoenix area is CIVANA Wellness Resort & Spa located in Scottsdale – a perfect zen-like stay for those travelers who want to stay in nature and enjoy activities like yoga and hiking as well as spa and massage services. Prices include various classes. Breakfast, lunch, and dinner are offered at the property.
Solo travelers particularly leave great reviews for CIVANA Wellness Resort & Spa because you can enjoy a myriad of activities and recreation without leaving the property, however, the hotel is perfectly suited for all types of travelers and gets very high ratings for its hospitality, design and great atmosphere.
Hotel Valley Ho
A modern hotel with a retro feel, Valley Ho is just a 5-minute drive away from Old Town Scottsdale. This corky hotel has a neat restaurant where you can try many cool exotic drinks and delicious meals. ZuZu Lounge serves American cuisine for breakfast, lunch, and dinner daily.
There's also a huge pool where you can cool off on a hot summer day and enjoy the sun in the shade. Cocktails and lunch are served by poolside at OH Pool Bar.
The Phoenician
If you are looking for a luxury place, book a stay at The Phoenician, one of the best hotels in Scottsdale and all of Arizona that has earned many awards.
This gorgeous hotel is located at the foothills of Camelback Mountain and boasts nine swimming pools, The Center for Well-Being Spa has massage therapy, a full-service salon, and a fitness center. Check one of the eight restaurants where you can enjoy many cuisines from all over the world.
Old Town Scottsdale is less than 2 miles away from the property.
Graduate Tempe
Offering an outdoor pool, Graduate Tempe is adjacent to Arizona State University. It's a simple hotel with a cute design that offers everything that a busy traveler needs: a big swimming pool, a hot tub, a fitness center, and spacious rooms. This is one of the few pet-friendly hotels in Phoenix: Guests who check-in with a pet will receive a BarkBox that contains a water bowl and dog blanket.
Kimpton Hotel Palomar Phoenix
A sustainable property in the heart of Phoenix, Kimpton Palomar offers a combination of great amenities and walking distance to some of the best things to do in downtown Phoenix.
Blue Hound Kitchen, an onsite restaurant boasts many dishes made from locally grown organic ingredients and offers seasonal produce. The property also has a rooftop pool and a bar area where you can grab a drink and enjoy the spectacular views of the city.
How to get around Phoenix
Now that you have picked your hotel, let's talk about the best way to around Phoenix.
There is a public transportation in Phoenix that connects downtown with major areas like Tempe and Scottsdale, but it typically takes longer than by driving a car. Not all scenic destinations and hiking trails in Phoenix can be accessed by car, that's why you should rent a car with Discover Cars, one of the best car rental companies where you can choose from thousands of vehicles at competitive rates.
Best things to do in Phoenix: FAQ
Why visit Phoenix?
Phoenix is one of the fastest-growing cities in the United States that offers access to recreation, a vibrant restaurant scene, many cultural landmarks, and over 300 days of sunshine! Unlike some metropolitan areas in the Southwest, Phoenix feels less busy and you can easily escape the city and enjoy cool hikes and beautiful mountains after a short drive.
How many days do I need in Phoenix?
Plan about 3 days for your trip if you want to enjoy some of the best things to do in Phoenix and also take one of the day trips. If you want to spend more time in the area and explore some of the best places in Arizona that can be visited from Phoenix by car, plan 5 days and more.
What is the best time to visit Phoenix?
Phoenix is a great place to visit, but there are a couple of things you need to consider when planning your trip here. Summers here can be brutally hot, with triple-digit temperatures lingering for weeks in a row. If you are not used to the desert heat, it's not the best time for your visit, simply because it will be difficult for you to enjoy some of the best things to do in Phoenix.
Visiting Phoenix in summer
The upside of visiting Phoenix in summer is that you can score better deals on hotels and some of the best things to do in Phoenix since it's a low season because of the hot weather. Temperatures begin to soar in mid-May and stay around 105-110 degrees Fahrenheit through August, and can even climb higher during June and July, the hottest months in Phoenix.
Also, be aware of the monsoon season in the Southwest region that begins in late July and lasts through late August. During this time, the area receives the most precipitation, and it's important to check the weather if you plan on hiking, as some areas are subject to flash flood warnings.
PRO TIP: If you plan to explore popular areas of Arizona such as Grand Canyon, Page, and Monument Valley, skip summer, because it is the busiest time with thousands of tourists from all over the world coming to enjoy these places. Winter is the best time to take road trips from Arizona, and you will not have to share trails and scenic areas with many other tourists.
Visiting Phoenix in winter
Winters on the other side are busy with many tourists from colder states and snowbirds coming to Arizona to enjoy mild temperatures and plenty of sunshine. Temperatures stay around the high 60s and mid-70s', making a perfect time to be outside. If you ask me, the best time to visit Phoenix is from late October through April when temperatures are perfect for spending time outside and enjoying everything that Arizona has to offer.
Best things to do in Phoenix: final word
Although the largest city on Arizona is still not at the top of the list for many travelers who visit the American Southwest, there are plenty of cool things to do in Phoenix that make it worth a stop.
Here you can enjoy a great mix of gorgeous hiking and mountain biking trails, a variety of museums and a booming restaurant scene. It makes for a perfect stop along your itinerary, and a standalone destination if you are looking to spend a few days here.