Mexico is one of the most diverse countries. It boasts stunning landscapes, fascinating history and many regions that have their own distinct cultures and heritage.
Although some travelers think that a classic Mexican getaway revolves around lazying on the beach, sampling tacos, and sipping margaritas all day long, there are so many things to do in Mexico aside from that!
Whether you want to dive into Mexico's culture, learn how to cook traditional dishes, explore the country's incredible scenery or just chill and relax, this guide is for you.
This list of best things to do in Mexico was curated by a group of fellow travel bloggers who brought their knowledge and expertise to the table to help you have the adventure of your life.

Best way to travel around Mexico
Depending on the region (and your travel plans), renting a car is a great idea if your goal is to cross off some of the best things to do in Mexico off your bucket list.
For example, if you plan a road trip around Mexico's Yucatán Peninsula, renting a car in Cancun will allow you to travel at your pace and explore places off the beaten track.
My advice for renting a car in Mexico is City Car Rental. They have offices in many popular destinations around the country and offer great inventory of cars at competitive rates. I rented a car with them several times, and always had a great experience.
Getting around Mexico by public transportation
If you are going to an urban area like Mexico City and plan to see murals, hop around museums and check out cafes and restaurants, public transportation is a better choice.
But if you are traveling between different regions of Mexico, getting around by bus is one of the most economical options.
ADO is one of the biggest bus companies in Mexico that offers routes in many parts of the country. You can buy tickets online at ado.mx or on the spot, just make sure to have enough cash, because credit cards are not always accepted.
Best things to do in Mexico
In this blog post, you will find some of the best things to do in Mexico split into several categories: adventure, culture, nature, and leisure. No matter what your travel style is, you will find a perfect activity for your next trip to Mexico!
Best things to do in Mexico for culture and history buffs
1. Take a Mexican cooking class
With so much amazing food in Mexico, there are endless opportunities to sample the local cuisine. Take a Mexican cooking class, and you'll learn that there's more to this cuisine than tacos and guacamole (though those are delicious too).
From panuchos and salbutes in the Yucatan Peninsula to complex moles in the state of Oaxaca, each region of the country has its specialties. The Mexican cuisine varies greatly by regions which means you could take cooking classes all over the country and make completely different dishes at each.
No matter where in Mexico you are, most cooking classes will begin with a tour of a local market and showcasing the ingredients that are staples in that specific region.
Enjoying the meal at the end of class is a highlight and will likely be one of your favorite food experiences of your trip. Plus, you'll get to take home recipes and the know-how to recreate your favorite Mexican dishes back home.
You can't get a much better souvenir than that!
Contributed by Katie from Two Wandering Soles
2. Taste Mezcal in Oaxaca
Where to stay: City Centro Oaxaca
Besides tequila, Mexico is also known for mezcal, a drink that comes from the state of Oaxaca, and is made from agave.
If you want to try this famous drink, head to Santiago Matatlan, a town in the state of Oaxaca that is called "the world capital of mezcal." If you want to go by public transportation, take a bus from Oaxaca de Juarez to Tlacoloula and then a shared taxi to Santiago Matatlan. They cost about 20 pesos each.
Santiago Matatlan has many mezcal distilleries, mezcal shops, and agave fields. A tour in one of these distilleries, Gracias a Dios Mezcal costs 150 pesos and includes a guided tour where you can learn all the ins and outs of mezcal production from local people who have been doing it for years.
At the end of the tour, you can buy mezcal or gin for your friends and talk to locals about the importance of mezcal in the Oaxaca culture. If you are going to visit the state of Oaxaca, taking this tour should be on your bucket list.
Contributed by Yaren from Bug In Our Bag
3. Celebrate Semana Santa in Taxco
Where to stay: Hotel Mi Casita
If you want to learn the culture of the country, attending local festivities is one of the best things to do in Mexico.
Semana Santa (Holy Week) is celebrated throughout Mexico, but the Easter festivities in Taxco are like no others. This town in the southern state Guerrero known for its cobblestone puts on incredible festivities during Holy Week.
Historically, Semana Santa was an opportunity for people to pay penance, seeking absolution for their sins of the past year. This 16th-century Spanish tradition has remained alive in Taxco with nightly processions on the week before Easter.
There are three organized 'brotherhoods' of penitents during the festivities. The Flagelentes carry whips with sharp thorns on the end and walk hooded and shirtless through the streets. The Encruzados carry large bundles of thorny blackberry stalks on their shoulders and outstretched arms. And members of the Animus brotherhood drag heavy chains or a huge wooden cross.
It's a fascinating, yet a bit unsettling sight.
Despite the serious nature of the processions, the town has a very festive feel most of the week, with food stalls and fun festivities.
Contributed by James from Travel Collecting
4. Adore Mexican Baroque Style in San Miguel de Allende
Where to stay: Hotel Matilda
With stunning colonial architecture, narrow cobblestone streets, and delicious regional cuisine, it's easy to see why San Miguel de Allende is often called one of the best places to visit in Mexico.
This small town in the Mexican Highlands, with over 500 years of history and a designation as a UNESCO World Heritage Site boasts cobblestone streets with stone walls painted in shades of yellow and orange and ornate wooden doors hiding beautiful courtyards.
Visiting the baroque church La Parroquia, whose pink spires tower above the city, is a must. Across the way is Le Jardin, San Miguel's main square, where you can watch locals and tourists and have a relaxing time after a day of activities.
For a night out, head to one of San Miguel's rooftop restaurants and watch the sunset with a tamarind margarita in hand.
Contributed by Brianna from Casual Travelist
5. Explore Pueblos Magicos
Visiting pueblos mágicos is one of the best things to do in Mexico, if you want to learn the country's history and culture.
The concept of pueblos mágicos is a uniquely Mexican thing.
In 2001, the government decided to diversify the country's tourism and bring more visitors to rural and less developed regions that are homes to some of the most wonderful landmarks in the country.
The first group of pueblos magicos included Huasca de Ocampo in Hidalgo, Tepoztlan in Morelos and Real de Catorce in San Luis Potosi. The list has grown to 132 since then and now includes pueblos all over Mexico.
To learn about the best pueblos magicos in each of Mexico's states, read my complete guide that includes tons of tips and helpful information on how to plan your visit.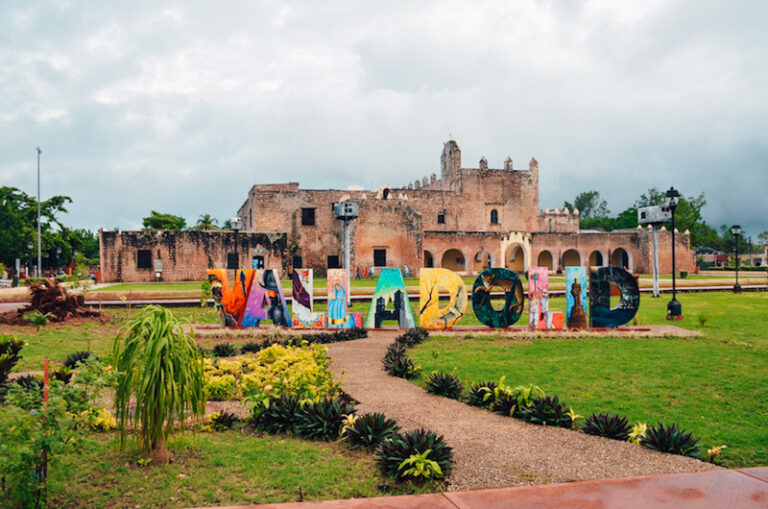 6. Learn Mexico's colonial history in Valladolid
Where to stay: Ecotel Quinta Regia
Mexico has a fascinating colonial history, and if you are traveling around the Yucatan Peninsula, consider stopping in Valladolid for an incredible lesson.
Valladolid is a city in Mexico's Yucatán Peninsula about halfway between Cancun and Merida. It offers spectacular colonial buildings including the 16th-century Convent of San Bernardino of Siena and baroque-style San Gervasio Cathedral.
Many travelers visit Valladolid on a day trip from places like Playa Del Carmen or Tulum, however, you should spend more time here because of the many things to do in Valladolid.
For example, Casa de Los Venados, a private home that holds the largest collection of Mexican folk art in the world outside of a museum. You can take a guided tour of this house to enjoy its art collection from 10:00 a.m. to 2:00 p.m.The tour costs 100 pesos and all funds are donated to local charities.
Contributed by Nicole from Go Far Grow Close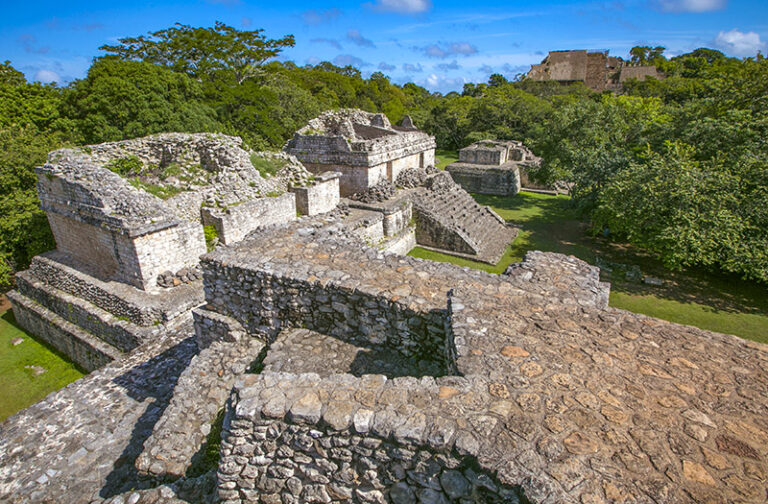 7. Enjoy tranquil atmosphere of Ek Balam
Where to stay: TecnoHotel Valladolid
The Mayan ruins of Ek' Balam, about 15 miles north of Valladolid, is one of the more mysterious Mayan ruins in Mexico. It may not be as famous as Chichén Itzá, but it is just as fascinating, and the best part is, you will not have to compete with crowds.
The city of Ek' Balam was inhabited for over 1000 years (from 600BC to 1600AD). Once an economic epicenter for the Mayan empire, it is said to have had more influence than Chichén Itzá.
This archeological area is 10 square miles, although only 1 square mile has been uncovered. You can explore 45 structures within the walled enclosures including temples, two palaces, and a large pyramid named "El Torre." Climb to the top of the largest structure on the site, the "Acropolis," for magnificent views of the ruins and surrounding jungle.
The entrance to the site is 415 pesos per person. For best experience, combine a visit to Ek' Balam with X'Canche Cenote less than 1 mile away.
Contributed by Peta and Jonas from Exit45 Travels
8. Attend Lucha Libre in Tijuana
Where to stay: Hotel Palacio Azteca
Lucha Libre is a Mexican form of martial arts that can be described as a mix of traditional wrestling and WWE with a Mexican flair.
The Luchadores do fight and have physical contact but in a non-harmful yet entertaining way. While the fighters do show off their athletic moves, Lucha Libre events are more about the entertainment aspect of the fight than the actual domination of the most skilled fighter.
To make the fights more entertaining, the luchadores play a "role" of either good guy (técnicos) or bad guy (rudos) and each fighter has unique signature moves and behaviors that are loved by their fans and followers.
Tijuana is known for its Lucha Libre events and the sport has a strong following among the local community. Attending this event is one of the most entertaining things to do in Mexico!
Another fun way to learn about the history of Lucha Libre is to visit the Lucha Libre Museum called Mullme in downtown Tijuana. Make sure to add this to your list of things to do in Tijuana!
Contributed by Maria from SanDiegoExplorer
9. Hop museums in Mexico City
Where to stay: Hotel Carlota
Mexico City is packed with museums – it boasts over 150 institutions, so if you are a culture buff, make sure to spend a few days in the country's capital.
From the most famous ones such as Frida Kahlo Museum (also known as Casa Azul), Museo Del Palacio de Bellas Artes, or Museo Nacional De Arte Antrologia to super niche ones such as Museo Jumex (one of the most famous contemporary art museums in Latin America) and Museo Del Chocolate, Mexico City has museums for all tastes and interests.
Although many travelers skip Mexico City, the country's capital boasts tons of things to do that you could easily spend a week there. From here, you can also take day trips to many cool destinations in Central Mexico.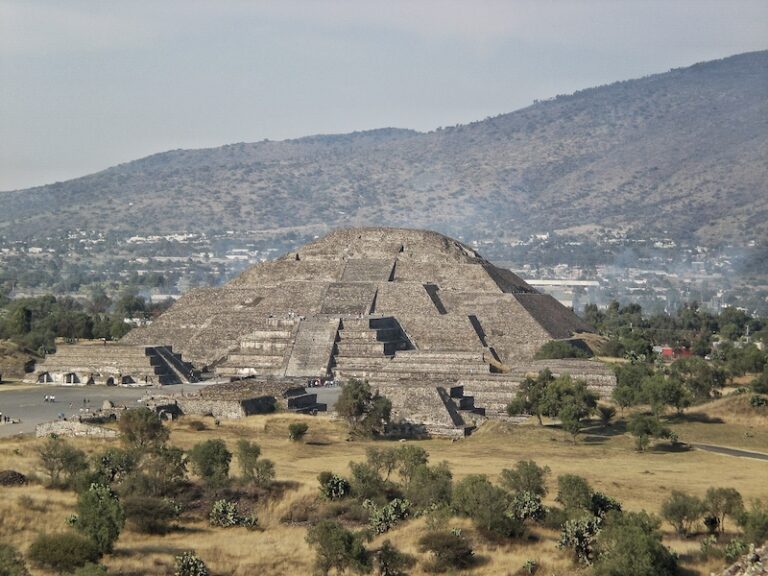 10. Learn about Aztec Empire in Teotihuacan
Where to stay: La Valise
Located about 31 miles from Mexico City, Teotihuacan was once the largest city in Mesoamerica. The city was discovered by the Atzecs in the 15th century – but by that time the city had already been abandoned for unknown reasons.
The archaeological site dates back to 400 BC, and its most important structures were completed by 300 AD. You can walk up the Pyramid of the Sun and the smaller Pyramid of the Moon. And make sure to visit the beautiful Palace of Quetzalpapalotl and explore along the Avenue of the Dead.
To get to Teotihuacan from Mexico City, take a bus from Mexico City North Central Bus Terminal near the Terminal Central del Norte.
The bus ride is about 50 Mexican Pesos one way. You can also take a guided tour of Teotihuacan departing from Mexico City. The site is open daily from 9:00 a.m. to 5:00 p.m.
Entrance fee is 80 pesos.
Taking an organized tour of Teotihuacan from Mexico City is one of the best ways to learn the history of this place!
PRO TIP: You can also take a balloon ride over Teotihuacan to see this majestic site from above. This is a truly incredible experience, and if you want some incredible memories from your trip to Mexico, I highly recommend it!
Contributed by Claudia from My Adventures Across The World
11. Celebrate Guelaguetza Festival
Where to stay: Hotel Azul De Oaxaca
If you are looking to get a glimpse into Mexico's culture, consider attending the Guelaguetza festival in Oaxaca.
This annual event which was started by the Zapotec communities in the central valleys of Oaxaca in the 16th century is still celebrated to this day. Although the indigenous cultures of Oaxaca are formed by many different people, the groups are made up of the Mayan culture.
If you can not make it to the main event (which is usually presented in July) you can see other presentations of the Guelaguetza dances in the streets of the city.
These impromptu street dances take place throughout the year. To go to the main event in July, buy tickets in advance and be prepared for a day of timely performances in the blazing hot sun.
This is one reason why many people looking for things to do in Oaxaca will arrive during the festival but make most of the shows that the local indigenous communities put on around the city in the evening.
Contributed by Daniel from Layer Culture
12. Participate in Day of The Dead festivities
The Day of The Dead (El Did De Los Muertos in Spanish) is one of the most important holidays in Mexico when people pay respects to their loved ones who passed away.
Mexican people view death differently, and the entire celebration has a festive rather than a somber feel to it with homes and buildings adorned with flowers, tapestry and paper picado.
The Day of The Dead is a mix of Mesoamerican rituals and Spanish culture, during which families clean up graves of their deceased relatives and create altars with photos and candles and flowers.
The holiday takes place from October 31 through November 2 and is marked with parades, festivities and colorful celebrations. If you happen to be in Mexico during this time, take an opportunity to observe it too!
13. Learn about Mayan culture in Merida
Where to stay: The Diplomat Boutique Hotel
Did you know that the Mayan culture is still alive in Mexico despite the fact the Mayan civilization collapsed by 900 A.D.?
The capital of Yucatan State, Merida has more residents with Mayan heritage than any other city in Mexico, and, if you want to get a glimpse into the Mayan culture, you should spend a few days in Merida.
One of the best places to visit, if you want to learn Mexico's Mayan culture is Gran Museo Del Mundo Maya.
This world-class museum offers a fascinating look at the Mayan civilization throughout the ages, exploring facets of day-to-day Mayan life. With over 1,100 artifacts on display and lots of interactive exhibits, it's a great way to spend a couple of hours while you're in the city.
Aside from visiting the Gran Museo Del Mundo Maya spend some time walking the streets of Merida, where you can find many artisan stores and galleries with handmade goods made in Mayan villages across the Yucatan Peninsula.
Another option is to take a day trip to the ruins of Uxmal, one of the most impressive archaeological sites near Merida where you can learn the Mayan history.
Contributed by Julianna, The Discoveries Of
Best things to do in Mexico for adventure junkies
1. Take a dip in Chiapas waterfalls
The state of Chiapas is the southernmost part of Mexico that has a rugged and wild feel to it.
Home to impressive landscapes and vast wilderness areas, Chiapas is a perfect destination for those who want to explore Mexico off the beaten track. One of the biggest draws of Chiapas is its waterfalls that can be found in many parts of the state.
Some of the most famous waterfalls in Chiapas such as El Chiflon, Agua Azul, Misol Ha, that can be visited with guided tours, or by a car rental. Other waterfalls like La Asuncion or Maiz Blanco require hours of driving and hiking and see very few tourists.
Swimming is allowed in some waterfalls in Chiapas. For example, if you make it to the top level of Agua Azul waterfall, you find clear pools of calm water where you can take a dip after many hours of being on the road.
Whether you decide to visit Chiapas waterfalls with a guided tour or on your own, you will have an amazing experience, because there's nothing quite like it.
2. Scuba dive in Yucatan cenotes
Where to stay: Latino Hotel Boutique
The Yucatan Peninsula in Mexico is home to the longest network of underground rivers caves in the world that attracts adventure junkies from al the world.
Scuba diving in the cenotes of Tulum is on the bucket list of many divers. Visibility in this cave system sometimes exceeds 50 meters.
For example, Dos Ochos is the most popular cenote for scuba diving and snorkeling near Tulum with stalagmites and stalactites formed over millions of years.
The Pit cenote is another cenote popular for divers but is only suited for advanced divers since it is a deep dive. Known as the "Dream Dive," it offers spectacular rays piercing deep through the turquoise water.
Diving in the cenotes of the Yucatan Peninsula usually doesn't require special technical dive qualifications since you are only allowed to dive with a certified guide who will help you to follow cavern dive regulations.
Contributed by Campbell and Alya from Stingy Nomads
3. Take El Chepe Train through Copper Canyon
Taking the El Chepe train through the Copper Canyon in Northwestern Mexico has to be one of the best things to do in Mexico, although still relatively unknown.
The Copper Canyon Railway or Ferrocarril Chihuahua Pacifico is off the beaten path. It winds through the Sierra Occidental Mountain range from Chihuahua to Los Mochis.
You can take this fun ride in either direction. The train will take you through stunning views ranging from 8,000 feet down to sea level.
Prices for El Chepe train journeys start from 2,200 MXN one way (3,100 MXN return) for the tourist train. Taking this ride is one of the best things to do in Mexico if you are looking for a unique, less touristy experience.
Tips for taking El Chepe Train
Don't hurry through the Copper Canyon. Take your time and spend a night or three in some of the towns and villages en-route. There are activities along the way, such as the Copper Canyon Adventure Park with the Zipliner (until early 2018 this was the longest zip line in the world).
To get the best views, choose a seat on the left if you're traveling the Chihuahua to Los Mochis direction and vice versa if you're traveling the other way
Contributed by Tanya from Can Travel Will Travel
4. Learn to surf in Sayulita
Where to stay: Casa De La Ballena
Sayulita is one of those places where you can stay longer than you planned. This cute coastal town on the Pacific in the state of Nayarit just north of Puerto Vallarta is a popular spot for travelers from all over the world.
Framed by the Sierra Madre Occidental mountains, Sayulita has many cool shops, restaurants, and of course, beaches!
The top thing to do in Sayulita is surfing. The left side is a beach break and the waves are usually pretty mellow, which is perfect for newbie surfers. Sayulita Surf School offers boards that you can grab or they can take you out for a lesson. They also do trips to La Lancha which is another famous beginner surf beach.
Try to hit the beach earlier not only because the waves are usually better but because the beach can get a bit crowded at times with plenty of eager surfers trying to catch their perfect wave.
Contributed by Nina from Where in the World is Nina
5. Climb the tallest Mayan pyramid in Coba
Where to stay: Posada Del Sol Tulum
Want to feel like Indiana Jones? Then climbing the pyramid of Coba is one of the best things to do in Mexico for you.
Located about one hour northwest of Tulum, Coba ruins are surrounded by the dense jungle away from the beaten path.
The ruins are the remains of an ancient Mayan community which held dominance in this area from 100-600 AD. While the estimated 50,000 people who once lived in this community are long gone, dozens of stone pyramids and other buildings are still here.
PRO TIP: If you don't have a rental car, you can also visit Coba with an organized tour from Tulum.
The main pyramid of the Coba Archaeological site, Ixmoja is 138 feet – the tallest pyramids in the Yucatan Peninsula. You can climb up Ixmoja's steep steps, with the help of a thick rope – at the top, you'll be treated to panoramic views of the lush jungle.
Admission to Coba ruins is 80 pesos.
Contributed by Jessica from Uprooted Traveler
6. Take a kite surfing lesson
Where to stay: Progreso Beach Hotel
Always wanted to try your hand at kite surfing?
Head to Mexico's Yucatan Peninsula, home to some of the best conditions for kite surfing in Mexico thanks to shallow flat waters and plenty of wind and space.
Locations around the Gulf of Mexico, such as El Cuyo and Progreso have multiple kitesurfing schools where you can pay for a lesson with an instructor to learn this popular water sport.
Particularly, Yukite school in Progreso, Yucatan gets great reviews from its students. Progreso is located less than one hour away from Merida, and makes for a great weekend getaway, if you want to go to the beach.
Additionally, you can also find kite surfing schools in Tulum, Playa Del Carmen and Cancun. For example Ikarus Kite Boarding offers kite surfing lessons in several locations in Mexico's Caribbean.
7. Get lost in the ruins of Yaxchilan
Where to stay: Hotel Maya Bell
Located in the deep Lacandon jungle on the border between Mexico and Guatemala, Yaxchilan is a remote archaeological site. Accessible only by a boat ride on the Usumacinta River, it sees only a few visitors compared to other Mayan ruins in Mexico.
Yaxchilán flourished between AD 681 and 800 and was one of the most important Mayan cities in the Usumacinta region thanks to its strategic location on the river and a series of alliances. The city was abandoned around AD 810.
During your visit to Yaxchilan, you will see several buildings such as the Little Acropolis (Pequeña Acrópolis) a group of ruins perched on a small hill, and Palacio del Rey. Stay on the main path, and you will arrive El Laberinto that was built between AD 742 and 752.
The way to visit Yaxchilan is with a guided tour from the town of Palenque or San Cristobal De Las Casas. Many local tour operators offer daily tours to Yaxchilan and Bonampak, another remote Mayan ruin site for a competitive price, so you don't have to worry about transportation and hotels.
Contributed by Deborah from Passport The World
8. Explore cenotes in Mexico's Yucatan Peninsula
Where to stay: Casa Chimi Tulum
Mexico's Riviera Maya is home to many popular natural sights that attract thousands of tourists, however, it also boasts some secret treasures, such as cenote Taak Bi Ha. Maybe it's not so secret anymore, but still, you should not miss a chance to visit this incredible cave sinkhole.
Cenote Taak Bi Ha is a cave cenote, which means that you will have to climb down a few steps to enter the cave which opens up into an incredible natural pool with light blue crystal clear water surrounded by stalactites and stalagmites.
Taak Bi Ha entrance is about 1 km after the Dos Ojos cenote entrance. To get there, you will need to follow the indication for the more popular Cenote Dos Ojos but continue straight along a dirt road.
The entrance fee is 350 MXN and it is open every day from 9 am to 4 pm. Since this cenote is getting more popular, get there by the time it opens to avoid the crowds.
PRO TIP: To visit other cenotes near Tulum, consider booking a a day tour. This is a great option if you don't have a car rental.
Contributed by Isabella from Boundless Roads
9. Discover less-visited Guachimontones Pyramids
Where to stay: Hotel Isabel
Planning a visit to Guadalajara?
Take a day trip to impressive Guachimontones Pyramids – the only circular pyramids in the world that were built by the Teuchitlan people around 2,000 years ago. While there are a few dozen sites in the area with similar pyramids, Guachimontones Pyramids are the best preserved ones and are open to the public.
The best way to see Guachimontones is by taking an organized tour from Guadalajara – a great option for non-Spanish speakers. The cost of the tour is about $60 per person and includes admission to the site.
When you arrive at the site, make a stop at the Visitors Center and take a few minutes to watch a short introductory to get an overview of the area and its history.
Next, explore the artifacts uncovered through archeological digs. While climbing is not permitted on most of the pyramids, you can get up on one of the crumbling pyramids from where you can take photos of the area.
Contributed by Wendy from Empty Nesters Hit The Road
10. Get PADI certified in Cozumel
Where to stay: Kinta Kan Boutique Hotel
Located about 6 miles off the coast of Mexico's Yucatan Peninsula, the island of Cozumel is considered one of the best diving destinations in the country.
Travelers from all over the world come here to explore the marine wildlife in Mexico's Caribbean and enjoy the laid back island vibes. When you descend under water, you will have a chance to see colorful corals, tropical fish, corals and beautiful turtles.
Whether you are a certified diver or a newbie who wants to get his or her certification, there are plenty of diving schools in Cozumel that will help you to learn the ropes of this popular water spot.
11. Learn Spanish
There's no bigger adventure to take on than learning a new language!
If mastering Spanish is on your list, there's no better place than Mexico. There are many language schools in different parts of the country, and locals are super friendly and welcoming, and are always willing to help you to learn new words and expressions.
Mexican Spanish has many fun slang words that are not found in other forms of the language and learning them is a ton of fun.
Some of the most popular destinations for learning Spanish are colonial cities of Puebla, Morelia and Guanajuato; however, popular tourist destinations like Mexico City, Merida and Guadalajara also have plenty of great Spanish language schools for all levels.
12. Take a road trip around Mexico
Taking a big road trip is one of the best things to do in Mexico for adventure lovers.
Whether you plan to rent a car to see the country, or travel by bus from place to place, this is a remarkable adventure that will allow you to see how vast and different Mexico truly is.
For example, many travelers begin their road trip in Mexico City and head south to Oaxaca and Chiapas before arriving to the Yucatan Peninsula (or the other way around).
As someone who has done it, I can say that it's one of the best travel experiences you can have in Mexico!
Best things to do in Mexico for nature lovers
1. Adore Piedra Herrada Monarch Butterly Sanctuary
Where to stay: Loto Azul Hotel And Spa
Each year, millions of monarch butterflies migrate from Canada to the Oyamel Fir Forests in Central Mexico, not far from Mexico City. This annual phenomenon is said to be the largest insect migration in the world.
To see them, you can visit one of two sites — the Piedra Herrada Reserve near the town of Valle de Bravo, Mexico, and another more remote site in Michoacan state.
Both of these sites are part of the Monarch Butterfly Biosphere Reserve, a UNESCO World Heritage Site. The reserve is huge, spanning about 140,000 acres (56,000 hectares).
Piedra Herrada Reserve is closest to Mexico City at about 68 miles (100 km) north of the city. It is tucked away in forested mountains, so you may want to go with a guide or a group tour.
From (about) November to March, visitors can hike up or go on horseback with a guide to the top of the mountain, where the butterflies stay while in Mexico. This takes approximately one hour.
Most of the climb is a gentle, uphill walk. However, in the last 165-feet (50 m), you'll have to ascend a steep, rocky incline — that even the horses don't attempt. Entry to the reserve is $4USD, and another $15USD if you want to go by horse.
Once there, you'll see thousands of monarch butterflies. They weigh down tree branches because there are so many, land on you, and are even all over the ground. It is breathtaking, and one of the most amazing spectacles you'll ever see.
Contributed By Shelley from Travel to Mexico Solo
2. Take a boat tour of El Canyon De Sumidero
Where to stay: Hotel Barrio Antiguo
El Canyon De Sumidero is one of the most stunning natural sights in Mexico.
Located near Tuxtla Guttierez, the capital of Chiapas, the Sumidero Canyon is the place to visit if you want to immerse yourself in nature and watch birds, crocodiles, and other species endemic to this area. Tours to El Canyon De Sumidero take place multiple times per day and you can book one of them online.
Designated as the national park in 1980, Sumidero Canyon boasts walls that rise up to 2,600 feet creating a truly spectacular landscape. Most tours include transportation, a guided tour of the canyon by boat, and about one-hour stop in Chiapa De Corzo, a Pueblo Magico that is a gateway to El Canyon De Sumidero.
You will see the canyon from several miradores (overlooks) before arriving at the dock where a boat will pick you up. If you plan to visit Chiapas, don't miss a trip to El Canyon De Sumidero.
2. Release baby turtles in Puerto Escondido
Where to stay: Rincon Del Pacifico
Releasing a newly hatched sea turtle into the Pacific Ocean is one of the most memorable experiences you can have in Mexico.
The charming coastal town of Puerto Escondido is home to many of the most magical beaches of the Oaxaca Coast and a whole lot of sea turtles!
Located on the northern end of the Puerto Escondido at Playa Bacocho is the Vivemar Turtle Camp where volunteers educate public on turtle conservation, help to clean up beaches, and conduct patrols to prevent poaching.
Every evening, shortly after 5 p.m., the new hatchlings are released into the ocean. On any given evening there will be many hundreds of turtles to be released that have been collected, protected, and kept at the right temperatures to ensure an even distribution of male and female hatchlings.
You have to pay a fee of 300 pesos to be able to release a baby turtle into the ocean from a coconut shell that the volunteers will give you.
Contributed by Anna from Anna Meanders
3. Float in the canals of Sian Ka'an Biosphere Reserve
Where to stay: La Palmita Boutique Hotel
If you want to see an incredible array of biodiversity and enjoy calm and peace in one of the most touristy regions of Mexico, visiting Sian Ka'an Biosphere Reserve should be on your list.
The largest protected area in Mexico's Rivera Maya, this biosphere boasts over 1.3-million wilderness and is home to many marine creatures such as manatees, dolphins, turtles, and rays, Sian Ka'an was designated as a UNESCO World Heritage Site in 1987, a year after it gained a status of a Biosphere Reserve.
Located near Tulum, one of the most popular destinations in the Mexican State of Quintana Roo, Sian Ka'an makes for a perfect getaway. The lagoons of Sian Ka'an boast crystal clear water framed by the lush mangroves and swimming in the canals amid mangroves is such a fun experience.
Visiting Sian Ka'an is only possible with a tour. Typically, tours pick you up in Tulum (the closest town to Sian Ka'an) or any other town in the Mexican Rivera Maya by colectivo (a small van) and drive to the entrance of Sian Ka'an, from where you will get on a boat.
4. Join a whale watching tour
Where to stay: Casa Fernando
Whale watching is without a doubt one of the best nature experiences in Mexico. These majestic creatures visit the pacific coast of Mexico, stretching from as far south as the Guatemalan border, all the way up the Gulf of California.
Four whale species visit this area: Humpback Whale, Gray Whale, Bryde's Whale, and Rice's whale. The most popular and common is the humpback whale.
From December to April, the whales visit the many bays along the coastline in search of safe places to mate and reproduce. It's during this time that visitors can enjoy once-in-a-lifetime whale watching tours. One of the best places to do this is in Puerto Vallarta.
Located in Banderas Bay, Puerto Vallarta is home to hundreds of whales that migrate to the bay for a few months of the year. Tours from the city are available every day during whale season and cost around 80 USD.
In December, January and February, it's common to see the whales breach the water in a huge display of strength. This makes whale watching one of the best things to do in Puerto Vallarta.
Contributed by Daniel from Destinationless Travel
5. Swim with whale sharks in Isla Holbox
Where to stay: Casa Las Tortugas
Swimming with whale sharks in Isla Holbox is one of the best things to do in Mexico for nature lovers. The giant fish can grow up to 39 feet long and seeing them in real life is an incredible experience.
Swimming with whale sharks is one of the best things to do in Holbox and also an animal-friendly activity. The whale sharks are free to come and go as they please and every day the boats look for them in the open ocean.
The boat ride can take up to two hours and the sea is sometimes bumpy so keep that in mind if you are prone to seasickness. In the water, you'll be accompanied by a guide who will help you to navigate the new environment.
The whale sharks are harmless and usually ignore humans, but you should still keep a safe distance. And, if you get lucky, you might encounter a giant manta ray on your trip too.
Contributed by Victoria from Guide your Travel
6. Marvel at Las Coloradas
Visiting the Mexico pink lakes of Las Coloradas is one of the best day trips from Merida, Mexico. As the lakes are located in a remote part of the country, it's easiest to visit from Merida, which is the closest big city to Las Coloradas, however, there are also tours of Las Coloradas from El Cuyo, a small beach town on the Gulf of Mexico.
The easiest way to visit is in a rental car, which will take about 3.5 hours. You can get there by public transportation, but it usually takes two buses and about six hours from Merida, as you first need to stop in the town of Tizimin.
The pink lakes are accessible only by boat, so you'll have to take one of the boat tours from Rio Lagartos (meaning Alligator River). There is a dock along the river with boats waiting to take visitors out. Tours average about 250 pesos ($13USD) and last two hours or so.
The boat trip to Las Coloradas from the dock in Rio Lagartos is about 15 minutes. You'll stay about 30 minutes at the pink lakes, then do a one-hour tour through the mangroves of Rio Lagartos, to see a variety of birds, and of course, alligators.
GOOD TO KNOW: If time is short, consider booking a guided day tour of Las Coloradas that also stops in Rio Lagartos.
Contributed by Shelley from Travel to Mexico Solo
7. Watch flamingoes in Celestun
Where to stay: Rosas y Xocolate
If you want to see beautiful pink flamingoes in the wild, head to Mexico's Yucatan Peninsula, home to several places where you can watch these birds basking in the sun.
First place is called Celestun and is located on the west side of the Yucatan Peninsula about 30 minutes away from Merida. You can purchase a guided tour of Celestun in Merida.
Another spot where you can see flamingoes is Rio Lagartos, a more remote site that can be accessed from El Cuyo, a small coastal town on the Gulf of Mexico.
To visit Rio Lagartos, you will need to purchase an organized tour either in El Cuyo or in Valladolid. Most tours allow you to see flamingoes and also take you to nearby mangroves where you can see crocodiles!
8. Swim with sea turtles in Akumal
Where to stay: Casa Gatos
A hidden paradise in Mexico's Caribbean, Akumal is one of the best places to get close to sea turtles.
Located just north of Tulum, Akumal has been flying under the radar for quite a while, and most travelers know it as place with several all-inclusive resorts. Yet, the main draw of Akumal are the incredible sea turtles that can be seen very close to the shore.
GOOD TO KNOW: If you decide to take a snorkeling tour in Akumal to see these majestic creatures, make sure to keep your distance (at least 10 feet) and not to bother or touch them. This has become somewhat a problem, as many turtles have left this area because of the increased tourism activity in the waters of Akumal.
In addition, book a tour with a licensed tour guide who can give you proper guidelines for snorkeling.
Be respectful to all marine creatures, and remember that you are a guest in their world, not the other way around. And use a reef safe sunscreen that will not hurt turtles and bleach the reefs!
9. Take a tour of Bacalar Lagoon
Where to stay: Hotel Casa Hormiga
Located near the Belizean border, the Bacalar lagoon is one of the most incredible places to visit in Mexico. Called the Lagoon of Seven Colors, Bacalar has been spared from mass tourism, but it's quickly becoming one of the most popular destinations in Mexico's Yucatan Peninsula.
While there are many unique things to do in the area, the most popular excursion is a boat tour of the Bacalar Lagoon. During the tour you can see amazing birds, and spot all sorts of fish in the crystal clear waters of the Bacalar lagoon.
Most boats visit the Black Cenote, which is the deepest part of the lake, as well as Bird Island and the Pirate's Channel. It's a great way to spend the day before watching the incredible Bacalar sunset in the evening.
Many visitors come to Bacalar for a couple of days, but end up staying longer because of the incredible lagoon. Whether you want to kayak, paddleboard, or just soak up some sun on one of the wooden piers (or balnearios), Bacalar is a magical place to visit.
Contributed by Brodi from Our Offbeat Life
10. Visit Underwater Museum in Cancun
Where to stay: Live Aqua
Visiting the Underwater Museum in Cancun might not seem like an obvious thing to do in Mexico for nature lovers, and yet, it is!
This quirky museum that features over 500 sculptures was established in 2009 as an initiative to bring awareness to marine world and save the nearby reefs that face multiple threats.
The statues that you see in the museum are made from the special materials that are good for coral growth. Attached to the seabed, these sculptures turned into artificial reefs and today attract plenty of wildlife.
FUN FACT: The statues at the Underwater Museum in Cancun are made from the unique material that allows for coral growth.
Whether you want to visit this landmark by a clear boat tour, snorkeling or scuba diving, you will have a great experience!
Best things to do in Mexico for leisure lovers
1. Do a yoga retreat
Going for a yoga retreat in Mexico sounds like one of the most touristy things to do, and yet, it can be a great opportunity to spend a quiet time in nature and disconnect from the world.
You probably heard about famous (and often pricey) yoga retreats in Mexico's Caribbean, however, they are not the only option. Mexico has many worthy destinations like Mazunte, in the state of Oaxaca, as well as multiple locations in Baja California that offer incredible yoga retreats, and yet are less known for traveling masses.
Whether you are a yoga enthusiast or not, going to Mexico for a yoga retreat could be a great experience if you are looking for a mix of culture and relaxation.
2. Island hop along Mexico's coast
One of the best things to do in Mexico is to explore the beautiful islands that surround this great country.
For example, Isla Mujeres (Island of Women) in Mexico's Caribbean is a popular day trip from Cancun with boats departing multiple times per day. Famous for its beaches, Isla Mujeres has a slower pace and doesn't have mega-resorts and all-inclusive resorts like Cancun.
Whether you want to paraglide, take a snorkeling tour, visit a turtle sanctuary or just relax on the beach, Isla Mujeres is the place that you need to put on your Mexico itinerary.
Spending a night or two on the island is an excellent idea as it's less busy than Cancun and Playa Del Carmen and is a great place to relax. Think sipping coconut juice, watching sunsets from your hammock, and enjoying laid-back vibes.
Recommended by Kerry from VeggTravel
3. Take a dip in Hierve El Agua
Where to stay: Hotel Posada Del Centro
The State of Oaxaca is one of the most popular destinations in Mexico and for good reason. There are so many cool places to see in the state, and one of them is Hierve el Agua, a petrified waterfall about 1 hour 30 minutes away from Oaxaca De Juarez.
Hierve El Agua sits on the edge of a mountain over a large mountain valley in San Lorenzo Albarradas, Oaxaca. Over many years, the water began to calcify creating the natural wonder that you can visit today. There are multiple viewpoints some of which involve a short hike, so be sure to bring proper walking shoes.
The waterfall is not the only thing to see, as you will find natural pools (think infinity pool) at the edge of the hillside.To enjoy a refreshing dip in the pools too, so bring a swimsuit and a towel.
The easiest way to visit Hierve el Agua is by booking a tour from Oaxaca de Juarez. (aka Oaxaca City). Some tours also include Mezcal tastings and visits to artisan villages in the state of Oaxaca.
Contributed by Laurel of Lost in Laurel Land
4. Explore less-known Mexico beaches
If you crave nothing more than a tropical getaway, spending time on the beach is one of the best things to do in Mexico.
Many travelers are familiar with Mexico's famous Caribbean beaches, but the country is home to 11,000 kilometers of coastline on both sides.
While Mexico boasts many postcard-like beaches similar to those white-sand stretches of the Caribbean Coast, it is also home to many hidden little-known beaches that few travelers know about.
PRO TIP: To learn more about some of the best beaches in Mexico, check my article. There, you will find detailed information and learn how to reach some of the best beach destinations in the country.
5. Participate in Temazcal ceremony
An ancient ceremony that takes its origin from Mexico's indigenous cultures, Temazcal means "the house of heat," and is considered one of the most important spiritual ceremonies in Mexico.
Temazcal ceremonies are usually led by a spiritual leader or shaman who is saying chants while participants gather in a dark sweat lodge. The ceremony usually lasts about two hours and is believed to have health and therapeutic benefits.
It's a great way to learn Mexican Mayan culture and get a therapeutic treatment in the middle of the jungle.
If you are visiting Mexico's Rivera Maya, you can book Temazcal ceremony online and get picked up at your hotel.
6. Visit Mexico's wine region
Where to stay: Entrevalle Hotel Boutique
Did you know that Mexico has a great wine scene?
When we think about famous Mexican drinks, most of us picture tequila, mezcal and maybe pulque. And yet, Mexico also has a wine producing region in Baja California called Valle de Guadalupe that boasts dry climate with plenty of sunshine.
Thanks to its proximity to the US border (it's 1 hour, 30 minutes from San Diego), Valle De Guadalupe is particularly popular with American travelers, and there are many wine tasting tours in the region.
If you are exploring Mexico's Baja California Peninsula, add Valle De Guadalupe to your itinerary.
7. Go on a tequila tasting tour
Where to stay: Cabanas Tequila
One of the best things to do in Mexico is to take a day trip to Tequila. This small town is a UNESCO World Heritage Site and also one of Mexico's Pueblos Mágicos (Magical Towns). The drink of tequila has been made in the region for hundreds of years.
It is located in the state of Jalisco, about four hours from Puerto Vallarta.
If you'd like to learn more about the history of tequila visit a couple of museums in town including the National Museum of Tequila as well as Museo Los Abuelos. There are also distilleries Casa Sauza, Disteleria la Alborada and Casa Orendain that offer tours and samples.
It truly is a site to see blue agave fields go on and on as far as the eye can see! You can easily do a day trip to Tequila from Guadalajara or Puerto Vallarta or spend a few days there.
Contributed by Vicky from Buddy The Traveling Monkey
8. Shop local artisan markets
Exploring Mexico's artisan markets is one of the best experience in Mexico that a traveler can have.
While major cities like Oaxaca, San Cristobal De Las Casas and Guadalajara are famous for their arts and crafts, you don't have to travel too far to buy authentic Mexican souvenirs.
Many popular tourist destinations around Mexico have their versions of local markets where you can buy handmade jewelry, clothing, accessories, and homeware crafted by local artisans.
9. Appreciate Mexico's street art
Mexico might be most famous for its colonial architecture, but in recent years, it has developed a pretty big street art scene with many modern artists creating stunning displays of urban art in cities all over the country.
That, however, doesn't mean that you can't find cool murals in smaller destinations. For example, towns like La Paz, Tulum and Bacalar have nice murals as many artists go there to get more recognition for their work, since these places are visited by people from all over the world.
Bigger destinations, like Mexico City, for example, even offer street art tours where you can learn more about this modern art.
10. Learn about Frida Kahlo
Whether you love art or not, there's a chance you have seen images of Frida Kahlo – Mexico's most famed artist.
Even though Kahlo died in the 1950's, her artworks and most notably, her likeness can be found all over Mexico, from murals to souvenirs and reproductions of her self-portraits.
Kahlo was also married to another artist, Diego Rivera whose most famous works can be found in the National Palace and Museum of Fine Arts. To appreciate the life history of Frida Kahlo, visit La Casa Azul in Mexico City that pays a tribute to her work.
What's interesting is that Frida Kahlo was born in this house located in one of the oldest neighborhoods of Mexico's capital. The house has been converted to a museum and hosts many of Kahlo's famous art works.
Since this is a popular museum, make sure to book your tickets ahead of time.
11. Try exotic Mexican fruits
If you think that guacamole is the most delicious thing on the planet, I'm here to disappoint you.
Mexico is located in subtropical and temperate regions of North America which means there are all sorts of exotic fruits that grow here some of which you might have never tried.
For example, mamey fruit, guava, prickly pear and nance are some of the most common Mexican fruits that can be found on local markets and restaurant kitchens. Take a chance to try them, because they are really delicious!
What's the best time to visit Mexico?
Mexico is a big country with many different climates and sub-climates. There's no right or wrong time to visit Mexico, it all depends on what you want to do. For example, winter brings colder weather in places like Mexico City, San Cristobal De Las Casas, and even Oaxaca as temperatures begin to drop.
Coastal areas of Oaxaca, Quintana Roo, and Yucatan receive the most visitors during this time, as more people seek to escape colder temperatures. Before your trip, check local weather reports, so you come prepared and have proper clothing for your trip.
Is Mexico safe to visit?
Let's talk about the elephant in the room: travel safety in Mexico.
This is the first question I get when I talk about traveling in Mexico. Many news reports portray Mexico as a dangerous, crime-ridden country, where you can get shot or kidnapped the moment you step outside your all-inclusive hotel.
This image is grossly misrepresented. Although NOT all of Mexico is safe, following basic safety rules and doing your homework ahead of your trip will help you to avoid sketchy situations.
Like any other country, Mexico has its specifics, and it's a good idea to get familiar with its culture and learn at least a little bit of Spanish before hitting the road. This will help you to communicate with locals and have a better awareness of what's going.
PRO TIP: For extra peace of mind, consider getting World Nomads Insurance that will protect you in the event of missed flights, lost and stolen luggage, hospital visits, and so much more.
Where should I go in Mexico?
Mexico is a big and diverse country with many regional differences, cultures, and thousands of years worth of history. It can take you a while to explore it because aside from popular tourist mainstays, Mexico also has many hidden gems that few people know about.
For example, if you want to try some of the best regional dishes in Mexico, head to Oaxaca or Puebla, the two cities that are often revered by foodies.
If you are an outdoorsy type, consider spending some time in Chiapas, Mexico's southernmost state where you can hike, swim in the beautiful lagoons, and marvel at some of the most beautiful in the country. If museums are your forte, hit Mexico City, which has dozens of world-class museums of all sorts.
No matter what you want to do, Mexico has it all!
Final thoughts on best things to do in Mexico
I hope this article was able to give you a brief glimpse into some of the best things to do in Mexico. With so much diversity in cultures and geographical differences, Mexico is full of cool activities for any type of traveler, so make sure to take your time to enjoy them.
Happy travels!
Disclaimer: This post contains affiliate links. At no cost to you, I might earn a small commission if you make a purchase through the links in this article.