Disclaimer: This post contains affiliate links. At no cost to you, I might earn a small commission if you make a purchase through the links in this article.
When you think about the best beaches in Mexico, you are most likely picturing the famous white-sand beaches of the Caribbean or golden-sand beaches of Baja California. There's a chance you might think about beaches in Oaxaca or even Yucatan.
I started exploring Mexico years back, and I remember how everyone would always talk about places like Tulum or Puerto Escondido, among a few other destinations.
It wasn't until I set foot on beaches in Campeche that I discovered something that very few people know about. Campeche beaches are not famous and don't have any resorts or huge hotels like Cancun or Playa Del Carmen. They boast a uniquely local vibe and often have minimal amenities, but that's part of their charm. There's a good chance you will be the only tourist when you decide to visit them.
😊 In this article I will talk about the best beaches in Campeche and how you can visit them too!
Where is Campeche located?
Campeche is a state on the western side of the Yucatan Peninsula. It sits along the Gulf of Mexico and is bordered by the states of Yucatan and Quintana Roo. Don't confuse the state of Campeche with its capital, Campeche (also called San Francisco De Campeche).
How are the beaches in Campeche, Mexico?
Campeche beaches are located along the Gulf of Mexico.
Unlike the beaches in Mexico's Caribbean, Campeche beaches have pebbly sand and emerald-green waters. If you are visiting one of Campeche's beaches on a clear sunny day, you will enjoy the experience, as the Gulf of Mexico looks stunning when the sun shines bright.
Some beaches in Campeche have very limited amenities and some have none. Beaches in Sabancuy and Champoton have small on-site restaurants, bathrooms, and palapas, but that's about it.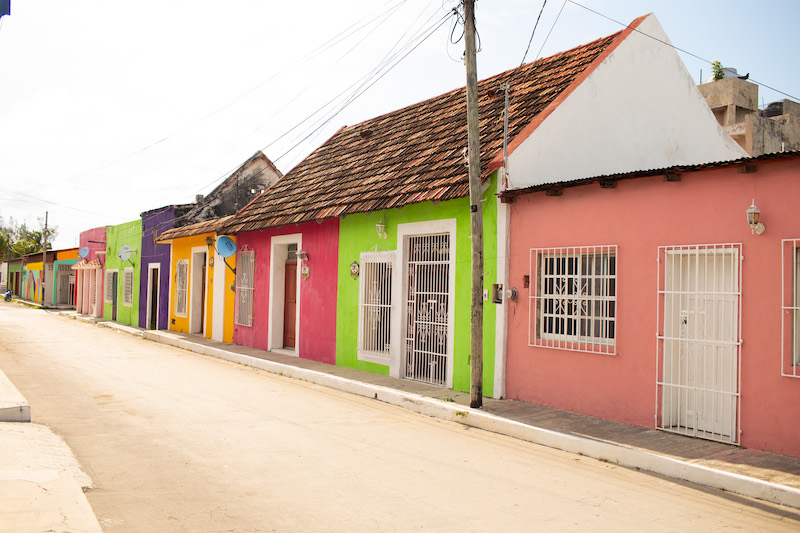 How to get to beaches in Campeche?
The easiest way to visit beaches in Campeche is by renting a car. You can rent a car in Campeche (or San Francisco de Campeche), the capital of the state, or any major destination in the Yucatan Peninsula like Cancun, Tulum, Playa Del Carmen, or Merida.
I recommend (and use) DiscoverCars for my trips around Mexico. Unlike other car rental platforms, they have no hidden fees, and you can browse hundreds of available options online. All you need to do is type in your travel dates and preferred make and model of the vehicle.
👉 Click here to book a car to explore Campeche beaches
They also have some of the most competitive rates on the market, and you can easily reach their customer support when you have questions.
Flying to Campeche
Campeche also has a small airport that has daily flights from Mexico City, but no international flights.
Getting to Campeche by bus
Another option is to take a bus to Campeche, but in this case, you will not be able to visit most beaches in Campeche, as they are not serviced by public transportation. As an option, you could take a taxi from the city of Campeche to Playa Bonita, the closest beach.
Best Campeche beaches: a complete overview
1. Champoton
Where to stay: AAK-BAL Beach Resort
Champotón is a small town in Champotón Municipality about 62 km north of the city of Campeche. When you drive through Champoton, you will pass through the area where the Champotón river meets the coast of the Gulf of Mexico. While the town doesn't offer much in terms of things to do, it boasts Hacienda San Luis Carpizo, where you can learn some history of the region.
2. Sabancuy
I had no idea about Sabancuy until the owner of one of the Campeche restaurants told me about it during my trip. Sabancuy is a small town along the Gulf of Mexico that is home to some of the best beaches in Campeche. While you can find Sabancuy beaches along the highway, you will need to make a turn and cross the bridge to get to downtown Sabancuy, because the town is separated from the highway by the bridge.
There are a couple of beaches throughout the area, and at least one of them requires a fee.
Sabancuy has a bit more infrastructure than Champoton, and you book one of the local hotels to spend the night in the area if you don't plan to drive back to Campeche. Sabancuy makes for a perfect getaway if you are looking to spend a day or two in an authentic Mexican town.
3. Playa Bonita
Where to stay: Hacienda Puerto Campeche
Playa Bonita is the closest beach to the city of Campeche about 15 minutes away by car from the center. Although you technically can Playa Bonita with a taxi, I recommend renting a car. This way, you will also be able to visit other cool places in Campeche, that are not serviced by public transportation.
Playa Bonita is a gated beach, and you have to pay a fee of 10 Pesos for parking. Each passenger in a vehicle has to pay a separate entrance fee of 40 Pesos. You can pay only in cash.
The beach has a small restaurant and free palapas. You can also rent a sun lounger and grab a quick drink to refresh if you visit on a hot summer day.
4. Isla Aguada
Where to stay: Cabañas Laguna
Isla Aguada is one of the best off-the-beaten-track destinations in Mexico's Yucatan Peninsula. Located near the bridge across the Laguna de Termino, Isla Aguada means "watered island."
The main draw of this small village is the 2-hour tour that takes you to different points of the Laguna de Termino where you can spot the dolphins roaming around. The tour offers one of the best wildlife-watching experiences in the Yucatan Peninsula, and you can hire a private boat for less than $50 per person.
You can find local fishermen offering these tours along the Isla Aguada Malecon. There's also a photogenic sandbank right in the middle of the lagoon where you can snap some shots.
5. Isla Arena
If you miss other Campeche beaches, Isla Arena (also known as Isla Del Encanto – the enchantment island) is one place that you have to visit.
Tucked between the biospheres of Celestún and Los Petenes, this small island is a fishing village that is home to many birds and boasts incredible sunsets, unlike anything you've ever seen before. The island is best visited from Merida, as it's very close to the state of Yucatan, and you can even stay here for the night.
The island has over 4 km of beaches with white sand and historic landmarks to keep you busy as you spend your day here. At the end of the island, you will find Wotoch Aayin: La Casa del Cocodrilo, dedicated to breeding of Morelet's crocodiles.
It will take you about two and a half hours to get to Isla Arena from Merida. On the way, you will find the impressive Hacienda de Tankuché, a red-brick building from the colonial era. Bring enough snacks and drinks since there are very few stores along the way.
6. Playa Punta Xen
Punta Xen was one of my favorite beaches in Campeche because of its transparent clear water that is perfect for swimming and snorkeling.
 This beach is located right along Highway 180 near the small village of Xochen just south of Sabancuy. Another beach in the area is called Campamento Tortuguero. Playa Punta Xen has free access, facilities, parking area and is relatively uncrowded. 
7. Playa Punta San Julian
Where to stay: Holiday Inn Ciudad del Carmen
One of the most popular Campeche beaches for having a great time and for kayaking, Playa Punta San Julian is an excellent place to relax.
This off-the-radar beach is just 30 km away from Cuidad del Carmen, all the way up to the turn-off to Playa Punta San Julian. Be aware that the road toward the beach gets a bit rough after the rainfall, but the upside is that you will have the beach mostly to yourself once you get here.
It's a perfect alternative to busy beaches in Cancun and Tulum that feels overly developed and crowded.
As with other Campeche beaches, remember to take your garbage with you! If you want to be a good steward of the environment, clean up other trash on the beach. Leave the place better than your found it!
Other cool places to visit in Campeche
Besides its gorgeous beaches, Campeche also boasts many natural wonders, historic landmarks and ancient Mayan ruins that deserve your attention. Here's a quick list:
Calakmul
Calakmul is one of the most impressive archaeological areas in Mexico located in the middle of the Calakmul Biosphere Reserve near Guatemala.
Visiting Calakmul on your own requires a rental car. And the tour will take most of your day, so you will be very tired by the time you are done.
To make things easier, take a guided tour of Calakmul from Campeche that will help you to save a lot of time and money. A professional guide will accompany you to the site and tell you about the history of this spectacular archaeological area and help you to spot the animals.
If you decide to visit Calakmul on your own, hire a guide at the main entrance. Calakmul was once home to 50,000 people living here during the 7th century and even dominated the famous Tikal in Guatemala. You will have little chance to learn its history on your own aside from the small plaques near the ruins.
San Miguel Colorado
San Miguel Colorado is a small recreational area that has a pier, kayaks, and a zipline. The entrance to the area is 200 Pesos per person, and if you come here early morning if you will most likely have the entire place to yourself. If you choose to do kayaking or zip lining, you will need to pay extra.
San Miguel Colorado is well off the beaten path, and sees very few people. The road to San Miguel Colorado goes through a small village. As you drive through the area, the road will get more rough with many bumps and potholes, so make sure to drive carefully.
Xpujil
Xpujil is a small pueblo along the highway between Calakmul and Bacalar. The main attraction of Xpujil is a group of Mayan ruins in Rio Bec style that include Becan, Hormiguero, Chicanna, and Xpujil. You can spend a night in Xpujil if you want to see some of the least-visited Mayan ruins in Yucatan and get off the beaten path.
Beaches in Campeche Mexico FAQ
Is Campeche worth visiting?
Yes, Campeche is worth a visit. The entire state of Campeche is still relatively undiscovered compared to other popular destinations in Yucatan. I heard about Campeche after a friend had visited, but it's still flying under the tourist radar.
If you like less-explored beaches and nearby colonial cities and Mayan ruins, Campeche beaches are for you!
What are the best beaches in Campeche, Mexico?
The best beaches in Campeche are in Sabancuy. They boast clear emerald-green water, sandy bottom and are located right off the highway, so you don't have to look too long to find them.
Are beaches in Campeche safe?
Yes, beaches in Campeche are perfectly safe to visit. Keep in mind that some of them have minimal or no facilities, which means you need to bring some water and snacks and also watch out for your belongings.
What is the weather like in Campeche?
Campeche has hot humid climate similar to the rest of the Yucatan Peninsula. During the dry season which is from December through May, Campeche has mostly sunny and clear skies, and during the rainy season which is from June through September, the area receives plenty of rain.
What is the best time to visit beaches in Campeche?
The best time to visit Campeche is October and November. It's a shoulder season when the rainy season is over, but the busy winter season hasn't started yet. I visited Campeche in late September and had a great time, as it was quiet and prices on accommodations and car rentals were very low.
The final word on visiting beaches in Campeche, Mexico
Campeche boasts long, uncrowded beaches where you can relax year-round. While this part of Mexico is still unfamiliar to many travelers, it offers a unique charm and a relaxed lifestyle. Most beaches in Campeche are located close to cities and small towns and are typically near a major highway, so you will have no problem finding them.
If you plan to spend some time on Campeche beaches, bring plenty of snacks, water and a big umbrella because many of them have no shade.
I hope you enjoy beaches in Campeche Mexico as much as as I did! And if you have visited other beaches in places like Yucatan or Quintana Roo, you will have a chance to see if Campeche beaches are your cup of tea or not.
More resources for visiting beaches in Campeche, Mexico