Disclaimer: This post contains affiliate links. At no cost to you, I might earn a small commission if you make a purchase through the links in this article.
Aldea Zama is the new area of Tulum where you can find many high-end hotels, fancy Airbnb, and modern condominiums.
The neighborhood quickly became popular with ex-pats, long-term travelers, and digital nomads, as it offers a tranquil atmosphere for remote work and relaxation as well as quick access to Tulum beaches.
It's also home to WeNomads Tulum, a popular co-work that offers a great space for remote workers in Tulum.
What makes this area special is its quiet atmosphere and proximity to some of the most happening areas of Tulum like downtown Tulum (aka Tulum Centro) and Tulum Hotel Zone where you can find some of the best restaurants in Tulum, cute boutique shops, and spend time in one of the beach clubs.
This trendy neighborhood has been growing quickly over the last few years and has a good variety of accommodations from trendy AirBnb's to hotels and apartments. In this article, I will offer a detailed guide on the best restaurants in the area, tell you where you can stay, and how to get the most out of your vacation.
Is Aldea Zama a good place to stay?
It's a good place to stay if you want to get away from the hustle and bustle of downtown Tulum and enjoy a quiet atmosphere where you can relax, work remotely and be minutes away from Tulum beaches.
It makes for a perfect stay if you are in Tulum long-term and need a place with good amenities like gyms, yoga studios, and cafes and restaurants with good Wi-Fi within walking distance from your place.
Where is Aldea Zama?
Aldea Zama is a residential area between Downtown Tulum and the Tulum beach zone. It's located between Avenida Kukulkan and Avenida Coba.
Driving distances
Aldea Zama to Downtown Tulum – 3.7 km (2.2 miles)
Aldea Zama to Tulum ruins – 4.2 km (2.6 miles)
Aldea Zama to Tulum Beach – 4.8 km (2.9 miles)
Why stay in Aldea Zama?
The area consists mostly of apartments, condos and some hotels geared toward tourists and ex-pats who buy properties in Tulum. If you are looking for convenience and a more familiar atmosphere, don't look any further.
PROS:
Good hotel options
This part of Tulum boasts plenty of great hotels like Zenses Wellness and Yoga Retreat, and Faisano Nomades, as well as some of the best places to stay in Tulum, if you are looking for a more quiet stay than in downtown Tulum but are not ready to spend a fortune on one of the best beachfront hotels in Tulum.
✅ BOOK A SCOOTER FOR YOUR STAY IN TULUM
Overall quiet area
It's a perfect place to chill and relax, as it's away from the noise and traffic. At the time of writing this post, there's more construction here than anywhere else in Tulum so you might hear some construction noise depending on where you are.
Quick access to other parts of Tulum
This neighborhood is close to other parts of Tulum like La Veleta and downtown Tulum. You are also a short ride away from Tulum Beach. 
Cenote Aldea Zama – a hidden gem of Tulum
Tulum is home to some of the best cenotes, sinkholes filled with freshwater like Gran Cenote, Cenote Calavera, and Cenote Escondido.
While Tulum cenotes are gorgeous, some are pretty expensive, like Gran Cenote, which costs 500 Pesos (25 USD) per person. Once you enter, you also have to pay extra for lockers, gear, and snacks.
Visiting some of the most popular Tulum cenotes can quickly eat a chunk of your Tulum travel budget, as they typically cost between 150 and 500 Pesos per person.
This cenote is a hidden gem of the area which until recently was the only free cenote in Tulum, but now has a sign that says it costs 50 Pesos.
✅ Read: Is Tulum expensive?
Not many tourists know about this cenote, and it's mostly frequented by locals despite being located in an area heavily populated by ex-pats and tourists.
What is Cenote Aldea Zama like?
It's a small cenote in the middle of a rocky area. The cenote is small and deep, but it has enough space for a swim.
How to find Cenote Aldea Zama
This cenote is a hidden gem of Tulum. It's located near the now-closed Kokoro Tulum.
✅ Click here to find this cenote on the map.
Good selection of restaurants
It's a new area, and yet it boasts a good selection of restaurants from breakfast and brunch spots like Rossina and Fit-a-licious to great sushi spots like Nikkori.
📍Read my guide to the tipping culture in Mexico to find out how much to leave in gratuities
BEST RESTAURANTS IN ALDEA ZAMA
Rossina – One of the most popular breakfast places in Tulum, Rossina is a cafe that also has a second location in Tulum Pueblo. Rossina's menu has a variety of salads, sandwiches, pizzas, paninis, and smoothies.
Fit-a-Licious – A great cafe with a wonderful ambiance, Fit-a-Licious has a menu that features healthy and gluten-free options like pizza as well as breakfast classics like French toast, pancakes, chilaquiles, and different types of smoothies and juices.
Tótem Restaurant & Lounge – Totem is an Italian restaurant that features traditional staples like pizza, pasta, and some traditional Mexican plates. Visitors leave great reviews of the food and friendly and welcoming customer service.
Vintage Cafe Tulum – Vintage is one of the most popular casual restaurants in the area that has reasonable prices and wonderful menu options like breakfast burritos, French toast, cheesecakes, and different types of croissants.
Campanella Cremerie – Campanella has some of the best ice creams in Tulum with many flavors of gelato, ice cream-blended drinks, sandwiches, and pastries. Don't forget to try their delicious coffee.
Matcha Mama – One of the most popular cafes in Tulum, Matcha Mama is a perfect place to grab healthy smoothies and açaí bowls.
Bejuco Restaurant – A popular fine dining restaurant, Bejuco has a great ambiance and gorgeous decors. It boasts delicious home-like food, great cocktails, and friendly service with many visitors saying that the staff goes above and beyond to meet their expectations.
Mamazul Mezcaleria – A cozy place that serves authentic Mexican dishes, and mezcal a famous drink from Oaxaca, Mamazul Mezcaleria is a perfect spot if you are looking for a cultural experience. You can do a Mezcal tasting and enjoy a variety of traditional Mexican staples.
Spider Sushi – One of the most popular sushi places in Tulum, this place serves a variety of rolls and sushis with plenty of options for vegans and vegetarians.
CONS
Lack of atmosphere
Aldea Zama is a residential area and aside from hotels, AirBnb's, apartments, and some restaurants, it doesn't have much going on. If you are visiting Tulum to experience the real Mexico, you will not find it here, as the area is generally geared toward tourists and ex-pats.
➡️ Read: Can I use US dollars in Mexico?
On a good note, you can take a quick ride to Tulum Pueblo to grab Mexican street food, watch a concert on a weekend or shop colorful Mexican souvenirs.
Not much to do
The area doesn't have any natural attractions aside from a hidden cenote. In the low season it gets empty, as most people who like to stay here head elsewhere.
If you are looking for the best things to do in Tulum like cool restaurants, some of the most famous cenotes or nightlife, Mayan ruins, and other popular activities in Tulum, you will need to go to different parts of town.
📍 BOOK A SCOOTER FOR YOUR STAY IN TULUM
No public transportation
The area is not served by public transportation, and if you arrive in Tulum by ADO bus or colectivo (a small shared van), you will need to take a taxi or walk from ADO bus station in Tulum.
You will need a bike or scooter
Although the area has become more walkable as more hotels and condominiums are popping up here, you will need a bike or scooter to go to downtown or Tulum beaches.
📍 CLICK HERE TO RENT A BIKE IN TULUM
You can also rent a car in Tulum, if you plan on taking day trips to places like Coba ruins, the magical Bacalar lagoon, or explore the colonial side of the Yucatan Peninsula in places like Sisal, Merida and Valladolid, one of the best destinations in Mexico for budget travelers that has affordable prices on food, hotels and activities.
How far is Aldea Zama Tulum to beach?
One of the main benefits of this area is its proximity to the beach. It takes about 15 minutes to get from here to the beach, depending on where you are and what part of Tulum Beach you would like to visit.
BEST THINGS TO DO IN ALDEA ZAMA
1. Go for a yummy breakfast or brunch
This neighborhood is home to some of the most popular breakfast places in Tulum like Rossina, Fit-a-Licious, and Vintage Cafe.
Whether you want to grab a smoothie bowl, avocado toast, or crispy chilaquiles, you will find plenty of good places where you can treat your taste buds to savory meals.
2. Sign up for a yoga class at Studio Sol
Studio Sol is one of the most popular yoga places in Tulum that offers a variety of classes in Spanish and English. If you want to practice yoga in a place with a special atmosphere, don't miss this spot!
Studio Sol offers different types of classes and packages, so if you are spending some time here, don't forget to check out this place!
Address: Andador Kambul, Lote 72 Manzana 12 Planta Baja, 77760 Tulum, Q.R.
3. Rent a bicycle
Renting a bicycle in Tulum is a great idea whether you are spending just a few days or a few weeks in town because it will help you get around quickly, and save money on expensive taxis and car rentals.
Bike rentals in Tulum are also cheaper than renting a scooter, so you will be able to save some money.
Renting a bicycle will also allow you to visit a couple of cenotes that are close to Tulum like Gran Cenote, Cenote Calavera, and Cenotes Cristal and Escondido on the opposite side of the road from each other.
I once took a bike ride to Punta Allen from Tulum, which took me all day but was a lot of fun! If you want to do the same, you should take a backpack with plenty of snacks, water, and sunscreen, as it's not a quick drive, and you will have to conquer a bumpy road with potholes.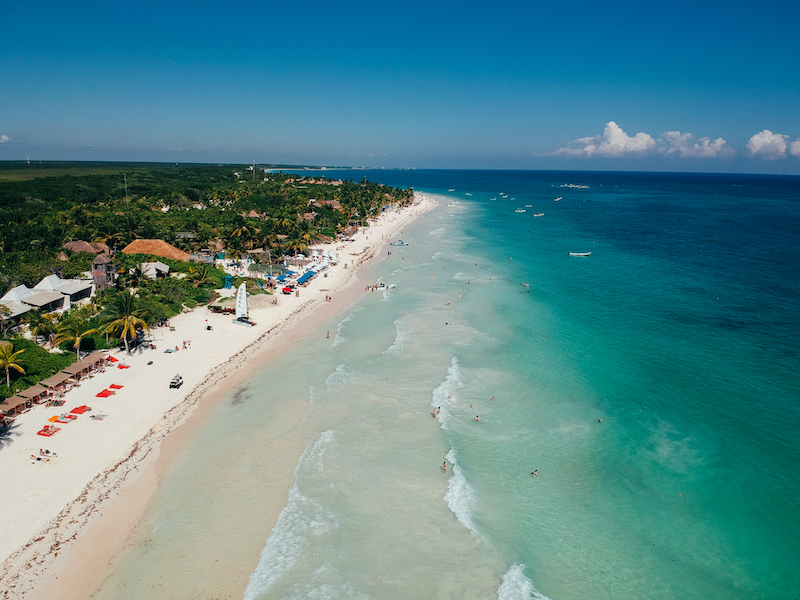 4. Take a ride to the beach
After you rent your bike, it's time to check out Tulum beaches. Take a quick ride to Playa Paraiso, the closest beach, or head to Tulum Zona Hotelera (Hotel Zone), where you can find the best beach clubs in Tulum and fancy restaurants on the beach in Tulum like Mina, Real Coconut and Raw Love.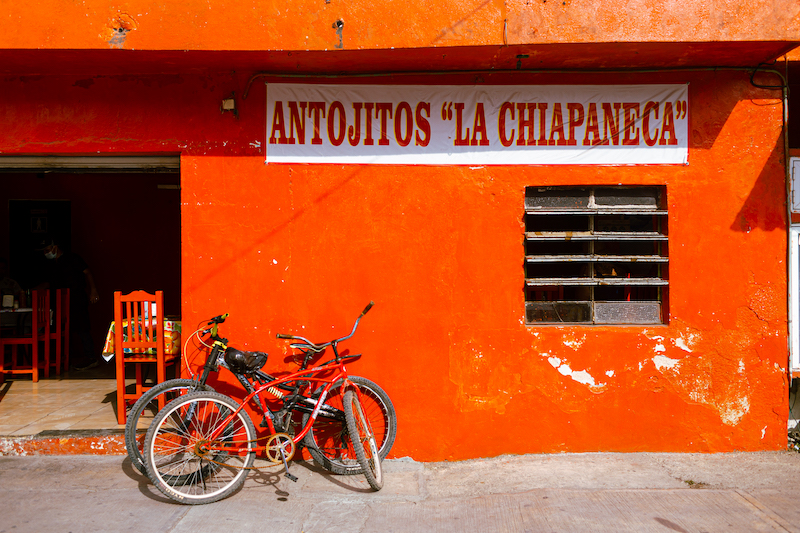 5. Check out Tulum Pueblo (aka downtown Tulum)
Tulum Pueblo, also known as Tulum Centro or downtown Tulum is the original part of town where you can try authentic Mexican dishes, snack on street food, and mingle with locals. Tulum Pueblo is popular with budget travelers and backpackers. It also has plenty of restaurants, cafes, and nightclubs.
6. Take a walk
The area is perfectly walkable if you want to check out the area on foot. "Andador Ka'an" is a pedestrian street that's one of the most happening places in the area where you can find boutique shops, some cafes, and restaurants.
It's a perfect place to grab a bite after doing a yoga class or go out for dinner.
GETTING AROUND
Although it's you will need transportation to get around, since walking will take you a long time.
Below are some of the options for getting around the area.
By car
Renting a car in Tulum is an excellent option if you want to take day trips without relying on guided tours in Tulum. Although you don't necessarily need a car to get around, having a vehicle will give you more freedom to see the Tulum area.
➡️ Find out how to rent a car in Tulum
Where to rent a car in Tulum
I always use DiscoverCars for booking cars in Mexico, and you can browse available car rentals in Tulum through this platform. Unlike other car rental websites, DiscoverCars have no hidden fees or surcharges, so you pay what you see online.
➡️ CLICK HERE TO CHECK PRICES ON CAR RENTALS IN TULUM
By bicycle
Renting a bicycle is a great budget-friendly if you don't plan on getting a car, and don't want to spend money on a scooter. Many hotels offer free bike or bike rentals, but you can also rent a bike from one of the local shops.
✅ CLICK HERE TO RENT A BICYCLE
Expect to pay between $10-15 USD for bike rentals in Tulum. This price can fluctuate, with the high season in Tulum (December through March) having the highest prices.
One of my tips for Mexico travel is to plan your trip ahead if you want to visit Tulum in high season.
By scooter
Scooter is the most popular option for getting around Tulum, and you can rent scooters in many shops in the area. It's best to rent a scooter if you have previous experience, as you will need to drive on Tulum roads with all the traffic and be able to navigate the town.
✅ BOOK A SCOOTER FOR YOUR STAY IN TULUM
To rent a scooter in Tulum, you will need your driver's license and ID. Some shops also ask for a deposit, so make sure to have cash on you, as anywhere else in Mexico.
By taxi
If you need to get around quickly and don't have any other options, you can catch a taxi. If you are staying in a hotel, you can ask to call Uber for you, but you can also fetch a taxi if you see it on the street.
Taxi is the most expensive way to get around Tulum, and you will need at least basic Spanish skills to be able to negotiate a price with your tax driver.
As of 2023, there's still no Uber in Tulum, so taxis remain the only viable option, if you need to get from place to place quickly, and don't have other means of transportation.
ALDEA ZAMA TULUM HOTELS
Faisano Nomadas
Faisano Nomadas is one of the most popular hotels in Tulum that offers an outdoor swimming pool, a hot tub, and a terrace. Rooms come with free Wi-Fi, a private bathroom, and a safety deposit box, and some rooms come with a balcony.
Guests enjoy free bikes, free parking, and an on-site bar.
✅ CLICK HERE TO BOOK FAISANO NOMADAS
KASA Hotel Kuyen – Adults Only
KASA Kuyen is an adults-only hotel that provides accommodation with an outdoor swimming pool, free private parking, a garden, and a terrace.
Rooms come with a wardrobe, a coffee machine, a safety deposit box, a flat-screen TV, and a private bathroom with a shower. Some rooms include a kitchen with a fridge and a minibar.
A continental breakfast is available daily at the accommodation. Vegetarian and vegan options can also be requested.
✅ CLICK HERE TO BOOK CASA HOTEL KUYEN
Ophelia Tulum Hotel
Located in Tulum, 3 km from South Tulum Beach, Ophelia Tulum Hotel provides accommodation with an outdoor swimming pool, free private parking, a fitness center, and a garden.
With a terrace, the 5-star hotel has air-conditioned rooms with free Wi-Fi, each with a private bathroom. The accommodation has room service and a 24-hour front desk that can organize guided tours.
At Ophelia Tulum Hotel you will find a restaurant serving American, Caribbean, and Mexican cuisine. Vegetarian and vegan options can also be requested.
The property offers a paid airport shuttle service.
✅ CLICK HERE TO BOOK OPHELIA TULUM HOTEL
ALDEA ZAMA TULUM AIRBNB
The area is well known for some of the best AirBnb's in Tulum that feel like a real home away from home. Below is the list of some of the best-rated Airbnb's:
Highline TULUM
Highland Tulum is a cool minimalistic apartment in the heart of the area that boasts a rooftop pool, a balcony, free Wi-Fi, a kitchen, and a garden.
Airport transfer is available.
✅ CLICK HERE TO BOOK HIGHLINE TULUM
Luxury Apartment in Zama
One of the most luxurious bungalows in Tulum, this Airbnb is a modern apartment with great amenities, friendly staff, and a quiet atmosphere that's perfect for a relaxing stay in Tulum.
Guests love free parking on site, a rooftop, and great value for the money.
✅ CLICK HERE TO BOOK A LUXURY APARTMENT
Exclusive Paramar by Lockey
A gorgeous Airbnb within walking distance from the commercial area, Paramar is a favorite among many travelers who love the convenient location, gorgeous decors, and wonderful amenities like a fully equipped kitchen, balconies, swimming pools, and free parking.
✅ CLICK HERE TO BOOK PARAMAR BY LOCKEY
BEST THINGS TO DO IN TULUM
Now that you have figured out your accommodation, it's time to figure out what to do in Tulum. A designated pueblo magico, Tulum boasts gorgeous cenotes, great restaurants where you can grab breakfast, lunch, or dinner, and wonderful Mayan ruins.
Here's a quick guide on some of the best things to do in Tulum:
Sian Ka'an – the second largest protected biosphere in Mexico, Sian Ka'an is home to an array of biodiversity such as manatees, dolphins, turtles, and rays.
Tulum ruins – one of the most beautiful Mayan ruins in Mexico, the Tulum archaeological area is set against the backdrop of the Caribbean Sea.
Coba Ruins – home to the tallest pyramid in the Yucatan Peninsula, Coba Ruins is a perfect day trip from Tulum if you want to learn Mayan history, cool architecture, and wonderful biodiversity.
Cenotes – Cenotes are sinkholes filled with fresh water where you can swim, snorkel and dive. Some of the most popular cenotes near Tulum are Gran Cenote, Cenote Calavera, and Cenote Dos Ojos.
✅ Check my complete guide to the best Tulum tours to choose your adventure.
ALDEA ZAMA REAL ESTATE
Aldea Zama is one of the most popular parts of Tulum for real estate investment. The area has apartments, condominiums, and studios, most of which start at about $130-150,000 USD depending on the size, location, and amenities.
Tulum is already one of the most popular places to visit in Riviera Maya, but it's expected to grow even more as Tulum Airport is going to be open shortly, so it's no surprise that this part of Tulum, and neighboring La Veleta have become one of the most popular places in Tulum for investments.
FAQ'S
Is Aldea Zama Tulum safe?
This part of town is relatively safe and less hectic than other parts of Tulum, but as any other place, it's not completely safe. While you should be safe during the day, consider taking a taxi if you plan on coming back to your place late to avoid walking on the street at night.
Is Aldea Zama Tulum a gated community?
Aldea Zama is not a gated community. It's a new area of Tulum that consists of modern subdivisions where some properties like hotels, condominiums, and apartments are gated.
For example, Lúum Zama is one of the gated communities that includes several developments like Sky Jungle and Essentia.
What is the closest beach to Aldea Zama?
The closest beach to the area is Playa Paraiso about 4.7 km (2.9 miles) away.
What does Zama mean in Tulum?
Zamá is dawn in the Mayan language which symbolizes the new start and the new beginning.
What is the party zone in Tulum?
Tulum Hotel Zone is where most of the dance clubs and beach parties are located (Papaya Playa, Mia Tulum, Vagalume, Bonbonniere) offering a lively and energetic atmosphere for those who love to swim, eat, drink & dance. The prices in the Tulum Beach area tend to be higher than in the rest of Tulum.
Final Word:
Aldea Zama is a new residential area of Tulum that's perfect if you are looking for comfort and a quiet atmosphere. Whether you are a solo traveler, a digital nomad, or traveling with your family, this part of Tulum is an excellent place to stay, as it's safe, quiet, and has an assortment of stores and restaurants.
While it doesn't offer a feel of traditional Mexican pueblo, you are just a quick trip away from downtown Tulum where you can enjoy authentic food, mingle with locals, and practice your Spanish.
It's only a short distance from Tulum beaches, which means you don't have to spend a fortune money on pricey beachfront hotels in Tulum.