Disclaimer: This post contains affiliate links. At no cost to you, I might earn a small commission if you make a purchase through the links in this article.
Bacalar is a town in the southern part of Mexico's Quintana Roo State. Famous for its Lagoon of Seven Colors, Bacalar is a true treasure. You can enjoy the lagoon from many wooden piers, or take a kayak tour, but the best way to enjoy the lagoon is by taking one of the Bacalar boat tours.
Is Bacalar expensive? Check my guide to visiting Bacalar on a budget
Bacalar is the largest freshwater lake in Mexico only behind Lake Chapala near Guadalajara. I've visited Bacalar many times because it's one of my favorite places in Mexico! Nothing can compare to the incredible shades of this lagoon that range from light aquamarine to ink blue.🤩
In this article, I will talk about how to choose the best Bacalar boat tours to explore this magical place.
How to choose a Bacalar boat tour
When you get the first look at the Bacalar lagoon, you will notice many boats cruising around. But not all Bacalar boat tours are equal. To minimize your impact on the environment and preserve the lagoon, take a sailboat tour of Bacalar lagoon.
Why book a sailboat tour of Bacalar lagoon
Regular boats and pontoons use gasoline that pollutes the lagoon.
I suggest taking a tour in the sailboat (el velero in Spanish). Veleros are usually bigger than boats and have more space.
Many tour companies provide tours of the Bacalar lagoon in a sailboat. Bacalovesailing, a local company that has an all-female crew one of them is. I took a tour with them several times, and loved their services!
Best Bacalar sailboat tours
How much does a Bacalar boat tour cost?
Standard Bacalar boat tours cost 300 Pesos per person and up.
The price depends on what kind of tour you take and how many people are in your group. Taking a private boat tour of the Bacalar Lagoon is the best option! They allow you to explore the lagoon at your own pace and offer a more personalized experience.
You can pool your money with a group of friends to split the price of a private sailboat tour of the Bacalar lagoon.
If you don't speak Spanish, look for a tour with an English-speaking guide who could give an overview of the different points of the lagoon and talk about the history of Bacalar.
How much does a private Bacalar boat tour cost?
A private tour of the Bacalar Lagoon costs from 2,000 Pesos and up. If you speak Spanish, you could try to negotiate the price to bring it down.
Best private Bacalar boat tours
What stops are included in the Bacalar boat tour?
A guided tour of the Bacalar Lagoon in a sailboat is a perfect option if you want to swim in the lagoon and visit cenotes, Canal de Los Piratas (pirate's channel), and Isla Pájaros (bird's island). Bacalar cenotes require a separate entry fee, and visiting them with a boat will save you some money.
Cenote Negro (Cenote Bruja)
The deepest cenote on the Bacalar Lagoon, Cenote Negro can only be visited by boat or kayak. The 90 meter-deep cenote has a round shape, with dark blue in the middle, and a light outer edge that is only a few meters deep.
Another name of this cenote is Cenote Bruja (or the witch cenote).
Cenote Cocalitos
Cenote Cocalitos is the most beautiful cenote in Bacalar that has hammocks and swings perfect for a photo opportunity. Most Bacalar boat tours stop here and wait for you to hang out a bit and snap some shots.
The cenote is open daily from 9 a.m to 6 p.m. and has many facilities like bathrooms, a small restaurant, and kayak, and paddle board rentals.
Stromatolites on Bacalar lagoon
Around the Cenote Cocalitos, you will find many etromatolitos (stromatolites in Spanish). These round formations look like mounds of dirt and are made up of many layers of cyanobacteria that are critical to maintaining balanced life in the lagoon.
Cenote Cocalitos is not the only place where you can spot stromatolites, as they are in many parts of the Bacalar lagoon.
Estromatollitos are believed to be the oldest organisms on the planet and have an important role in photosynthesis which helps to produce more oxygen. While most of them have become extinct, Bacalar is one of the few places in the world where they still exist!
Do NOT touch estramatollitos or tamper with them because you can easily damage them. You will see many signs around Bacalar warning you about getting close to estramatollitos.
Cenote Esmeralda
Also located on the Bacalar Lagoon, Cenote Esmeralda reaches 70 meters in depth! It's surrounded by several hotels and is not far from cenote Azul and cenote Cocalitos. Visiting Cenote Esmeralda is possible only by boat.
Isla de Los Pájaros (Birds' island)
Most Bacalar boat tours also include a stop at Isla de Los Pájaros (Birds' island in Spanish). This small island is a small sanctuary that is fenced off to protect the birds who come here to nest.
While most tours include only a quick drive by this small island, watching many birds there is a lot of fun! You can spot hawks, and parrots among many species, but you will not be able to get close to the island.
Canal de Los Piratas (the pirate's channel)
One of the most fun stops on your tour of the Bacalar Lagoon is the pirate's channel. This channel is where the Bacalar Lagoon and the neighboring Laguna Mariscal merge via a small canal. The name of this place comes from the early days when it was used by the pirates as a part of their trade route.
PRO TIP: If you want to learn more about the history of Bacalar and the pirate activity in the area, visit the fortress of San Felipe (Fuerte San Felipe in Spanish). The fortress is home to the museum which explains the history of Bacalar.
The entrance fee is 100 pesos for foreign visitors.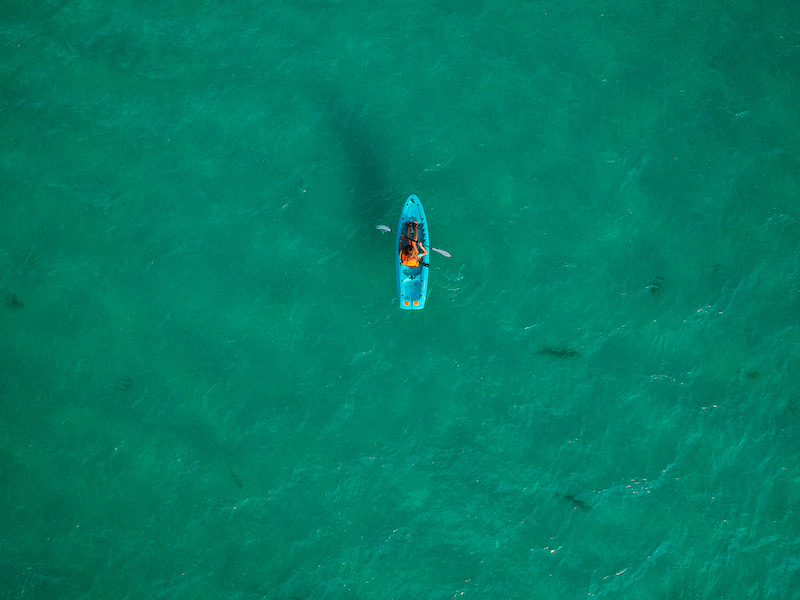 Renting a kayak to explore Bacalar lagoon
Another way to see Bacalar lagoon is by kayak or paddleboard. I recommend renting a kayak early morning when there's no traffic on the lagoon and you can enjoy the mirror-like waters.
Some Bacalar hotels provide kayaks and paddle boards. You can also rent a kayak in several places around Bacalar. One of them is Sociedad Cooperativa Lanchas el Fuerte de Bacalar at the end of Calle 14 along the waterfront. It's a small local cooperative where you can rent paddle boards and kayaks as early as 6 a.m. to watch the sunrise in Bacalar.
Where to rent a kayak in Bacalar?
Another place to rent a kayak in Bacalar is Maracuya, an area that includes several bars and restaurants. When you buy food and drinks at Maracuya, they let you kayak for free for about 30 minutes, but you can also pay if you want to enjoy it for a little bit longer.
Guided kayak tours of Bacalar lagoon
You can also book a guided kayak tour of Bacalar which takes place at sunrise. It's a magical experience that will allow you to enjoy the best of the lagoon as you are accompanied by a professional guide.
The best time to rent a kayak in Bacalar
The wind usually starts to pick up by late afternoon, so it's best to rent a kayak as early as possible. Another option is to rent a kayak in Bacalar before the sunset when the waves are calmer and there's not a lot of traffic. A guided kayak tour of Bacalar is a perfect option!
Other places to visit in Bacalar
While the Bacalar boat tour covers many cool stops on the lagoon, there are still other places that you should visit on your own.
Cenote Azul
Cenote Azul is one of the deepest cenotes in the Yucatan Peninsula that reaches 300 meters in depth and 90 meters in width! Unlike other Bacalar cenotes, Cenote Azul is not connected to Bacalar Lagoon and is more like a small lake.
What's great about this cenote is that it's pretty big and never feels crowded. Every time I come here, I swim across to the opposite shore of the cenote and there are very few people here.
The entrance to the cenote is just 25 Pesos, which is a lot cheaper than many popular cenotes near Tulum, like Gran Cenote. After entering the cenote, you go through a small restaurant and can jump right in the water.
Los Rapidos
Los Rápidos (or the rapids) is one of Bacalar's best-kept secrets. Located about 20 minutes by car from Bacalar, Los Rápidos is a system of beautiful canals that are used for swimming and kayaking.
Many visitors who come to Los Rapidos spend a few hours here. You can buy some food at the restaurant on site, chill in the hammock in the water, and rent a kayak.
Entrance to Los Rapidos is 150 pesos. Taxi from Bacalar is 200 pesos one way and has to be paid in cash.
Tips for taking Bacalar boat tours
Don't touch or tamper with estramatollitos in any way
Don't use sunscreen or any cosmetics before entering the lagoon. The same applies to bug repellent. Shower before going on a tour
Skip tours with motorized boats and pontoon boats because they pollute the lagoon. Choose tours that use sailboats. Bacalovesailing is a great option.
Minimize your use of plastic – the lagoon is already suffering from over-tourism and the impacts of agriculture in the area
Don't touch any marine animals, such as fish, snails, and others. They play an important role in keeping this delicate ecosystem in check.
Don't forget to leave a tip for your guide 🙂
Best day trips from Bacalar
Aside from taking a Bacalar boat tour, you can also enjoy many other adventures in the region. Here are some of them:
Kohunlich and Dzibanche
If you want to take a fun day trip from Bacalar, visit Kohunlich and Dzibanche, some of the most impressive Mayan ruins in the Costa Maya region. The best way to visit these spots is by renting a car in Chetumal, the closest major town to Bacalar and home to the Chetumal International Airport.
You can also take a guided tour of Kohunlich and Dzibanche which will eliminate a lot of work. A guided tour includes round-trip transportation and a knowledgeable guide who can tell you about the history of these Mayan ruins.
Calakmul
Ready for a grand adventure?
Take a tour to Calakmul, one of the most impressive and remote ruins in Mexico located deep in the Calakmul Biosphere Reserve.
I visited Calakmul several times and loved it! On my trip, I've seen monkeys, snakes, tapirs, and even a toucan. When you climb to the top of the tallest pyramid, you will enjoy the 360-degree of the jungle and even see neighboring Guatemala far in the distance.
Coming to Calakmul on your own requires renting a car and a fair amount of dedication. And the tour will take most of your day, so you will be very tired by the time you are done.
To make things easier, take a guided tour of Calakmul that will help you to save a lot of time and money. A professional guide will accompany you to the site and tell you about the history of this spectacular archaeological area.
I highly recommend taking a day trip to Calakmul from Bacalar, because there's nothing quite like it!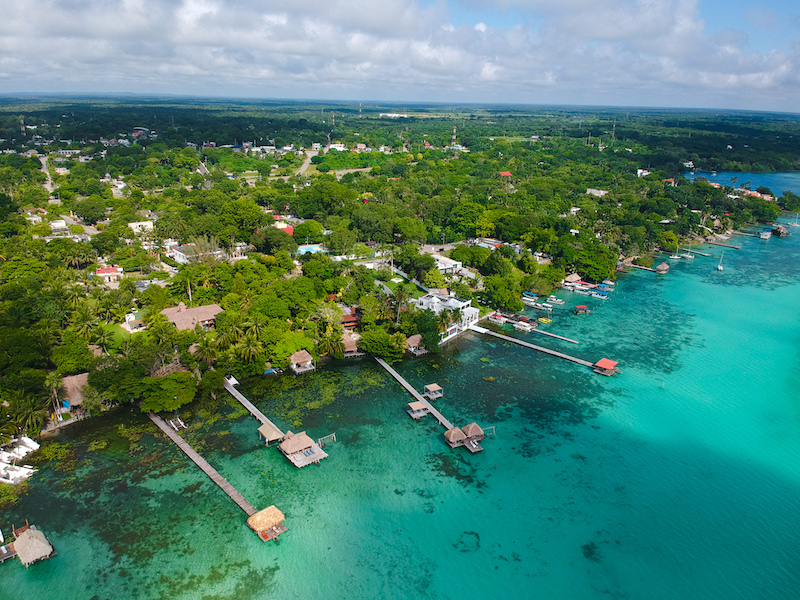 Bacalar boat tours: final word
Bacalar is one of my favorite places in all of Mexico and the best way is by taking a sailboat tour of the Bacalar Lagoon! You can hire a sailboat tour on spot or book it online ahead of your visit to save time.
Disclaimer: This post contains affiliate links. At no cost to you, I might earn a small commission if you make a purchase through the links in this article.
More resources for planning your trip to Bacalar
Agoda.com – a great website for budget hotels in Bacalar and other parts of Mexico.
WorldNomads – Great service for insurance coverage that will keep you safe on the road.
Safety Wing – Excellent insurance plan for long-term travelers that offers competitive rates is you are planning to stay on the road several weeks in a row.
iVisa – the best website for getting help with your Mexico visa.
GetYourGuide.com – This is one of the best platforms for finding best tours in Bacalar. Get Your Guide is my favorite platform that offers awesome tours and top-notch guides in many destinations in Mexico.
DiscoverCars.com – There's nothing like exploring Bacalar and surrounding areas at your own pace. Consider renting a car at Discover Cars if you want more freedom to see places near Bacalar like Xul-Ha and Laguna Milagro.
CheapoAir.com – One of the best platforms for saving money on flights within Mexico and beyond.
Booking.com – a popular website with tons and tons of options for accommodations of all sorts.