Disclaimer: This post contains affiliate links. At no cost to you, I might earn a small commission if you make a purchase through the links in this article.
Baja California road trip is one of the most fun experiences in Mexico!
Spanning 760 miles south of the US border, Baja California is a land of contrasts. The dry, seemingly empty desert is home to lush fruit orchards, hidden oases, and mountain chains with deep canyons that are home to ancient petroglyphs.
Driving in Baja might feel like you are in the middle of nowhere, but this is not true: it's a popular destination that attracts millions of tourists, and while distances are long, exploring this region is a lot of fun!
In this article, I will give you a detailed overview of how to plan your trip and make sure you don't miss any highlights of this vast area.
Baja California road trip: A step-by-step guide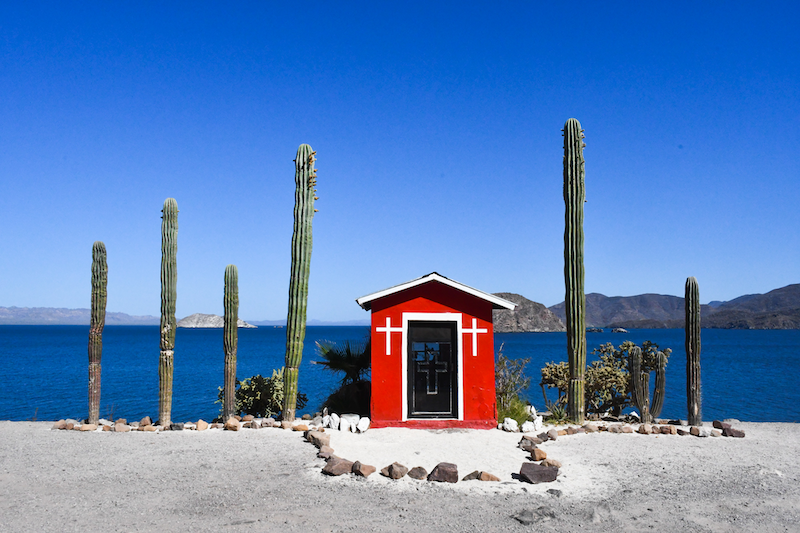 Day 1: Arrive at San Jose Del Cabo International Airport
If you are starting your Baja California road trip from the south, begin your trip in Cabo San Lucas, the main tourist hub of the region. When you arrive in Cabo, you can rent your car near San Jose Del Cabo Airport and spend a couple of days in the area. 
✅ CHECK CAR RENTALS IN CABO SAN LUCAS AIRPORT
Make a stop in San Jose Del Cabo
Where to stay: One and Only Palmilla
San Jose Del Cabo is a small cousin of Cabo San Lucas and has a more residential feel to it.
While San Jose Del Cabo was overlooked by many visitors not so long ago, things are quickly changing, as more tourists stop here to explore its Art Walk, and enjoy the cute downtown and main square.
There are also many beachfront hotels in San Jose Del Cabo that are perfect alternatives to pricey resorts in Cabo San Lucas. It also has a turtle conservation program that allows visitors to release newly hatched turtles into the ocean. 
Day 2-3: Spend a few days in Cabo San Lucas
Where to stay: Me Cabo
Although Cabo San Lucas is mostly known for its resorts, this popular destination has so much more to offer! You could easily spend a few days enjoying some of the best things to do in Cabo San Lucas.
Here's a brief overview of some of the popular activities in the area:
Best things to do in Cabo San Lucas
Los Arcos – the famous arch is a trademark image of Cabo and is a must-stop. You can catch a boat ride to Los Arcos from the Cabo marina for about 300-500 Pesos. 
Kayaking/paddle boarding – One of the most popular activities in Cabo that is typically done early morning before the waves pick up. Book a fun kayaking tour here.
Visiting local beaches – Cabo San Lucas is home to several beaches that you should visit during your trip. Don't forget to spend some time beach hopping in the area.
Best tours in Cabo San Lucas
Day 4-5: Go hiking in Santiago/Dive in Cabo Pulmo National Park
Santiago is a small town about 50 minutes north of Cabo San Lucas that makes for a perfect stop on your road trip. This hidden gem is home to many cool trails in the Sierra De La Laguna Mountains and amazing hot springs.
👉 Many travelers miss Santiago, and I also had no idea about it, until a local told me about this place. Although it's not as famous as other places, it's absolutely worth a stop.
Cabo Pulmo National Park
As an alternative, you can go diving or snorkeling in Cabo Pulmo National Park outside of Cabo San Lucas. Cabo Pulmo is a popular getaway with many people coming here to enjoy water sports and camping.
✅ The road to Cabo Pulmo is a bit rough, so it's better to rent a high clearance vehicle.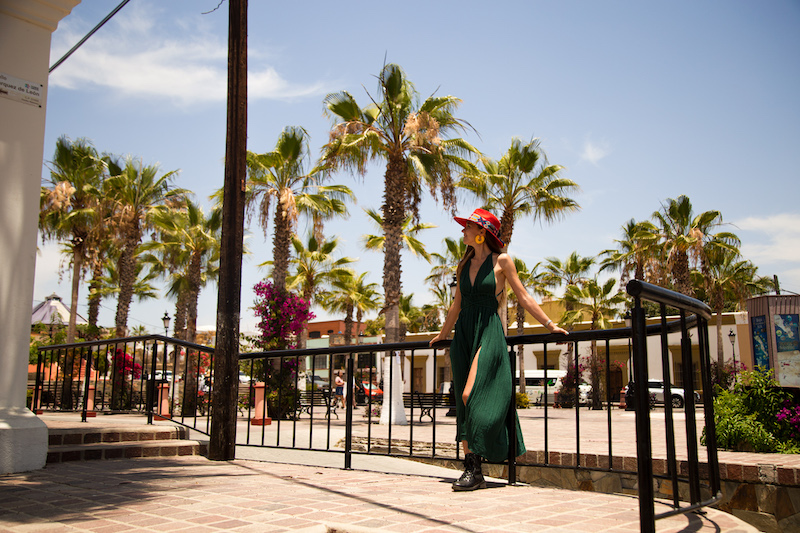 Day 6: Todos Santos
Where to stay: Las Nubes
Todos Santos is a charming small town and one of the few pueblos magicos in Baja California.
Many visitors love Todos Santos for its small-town vibe, slower pace of life, and access to some of the best surfing beaches like Playa Cerritos.
There's a growing ex-pat community in Todos Santos, and many restaurants here have menus in English catering to visitors from the United States and Canada.
When you visit Todos Santos, stay around until the sunset – the most beautiful time when the town glows in the golden light. You can also watch the sunset at Playa Cachorro, the closest beach right outside of town.
Spend the night in one of Todos Santos hotels like the gorgeous Hotel San Cristobal along the beach.
Optional stop in Playa Cerritos for surfing
Alternatively, you could stay in one of the hotels along Playa Cerritos near Todos Santos, one of the most popular surfing beaches in Baja California. This is a popular destination with several restaurants, a surfing school, and various services along the beach.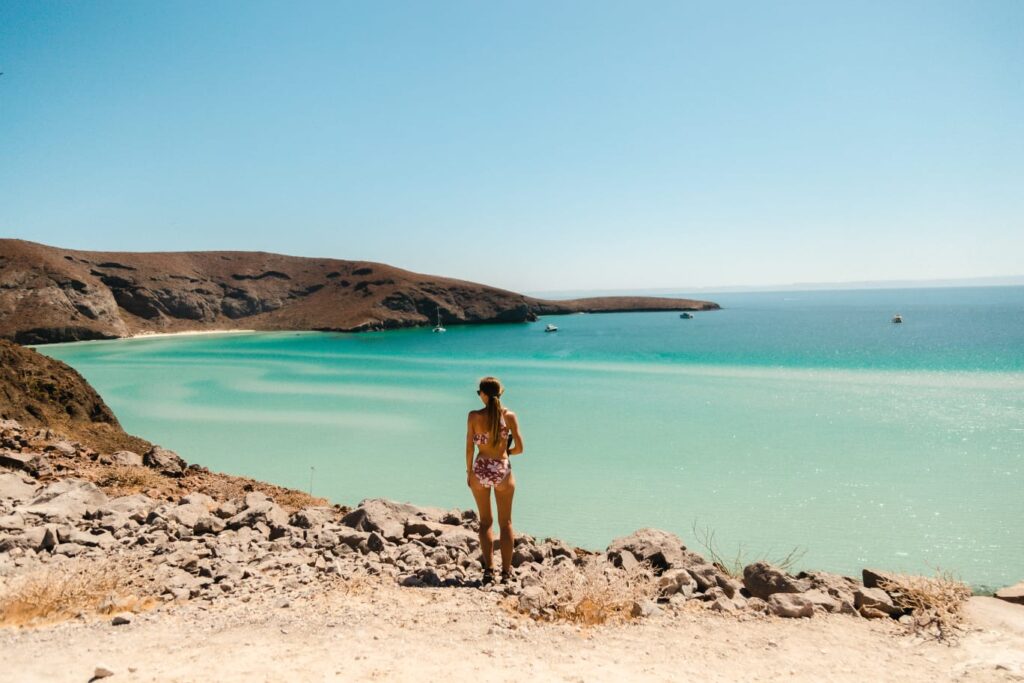 Day 7-8: Explore La Paz
Where to stay: Posada De Las Flores
After spending a night in Todos Santos, arrive in La Paz, the capital of Baja California Sur, and a gateway to adventure. While Cabo is known for its party scene, La Paz is famous for its outdoor activities like scuba diving, swimming with sea lions, and sandboarding along the dunes.
La Paz is also home to Playa Balandra, one of the most beautiful beaches in Mexico just 25 minutes away by car.
✅ Check my complete guide to visiting Balandra Beach.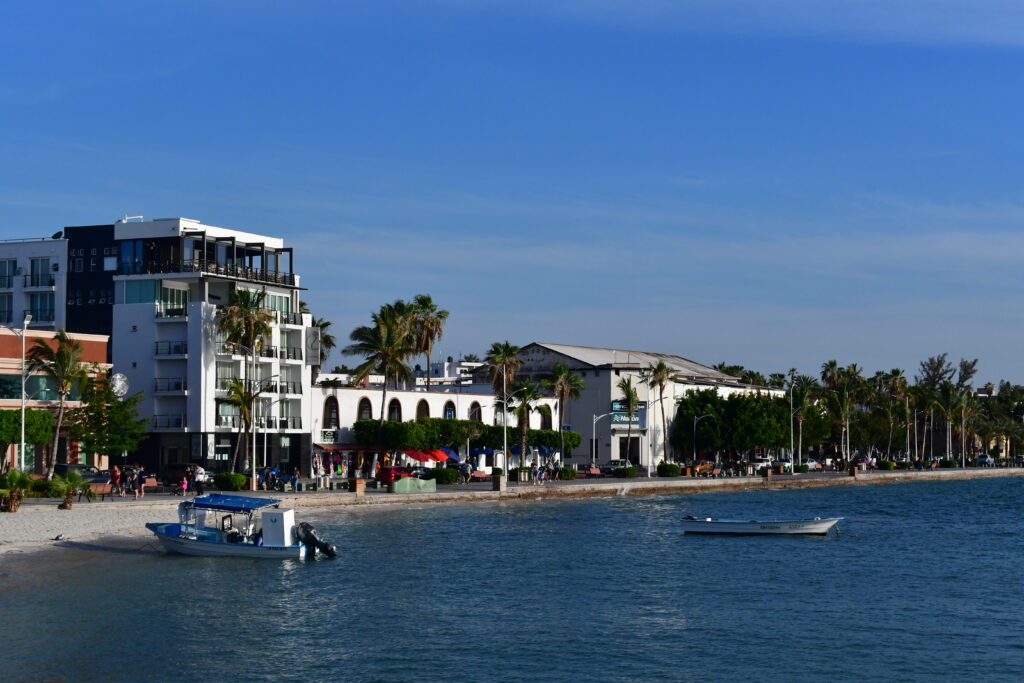 Best things to do in La Paz, Mexico
Isla Espíritu Santo – Designated as Biosphere Reserve by UNESCO in 1995, Isla Espiritu Santo is home to tons of wildlife including various birds, sea lions, and dolphins. Most tours to Isla Espíritu Santo include a stop at islotes, a group of islands where you can swim with adorable sea lions.
Want to snorkel with sea lions? Book your tour of Isla Espiritu Santo here.
La Paz Malecón – El Malecón aka the Main Street of La Paz is located along the waterfront and is perfect for watching sunsets. It's also home to many restaurants and tour companies.
El Mogote Dunes – Located about 30 minutes outside of La Paz, El Mogote Dunes are popular for sand boarding and sunset watching.
Book a fun sand boarding tour of El Mogote here.
Whale sharks – Whale sharks are not your typical sharks, so don't get scared! They are the largest fish in the world and can grow up to 60 feet long! Swimming with whale sharks is completely safe, as they are just gentle giants.
✅ This tour led by local marine biologist allows you to swim right next whale sharks!
Best tours in La Paz, Mexico
Day 9: Loreto
Where to stay: Hotel Oasis
After spending a couple of days in La Paz, continue driving to Loreto, a hidden gem of the region.
Loreto was one of my favorite stops in the region. The town has an interesting history and a beautiful church located in the Old Town. It's a perfect place to take a break and enjoy a slower pace of life after being on the road for a couple of days.
If you have enough time, spend more than a day in Loreto because there is too much to do here. Like the rest of Baja California, Loreto offers top-notch opportunities for wildlife watching, but there's also plenty of culture here.
Bahia De Loreto National Park
The jewel of the area, Bahia De Loreto National Park is made up of a group of islands that boast some of the most gorgeous beaches in Baja California. Malecón (aka the waterfront) is where you can hire a boat tour to explore one of the islands, or do a custom tour package that includes several islands.
Read: Can I pay with US dollars in Mexico?
Touring Bahia De Loreto National Park is a lot of fun because unlike touristy places like Playa Balandra, it has a wild and rugged feel to it. When I visited one of the islands, most boats had left by mid-day and I had the entire beach to myself, which was cool!
Day 10-11: Mulege
Where to stay: Hotel Cuesta Real
After visiting Loreto, continue your journey north toward Mulege, a sleepy village that is home to some of the most beautiful beaches in Baja. Mulege beaches are located within Bahia de Concepcion, and most of them have calm waters sheltered from big waves that are perfect for swimming and kayaking.
Most Mulege beaches also have campsites, facilities, and kayak rentals and you should spend a couple of days touring them.
After visiting Mulege, many visitors head straight to Guerrero Negro to see the whales, but there are also a couple of worthy stops along the road.
Day 12: Santa Rosalia
A small village around the coast, Santa Rosalia has some interesting history that dates back to mining and a beautiful church. If you have enough time, it's worth a quick stop on your Baja California road trip, but if not, you can also stop here for a couple of hours before continuing your drive north.
San Ignacio – a tiny mission town, San Ignacio is set on the lake – something you don't see much when traveling inland.
Day 13-14: Take a whale watching tour in Guerrero Negro
Where to stay: Hotel Los Caracoles
Guerrero Negro is the last place you will visit in Baja California Sur before arriving in Baja California (or Baja Norte). It is a small industrial town known for its salt flats and whale watching.
If you are visiting from December through April, stop in Guerrero Negro and go on a whale watching tour with one of the local operators.
👉 Most tourism in Guerrero Negro revolves around whale watching, and you won't find much else here during the off-season. If you are visiting outside of the whale watching season, you could just stop at salt flats to snap some photos before continuing your journey north.
Guerrero Negro is a good place to crash for the night after a lengthy drive through the desert.
PRO TIP: You will be on the road for a while when you are traveling from Guerrero Negro to Ensenada, so prepare to spend most of your day on the road.
Day 15: Ensenada
Where to stay: Playa Hermosa Bed and Breakfast
Ensenada is less than 2 hours south of Tijuana and makes a great stop on your way to the popular Valley De Guadalupe. It will be your first major stop after you arrive in Baja from the U.S.
Whether you want a laid-back trip or an adventure-packed getaway, Ensenada has it all. Here you can take a whale watching tour in winter months, explore Playa Hermosa, hit the bars and visit La Bufadora, a natural geyser that's best observed during the high tide.
🚗 You will need to drive about 45 minutes from Ensenada to reach La Bufadora, but the drive is well worth it, as you will enjoy the spectacular view of the water shooting through the volcanic rocks!
Day 16: Valle De Guadalupe
Where to stay: Encuentro Guadalaupe Ecological Reserve
One of the top wine regions in Mexico, Valle De Guadalupe is one of the most popular places to visit in Baja California. It's a great spot to recharge and enjoy the tranquil scenery, even if you are not a wine lover.
Valle De Guadalupe is often compared to the famous Napa Valley near San Francisco, but prices here are just a fraction of Napa and it's nowhere near as crowded.
Best guided tours of Valle De Guadalupe
Finish your trip in Tijuana
Where to stay: Hotel Palacio Azteca
After visiting Valle De Guadalupe, arrive in Tijuana, a border city that has a seedy reputation according to what you have seen on the news in America. While Tijuana does have violence, most of it is tied to drug trafficking, and unless you are going to get involved with drugs, your chances of staying safe are much higher.
Or Mexicali
Alternatively, you can also finish your adventure in Mexicali, the capital of Baja California that enjoys a much safer reputation than Tijuana, and sits across the border from California's Imperial Valley.
Mexicali is a fun place to visit as it boasts a couple of historic landmarks like La Chinesca, the largest China Town in Mexico, Art Passage Mexicali, and the spectacular Algodones Dunes which are about 40 minutes away from Mexicali by car.
MISTAKES TO AVOID WHEN PLANNING YOUR BAJA ROAD TRIP
Do not cram your road trip in 7 days – If time is short, this could be tempting, but you should stay away from doing it because you will miss out on so many things to do here! Due to the sheer size of the peninsula and long driving distances, you are bound to miss things, if you have 7 days or less for your road trip.
Stock up on water and snacks. Parts of Baja California are far apart from each other and you could be hundreds of miles from the nearest gas station.
Fill up your car – When driving around Baja, you could be on the road for a while before finding a gas station. Always have a full tank of gas.
👉 There's one stretch of the road between the town of El Rosario south of Ensenada in Baja California and Guerrero Negro in Baja California Sur, where you will not find any gas stations. Research the locations of gas stations ahead of your road trip.
Take your time driving – Some areas of Baja California have narrow winding roads. To stay safe, take your time driving, and keep your high beams off if you are driving at night.
Watch out for animals – Sometimes, cows and other domestic animals could appear out of nowhere on Baja roads. This has become somewhat of a problem, so watch out while you are driving, especially at night.
Baja Road Trip: FAQ's
Where to begin your Baja California road trip?
You can begin your itinerary either in the north after crossing the border in Tijuana, Tecate, or Mexicali, or after flying to Cabo San Lucas International Airport (SJD). If you fly into Cabo San Lucas, you will need to rent a vehicle for your trip. From Cabo San Lucas, you can make your way up north, and explore some of the best things to do in Baja California.
I did my road trip from Cabo to Tijuana, but you can also do it by arriving via Tijuana if you cross the land border.
Where to rent a car for your Baja road trip?
Most car rental companies in Cabo San Lucas are near Cabo San Lucas International Airport, and renting a car in Cabo San Lucas right after you arrive is a good idea.


Why rent a car with Discover Cars?
DiscoverCars is a great platform for renting cars in Cabo San Lucas, La Paz and Tijuana. They work with major car rental companies in Mexico and offer some of the best prices on many types of vehicles.
You can also add a full Mexican insurance for you car rental for less than $10 per day when booking your car with DiscoverCars.
✅ Check my guide to renting a car in Cabo San Lucas.
How many days do I need for my Baja California road trip?
I recommend no less than 2 weeks for your road trip. This is a vast region, with some of the best beaches in Mexico, world-class diving, and opportunities for hiking and mountain biking. You will need a good amount of time to explore everything that Baja has to offer.
Is Baja California safe to visit?
While the Baja is generally safe to visit, traveling around the region comes with some caveats. Stay on main roads and limit your driving to day time. Avoid remote areas with bad roads, as it can take a while to get help if anything happens.
Is Baja California in Mexico?
The Baja California Peninsula is in northwestern Mexico and consists of two states, Baja California Sur and Baja California, also known as Baja Norte. Although Baja California shares border with California and Arizona, it's not part of the U.S.
Do you need a passport to go to Baja?
If you are traveling to Baja California from the United States, or any other country, you will need a passport. Whether you are traveling to this Mexican state by car, plane or boat, you will need to show your passport when you arrive at the customs.
What is the best time of year to visit Baja California?
The best time to visit Baja is from December through early May. During this time, you can enjoy mild temperatures, with plenty of sunshine and avoid the scorching hot weather of summer months as well as the hurricane season.
Why visit Baja California?
Baja California is one of the most beautiful parts of Mexico with more than 300 days of sunshine, amazing surfing beaches, and friendly locals. You will be able to enjoy cool hiking, snorkeling, and a slow pace of life which makes this region attractive for so many travelers.
What is Baja California known for?
Baja California is known for its golden-sand beaches, amazing wildlife and recreational opportunities. It's a popular tourist destination thanks to its proximity to the United States, with tourists coming here year-round.
Do you need a car in Baja California?
This is a vast region with big distances between cities and limited public transportation. It's essential to have a car, if you want to explore this region and visit some of the best beaches, explore scenic hikes and watch wildlife.
What is it like to drive around Baja California?
Driving in Baja California is a real adventure. This is a popular region with RV'ers, snowbirds and van lifers, and adventurous travelers. Major roads around Baja look desolate, but they are well-traveled since this is a popular part of Mexico for camping and hiking.
When you drive around Baja, some roads have more traffic than others, and your phone signal could disappear in some places, so it's a good idea to stock up on food and water, and fill up your car, as you could be a few hundred miles away from the nearest gas station.
Baja California road trip: final word
Road tripping Baja California is an amazing adventure.
This is one of the most diverse regions of Mexico with a blend of desert, incredible beaches, and lush groves create stunning landscapes. Whether you do your road trip north or south, take time exploring this part of Mexico, because it's just too beautiful to rush through.