Disclaimer: This post contains affiliate links. At no cost to you, I might earn a small commission if you make a purchase through the links in this article.
Belize vs Costa Rica vacation is a popular question when it comes to planning your time out. Both countries are popular destinations in Central America, within a quick flight from the United States. While both destinations offer breathtaking landscapes and a plethora of activities, they cater to different types of travelers.
If you want to relax on white-sand beaches, go diving or climb Mayan ruins, Belize is your place. And if are more into wildlife watching, hiking, and surfing, you should go to Costa Rica. In this article, we will look at whether you should choose Belize or Costa Rica for your next vacation.
✅ Learn about cave tubing in Belize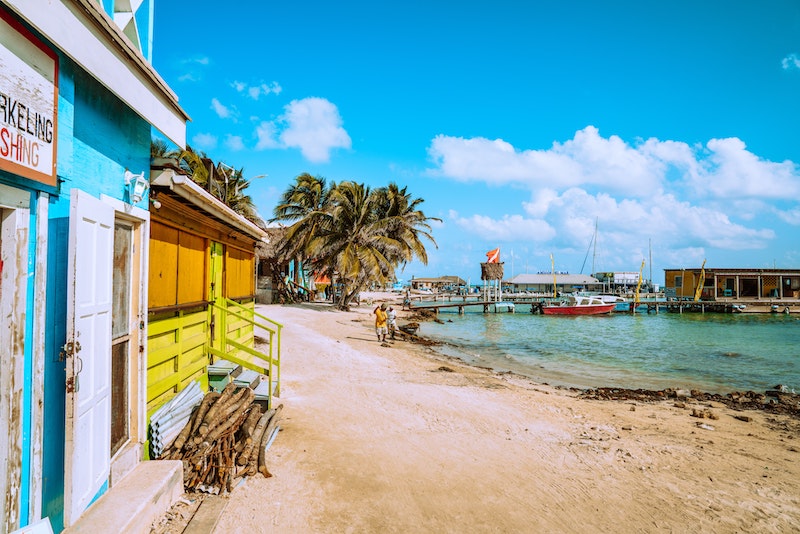 Where is Belize?
Belize is the second smallest country in Central America by land, located along the Caribbean Coast. It's bordered by Guatemala to the west and south and Mexico to the north.
✅ Check my guide to the best places to stay in Belize for your vacation
Where is Costa Rica?
Costa Rica sits in the southern part of Central America. It's bordered by Nicaragua to the north and Panama to the south.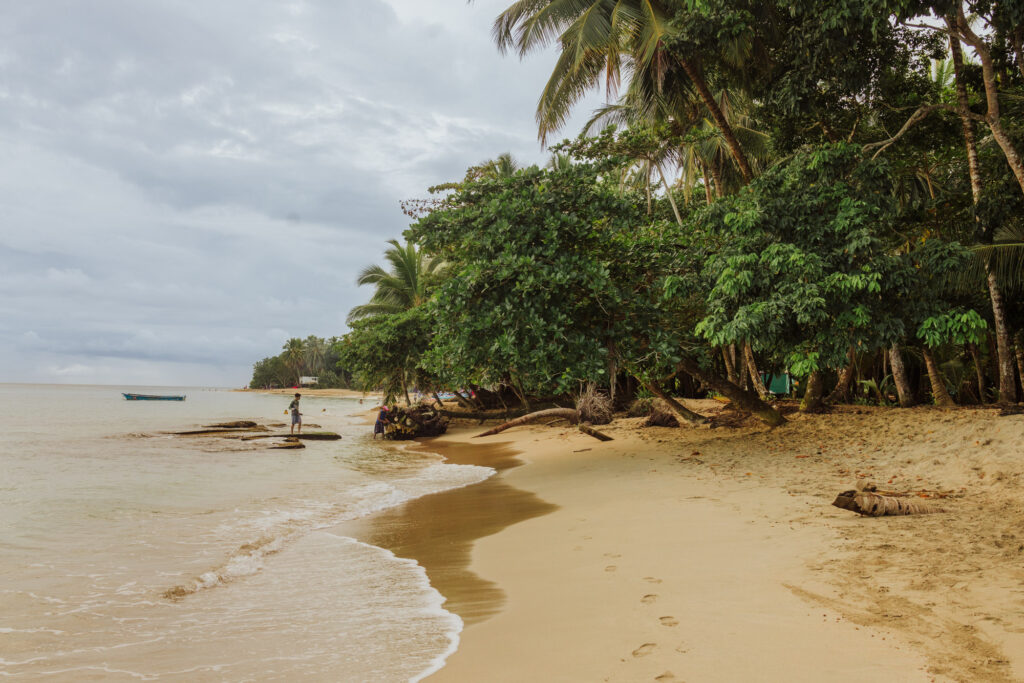 Is Costa Rica or Belize better?
Costa Rica and Belize are two Central American counties that boast fantastic landscapes and opportunities for adventure. While Costa Rica is the most popular destination in Central America with volcanoes, diverse wildlife, and surfing, Belize is a hidden gem of the region that boasts some of the best diving in the world, a melting pot of cultures, and gorgeous Mayan ruins.
Belize vs Costa Rica: Safety
Whether you are traveling to Costa Rica or Belize, one of the first questions you have is how safe these countries are. This is a fair question given that Central America has a turbulent history, as many countries in the region still face political and economical instability.
Safety in Belize
As a tourist in Belize, you are mostly safe. The biggest thing you need to worry about is petty theft, purse snatching, and scams that target tourists. As long as you stay around tourist destinations and don't go to sketchy places, you should be able to avoid trouble in Belize.
✅ Check my Belize travel trips to stay safe in the country
Why does Belize have a high crime rate?
Belize has a high homicide rate because parts of Belize City have been plagued by gang violence. The murder rate was 29 per 100,000 inhabitants in 2021 – this is a very high number for a nation of just over 400,000 people which puts Belize in a category of the countries with some of the highest rates of murders.
Tourists in Belize are typically not targets of violent crimes, as most crime occurs in Belize City neighborhoods affected by gang and drug violence.
What areas of Belize to avoid?
Avoid areas south of Belize City that have a high crime rate as well as areas near the Guatemala-Belize border where criminal gangs do drug and human trafficking operations.
Safety in Costa Rica
Costa Rica enjoys a reputation as the safest country in Central America. Costa Rica is ranked 38th in the 2022 Global Peace Index, out of 163 countries, and takes the top stop in Latin America. Unlike some Central American countries, it doesn't have gang violence or high murder rate. 
What are the biggest safety concerns in Costa Rica?
As a tourist, your biggest worries in Costa Rica are petty theft and pickpocketing, which often occur in popular beach towns in Costa Rica. Always watch your belongings and be aware of your surroundings.
Another safety concern in Costa Rica is strong rip tides, particularly along the Pacific Coast. Read weather reports before getting in the water, because very few beaches in Costa Rica have lifeguards.
What parts of Costa Rica to avoid?
While Costa Rica is generally safe, avoid some neighborhoods of San Jose like Los Guido; Desamparados; and La Carpioé. Skip the port city of Limon, a major point for drug trafficking in the country. Exercise increased caution in Puntarenas, a port city on the Caribbean Side, and Santa Rosa de Pocosol in the rural Alajuela province that borders Nicaragua.
Consider buying insurance for your trip to Central America
Safety Wing is one of the best insurance plans for long-term travelers and digital nomads that covers you in the event of stolen and lost luggage, hospital visits and other unforeseen circumstances. WorldNomads is one of the most popular travel insurance options that offers option for long and short-term travel.
Belize vs Costa Rica: Transportation
Belize is easier to get around because of good public transportation network and more flat terrain than Costa Rica. Belize is also easier to get around than Costa Rica because its official language is English, while Spanish is the official language of Costa Rica, and you will need some vocabulary if you want to use public transportation in Costa Rica.
Transportation in Belize
Philip Goldson International Airprot (BZE) outside of Belize City, is the only international airport with connections to the United States and Canada.
Belize is a small country and has a well-established network of bus routes connecting major cities like Belize City, Placencia, and San Ignacio. Known as "chicken buses," these buses are mostly used by locals but are also perfect if you are a budget traveler and have some extra time since they are slow.
Private shuttles in Belize
Many tourists in Belize choose private shuttles, which are expensive but faster than public transportation. You can take a shuttle bus from Belize City to Placencia or Belize City to San Ignacio which will get you straight to your hotel. Many all-inclusive resorts in Belize also provide shuttle services to their guests.
✅ BOOK PRIVATE SHUTTLES IN BELIZE
Water taxi in Belize
Water taxi in Belize is the main way to get around between the mainland and many islands (or cayes). For example, you can take a water taxi from Belize City to Ambergris Caye or from Belize City to Caye Caulker.
Taking flights in Belize
If time is of the essence, you can also take a flight from Belize International Airport to San Pedro, Placencia, or San Ignacio – the most popular destinations in Belize.
While flights are the most expensive way to get around Belize, they are very convenient. Belize has two domestic airlines Tropic Air and Maya Island Air, which offer flights within the country.
✅ CHECK PRICES ON FLIGHTS TO POPULAR BELIZE DESTINATIONS
Transportation in Costa Rica
Traveling around Costa Rica is more difficult than in Belize due to its mountainous terrain and road conditions that can be poor, but it makes for a fun adventure!
Costa Rica has two international airports, one in San Jose (SJO) the capital, and one in Liberia (LIR), the Guanacaste province, which is one of the most popular destinations in Costa Rica.
✅ SAVE MONEY ON YOUR FLIGHT TO COSTA RICA
Private shuttles in Costa Rica
You can book private shuttles from Costa Rica's airports to the most popular destinations like Tamarindo, Manuel Antonio, or Arenal. Private shuttles are perfect if you want to save time on the road, and avoid public transportation, which can be very slow in Costa Rica.
✅ BOOK PRIVATE SHUTTLES IN COSTA RICA
Public transportation in Costa Rica
While public transportation in Costa Rica is great for budget travelers, it's not very straightforward as the country's infrastructure is still developing. The best thing you can do when planning your visit to Costa Rica is to research the available buses for the destination that you want to visit.
What to know about public buses in Costa Rica
Costa Rica has several private bus companies that serve many destinations within the country. You can take buses from San Jose to major destinations like La Fortuna, Quepos, Tamarindo, and Puerto Viejo. Prices have to be paid in Colones (Costa Rica's currency) and are usually pretty cheap, about $10-15 USD per person.
Belize vs Costa Rica: best time to visit
Since Costa Rica and Belize are both in Central America, the best times for visiting these countries coincide somewhat.
Best time to visit Costa Rica
If you want to find a sweet spot between the rainy and dry seasons, visit Costa Rica during the shoulder season when the weather is still nice, but the crowds are less. The dry season in Costa Rica lasts from December through April and has sunny dry weather with plenty of sunshine and no rain. It's also the busiest time to visit Costa Rica when prices are the highest.
When is the shoulder season in Costa Rica?
May and November are shoulder months in Costa Rica. November is the downtime after the rainy season and May is a good time to visit after all the crowds are gone, but the hurricane season hasn't started yet.
✅ Check my complete guide to the best time to visit Costa Rica
Best time to visit Belize
Belize experiences hurricane season from the end of May through October, and it's not uncommon for the country to experience flash floods during this time, especially in summer. The best time to visit Belize is April and May to avoid high prices and enjoy perfect sunny weather.
Costa Rica vs Belize: travel cost
Neither Costa Rica nor Belize can be called a budget destination, and prices on accommodations, tours, food, and transport are similar in both countries. Still, Belize offers more bang for your buck than Costa Rica, if you are a budget traveler.
Belize is less "discovered," than Costa Rica, and while you won't save much in popular destinations like San Pedro or Placencia, you can visit Orange Walk Town, Punta Gorda, and San Ignacio on a budget.
✅ Check the best hotels in Central America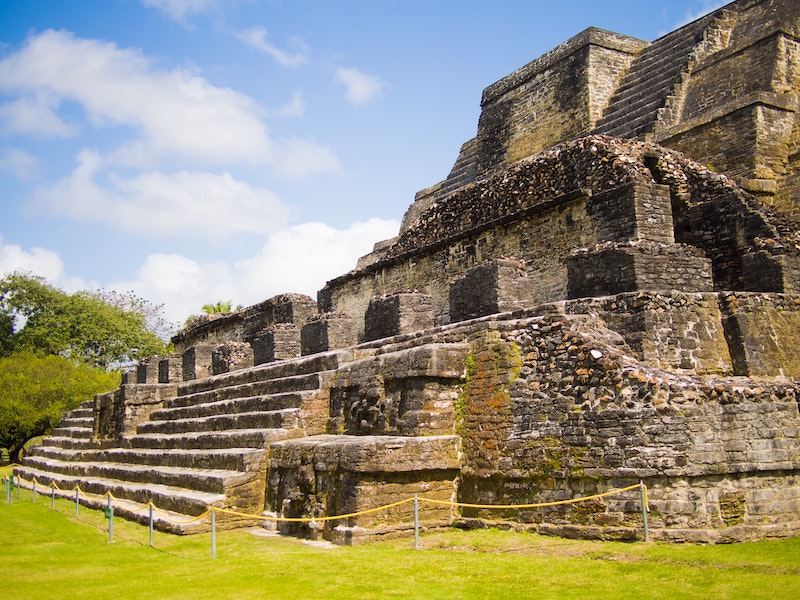 How much does it cost to travel to Belize?
You will need $100-150 USD a day in Belize for accommodations, food, and activities. If you are a budget traveler, you can save money by staying in hostels, cooking meals, and using public transport. Visit the country during shoulder months to avoid the high season when prices are the highest.
The islands in Belize (also known as the cayes) are the most expensive. Ambergris Caye is one of the most expensive destinations in Belize, where you will find resorts, restaurants, and activities all catering to tourists.
Is Belize a cheap country to visit?
Belize is not a cheap country to visit. Prices on food, transportation and accommodations in Belize are comparable to those in the United States. The best way to save money in Belize is to cook your meals, use public transportation and join group tours that are cheaper than private tours.
How far does a dollar go in Belize?
Although the rate of Belize dollar is 2:1 to US dollar, your money still doesn't go very far in Belize. This small Central American country is notorious for its high prices on food, gas and hotels, so don't expect to find great deals on every corner.
How much does it cost to travel to Costa Rica?
Costa Rica is the most expensive country in Central America after Belize. It's also one of the most expensive countries in Latin America. Plan $120-180 USD per day on food, transportation, and activities.
Although many of Costa Rica's popular destinations cater to foreign tourists who can afford higher prices, you can still visit the country as a backpacker or budget traveler. Stay in hostels and buy your food, take public transportation, and join group tours which are cheaper than private tours.
Beaches in Belize vs Beaches in Costa Rica
Beaches in Costa Rica
Costa has two coastlines, one in the Pacific and one in the Caribbean. The Pacific Coast of Costa Rica is home to beaches framed by the mountains in destinations like Tamarindo, Manuel Antonio, Jaco, and Corcovado National Park. It also boasts the most popular surfing spots in Costa Rica.
Costa Rica Caribbean beaches
While the Pacific Coast is very touristy, the Caribbean side of Costa Rica offers a welcome respite from the crowds. If you want a quiet retreat, visit Puerto Viejo or Manzanillo, where you can surf, explore the pristine beaches, dive or snorkel in the reefs.
What to know about Costa Rica's Caribbean side
If you want to visit the Caribbean side of Costa Rica, the best time to do it is in September and October, when the weather is the best. It creates a stark contrast with the Pacific Coast of Costa Rica, where September and October are rainy months.
The weather here is in stark contrast to the other side as the best weather is in September and October.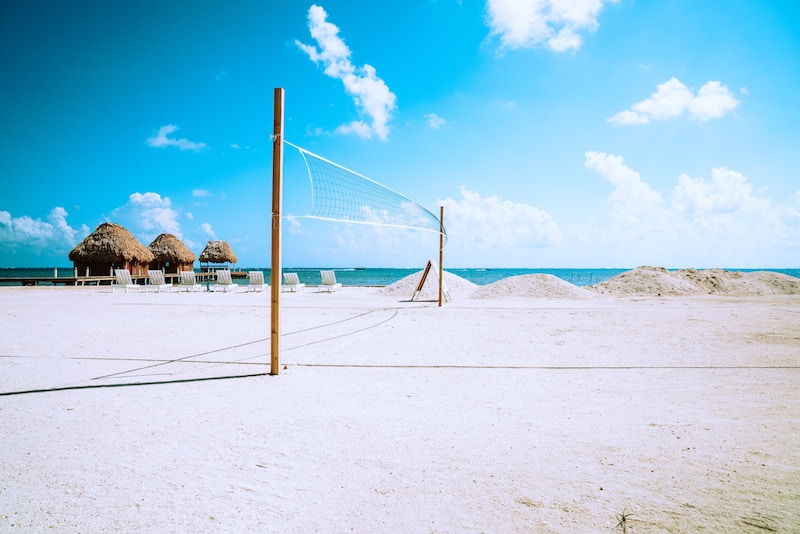 LET ME HELP YOU PLAN YOUR TRIP TO BELIZE OR COSTA RICA!
Besides being a travel blogger, I also create itineraries for my readers 😃 If you want me to plan your trip to Central America, provide insider tips and do all the research for you, fill out the form below.
My custom itineraries include information on popular landmarks, restaurants, and hidden corners that most tourists miss. As part of my services, I also offer suggestions on flights, hotels and activities.
Can't wait to hear from you! 💛
Beaches in Belize
If you are looking for beaches with white powdery sand and crystal-clear waters, Belize is your place. The country is a tropical paradise that's home to the Great Mesoamerican Barrier Reef, the second-largest barrier reef in the world, and it's ranked as one of the best places for scuba diving in the world.
What's so special about beaches in Belize?
While the coastline of Belize is merely 185 miles long, it boasts more than 400 islands and islets in the Caribbean, some of which like Tobacco Caye or Silk Caye is the definition of paradise with their white sand and stunning azure waters teeming with marine life like turtles, tropical fish, and sting rays.
You can reach some of the cayes by a quick boat ride from places like Placencia near Laughing Bird Cayes, one of the best places to visit in Belize.
✅ Check my guide to hotels in Placencia, a getaway to the best beaches in Belize
Belize culture vs Costa Rica culture
Costa Rica culture
When you travel to Costa Rica, you will often hear the expression Pura Vida (pure life), which defines to approach to the life of many Costa Ricans (or ticos as they call themselves). Most people in the country are friendly and laidback and are happy to help a visitor in their country.
The cultural identity of Costa Rica was shaped during the colonial period when it was ruled by Spain, but you can also find other cultures throughout the country. The Caribbean coast of Costa Rica has a strong influence on Jamaica and other countries in the region, and you can hear the Creole dialects spoken. And today, there's a big ex-pat community along the West Coast of the country.
Belize culture
Belize is a melting pot of culture, and several ethnic groups call this country home. Belize used to be a British colony, and throughout history, several ethnic groups have migrated here. The western part of Belize is home to many Spanish speakers who came from Guatemala, and the coastal towns of Placencia and Hopkins have the largest Garifuna population in Belize.
Belize also has a small Chinese community and a sizable Mayan population in Ambergris Caye and Corozal.
Belize vs Costa Rica: Language
Costa Rica language
The official language of Costa Rica is Spanish. English is widely spoken i tourist areas, but the further you get from popular destinations, the less English you will hear. If you plan to travel around Costa Rica, learn at least basic Spanish, as not everyone in Costa Rica speaks or understands English, especially in rural parts of the country.
Belize language
Belize is the only country in Central America where English is the official language. It's great news for anybody who doesn't speak Spanish and wants to travel without having to use a translator.
Most people in Belize speak and understand English, although there are other languages spoken throughout the country including Spanish, Creole, Mandarin Chinese, and several Mayan dialects.
➡️ What language do they speak in Belize?
Belize vs Costa Rica: Food
Costa Rica food
Throughout Costa Rica, you will find many restaurants and Western food chains, especially in the capital San Jose, but you should try traditional Costa Rican food at least once during your trip.
What's the traditional food in Costa Rica?
The traditional dish of Costa Rica is black beans with rice and onions which is typically served with tortilla, sour cream, and scrambled eggs. Another typical food of the country is called "Casado" which is a bowl of rice, beans (black or red), a choice of meat, and salad.
The most popular dessert in Costa Rica is "Tres Leches," a soft cake made from dairy products.
Belize food
The food in Belize is just diverse as its culture. When traveling the country, you will often get served rice and beans, the traditional Belizean dish with fried bananas or chicken and some vegetables mixed in a salad.
What's the traditional food in Belize?
Throughout Belize, you will find different dishes that correspond with the various cultures of the country. In Hopkins and Dangriga, you will have a chance to taste Garifuna dishes with heavy Caribbean influences, and if you go to Western Belize or Northern Belize, you can try tamales, salbutes, and cochinita pibil – staples from the Mayan cuisine.
What food should you try in Belize?
One of the most popular snacks in Belize is fried jacks, deep-fried pieces of dough that are paired with beans, eggs, or meats. And don't forget to grab some panade, a popular street food in Belize that will have you licking your fingers! Panades are made with corn and comes with stuffing like beans, corn, or meat, and are topped with salsa.
Belize vs Costa Rica: Nightlife
Nightlife in Costa Rica
Nightlife in Costa Rica is more varied than in Belize and includes a mix of nightclubs, bars, and restaurants along the coast and inland. You can find plenty of great places to have a fun night out in cities like San Jose, Tamarindo, Jaco, and Santa Teresa.
Another great up-and-coming spot for nightlife in Costa Rica is Puerto Viejo, a chill surf town along Costa Rica Caribbean Side, that attracts a younger crowd.
Nightlife in Belize
Belize nightlife is laidback and geared toward travelers who want to chill rather than party in style. You won't find too many upscale nightclubs and bars in the country.
Belize nightlife is mostly around coastal parts of the country like Ambergris Caye, Caye Caulker, and Placencia, where you can find the most tourists. It's mostly beachside bars and restaurants where you can get drinks and some food, listen to music, and dance away the warm Caribbean nights.
Belize vs Costa Rica: currency
Belize Currency
The currency of Belize is the Belizean dollar (BZD) which is pegged to the US dollar at 2:1 US dollars are also accepted in Belize, which means you don't need to exchange your money if you are traveling to Belize from the United States.
Costa Rica currency
The official currency of Costa Rica is a Colon, which equals 0,0018 USD. On the other hand, 1 US Dollar is about 559.4811 Costa Rica Colons.
Belize vs Costa Rica: things to do
Costa Rica is a popular destination for eco-tourism and offers more diverse landscapes than Belize. From the Caribbean Coast to volcanoes in the middle and dry and arid climate in the Pacific, it has something for everyone.
It boasts incredible biodiversity thanks to several microclimates within the country, and you can spot sloths, tropical macaws, and toucans in the country. Belize also has some eco-tourism, but it's not as developed as Costa Rica.
Costa Rica is also one of the most popular destinations for surfing in Central America with many people flocking to beach towns like Jaco, Tamarindo, and Puerto Viejo.
✅ Check my complete guide to the best time to surf in Costa Rica
Belize offers world-class diving in the great Meso-American Barrier Reef, the UNESCO-listed Great Blue Hole, and dozens of spectacular Mayan ruins surrounded by the lush jungle.
Belize has diverse landscapes, but its topography is defined by jungles and the Mayan mountains that run from central Belize to the Guatemala border.
✅ Find out how to plan an epic Belize itinerary and avoid most common mistakes
Things to do in Belize
Belize offers many activities that will make you feel like Indiana Jones. From exploring the Mayan caves to diving in the second-largest barrier reef to exploring some of the most beautiful islands in Belize, this country is a true adventurer paradise!
✅ Read about the best things to do in Belize
If you love a combo of beaches, water sports, and interesting history, Belize is your place!
Island hopping
Climbing Mayan ruins
Diving and snorkeling
Wildlife watching
Cave tubing
Things to do in Costa Rica
Costa Rica is one of the most popular destinations in Central America with a well-established travel route and enjoys a safe reputation. Travelers love Costa Rica's many beaches, diverse landscapes, and eco-tours where you can watch wildlife and explore cloud forests.
Arenal is home to some of the best hiking in Costa Rica, and you can soak in one of the hot springs after a day of adventuring.
✅ Learn about the best things to do in Costa Rica for any type of traveler
Monteverde Cloud Forest Reserve boasts over 10,500 hectares of cloud forest, and Cahuita National Park is a popular wildlife-watching spot that is also home to the largest coral reef on the Caribbean coast.
✅ BOOK THIS POPULAR TOUR OF MONTEVERDE
The country is also said to have some of the best coffee in Central America, and you can even tour some coffee plantations.
Eco-tours
Surfing
Zip-lining
Hiking
Cloud forests
Belize or Costa Rica: FAQ
Is Costa Rica or Belize better?
Whether you should visit Belize or Costa Rica, depends on your taste. If you want to dive or snorkel and enjoy incredible beaches and explore deep Mayan caves, you should go to Belize. But if you want to hike, surf and watch wildlife, choose Costa Rica.
Which one is safer: Belize or Costa Rica?
Statistically speaking, Costa Rica is safer than Belize, but you should always exercise reasonable caution whether you are in Belize or Costa Rica, as tourists can often become targets of petty theft in scams, especially in popular areas.
Is it cheaper to go to Belize or Costa Rica?
Belize is slightly cheaper than Costa Rica, especially if you can take public transportation, cook your meals and skip expensive tours.
Why is Belize so expensive?
Belize is an expensive country because most things have to be imported from elsewhere. The country relies heavily on tourism, and with services and agriculture being two other major industries. The fuel cost is Belize is very high, which contributes to high rates on many goods.
So, which one should I visit, Belize or Costa Rica? Final word
If you are trying to figure out which country suits your better, you should visit both Belize and Costa Rica. Although these two countries are located in the same region, they offer different activities, and each has its distinct flair which is not to be missed if you travel around Central America.