Disclaimer: This post contains affiliate links. At no cost to you, I might earn a small commission if you make a purchase through the links in this article.
Are you looking for the best time to surf in Costa Rica? Well, look no further! With its stunning coastline and warm waters, Costa Rica has become a popular destination among surfers from around the world. It competes with other World Surf Reserves to attract surfers looking for that elusive perfect wave.
Whether you're a beginner or an experienced surfer, there are plenty of great surfing spots in Costa Rica's that will provide you with some unforgettable surfing experiences.
In this blog post, you will learn about the best time to surf in Costa Rica and where some of the most amazing spots for catching waves are on both coasts. We will discuss information specific to the beaches which offer the most consistent conditions throughout the year.
So grab your board, get ready to catch some waves, and let's dive in!
Costa Rica surfing seasons
Even though Costa Rica is around 30 degrees Celsius all year round, it has 2 seasons: dry and rainy. The dry season, generally lasts from mid-December to April. The dry season in Costa Rica has little to no rain, while the rainy season, or 'green season' as locals call it, starts in May and ends in November.
Check my complete guide to the best time to visit Costa Rica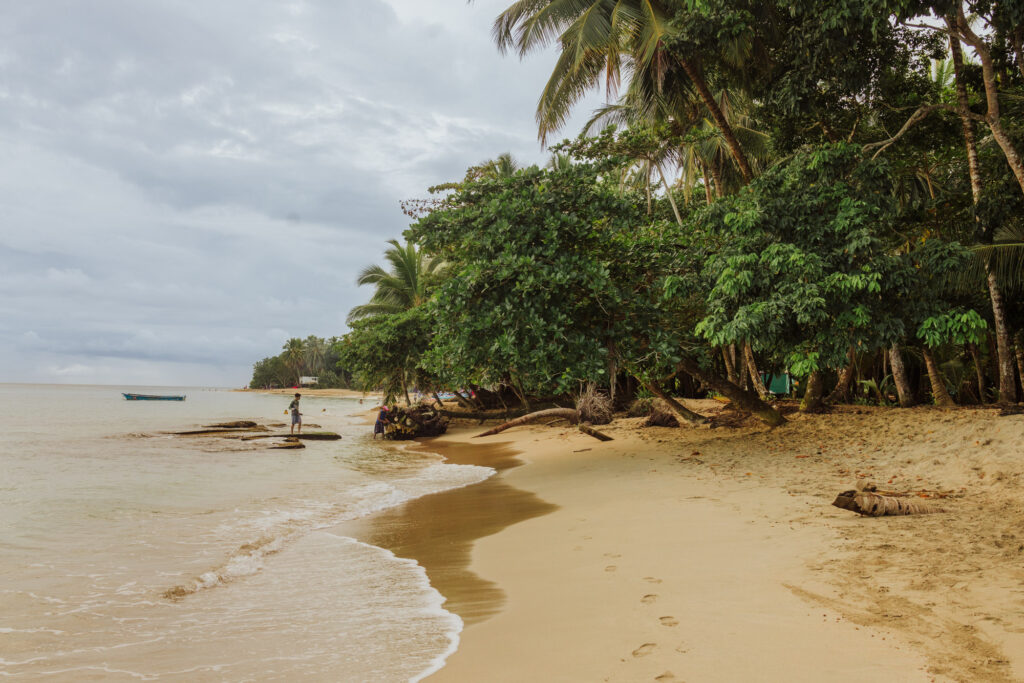 Rainy Season in Costa Rica – May through November
The rainy Costa Rica surfing season begins in late May and ends in November. Despite the frequent showers, advanced surfers prefer this time of year since the waves tend to be bigger and more powerful due to the swell coming in from the Pacific Ocean.
The lack of wind at this time also creates sleek, glassy waves which make a perfect backdrop for an incredible surf trip.
The rain also brings out all the shades of green across the countryside and along the coast, making for some spectacular scenery. The wettest month is October when it's likely to rain on and off all day. The rest of the rainy season usually sees a 20-minute cloud burst every day that quickly dries up.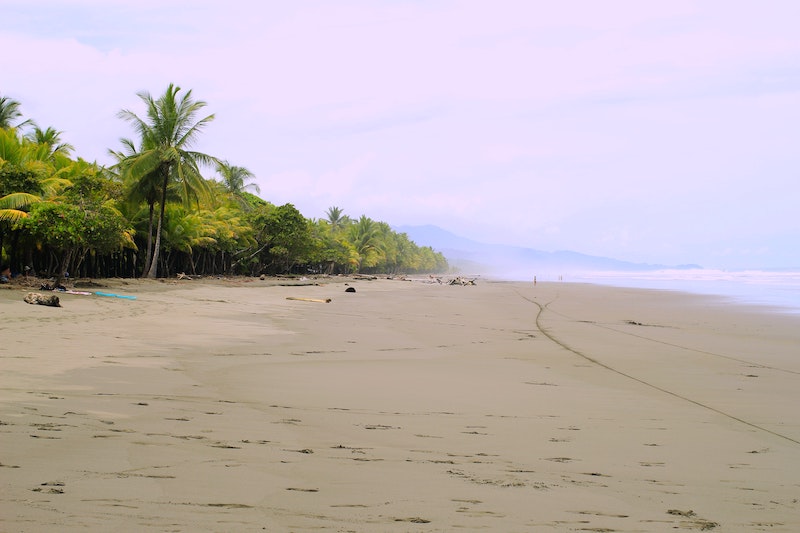 Dry Season in Costa Rica – December through April
The dry Costa Rica surfing season typically runs from December to April and is considered the best time of year for beginner surfers to visit. During this period, the waves are smaller and more manageable. The winds also tend to be more consistent, with steady northeast offshores prevailing along many parts of Guanacaste, keeping you cool under the intense heat.
The dry season also sees the highest temperatures in Costa Rica, with the average daily high reaching 34 degrees Celcius (93F). The beginning of this season brings out a lot of greenery and lush landscapes, while towards the end some trees lose their leaves or even die, resulting in a much drier landscape.
This is also the busiest tourist season for Costa Rica, but even at its busiest, the beaches are not jam-packed, which makes it an ideal destination for potential beach bums.
So what is the best time of year to surf in Costa Rica?
The best time to surf in Costa Rica for beginners is during the dry season from late November to March, when the waves are smaller and more fun for beginners. For intermediate and advanced surfers, the best surf is had during the winter months from April to October, when the swells are larger and more consistent.
Where to surf in Costa Rica?
The northern region of Costa Rica has the most consistent surf conditions year-round due to the large waves from the Pacific Ocean. This is why the Guanacaste region has longer rides and powerful waves. Further south, the beaches often have smaller and less powerful swell, although depending on the tide, you can carve some excellent waves here too.
The central part of Costa Rica offers up some great beach breaks which combine interestingly with deltas, while even further south, there are great smaller consistent waves perfect for beginner surfers.
Top surfing spots in Costa Rica
So where to surf in Costa Rica? Here are some of the best places to hang five.
Playa Hermosa, Jaco
Where to stay: KalocaCR in Jaco
Type of break: strong beach break with both left and rights
Level: Intermediate-Advanced
Tide: High tide
Floor: Sandy bottom
Best months to surf: May-November for advanced surfers, but waves are consistent year-round.
Hermosa Beach is just 10 minutes from Jaco, one of the most popular surfing spots in Costa Rica, making it an ideal surf spot for those looking for something near San Jose.
This 10 km stretch of dark sand has recently been designated a World Surfing Reserve because of its consistent waves. Hermosa Beach is not suited for beginner surfers, but experienced ones will find plenty to challenge them here.
People flock to the beautiful beach for the annual Costa Rica National Surfing Tournament Finals that take place every year. Many shops and surf schools on the way from Jaco offer boards and other surf equipment for rent, so make sure you rent your board on the way.
There isn't much else on this beach since it's too dangerous for swimming, and crocs and stingrays are a common occurrence here! But its proximity to Jaco means you can easily visit the Carara national park, gardens, and waterfalls in the area.
Playa Dominical , Dominical
Where to stay: Bamboo River House and Hotel
Type of break: Strong left point beach break and the river's mouth
Level: Intermediate surfers
Tide: All tides
Floor: sandy
Best months to surf: All year – largest waves between June and September
At Playa Dominical, surfers of all levels can enjoy the strong left-point beach break and the barrels at the river's mouth. The consistent waves make it a perfect spot for intermediate surfers seeking a challenge, with larger swells occurring between June and September. Watch out though, crocodiles, and rip currents also call this beach home.
This beach is easily accessible, just 20 minutes from Uvita, and a little south of the Manuel Antonio National Park. There is something here far beyond surfing though, as there are plenty of other activities to experience like exploring the nearby Alturas Wildlife Sanctuary, chasing waterfalls, kayaking down the River Baru, and of course, enjoying the vibrant hippie town.
And if you're in town between August and November don't miss the humpback whale watching!
Guiones Beach
Where to stay: Vila Mango B&B
Type of break: Beach break with a left point
Level: All levels
Tide: Low tide
Floor: Sandy
Best months to surf: December to April, but great all year
Visiting the beautiful Guiones Beach is an absolute must for any surfer, no matter the level. Located on the Nicoya Peninsula in the province of Guanacaste, it boasts consistent waves all year-round and a left-point beach break to suit every kind of surfer. At low tide, Guiones Beach has the most challenging waves, but the smaller waves closer to shore are also great for beginners.
The area also offers a variety of activities like exploring Nosara Biological Reserve, swimming at nearby waterfalls, and rainforest canopy tours. Nosara is also known for its great food, so check out Destino Café for a delicious breakfast or brunch, or La Luna restaurant for oceanfront al fresco dinners.
Playa Grande (Salinas), Tamarindo
Where to stay: La Ramona Charming Hotel
Type of break: Two main beach breaks due to the river's mouth
Level: Intermediate to advanced surfers
Tide: High
Floor: Mostly Sand
Best months to surf: December to April and July/August
Playa Grande is an amazing surf spot in Tamarindo, Costa Rica. It is much less crowded than other spots and is ideal to escape the crowds and enjoy a peaceful surf session. Surfing here at sunset is especially beautiful!
You can get there by crossing the river by boat to get to the beach or driving 45 minutes to the next village and then back towards the shore. The best option is taking a boat since it's much faster. Beware of walking across the estuary since it's dangerous due to the presence of crocodiles!
Check my guide to 7 days in Costa Rica which begins in Tamarindo
If you do decide to drive there is a parking lot at the end of the road from which you can access the beach from the north side. Once you're there, you can enjoy some great waves and unwind on one of Costa Rica's most beautiful beaches.
Besides surfing, there are other activities such as horse riding, the Monkey Park animal sanctuary, local markets, and great restaurants where you can get to know the culture of the locals.
Playa Naranjo, Witch's Rock
Where to stay: Pacifico Hotel Boutique
Type of break: left and right beach breaks
Level: Intermediate to advanced surfers
Tide: Mid-High tide
Floor: Sand
Best months to surf: December to April for smaller consistent waves, May-November for bigger waves
Playa Naranjo, also known as Witch's Rock, is a popular surf spot in Costa Rica inside Santa Rosa National Park. It offers some of Costa Rica's most iconic tubes and barrels for intermediate to advanced surfers looking for an epic experience.
The best way to get there is by boat from Playas del Coco – a 45-minute boat ride that will take you straight to paradise! The beach is a long stretch of golden sand surrounded by a mountain backdrop and crystal-clear water. Once you arrive, be prepared to pay the park entrance fee of USD 15, so you enjoy the secluded beach and the surrounding park.
Check out the Witch's Rock Surf Camp nearby, it's comparable to surf camps found in other World Surf Reserves and Costa Rica's most popular option!
This is also a spot for adventurous scuba divers, as the clear waters provide perfect visibility to take in the vibrant sea life in the area. Keep your eye out for nesting turtles as well – Playa Naranjo is one of the most important sea turtle nesting beaches in Costa Rica!
Costa Rica Surfing Caribbean
Although the Pacific coast is more popular with surfers due to its larger, more consistent waves, the Caribbean side also has some options. Playa Cocles near Puerto Viejo is a great spot thanks to the frequent larger swells that are perfect for intermediate and advanced surfers. It is the place to practice your skills and bring your surfing game up a notch!
Best places for surfing on Costa Rica's Caribbean Side
Playa Cocles is one of a dozen beaches that you can walk between in the area, so consider walking to the beach and renting a board there. There are plenty of surf shacks nearby that offer lessons and board rentals, or you can try out a boogie board too.
Before taking the plunge, keep an eye out for the red flag – if it's posted, the water is too dangerous to swim in. Lifeguards are on duty here, so remember to follow the instructions they give you.
Mexico or Costa Rica vacation? Check my complete guide here
When you're not in the water, there are plenty of places to eat nearby in Puerto Viejo – from restaurants and cafés to food stalls. It's a popular spot during the weekend, and tourists love visiting the nearby animal sanctuary, the Bribri indigenous reserve, and chowing down on the incredible local Caribbean cuisine.
Stay at Vila Mar 200 meters from the beach, and enjoy hearing the sloths and wildlife around you at night!
Where is the best beginner surfing in Costa Rica?
Playa Santa Teresa
It's an epic surf town with a great vibe and a healthy feel. Most people come here to surf and enjoy the steady gentle waves rolling in every day they are here. Check out Casa Siluri for a well-priced flat 300 m from the beach. Here you'll spend your days wandering the beaches by quad, or foot. It's a little difficult to reach but worth it!
Playa Avellanas
This is one of my favorite more remote beaches: the main bar on the beach has a massive pig, Lola, that loves to splash in the surf! Make sure to have some pizza at Lola's bar!
There are several very tasteful places to stay in the area, although there is no village or shops. Stay at Soulshine for excellent design and a great location. Here you'll spend your days reading your book on the beach, but there are a few golf courses close by if that's your thing!
Playa Hermosa, Uvita
A beautiful beach with smaller waves perfect for beginners due to the reefs which protect the bay. Stay at La Uvita Perdida to enjoy nature and have monkeys right outside your window! Here you'll want to visit the Marina Ballena National Park, swim in waterfalls, and have a cold one at the great brewery in Uvita!
Espadilla Beach, Manuel Antonio
This is a stunning area with smaller waves that beginners will enjoy. Make sure to do some wildlife watching in the National Park, and trek the trails through the jungle backdrop. Stay at The Falls at Manuel Antonio for proximity to the beach and a great price.
Jaco
Due to its proximity to San Jose, this is the chosen destination for most Costa Ricans looking to ride a wave. The beach is gorgeous, but the village is often packed, and not the most relaxing place.
If you're looking for great nightlife and lots of action you'll love it! Stay at Selina Jaco for the incredibly fun design of the cylinder rooms at a great price and a central location. While here, make sure to check out the Royal Butterly center as well as the Neo Fauna for endangered species.
Best time to surf in Costa Rica: FAQs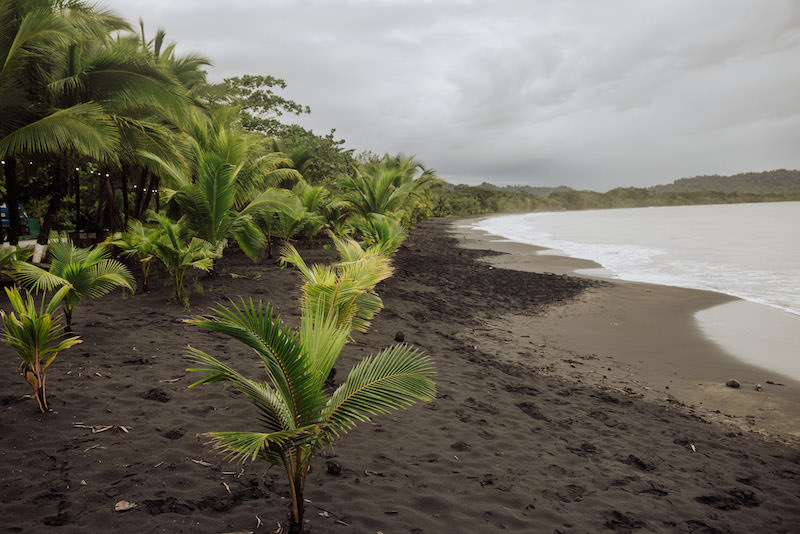 Is Costa Rica safe to surf?
Yes, Costa Rica is safe to surf. With an extensive coastline along the Pacific and Caribbean, it offers a wide range of surfing spots suitable for all skill levels. The country has also implemented safety regulations, such as designated swimming areas and beach patrols that monitor water activity, to ensure your safety while enjoying the waves. Costa Rica is a perfect place for any surfer thanks to year-round warm ocean temperatures and consistent winds and currents.
What part of Costa Rica has the best surf?
The Pacific coast of Costa Rica is known to have some of the best spots in the world for surfing. The region is renowned as an excellent destination for surfers of all levels, from beginner to advanced. The North Eastern beaches along the Pacific coast of Guanacaste, the Nicoya Peninsula, and slightly further south provide some of the best waves for surfing in Costa Rica.
The Caribbean side of Costa Rica slightly south of Puerto Viejo is also home to excellent waves, with a few spots offering up rides with powerful swells perfect for experienced surfers.
Is Costa Rica good for beginner surfers?
Yes, Costa Rica is one of the best destinations for beginner surfers! With its warm and consistent waves, it's an ideal place to learn the basics of surfing. Many beaches have gentle waves, perfect for those who are just starting.
There are plenty of experienced surf schools that can provide valuable advice and help you hone your skills. So if you're looking for a fun and safe way to get started with surfing, Costa Rica is the place to go!
Where do you fly into Costa Rica surfing?
The main international airport for Costa Rica is the Juan Santamaría International Airport in Alajuela (SJO), outside of the capital city of San Jose. This is your best bet if you're looking to go surfing in Costa Rica, with its closest proximity to many of the great surf spots around the country.
Do you need a wetsuit to surf in Costa Rica?
No, you don't need a wetsuit to surf in Costa Rica. The water temperature is usually warm throughout the year, rarely reaching below 70°F (21°C). As such, a wetsuit isn't necessary for the most part. However, on some cooler rainy days, it can be helpful to have a shorty handy just in case.
Is Tamarindo good for surfing?
Yes, Tamarindo is a great place to go surfing. Its waves are known to be excellent for seasoned and novice surfers alike, with breaks suitable for all levels. There is a wide range of spots in the region, from beach and reef breaks to point break waves. Tamarindo's warm waters also make it an ideal place to learn how to surf if you're just getting started!
Best time to surf in Costa Rica: Final word
The best time to surf in Costa Rica depends on your skill level. Whether you're a beginner looking to learn the basics or an experienced surfer ready for some serious waves, Costa Rica has it all.
With its warm and consistent ocean temperatures, it's no wonder so many surfers flock here year after year! Any surf trip to Costa Rica is momentous – with its incredible beaches and stunning tropical scenery, it will be one trip you won't soon forget!