Disclaimer: This post contains affiliate links. At no cost to you, I might earn a small commission if you make a purchase through the links in this article.
Central California is a region made up of the Central Valley and the Coastal Mountain Range. This area has historically been agriculturally rich, with fertile soils and a Mediterranean climate.
Central California is now becoming increasingly popular as a tourist destination, thanks to its natural beauty, diverse landscape, and plenty of things to see and do. It also has numerous affordable California cities that you can add to your road trip bucket list!
Here are some of the best central California cities to visit in 2023.
Best Central California Cities To Visit in 2023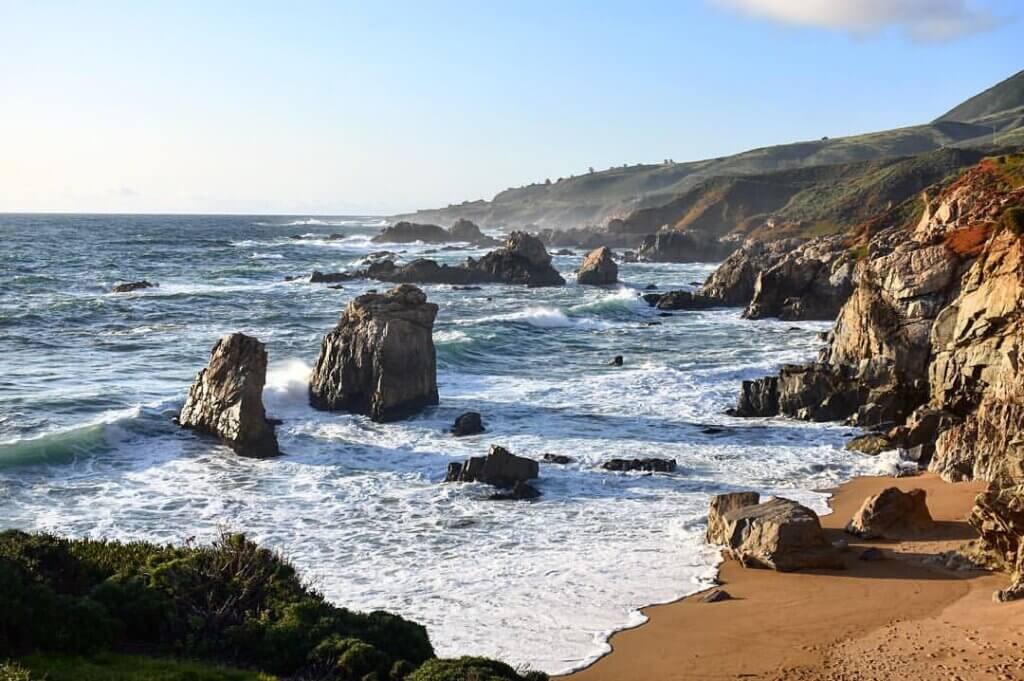 The best way to visit Central California cities is to rent a car and drive. You can drive north to south if you're starting from San Francisco.
However, if you are visiting from Los Angeles, you would be driving south to north like most of the cities listed in this article.
Here are some of the best Central California cities to visit by car!
✅ RENT A VEHICLE WITH DISCOVER CARS FOR YOUR CENTRAL CALIFORNIA ROAD TRIP
DiscoverCars is the best car rental company that has thousands of vehicles, flexible rates and no hidden fees 💵 I often use DiscoverCars for my trips, and have had a great experience with them so far 😃
1. Santa Barbara
Santa Barbara is home to some of the best beaches, wineries, and art galleries in Central California. It's a wonderful destination if you like the outdoors, yet it also offers plenty of culture and dining options with amazing restaurants like Satellite, Oliver's Montecito and Modern Times.
While in Santa Barbara, book a walking food tour, where you will walk around the downtown area sampling cheeses 🧀 chocolates 🍫 desserts 🍨 and other local specialties! For a wine-tasting experience, book one of the wine tours in Santa Barbara.
👉 Check other popular road trips from Los Angeles 🚘
Best wine tours in Santa Barbara
One of the best things to do in Santa Barbara is visiting the Funk Zone – a former industrial area that has been transformed into an arts district with murals, music, and hipster vibes. At night, you'll find delicious drinks and plenty of fun!
👉 BOOK SANTA BARBARA TROLLEY TOUR FOR THE ULTIMATE ADVENTURE 💛
A great stay in Santa Barbara is Inn by the Harbor, a quaint hotel nearby City College of Santa Barbara and a 20-minute walk from Stearns Wharf. The best part? You'll be a 10-minute from West Beach!
2. San Luis Obispo
Where to stay: Madonna Inn
Located halfway between Los Angeles and San Francisco, San Luis Obispo is one of the most charming Central California cities known for its laid-back charm, unique culture, and stunning countryside views.
One of the best things to do in San Luis Obispo is to walk around the downtown area and explore the unique boutiques and restaurants. You can also visit Bubblegum Alley, which is a smaller version of the one in Seattle. It is covered in bubblegum and makes for a perfect Insta spot! 📸
For more of a nature experience, visit the Oceano Dunes on Pismo Beach. Oceano Dunes are the coastal dunes in the United States and are a great place to rent ATVs for four-wheeling, camping, or simply admiring the scenery.
Best tours of San Luis Obispo
One of the best places to stay in San Luis Obispo is the Madonna Inn, a unique hotel known for its over-the-top design and food. Be sure to check out the Bakery & Pastry 🥮 shop in the inn.
3. Cayucos
Where to stay: Shoreline Inn on the Beach
Cayucos is a small, laid-back beach town along California's Central Coast. Cayucos offers some of the best ocean views in Central California and is a fun destination for those looking to surf 🏄‍♂️ or relax.
The pier in Cayucos is one of the most scenic spots, perfect for watching the sunset or fishing for perch. Take a stroll along the beach and visit the unique shops and eateries dotting the area.
✅ BOOK A WINE TASTING TOUR FROM CAYUCOS 🍷
Grab lunch at brunch at the Hidden Kitchen, where they serve delicious gluten-free waffles 🧇 and blue-corn tacos 🌮 You can also sip on a healthy smoothie while listening to the waves on Cayucos Beach🏝
For the treasure hunters, check out the antique shops lining the main street, Remember When and Remember When Too.
The best place to stay in Cayucos is Shoreline Inn on the Beach, the only hotel that leads directly to the coast.
4. Cambria
Where to stay: Cambria Pines Lodge
Cambria is a small coastal central California city off the Pacific Coast Highway. It is known for its mild climate and picturesque setting, with rolling hills and a rugged coastline dotted with tide pools.
Cambria is one of the most charming places to visit in Central California if you're looking to escape city life. The main attraction here is Moonstone Beach, with a long boardwalk, perfect for watching the sunset 🌅 or checking out the tide pools.
You can also check out Hearst Castle 🏰 the former estate of William Randolph Hearst. It is now a popular tourist attraction, which offers tours of its sprawling grounds, gardens, and grandeur rooms.
👉 BOOK AN AMAZING PRIVATE TOUR OF THE CALIFORNIA COASTLINE
You also cannot miss out on Linn's Easy as Pie Cafe, which offers some of the most delicious desserts on the Central California Coast. The most popular dessert is Olallibery Pie 🥧 made from raspberries and blackberries at the Linn family farm!
If you're looking for a place to stay, check out the Cambria Pines Lodge, which looks like a big cozy cabin, but is filled with beautiful 😍 views. The lodge is conveniently located near the town's main attractions!
5. Big Sur
Where to stay: Big Sur Lodge
Big Sur is one of the most popular tourist destinations in California, and for good reason. Its stunning coastline, lush redwood forests 🌳 and inviting campsites 🏕 make Big Sur a great destination for those looking to explore the best of the Central California Coast!
One of the most popular things to do in Big Sur is to stop by the well-photographed Bixby Bridge and snap a picture. You can also drive down the Big Sur Coast Highway and admire its breathtaking views.
Don't miss out on a local favorite, Pfeiffer Beach. It's known for its purple sand and surreal rock formations, like the Keyhole Arch. Swimming is not typically allowed at Pfeiffer Beach because of the strong waves 🌊 but you can certainly dip your toes in the Pacific Ocean and enjoy a picnic 🧺
Best tours of Big Sur
To get the best hiking trails, visit Andrew Molera State Park and hike popular trails like Bluff Trail for some stunning views of Molera Beach.
For Big Sur camping, check out Plaskett Creek Campground or Pfeiffer Big Sur State Park Campground, both of which offer stunning views of the coastline.
6. Carmel-by-the-Sea
Where to stay: Briarwood Inn
Just past Big Sur lies the idyllic central California town of Carmel-by-the-Sea. This charming town is home to galleries, small shops, and a variety of restaurants.
Be sure to take a stroll along the white sandy beaches of Carmel Beach while admiring its iconic cypress trees. You can also walk around the city and view the eccentric homes found in this small town.
✅ BOOK AN AMAZING PRIVATE TOUR OF THE CALIFORNIA COASTLINE
Take a break from walking by driving the iconic and scenic 17-mile drive, which winds through Pebble Beach Golf Links and the Del Monte Forest.
Best guided tours of Carmel by the Sea
If you're looking for a place to stay in Carmel-by-the-Sea, check out the homely Briarwood Inn, within a 12-minute walk of Carmel Village and Carmel Beach 🏖
7. Monterey
Where to stay: Portola Hotel & Spa
A popular tourist destination for its picturesque coastline and exciting tourist attractions, Monterey is a must-visit city on any trip to Central California because it provides you with the best of both nature and small-town vibes!
Monterey's Fisherman's Wharf provides plenty of great restaurants, such as Abalonetti Bar and Grill's Gnocchi with Two Sauces dish is delicious! You'll also want to stop by Carousel Candies and grab a handful of salt water taffy.
Best Monterey whale watching tours
After checking out Fisherman's Wharf, walk along Cannery Row, a street lined with shops, restaurants, and local businesses. Our favorite shop in Cannery Row is the Troya Turkish Delight and Baklava–when you walk in, look up and see the gorgeous mosaics 😀
✔️ CHECK MORE POPULAR DAY TRIPS FROM SAN FRANCISCO
For some beach views, stroll along the 18-mile Monterey Peninsula Recreational Trail, which pops you right into Monterey State Beach. The trail will also provide plenty of shade with the gorgeous Monterey Cypress trees. It's a scenic walk, so don't forget to bring your camera.
For the best stay in Monterey, book a room at the Portola Hotel & Spa, located right on the beach, and offers stunning views of the bay.
8. Sacramento
Where to stay: Sheraton Grand Sacramento
The capital of California, Sacramento has a wealth of attractions and activities and is one of the best central California cities to visit.
In the heart of downtown is Capitol Park, home to the state capitol building and other historical monuments like the old City Hall, which now houses the California State Railroad Museum.The park also features one of the most impressive rose gardens in all of California.
💛 BOOK THIS FUN FOOD TOUR IN DOWNTOWN SACRAMENTO
For some outdoor recreational fun, visit the Sacramento River and rent a kayak or stand-up paddleboard! You can also check out the nearby American River Parkway, which spans miles of trails, forests, and creeks.
Catch a movie at the historic Crest Theatre 🎭 if you are looking for a fun evening activity. This art-deco movie palace offers classic films and live performances in an intimate setting.
If you're in Sacramento over the weekend, check the schedules for local farmer's markets, where you can find anything from locally grown fruits and vegetables to beautiful flowers and bouquets.
9. Fresno
Where to stay: Double Tree by Hilton
The sleepy town of Fresno is a unique destination in the Central California region. Take a walk or bike ride around the city to explore its sights, sounds, and cultures.
If you're looking for some outdoor activities, head over to Woodward Park, which is home to many plants like wild irises and redbud trees. You can also find miles of trails, perfect for a morning jog or an afternoon stroll.
✅ RENT A VEHICLE WITH DISCOVER CARS FOR YOUR CENTRAL CALIFORNIA ROAD TRIP 🚗
Enjoy some retail therapy at Riverpark, an outdoor shopping mall filled with stores and restaurants. One delightful find in Fresno is a small restaurant called Little Fat Dumpling, which is some of the most authentic Chinese food 🍲 you can find in the California's Central Valley!
For an overnight stay in Fresno, check out DoubleTree by Hilton Fresno Convention Center a short distance from Riverpark and Woodward Park.
10. Mariposa
Where to stay: The Monarch Inn
Mariposa is a charming Gold rush mountain town in Central California, surrounded by Sierra Nevada foothills and located just south of Yosemite National Park.
The main attraction in Mariposa is the majestic Yosemite National Park – one of the most popular national parks in California. For the best experience, book a guided tour of Yosemite to explore natural waterfalls, towering sequoias, and granite cliffs.
🎒 GET A PRIVATE GUIDE FOR YOUR HIKING TRIP IN YOSEMITE
In the center of town, snap a picture of the Old Mariposa County Courthouse, the oldest courthouse in California and west of the Rockies still in use.
Best rated private tours of Yosemite National Park
Once a year (typically in May), Mariposa holds a Butterfly Festival where visitors can watch a parade, join in the festivities of spring, and witness the release of hundreds of monarch butterflies!
When you get hungry, visit the locally owned 1850 Restaurant, known for its salads 🥗 and craft beers 🍻
For a memorable stay in Mariposa, book a room at The Monarch Inn where you can enjoy the grandeur of nature, and also be within walking distance of the California State Mining and Mineral Museum.
11. Yosemite National Park
Where to stay: Yosemite Valley Lodge
Although it's not a city, Yosemite National Park is a must-see in Central California. From the iconic Half Dome to the majestic Yosemite Falls, this stunning national park with incredible sights and activities for all travelers.
One of the best, but also strenuous hikes in Yosemite, is the Mist Trail accessible from Yosemite Valley, which leads to Vernal Falls and Nevada Falls.
Best tours of Yosemite National Park
On the south entrance of Yosemite National Park, you can see giant sequoias on the Mariposa Grove Trail for a strenuous hike or take the easy Big Trees Loop Trail. Either way, don't miss out on seeing this grove of spectacular giant sequoias!
Besides hiking, you can also explore the deep valley floor by bike or take a dip in Mirror Lake.
When you're done exploring for the day, relax in the comfort of Yosemite Valley Lodge and enjoy a delicious meal at one of the many restaurants.
For accommodations in the park, check out Yosemite Valley Lodge (but you'll need to book 12 months in advance). If staying in Yosemite National Park isn't what you're looking for, you can always book a stay in Mariposa.
Best Central California Cities To Visit in 2023: FAQs
What cities are in Central California?
Though the cities listed here are in central California, the whole region is made up of several more cities, including Modesto, Stockton, Tulare, and more.
What is considered Central California?
Central California includes the areas south of Sacramento, north of Los Angeles, and east of the San Francisco Bay Area. This region boasts lovely coastal towns, wine country, and agriculture.
Is Bakersfield Central California?
Bakersfield is located in the southern portion of Central California, near Kern County, and is considered part of Central California. It is known for its rich culture, diverse population, and energy production.
Although Bakersfield is not one of the most popular Central California cities, it's definitely worth a visit.
Is Sacramento in the Central Valley?
Sacramento is the capital of California located in the Central part of the state. It's also notable for being the political center of the West Coast. Besides this, Sacramento is also known for continuously developing culture and has been dubbed a "hipster" city.
When is the best time to visit Central California?
The best time to visit Central California is during the spring and fall months when temperatures are mild, and there are fewer crowds. On the coast, you may find that temperatures can be cooler and windier during the summer months.
Best Central California Cities To Visit in 2023: Final thoughts
Central California has something for everyone: great food, stunning beaches, and plenty of outdoor activities that make your trip one to remember.
Don't wait any longer – start planning your road trip down Central California and explore all the beauty and wonders of the region. You won't regret it!
Have you been to Central California? What are some of your favorite places in this region? Let us know in the comments!
More resources for planning your Central California road trip