Disclaimer: This post contains affiliate links. At no cost to you, I might earn a small commission if you make a purchase through the links in this article.
If you are traveling around Colorado, you will most likely take a drive from Denver to Grand Junction, the largest city on the Western Slope of Colorado.
This is one of my favorite Colorado road trips that shows you just how diverse the scenery is in this state. You begin your road trip along Colorado's Front Range, traverse through the heart of the Rockies and arrive at the high Colorado desert. All within a couple of hours.
I've done a drive to Grand Junction several times, and have some of the best memories along this highway. In this article, I will share how you can take this trip. 
✅ Check my complete guide to the best Denver tours
Denver to Grand Junction distance
The distance to Grand Junction from Denver is 243 miles (391 km). The exact distance also depends on your starting point. Denver metro area is pretty big, so your distance could be different depending on the point of your departure. 
How long does it take to get from Denver to Grand Junction?
The time of your trip depends on the mode of transportation. The quickest way to get to Grand Junction is by taking an airplane, while the longest is by taking a bus. I recommend renting a car for your road trip so you can enjoy the incredible Colorado landscapes and travel at your own pace. 
How can I get from Denver to Grand Junction?
By plane
The fastest way to get to Grand Junction is by taking a short flight from Denver. The main airlines that serve this route are United Airlines. You can take a flight daily, but the sooner you book your tickets the best rate you will get. 
These prices will fluctuate depending on the time of the year. Summer is the busy season in Colorado when many people come here to enjoy the scenery and hit the hiking trails. Grand Junction sees a lot of travelers who stop here as part of their Southwest Colorado road trip.
Expect prices to be higher during summer and early fall.
You can save money by flying to Grand Junction from late fall through most of the spring. 
How long is the flight to Grand Junction from Denver?
The flight to Grand Junction is about 40 minutes. Arrive at the airport no less than 2 hours before your flight, as you have to check in your bags and go through security. Denver International Airport (DEN) can get busy, especially during the holidays and weekends. 
What's the closest major airport to Grand Junction?
Grand Junction Regional Airport (GJT) is the largest airport on the Western Slope of Colorado. It's just three miles from Grand Junction. It has direct flights to Denver, Las Vegas, Salt Lake City, Los Angeles, Phoenix, Dallas/Fort Worth, and Mesa, Arizona.
The airport is fairly easy to navigate, as it has only one terminal and a big parking area. You can also rent a car at the Grand Junction Airport to explore southwest Colorado and visit some of the best places near Grand Junction like the Black Canyon of the Gunnison and Colorado National Monuments. 
Bus
If you are traveling on a budget, the best way to travel is by taking a bus. Greyhound is a platform where you can buy tickets online. Buses to Grand Junction depart daily and the price range depends on the day and time. Sometimes, you can take advantage of seasonal offers and special prices. 
Denver to Grand Junction Bustang
Another option is to take Bustang, a bus service that connects Colorado's capital with cities along Interstate-70 and Interstate-25.
Bustang buses to Grand Junction depart daily from the Union Station in downtown Denver. You can check Bustang schedule online.
Train
You could also take an Amtrak train from Denver. Trains depart from the historic Union Station in Downtown Denver. Train tickets were slightly more expensive than buses the last time I checked. Since I have never taken a train, I can't give you any perspective on what it's like. You can check prices at the Amtrack website.
If you are traveling from the Denver Airport, include transportation costs to Union Station into your travel budget.
Car rental
Renting a car is a popular way to travel to Grand Junction. When you have a rental car, you can stop at any landmarks or points of interest along Interstate-70, and let me tell you, there are quite a few of them!
The highway connecting the two cities offers some of the best views around the state. 
If you rent a car, spread your road trip over a couple of days, so you could see some of the best Colorado mountain towns and take advantage of the many hikes along the way. 
Check my complete guide to renting a car in Denver to save money
When is the best time to travel between Denver and Grand Junction by car?
Summer is the best time to drive to Grand Junction as the roads are clear from ice and snow, and you don't have to worry about a snowstorm or blizzard while you are on the road. The views are spectacular and you get to enjoy the spectacular scenery in Colorado.
Portions of Interstate 70 can also get congested on holidays and weekends during winter as many people leave Denver to hit the ski slopes. If you drive in winter, rent a 4×4 vehicle with winter tires. 
Always check the weather forecast before hitting the road!
Colorado weather is notoriously unpredictable and it's not uncommon to see snow in summer at higher elevations.
✅ Planning more trips in Colorado? Find out how to get from Denver to Fort Collins
🚗 DiscoverCars offer affordable rates and they have no hidden fees!
How long does it take to get from Denver to Grand Junction?
It takes about 4 hours to get to Grand Junction by car if you don't make any stops along the way. 
What is the drive like from Denver to Grand Junction?
You pass by some of the most spectacular places in Colorado like Vail, Glenwood Springs, and Idaho Springs. Driving through the heart of the Rockies is a special experience, and I think every traveler should do it at least once.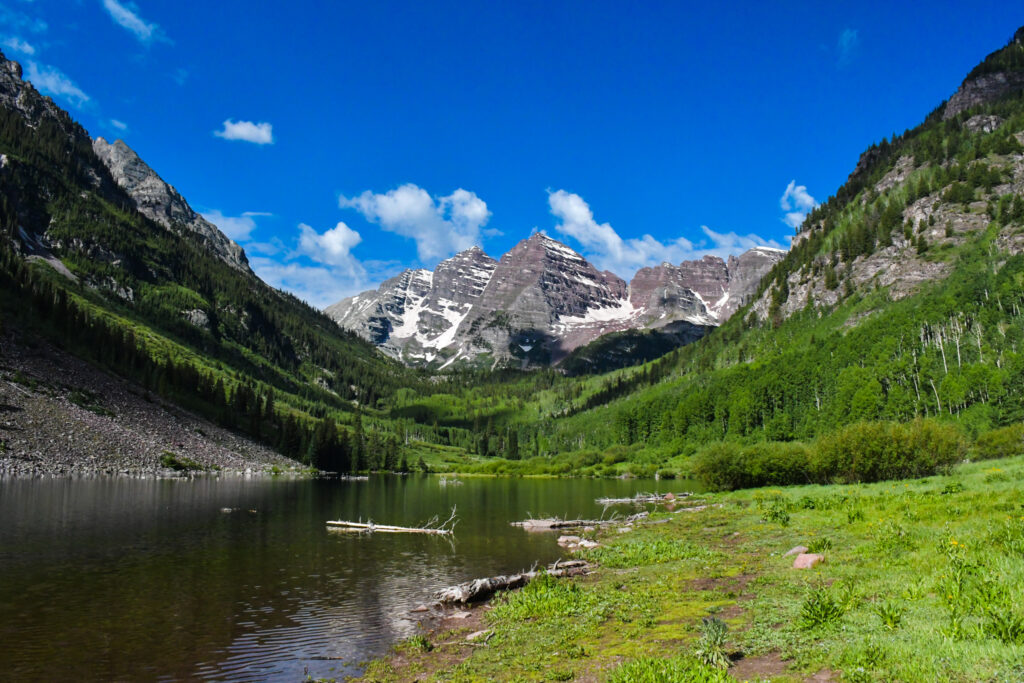 What is there to see see between Denver and Grand Junction?
Many travelers drive to Grand Junction as part of their Colorado road. Some of the best stops are Idaho Springs, Breckenridge, and Glenwood Springs.
The best part about taking this route is that you can enjoy some of the best places in Colorado without veering off course. Not only you can stretch your legs and grab a bit, but you can also enjoy the magnificent scenery along the way.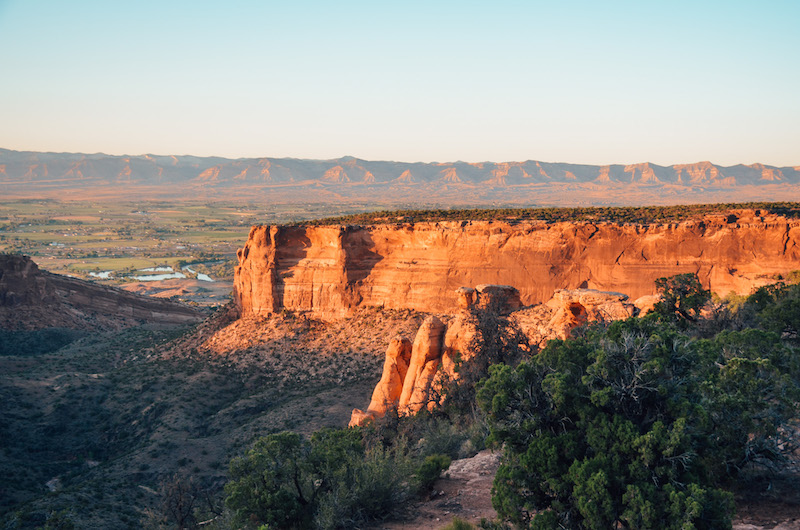 Idaho Springs
Home to Indian Hot Springs where you can soak in mineral-rich hot waters, and a number of superb hikes such as St. Mary's Glacier (there's technically no glacier here), Idaho Springs also provides quick access to Mt. Evans Scenic Byway as well as Mount Bierstadt, one of Colorado's most popular "fourteeners."
Georgetown
Georgetown deserves a stop on your Colorado itinerary because it is one of the best-preserved mountain towns in Colorado with a rich gold mining history that you can learn by touring its famous museum. 
Georgetown Loop Railroad 
The railroad offers a spectacular train ride to nearby Silver Plume where many miners lived back in the day.
Lake Dillon
Located just off Interstate-70, Lake Dillon is popular for kayaking and paddle boarding. It's a perfect stop if you want to get some exercise after a few hours on the road. 
Aspen
One of the best places to visit in Colorado, Aspen is known for its stunning scenery like the iconic Maroon Bells.
Vail
Vail is worth a stop because it offers a combination of gorgeous scenery, great shopping, and dining.
Glenwood Springs
Located on the Western Slope of the state, Glenwood Springs is a year-round destination where you can enjoy rafting on the Colorado River, bicycling on trails, and soaking in some of the best hot springs in Colorado.
Palisade
Located to the east of Grand Junction along Interstate 70, Palisade is the heart of Colorado's wine country where you can tour several wineries and walk among the lush vineyards.
Final thoughts
The ways outlined above are the best options for getting to Grand Junction. Of course, you can also hitchhike, but I've never done it, and due to safety concerns can't recommend it. 
The fastest option is flying, and the most economical one is taking a bus. But the best way to travel between the two cities is with a rental car. I have taken this drive numerous times and loved every second of it. I'm sure you will too!