Disclaimer: This post contains affiliate links. At no cost to you, I might earn a small commission if you make a purchase through the links in this article.
Vertigo-inducing skyscrapers, delicious dim sum and some of the best nightlife and shopping in the world.
These are some of the images that Hong Kong conjures up in the minds of travelers.
Hong Kong might be a bit overwhelming to a first-time traveler, because there are so many things do in this city. 5 days in Hong Kong is a perfect amount of time to see the city and some of its surrounding areas including Lantau Island. And If you want to visit the gambling mecca Macau, add an extra day.
5 Days in Hong Kong itinerary
Day 1: Explore Mong Kok
Where to stay: Metropark Mongkok
Hong Kong is divided into Hong Kong Island, Kowloon, and New Territories.
I started my trip in Kowloon, a peninsula across Victoria Harbor that is known as an entertainment and shopping district. I suggest starting your 5 days Hong Kong itinerary with Mong Kok, an area of Kowloon where you can shop and eat inexpensively.
Translated as "crowded corner" in Cantonese, Mong Kok is a home to bustling street markets and delicious street food.
The famous Ladies Market in Mong Kok has plenty of stands with knock-off luxury goods, souvenirs, clothing, and trinkets. Remember to haggle if you want to get a good deal.
Book one of the best guided tours of Kowloon
Another place you might consider visiting in Mong Kok is Sai Yeung Choi, a long, pedestrian street where you can find many stores and malls that sell trinkets, gadgets and clothings.
✅ DISCOVER KOWLOON MARKETS AND TEMPLES ON THIS HALF-DAY TOUR
Check out Wong Tai Sin Temple
Your 5 days Hong Kong Itinerary should include at least one temple. And it's good to start with Wong Tai Sin because it's located further away from busy areas. To get there, hop across several MTR lines to get to Wong Tai Sin Temple in Chuk Un, a residential area of New Kowloon.
✅ BOOK THIS PRIVATE HONG KONG TOUR FOR FIRST-TIME VISITORS
This colorful temple is home to three religions: Taoism, Buddhism, and Confucianism. It also commemorates the monk of yore, Wong Tai Sin.
Perhaps, the large number of people at Wong Tai Sin Temple could be explained by the fact that it the temple is said to make every wish come true upon request.
Cruise along the Victoria Harbor in Star Ferry
Where to stay: Grand Hyatt
Make your way to Tsim Sha Tsui promenade for a spectacular view of Hong Kong Island and Victoria Harbor.
Here, you can find the Avenue of Stars that features many statues of stars from the Chinese and Western movies such as Bruce Lee. The area is also a stone throw away from museums, restaurants and night clubs in Kowloon.
Best cruises of Victoria Harbor
Where to buy Star Ferry tickets
To wrap up your first day, catch a Star Ferry from Kowloon to Hong Kong Island. You can purchase tickets at Harbour/Water Tour ticket office located at Tsim Sha Tsui Star Ferry Pier or the Central Pier 7.
Take a night ride on Star Ferry because it culminates with a colorful light show that lights up the Hong Kong skyline in a myriad of colors.
You can also book your tickets online ahead of your trip here.
Day 2: Walk around Nan Lian Garden
Take a morning stroll along Nan Lian Garden on the Diamond Hill in Kowloon.
The beautiful Chi Lin Nunnery, a Buddhist temple built in 1934 spans 33,000 square meters, but only a small part of it is open to visitors. Visit Nan Lian Garden early morning before most people begin to arrive.
How to get to Nan Lian Garden: The garden is open from 7 a.m. to 9 p.m. every day and the entrance is free. To get there, get off the train at Diamond Hill Station and walk across the road.
Grab a bite at one of Kowloon restaurants
Kowloon restaurants boast a variety of food.
Here you will find tons of options with Western, Asian and Cantonese cuisines. But dining in Hong Kong doesn't necessarily mean spending big money.
Another option is to enjoy local flavors during a fun cooking class.
The city has tons of pop-up food stands and inexpensive diners where you can eat on a budget. A good place to find good and inexpensive places to eat is Nathan Road, a central street of Kowloon that stretches from Tsim Sha Tsui to Sham Shui Po.
Enjoy some of the best Hong Kong food tours
Leaving Hong Kong without trying local street food is a HUGE mistake! Make sure to try grab some delicacies while strolling the city street, or better yet, join one of the awesome tours guided by a local foodie.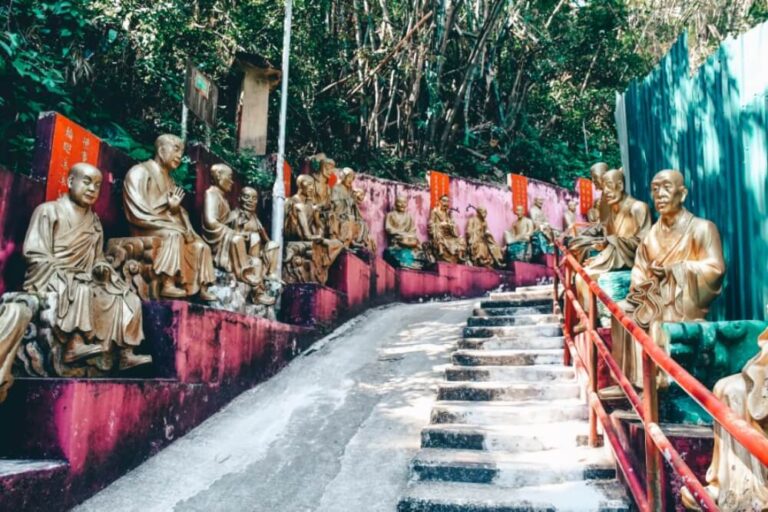 Visit Ten Thousand Buddhas Monastery
Ten Thousand Buddhas Monastery in Hong Kong is one of the most remarkable cultural sites the city, and although it takes a while to get there, it's an absolute must on your 5 days Hong Kong itinerary.
The monastery is located in Sha Tin, part of New Territories and it contains several buildings including a nine-story pagoda, several halls and ornate gazebos with religious displays.
How to get to Ten Thousand Buddhas Monastery: Get off at Sha Tin station on MTR's East Rail Line and take an Exit B. Walk down the ramp and make a left turn to Pai Tau Street. After that, turn right onto Sheung Wo Che Street. As you get to the end of the road, you will see a few signs that will direct you to the monastery.
When you get closer to the monastery, you will see a narrow concrete path that snakes up the hill. You will have to climb up nearly 400 stairs with two rows of Buddhas in different positions on each side.
Book a guided tour of Ten Thousand Buddhas Monastery
Why you should consider booking a guided tour of Hong Kong
Hong Kong is a huge city and you have a lot to cover even if you have 5 days in Hong Kong. Trying to visit all of the popular landmarks in Hong Kong could be simply overwhelming, that's why I suggest taking one of Hong Kong guided tours to save time and hassle.
THIS PRIVATE TOUR OF HONG KONG IS A PERFECT OPTION
Day 3: Explore Hong Kong Island
Where to stay: Conrad Hong Kong
After you get the taste of the gritty Kowloon, visit the cosmopolitan Hong Kong Island.
Home to towering skyscrapers and a busy financial district, Hong Kong Island has a whole different vibe to it than many popular Hong Kong neighborhoods across the harbor.
Here you can find offices of many international companies, big shopping malls, restaurants, and the largest public park in Hong Kong.
Shopping lovers should head to Causeway Bay that has an abundance of boutiques and small stores for every budget.
LET ME HELP YOU PLAN YOUR TRIP TO HONG KONG!
Besides being a travel blogger, I also create itineraries for my readers 😃 If you want me to plan your trip to Hong Kong, provide insider tips and do all the research for you, fill out the form.
My custom itineraries include information on popular landmarks, restaurants, and hidden corners that most tourists miss. As part of my services, I also offer suggestions on flights, hotels and activities.
Can't wait to hear from you! 💛
Climb up Victoria Peak
Most travelers prefer to take the renowned Peak Tram to Victoria Peak, the highest point in Hong Kong to get panoramic views of the city and surrounding hills. You can also take a bus that will take you there.
However, you might have to spend some time in line if you want to take a tram, since it's very popular.
The Sky Terrace 428 at Victoria Peak is the tallest platform that offers a 360-degree view of the city.
Visit Old Town Central
On your way down from Victoria Peak, make a stop at Old Town Central.
Here old meets new as modern restaurants and hipster bars are nestled next to historic temples. Take a walk along Hollywood Road where you will see several graffiti walls alongside art galleries and souvenir stalls.
Old Town Central is also famous because of its street art.
As you walk around Hollywood Road and surrounding streets, you will find dozens of graffiti covering the walls. The graffiti along Tank Line and Graham Street are especially famous and it's not uncommon to see lines of people waiting to take photos.
Step inside Man Mo Temple
One of the main attractions of Old Town Central in Hong Kong is Man Mo Temple (Or Man Mo Miu) located on Hollywood Road in Sheung Wan.
The 19-century temple attracts many tourists and locals as its inside its adorned with hanging incense coils, Buddha statues and colorful paraphernalia. The Man Mo Temple pays tribune to the God of Literature (Man Tai) and the Martial God (Mo Tai).
The temple is open from 8 a.m. to 6 p.m. every day.
Grab a drink at Lan Kwai Fong
Lan Kwai Fong is a historic area in the heart of the Hong Kong Central District famous for its nightlife, and entertainment. If you are in the mood partying and don't mind staying up all night, Lan Kwai Fong is the place to be. Lan Kwai Fong boasts over 90 restaurants and bars.
Day 4: Visit Monster Building
You have seen it in Transformers, numerous magazines and on social media.
This concrete behemoth nicknamed Monster Building has become a target for tourists and photographers from all over the world thanks to a profile in a famous movie and subsequent Internet articles, and you simply can't miss during 5 days in Hong Kong.
The Monster Building consists of five units that were built during the population boom in the 1960s to accommodate low-income residents. Despite its seemingly depressing look, the complex offers great potential for street photography because of its perfect symmetry.
How to find the Monster building: To get to the Monster building get off at Quarry Bay, take exit A and make a left turn on King Road. Walk toward Tai Koo. The building is located inside one of the yards, and if you ask around, you will easily find it.
Ride a Hong Kong Tram
Otherwise known as Ding Ding, Hong Kong's most eco-friendly mode of transportation can be spotted in many parts of the city including Quarry Bay.
Riding the famous train during your 5 days Hong Kong itinerary will give your feet a break and provide you with an opportunity to take in the surroundings as the train moves pretty slowly.
You can check routes and schedules here.
Take photos in front of the colorful Choi Hung Estate
If you want to snap a colorful image for your social media, don't miss the Choi Hung Estate Basketball Court in Kowloon during your 5 days in Hong Kong. Choi Hung means "rainbow" in Cantonese, so it's an easy name to remember.
The basketball court located on the top floor of the parking garage in Wong Tai Sin District of Kowloon.
How to find Choi Hung Estate Basketball Court: Take MRT to Choi Hung station and get off at exit C3 or C4. Make a left turn toward the Estate and walk to the top floor of the car parking right in the middle of it. I recommend to bring photos of the place with you, in case you need to ask for directions.
Check out Lok Wah South Estate
Another popular spot for photos in Kowloon is Lok Wah South Estate. Just like Choi Hung, it is located on top of the car parking.
How to find Lok Wah South Estate: Get off at Kwun Tong MTR and make a left turn when you get out of the train station. Walk uphill for about half an hour and make a right turn as you get to the top and see residential buildings. Lok Wah South Estate is on the roof of one of the car parking buildings right before the rainbow school.
Just down the road from Lok Wah Estate sits the rainbow school. You might want to check it out once you are done taking photos at Lok Wah
Day 5: Spend a day on Lantau Island
Lantau, the largest island in Hong Kong is likely to take your whole day, which makes it a perfect place to finish you 5 days Hong Kong itinerary.
How to get to Lantau Island from Hong Kong: Take the MTR to Tung Chung and take an Exit B. From there, you can either take a bus or the Ngong Ping Cable Car that will carry you over the emerald-green hills of Lantau Island and the clear blue waters of Tung Chung Bay.
Best guided tours of Lantau Island from Hong Kong
As someone who spent nearly two hours in line to get tickets to a cable car, I have to warn you that it can get pretty crowded during the busy season.
THIS PRIVATE DRIVING TOUR OF LANTAU ISLAND IS A PERFECT WAY TO SKIP THE LINE
If traveling on your own, check the bus and cable car schedule online ahead of your trip to select the best transportation option.
If you are going to the island by cable car, you will be able to see Tian Tian Buddha, the bronze sculpture that is accessible by a climb over 268 steps.
Right nearby sits Po Lin Monastery, a colorful monastery with many shrines, halls, and gardens. To get a glimpse into the pre-colonial Hong Kong, take about a tour or Tai O Village and when you get tired, relax at the Silvermine Bay Beach located in the small town called Mui Wo.
I recommend spending your whole day at Lantau Island, as it also offers the 70-kilometer long Lantau Trail, pristine nature and villages built in a traditional Chinese style.
Best time to visit Hong Kong
Summer and spring tend to be hot and humid in Hong Kong.
The typhoon season is from May through November and often brings rainstorms and flight delays.
From November through March, the city has some of the mildest temperatures that won't leave you drenched in sweat after 10 minutes of being outside.
Where to stay in Hong Kong
You will need a good accommodation for your 5 days in Hong Kong, but keep, but there are a couple of things to know before you begin your search. Hong Kong hotels from three stars and above tend to be expensive around Hong Kong Island and parts of Kowloon that overlook the waterfront.
While low prices are tempting, do your research and read reviews before booking hotels or hostels in Hong Kong.
Cheap hotels in Hong Kong are sometimes crammed in huge buildings that are packed with residential apartments, stores, and restaurants. Often those hotels are so tiny that there is barely enough space for a bed and shower next to it.
That doesn't mean that you can't find good budget accommodations in Hong Kong. You just need to be more savvy about it. Check out Agoda, a platform that offers great budget options for Asia
PRO TIP: To avoid making mistakes in Hong Kong, read my article about some of the most common pitfalls among travelers in this city.
Best Hotels in Hong Kong
✅ Four Seasons Hong Kong – located on Hong Kong island, this is one of the best hotels in Hong Kong that offers panoramic views of Victoria Harbor and Kowloon and top-notch services.
✅ Rosewood Hong Kong – One of the best Hong Kong hotels, Rosewood is located within a walking distance from MTR Tsim Sha Tsui Station and has a fitness center, private parking, and a restaurant.
✅ Metropark Mongkok – A great value hotel in Kowloon, Metropak is within walking distance from the Goldfish Market and Fa Yuen Street. The Ladies Market is less than 10 minutes away.
5 Days in Hong Kong: FAQ
What's the currency in Hong Kong?
Hong Kong Dollar (HKD)
What language do they speak in Hong Kong?
The official languages in Hong Kong are Chinese and English. Hong Kongers speak Cantonese which is different from Mandarin Chinese that is spoken in mainland China.
Is 5 days enough in Hong Kong?
5 days in Hong Kong is a good amount of time to see major tourist landmarks and take a day trip to Lantau Island or Macau.
How many days to spend in Hong Kong?
Spend no less than 3 days in Hong Kong. It's a minimum amount of time that will allow you to see the highlights of the city. I don't recommend less than 3 days in Hong Kong because you will end up missing a lot of things.
How to get around Hong Kong?
Hong Kong subway system is the best and cheapest way to get around the city.
Octopus Card covers travel on MRT (Mass Transport Rail) and also gets you a free ride to Hong Kong Airport on Airport Express. You have to pay the 50 HKD deposit to get the card, however, you get money back if there's anything left over when you return the card at the airport.
Visit mtr.com.hk ahead of your trip to get information on public transport. To navigate Hong Kong's train system, download the Hong Kong MTR app on your phone.
5 Days in Hong Kong: Final words
Hong Kong is an amazing city and one of the best places to visit in Asia that absolutely has to be on your bucket list! I hope that my itinerary for 5 days in Hong Kong helped you to plan your trip and answered all of your questions.
Love it? Pin it!