Komodo National Park is one of the most amazing places to visit in Indonesia. Spread over multiple islands, it is named after the world's largest reptiles, the mysterious Komodo Dragons that are endemic to this part of the world.
Located right off the coast of Flores Island in Indonesia, Komodo National Park is a UNESCO site and one of the Seven Wonders of Nature. Home to turtles, dolphins, manta rays and other unique marine animals,  it also boasts a number of wonderful sites such as the famous pink beach, Padar and Rinca islands.
How to get to Komodo National Park
To get to Komodo National Park, you need to arrive in Indonesia and then take a flight Labuan Bajo, the capital of the Flores Island, because it has the closest airport to the Komodo National Park. Labuan Bajo has daily flights from Jakarta and Bali, and a round-trip ticket costs anywhere between $120-$160 USD depending on a season.
Another option is to take a boat to Labuan Bajo from Bali, however, this trip will take you about 2-3 days. While you will save a lot of money, you will need a fair amount of adventure spirit for this trip, as the boat will go along some shallow waters with a lot rocks.
The flight to Labuan Bajo from Bali only takes about 1 hour.
Booking a tour to Komodo National Park ahead of your trip
You can book a tour to the Komodo National Park ahead of your trip. You will have to look at many tour operators who offer various tour packages online. I spent about a day doing my research before I zeroed in on several tour operators and reached out to them. Not all of them responded, because I was traveling during a high season.
Viator.com is an excellent platform for booking a guided tour to Komodo National Park. It offers tour multiple packages that include 1,2 and 3 days in Komodo National Park.
If you decide to look for individual tour operators online, you can contact a tour operator via email or WhatsApp, which is widely used in Indonesia. If you want to reserve your spot, your could be asked to make a deposit via PayPal or do a wire transfer to guarantee your spot (I actually had to send money via PayPal, and it was legitimate).
Booking a tour to Komodo National Park on spot
Another option is to book a trip to Komodo National Park in Labuan Bajo after you arrive.
The moment you land at the airport, you will be greeted by a crowd of taxi drivers and representatives from tour companies trying to sell you tour packages to Komodo. Avoid booking a Komodo tour at the airport and instead go to the main street in Labuan Bajo where most tour companies are located.
If you want to book a Komodo tour in Labuan Bajo, you might need anywhere from a few hours to half a day to find a tour package that fits your needs and budget. Most Komodo tours depart Labuan Bajo early in the morning, so you will need an extra day before your trip.
Many tour operators are willing to haggle when they see foreign tourists, and you should always try to negotiate the price before buying a tour to Komodos.
PRO TIP: If you are going to visit Komodo National Park in high season which lasts from May through the end of July, you might want to book your trip online, as tours fill up quickly.
Best time to visit the Komodo National Park
The season in Komodo lasts from April until December, while the rainy season is from January through March. It's better to visit the Komodo National Park during the dry season because Komodo dragons tend to mate around August and July and lay their agues from September through November, so it's harder to spot them during those months.
Komodo National Park tour prices
Most tour operators offer group tours between $80-$120 USD per person and private tours that run all the way up to $500-600. Cheaper tours are organized in groups and have a smaller boat, while more expensive tours offer a large private boat and a longer time (up to 4-5 days for a private tour versus 1-2 days on a small boat with a group tour).
I booked my trip to Komodo National Park with My Komodo Tours, and couldn't be happier. Still, I suggest you do your research before choosing your tour company. Reading online reviews and checking social media pages of a company is always a good idea, as it provides a glimpse into what they do and what customers have to say about it.
What's included in your Komodo National Park tour package
Most tour packages to the Komodo National Park include a three-time a day meal and snorkeling equipment.
The price excludes a Komodo National Park entrance fee (500,000 IDR) which has to be paid in cash before the trip and goes to the Indonesian government. Travel insurance and tips are also excluded. You also have to pay for miscellaneous expenses such as snacks and souvenirs out of pocket.
Oh, and don't forget to tip your crew before the tour ends. They work really hard to make sure you have a great trip!
Komodo Diving Tours
Some Komodo National Park tours also include diving. If you want to see the coral reefs and rich marine wild life, make sure to research the tour packages that offer that option.
Depending on your tour, you might get a free ride from your hotel to the Labuan Bajo port where all of the boat tours depart to the Komodo National Park. Check all of the details with your tour operator ahead of the trip.
Where to stay in Labuan Bajo
Most tours to Komodo National Park start early morning between 6 and 9 a.m. Most flights to Labuan Bajo arrive during mid-day which means you have to come at least a day before your trip. While Flores is largely a rural island, there is a good number of hotels in Labuan Bajo that are located in close proximity to the main street with its stores and restaurants.
Hotel Beta Bajo
Beta Bajo is a new centrally located hotel that offers great ocean views. It is close the harbor and also boasts a pool which is perfect for cooling down during the hot weather.
La Boheme Bajo
La Boheme Bajo is a basic hotel/hostel that offers shared rooms as well as private accommodations. The property boasts delicious food in a restaurant and artsy decor.
Sylvia Beach Villa
Sylvia Beach Villa is a resort scenic resort that offers access to the beautiful sandy beach where you can see the corals and enjoy privacy.
Seaesta Hostel
During my trip to the Komodo National Park, I stayed at Seaesta Hostel, one of the best hostels I've ever seen. It has a cool design and the staff was extremely welcoming and accommodating. The hostel is on the hill and has a view of the Labuan Bajo Bay.
You can book Seaesta Hostel on Agoda.com, a great website that has tons of options for budget-friendly accommodations in Southeast Asia!
How much time to spend in Komodo National Park
Home to more than 5,000 Komodo Dragons, Komodo National Park is made up of three large islands – Rinca, Padar and Komodo, a number of smaller islands nearby.
I suggest no less than 2 days at the Komodo National Park. This means that you will have to sleep on a boat whether you book a private or group trip. This is a fun experience, as you get to see the clear sky with incredible stars and the Milky Way. Longer tours offer extended stay and stop at other islands that are less frequented by tourists such as Kanawa Island.
However, there are plenty of tour operators that offer day trips to the Komodo National Park. Your choice here really depends on how much time you have and what you want to see.
Manta Point
Swimming with incredible manta rays is a true dream come true!
One of the stops on your Komodo itinerary is called Manta Point, a spot where you can see dozens of Manta rays floating just a few feet away from you! These majestic creatures are intelligent and curious and can get quite close to you.
Komodo's Manta Point is one of the few places in the world blessed with a high population of Manta Rays because of its plankton that attracts these gentle marine animals. Unlike some species of sting rays, mantas are harmless and you can expect to swim around them for quite some time!
Padar Island
The third largest island in the Komodo National Park, Padar Island is one of the most incredible places I've ever visited. Shaped like a mysterious creature out of a sci-fi novel, Padar Island is perfect for watching a sunset and hiking in the evening. The island has a rugged terrain and is covered by the savanna between several bays. The trail on Padar Island runs from the pier and all the way to the panoramic view of the island.
PRO TIP: The hike is strenuous and will take you about 30 minutes, so make sure to bring plenty of water and a hat especially if you are hiking Padar Island during the day.
Komodo Island
Komodo Dragons can be seen year round, however, there is no guarantee that you will spot them. When I arrived at the Komodo Island, it took about 30 minutes before my group was able to spot 3 dragons laying around. Before you see the dragon, you might have to hike for a little bit around the island accompanied by the park ranger.
Rinca Island
The best place to spot Komodo Dragons in their natural habitat is Rinca Island. The place offers several hiking trails that meander through the area and will take you right past the spots where Komodo Dragons like to stay. Rinca Island is also home to many other animals such as monkeys and deer.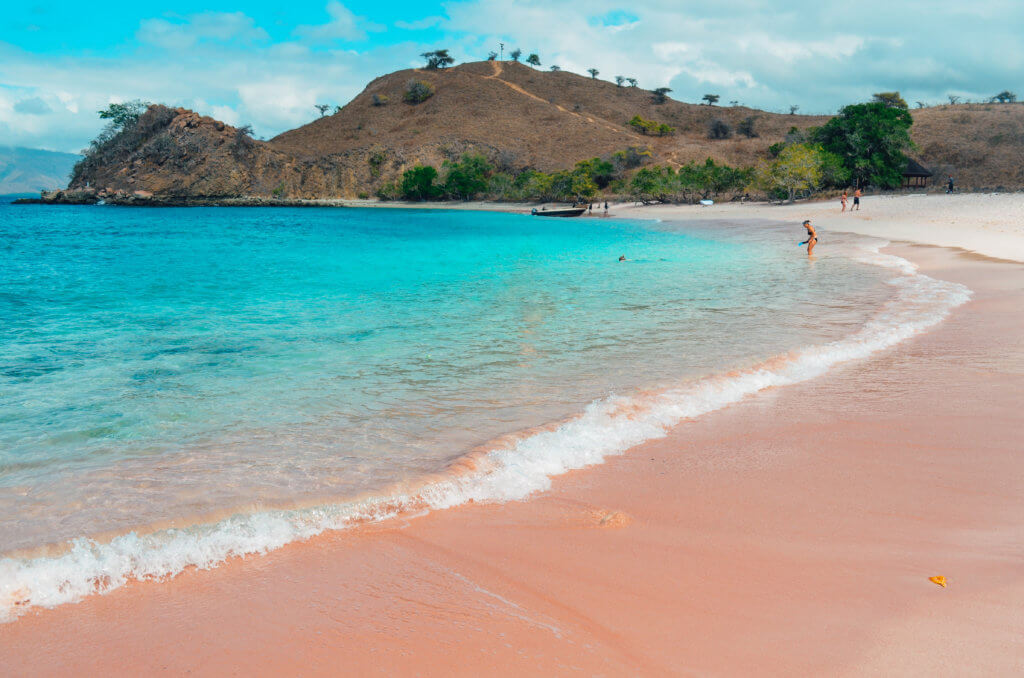 Pink Beach
One of the major draws of the Komodo National Park is the Pink Beach or Pantai Merah famous for its incredible pink color caused by the pigment in the coral reef. When the small pieces of the coral mix with the sand, it creates the magic pink color. Sadly, since corals are threatened by the warming waters as a result of the climate change, the color of the beach could go away unless the situation changes.
But Pink Beach is a perfect place for beginner snorkelers because it has very calm clear waters and beautiful coral reef.
When you go snorkeling at Pink Beach, make sure to use a special sunscreen that doesn't hurt the coral reef! You can read more about all the things you need to know before visiting the Komodo National Park on this page.
Komodo National Park is a true treasure, and one fo the top spots to visit in Indonesia. If you want to visit it, it's better to plan your trip ahead of time to avoid mistakes.
Explore Wae Rebo Village
Although Flores Island is mostly known because of its proximity to Komodo National Park, it offers many hidden gems. One of them is the Village of Wae Rebo, a UNESCO-designated site in remote Indonesia.
This village still boasts the traditional cone-shaped houses with huge roofs made of layers of palm leaves and wooden structure, a drum house as symbol of the unity of the clan and the stone altar, where the souls of the ancestors are believed to stay.
Book your 2-day trip of Wae Rebo with a professional guide and an overnight stay
If you are looking for a place off-the-beaten track, this is one of the best places to visit in Indonesia!
Disclaimer: This post contains affiliate links. At no cost to you, I might earn a small commission if you make a purchase through the links in this article.