If you are planning a trip to Costa Rica, you probably will spend a day or two in San Jose, the capital of this Central American County. While San Jose is not a top destination for Costa Rica travelers, the city and its surrounding areas offer many exciting places to visit.
One of the best day trips from San Jose is Irazu Volcano National Park, home to an active Irazu volcano at the elevation of over 11,260 feet above sea level. It is the largest and highest active volcano in Costa Rica, that last erupted in 1994. But don't worry, the volcano is absolutely safe to visit.
If you want to read more about things to do in Costa Rica, check my guide!
Why you should visit Irazu volcano?
What makes this place so special is that its moon-like landscape that has several craters. However, you can only see two of them: the Crater Principal and the smaller crater called Crater Diego de la Hoya that has a small lake at the bottom. The color of the lake changes from emerald-green to bright red!
Although the main crater can get crowded, the volcano has a total of four craters. One of the areas that are totally worth seeing is called Playa Hermosa that separates the two visible craters. It is covered with bushes and low trees, and really great for taking photos. When you get to the top, you can take a 1 km hike along the side of the crater to get a good view of it.
Irazu is often missed by travelers who come to Costa Rica, but I think it's one of the best things to do in Costa Rica exactly for that reason: it lacks the crowds of many popular destinations in the country.
What's the highest point of Irazu National Park?
The highest viewpoint of the park is located at the elevation of 3,500 meters (or 11,000 feet). It's not always possible to get a good view from here due to the clouds, but if you get lucky and visit on a clear day, you will be treated to wonderful views of the area.
The overlook is located on the left side before the entrance to the parking lot.
A brief history of Irazu Volcano
The first eruption of Volcano Irazu happened in 1723. It was documented by Diego de la Haya and one of the volcano's craters is named after him.
The word "Irazu" comes from the Indigenous word that translates as "thunder and earthquake mountain."
The most recent eruption was in 1994, but nobody knows when it will be active again. In 1963, Irazú Volcano erupted abruptly on the same day when the United States President John F. Kennedy visited.
The volcano remained active for two more years after that.
When was Irazu National Park established?
Irazu National Park was established in 1955 to preserve the flora and fauna of the area. Only a small area of the park open to the public which includes the two main craters.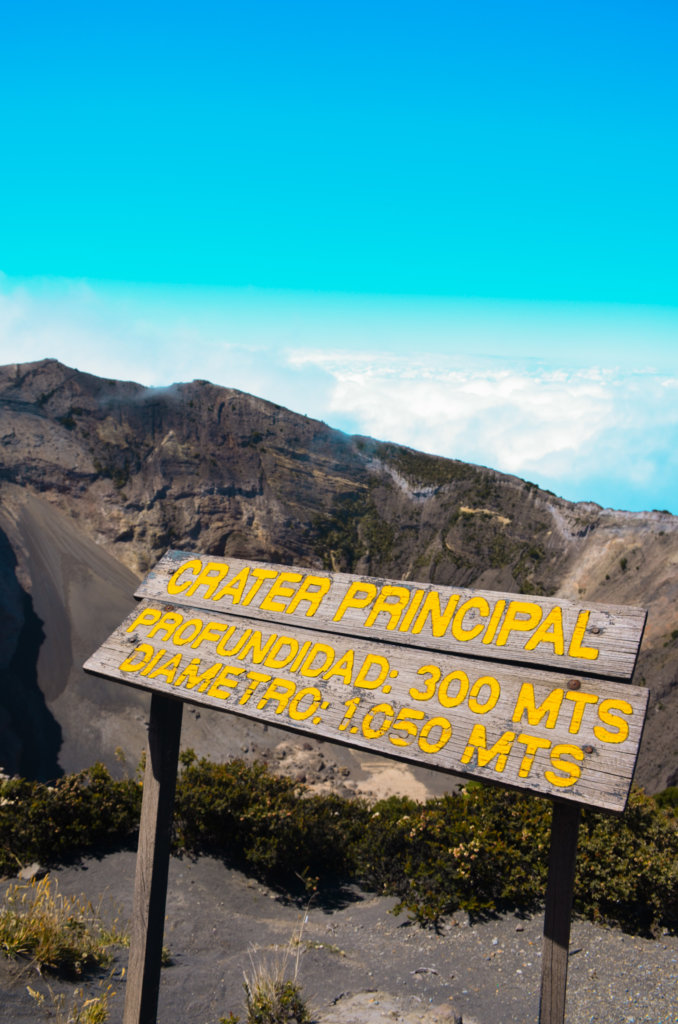 Irazu Volcano is an excellent place to visit if you want to take a break from the city, do some hiking and take in the incredible views of the volcano all without driving too far. It is located about 1,5 hours northwest of San Jose and about 1 hour northeast of Cartago, the former capital of Costa Rica.
Irazu Volcano Price And Hours
Irazu Volcano National Park is open from 8 a.m. to 3:30 p.m. every day. The entrance fee is USD 15 or 9,000 Colones (Costa Rican currency). During the high season, visitors sometimes have to wait in line before they are allowed to enter the park, as only a certain number of people are allowed into the park.
PRO TIP: You can tour Irazu Volcano on your own, or get a private tour through a website like Viator.com
How to get to Irazu Volcano from San Jose?
Visiting Irazu by car
The easiest way to get to Irazu from San Jose is by car.
Be prepared for a fun drive, as the road goes along winding and steep curves in some places. If you want to drive to Irazu, rent a four-wheel drive, otherwise, your drive can get a bit challenging. The drive to Irazu Volcano is super scenic as it opens views of the Central Valley below and take you along rolling hills and green mountains.
You can find plenty good rental cars on DiscoverCars, a great website that has many offers for different budgets.
Visiting Irazu by bus
If you don't have a car rental, you can also get on a bus to Irazu Volcano at 8 a.m. The bus stop is located near the National Theater on the south side of Gran Hotel Costa. This is the only bus from San Jose to Irazu that arrives to the park around 10:20 a.m. and leaves around 12:30 p.m.
Alternatively, you can also catch a bus to Irazu from Cartago, which is the closest town to Irazu.
Visiting Irazu with a guided tour
If you are staying in San Jose, it's also possible to visit Irazu Volcano with a guided tour. This way, you don't have to worry about catching a bus or driving your car along the winding roads, and can instead enjoy a guided tour of one of the most beautiful places in Costa Rica.
Book your guided tour of Irazu Volcano here.
Irazu Volcano directions
If you are going to visit Irazu Volcano from San Jose, head east toward Cartago, and from Cartago to Irazu Volcano National Park. Keep your eyes peeled for the turnoff to Irazu that is marked before Tierra Blanca. The total drive from San Jose to Irazu is about 40 miles (62 kilometers).



Irazu Volcano National Park price
Irazu Volcano National Park is open from 8 a.m. to 3:30 p.m. every day. The entrance fee is USD 15 or 9,000 Colones (Costa Rican currency). During the high season, visitors sometimes have to wait before they are allowed to enter the park, as only a certain number of people are allowed into the park.
Parking at Irazu Volcano National Park
Irazu Volcano National Park has a big parking lot that has enough space. The parking space is unguarded, so it's better not to leave any of your valuables in a car.
Hiking at Irazu Volcano
There is about half a mile of hiking between the Crater Principal, Playa Hermosa, Diego de la Haya and La Laguna Craters.
Where to stay at Irazu Volcano National Park
Although there are no hotels within Irazu Volcano National Park, there are many accommodations within a 20 minute drive. You can stay at Paraiso Orocay Lodge or Hotel Quelitales that offers bungalows and suites and operates with a low environmental impact. If you travel on a budget, book Casa FAMUS, a guesthouse in Potrero Cerrado that offers basic amenities and accommodations.
What to bring on your trip to Irazu Volcano
While you can visit Irazu year-round, remember to bring a jacket or some layers.
The temperature on top of Irazu is cooler than in San Jose because of the higher elevation, so you should dress accordingly. Also, you should check the visibility on a day when you are planning your trip. The area around both craters is barren and has scarce vegetation.
Ideally, you should plan your visit to Irazu for a warm sunny day, so you can see the crater and the surrounding landscapes. It's not uncommon for the volcano to be completely shrouded by the clouds, so the right weather conditions are important for the good trip. Even during the dry season which lasts from October through March, it's not uncommon for the volcano can still be pretty cloudy.
PRO TIP: If you have time, combine your visit to Irazu with a visit to Cartago, a former capital of Costa Rica located to the east of San Jose. In Cartago, you can visit some landmarks and learn about the history of Costa Rica.

Things to know before visiting Irazu Volcano
There are plenty of facilities at Irazu – Although Irazu doesn't have any stores, it has bathrooms, picnic tables and a place where you can get food and drinks.
Bring plenty of water – Since Irazu is located at a higher elevation, it might take you some time to get used to it, especially, if you are more used to a lower altitude. If you plan on hiking at Irazu, make sure to bring water and some snacks.
Check the weather – When you enter the park, always ask if the volcano is clear of the clouds before you pay.
Put on plenty of sunscreen – When you are hiking at Irazu, you are not that far from the equator, and the sun is really strong. You can quickly get a sunburn even you don't spend a lot of time outside.
Wear comfortable clothing and good hiking shoes – Make sure to bring some layers in case the temperature is cool. And don't forget to put on a hat to save yourself from the strong sun.
Watch out for coatis – Native to Central America, these little guys are attracted to food and not always afraid of people. If you sit down at one of the tables, you might see them roaming around. Don't give them any food because it actually can make them lazy and cause to lose their hunting skills. It also can cause harm to them, as people's food is simply not for them. 
PRO TIP: Since the area of both craters is pretty barren, you probably don't expect to see any animals at Irazu. However, Irazu is home to many different animals such as coyotes, squirrels, and rabbits among others.
Have questions about how to plan your visit to Irazu volcano? Please let me know in the comments.
Final thoughts on visiting Irazu Volcano
If you want to see a different side of Costa Rica, I highly recommend including a stop at Irazu on your Costa Rica itinerary. It's a gorgeous place away from the popular travel route where you can enjoy the gorgeous views and relax before continuing your trip around the country.
Disclaimer: This post contains affiliate links. At no cost to you, I might earn a small commission if you make a purchase through the links in this article.