Disclaimer: This post contains affiliate links. At no cost to you, I might earn a small commission if you make a purchase through the links in this article.
Ice Lakes Basin is one of the most beautiful hikes in Colorado. The trail has become especially popular in recent years as many visitors come to Southwest Colorado to enjoy its unspoiled nature and outdoor opportunities.
The trail leads to Ice Lake and Island Lake, and although it attracts many visitors, hiking it requires some knowledge and proper physical shape among many other things. 
✅ Read: Best activities for each season in Colorado
This article will help you prepare for hiking to Ice Lakes trailhead and enjoy your time!
Ice Lakes Colorado: A brief description
Ice Lakes near Silverton is a challenging hike and shouldn't be taken lightly. Located in the San Juan National Forest, the trail has a whopping 3,000 feet of elevation, which is equivalent to climbing two Empire State Buildings!
Distance: 7.0 miles to Ice Lake; 8.4 miles to Island Lake (round trip)
Difficulty: strenuous
Elevation: 9,840 feet at the beginning of the trailhead
12,270 feet at Ice Lake
12,392 feet at Island Lake
Elevation gain: 2,430 feet to Ice Lake
2,552 feet to Island Lake
Where is Ice Lakes trailhead?
The Ice Lakes trailhead is located in Southwest Colorado near Silverton, a former mining town, and one of the best places to visit in Colorado for backcountry hiking, camping and off-roading.
The Ice Lakes Basin Trail begins near the parking lot across from South Mineral Campground. The area is within the Columbine Ranger District of San Juan National Forest.
How to get to Ice Lakes trailhead?
The easiest way to get to Ice Lakes is from Silverton. It's a great stop on your Colorado itinerary, as it's different from other Colorado mountain towns like Durango, Ouray, and Telluride and looks like one of the places on the final frontier.
Ice Lake Colorado directions
To get Ice Lakes from Silverton, take U.S. 550 aka Million Dollar Highway and after about 2 miles, turn on First Road 585 (South Mineral Road). From the turn-off, follow the well-maintained dirt road for 4.4 miles before arriving at South Mineral Campground. This road is suitable for two-wheel drives, but make sure to avoid potholes.
The Ice Lakes trail starts at South Mineral Campground and there's a small parking lot nearby.
Why you should follow the rules when hiking Ice Lakes trailhead
The Forest Service close Ice Lake hike in October 2020, after the human-caused Ice Fire destroyed 596 acres in the area. Don't do campfires in the Ice Lakes Basin if you camp there, as any unattended fire or even a cigarette thrown on the ground can have devastating consequences.
First Part of the Ice Lakes Hike
The first portion of the hike begins at the trailhead near the meadow across the road from the South Mineral Campground and quickly enters the wooded area with many switchbacks along the way.
👉 Read: Best Lakes in Colorado that you need to visit
As you keep going forward you will enter the area that was damaged by the 2020 man-made fire with many burned-out trees. Here you can also see a nice waterfall and come up closer to get a better look.
During the first portion of the hike, the trail has a steep incline and climbs about 1,600 feet, as you get to see a mix of the forest and wildflower-dotted alpine meadows.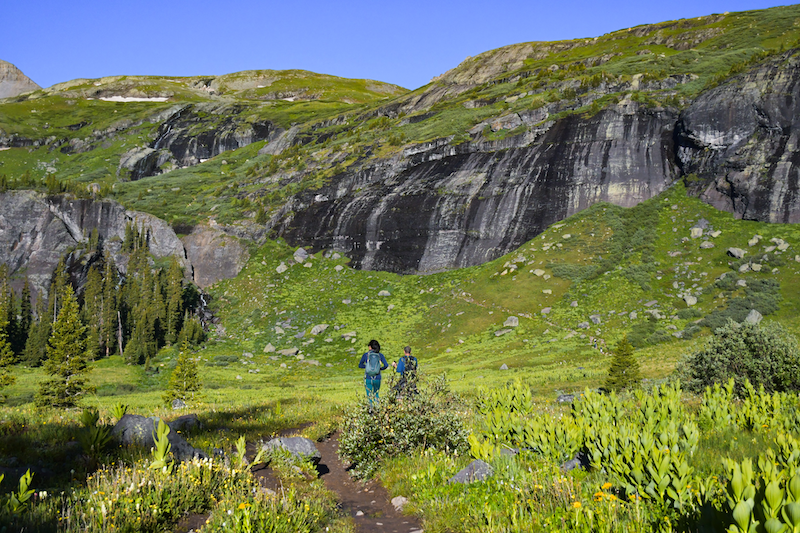 Second Part of the Ice Lakes Hike
The second part of this hike begins after 2.3 miles when you arrive at the Lower Ice Lakes Basin and the trail starts to get more flat. The area is dotted with many wildflowers and creeks and makes for perfect photo up.
It's popular for camping, since it's sheltered from the weather, and many hikers spend the night here.
After the basin, you have about a mile left and will need to cross the creek to conquer a series of steep switchbacks with an elevation gain about 1,000 feet before you arrive at Ice Lake.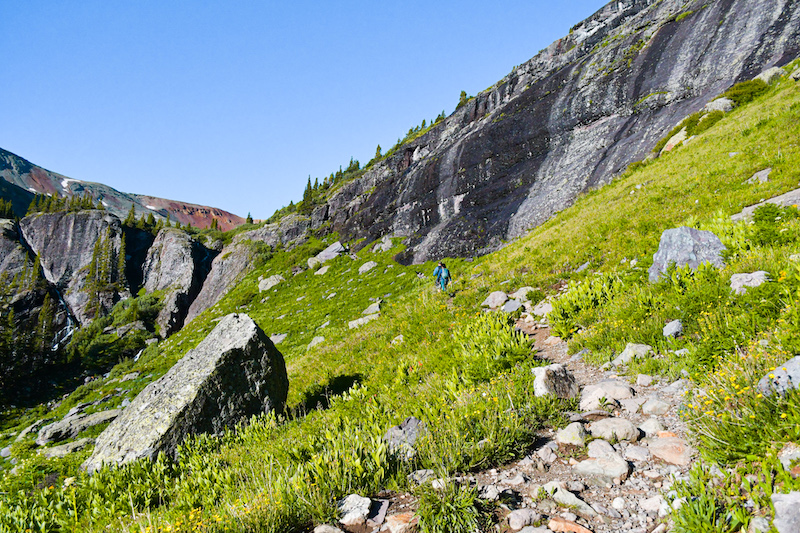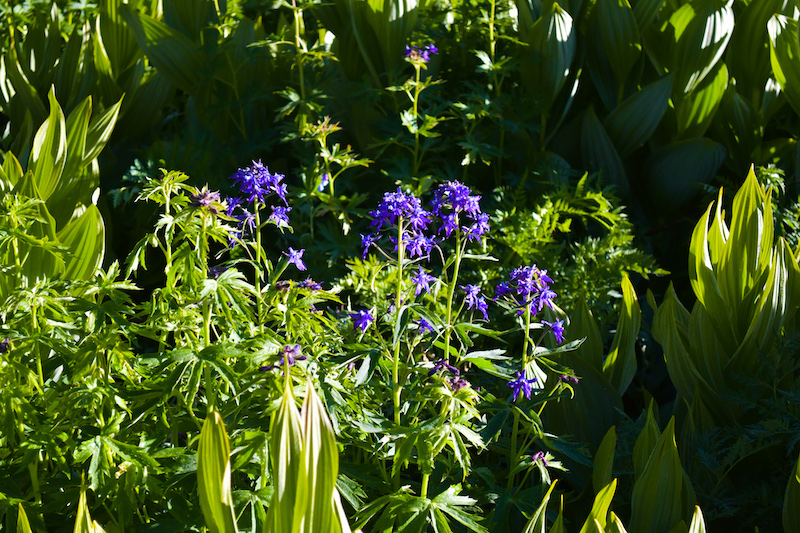 GOOD TO KNOW: If you want to see the alpine wildflowers, it's best to do the Ice Lakes hike from mid-July through August when they come out in the full display.
After you get through the switchbacks, the trail will start to level off and you will see the amazing color of Ice Lake surrounded by the bright wildflowers. This scenery creates one of the most beautiful places in Colorado, and you will quickly realize that it's worth all the hard work.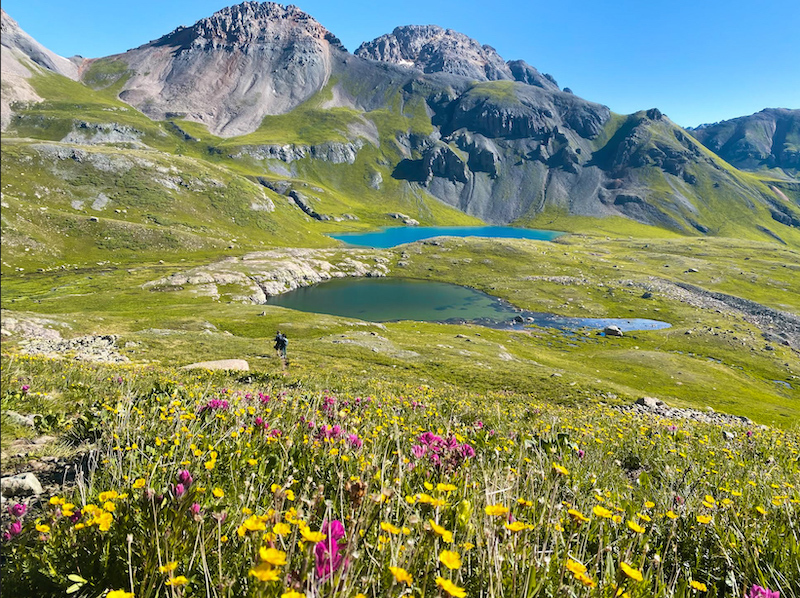 What to know about Ice Lakes trailhead?
The Ice Lake sits above the Ice Lake Basin, and you need to conquer a series of steep switchbacks to get there, but the view is well worth it, as you get to see the amazing aquamarine lake with the small rocky island in the middle.
Ice Lake is located at the base of the huge ridgeline and is surrounded by a group of 13,000-feet mountains including Fuller Peak, Vermillion Peak, Grant Peak, and Pilot Knob.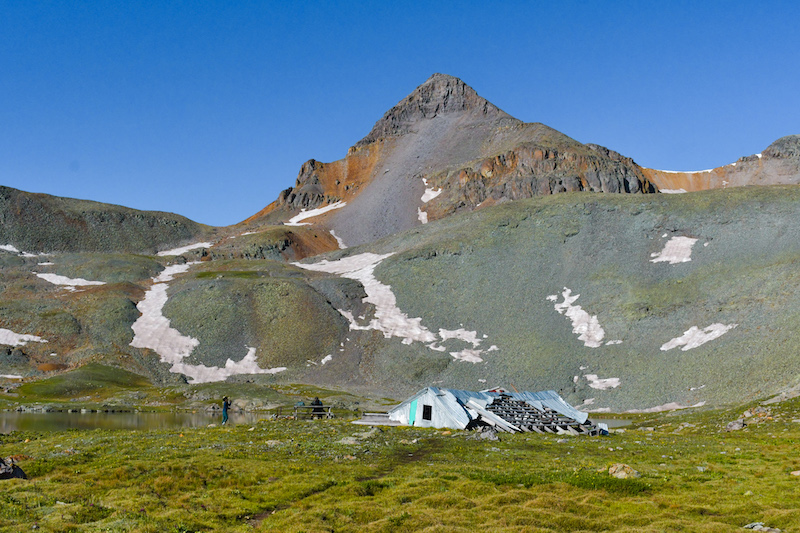 Fuller Lake
When you arrive at Ice Lake, you will see a fork: to the left is the trail that goes to Fuller Lake for about 1,75 miles and gains about 335 feet. While Fuller Lake doesn't have a spectacular blue color like Ice Lake and Island Lake, it has a picnic table and a collapsed mining structure and offers more solitude since fewer people come here.
The right fork goes to Island Lake, which is the main attraction of this area.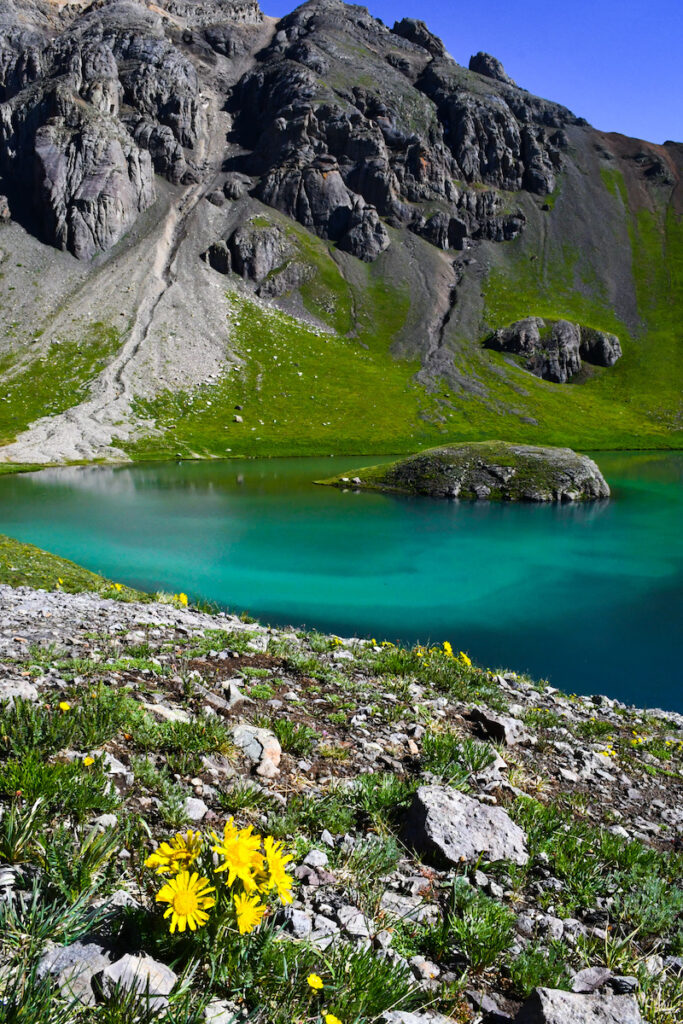 Island Lake
A side trip to Island Lake to the northeast adds about 1.12 miles round trip and 130 feet elevation gain. This lake with a small rocky island and is surrounded by U.S. Grant Peak.
How long is Ice Lakes hike?
The Ice Lakes hike is about 3.75 miles one way, but don't expect it to be a breeze: This is a challenging trail (and probably one of the most difficult non-technical hikes in Colorado) that requires a very good physical shape. For most people, it takes between 4-5 hours to complete the Ice Lakes hike.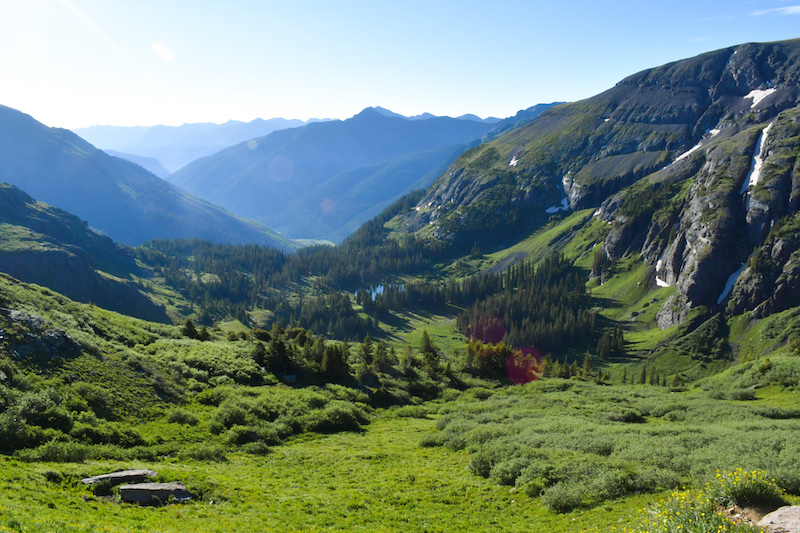 How to get back down from Ice Lakes?
If you want to go back down after stopping at Island Lake, you can go back to Ice Lake and make your way down the same way you came up or follow the trail to the lower basin that starts below Island Lake.
Follow the trail and stay to the left of the basin. Depending on the time of the day, you might see some hikers along the way, but keep in mind that this is a very steep trail and you need to descend with caution.
Do I need a permit to hike Ice Lakes Colorado?
No. Ice Lakes trailhead doesn't require a permit (although it is currently being considered to minimize the impact on the area) and is open to everyone. That being said, there are a few things to consider before getting on a trail.
Things to know before hiking Ice Lakes
High altitude – If you come from a place located at sea level, hiking Ice Lakes could be very challenging simply because they are located at a high elevation. I suggest doing a couple of easy and moderate hikes in Colorado to get used to the altitude change before attempting the Ice Lakes hike.
Physical challenge – Ice Lakes hike is very challenging. Most of the time, you will be going uphill with only a handful of flat sections. If getting to the top is your goal, you should prepare with some physical activity before this hike.
Lack of amenities – When you are hiking Ice Lakes, you are in the wilderness. There is no cell phone service, no restaurants, and no bathrooms, which means you need to bring everything you need.
Signs of altitude sickness
If you are new to Colorado, it's not uncommon to experience altitude sickness especially if you head to the high country without properly acclimatizing.
Altitude sickness can happen at an altitude as low as 8,000 feet and should be treated seriously.
If you have signs of altitude sickness, stop the hike, drink as much water as you can, have a snack and take a break. Since altitude sickness can lead to hospitalization, you should evaluate the situation and potentially descend to a lower altitude to avoid serious trouble.
Headache or nausea
Dizziness
Vomiting
Shortness of breath
Swollen hands and feet
Bad stomach
Ice Lake Basin camping
if you want to camp near Ice Lake trailhead you can stay at South Mineral Campground, or other campgrounds down the road. You can also camp in the wilderness in the Lower Ice Lakes Basin which has plenty of trees and is perfect to escape the weather elements, unlike the upper basin which is located above the tree line.
Why you shouldn't camp near Ice Lakes
You might see some people pitching their tents close to the lake, but this is a very bad thing to do since it damages the alpine tundra and all the plants which could take many years to grow back. There's also no tree coverage and you will have nowhere to hide if there's a thunderstorm.
Ice Lakes camping is an amazing experience as you get to spend in the wilderness and enjoy clear dark skies full of stars, but there are a few things to remember before you start doing it.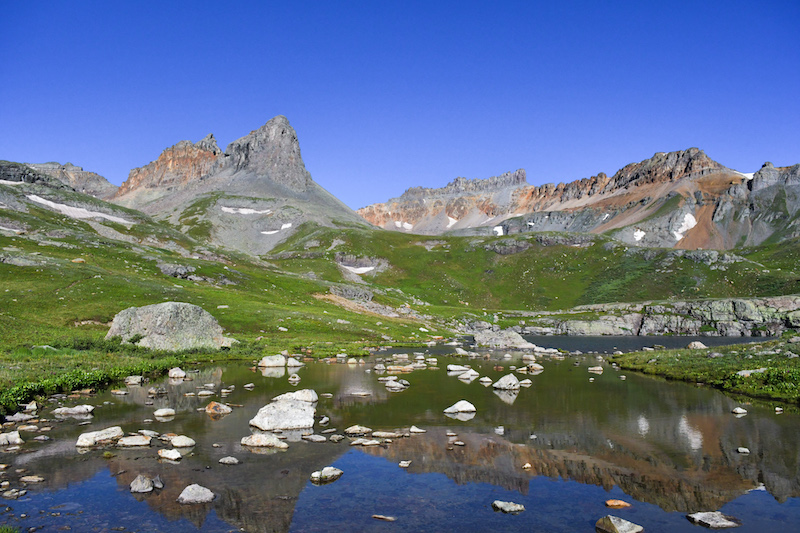 Ice Lake Colorado Camping: tips
Check the weather – I can't stress enough how important good weather is for doing this hike. Hiking on a rainy or even gloomy day makes little sense since you will not see the gorgeous lakes with the bright sun and the blue skies above. Hike Ice Lakes when the skies are sunny and clear.
Bring enough water – the Ice Lakes hike will take you through some of the most remote wilderness you will see. Make sure to bring enough water to avoid dehydration and altitude sickness. A water filter is also a good idea, as you will be able to fill up your bottle in many creeks along the way.
Pack and pack out – This is a popular trail and you must follow the leave no trace principle.
Don't do fires! – This should be clear, but Lower Ice Lakes Basin where you can camp is simply not a place to do campfires.
Prepare to be self-sufficient – Having enough water, snacks and proper gear is paramount since you will be essentially on your own with no cell phone service and miles away from any help.
Download an offline map (All Trails App) – If you have never done an Ice Lake hike before, download an offline map, or get an All Trails App which will help you to make sure you stay on trail even when cellphone service disappears.
What to bring on Ice Lakes trailhead
Water and snacks – you will need to refill along the way since this is a challenging hike
Water filter – water filter is a great thing to bring on this hike since you will be able to refill fresh alpine water in many creeks along the way.
Sunscreen – the sun is strong at high altitudes, so you can, especially if you are hiking during mid-day.
Sunglasses – protect your eyes with good UV-proof sunglasses.
Good shoes – having good hiking shoes with solid grip is paramount for this hike
Headlamp – if you are starting this hike in the morning when it's still dark, bringing a headlamp is a good idea, as you will need to navigate the steep trail
Layers – wear multiple layers because you will get very hot after doing an uphill climb before arriving at the Ice Lake which is more exposed and can be windy
A day pack – a good day pack is your best friend since it can hold all your food, water, and hiking gear
A hat – wear a hat if you hike in the morning, as it can be chilly. It can also be a bit windy at the top, so you will need something warm
A waste bag – This is self-explanatory
Bear proof bags/containers – When you are hiking to Ice Lakes, you can spot all kinds of wildlife, including bears. Make sure to put your food and snacks away in special containers that prevent the smell from attracting the bears.
When to begin your hike to Ice Lakes:
Although the secret is out and more people are coming to see the majestic Ice lake, it's still possible to enjoy this place without the crowds.
Start your Ice Lakes hike no later than 7 a.m. This way you can take your time on the way up and enjoy the majestic mountain views before everyone else starts hiking. In summer, the parking lot near Ice Lakes trailhead gets full by about 8 a.m., so if you arrive later, you might have to park on the side of the road.
Things to know before hiking Ice Lakes
Avoid afternoon storms – Colorado has frequent afternoon storms in summer, which is why you should start this hike as early as possible, especially if you are a slow hiker. You don't want to be caught up at the high altitude when a storm rolls in.
The 2020 fire damaged the trail – Unfortunately, the human-caused fire has damaged the trail in 2020, and as you begin your ascend in the first portion of the hike, you can see the burned-out forest. This is a huge scar on this gorgeous trail and a reminder that you shouldn't smoke cigarettes or use matches or lighters when doing this hike.
Exercise hiking etiquette – This is a popular trail and you should be aware that everyone has different hiking levels. Give way to other hikers who are faster than you and get around slower hikers by asking them to let you go forward.
Stay on the trail – The ice lakes hike passes through the fragile tundra and you can easily damage delicate flowers and plants if you get off-trail.
Don't leave small bags with your dog's waste around – Just DON'T. It's gross and it doesn't biodegrade.
Ice Lakes Colorado: FAQ
Why hike Ice Lakes Silverton?
Besides the stunning aquamarine color of the upper and lower ice lakes, hiking Ice Lakes is a good opportunity to test your physical strength. It's an excellent challenge and an opportunity to see one of the most scenic places in Colorado!
How tall is Ice lake Colorado?
Ice lake sits at the altitude of more than 13,000 feet surrounded by majestic peaks and stunning alpine meadows that get dotted with bright wildflowers in summer.
Can you swim in Ice Lake Colorado?
If you are feeling adventurous, you can swim in Ice Lake Colorado, but be prepared for frigid water, because it's an alpine lake, which means it stays cold year round.
Can I bring my dog to Ice Lakes?
When hiking to Ice Lakes near Silverton, you will see many people with dogs.
While you can bring your dog on a trail, keep in mind that this is a tough hike, and it might be better to leave Fido at home. If you do, remember that you can unleash your dog only in certain areas. And pretty please pick up the waste after your dog and don't leave bags with dog waste around the trail.
What is the best time to hike Ice Lakes Colorado?
The best time to do the Ice Lakes hike near Silverton is from July through August. By this time, the snow is gone, the temps are mild and you also get to see the colorful wildflowers along the way.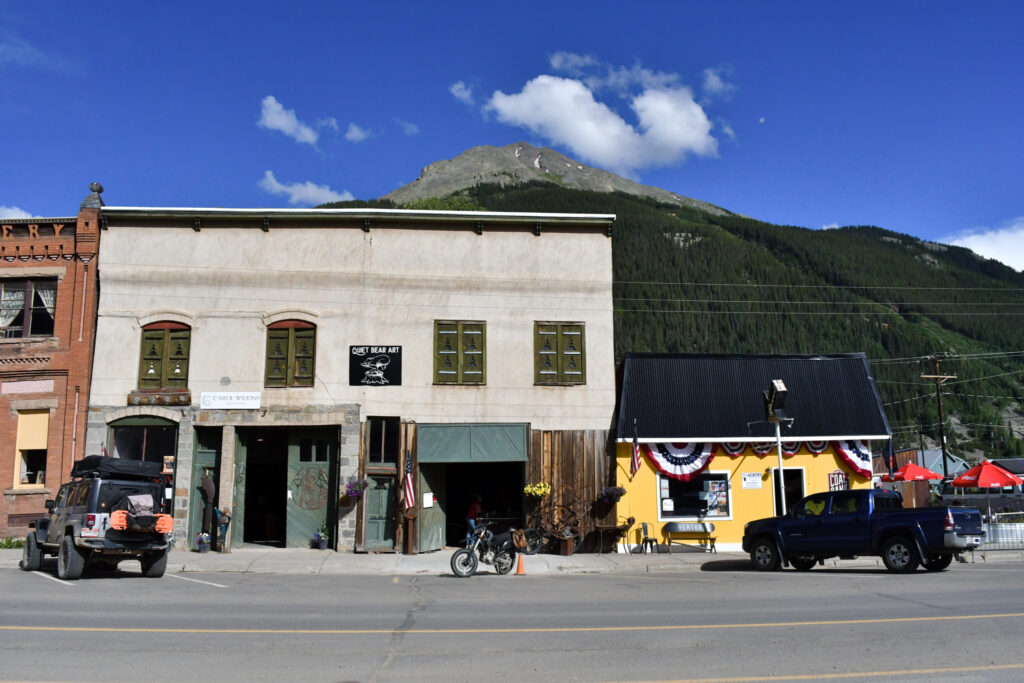 Other cool hikes in Silverton
If the Ice Lakes hike is too busy for your taste, try Columbine Lake, another demanding trail that leads to a gorgeous alpine lake. This is a spectacular hike that is nowhere near as crowded as the Ice Lakes trail, so if you are looking for more solitude, give it a go.
Is Silverton safe?
Yes! Silverton is a small town in southwest Colorado with a Colorful mining history. After doing the Ice Lakes trail, spend a day or two in Silverton exploring its stunning backcountry, learning about its past, and sampling delicious food from local restaurants.
Where to stay in Silverton
Renting a car for your trip to Ice Lakes near Silverton
Southwest Colorado is one of the most beautiful parts of the state but it has virtually no public transportation, which is why you will need to rent a car for your trip. DiscoverCars is my favorite platform for renting cars and you can choose from many vehicles at reasonable prices.
👉 If you are flying to Denver, read my guide on how to rent a car in the Mile High City
Ice Lakes Colorado: Final Words
The magnificent views you will get to enjoy are worth all the sweat and hard work that you have to do to get here! Ice Lakes is an incredible area located in the wilderness, and this is the kind of experience you won't get in many other places.
Other cool places to visit in Colorado
If you are continuing your Colorado Road trip after Ice Lakes Hike, check some of my articles which will help you to plan your adventure: