Santa Barbara is one of my favorite places to visit in California. 
It boasts postcard views, Spanish Colonial architecture and wide sandy beaches that are perfect for watching those famous California sunsets. 
Although this city is relatively small compared to its big southern neighbors, Los Angeles and San Diego, there are so many awesome things to do in Santa Barbara that it could take up a few days and even longer.
So, instead of making Santa Barbara a pit stop on your California road trip itinerary, try to spend a few days in this gorgeous town. 
In my blog post, I'll tell you how to make the most our of your time.
Santa Barbara is just over 90 miles from Los Angeles, about 218 miles from San Diego and about 325 miles away from San Francisco. 
Santa Barbara airport also offers daily flights from many locations in California and other West Coast cities such as Las Vegas, Phoenix and Salt Lake City. 
PRO TIP: Another option is to arrive to Santa Barbara by Amtrak. The railroad traverses through the city and from Santa Barbara you can get to Los Angeles and San Francisco via train. 
Amtrak station in Santa Barbara is located at 209 State Street.
1. El Presidio de Santa Barbara State Historic Park
I recommend starting your trip with a visit to the city's most prominent historic landmark in Santa Barbara downtown. The presidio is a former military settlement that was built by the Spanish in 1782 to protect their military district in California. 
Today, it's a popular tourist attraction that consists of an archaeological zone and a museum. While two buildings of the Presidio have been restored, the El Cuartel building is one of the two old remaining parts (another part that has survived to this day is Canedo Adobe). 
Other parts of El Presidio that are fun to explore are called Comandancia, the Padre's Quarters and old Leutenant rooms. 
FUN FACT: El Cuartel is one of the oldest buildings in California and the oldest building in Santa Barbara.
[convertkit form=1866577]
El Presidio de Santa Barbara State Historic Park is located at 123 E. Canon Perdido Street, Santa Barbara. It is open from 10:30 a.m. to 4:30 p.m. 
2. Old Mission Santa Barbara
One of the 21 Spanish missions in California, religious outposts that were constructed in coastal areas of the state, Santa Barbara mission stands out because of its pastel colors. 
Situated against the backdrop of the Santa Ynez mountains, the mission is one of the major historic and cultural landmarks in Santa Barbara. 
While the original chapel was destroyed during the earthquake in 1812, the church that you see today was reconstructed by the Native American Chumash in 1820.
Old Mission Santa Barbara is located at 2201 Laguna St, Santa Barbara. The entrance costs $12 and includes access to the museum and the historical La Huerta Garden nearby. The mission is open every day from 9 a.m. to 4:15 p.m.
3. Santa Barbara County Courthouse
If you want to get an amazing overlook of the city and learn some of Santa Barbara's history, visit Santa Barbara County Courthouse, a National Historic Landmark that is often called one of the most beautiful government buildings in the United States.
This gorgeous courthouse sits right in the heart of downtown Santa Barbara. Throughout the building, you will see many example of the Colonial Spanish style such as hand-painted walls and ceilings, ornate tiles and rich decorations. 
When you take a tour of this historic building, you will see why it's one of the top things to do in Santa Barbara! 
The entrance to Santa Barbara County Courthouse is free. All you need to do is to take an elevator to the top of the El Mirador Tower that has an observation platform. 
After taking in the views of the city at the foothills of Santa Ynez mountains, check out the intricate murals, furnishings and other parts of the interior. 
Santa Barbara County Courthouse is located at 1100 Anacapa Street. 
State Street is a major thoroughfare and the top place for shopping and dining where you can find the best Santa Barbara restaurants. Here you will also find the entrance to Paseo Nuevo, a beautiful outdoor shopping mall that is home to local boutiques, big retail chains and eateries for every taste and price point. 
Paseo Nuevo is located at 651 Paseo Nuevo.
The Chromatic Gate is a perfect place to snap a colorful photo for your social media. The gate sits right next to the beach, and the background is no less than spectacular!
And if you are looking for another cool shot to share with your social media fans, look for colorful tiled stairs that can be found in many places in downtown Santa Barbara. The most famous of them adorn the stairs of the Paseo Nuevo.
No trip to Santa Barbara is complete without visiting a beach. 
The tranquil East Beach is just across from Chromatic Gate. Separated from West Beach by the Stearn's Wharf, East Beach is a popular place for beach volleyball, and you can often see the games near the Cabrillo Pavillion.
The best thing about this beach is that it's not as crowded as many other beaches near Santa Barbara. Besides playing volleyball, you can enjoy picnicking, sunbathing and swimming. 
PRO TIP: Head to Santa Barbara Harbor where you can take a 2-hour kayak tour and enjoy the palm-fringed coastline of the American Rivera!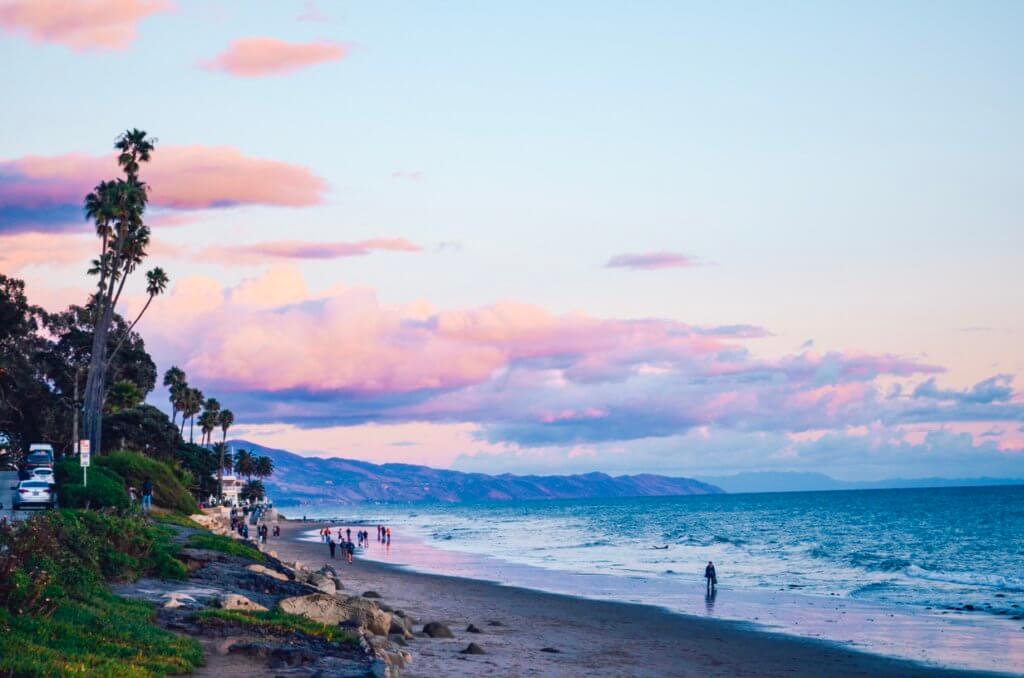 Located in the upscale Montecito, Butterfly Beach is one of the most popular places near Santa Barbara. 
Here you can swim, surf and enjoy the idyllic atmosphere. Montecito is also a home to many rich and famous people, so there's a chance you could spot a celebrity here. 
Santa Barbara has some of the best surfing conditions along California's Central Coast for beginning surfers, and Butterfly Beach is that place! 
And if you have never surfed before, you can even take a surfing lesson.
The point breaks here are calm and long enough for surfers to catch all the power and get to the shore!  The best chance to catch a wave is winter. 
If you are not into surfing, you can try kayaking, SUP or paddleboarding. 
To get to Butterfly Beach, take a drive on Highway 101 and get off at Olive Mill Road. As you continues driving, Olive Mill Road will become Channel Drive and will lead you all the way to the shoreline.
If you want to get away from the city but don't want to drive too far, take a trail to Inspiration Point, one of the best hikes in Santa Barbara. It's located about 1,800 feet above the coast in the Santa Ynez Mountains and makes for a decent workout. It also opens sprawling views of the ocean and the entire city of Santa Barbara. 
There are a few ways to reach Inspiration Point, however, I suggest taking a shorter route (3.5 miles) that will take you from Tunnel Road to the Jesusista Trail. The hike is rated as moderate and takes about 1,5-2 hours to complete. 
Before you leave, make sure you have enough water and some snacks. And don't forget to wear comfortable footwear as the trail has a few rocky patches after it starts with a paved entrance. 
PRO TIP: The entrance to Inspiration Point begins behind Old Mission Santa Barbara, so it's a good idea to combine the two. I recommend arriving to Mission Santa Barbara early in the morning and then proceed to the trail before 10 a.m. because the hike is very popular and parking spots get full quickly. 
Create a perfect outfit for your Santa Barbara trip!
9. Santa Barbara Funk Zone
Funk Zone is a popular place in Santa Barbara because of its rich art scene. 
Although it used to be a part of the city's industrial zone, it quickly changed after a number of street artists came to the area and painted numerous graffiti on its walls. Now it's a hipster mecca with a thriving art scene, trendy bars and hotels. Here you can take photos of murals, have a good time and enjoy a nice atmosphere.
10. Channel Islands National Park
One of the best day trips from Santa Barbara is the Channel Islands National Park. 
Known as the Galapagos Islands of the North America, this place is home to many rare and endemic species that can't be found anywhere on the planet – a result of thousands-year isolation from the mainland. During warmer months, Channel Island National Park offers plenty of opportunities for outdoor recreation such as kayaking, camping and hiking.
PRO TIP: While you can go kayaking on your own, I recommend hiring an experienced tour guide as tides and waves can be unpredictable especially inside the caves. 
There is a number of companies that offer Channel Islands kayaking options. 
How to get to Channel Islands National Park
Channel Islands National Park is made up of five islands, and exploring all of them could literally take you weeks if not months. 
Most boat tours depart to Channel Islands from Ventura Harbor where the Channel Island National Park is also located. But don't confuse Ventura with Santa Barbara as they are two separate cities, and it will take you between 30 and 40 minutes to get from Santa Barbara to Ventura via Highway 101. 
When I visited Channel Island National Park, I used the operator called Island Packers tour company which is located right next to the harbor. You can look at their schedule and boat tours to all of the islands within Channel Island National Park. 
Another option is to book a private tour of Channel Islands.  While sailing on an individual yacht through the Pacific is no doubt a cool experience, it comes with a hefty price tag. 
Santa Barbara is not a cheap place to visit, however, you can still find affordable hotels in Santa Barbara, if you look for them early on ahead of your visit. 
Here are a couple of options for accommodations in Santa Barbara from budget-friendly to five-star resorts along the beautiful Pacific Coast.
Californian is one of the most popular hotels in Santa Barbara, and it's not hard to see why. Located a few steps away the beach, it boasts sweeping views of the coastline and the Santa Ynez Mountains. The property features oriental designs and Spanish Colonial architecture. 
If you don't mind going on a splurge, Ritz Carlton Bacara is your place! 
This gorgeous property built in the Spanish Colonial Style is facing the coast and it's all about scenery and relaxation. But that's not everything: guests enjoy the big spa area, multiple restaurants with ocean views and a long sandy beach. 
Beachside Inn is a budget-friendly hotel with a great location: It sits across from Santa Barbara Harbor and about 5 minutes from the beach. You will also find several restaurants in the area. 
Need a place closer to downtown? Hotel Santa Barbara is a gorgeous historic property in the heart of the city within walking distance from major landmarks, tons of restaurants and stores. This is one of the best hotels in Santa Barbara if you don't want to drive around and want to be in the center of action!
Bonus: Barbara Wine Country
There are plenty reasons to visit Santa Barbara. 
The city boasts perfect weather year-round and you will never run out of things to do, whether you are into culture, outdoors or fine dining. 
From the rich colonial heritage to the beautiful post card views and relaxing vibes, there are countless reasons to make Santa Barbara your next travel destination. 
Disclaimer: This post contains affiliate links. At no cost to you, I might earn a small commission if you make a purchase through the links in this article.