Disclaimer: This post contains affiliate links. At no cost to you, I might earn a small commission if you make a purchase through the links in this article.
Why is Tulum so expensive?
If you have seen the images of the gorgeous white-sand beaches, boho hotels, and crystalline cenotes, you are probably wonder how much money you need to set aside to afford this paradisiacal destination.
Tulum is one of the most expensive places to visit in Mexico Caribbean with thousands of visitors flocking to discover its natural treasures, enjoy authentic Mexican food 🌮 and soak up the sun ☀️
While you could spend a few thousands dollars on some of the best hotels in Tulum, dining and tours, you can also visit Tulum on a budget. Read on to find out about how you can visit this popular beach town without breaking your bank 💰
How expensive is Tulum?
Tulum can be as expensive or as cheap as you want to it to be. For example, Downtown Tulum has many budget accommodations like Ariche Hostel or Kaab Hotel where you can stay for less than $50 USD per day.
Likewise, you can enjoy delicious street food in Downtown Tulum for 20 Pesos per taco, or eat in some of the most expensive Tulum restaurants like Rosa Negra, Taboo or Arca where you can try elaborate dishes, and pay up to $20-30 USD per meal for one person.
Finally, you can book one of the best Tulum tours to places like Sian Ka'an Biosphere Reserve, Coba or Chichen Itza. And if you don't want a tour, you can visit some of them by renting a car or catching a bus from the main bus station in Tulum.
Airfare to Tulum
Tulum is on track to have its airport open in 2023, but for now the closest transportation hub to Tulum is Cancun International Airport (CUN) about 81 miles (131 kilometers) away ✈️ The price of airfare to Cancun depends on the season and your destination. Tickets during the high season (December through March) are considerably more expensive than tickets during the low or shoulder seasons.
How to find cheap airfare to Tulum
👉 Book your tickets ahead of time so you can avoid spending extra money where you don't have to. Skyscanner is an excellent platform for finding cheap airfare. I always use it to find great deals to ticket prices to Mexico and beyond and highly recommend it!
Hotels in Tulum
Why is Tulum so expensive? Tulum has some of the most expensive hotels in Mexico, but while a place to stay will likely take a chunk of your budget, you don't need to spend all your money on accommodations.
😉 Read my complete guide on where to stay in Tulum for any budget
Tulum has a great variety of hotels that range from no-frills hostels where you can stay for as low as $20-30 USD per night to some of the most beautiful hotels in Mexico like Azulik, Ahau and Nomade that boast gorgeous boho chic aesthetic and stunning views of the Caribbean.
Most of the luxury hotels in Tulum are located in Zona Hotelera (Hotel Zone), while Downtown Tulum is popular with backpackers and long-term travelers.
✅ If want to treat yourself, book a stay in one of the best beachfront hotels in Tulum where you can enjoy top-notch services, on-site restaurants, special events, yoga sessions all while soaking up the gorgeous views right outside your window!
Restaurants in Tulum
Tulum has a good variety of restaurants from hole-in-the-wall eateries in Downtown Tulum where you can eat inexpensively to upscale restaurants catering in Tulum beach zone. Whether you want to eat Mexican food, grab a breakfast or go for some Asian food in Curry by Po Thai, you will not run out of options 😋
An average, expect to spend at least $15-20 USD per day on dining out in Tulum per person. Keep in mind that many sit-down Tulum restaurants have higher prices than food trucks or street vendors that you can find around Tulum. 
Always carry cash with you when dining out in Tulum. While some restaurants accept credit cards, others operate on cash. Generally, it's a good idea to have 200-300 Pesos (10-15 USD) on you at all times.
✔️ To have a safe trip and avoid mistakes Tulum, check my Mexico travel tips that will help you learn the culture and have a better experience while visiting the country.
Beach clubs in Tulum
Tulum has many amazing beach clubs in Tulum Hotel Zone where you can enjoy food and drinks, grab a sun lounger and soak up the sun. Many of the Tulum beach clubs also have frequent events with live music, yoga sessions and Mayan ceremonies.
While the cost of Tulum beach clubs ranges, you can expect to pay anywhere between $30 USD to $150 USD for a day that includes access to the area with a pool and lounging, and gives you credit for food and drinks.
Here are some of the most popular Tulum beach clubs:
Habitas
La Zebra
Papaya Playa Project
Mia Restaurant and Beach Club
Casa Malca
Nomade
Guided Tours in Tulum
Tulum is located in Rivera Maya, a region that's famous for its stunning beaches, Mayan ruins, cenotes (freshwater sinkholes where you can swim and snorkel 🤿) and wonderful biodiversity.
While you can visit some of these places on your own, a guided tour is a great option if you want to have a better contact on the local history and learn about the Maya civilization that once called this region home. You can choose from many Tulum private tours or join a group tour of Tulum cenotes, which will give you a basic introduction to the treasures of the Yucatan Peninsula.
Most popular tours from Tulum
Expect to pay anywhere from $30-70 USD for a group tour and from $60-150 USD for private tours in Tulum. The price fluctuates depending on the package, time of the year and the distance from Tulum. Tours that include stops in several places like Coba Ruins and cenotes will cost more than a tour of Tulum ruins.
CLICK HERE TO BOOK A POPULAR FOOD TOUR WITH A LOCAL IN TULUM
The biggest advantage of guided tours from Tulum is that they take care of all the fees and logistics, so you don't have to worry about catching a bus and paying for the entrance ticket.
Here are some of the most popular tours from Tulum based on travelers reviews:
Sian Ka'an – the second largest protected biosphere in Mexico, Sian Ka'an is home to an array of biodiversity such as manatees, dolphins, turtles, and rays.
Tulum ruins – one of the most beautiful Mayan ruins in Mexico, Tulum archaeological area is set against the backdrop of the Caribbean Sea.
Coba ruins – home to the tallest pyramid in the Yucatan Peninsula, Coba Ruins is a perfect day trip from Tulum if you want to learn Mayan history, cool architecture and wonderful biodiversity.
Cenotes – Cenotes are sinkholes filled with fresh water where you can swim, snorkel and dive. Some of the most popular cenotes near Tulum are Gran Cenote, Cenote Calavera and Cenote Dos Ojos.
✅ Check my complete guide to the best Tulum tours to choose your adventure.
Shopping in Tulum
Tulum has a great shopping scene. Tulum Hotel Zone has many small boutique stores where you can find clothing, jewelry and accessories, while Downtown Tulum is home to many artisans who sell their art and craft on city's streets. Downtown Tulum also has several grocery stores where you can buy food if you are staying in Tulum for a couple of weeks and don't want to spend money on going out.
Car rentals in Tulum
Renting a car in Tulum is a great way to explore the area without relying on public transportation or guide tours. You can visit some of the best Tulum cenotes in a day or take a trip to Coba Ruins which is about 40 minutes away. You can also take a day trip from Tulum to Bacalar, a small town about 2,5 hours away that's famous for its incredible lagoon of Seven Colors.
Renting a car in Tulum gives you more flexibility and freedom, as you can plan your trips however you like and spend as much time as you want in cenotes, Mayan ruins and other points of interest. It's one of the best ways to enjoy the best Tulum day trips!
It will cost you anywhere between $40-60 USD per day to rent a car in Tulum, and covers a daily fee and a mandatory car insurance.
Keep in mind that your daily rate also includes local taxes, state taxes and any fees that go into your rate. If something looks unclear, be sure to ask about these extra fees before signing the paperwork.
The price of a car rental also depends on the time of the year when you are renting a car. If you want to avoid high prices, your best bet is to book your car ahead of time. I recommend and use DiscoverCars, a popular platform for renting cars 🚙 in Mexico and beyond.
They have no hidden fees, and you can choose from dozens of vehicles, and also get a basic insurance, which is required for renting a car in Mexico.
CLICK HERE TO SAVE ON CAR RENTALS IN TULUM
Taxi in Tulum
The cost of a taxi ride in Tulum is much higher than public transportation. If you want to get around by taxi, you are looking at anywhere from 200-500 Pesos per day, depending on where you want to go.
Since taxi is expensive, it might make more sense to just rent a scooter, if you want to go to cenotes and get around town. A scooter rental in Tulum costs about 500-700 Mexican Pesos per day.
ADO bus in Tulum
Public transportation in Tulum consists of collectivos (small shared vans), ADO buses (ADO is the main transportation company in the region that transports travelers to Cancun, Valladolid, Merida and other major cities in the region), and second class buses MayaB.
Prices on public transportation in Tulum range depending on where you are going, but the general rule is collectives are always cheaper than buses (they cost anywhere between 10-20 Pesos per person and can bring you to Playa Del Carmen, Muyil and other places).
💵 Always have cash on you if you are taking public transportation in Tulum, as credit cards are not always accepted.
How to budget your trip to Tulum
To visit Tulum on a budget, take a look at your finances. Airfare is typically the most expensive part of your trip, with hotels and transportation right after it.
Allocate about 30 percent of your budget for airfare, and 25 percent for your hotels.
Spend about 20 percent on food and 10 percent on local transportation to get around and 15 percent on tours. Of course, this is just a suggestion, as you can always spend more on hotels and rent a car instead of booking guided tours.
How much money do I need in Tulum?
You will need a minimum of 600-700 USD in Tulum per person for a week, if you want to visit cenotes, take tours, dine out occasionally and do some shopping. This amount of money will allow you to stay in a hostel or budget hotel, so if you want to enjoy a more luxurious accommodation, you will need to spend more money.
Visiting Tulum on a budget
If you want to visit Tulum on a budget, plan to spend a minimum of $80 USD per day on accommodations, food, transportation or bike/scooter rental per person. Budget extra if you are planning to take guided tours, and dine out in restaurants.
You can find plenty of inexpensive hotels and hostels in Downtown Tulum, but the key is you need to book them ahead of time, especially if you are visiting during the high season.
Visiting Tulum on mid-budget
If you have a little bit more money, you can expect to spend between $120-150 USD per day in Tulum. This price will cover hotels, bicycle/scooter rental and meals. You can also visit a couple of cenotes near Tulum, but if you want to take a guided tour, prepare to pay more.
Visiting Tulum: luxury
If you are a luxury traveler, the sky is the limit on what you can spend in Tulum! Not only you can stay in some of the best hotels in Tulum, eat out in amazing restaurants and take guided tours. Another great way to learn the area is to rent a car, as it will allow you maximum flexibility and freedom to explore places near Tulum at your own pace.
How to travel Tulum on a budget
Stay in downtown Tulum – Downtown Tulum has a great variety of budget-friendly hotels and hostels, some which offer bike rentals and continental breakfast.
Use public transportation – Take colectivos to get around to Tulum and buses to visit places like Coba, Bacalar and Chichen Itza.
Visit less popular Tulum cenotes – Instead of visiting popular and more expensive cenotes near Tulum check out Cenote Santa Cruz, Cenote Car Wash, Cenote Escondido and Cenote Cristal. They are less expensive and admittedly much less crowded.
Visit Tulum during the low season (or shoulder season) – Shoulder season in Tulum lasts from October through November and from late April through early June. It's the perfect time to save money as prices on tours and accommodations in Tulum tend to be much lower during this time. Check my complete guide to the best time for visiting Tulum.
Buy your tickets ahead of time (get travel alert) – Sign up for a travel alert to save money on your trip to Tulum. It will help you to monitor prices and buy your ticket at right time.
Best things to do in Tulum on a budget
Learn Spanish – Learning Spanish is one of the best thing to do in Tulum on a budget. And you can do it simply by listening to locals and talking to them.
Explore food options in Downtown Tulum – If you are a foodie (and even if you are not a foodie), you should check out all the amazing street food in Downtown Tulum. Not only it's a great way to save money, it's also an excellent way to enjoy the authentic Mexican food.
Visit Tulum beaches – they are free! Spending a day on one of Tulum beaches easily tops the list of free things to do in Tulum!
Cancun to Tulum
To plan your trip from Cancun to Tulum, you have a variety of options. You can book a private transportation, rent a car or take shared shuttle to save money.
CLICK HERE TO BOOK A ROUNDTRIP TRANSPORT FROM CANCUN TO TULUM
How expensive is Tulum: FAQ's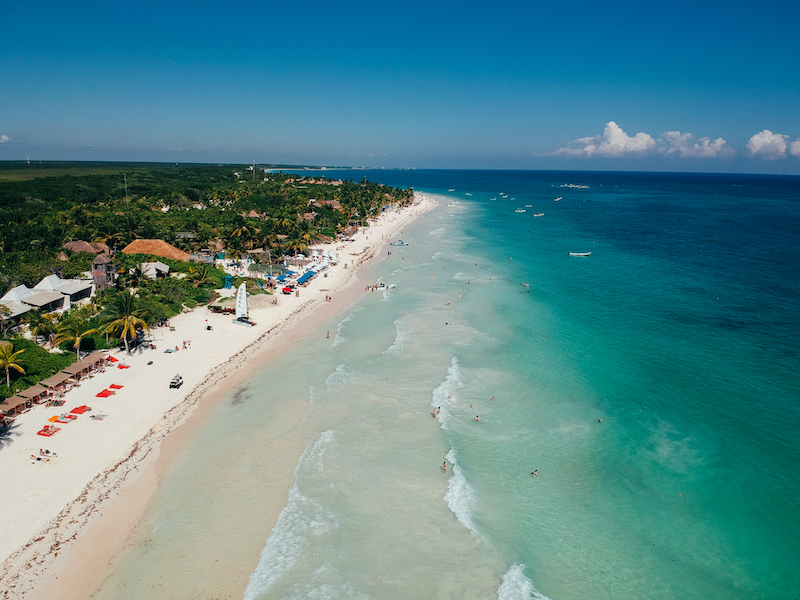 What's the cheapest time to visit Tulum?
The cheapest time to visit Tulum is a low season which is from June through September. During this time, you will find lower prices on hotels, tours and car rentals, but the downside is that it tends to rain frequently. Another option is shoulder season in Tulum which falls on October-November and May. These months have better weather, but prices still tend to be lower than during the high season in Tulum.
How much would a trip to Tulum cost?
The price of a trip to Tulum depends on your budget, the time and length of your trip. As a budget traveler, you can spend about $600-700 USD for a week in Tulum, and as a luxury traveler you can spend thousands of dollars, especially if you want to stay in fancy beachfront hotels in Tulum.
Is vacationing in Tulum expensive?
Vacationing in Tulum can be expensive, but it doesn't have to be! While you can definitely spend thousands of dollars on your trip to this destination, you can also travel inexpensively, but doing so will require you to budget ahead of time and cut back on you expenses. Take public transportation, cook your own meals instead of eating out and take advantage of some of the best free things to do in Tulum to save money.
Is Cancun or Tulum more expensive?
Tulum is more expensive than Cancun, with prices on food and accommodations being the main contributors. But unlike Cancun, Tulum doesn't have full-scale resorts and huge shopping malls, and boasts a more exclusive atmosphere. Tulum boasts pristine beaches, gorgeous cenotes and Mayan ruins set against the backdrop of the Caribbean.
Is Tulum Mexico cheap?
Tulum is not a cheap place. Although most destinations in Mexico are cheaper than United States and Western Europe, Tulum prices are in the league in their own. Prices in some Tulum restaurants can easily rival those in the U.S. and you can spend a few thousand dollars in some of the most popular beachfront hotels in Tulum.
Is Tulum safe?
Tulum is generally safe to visit, but like any other destinations it's not 100 percent safe. Tulum has grown a lot in the last 10 years, and today much of the criminal activity in Tulum has to do with drug trafficking. Always watch your surroundings, never accept food and drinks from the people you don't know and remember that if something looks to be good to be true, it probably is!
What currency should I bring to Tulum?
Bring Mexican Pesos to Tulum. Although U.S. dollars are often accepted in stores and restaurants in Tulum, it's best to have local currency on you.
Is tipping expected in Tulum?
Just like in the rest of Mexico, tipping in Tulum is expected and appreciated whether you are taking guided tours, dining out in restaurants or going to a spa. Tipping in Tulum is expected whether you are staying in Tulum beach zone or Downtown Tulum. Unless your bill already includes a tip, make sure to leave 10-15 percent of your bill in gratuity.
✅ Check my complete guide to tipping in Mexico to find out how much you should leave in gratuities.
How to visit Tulum on a budget: final thoughts
Tulum is one of the most happening destinations in Mexico with some of the best parties, top-notch restaurants and amazing beaches. While you can spend a lot of money here, it's also possible to visit Tulum on a budget. Plan your trip ahead of time, book your hotels in advance and enjoy local food in Downtown Tulum to avoid pricey restaurants. Finally, don't forget to enjoy some of the best free things to do in Tulum like beach hopping, learning Spanish and exploring local street art.