Disclaimer: This post contains affiliate links. At no cost to you, I might earn a small commission if you make a purchase through the links in this article.
Izamal is a real gem of Yucatan. Nicknamed La Ciudad Amarilla (the Yellow City), this town is also a UNESCO World Heritage Site and has become a clear favorite among travelers thanks to its ridiculously photogenic streets which are painted in bright yellow color! 💛
Whether you come here to take photos, learn the history or relax and take a break, you will fall in love with the small town atmosphere and friendly locals, while exploring some of the best things to do in Izamal.
A brief history of Izamal, Yucatan
Izamal was established between 750 and 200 BC, and was center of worship of Itzamna and the sun deity, Kinich-kakmo. Izamal was a site of an important religious site and center of pilgrimage.
The area had six pyramids built around the ceremonial plaza. But when the Spanish arrived in the North Yucatec plains in the 16th, they constructed Spanish colonial buildings on top of Mayan pyramids forever changing the area.
The Spanish bishop Diego Landa is the founder of Izamal although his practices involved the destruction of the Mayan sites as well as Mayan artifacts. He is a highly controversial figure, but you can find his monument in the middle of the roundabout on the southern end of Convento de San Antonio de Padua.
Izamal is home to about 15,000 people and is often referred to as "The City of Three Cultures" because of its mix of Mayan, Colonial Spanish, and modern influences. This is especially evident in the city's culture, food, and language.
Another nickname of Izamal is "La Ciudad de Los Cerros", or the "City of the Hills", because of the many pyramids in the area.
BEST THINGS TO DO IN IZAMAL YUCATAN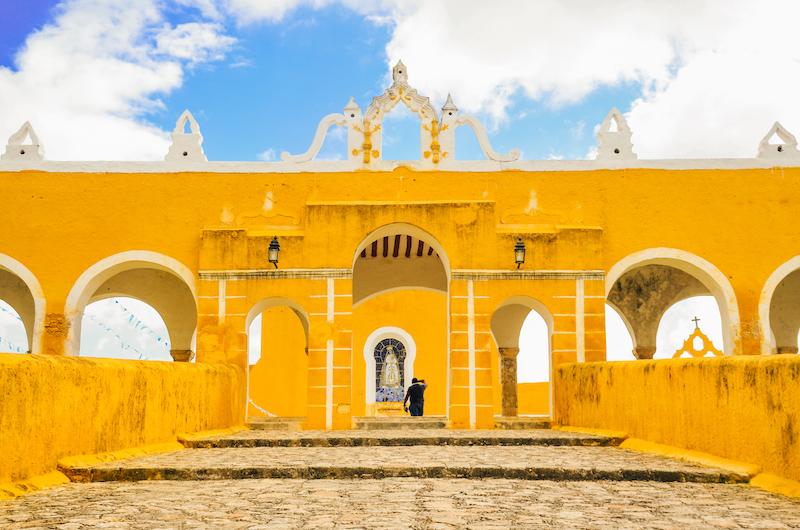 1. Visit Convento de San Antonio de Padua
The dominant landmark of Izamal, the bright yellow Convento de San Antonio de Padua was built on top of the ancient Mayan pyramid Pop-Hol-Chac in 1561 and was initially used to convert Mayans into Catholicism.
While this sounds crazy, it is not surprising if you consider the history of Izamal. The Spanish conquistadors invaded Izamal and leveled the Mayan temple that was here before.
The convent boasts an impressive courtyard (atrio) with beautiful arcades. Spend some time walking around this place and taking photos.
The convent that you see today was finished in 1561 and has the distinction of having the second largest atrium in the world only behind the Vatican. Take a look inside the church to check the beautiful Baroque altarpiece along with all of the wood carvings and beautiful statues.
The entrance to the convent is free.
2. Shop in Mercado Municipal
Located right across from Convento de San Antonio de Padua, Mercado Municipal is a small local market. Visiting it provides you with a perfect opportunity to get a glimpse into the every-day life of local people and feel the atmosphere of this place.
Here you can find textiles, fresh produce and souvenirs for your friends back home. Just don't forget to bring enough cash with you, as credit cards are not accepted.
And, when you get hungry, head outside where you can find many local street vendors selling delicious street food.
3. Wander the streets of Izamal
After you visited Convento de San Antonio de Padua and bought some souvenirs in Mercado Municipal, it's time to explore the city's gorgeous streets. Grab your camera and spend some time walking around.
GOOD TO KNOW: It's a small town and you can explore all of it on foot. When you arrive to your hotel, you can just the car parked for the day and head out for the day to enjoy some of the best things to do in Izamal.
4. Take a break in Parque Itzamna
The main park of Izamal sits smack in the middle of the city's main square (or Zocalo). Like many other Pueblos Magicos in Mexico, Izamal has a sign with the city's name spelled out in bright-colored letters – which makes for a perfect photo opportunity!
Parque Itzamna is surrounded by the row arcades that house restaurants, souvenirs, and convenience stores, and even once ice cream shop. Here you can also buy some street food like marquesitas or elotes, grilled Mexican street corn.
5. … Or Parque 5 De Mayo
Located near the convent, Parque 5 De Mayo is home to the shop called Hecho a Mano (Made by Hand) where you can buy traditional arts and crafts such as hats, textiles, and guayabera t-shirts. Around the park, you can also find individual stands with souvenirs and food.
6. Climb Kinich Kakmo Pyramid
Izamal is home to several Mayan ruins, and Kinich Kakmo is the most magnificent of all of them!
Located on the northern side of Izamal along Calle 27, this ancient Mayan pyramid is the best spot to watch the sunset in Izamal and get a panoramic views of the entire city surrounded by the lush jungle.
Originally dedicated to the God of the Sun (it is translated as "Sun-eyed Fire Macaw"), this 115-foot pyramid is a must-stop. One of the largest pyramids in the country, Kinich Kakmo was built between 400 and 600 AD, and it measures nearly 600 square feet.
It's located on top of the first tier pyramid, which is pretty easy to ascend, but the climb to Kinich Kakmo is a bit more challenging due to steep stairs and the lack of railings.
Wear comfy shoes and bring plenty of water when you come here!
The entrance to the pyramid is free. It's open from 8 a.m. – 5 p.m.
7. Explore exhibits of Centro Cultural y Artesanal
Centro Cultural y Artesanal is a 16th century colonial mansion that has been converted to a museum where you can find masterpieces crafted by local artists. Here you will find multiple exhibits divided by categories such as metal ceramics, wood, and textiles among others.
Here you can also find a small exhibit about hacienda architecture and also buy crafts and arts made by local artisans.
GOOD TO KNOW: Throughout Izamal, you will find many local artisan shops, (or talleres in Spanish). Woodcarving workshops (talleres de madera) are particularly popular here, and you can find one of them on Calle 21, just east of Panaderia El Zerro.
8. Explore the archaeological area of Itzamatul
Another prominent archaeological site, Itzamatul sits south of Kinich Kakmo and has three levels that were built over several centuries. Itzamatul sits just south of Kinich Kakmo, so I suggest visiting it before heading to Kinich Kakmo.
9. And don't forget about Habuk archaeological area
Located on the eastern side of the town, Habuk Archaeological Site consists of a pyramid-like platform and ruins of of several buildings. While Habuk Archaeological Site is not as prominent as other ruins near Izamal, some of its architecture dates all the way back to the 11th century.
The entrance is free. 
10. Try Yucatec cuisine
Mexico has many regional cuisines with distinct dishes and traditions, but as someone who has traveled the country quite a bit, I can say that the Yucatan cuisine is my favorite! Whether it's zesty sopa de limon, or crispy panuchos, there's plenty to try!
As a vegan, I didn't find any full plant-based restaurants in Izamal, but I was able to order my dishes without meat and cheese upon request, and let me tell you, they were so good!
Yucatec food is different from Mexican cuisine as it has been influenced by Mayan cooking as well as Caribbean dishes.
Best restaurants in Izamal
📍Muul – Located in the arcade in front of Parque Itzamna, Muul is a small restaurant with typical Yucatec food and friendly service.
📍Kinich el Sabor de Izamal – Named after the Mayan Pyramid in town, Kinich is one of the most popular restaurants in town. I didn't have a chance to try the food here, as the wait was way too long, but if you want to enjoy local flair in the beautiful setting, you should check it out.
📍Zamna – Zamna is a great restaurant tucked away in a quiet corner away from the busy center of Izamal. Just like Muul, it has many regional dishes and good budget-friendly prices.
📍Los Arcos – Los Arcos sits north of the central plaza and offers a Yucatan twist on classic brunch items and pastries.
Best hotels in Izamal
While Izamal is a small town, it has a decent selection of hotels, so whether you are traveling on a budget or can spend a bit more money, you will likley find places that fir your style and budget.
📍Best Budget Spot – Departamentos X'Kanlol is a great no-frills budget hotel. It has a spacious court yard and quiet setting, making it a perfect spot to relax after a day of exploring. 
📍Best Mid-Range Spot – Hotel Hacienda is a beautiful hotel built in a traditional Yucatan style that offers a big outdoor swimming pool and the garden. Breakfast is available every morning. 
📍Best Luxury Spot – Coqui Coqui is the best hotel in townl! It boasts outdoor swimming pool, a garden and a terrace. The hotel is in the heart of the city, but offers a nice tranquil environment which is perfect if you need to relax and recharge you batteries before going back on the road.
Where is Izamal Mexico?
Located between Cancun and Merida, Izamal is easy to reach by car and public transportation. It sits right off Carretera Costa del Golfo (Highway 180) and offers access to many cenotes, and Mayan ruins.
Izamal also makes for a great starting point for your road trip, if you want to enjoy the authentic culture, see gorgeous cenotes and less-visited Mayan ruins.
How to get to Izamal
Depending on your time and your budget, there are a few ways to get to here. The easiest way is to get to Izamal is from Merida or Cancun, since Izamal sits halfway between these two cities.
Here are the distances to Izamal from different cities in the region:
Cancun to Izamal – 254 km (158 miles) – 3 hours, 14 minutes
Playa Del Carmen to Izamal – 239 km (148 miles) – 3 hours
Merida to Izamal – 67.6 km (42 miles) – 57 minutes
Valladolid to Izamal – 110.3 km (177 miles) – 1 hour 30 minutes
Tulum to Izamal – 209.7 km (130 miles) – 2 hours 50 minutes
By car
I recommend renting a car for your trip to Izamal. While you can catch a bus to Izamal, you will spend a lot more time on the road than when you rent a car. You can rent a car in Cancun after you arrive or you can rent a car in Merida, and take a trip to Izamal from there.
🚗 DiscoverCars is one of the best car rental companies that has a big inventory and flexible rates on many vehicles. I've used their services several times, and always had a good experience!
PRO TIP: Want to rent a car but not sure how to do it? Read my complete guide to renting a car in Mexico that will help you to save money and avoid the worst mistakes.
By bus
You can catch a direct bus to Izamal from Cancun, Merida, and Valladolid. Not that there are no direct buses from Tulum and Izamal, and you will have to take a bus from Tulum to Valladolid first, and take a bus from to Izamal.
You can get to Izamal by bus from most places in the region, and you can check the bus schedule on the ADO website or on Busbud, a third-party platform that is perfect for booking your bus tickets when traveling around Mexico.
By colectivo
Colectivos are small shared vans that are used by locals and budget travelers, because they are the cheapest way to travel around Mexico. You can catch a colectivo to Izamal from Valladolid, but keep in mind that they don't have their schedule posted online, which makes it more challenging to plan your trip.
By guided tour
If you don't have a car rental and don't want to deal with the public transportation, you can also visit Izamal with a guided tour. This is an excellent option if you want to learn the history of this town with a licensed guide and enjoy some of the best things to do in Izamal on a day trip.
PRO TIP: There are also several cenotes near Izamal. This tour offers stops in cenotes, Izamal and Chichen Itza – a perfect way to spend your day!
👉 This private tour of Izamal is also very popular with visitors!
Izamal is a pueblo magico
There are over 130 Pueblos magicos in Mexico that were given a "magical" status by the Mexican government because of their cultural, historical, or architectural significance. The government of Mexico started created the first group of pueblos magicos in 2001 in en effort to bring more tourists to rural areas and diversify their economy.
Best day trips from Izamal
While Izamal in itself is a great destination, it sits close to several other cool places in Yucatan. If you like to slow pace, spending a few days here is a great idea, and you can even take some day trips from here.
Merida
The Yucatan capital is located about 70 kilometers east of Izamal. While some visitors take only a day to explore Merida, you should spend more time there simply because there's so much to do there! And if you need some suggestions for your itinerary, check out my guide to best things to do in Merida.
How to get to Izamal from Merida?
While you can catch the bus from Merida to Izamal, you can also choose a guided tour from Merida to Izamal that includes stops in cenotes and a guided tour of Izamal with a stop for lunch.
Chichen Itza
The world-famous Chichen Itza is an unmissable stop on your Yucatan itinerary. If you are making a trip to the region for the first time, it might be a good idea to book a guided tour to learn about the history and significance of this place in the Mexican culture. Chichen Itza is about one hour east of Izamal, and makes for a great day trip from Izamal.
How do you get from Izamal to Chichen Itza?
There is no direct connection from Izamal to Chichén-Itzá. The easiest way to travel between Izamal and Chichen Itza is by renting a car. If you don't have a car rental, your best bet is to take a bus from Izamal to Valladolid and another bus from Valladolid to Chichen Itza.
I recommend arriving early because Chichen Itza can be VERY busy.
Skip-the-line ticket is a great way to avoid the crowds.
Valladolid
One of the more well-known Pueblos Magicos, Valladolid is a beautiful colonial city that you should not miss! Valladolid boasts beautiful cenotes, Mayan ruins, and plenty of cultural and historic to keep you busy for a few days.
How do I get from Izamal to Valladolid?
To get from Izamal to Valladolid, you can catch one of the buses that depart from Izamal's main bus station every couple of hours. The journey from Izamal to Valladolid takes about 2 hours.
BEST THINGS TO DO IN IZAMAL YUCATAN: FAQ'S
Is Izamal worth visiting?
Yes, Izamal is worth a stop on your itinerary. It's a photogenic town where you can explore most places on foot and enjoy the quiet atmosphere and samples try delicious food.
Why is Izamal yellow?
Izamal has been painted in bright yellow colors years back, but nobody knows the exact reason. According to one of the most popular theories, Izamal was painted in bright yellow in 1993 ahead of the visit of Pope John Paul II who stopped here on his Mexico trip. This was a great honor was Izamal and residents prepared by painting buildings in yellow.
Another theory says that the yellow color represents the God of the Sun, Kinich Kak Moo who was very important in this region One of the most practical reasons for painting the city in yellow is to keep the mosquitos away.
What is the best time to visit Izamal Mexico ?
Yucatan has a humid, tropical climate. November through April is a great time to visit Yucatan, thanks to milder temperatures and plenty of sunshine. May through September is the worst time to visit Izamal because of the high humidity and brutal sun that make it difficult to enjoy your visit.
GOOD TO KNOW: Summers can be very hot, and since the city has no shade, you will need to bring a hat, If you come here during this time.
Is Izamal safe?
Izamal is a small town that is perfectly safe to visit. You can spend you day exploring the town and learning about its history, without any worry. Yucatan is considered one of the safest states in Mexico with very low crime.
Before heading out to explore Izamal, don't forget to put your valuables in a safe (if your hotel has one) and dress down – these are my general tips for visiting Mexico.
To stay on the safe side while visiting Izamal, consider getting World Nomads insurance that will protect you in case of lost or stolen luggage, accidents, hospital visits and many other unforeseen events. 
Why visit Izamal?
While Izamal has been growing in popularity in recent years, it's still under radar. Izamal makes for a perfect day trip from many popular destinations around Yucatan, and offers wonderful rustic charm and a quiet atmosphere – a perfect getaway if you want to see the authentic Mexico.
Izamal Mexico: final words
Izamal is a wonderful place. It offers everything the best of Yucatan, with rich culture and history, authentic food, friendly locals and a quiet atmosphere. It lacks the crowds and high prices of many popular places in the region, and is considered one of the best Pueblos Magicos in Mexico off the tourist radar.