Disclaimer: This post contains affiliate links. At no cost to you, I might earn a small commission if you make a purchase through the links in this article.
The deepest lake in Central America, Lake Atitlan is pure magic.
The cobalt blue waters are framed by the stunning volcano peaks, and colorful villages at the foothills. Whether you want to do active sports, explore local Mayan culture, or attend yoga, the list of things to do in Lake Atitlan, Guatemala is so long that you might even end up leaving something for your next trip.
So many travelers are attracted to Lake Atitlan – this place offers a slower pace of life, spectacular landscapes and friendly locals who make you feel at home the moment you arrive. A popular stop on a classic Central America itinerary, this destination is a must!
Is Lake Atitlan worth visiting?
Lake Atitlan is one of the most beautiful places to visit in Central America, and is a must-stop on your Guatemala itinerary. Spend a couple of days on this gorgeous lake to visit Mayan villages, learn about local culture and hike some of the most beautiful trails.
👉 Lake Atitlan is an unmissable stop on your Guatemala itinerary and there is a good reason why many travelers end up spending weeks here. In this article, I want to share some of the best things to do in Lake Atitlan, and give you a few helpful tips on how to plan your trip.
Best things to do in Lake Atitlan Guatemala: an overview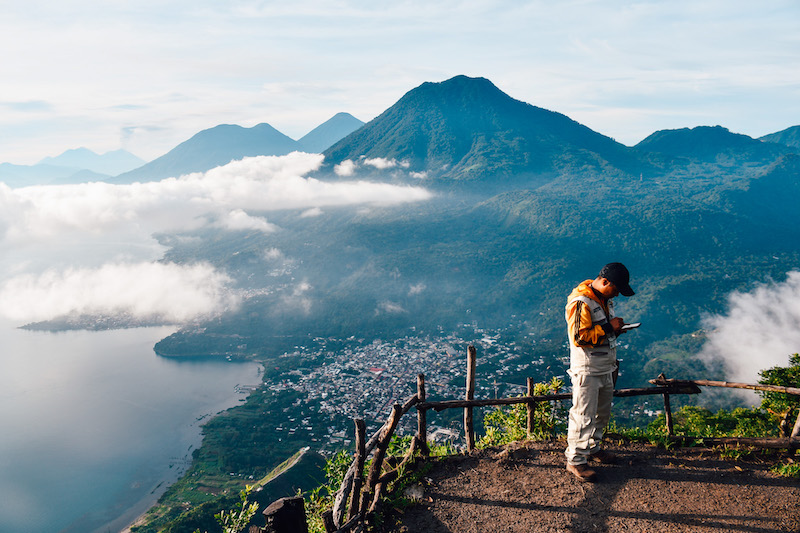 1. Watch the sunrise from Rostro Maya
Hiking the Rostro Maya (or Indian Face) is by far one of the most popular things to do in Lake Atitlan. This is a challenging hike that culminates with a 360-degree panorama of the lake. The name comes from the shape of this mountain that resembles a person lying on the back face up.
You can do this hike at any time of the day, but if you want to enjoy the best views, arrive before the sunrise.
Learn how to hike Acatenango, one of the most popular volcanoes in Guatemala
Hiking Rostro Maya before the sunrise is a bit of a mission, but if you want to see the otherworldly colors and incredible rays of sunshine peeking over the mountains in the dark, the effort is well worth it!
Why you should consider hiring a guide for your hike
If you are visiting Lake Atitlan, Guatemala for the first time, hire a guide for your hike to Rostro Maya.
First, this is a challenging trail that requires good navigation skills. Second, you will hike in complete darkness (if you want to see the sunrise), which means you need someone who knows the trail well. Third, robberies have been reported on this trail, and having a guide could deter criminals from approaching you.
Guides can be hired around Lake Atitlan and you can look for tour guide companies online. I did my hike to Rostro Maya with Antigua Guatemala Tours and was very happy with their services.
Best guided tours of Rostro Maya in Lake Atitlan
If you decide to hike Rostro Maya before the sunrise, stay in San Pedro La Laguna, the closest town to the beginning of the trail. Your guide will pick you up at your hotel around 3 a.m., so you could finish your hike before the sunrise, and hopefully beat other people to enjoy the views.
PRO TIP: Rostro Maya is a steep challenging trail on the side of the mountain that requires a good physical shape. To reach the top of the hike before sunrise, you will need to maintain a good pace
Bring plenty of water, wear good hiking shoes, and take a couple of snacks. I recommend bringing a spare set of clothes as you will probably sweat a lot and it could be brisk on top of the mountain, so you would have dry clothes to change into.
Hiking Rostro Maya on your own
If you want to do this hike on your own, download an offline map. The trail isn't marked clearly, and having maps could help you spare a ton of time.
If hiking sounds like too much work, you can also drive up to the lower observation platform in a car. This will save you a lot of time and effort but you will miss on some incredible scenery along the way.
2. Come to San Juan for some culture
After you make your way back from Rostro Maya, don't rush back to your hotel.
Take a walk around the colorful San Juan La Laguna, the town just outside the hike to Rostro Maya. While San Juan is just a quick boat ride away from San Pedro, it has a notably different flair with many stores selling traditional Mayan textiles, crafts, and artworks, and more indigenous people than tourists on the streets.
👉 You can also take one of the guided tours to learn about the local Mayan culture and see how the arts and crafts are made.
Best tours of Mayan villages around Lake Atitlan
Spend some time wandering around San Juan and you will fall in love with its friendly people and beautiful culture. Learning the local culture was one of my favorite things to do in Lake Atitlan Guatemala.
3. Learn about Guatemala coffee
Did you know that coffee is one of Guatemala's top exports?
While coffee grows in several parts of Guatemala, Lake Atitlan is blessed with a unique microclimate and soil rich in minerals that allows local growers to produce some of the most distinct types of coffee in the world. You can even find coffee plantations on the slope of the mountain when you hike to Rostro Maya.
Taking a guided coffee tour is one of the best things to do in Lake Atitlan, if you want to try the delicious Guatemalan coffee!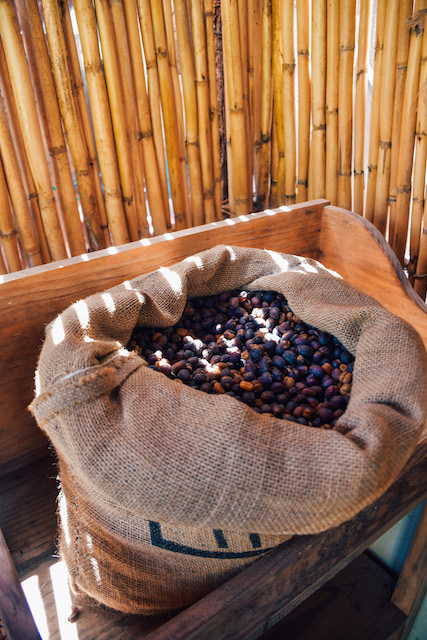 The green coffee plants can be found in abundance in many areas of the lake as well as in gardens near many coffee shops like those in San Juan La Laguna.
PRO TIP: Don't forget to try some Guatemala chocolate! Lake Atitlan is famous for producing its chocolate and you can sample locally made chocolate when you come here. Some shops even sell chocolate-infused products such as lip balms, body washes, and other cosmetic products.
4. Visit weaving workshops
San Juan La Laguna is famous for its Tz'utujil weavers who make their organic cotton thread from scratch! The weavers use traditional techniques and special coloring methods, that can only be found in Lake Atitlan.
Best weaving workshop tours in Lake Atitlan, Guatemala
Take part in the ancient Mayan ceremony where you will learn about the Mayan spirituality during a 2-hour traditional fire-cleansing ceremony with a guide in the Sacred Caves of Lake Atitlan.
San Juan La Laguna is an excellent place to visit some of the authentic weaving workshops where you can learn about how local artisans create colorful table clothes, scarves, dresses, and other garments.
Unfortunately, this technique is slowly going away, as not many young people are following this ancient tradition of weaving, which makes it even more worth a stop. After watching the process, grab a couple of hand-made souvenirs for your friends and family back home.
Your money will support hard-working artisans and keep this incredible tradition alive.
5. Attend a cacao ceremony
If you are wondering what in the world a cacao ceremony is, here's the short answer:
Cacao ceremonies are very specific to Lake Atitlan since cocoa beans grow here because of the unique microclimate. There are various types of cacao ceremonies with some involving dance, others being more similar to social events with cocoa tasting.
Some cocoa ceremonies involve more meditation and spiritual cleansing. While I can't speak personally about what these ceremonies are like, you can find reviews online and decide what experience speaks to you. Just like the weaving workshops, this is one of the best things to do in Lake Atitlan for learning local culture.
6. Learn Spanish in one of local schools
Guatemala is one of the best places in Latin America to learn Spanish because of its clear pronunciation. Although the country has many Mayan dialects, the classic Spanish spoken by the majority of Guatemala's population is extremely clear and easy to understand.
Atitlan's backpacker hub San Pedro has several Spanish language schools where you can brush up on your Spanish skills or begin the exciting journey of learning this language that is going to be incredibly helpful if you are planning to explore Latin America further.
Learning Spanish is one of the best things to do in Lake Atitlan Guatemala, if you are planning to spend a few weeks in the area. Some of the best Spanish schools in Lake Atitlan are San Pedro Lake Atitlan Spanish School, San Pedro Spanish School, and Eco Spanish School.
7. Kayak or SUP on Lake Atitlan
When you first get to Lake Atitlan, you will notice how many kayaks, SUP's and boats are on the water. This gorgeous lake was made for water adventures and you do not want to miss out on them when visiting this part of Guatemala.
Kayaking is considered one of the best things to do on Lake Atitlan, and if you too, want to try it, make sure to start the early morning when the water is calm and traffic isn't bad.
Best kayaking tours of Lake Atitlan
8. Explore San Pedro La Laguna
San Pedro La Laguna is a popular backpacker town and in my opinion, one of the best places to stay in Lake Atitlan because of the abundance of things to do, and affordable accommodations.
Here you can explore the colorful street art, try the food at many restaurants, hike, mingle with locals and tourists from all over the world. In addition to tons of activities, San Pedro La Laguna also boasts a convenient location on the lake just 25 minutes away from Panajachel.
One of the most popular spots in San Pedro La Laguna is Reserva Natural del Cerro Tzankujil where you can find a trail leading to a cliff popular for jumping in the water. Don't forget to bring some cash, because the entrance is 15 Quetzal.
9. Take a Mayan cooking class
Learning how to cook the Mayan way is an incredible cultural experience and one of the best things to do in Lake Atitlan for foodies. The communities around Lake Atitlan have their own way of cooking, and joining an organized cooking class is the best way to learn the secretes of Mayan kitchen!
This class provides a hands-on experience with Guatemalan dishes, and allows you to discover a blend of Mayan and Spanish colonial flavors that give the Guatemalan cuisine its unique taste. You'll finish class by enjoying a tasty lunch of the dishes you prepared.
Book your Mayan cooking class here.
10. Take a day trip to Chichicastenango
Chichcicatenango (or Chichi) is an indigenous town in Guatemala's highlands that is home to a sizable Mayan K'iche community. The biggest draw of Chichi is the largest handcraft market in Central America, which takes place twice a week, on Thursday and Sunday, and brings people from many neighboring towns.
Visiting Chichi is one of the best things to do in Guatemala, if you are looking for a deep dive into the country's culture.
The Chichicastenango market is an unmissable stop on your Guatemala itinerary because it's full of history, traditions, smells, and colors. It's a great place to purchase handmade jewelry, pottery, clothing, and other home goods for your friends and family back home.
If you are staying in Atitlan, the best way to visit Chichicastenango is by booking a guided tour which includes a professional guide who can give you a detailed overview of this place.
Best tours of Chichicastenango from Lake Atitlan
11. Hike from Santa Cruz to San Marcos
If you want to get the best volcano views without working too hard, hike from Santa Cruz to San Marcos.
The hike itself is not difficult and follows the shoreline, but it does have quite a few ups and downs, sometimes up pretty steep stairs and hills. While portions of the trail are paved, especially once you get closer to San Marcos, other parts only have a dirt road. Make sure to wear a good pair of shoes, bring enough water and sunscreen.
The stunning views from this trail are well worth the effort, and you have a better chance of seeing early morning before the clouds begin to form. All you need to do is to get on a boat to Santa Cruz is find the trail that begins right near the pier.
12. Catch a sunset over Lake Atitlan
Enjoying the sunset is one of the best free things in Guatemala, and you can do it in so many parts of the Lake! I especially recommend making your way to one of the many miradores (or overlooks) that can be found around the lake.
13. Join a yoga class on Lake Atitlan
Lake Atitlan is one of the most beautiful places in the world for practicing yoga.
All around the lake, you will find countless yoga studios offering classes of all sorts. San Marcos, for example, has many yoga studios, and if you need to take classes, make sure to check ahead of time, because the low season has lower visitation rates and even some cancellations since fewer people are attending.
San Marcos is one of the best places around Lake Atitlan for doing yoga. There is a number of yoga studios here like The Yoga Forest Retreat Center, Sacred Paths Yoga, and the Yoga Forest.
Santa Cruz also has a good variety of various yoga studios including Yoga Center Santa Cruz, Village Yoga Santa Cruz and Nourish Santa Cruz.
Book a yoga class in Lake Atitlan online to save yourself some time.
14. Take a tuk-tuk ride
One of the first things you will notice when you arrive in Lake Atitlan is the abundance of tuk-tuks on the streets. Riding tuk-tuks are a lot of fun and will help you save a lot of time and money, as they cost 15-20 Quetzal per person on average. This is one of the best ways to explore Lake Atitlan, if you are traveling on a budget, because a tuk-tuk can take you from one town to another around Lake Atitlan.
15. Go paragliding over Lake Atitlan
If you are ready for a good dose of adrenaline, book a paragliding tour of Lake Atitlan!
Paragliding is the best way to enjoy the views of the area after seeing it from the water. It's also a great way to get out of your comfort zone as you soar above the lake in an open parachute
Real World Paragliding in Panajachel is one of the best companies in Lake Atitlan that provides paragliding services, and they have many good reviews from fellow travelers.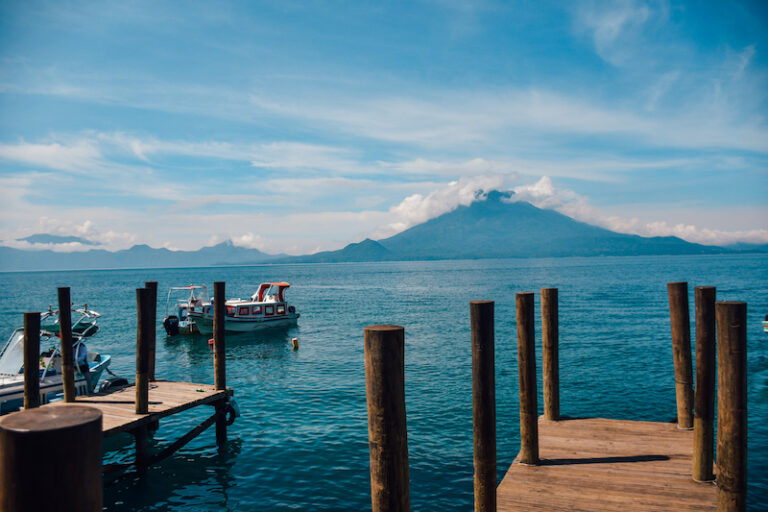 16. Hike San Pedro Volcano
Another ultimate hike within a quick reach of San Pedro is … San Pedro Volcano.
Although the name might not be very original, this is a perfect hike to get some good exercise. The hike takes about 5 hours and provides excellent views of the area. While this is a less crowded trail than Rostro Maya, I recommend doing this hike only if you have some extra time, as there are tons of other things to do in Lake Atitlan that should be on your to-do list before you make it here.
17. Go to the beach
Exploring gorgeous black-sand beaches is one of the best things to do in Lake Atitlan because they are so pretty and for the most part have no people. Although you can find the docks in many towns around Lake Atitlan, don't rush to jump into the water!
Some towns around Lake Atitlan have very polluted water with trash floating on the surface, and sewage going right into it, so be careful about where you swim.
Best beaches around Lake Atitlan
While San Marcos is known to have some of the best swimming areas around Lake Atitlan, it's not the only place where you can cool off in the water. Playa Dorada just north of San Pedro is a nice pristine beach with black sand where you can take a dip in the clear water.
Surprisingly few people come here, which for a perfect getaway.
To find the beach, walk along the main road north of San Pedro until it becomes a dirt trail. Continue walking straight until you pass a basketball court on the right side. Walk up the hill after that and you will see some local houses on the right side in the wooded area after a little bit of walking.
The unmarked dirt trail to the beach begins right nearby on the left side.
18. Scuba dive in Lake Atitlan
You probably didn't think about scuba diving when you saw photos of Lake Atitlan online, yet this is one of the top things to do in Lake Atitlan for an adventurous traveler.
There's an old Mayan city hidden under the cobalt-blue waters of Lake Atitlan, and you can explore it on a dive.
However, if you are looking for rich marine life, you will no find it here. Lake Atitlan is a great place to get your altitude diving specialty, and you will be able to spot underwater buildings and see incredible volcanic formations underwater.
19. Explore Lake Atitlan towns by boat
There are several towns around Lake Atitlan, each with its unique flair, and even if you decide to stay in one place during your stay, make sure to take a boat ride to others to see what they have to offer.
✅ San Pedro La Laguna
A backpacker hub with a great nightlife scene, San Pedro La Laguna is a town where you can find a great bargain on hotels, food, and cool trinkets sold at souvenir shops. It also boasts a convenient location near Rostro Maya, as you can access the trail by driving a car from San Pedro.
Looking for a place to stay in San Pedro La Laguna? Check out Casa Blanca that boasts great views of the Lake and also has a restaurant on property or Casa Lobo Bungalows if you are looking for more privacy.
San Pedro has many budget accommodations available, and you can easily find a good deal on websites like Agoda.com or Hostelworld.com
✅ Panajachel
Panajachel (or Pana) is a town with the most developed infrastructure in Lake Atitlan. Here you will find plenty of hotels, restaurants, and events all catering to tourists. It's also a convenient jumping point if you need to travel to other parts of Guatemala with many buses and private transfers departing from Panajachel to Solola up north and further inland.
It's also where you will find one of the best markets in Lake Atitlan, so make sure to stop here, even if you are just passing by Pana on your way elsewhere.
If you plan stay in Panajachel, book Selina Atitlan, a gorgeous waterfront property with a restaurant, bar, garden and even yoga deck.
✅ San Marcos
A hippy haven, San Marcos is a go-to place for yoga retreats, meditation sessions, and cacao ceremonies. A word on cacao ceremonies: You will see many of them advertised around San Marcos, so choose carefully. San Marcos is one of the most popular expats destinations in Lake Atitlan.
When it comes to accommodations, San Marcos offers some of the best hotels in Lake Atitlan. Here you will find everything from simple hostels catering to backpackers to mid-range hotels and gorgeous b&b's.
✅ Jaibalito
A small hamlet of Jaibalito sits between Santa Cruz and San Marcos and offers the ultimate getaway from the tourist crowds since it can only be accessed via boat or by taking a hike from Santa Cruz to San Marcos, which I mentioned above.
✅ Santa Cruz
A scenic town, Santa Cruz sits on the cliff above the lake and has a notably different vibe than other towns on Lake Atitlan. Most of the town's activity happens inland, and when you arrive here, you will only find a handful of restaurants and stores near the pier.
If you want to stay a couple of nights in Santa Cruz, check out La Laguna Perdida, a beautiful hotel with stunning views of the lake not far from the pier or Villa Eggedal, a stunning property away from the hustle and bustle of the main drag.
✅ Tzununa
Just a short tuk-tuk ride away from San Marcos, Tzununa is a sleepy village that is perfect if you would like to get away from the crowds.
Where is Lake Atitlan located?
Lake Atitlan is located in the department of Solola of Guatemala. It is often called one of the most beautiful lakes in the world. To reach Lake Atitlan from Guatemala City, you need to drive for about 3 hours (145 km) west.
How to get to Lake Atitlan Guatemala
Many visitors head to Lake Atitlan straight from the Guatemala City Airport. While you can use public transportation, if you are on a budget, I suggest taking a private transportation from Guatemala to Lake Atitlan. It's safer, cleaner and much faster than taking chicken buses around Guatemala.
Taking a chicken bus to Lake Atitlan
If you are a budget traveler, you can take a chicken bus to Lake Atitlan. This is the cheapest way to get to Lake Atitlan, which should cost you under $10 USD, and while some say that taking chicken buses is not a good idea due to safety, I can't agree with it as I've never felt unsafe when taking chicken buses in Central America, including Guatemala and Belize.
Getting to Lake Atitlan from Antigua
Many travelers come to Lake Atitlan after visiting Antigua, and you can do it by catching a daily shuttle bus. A bus ticket from Antigua to Lake Atitlan costs about $10.
Best hotels in Lake Atitlan
Laguna Lodge Eco-Resort & Nature Reserve – Located just outside Santa Cruz La Laguna, this hotel offers an outdoor pool, views of Lake Atitlan and the 3 volcanoes. The hotel also has a restaurant where you can try dishes made from local produce. Diving and tours around Lake Atitlan can be arranged on site.
Casa Lobo Bungalows – One of the best stays in San Pedro La Laguna, these gorgeous bungalows come with gorgeous views, spacious rooms and good privacy. Guests leave great review 😊
Hotel Posada De Don Rodrigo – A gorgeous hotel in the heart of Panajachel, this property is close to best things to do in Panajachel and a quick away from a pier from where you can take a boat ride.
Best things to do in Lake Atitlan: FAQ's
What is the best time to visit Lake Atitlan?
There are two seasons in Guatemala: One is a dry season that lasts from November through April, and May through November which is the rainy season.
Here's what you need to know: The dry season is the busiest time for tourism in Guatemala due to the lack of rain. Hotels, tours, and food prices tend to be higher in many parts of the country during this time. During the rainy season, crowds dwindle, but it's not uncommon to have rain in the afternoon.
The low season in Guatemala is also a great time if you want to to score good prices on flights. And if you travel frequently, you might want to take a look at Dollar Flight Club, a program that allows you to save hundreds of dollars on international flights and does all the searching for you!
I visited Lake Atitlan in June, and although the weather was always perfect and sunny in the morning, afternoons were sometimes rainy and overcast. While prices on accommodations were pretty good, the rain is something to consider before planning your trip.
Still, you can enjoy many cool things to do in Lake Atitlan, despite an occasional afternoon rain.
Is Lake Atitlan safe to visit?
Lake Atitlan is considered one of the safest places to visit in Guatemala, but that doesn't mean that you can put your guard down. While staying around major tourist hubs like Panajachel and San Pedro is perfectly safe, extra precautions should be taken if you are going on the outskirts or hiking one of the trails, where robberies have been reported.
That's why local guides are always a great option if you want to spend time in more remote areas of Lake Atitlan.
Is Lake Atitlan worth visiting?
Yes! Lake Atitlan is one of the best places to visit in Central America and is an absolute must-stop on your Guatemala itinerary. It's home to gorgeous landscapes, wonderful Mayan culture, friendly locals and yummy food 😋
How many days do I need in Lake Atitlan?
Lake Atitlan is a gorgeous destination, and one of the toughest questions you will face is how to visit all of the towns around Lake Atitlan, each with its own vibe and culture. Most tourists spend about 3 nights in Lake Atitlan, but I suggest no less than 5 days in Lake Atitlan, especially if you are visiting it for the first time.
There are way too many cool things to do in Lake Atitlan, so you shouldn't cram your stay here in just a couple of days to enjoy your trip.
Best things to do in Lake Atitlan: final word
Surrounded by three volcanoes, Lake Atitlan is one of the most beautiful destinations in Guatemala famous for its scenery and outdoor opportunity. Whether you want to relax, explore the local culture or enjoy the outdoors, you can do it all in Lake Atitlan.