Disclaimer: This post contains affiliate links. At no cost to you, I might earn a small commission if you make a purchase through the links in this article.
Although this mighty state doesn't have any ocean shoreline, there's no doubt about it that there are still some pretty great lakes in Colorado for enjoying being out on the water year-round.
Whether you're searching for a beautiful hike to an alpine lake or just somewhere to relax on the beach, there's something for everyone.
✅ Check my guide to planning a perfect Colorado road trip
Read about 25 of the best places to find some of the most beautiful lakes in the beautiful state of Colorado for you to enjoy.
Best Lakes in Colorado: a complete overview
1. Grand Lake
Grand Lake, located in northern Colorado, is the state's deepest and largest natural lake. It's found on the western edge of Rocky Mountain National Park and is actually surrounded by the park on three sides.
It's found within a small town that shares it's name, Grand Lake. During the summer, visitors can enjoy renting paddle boats and kayaks from the Grand Lake Marina, swimming, and walking on the historic boardwalk.
✅ To visit Granby Lake and other Colorado lakes, you need a car rental. DiscoverCars is the best online platform for renting cars that has flexible rates and plenty of options.
Check rates here
Visitors can drive on Trail Ridge Road in the summer, which leads from Grand Lake to Estes Park, all the way around Rocky Mountain National Park. Warmer months are perfect for taking a dip, as it's one of the most popular swimming lakes in Colorado.
2. Horsetooth Reservoir
Just 20 minutes west of the historic Fort Collins lies the popular Horsetooth Reservoir, a 6.5-mile manmade reservoir popular for year-round recreation.
👉 Read my complete guide on how to get from Denver to Fort Collins
The reservoir received its name from Horsetooth Rock, a large rock on the southern side of the reservoir that resembles a horse's teeth.
Today, the area is popular for water sports like water skiing, boating, fishing, and swimming. Visitors also enjoy hiking on the many trails around the reservoir, as well as bouldering in Rotary Park on the east side of the water.
3. Boulder Reservoir
Found in the northern part of Boulder, Boulder reservoir is one of the most popular places for locals for spending time on the water.
This 700-acre lake is used for recreation and storing water in this large Colorado city. In fact, it supplies about 20 percent of Boulder's drinking water. It's also one of the best swimming lake in Colorado, so don't forget your swimsuit and a beach towel.
👉 Boulder is just one of the best mini trips from Denver. Check my complete guide to the best road trips from Denver for your budget list!
You'll find fantastic and unmissable views of the Boulder Flatirons from the reservoir.
During a visit, people enjoy boating, swimming, water skiing, fishing, and more. Swimming is only allowed during hours where a lifeguard is on duty at the designated swim beach.
4. Lake Granby
Lake Granby is one of the most popular Colorado lakes, surrounded by mountains and scenic views.
Although Lake Granby is manmade, created back in 1950, it's the third largest body of water in the state of Colorado, coming in at just over 7,000 acres.
Fishing is popular amongst anglers, as the lake is often stocked with trout and kokanee salmon. Other water activities include kayaking and canoeing or boating. Boats can be rented from marinas around the lake, or you can use the several boat launches for your own.
Hiking trails around the lake are also a great way for visitors to gain a new perspective of the lake. And Lake Granby is also home to the Lake Granby Yacht Club, one of the world's highest-elevation yacht clubs.
5. Blue Mesa Reservoir
If you're looking for a nice place to spend time on the water in the summer, head to Blue Mesa Reservoir near Gunnison. It's one of the best swimming lakes in Colorado that's also popular for paddle boarding, kayaking and water skiing.
✅ Read my complete guide to renting a car in Denver to see some of the most beautiful lakes in Colorado.
As the largest body of water in Colorado, there is plenty of shoreline for visitors to enjoy. In fact, the reservoir is 29 miles long, and there are a few great swimming areas at the Bay of Chickens and Old Highway 50 Beach.
Black Canyon of the Gunnison National Park, one of the best places to visit in the Southwest Colorado is just an hour away, so you'll also get to enjoy views of this beautiful park.
6. Shadow Mountain Lake
Located just minutes from two other popular lakes on this list, Lake Granby and Grand Lake, lies Shadow Mountain Lake.
This manmade reservoir offers beautiful views of the surrounding Rocky Mountains and foothills. It connects to the natural nearby Grand Lake.
No matter what kind of activities you enjoy, there's something for everyone at Shadow Mountain Lake. There are two boat launches along the south shore of the lake, plenty of area for jet skiing or kayaking, and a variety of trout and salmon, ready to be caught.
The Colorado River also flows out of Shadow Mountain Lake and into Lake Granby, so all three of these popular lakes are connected.
7. Lake San Cristobal
Just outside of Lake City in southwestern Colorado, the state's second largest natural body of water is found, Lake San Cristobal.
This 300+ acre lake was formed hundreds of years ago by a rare earthflow, and today provides local and visitors with a place to recreate and enjoy time outdoors.
➡️ Check my guide to driving on One Million Dollar Highway, one of the most scenic drives in Colorado located in southwestern part of the state
Camping is a popular activity nearby with a few campgrounds located right on the lakeshore. Many people also enjoy boating in the chilly waters of Lake San Cristobal, where a few varieties of trout live.
You also may be lucky enough to spot some wildlife during your visit, from smaller creatures such as beavers and different birds, to large animals like elk and moose.
8. Dillon Reservoir
This large reservoir is found near the small towns of Frisco and Silverthorne, just minutes from popular ski towns such as Breckenridge and Keystone.
With over 25 miles of shoreline, this lake is popular for boating, kayaking, and fishing.
Although swimming is not allowed at Dillion Reservoir, due to the water's cold temperatures.
There are also beautiful hiking trails nearby, in the surrounding mountains. Sapphire Point Overlook is a great choice, with great views over Dillon Reservoir.
9. Steamboat Lake
Found within Steamboat Lake State Park in far northern Colorado, this gem of a lake is highly worth the visit. Fantastic mountain views, particularly of Hahn's Peak, are what truly make this place magical.
Located 26 miles north of Steamboat Springs, near Hahn's Peak Village, it's one of the best lakes for swimming in Colorado with a nice beac and a nearby marina.
✔️Steamboat Springs is one of the most scenic places in the Centennial State. Read my complete guide to the most beautiful places to visit in Colorado.
Enjoy fishing and boating in the summer once the lake ice has melted and snowmobiling and ice fishing in the winter. Other activities include water skiing, windsurfing, and swimming.
As the primary attraction at this state park, you can also enjoy views of the lake from hiking trails, and enjoy sounds of water hitting the shore at the campgrounds.
10. Dream Lake
Nestled deep in the jagged peaks of Rocky Mountain National Park, lies the gorgeous Dream Lake. With just a short and easy 2 mile hike, you'll reach this magical Colorado lake.
Behind the lake, you'll be treated to a view of Hallet Peak, and will quickly understand why so many people dream of visiting this lake.
👉 Learn about other things to do in the Rocky Mountain National Park for an epic adventure.
Many people enjoy taking a dip in the lake after their hike, although since it is an alpine lake, the water is pretty chilly.
As one of the most popular hikes in the park, it's recommended to visit early in the morning or later during the day. If you can brave the cold, strap on your microspikes and visit, as it's even more beautiful in the winter under a fresh blanket of snow.
11. Hanging Lake
After a 1.2 mile strenuous and steep trail, you'll finally reach this beautiful hidden gem that feels like something out of another country, rather than Colorado. If you're a lucky enough to snag a permit, you'll be able to experience this magical site with your own eyes.
A geological fault caused the lake bed to drop down into the valley, forming Hanging Lake and Bridal Veil Falls, which flows from above the rocky cliffs into the pool below.
No swimming or fishing is allowed in the lake. But you can enjoy the beautiful views before hiking the same distance back to the trailhead.
12. Green Mountain Reservoir
Located in the White River National Forest, Green Mountain Reservoir is nestled at the base of Green Mountain.
While serving as a place to store water for the area, it also acts as a place to get out and enjoy some great water activities. Boating, canoeing and fishing are just a few of the top activities to enjoy. In fact, even in the winter months, fishermen get out on Green Mountain Reservoir and cast a line.
13. Bear Lake
As one of Rocky Mountain National Park's most popular areas, I can confidently say that Bear Lake is a must-see during your visit.
While swimming and fishing are prohibited in Bear Lake, guests can enjoy hiking around the water and taking in the views of the mountains behind it.
A 0.8 mile trail circumnavigates the entire lake, making it easy to see the beauty that's around it.
14. Monarch Lake
Just a bit down the road from Lake Granby, you'll find the smaller Monarch Lake. If you're on the search for a serene place to get out on the water, this is the place for you.
No motorized boats are allowed, so you won't have to worry about any wakes. Bring out your paddleboard or kayak and enjoy the pristine water.
Shoreline fishing is also a popular activity from many spots along the 4 mile Monarch Lake Loop Trail.
15. Crater Lake
Just a short moderately challenging 3.5 mile roundtrip hike will lead you to Crater Lake, found in the Maroon Bells Snowmass Wilderness.
Soaring, jagged mountain peaks are just one of the fantastic views that you'll get to enjoy behind this natural alpine lake. It's one of the most picturesque areas in the state, so be sure to pack your camera. You may also enjoy just relaxing by the lake and eating a yummy lunch.
While you're in the area, be sure to also visit Maroon Lake, one of the highlights of the area where you can relax and take some photos.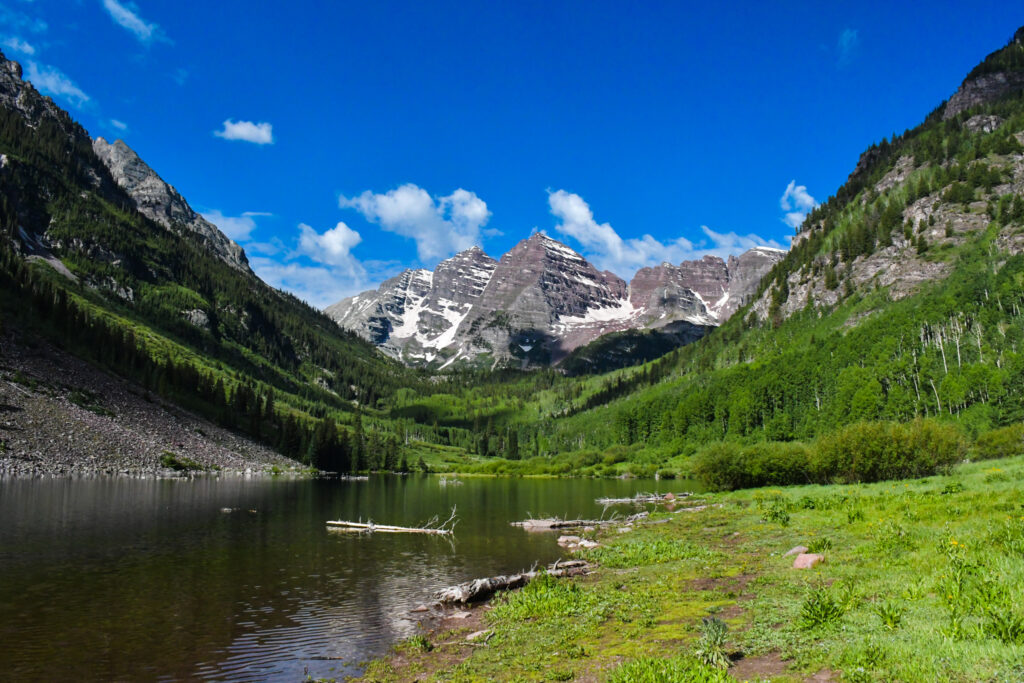 16. Maroon Lake
Just 30 minutes from the ski town of Aspen, Colorado, you'll find Maroon Bells, one of the most photographed and beautiful areas of the state.
Home to the fantastic Maroon Lake, this area should not be missed during a visit to Colorado.
Enjoy views of the towering mountains, named Maroon Peak and North Maroon Peak, as they reflect into the sparkling waters of Maroon Lake.
Because of its popularity, reservations are required to visit the Maroon Bells area, which cost $10 per vehicle. You can also take a bus to Maroon Bells from downtown Aspen.
17. Cherry Creek Reservoir
Found right in the state's capitol city of Denver, Cherry Creek Reservoir allows locals and visitors to escape the busyness without even having to leave city limits.
👉 Read my guide to the best Denver tours to learn more about the city and its history
Boating, fishing, jet skiing, swimming, and more are all popular activities to get out on the water in the summer months. Other activities within Cherry Creek State Park include biking, camping, and hiking.
18. Lake Estes
Found in Rocky Mountain National Park's gateway town of Estes Park, enjoy the beautiful Estes Lake. Watch for wildlife including elk and mule deer, walk the Lake Estes Trail around the water, or get out on the water.
Visitors enjoy fishing for trout, boating, or renting equipment from the Lake Estes Marina. Some people even enjoy fly fishing in the lake.
19. Chatfield Reservoir
Found in Chatfield State Park, just south of Denver, Chatfield Reservoir is a popular location for year-round recreation.
Boating is the most popular activity, whether you decide to water ski, or just cruise around and enjoy the day. There are also many miles of bike trails within the park that visitors enjoy, as well as camping and hiking.
20. Grand Mesa Lakes
Rather than just listing one lake in Grand Mesa, it's good to note that there are over 300 lakes in the Grand Mesa area, which is the largest flat topped mountain in the world.
The largest being Island Lake, which covers about 180 acres. There are eight stocked reservoirs within the area which each are popular for fishing. Some lakes are accessible by vehicle while others must be accessed via ATV or hiking.
This isn't your typical lake, but it's worth the visit for the secluded and unique nature.
21. Twin Lakes
At the base of Colorado's tallest mountain, Mount Elbert, Twin Lakes is a small village with two beautiful lakes to enjoy.
Enjoy everything from watching the sunrise to searching for wildlife and renting a kayak or canoe to take out on the water.
With so many beautiful mountains nearby, peeking out right over Twin Lakes, there are many hiking trails nearby to check out. Visitors also enjoy taking a day trip to Leadville for shopping and dining.
22. McPhee Reservoir
Visitors looking to truly enjoy some warm fun out on the water will love paying a visit to McPhee Reservoir, located in Dolores, not far from the Utah border. It's the fifth largest lake in Colorado.
Rent a boat and cruise around the lake, drop a line in and see what you can catch, or hike to Ridge Point Overlook for 360 degree views. Whatever you decide to do at the reservoir, you'll enjoy the beautiful views and weather.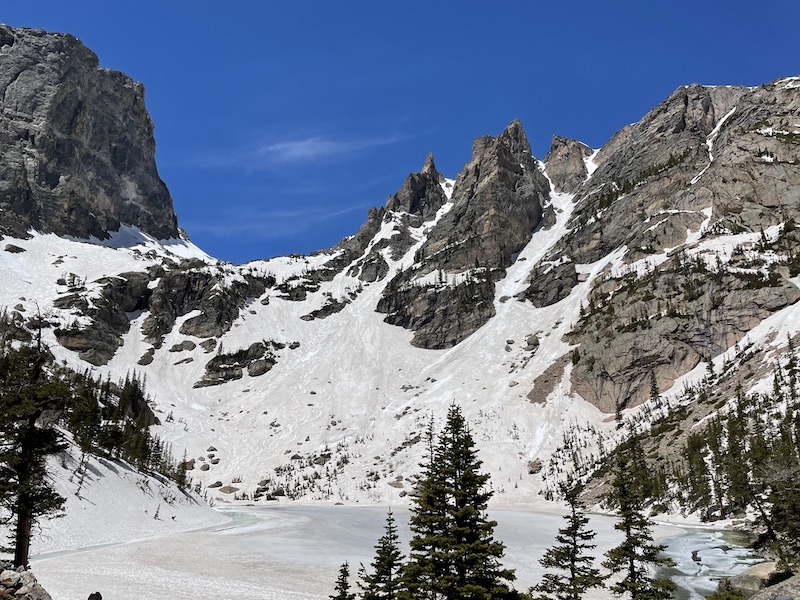 23. Emerald Lake
After a fairly easy 1.6 mile hike, you'll reach the fantastic alpine lake known as Emerald Lake, inside of Rocky Mountain National Park. Along the way, you'll pass Nymph and Dream Lakes, so this becomes a 3-for-1!
Once you've reached Emerald Lake, you'll be met with towering mountain peaks and sparkling teal waters that leave you breathless.
The lake sits at just over 10,000 feet, and the dominating Hallet Peak can't be missed, right in front of you.
Visit during the morning hours to see the sun rise up over the peaks and avoid having to deal with crowds that tend to flock to the area.
24. Chasm Lake
This difficult 8 mile roundtrip hike leads you to the beautiful Chasm Lake, surrounded by jagged peaks. It is a popular trail, but it's less populated than other hikes in the national park. So if you're looking for a way to escape the crowds, this is the one for you!
Take the rocky trail up to the lake and enjoy the fantastic views of this alpine lake that sits at nearly 12,000 feet.
25. Lake Isabelle
Located high in the Indian Peaks Wilderness near Boulder, Lake Isabelle is one of the cleanest lakes in Colorado. It sits at 8,481 feet above sea level, and is tucked into the base of the towering peaks of Isabelle Glacier.
It's easy to assume that this is a natural subalpine lake, but it's actually a reservoir, used for water storage by a private company.
To reach the lake, it's about a 6.6 mile moderately challenging hike from the Brainard Lake Day Use Area. In the winter, the hike is much longer as the road into the trailhead closes due to snow.
Best lakes in Colorado: FAQs
What is the nicest lake in Colorado?
One of the cleanest lakes in the state is Lake Isabelle, but Grand Lake is another of the state's best options.
Where is the best lake in Colorado?
All of the lakes on this list are fantastic, but one of the best options for recreation is Grand Lake, located in northern Colorado. This is the state's largest natural body of water and offers a lot of great opportunities for swimming, boating, etc.
Can you swim in any lakes in Colorado?
Yes, there are many many swimming lakes in Colorado. In fact, many of the ones on this list are open for swimming.
Some of the reservoirs limit swimming due to the cold temperatures, or have specific swimming beaches where it is allowed.
If you're swimming in an alpine lake, be aware that the water will be very cold and it's important not to swim alone.
What is the cleanest lake in Colorado?
One of the clearest and cleanest lakes in Colorado is Lake Isabelle, located in Indian Peaks Wilderness near Boulder.
This manmade reservoir is used for water storage and is drained each summer for agricultural purposes.
What is the bluest lake in Colorado?
Many of Colorado's alpine lakes offer some extremely blue water that almost seems fake. This is because the water is supplied by runoff from the mountains and is very clean. A few lakes which have very blue water are Columbine Lake, Lake San Cristobal, and Emerald Lake.
Best Lakes in Colorado: Final Words
With so many fantastic bodies of water in this beautiful mountain-filled state, it can be tough to choose which to visit.
But having this list of these best lakes in Colorado will certainly help you decide which to quickly add to the top of your bucket list.
From reservoirs to natural lakes to high elevation alpine lakes, the Rocky Mountain state has them all.