Lavaux, a district famous for the lush vineyards, is one of the most scenic places in Switzerland. Comprised of nearly 19 miles of terraced vineyards overlooking Lake Geneva (Lac Leman in French), Lavaux is a sight to behold.
Located in southwestern part of Switzerland, Lavaux vineyards are listed as a UNESCO World Heritage Site. The region has a deep-rooted history when it comes to wine making and has many families who have been making wine for generations.
This article will cover some of the best things to do in Lavaux Switzerland, as well as how to get to the region and where to spend your night to enjoy one of the best hidden gems of Switzerland.
Where is Lavaux located?
The Lavaux Vineyard Terraces cover nearly 30 km along the northern shores of Lake Geneva in Switzerland. They stretch from the popular Chillon Castle (Chateau de Chillon) to the outskirts of Lausanne and cover the lower slopes of the mountains between the villages and the lake.
✅ Read: Is Geneva safe?
Brief History of Lavaux vineyards
The Lavaux Vineyard Terraces date back to 11th century when the Cistercian and Benedictine monasteries got the control the land. This allowed the area to produce high-quality wine that has been an important part of the local economy ever since. What's cool about visiting Lavaux, Switzerland is that you can still see the original cellars where the wine is stored, which shows you just how old this area is!
Why visit Lavaux Switzerland
The trails meandering through vineyards lead toward villages located along the steep hills. After hiking you can stop at one of the area's restaurants, pubs or cellars where you can taste locally produced wine.
✅ Learn about how to visit Thun Castle
Not a lot of tourists know about Lavaux which makes it one of the best off-the-radar places in Switzerland. Still, Lavaux is becoming popular, as more people come here to enjoy the beauty of the Swiss winemaking region and take photos in the vineyards.
PRO TIP: Many travelers include Lavaux on their Switzerland itinerary. If you want to learn about some of the best places to visit in Switzerland, read my guide about how to plan your adventure in this country.
Swiss Wine Making Route
There's a good chance you have never heard about the Swiss wine before reading this article. And that's no surprise – Switzerland exports less 5 percent of its wine, with the rest of it being consumed within the country.
The Swiss Wine Making Route is located along the northern shore of Lake Geneva and stretches from the outskirts of Geneva on the western side all the way through Montreux on the eastern side.
Lavaux Vineyard Terraces begin east of Lausanne and here you can mostly find Chasselas, a white type of grapes that has a distinct taste. Most wine produced in Lavaux is dry white wine that is often used at local restaurants and terraces as aperitif.
Best things to do in Lavaux Switzerland
Consider visiting Lavaux Vinorama, a tourist center of the area where you can try more than 300 types of local wine. You can easily find this place as it's located near the village of Rivaz along the highway called Route de Lac. Here you can also watch a movie about the cultural significance of the Lavaux region.
Even if you are far from being a wine lover, Lavaux still should be on your Switzerland itinerary because of its incredible culture, rich history and friendly locals whose families have been producing wine in this region for centuries.
You can explore the region on your own or with a guided tour. If you decide to explore the area on your own, you will need to download the map from the Montreal Rivera website before your trip.
Self-Guided Tours of Lavaux Vineyards
The best way to explore Lavaux Switzerland is by taking a self-guided tour! Montreux Riviera offers many maps for walking and bicycling self-guided tours of the area where you can find clearly labeled villages, train stations, and various points of interest throughout the area.
The walks range from 1.7 to 11 km and take you through the best areas of the Lavaux Vineyards.
GOOD TO KNOW: The village of Cully is a great starting point for your trip around Lavaux terraced. Cully has a train station, and several trails that go uphill into the vineyards and their cute villages.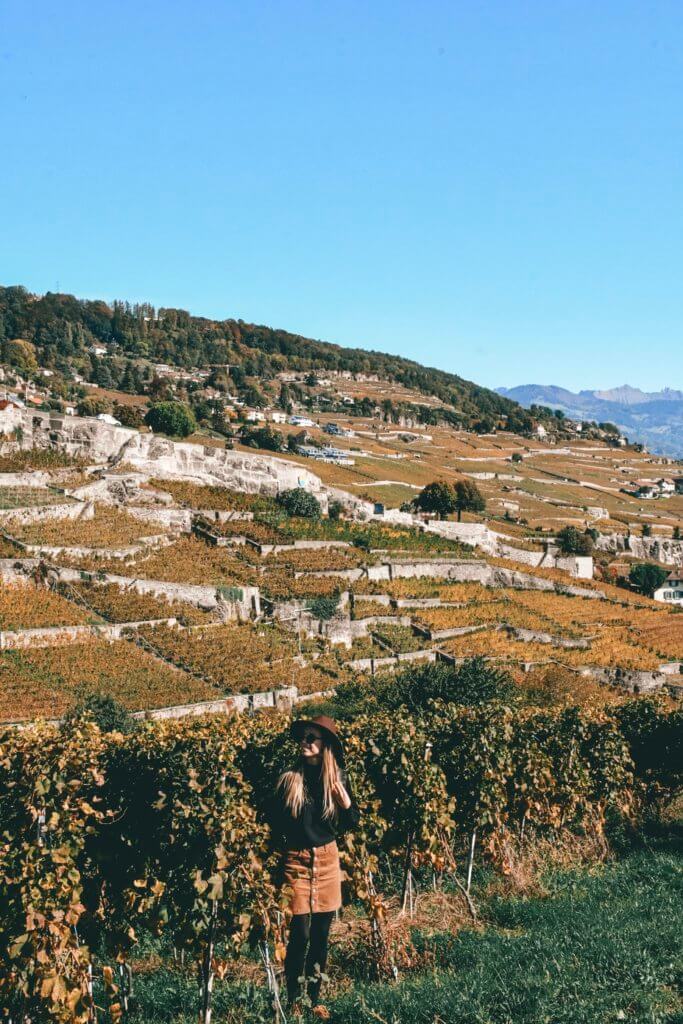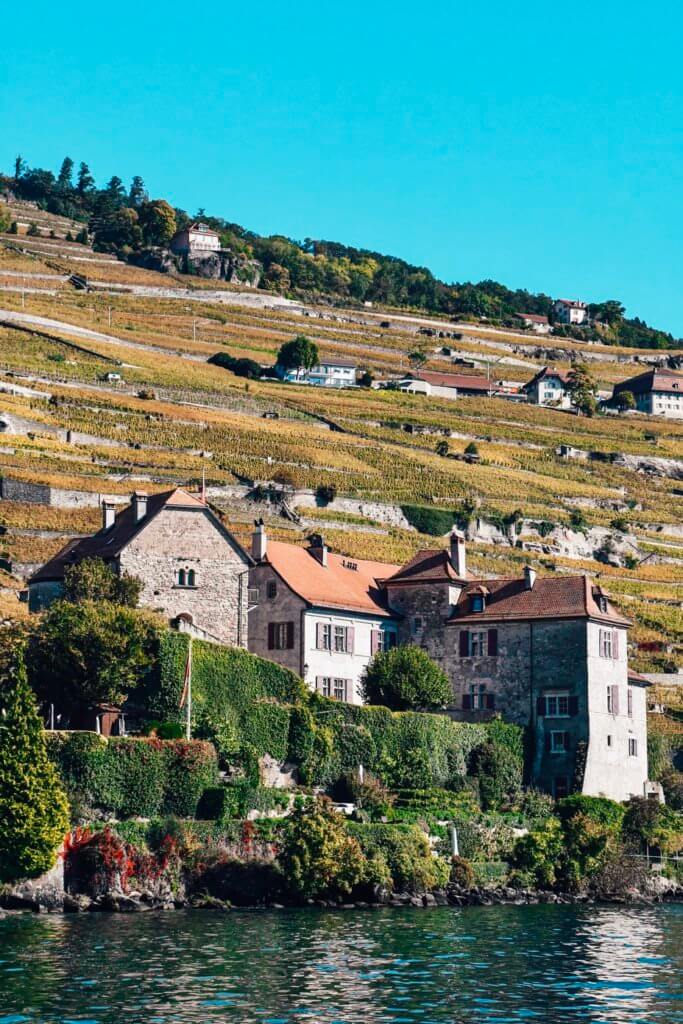 PRO TIP: Since the Lavaux Switzerland vineyards are vertical, prepare for a lot of hiking! As you get higher you will be rewarded with numerous places where you can try crisp white wine. If you want to visit a specific winery, make sure to check their opening hours online before your trip.
Best time to visit Lavaux Switzerland
The best time to visit Lavaux Switzerland is during the fall.
You will get to see the harvesting of the grapes and taste some of the region's signature wines. September and mid-October also offer plenty of sunshine and mild enough temperatures to be outside and enjoy the famous drink.
Fall is the best time to witness the families who have been running these vineyards working on the ground. The fall harvest is the busiest time in the area, which means access to some winemakers and their cellars could be limited.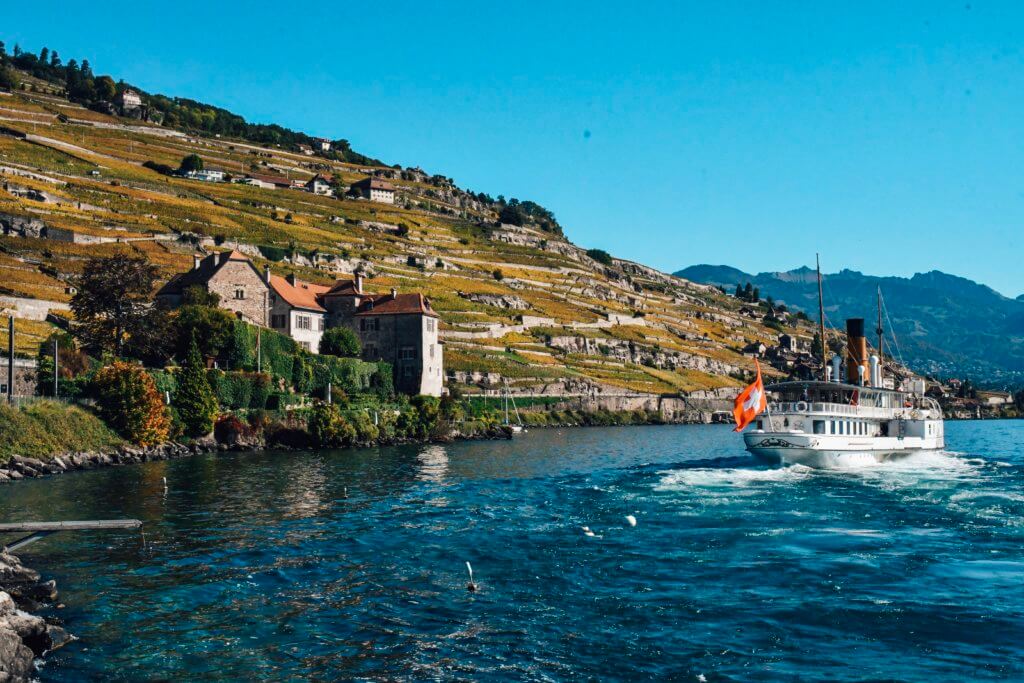 How to get to Lavaux Switzerland
Lavaux is located on the northern shore of Lake Geneva between the Swiss cities Lausanne and Vevey. You can easily get to Lavaux from there via highway, railroad or boat.


Visiting Lavaux by car
If you want to drive through Lavaux, take the scenic Chexbres highway which goes along Lake Geneva for about one hour.
To get there, take the A9 autobahn and take an exit on Chexbres to Lake Geneva. You will get the most fantastic views along the stretch of the road from Lausanne to Vevey. I recommend DiscoverCars, if you are looking for an affordable car rental in Switzerland.
GOOD TO KNOW: If you drive to Lavaux, always follow the posted speed limit. Switzerland is notorious for its high fines for road violations, and you could get a VERY high fine even for a minor violation.
Learn more of my tips for Switzerland travel that will help you to avoid mistakes and save tons of money!
Here's a quick snapshot of distances to Lavaux from some of the most popular destinations in Switzerland:
Zurich to Lavaux – 2 hours, 30 minutes
Bern to Lavaux – 1 hour (with tolls)
Geneva to Lavaux – 1 hour, 10 minutes (with tolls)
Lausanne to Lavaux – 30 minutes
Lugano to Lavaux – 4 hours (with tolls)
Visiting Lavaux by boat
A boat tours run across Lake Geneva after departing from Lausanne, Vevey, and Montreaux. While taking a boat ride on Lake Geneva is a must because of the beautiful views, you can easily catch a train to return to your destination.
Another option is to take one of the iconic steamboats that have the huge Swiss flag hoisted to the back. These steamboats often can be seen cutting across the waters of the lake.
You can also book a sightseeing tour along Lake Geneva that will include several stops including Lavaux.
Visiting Lavaux by train
RER/S1 is the best train to take to Lavaux. It runs along the lakeshore and connects Yverdon-les-Baines with Villeneuve. You need to get off at one of the S1 stops that include Pully, Lutry, Epesses, Vilette, Rivaz and St. Saphorin. Another train is S3 which stops at Cully, Lutry, and Pully.
GOOD TO KNOW: If you plan on traveling Switzerland by train, don't forget to get the Swiss Travel Pass which offers unlimited access to train travel, as well as other public transportation and free access to museums. Use the Swiss Pass to take a scenic boat tour on Lake Geneva on the CGN fleet as well as other routes.
Taking a tour of Lavaux Switzerland
Taking a guided tour of Lavaux is an excellent option if you don't want to plan the logistics of your trip and want to enjoy a guided trip that will allow you to save time, money and also learn the history of this area from one of the local guides.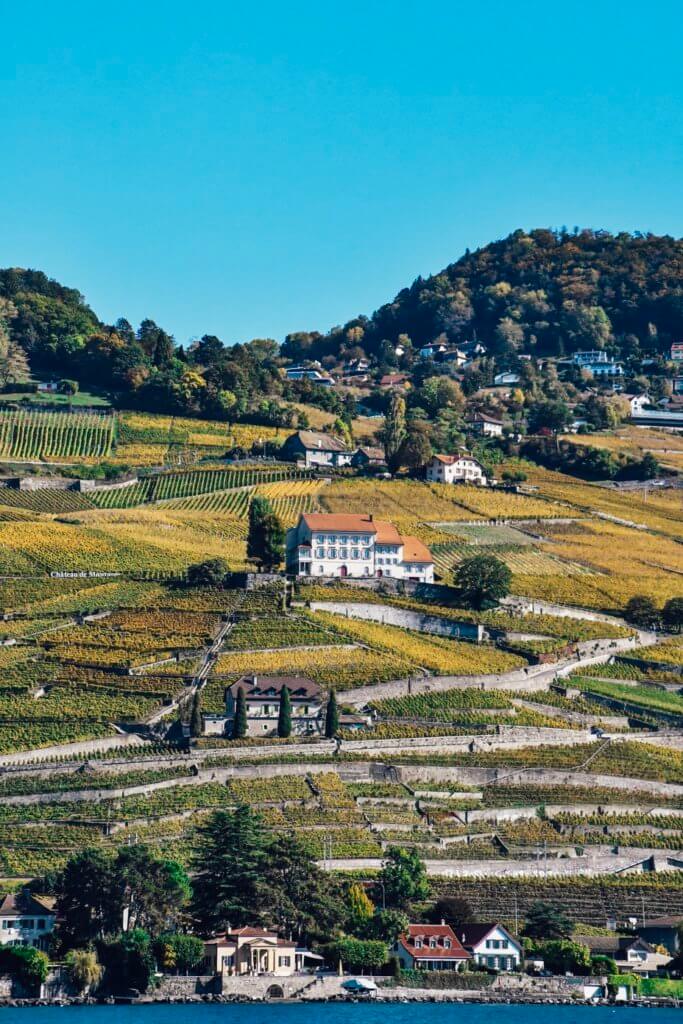 If you just want to roam around, begin your trip at one of the area's villages that has a train station, hotels/restaurants or other amenities. Walk uphill into the vineyards and explore everything that the area has to offer.
PRO TIP: While Lavaux, Switzerland vineyards are beautiful at any time, I recommend planning your trip during the sunny day as it will make for much better photos.
Is Lavaux Switzerland worth visiting?
Absolutely! You don't have to be a wine drinker to enjoy this place! Many visitors come here to enjoy the spectacular Swiss scenery with surrounding mountains and tour the ancient cellars where you can immerse yourself in the history and culture of this place.
Where to stay in Lavaux Switzerland
Spending a night in Lavaux is an excellent idea. It will also you to disconnect and enjoy the incredible sunset before continuing your road trip around Switzerland.
Here are my top suggestions for best hotels in Lavaux:
Hotel Lavaux
Hotel Lavaux is the best option if you are looking to stay in the heart of the gorgeous vineyards. It overlooks the vineyards and Lake Geneva and is about 2 minutes from the Epesses train station by walking. A breakfast buffet is served every morning in the restaurant. A large panoramic roof terrace offers an incredible place for relaxation.
Le Mirador Resort And Spa
Le Mirador Resort And Spa is a gorgeous 5-star hotel that offers sprawling views of the Lake Geneva, the Alps, and the surrounding Rhone Valley. It's a perfect place if you are looking to pamper yourself and enjoy a spa with a heated indoor pool and many treatments.
The two restaurants at Le Mirador Resort And Spa serve international cuisine with local organic produce.
Hotel Des Trois Couronnes & Spa
Hotel Des Trois Couronnes & Spa is a quick drive away from Lavaux Switzerland. The hotel is the middle of Vevey, on the shore of Lake Geneva between Montreux and Lausanne, and offers some of the best views of Lake Geneva. It's considered one of the best hotels in the Lavaux area, with great spa, restaurants and room services, so if you are looking to spoil yourself, Hotel Des Trois Couronnes & Spa is the place to do it.
More resources for planning your trip to Lavaux Switzerland
Lavaux is only a small part of the spectacular southwest Switzerland and I encourage you spend at least a few days in this scenic region. Whether you need to book a car, organize a tour or book a flight while in the area, here are some good resources for your trip.
Agoda.com – a great website for budget accommodations in many parts of Switzerland.
WorldNomads – Great service for insurance coverage that will keep you safe on the road.
Safety Wing – Excellent insurance plan for long-term travelers that offers competitive rates is you are planning to stay on the road several weeks in a row.
GetYourGuide.com – Thinking about booking a guided tour to see Lavaux Switzerland? Get Your Guide is my favorite platform that offers awesome tours and top-notch guides in many popular destinations.
DiscoverCars.com – There's nothing like exploring Switzerland at your own pace. Consider renting a car at Discover Cars if you want more freedom exploring this part of the country
CheapoAir.com – One of the best platforms for saving money on flights to Switzerland.
Booking.com – a popular website with tons and tons of options for accommodations of all sorts.
Disclaimer: This post contains affiliate links. At no cost to you, I might earn a small commission if you make a purchase through the links in this article.