Disclaimer: This post contains affiliate links. At no cost to you, I might earn a small commission if you make a purchase through the links in this article.
Los Rapidos Bacalar is a natural canal surrounded by lush mangroves that connects two parts of the Bacalar lagoon. This gem is one of the most beautiful places in Yucatan and if you are visiting the Bacalar Lagoon, you can't miss this place!
It's a quick trip that doesn't require a lot of planning or car rental (although having a car rental helps). You can spend as much time as you want here and enjoy fun activities like swimming, kayaking and paddle boarding.
This article provides a detailed guide to visiting this magical place and offers tips that will help you to plan your trip.
Where's Los Rapidos Bacalar?
Los Rapidos is located in the southern part of Quintana Roo State in the Municipality Othon Blanco. You will find the entrance along the highway connecting Bacalar with Chetumal.
A brief overview:
Los Rapidos is a small channel within the lagoon where the current becomes stronger and the water boasts incredible turquoise color. You can make your way down along the wooden boardwalk and jump in the water to float down the canal, as the current will carry you down.
What is Los Rapidos Bacalar Known For?
It's known for incredibly clear waters, quick currents, mangroves, and stromatolites – some of the oldest forms of life on the planet.
Stromatolites on the Bacalar Lagoon
Los Rapidos is part of the Bacalar lagoon that's home to round formations that look like mounds of dirt floating on the surface. They are called estramatolliots (stomalites in English) and are made up of many layers of cyanobacteria. They provide a habitat for many forms of life and generate oxygen.
👉 Estromatollitos are believed to be the oldest forms of life on the planet and have an important role in photosynthesis which helps to produce more oxygen. While most of them have become extinct, Bacalar is one of the few places in the world where you can still find them!
Why you shouldn't touch stromatolites in Bacalar
Do NOT touch estramatollitos or tamper with them because they are fragile and you can easily damage them. You will see many signs around Bacalar warning you about getting close to estramatollitos.
Be a good steward of the environment and keep your distance from them. If you see other visitors getting close to stromatolites, let them know that it's not allowed and educate them on the why.
LOS RAPIDOS BACALAR HOW TO GET THERE?
Since this place is outside of Bacalar, you will need to rent a car or catch a taxi to get there. The drive from Bacalar is about 5-10 minutes depending on your exact departure point.
➡️ By taxi
If you don't have a car rental, you can catch a taxi to Los Rapidos from Bacalar. Expect to pay about 150-200 Pesos one way, but the exact price depends on the timing of your trip and your taxi driver.
➡️ Read: Can I use US dollars in Mexico?
If you are planning to take a taxi, learn some Spanish. It will help you to negotiate the price and you will be able to communicate with your driver, in case you need to ask questions or exchange phone numbers so they can pick you up when you want to go back to Bacalar.
✅ Check my top tips for traveling Mexico to avoid mistakes
How to get from Los Rapidos to Bacalar?
To get back to Bacalar, you will need to exchange numbers with your taxi driver. Most people in Mexico use WhatsApp for messaging, so you need to download the app before you make your way there.
When you want to go back to Bacalar, you will need to send a text message to your driver to ask them to come pick you up.
✅ Check: Best boat tours of Bacalar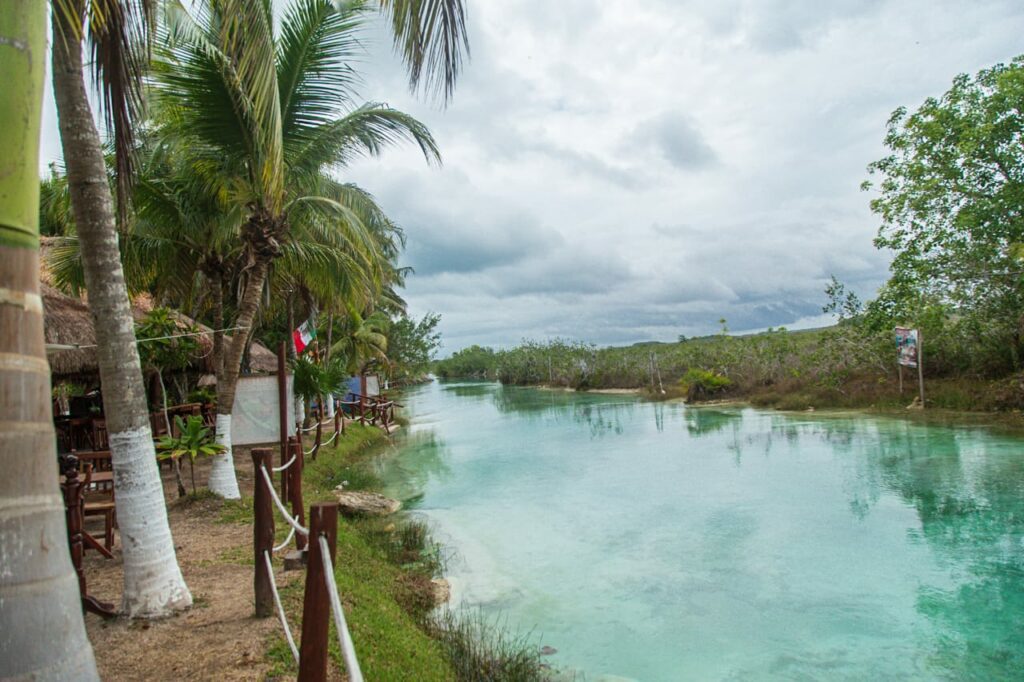 Do Los Rapidos have good cell phone service?
I didn't have a good connection when I visited, but I still was able to message my driver via WhatsApp near the entrance, where I had a weak signal. You might have a better connection depending on your carrier, but spotty cell phone service is something to be aware of when visiting this place.
➡️ By car
I recommend renting a car for your trip. Although you don't need a car in Bacalar, since the town is walkable, it's a great option if you want to travel around the Yucatan Peninsula without public transportation or guided tours.
You can rent a car in some of the most popular destinations in the region like Cancun, Playa Del Carmen, or Tulum.
Read: How to get from Playa Del Carmen to Bacalar
I recommend DiscoverCars, my favorite platform for car rentals in Mexico, where you can find hundreds of vehicles at affordable rates.
Unlike other platforms, DiscoverCars doesn't have any hidden fees or surcharges and you pay exactly what you see online.
✅ CHECK PRICES ON DISCOVERCARS
➡️ By colectivo
If you are visiting Bacalar on a budget, you can also catch a colectivo (a small shared van). You will need to ask your driver to drop you off on the side of the road, because colectivos don't bring you directly to the entrance.
A colectivo usually costs between 20 to 30 Pesos and has to be paid in cash. Let your driver know where to drop you off since there's no designated bus stop in the area.
After you get dropped off, you will need to walk for about 2 km before you reach the entrance.
Opening Hours
The area is open every day from 10 a.m. to 6 p.m.
Los Rapidos Bacalar Price
Entrance costs 150 Mexican Pesos ($7.50 USD) per person. Bring cash because credit cards are not always accepted.
You can also rent a locker on-site for 50 Pesos where you can store your valuables.
Los Rapidos Restaurant
If you get hungry, you can grab a bite at a small restaurant on-site. Another option is to bring your food if you don't want to spend the money.
BEST THINGS TO DO IN LOS RAPIDOS
Enjoy the beach club at Los Rapidos
The beach club has a variety of hammocks, lounges, and tables overlooking the canal to kick back and relax under the warm sun. You can also leave your towels and shoes near your lounge and enjoy the lagoon after enjoying some beer and snacks.
What is the beach club at Los Rapidos like?
The on-site beach club has chairs and tables that face the water. It's a perfect spot to relax and enjoy some food after taking a swim. You are required to spend a minimum of 300 Pesos.
I didn't visit the beach club, so I can't comment on what it's like but I heard some comments that the service at the restaurant can be somewhat slow.
If you want to spend a day here, it might be a good idea to adjust your expectations, especially if you visit during the high season which is from December through March.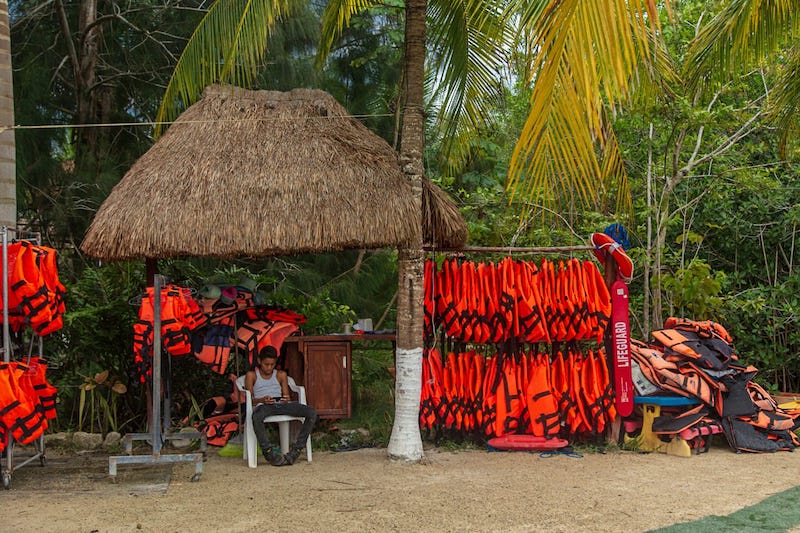 Go for a swim
Swimming is one of the best things to do in Los Rapidos. All you need to do is walk down the wooden boardwalk, get in the water, and let the current carry you down the river. Make sure to stay away from estromatolitos at all times.
Since the current here is pretty strong, consider renting a life jacket to stay safe, if you are not a good swimmer.
Take photos
When planning your trip, don't forget to take your camera, because this place is gorgeous and you will want to snap some photos as soon as you get here.
Snorkel
You can bring your snorkel gear if you want to have some fun. The water here is incredibly clear and you can spot a lot of fish, snails, and stramotalites. Keep your distance when you snorkel and don't touch any animals that you see.
Rent a kayak
Renting a kayak is the best way to explore the Bacalar lagoon. A single kayak costs 200 MXN and a double kayak costs 400 MXN. There are also paddle boards available on site.
➡️ Check: Best things to do in Sisal, a hidden gem of Yucatan
BEST HOTELS IN BACALAR
Low budget: Casa Delia is one of the best budget hotels in Bacalar, Casa Delia offers nice basic accommodations with a swimming pool, spacious outdoor area, and comfy rooms. The hotel is a short distance from Bacalar's ADO bus station and less than 10 minutes from downtown Bacalar on foot.
Mid-budget: Blue Palm Bacalar is a small boutique hotel that has a swimming pool, and a continental breakfast. It boasts beautiful decor and a convenient location in the heart of town.
Luxury: Habitas Bacalar is one of the most beautiful hotels on the water in Bacalar. Located in the lush jungle near Bacalar Lagoon, this hotel has an on-site restaurant and offers a variety of activities like yoga and wellness therapies so you can relax and disconnect.
✅ Read: where to stay in Bacalar
Where is the best place to stay in Bacalar?
Mia Bacalar Resort & Spa is the best place to stay in Bacalar. This resort offers an outdoor pool, spa services, and a restaurant. Plus, the resort is located right on the beautiful Lagoon of Seven Colors!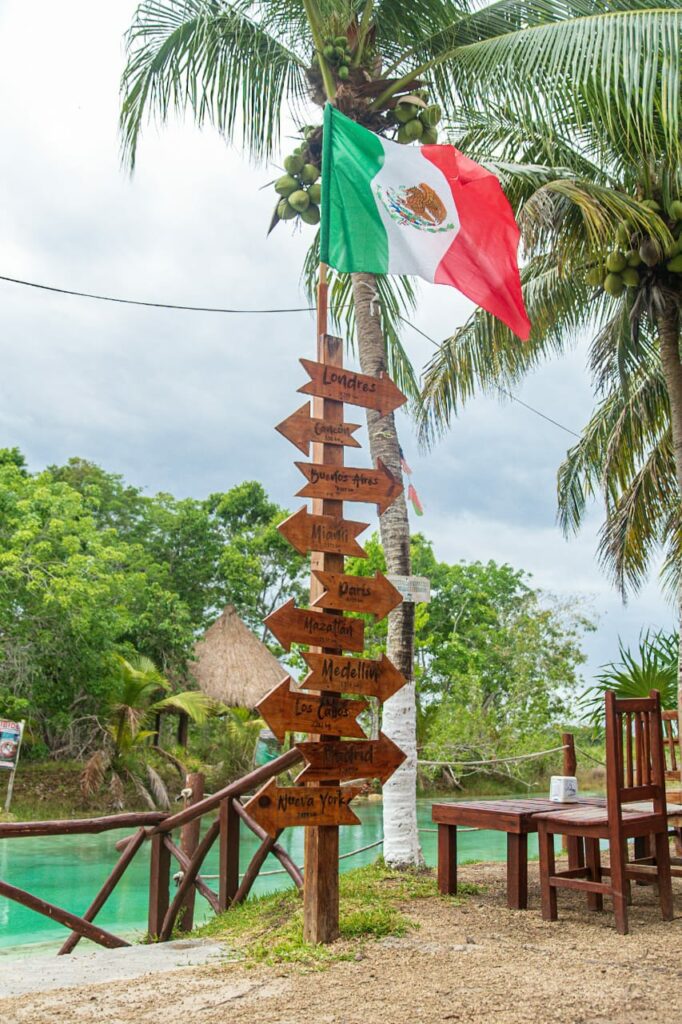 TIPS FOR VISITING LOS RAPIDOS
Visit in the morning or late afternoon – for the best experience visit in the early morning or late afternoon before it gets busy.
Leave your sunscreen at home – even an eco-friendly, biodegradable sunscreen can be harmful to the fragile ecosystem of the Bacalar Lagoon.
Don't put on any perfume or other cosmetics on your body – Same as with your sunscreen chemicals in your perfume could seriously harm the lagoon.
Take a shower before visiting – You will help to preserve the lagoon by doing so.
Don't touch estramoralitos – This is the biggest no-no when visiting this place.
Don't touch or harass any wildlife – this applies to any fish or any marine life that you see.
Don't touch or hang onto mangroves or any other vegetation – mangroves are critical for the health of the Bacalar lagoon and you shouldn't touch them when swimming. They serve as an important habitat for many species like birds and crocodiles and also provide nutrients for the lagoon.
Bring cash – If you want to spend time here, bring cash. The on-site restaurant accepted credit cards the last time I was there, but some travelers have since reported that it's frequently down.
Do not exfoliate yourself with mud – It can disturb the ecosystem and will not do you any good. There are many signs around the lagoon, but it's good to be aware before you visit because some people mistakenly think it has some healing features. It doesn't.
ON-SITE FACILITIES:
✔ Lockers
✔ Changing rooms
✔ Showers
✔ Bathrooms
✔ Restaurant
✔ A beach club – comes at an extra cost, so bring pesos with you.
✔ Kayaks and paddle board – an extra cost that depends on the number of people and duration of use.
✔ Hammocks – very nice to chill on a hot sunny day since they are right above the water
MORE FUN THINGS TO DO IN BACALAR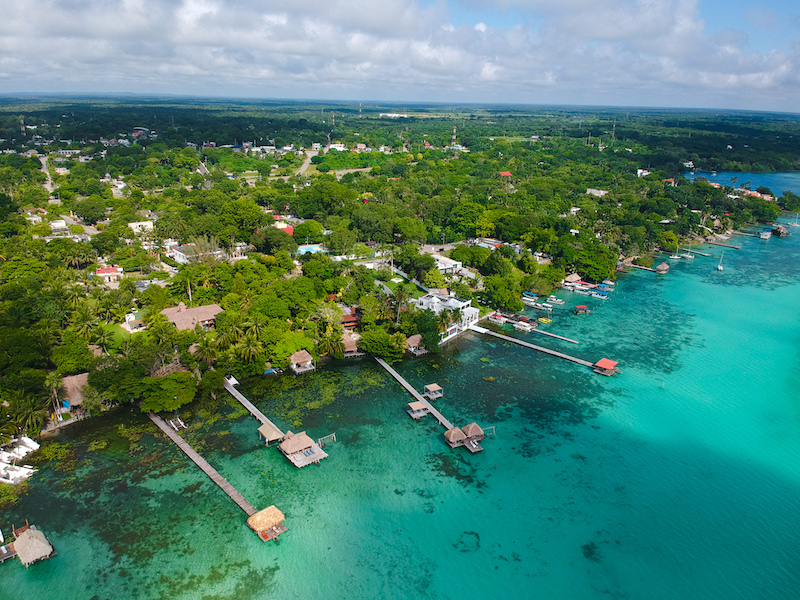 Take a sailing tour of the Bacalar
Taking a sailing tour of the Bacalar lagoon is a must, whether you are new to this destination or visited it before. Sailing boats offer individual and group tours, and you can easily book one from many businesses around the lagoon.
✅ CLICK HERE TO BOOK A TOUR OF BACALAR LAGOON
Book a Bacalar boat tour online ahead of your visit, which will help you save time and ensure that you have a tour when you arrive.
Best private boat tours in Bacalar
Kayaking on the Bacalar lagoon
Kayaking on the lagoon is a lot of fun and the best time to do it is early morning when there's no wind or current. You can rent a kayak in many hotels and restaurants around the Bacalar lagoon, like Maracuya where you can also try delicious tacos, sushi, and ice cream.
Best kayaking tours of the Bacalar Lagoon
Exploring Mayan ruins
If you have a car rental, one of the best things to do in Bacalar is to visit nearby Mayan ruins. The surrounding area is known as Costa Maya and is home to some of the least visited Mayan ruins in the Yucatan Peninsula.
I recommend Kohunlich and Dzibanche, some of the most impressive Mayan ruins in the Costa Maya region. The best way to visit these spots is by renting a car in Chetumal, the closest major town to Bacalar and home to the Chetumal International Airport.
You can also take a guided tour of Kohunlich and Dzibanche which will eliminate a lot of work. A guided tour includes round-trip transportation and a knowledgeable guide who can tell you about the history of these Mayan ruins.
Further away are impressive ruins of Chicanna, Becan and Calakmul, home one of the biggest archaeological areas in Mexico.
Paddleboarding
Early morning is the perfect time to paddle board in Bacalar. You can rent a paddle board in many places around the Bacalar Lagoon and enjoy an hour (or more) exploring the stunning area.
Check out Bacalar cenotes
Bacalar is also home to several cenotes, some of which are within the lagoon. You can visit them by renting a kayak or as part of the guided tour of the Bacalar lagoon.
Here are some of the most popular ones:
➡️ Cenote Negro (Cenote Bruja)
The deepest cenote on the Bacalar Lagoon, Cenote Negro can only be visited by boat or kayak. The 90-meter-deep cenote has a round shape, with dark blue in the middle, and a light outer edge that is only a few meters deep.
Another name for this cenote is Cenote Bruja (or the witch cenote).
➡️ Cenote Cocalitos
Cenote Cocalitos is the most beautiful cenote in Bacalar that has hammocks and swings perfect for a photo opportunity. Most Bacalar boat tours stop here and wait for you to hang out a bit and snap some shots.
The cenote is open daily from 9 a.m. to 6 p.m. and has many facilities like bathrooms, a small restaurant, and kayak, and paddle board rentals.
➡️ Cenote Azul
One of the deepest cenotes (about 300 feet) in the Yucatan Peninsula, Cenote Azul is popular for scuba diving and is located
on the southern side of Bacalar and is less than 10 minutes by drive.
There is a small restaurant, bathrooms, and souvenir shops on site, and many visitors spend at least a couple of hours here.
LOS RAPIDOS: FAQ
What is the typical food of Bacalar?
Similar to the rest of Yucatan, you can find traditional Mexican and Mayan dishes in Bacalar like tamales, tacos and quesadillas, and ceviche. Bacalar also boasts many restaurants where you can find international food from classic burgers and pizzas to elaborate sushi rolls and fluffy pancakes.
What to do in Bacalar with little money?
If you are visiting Bacalar on a budget, you can still enjoy the town. Bacalar has a public pier (balenario publico) where you can jump in the water and enjoy the sun later. You can also check out the main square of Bacalar (Zocalo) and walk around the Fort San Felipe, a historic landmark where you can learn the history of Bacalar.
What's the best time to visit Bacalar?
The best time to visit Bacalar is in November before the peak season and May when the peak season is over. Although Bacalar is not expensive, visiting during shoulder months will help you to save more money.
What are the stromatolites in Bacalar?
The stromatolites are some of the oldest forms of life in Bacalar they are made of layers of bacteria and play an important role in the environment and health of the lagoon. Do not walk or touch estramotalites, because they are extremely fragile and can be damaged very easily.
What is the closest airport to Bacalar?
The closest airport to Bacalar is the Chetumal International Airport (CTM). Chetumal is the capital of Quintana Roo near Belize. You can take flights to Chetumal from Mexico City, Guadalajara, Cancun and Miami. It takes about 30 minutes to get from Bacalar to Chetumal Airport.
Is Bacalar safe?
Bacalar is one of the safest places to visit in Mexico. You can walk around at any time, and not worry about your safety. Be sure to always keep an eye on your belongings to avoid petty theft which can happen in places with a lot of people.
Does Bacalar have a beach?
While there are no beaches in Bacalar, many hotels have docks or balnearios (wooden piers) from where you can jump in the water. There are also public balenarios in Bacalar where you can swim at no additional cost or for a few pesos.
Balneario Municipal in Bacalar is between Calle 14 and 12 has a nice, long pier, and is free to the public. It can get a bit crowded by the afternoon, so arrive early.
Los Rapidos Bacalar: Final Word
This small canal connecting two parts of the Bacalar lagoon is one of the most beautiful natural wonders and while you will love your time here your job as the visitor is to preserve this place and leave it better than you found it.