Disclaimer: This post contains affiliate links. At no cost to you, I might earn a small commission if you purchase through the links in this article.
The journey from Merida to Tulum is an experience filled with breathtaking landscapes, rich culture, and historical landmarks.
Whether you're a history buff, a beach lover, or an adventure seeker, this journey will leave a lasting impression. In this comprehensive guide, we'll explore the various transportation options available between these two popular destinations.
From the bustling streets of Merida to serene beaches of Tulum, I'll help you navigate the best way to travel, ensuring a smooth and memorable adventure.
➡️ Check out the best private tours from Tulum
So, pack your bags and get ready to explore the wonders between the two cities, as we dive into the details of bus routes, car rentals, and other transportation alternatives tailored to fit the needs and preferences of every intrepid traveler.
What is Merida known for?
Merida is the capital of the Yucatan state, known for its rich history, stunning colonial architecture, and vibrant culture. The city boasts numerous museums, art galleries, and colorful markets where you can buy arts and crafts made by Mayan artisans.
As the heart of the ancient Mayan civilization, Merida is surrounded by abundant archaeological sites, such as Uxmal and the world-renowned Chichen Itza, offering visitors a unique opportunity to delve into the region's fascinating past.
Merida is celebrated for its friendly and welcoming residents, who take pride in their rich heritage and are always eager to share their knowledge and traditions with visitors.
The city's lively atmosphere is enhanced by many local festivals and events, such as the Merida Fest, which showcases the region's vibrant music, dance, and gastronomy.
➡️ Did you know that Merida is one of the cheapest cities in Mexico?
For foodies, Merida is a culinary paradise, featuring delectable cuisine, characterized by its unique blend of Mayan, Spanish, and Caribbean flavors.
Check out best guided tours from Merida
In summary, Merida is a captivating destination that offers a perfect blend of history, culture, and culinary experiences for travelers eager to explore the authentic side of Mexico.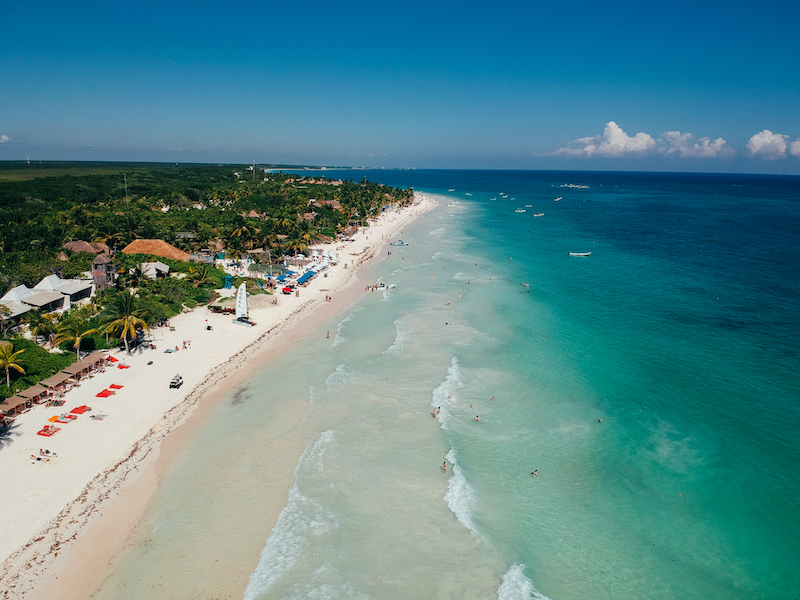 What is Tulum known for?
Tulum, located on the east coast of Yucatan, is famous for its picturesque white sand beaches, crystal-clear waters, and ancient Mayan ruins. A popular destination for travelers seeking relaxation and adventure, Tulum offers a unique mix of nature, history, and laid-back vibes.
The Tulum ruins, perched atop a cliff overlooking the turquoise Caribbean Sea, are a must-see for history enthusiasts, providing a glimpse into the Mayan civilization's fascinating past.
✅ Check my guide to the best Tulum restaurants
Besides its historical allure, Tulum is also a haven for nature lovers and eco-conscious travelers. The Sian Ka'an Biosphere Reserve, a UNESCO World Heritage site, is home to diverse flora and fauna, offering visitors the chance to explore mangroves, lagoons, and tropical forests.
Tulum's underwater world is equally mesmerizing, with numerous cenotes – natural freshwater sinkholes – dotting the landscape, inviting divers and snorkelers to discover the region's hidden aquatic treasures.
✅ Is Tulum expensive? Click here to find out!
The town has evolved into a trendy hotspot with a thriving culinary scene, featuring farm-to-table eateries, vegan cafes, and beachfront restaurants. Tulum's holistic atmosphere draws visitors seeking wellness experiences, with numerous yoga studios, meditation centers, and spa retreats available.
Best Tulum tours
➡️ Ready for an adventure? Read about the best Tulum tours!
Tulum is a captivating destination that caters to a wide range of interests, blending natural beauty, cultural heritage, and fun outdoor adventures like diving, snorkeling, and wildlife watching.
Where is Merida located?
Merida is situated in the northwest part of Yucatan. The city is approximately 196 miles (316 km) west of Cancun and 233 miles (375 km) north of Chetumal.
Where is Tulum located?
Tulum is located on the east coast of Yucatan, approximately 81 miles (131 km) south of Cancun and 152 miles (245 km) southeast of Merida.
✅ Find out about the best time to visit Tulum
How far is Merida from Tulum?
The distance between the two cities is approximately 152 miles (245 km).
How long is the drive from Merida to Tulum?
The drive to Tulum from Merida is about 3.5 to 4 hours, depending on traffic and the route you take.
How do I get from Merida to Tulum?
There are several ways to get to Tulum from Merida, including taking a bus, renting a car, or arranging private transportation.
✅ Read: How to rent a scooter in Tulum
By bus
The most popular and budget-friendly option for getting to Tulum is by bus. ADO, a reputable bus company in Mexico, operates multiple daily departures between the two cities.
➡️ Learn about the best beachfront hotels in Tulum for a perfect getaway
Ticket prices: Ticket prices for the bus to Tulum range from $15 to $40 USD, depending on the bus company and time of booking. Discounts may be available for students, seniors, and children, and some companies, like ADO also has frequent discounts on its website.
Tulum from Merida bus departure times
ADO buses typically depart from Merida throughout the day, with the first bus leaving around 6:00 am and the last bus departing around 10:00 pm.
It's advisable to check the latest schedule on the ADO website or at the bus terminal.
Where do I buy bus tickets to Tulum?
Bus tickets can be purchased online at ADO.com or busbud.com, as well as in person at the Merida bus terminal's ticket office.
Where is the Merida bus terminal and how to get there?
The Merida bus terminal, also known as Terminal de Autobuses de Mérida (TAME), is located at Calle 70 #555, Centro, Merida.
You can get to the terminal by taxi, Uber, or walking if you're staying nearby.
How long does it take to get to Tulum from Merida by bus?
The bus journey to Tulum takes approximately 4 to 5 hours, depending on traffic conditions and the number of stops.
Arriving in Tulum by bus
Upon arrival in Tulum, the bus will drop you off at the ADO bus station at Avenida Tulum in Tulum Centro.
From the bus station, you can take a taxi, rent a bike, or use a local "colectivo" to reach your hotel or accommodation.
Returning from Tulum to Merida by bus
To return to Merida from Tulum, you can follow the same steps as your initial journey. Buses run throughout the day, and tickets can be purchased online, at the Tulum bus station's ticket office, or via the ADO website. Prices are generally the same as for the Merida to Tulum route.
Is it safe to take a bus from Merida to Tulum?
Taking a bus is generally safe, as ADO is a reputable and reliable transportation company. However, it's important to exercise caution and follow some basic safety tips:
Keep an eye on your belongings
Be cautious in crowded areas
Travel with an anti-theft travel bag
Avoid walking around the bus terminal when it's dark
Merida to Tulum by car rental
Renting a car is another option for travelers who prefer more flexibility and the opportunity to explore attractions like Mayan ruins, cenotes, and pueblos magicos along the way.
Renting a car provides you with more freedom and control over how you want to travel.
✅ Check my complete guide to renting a car in Mexico
Where do I rent a car in Merida?
There are numerous car rental agencies in Merida, including major international companies like Hertz, Avis, and Enterprise, and local agencies like City Car Rental.
To find them, go to DiscoverCars, a popular car rental platform that works with major car rental companies in Mexico and has some of the best prices on many types of vehicles.
You can also add full Mexican insurance, which is mandatory for less than $10 per day when booking your car with DiscoverCars.
✅ CHECK PRICES ON CAR RENTALS WITH DISCOVERCARS
What documents do I need to rent a car in Merida?
Renting a car in Merida works the same as renting a car in any other destination in Mexico. You will need a valid driver's license, a passport, a credit or debit card and a Mexican car insurance.
A passport
When renting a car in Merida, you will need your passport. A representative of the car rental company will make copies of your passport before giving it back to you.
A driver's license
A valid driver's license is required to rent a car in Merida. If you are traveling to Mexico from countries that don't use a Roman language alphabet, you will need an international driver's license.
Can I drive in Mexico with a US license?
Yes, you can drive in Mexico with a valid US driver's license as well as driver licenses from Canada and EU and UK. If your driver license is not in English, you might need to buy an International Driving Permit that is typically valid for two years.
A credit or debit card
You can use a debit or credit card to rent a car in Merida. A car rental company will put a hold on your credit card ranging between a few hundred dollars to over a thousand dollars. If you return your car rental with no damages, the hold on your credit card will go away.
A Mexican car insurance
To rent a car in Mexico you will need a Mexican car insurance. You can buy it from your car rental company to save time and avoid the hassle of buying it separately. When you book your car with DiscoverCars, you can buy your car through their platform, so when you arrive at the car rental office, all you need to do is show your reservation.
➡️ CLICK HERE TO CHECK PRICES ON CAR RENTALS WITH DISCOVERCARS
What road do I take from Merida to Tulum?
To get to Tulum from Merida by car, take Highway 180D eastbound, which will connect you to Highway 307 southbound toward Tulum.
How much is the toll from Merida to Tulum?
There are a few tolls along Highway 180D, with the total cost ranging between $15 to $20. Tolls can only be paid in cash.
Is it safe to drive to Tulum from Merida?
Driving to Tulum is generally safe, but it's essential to follow basic road safety tips and be aware of local driving habits. Always be cautious and avoid driving at night when visibility is low, especially on secondary roads.
Major roads between Merida and Tulum are well-maintained, and signage is usually clear, making it easy for travelers to navigate. Stay vigilant for potential hazards, such as potholes, animals, or pedestrians, especially in more rural areas.
Before embarking on your journey, ensure your vehicle is in good working condition, and familiarize yourself with local traffic rules and regulations. It's also a good idea to have a reliable GPS device or smartphone navigation app, and a physical map as a backup.
While on the road, be mindful of local drivers, who may not always adhere to traffic rules or signals. Exercise patience, and give yourself plenty of time to react to unexpected situations.
It's also recommended to have a basic understanding of Spanish, as it can be helpful when dealing with local authorities or asking for directions.
Always keep your doors locked and windows locked, particularly when stopped at traffic lights or in congested areas, to deter opportunistic thieves.
Lastly, make sure you travel with good travel insurance while in Mexico. It will keep you safe and covered if you have any bad luck.
What's the driving distance between Merida and Tulum?
The driving distance between Merida and Tulum is approximately 245 km (152 miles).
Do I need Mexican insurance for driving from Merida to Tulum?
Yes, it is mandatory to have Mexican car insurance when driving in Mexico. Most car rental agencies offer insurance packages, or you can purchase them separately from a third-party provider.
Know that if you travel by camper van, you will need specific insurance for campers.
Private transportation options
Several private transportation companies offer door-to-door services, providing a more comfortable and hassle-free experience.
But this option is generally more expensive than taking a bus or renting a car. Some of the reputable private transportation companies operating between Merida and Tulum include:
USA Transfers: Known for their reliable and professional services, USA Transfers offers private shuttle services between Merida and Tulum. They have a fleet of modern, air-conditioned vehicles and experienced drivers to ensure a comfortable journey.
Happy Shuttle Cancun: Offering private transfers throughout Yucatan, Happy Shuttle Cancun is another popular option for travelers seeking a seamless door-to-door experience. You can book their services online, and they offer competitive rates.
Cancun Shuttle: Cancun Shuttle is a well-established transportation company that provides private transfers between the two cities. Their services can be customized to cater to your specific needs, and they offer a range of vehicle options to accommodate different group sizes.
Remember that prices for private transportation services can vary significantly based on factors such as the type of vehicle, the number of passengers, and the season. Compare quotes from multiple companies to find the best option for your needs and budget.
By taxi
Taking a taxi is not recommended due to the high cost. It would be more cost-effective to rent a car and have the flexibility to explore the region at your own pace.
However, taxis are widely available in the area, and any hotel or hostel can provide you with a number or even call a taxi for you.
Is there a colectivo to Tulum from Merida?
There is no direct colectivo service between these cities, as the two cities are too far apart. You can catch a bus, go by private shuttle, rent a car, or go by taxi.
✅ Check prices on ATV rentals in Tulum
Where to stay in Tulum:
Luxury: Ahau Tulum – Ahau Tulum is an eco-friendly and pet-friendly hotel with a famous Ven a La Luz sculpture. It offers yoga lessons, massage services and beautiful beachfront cabanas. Ahau also has a great on-site restaurant that serves international dishes.
Mid-budget: Maka Boutique Hotel – One of the best boutique hotels in Tulum, Maka has a restaurant, outdoor swimming pool and a rooftop bar. It's located right in the heart of town and boasts a quick access to cenotes and some of the best restaurants in downtown.
Budget: Hotel Ko Ox Wenne – A new hotel in Aldea Zama, Ko Ox is a convenient stay with basic amenities, free water and coffee and an amazing rooftop bar that's perfect for watching sunsets.
Hostel: Botanica – One of the best hostels in Tulum, Botanica has private and shared rooms, a common kitchen and bathrooms. This property is in the middle of downtown Tulum close to restaurants, stores and within a quick bike ride to Gran Cenote and Cenote Escondido.
Tulum to Merida: FAQs
What's the fastest way to get to Tulum from Merida?
The fastest way to travel to Tulum from the Yucatan capital is by car, with a driving time of approximately 3.5 to 4 hours, depending on traffic and the route taken.
What's the cheapest way to get from Merida to Tulum?
The cheapest way to Tulum is by bus, with ticket prices ranging from $15 to $40.
Does Tulum have an airport?
Tulum does not have its own airport. The nearest airports are in Cancun (CUN) and Cozumel (CZM), both of which are about a 2-hour drive from Tulum.
Final thoughts
Traveling between these cities offers budget travelers various options to choose from, with the most popular being the bus journey. Regardless of your choice, the journey between these two fascinating cities will undoubtedly leave you with unforgettable memories and a desire to explore more of Mexico's hidden gems.
More resources for planning your trip
Agoda.com – a great website for budget hotels in Merida, Tulum and other parts of Mexico.
WorldNomads – Great service for insurance coverage that will keep you safe on the road.
Safety Wing – Excellent insurance plan for long-term travelers offers competitive rates if you plan to stay on the road several weeks in a row.
iVisa – the best website for getting help with your Mexico visa.
DiscoverCars – There's nothing like exploring Merida and surrounding areas at your own pace. Rent a car at DiscoverCars if you want more freedom exploring Cancun and the entire region.
GetYourGuide – This is one of the best platforms for finding the best tours in Merida and Tulum. Get Your Guide is my favorite platform that offers awesome tours and top-notch guides in many destinations in Mexico.
CheapoAir – One of the best platforms for saving money on flights within Mexico.
Booking – a popular website with many options for accommodations of all sorts.
ABOUT THE AUTHOR:
This blog post was contributed by Josephine who writes travel guides and travel tips from places she has visited on her blog, josephineremo.com.
You can follow Josephine and her journey on Pinterest and Instagram.