Nelson Ghost Town
Deep in the Mojave Desert sits Nelson Ghost Town, one of the most famous ghost towns near Las Vegas.
This historic landmark is considered to be one of the best places to visit near Las Vegas. It attracts plenty of photographers and filmmakers because it looks like it was taken straight from the Wild West 🤠
The ghost town is just a small piece of property located along the main road near Eldorado Canyon. Here, you can tour Eldorado Canyon to learn the history of mining in the area or spend time taking photos of vintage cars, rusted out gas pumps and old barns.
How to get to Nelson Ghost Town From Las Vegas?
Nelson Ghost Town is literally in the middle of nowhere, and it is not served by public transportation. To get here, you will have to rent a car.
Las Vegas is one of the most popular destinations in the United States. To avoid paying high fees on the spot, book your car in Las Vegas ahead of time.  
One of the websites that I use for booking cars is Discover Cars. They have great inventory, affordable rates and no hidden fees. All you need to do is type in your travel dates and browse hundreds of available vehicles! It's that easy 😉
Book Your Rental Car in Las Vegas here to save money and skip the hassle!
Check my complete guide to renting a car in Las Vegas to avoid mistakes and save money 😃
Nelson Ghost Town Photography
Many movies and commercials have been shot here over years, and it's still a popular place for photo sessions of all sorts.
If you want to take photos, you are required to check in at the main office where you have to pay the minimum $10 an hour fee.
But if you plan a wedding photo session at Nelson Ghost Town or a large commercial photo shoot, contact the main office ahead of your visit!
The fees are the main source of income for the owners who live on property, so your money will hep them to stay in business. When you purchase a photo tour, you will get access to the three barns on property where you can take photos. Visitors who don't purchase a photo shoot permit, have access only to a limited number of spaces within Nelson Ghost Town.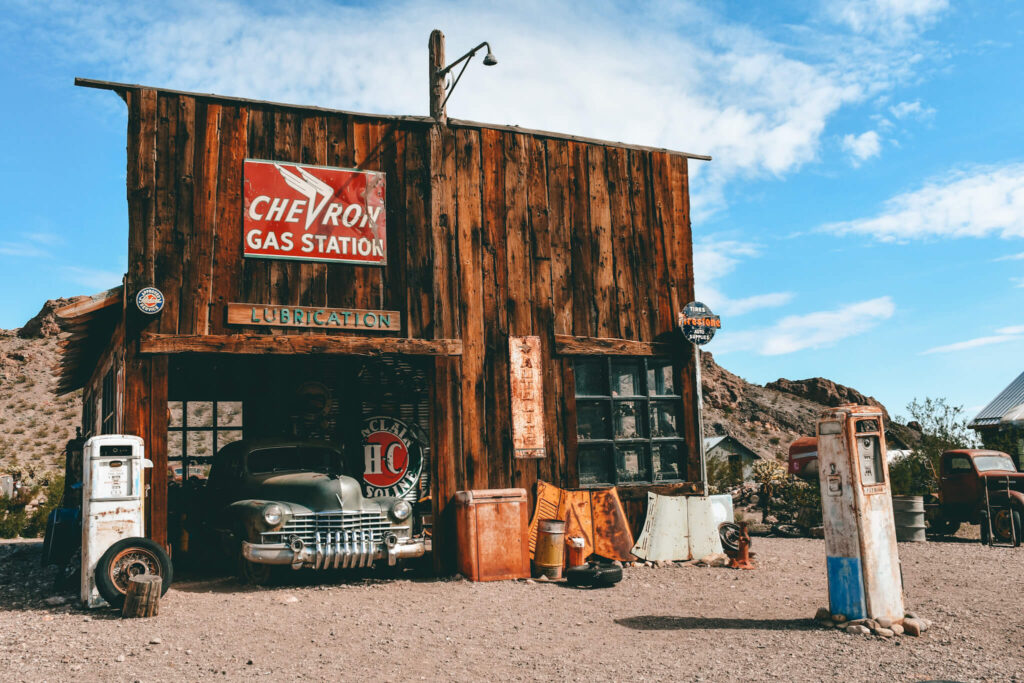 Nelson Ghost Town History
Nevada has a rich mining history and the state is literally peppered with abandoned old mines.
However, Nelson Ghost Town is different.
While there are plenty of no-name ghost towns throughout the state, the historical Techatticup Mine is the oldest and most famous gold mine in Southern Nevada.
The Spanish discovered gold in this area around 1775 and back then, they called it El Dorado Canyon. But it wasn't until 1859 when prospectors that had come here from all over the country started finding gold and silver in the area. That's when several mining camps including the Techatticup Mine had been set up. The area attracted plenty of outlaws and has seen many disputes, some of which even resulted in bloody disputes.
The dark side of Nelson Ghost Town
Soon, other minerals such as lead and copper were discovered in the area.
The place located in the middle of nowhere and cut off by miles of the harsh desert terrain often saw violent conflicts that were spurred by ownership and right disputes. Lawlessness was a normal thing at Nelson as the place attracted fortune seekers from all over the continent some of whom were deserters from the American Civil War.
Nelson was eventually abandoned when the area was hit by the flash flood and the torrents of gushing water flushed away the precious fossils that attracted so many people here.
What's you see today are the remnants of the former Nelson that were sitting above the flood channel.
What you should know about visiting Nelson Ghost Town
Nelson Ghost Town is open every day from 8 a.m. to 6 p.m. If you arrive before or after hours, leave. Do NOT stay on property.
The owners do live on premises. Although they will not kick you out if you show up before the sunset, they will ask you to leave after dark.
When you arrive, stop at the front office to sign the waiver and ask any questions about what you can see here. You can also ask questions about fees and tours.
Nelson Ghost Town Fees
$2 per person to walk around the area
$10-20 per hour to take photos. The price depends on whether you are taking personal or professional shots.
If all you want to do is to check out the site quickly, you typically don't need to pay anything. However, you are not allowed to take photos.
Techatticup Mine tours
Reservations are required ahead of your visit and can be made either online or by calling ahead of your visit. Call 702-291-0026 to make a reservation to avoid conflicts, as this place is popular for events and photo shoots.
A walking tour of the mine is approximately 1/4 mile long, and while most of it is on the flat surface, you should put on comfortable hiking shoes and not flip flops or sandals. Also, the mine tends to be a bit cool, especially during winter, so don't forget to bring a jacket on a tour.
What to know about Nelson Ghost Town Tours
Techatticup tours are private and can be customized to fit travelers' schedule. There may be other groups in the mine at the same time, but packages are created so you can explore without bumping into other travelers. Group tour can have maximum 20 people.
How much does the Nelson Ghost Town Tour cost?
The tour runs just over one hour, and require a minimum of four people. Tours take place at 9 a.m., 12 p.m., and 2 p.m.
Prices are $15 for adults and $10 for Kids from 5-12. Kids under 5 get to enjoy the tour for free.
Taking photos at Nelson Ghost Town
This ghost town is extremely fascinating! Here you can find crumbling barns, an old Texaco station and an office of a local tour company that boasts a lot of cool artifacts.
Rusted out cars from the early 1900s are scattered across the property along with other abandoned pieces of equipment. You can even find an aircraft that appears to have nose dived into the side of the mound on the opposite side from the tour company's office. But don't worry, it's completely staged!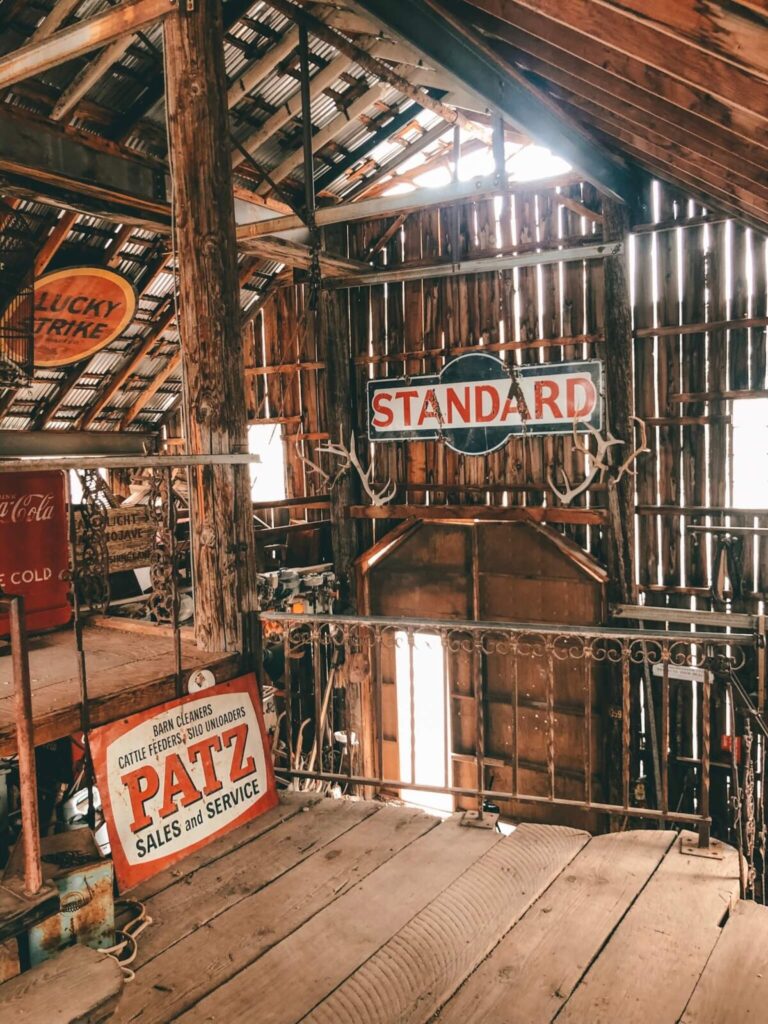 Tips for visiting Nelson Ghost Town
Bring plenty of water and some snacks – there are no stores or restaurants in the area
Put on some sun screen – there's a lot of sun here and no shade
Take your camera – this place has so many beautiful corners
Wear layers – the desert can get cold once the sun goes down. It's especially true in winter
Don't rely on your cell phone service – the coverage in the area is spotty at best
Arrive during business hours. You shouldn't be on premises if you arrive before or after business hours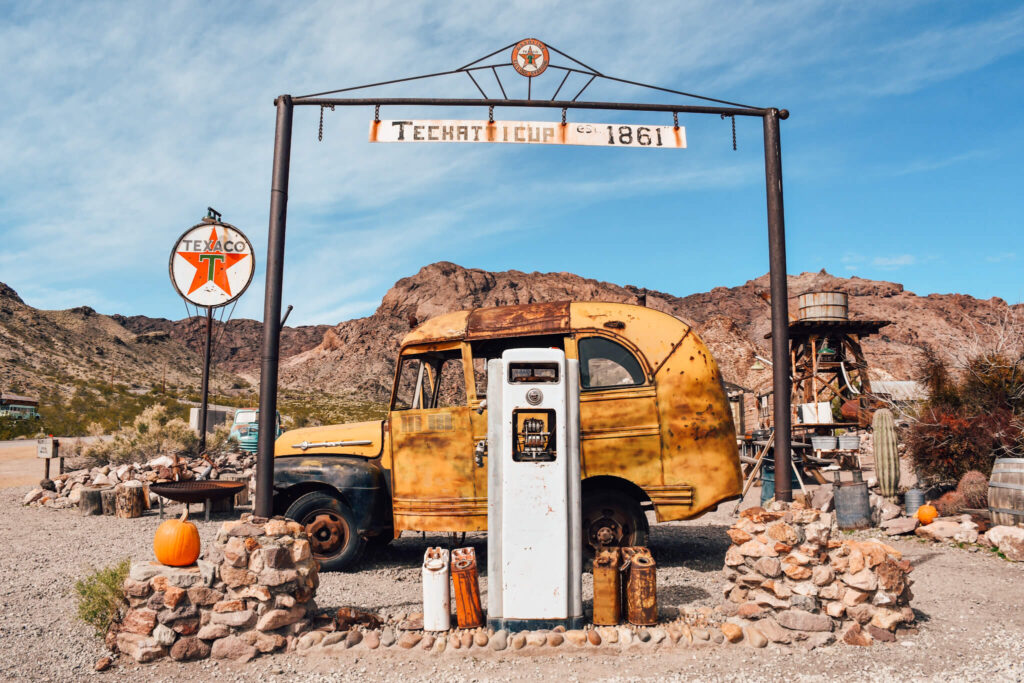 How far is Nelson Ghost Town from Las Vegas?
Nelson Ghost Town is about 45 minutes away from Las Vegas.
It's located at Nelson Cutoff Rd, Searchlight, NV 89046
Nelson Ghost Town Directions
Nelson Ghost Town is one of best places to visit near Las Vegas. However, compared to some big state and national parks in the area, you don't need to spend hours on driving.
Your trip should take no more than 3-4 hours, so you will have enough time for other things to do in Las Vegas.
How to get to Nelson Ghost Town
From Las Vegas, take Beltway 215 east toward Boulder City, and then merge onto I-11.
Take an exit at U.S.-95 and drive past the dry lake bed on the right side. Shortly after that you will see an exit for Nelson on the left side. Take that exit and drive straight for approximately 15 minutes before you get to the town of Nelson. Keep left at the fork and you will soon get to Nelson Ghost Town.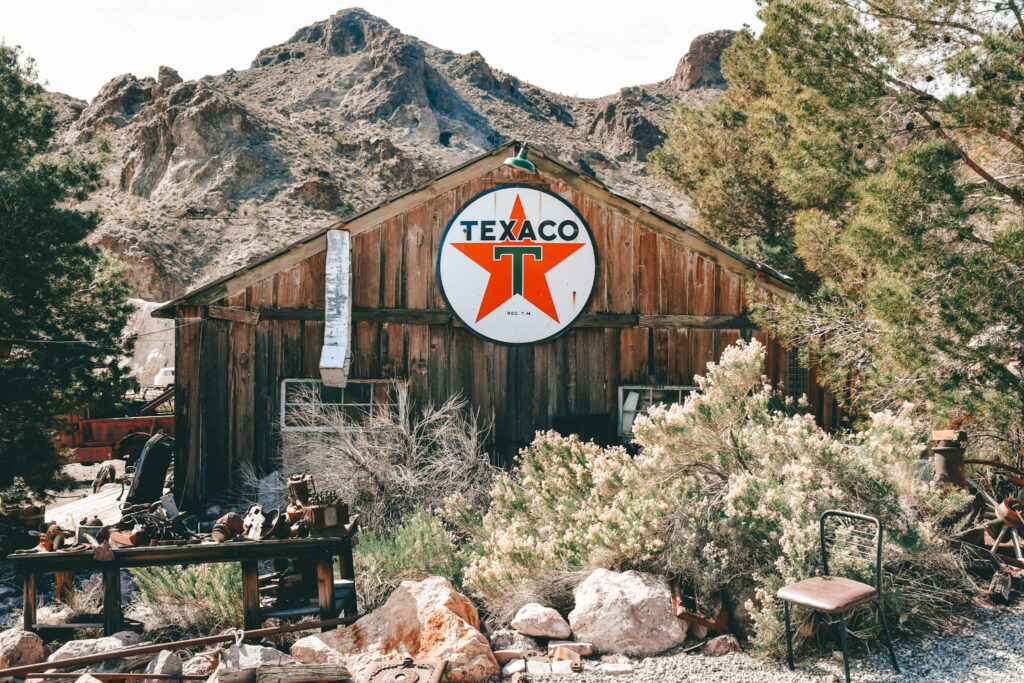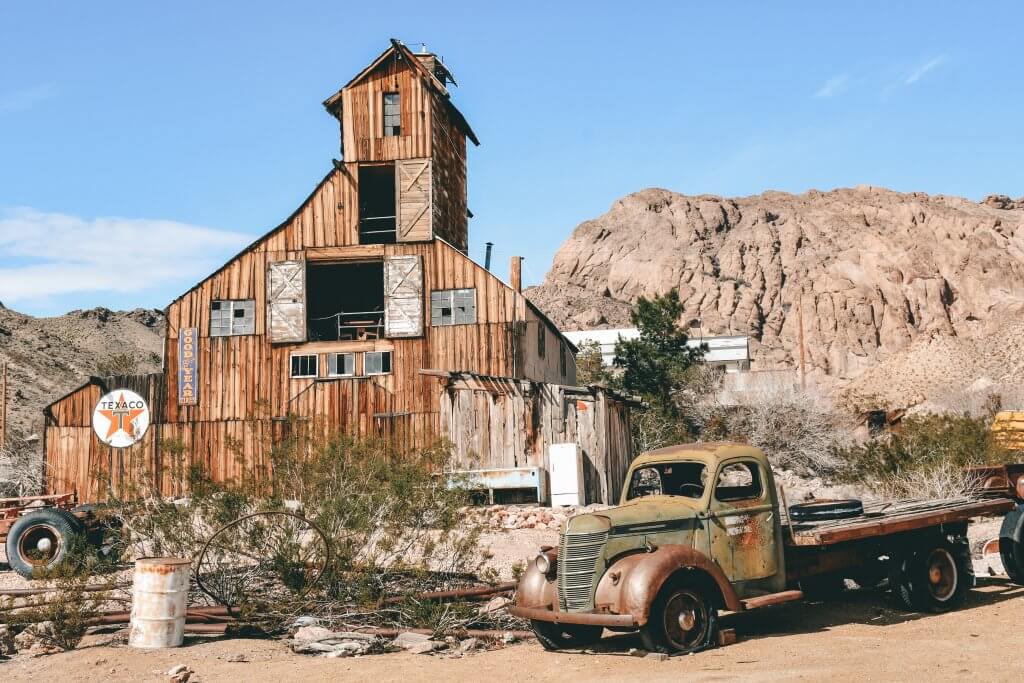 Nelson Ghost Town Hours
Nelson Ghost Town hours are 8 a.m. to 6 p.m. Monday through Friday.
I recommend brining a few snacks and water as there are no stores or restaurants nearby.
Although this historic ghost town has become commercialized, it's still quite the experience!
Once you are done exploring Nelson Ghost Town, head east toward Nelson's Landing at the end of Eldorado Canyon.
Unfortunately, Nelson's Landing was destroyed during the 1974 flash flood. But you can still enjoy the scenic views from this spot. From here, you can either go toward Old Nelson's Landing Road to the Colorado River or continue to Nelson's Landing Cliff Jumping area where you can enjoy the views of the water.
Where to stay near Nelson Ghost Town
There are no hotels near Nelson Ghost Town. The closest hotels to Nelson Ghost Town are in Boulder City or Las Vegas. Here are a couple of options:
Disclaimer: This post contains affiliate links. At no cost to you, I might earn a small commission if you make a purchase through the links in this article.