There's nothing like taking West Coast road trip in the United States.
Here you can tour the iconic cities, beautiful national parks and enjoy some of the best scenery in the United States.
While a West Coast Road trip is a popular bucket list item for many travelers, the region is vast (it includes California, Oregon and Washington) and it could be tough to create an itinerary for just a few weeks.
If you have a limited amount of time, I recommend hitting the three best cities on the West Coast – Las Vegas, Los Angeles and San Francisco, before deciding whether you want to continue your trip north to Oregon and Washington. 
I've taken the West Coast road trip from Las Vegas to San Francisco several times, and and I'm excited to share my knowledge and help you plan your trip! 
Begin your West Coast Road Trip in Las Vegas
Las Vegas is one of the most touristy places in the United States with close to 50 million visitors every year. While it might seem counterintuitive to start your West Coast Road Trip here (And it's not on the coast, either), there is a good reason why you should do it. 
Besides being a mecca of entertainment and partying, Las Vegas is located close to some of the best national parks on the West Coast. Take at least a day or two to visit them before continuing your trip toward the coast!
Since Las Vegas tends to be about spending, I want to caution you not to blow too much money here. 
In fact, if your goal is to see the West Coast, I recommend doing Las Vegas on a budget because California is the next state on your itinerary, and for the most part, it's pretty pricey when it comes to gas, food and lodging. 
There are plenty of budget accommodations in Las Vegas, which could help you save some money!
PRO TIP: A West Coast Road Trip is not going to be cheap. Among your major expenses are going to be gas (especially in California) and accommodations. If you want to save some money and avoid rookie mistakes, read my tips for your West Coast adventure! 
Don't feel like driving for a couple of hours?
 There are plenty of scenic wonders in the Las Vegas area such as Red Rock Canyon National Conservation Area or landmarks such as Hoover Dam. Despite the stereotypes, Las Vegas has plenty of culture and history, and you should take time to explore it!
PRO TIP: Summer is the busiest time time in Las Vegas with people from all over the world coming here. You will need a car for your road trip, and the sooner you book it the lower the price is going to be!  
Visit Fremont Street in downtown Las Vegas
No trip to Las Vegas is complete without a visit to the historic Fremont Street and exploring the budding art scene just a few blocks away.  Every year, Las Vegas hosts Life is Beautiful music festival that brings street artists, musicians and festive party-goers to the colorful streets of DTLA. 
 I suggest spending from 3 to 5 days in Las Vegas if you want to see some of the city's main highlights and take at least one road trip from the city.
While many visitors come to Las Vegas via McCarran International Airport, others arrive by car from national parks and other West Coast cities. 
The McCarran International Airport has two terminals: Terminal 1 and Terminal 3. Las Vegas doesn't have a good public transportation system, so while there are limited transportation options from the airport to the Las Vegas Strip, many other areas of Las Vegas including the Strip are served by bus routes. 
To save the money, avoid taxi cabs, and take Uber or Lyft, if you need a ride from the airport to your hotel in Las Vegas.
Take a day trip from Las Vegas
Take a trip from Las Vegas to Grand Canyon
One of the most popular day trips from Las Vegas is the Grand Canyon National Park in Arizona. 
You could either drive or take a helicopter ride to Grand Canyon. The drive from Las Vegas to Grand Canyon takes about four hours while a helicopter tour lasts a few hours and includes a flyover the north or south rim of the Grand Canyon with a quick stopover at several points. 
Many helicopter tour companies in Las Vegas offer tours from Las Vegas to the North Rim of the Grand Canyon. You could either land at the bottom, explore the SkyWalk, Eagle Point, Guano Point and the Hualapai Ranch.
PRO TIP: If you plan to hike at Grand Canyon and explore some of its top places, plan to spend from no less than 2-3 days there instead of trying to drive back to Las Vegas on the same day.
Driving from Las Vegas to LA
The drive from Las Vegas to Los Angeles takes about 4 hours along Interstate -15, if you don't hit the traffic. 
However, Interstate-15 gets congested during holidays, as many people travel between Southern California and Las Vegas. Make sure that your trip doesn't fall on major holidays such as Fourth of July, Thanksgiving or New Year's Eve. 
PRO TIP: Some of the natural wonders along Interstate-15 are the Mojave National Preserve; Joshua Tree National Park about 2 hours away from Los Angeles, and the town of Big Bear Lake right nearby – a popular destination for skiing and other winter activities among Southern California residents. 
Making a stop in Los Angeles
No West Coast Road Trip is complete without a stop in Los Angeles!
While places like Santa Monica, West Hollywood and Malibu often take the prize when it comes to tourist traffic, there are many other places in the metro LA that you shouldn't overlook just because they are less popular.
The abundance of things to do in LA can be overwhelming, especially if you are visiting Los Angeles for the first time. After visiting the city a bunch of times, I put together a guide that can help you to visit top places in LA in as little as one day! 
However, if you have time, make sure to spend at least 3 days in LA, because the City of Angels is not the place you should visit on a fly.
First, the distance between places can be long and traffic tends to be bad, especially during the rush hour. 
Second, there are simply too many things to do in LA. If you visit this city for just a few days, you will be able to visit only a handful of places. 
And third, LA is just too awesome to make it a quick stop on your itinerary. Make sure to plan your visit ahead of time, so you could visit some of those top spots in LA.  
How to get around Los Angeles
LA is spread out for miles along Southern California's coast and far inland and getting around can take a long time, especially in the notorious LA traffic. For a better experience, I plan each day of your trip in a way that would allow you to spend your time in one area and minimize your time on the road.
If you don't have a car, you can use LA public transportation system. One option is to use The Metro Trip Planner, a system that allows you to generate a custom route based on your destination and available transportation options. One of the most convenient ways to get around LA without being stuck in traffic is Metro.
If you don't plan on renting a car in LA and want to use public transportation, download the app that will help to navigate the city's public transportation system. 
Driving from LA to San Francisco
Driving from LA to San Francisco is probably the most beautiful part of the West Coast Road Trip. 
The iconic Highway 1 stretches along California's coastline and passes a number of cool towns such as Ventura, Santa Barbara, and San Luis Obispo; and Carmel-by-the-Sea, Monterey and the beautiful 17 Mile-drive in the north. 
While each of these places is awesome and totally worth a visit, it could be tough to choose just one or a few. Whatever you choose, make sure it's more than just a pit stop along your way!
A true gem of California's Coastline, Big Sur is an 85-mile stretch that begins in San Simeon and goes all the way to Carmel-by-the-Sea along California's Highway 1. It's a perfect stop along your West Coast road trip, and there's never a wrong time to visit Big Sur. 
An increase in visitation has become a major issue for Big Sur in recent years, as more visitors are flocking to the area to see this nature lover's paradise along the cragged Pacific coastline.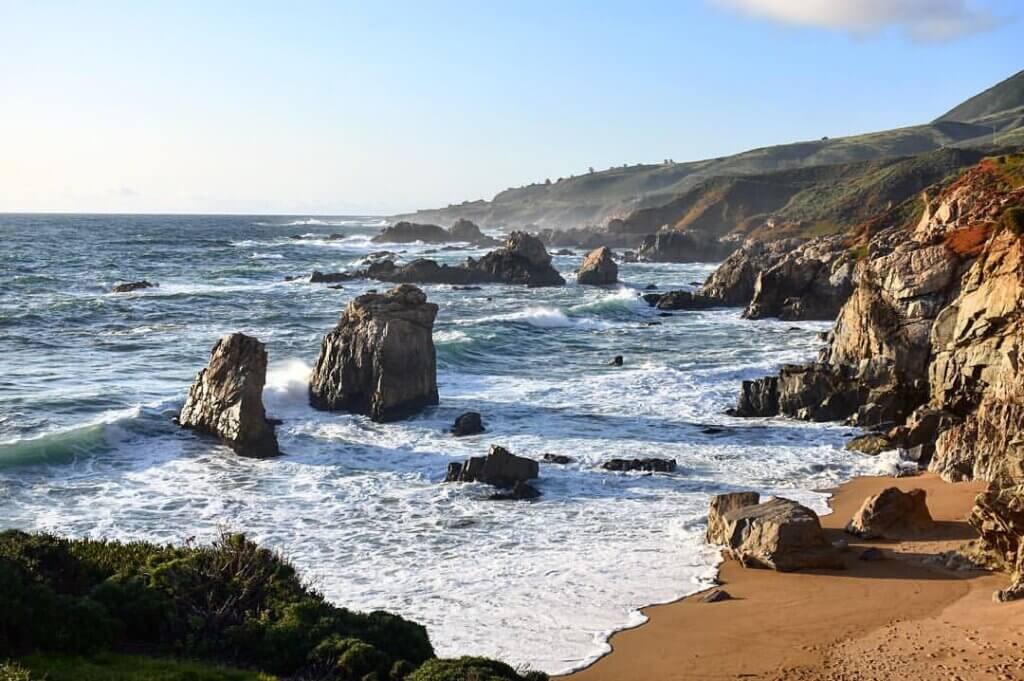 When visiting the area you should be mindful of the fragile ecosystem that Big Sur is and try to stay on trails, not to litter and follow the rules on the signs near trails and viewpoints. 
If you have never been to Big Sur, my biggest recommendation is to avoid trying to get through the entire stretch in just a few hours. Big Sur has too many great overlooks and hikes that deserve your time, so it would be a waste of time trying to rush through this beautiful place. 
Some of the must-visit places in Big Sur include Julia Pfeiffer Burns State Park, home to the gorgeous McWay Falls, Pfeiffer Big Sur State Park, Pfeiffer Beach and Sand Dollar Beach. 
Things to know about Big Sur
Big Sur has a very spotty cell service, and it's not uncommon for it to disappear entirely. 
While it might re-appear in certain areas, you shouldn't rely on your cell phone for directions. Instead, get a paper map ahead of your trip and carefully study places that you want to visit. 
PRO TIP: The peak season in Big Sur is from late May through September. When it ends, prices on lodging also drop and crowds disappear, as cooler temperatures move in. However, if you plan a visit to Big Sur during off-season, check the weather and road conditions, because cooler temperatures also often bring rain and mud slides which could result in road closures. 
The largest city in Northern California, San Francisco is known for its tech industry, chilly weather, and many world-famous landmarks. 
It stands in stark contrast to LA and Southern California in general. Here you will not find the urban sprawl of SoCal or the huge deserts that stretch for miles and miles. The coastline of Northern California is rough and craggy and here you will not find long sandy beaches of Southern California here. 
The stark difference between these two cities is alone worth a visit. 
To start planning your trip, check out my favorite 10 spots in SFO! 
One thing to remember is that San Francisco's climate is totally different from the one in SoCal. The temperatures hover between 65 and 70 degrees most of the year, and the closer you are to the bay, the colder and foggier it tends to get. 
Sometimes, it can be cold in the morning and warm in the afternoon, so don't forget to put some layers on! 
Unlike LA, San Francisco, doesn't have a traffic problem. The city is a lot more compact and is more pedestrian-friendly than LA. Depending on what your plans are, you might only need to use public transportation such as BART or cute cable cars, a San Francisco staple which is so loved by tourists! 
PRO TIP: If you have extra time, try to take at least one day trip from SFO to enjoy some of the incredible beauty of Northern California. One place is suggest is John Muir Woods just north of San Francisco where you can see the famous giant redwoods. 
If you have more time, stop in San Diego
One of my favorite destinations in California, San Diego is just two hours south of LA.
While it boasts amazing beaches, year-round sunshine and an unparalleled atmosphere, it might be a perfect alternative if you are looking to escape the hustle and bustle of LA.
And right between LA sits the gorgeous Orange County, known as for its gorgeous coastline and affluent residents – a place that you should definitely check out! 
Continuing to Oregon and Washington
If you have at least another week, continue driving north to Oregon, a state known for its scenic coastline, mountains, deserts and forests.
The landscape of Oregon is very diverse with the western part of the state separated from the eastern by the Cascade Mountain Range. While the western part and Oregon specifically is known for its rain, the eastern part of the state has more desert.
Some of the most beautiful places in Oregon are Samuel Boardman State Park, Crater Lake and Mt. Hood. If you like to hike, by all means make sure to explore the beautiful trails of the Columbia River Gorge east of Portland. From Portland you can drive to Seattle in just under 3 hours.
Why you should do the West Coast Road Trip
Las Vegas, Los Angeles and San Francisco might be the most popular cities on the West Coast, but they are far from the only West Coast cities that deserve your attention. The entire region is one of the most exciting and vibrant parts of the United States with cosmopolitan cities, magnificent national parks and scenic drives. 
You could spend weeks and even months here, the list of things to do here is just endless! 
Whatever stops you decide to make along your West Coast road trip, I'm sure you will have a blast because this place is simply second to none 🙂
Disclaimer: This post contains affiliate links. At no cost to you, I might earn a small commission if you make a purchase through the links in this article.