Disclaimer: This post contains affiliate links. At no cost to you, I might earn a small commission if you make a purchase through the links in this article.
If you visiting the Oaxaca beaches, you can't miss Punta Cometa, a mini peninsula with gorgeous views of Mexico's Pacific Coastline that can be reached by a quick hike from Mazunte.
Many believe that Punta Cometa is a special spot that has amazing healing features. Regardless, this place feels magical and you can't miss it when visiting Mazunte!
History of Punta Cometa Oaxaca
Punta Cometa is also called Cerro Sagrado (Sacred Hill), and was used as a ceremonial center in the pre-Columbian times. It boasts 180-degree view of the Pacific Ocean and served as a strategic point for the Aztecs who built stone wall here. Part of the wall still remains at Punta Cometa and is called Corral de Piedra (stone corral). According to the legend, the Aztecs buried a treasure here that is yet to be discovered.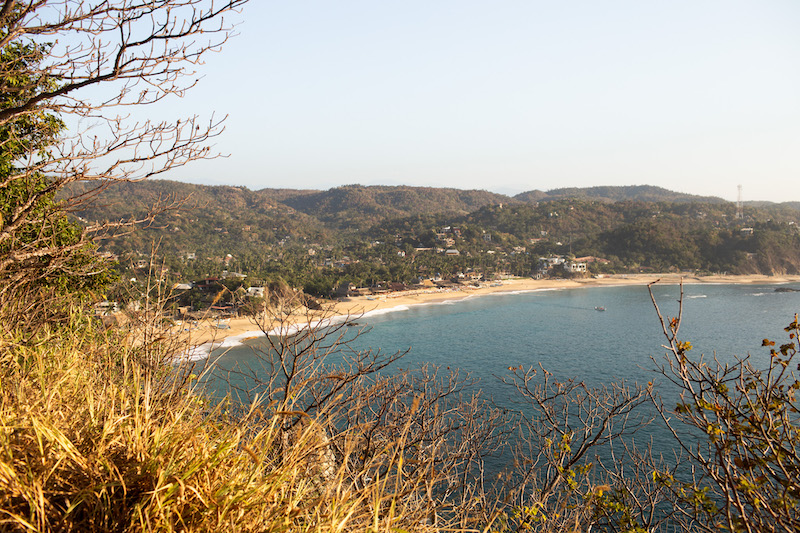 Where is Punta Cometa located?
Punta Cometa is the southernmost point in the state of Oaxaca. It's located at the west end of Mazunte, and is a one of the most spectacular places for hiking along the Oaxaca Coast.
Mazunte is a small beachside town that used to be under the radar but now attracts travelers from all over the world who come here to enjoy its spectacular views, see wildlife and participate in yoga sessions.
Most people come to Punta Cometa to watch the sunset and sunrise as the golden rays light up the jagged rocky hills. But there's no bad time to visit Punta Cometa: this place looks gorgeous at any time of the day.
How to get to Punta Cometa?
To reach Punta Cometa, go toward Playa Mermejita off Calle Rinconcito in Mazunte. The road will bring you to the hill and toward Playa Mermejita, a beautiful black-sand beach. After a few minutes of walking, you will reach a cemetery on the left side and the wooden sign that marks the entrance to Reserve Eco Archeologica Punta Cometa.
There, you will notice several trails, one of which leads to Punta Cometa. 
As you walk straight, you will see a paved area with a couple of benches on the right side. Sometimes, there are some workers here who keep the count of visitors and can answer any questions that you might have.
The hike to Punta Cometa is free, and little regulated, which means you should be a good steward and leave this place as pristine, as you found it. Please don't leave any trash. If you have a picnic, make sure to pack out everything you brought. There are no trash cans in Punta Cometa, so you should bring a bag.
What is the hike to Punta Cometa like?
The track goes over a rough terrain and has no light, so it's essential to have a flashlight, if you are not hiking during the day time. Sometimes, you can spot some wildlife like iguanas, coatis and many birds along the way. During the whale season which lasts from November through March, it's not uncommon to see whales 🐋 splashing in the waters off the coast of Mazunte.
How long is the hike to Punta Cometa?
The Punta Cometa hike is 2.1 mile out-and-back hike that's considered moderate. If you have a car you can drive up to Calle Rinconcito, but most people begin their journey from downtown Mazunte.
How long does it take to hike Punta Cometa?
It takes an average of 20-25 minutes to hike Punta Cometa. To the left of Punta Cometa, there's another viewpoint that's called Punta El Pescador. To get there, you can follow the marked trail to the right at the entrance to Reserve Eco Archeologica Punta Cometa.
It's also possible to walk from Punta Cometa to Punta El Pescador. You will need to cross the black sand Mermejita Beach separating these two viewpoints, and make a quick walk uphill toward El Pescador.
Things to know before hiking Punta Cometa Oaxaca
Wear good hiking shoes – the trail to Punta Cometa is very rocky and has steep some sections, so it's essential to wear good hiking shoes. On my first visit, I made a mistake and put on my flip flops, which made my hike a bit uncomfortable. Don't do what I did and put on a pair of shoes with a good grip.
Bring some water – Although Punta Cometa is a relatively short hike, it's' essential to carry water with you. If you hike for sunrise, it could be already hot by the time the sun is up and you want to head back.
Put on layers – This tip applies if you are visiting Punta Cometa during the sunrise or sunset. While the sun will keep you nice and warm, it will quickly get chilly once it goes down. Bring a hoodie or a jacket to stay warm and enjoy this place.
Start your hike early – Many people come to Punta Cometa for sunsets but sunrises are equally breathtaking here. I visited Punta Cometa for the sunrise a couple of times, and had the entire place to myself before other people started showing up.
Bring a flashlight – Once the sun goes down, Punta Cometa can be a bit tricky to navigate, since it doesn't have any artificial sources of light. Whether you are hiking for sunrise or sunset, bring a flashlight to help you stay on trail.
No alcoholic beverages are allowed – Punta Cometa is a spot to behold but it also has steep drop-offs and rocky cliffs. While it might tempting to bring a beer, or other alcoholic beverages, you shouldn't do it for the sake of safety.
Yield to other visitors – Punta Cometa is a popular place to visit, and the trail can get busy. Always stay courteous and give way to other hikers to follow the proper hiking etiquette.
Things to do in Mazunte, Mexico
Punta Cometa is one of the highlights of Mazunte, but it's not the only spot that's worth your attention. Aside from hiking to this gorgeous overlook, there are plenty of other things to do in Mazunte. Here are some of them:
Visit Centro Mexicano De La Tortuga (Mexican Turtle Center) – this research facility is dedicated to educating visitors about the types of sea turtles in Oaxaca and their significance.
Watch dolphins – Book a tour with one of the local operators to see dolphins, whales, turtles and other marine creatures. The whale watching season lasts from November through March.
Enjoy yoga sessions – Mazunte is well known for its yoga scene, and you can book a session in one of many yoga schools in this small pueblo.
Enjoy the beach – Mazunte is home to one of the best beaches along the Oaxaca Coastline.
Explore local food options – Mazune is home to many great restaurants where you can try the traditional Oaxacan cuisine and international dishes.
Laguna Ventanilla Nature Sanctuary – one of the most popular things to do in Mazunte for wildlife watching, Laguna Ventanilla is a lagoon filled with marshes and mangroves. Here you can spot crocodiles, iguanas, blue herons and other amazing wildlife. Check this popular tour of Laguna Ventanilla. The entrance to the lagoon is about 10 minutes by taxi or colectivo from Mazunte. Tickets are 100 Pesos per person.
Rent a car to explore the Oaxaca coast – Mazunte is just one of a couple of towns along the Oaxaca Coast that deserve your attention. I recommend renting a vehicle with DiscoverCars to explore the region without relying on public transportation.
How to get to Mazunte, Mexico
To enjoy the dreamy views of the Pacific Coastline from Punta Cometa, you will first need to get to Mazunte, a small beach town that has become one of the most popular destinations in Oaxaca.
The closest airport to Mazunte is Bahias to Huatulco that has daily flights to Mexico City every day, but you can also fly to Puerto Escondido located about 1,5 hours away.
Renting a car to get to Mazunte, Mexico
The easiest and most hassle-free way to get to Mazunte is by renting a car. I rented a car in Puerto Escondido to explore the Oaxaca coastline, but you can also rent a car in Huatulco, which is slightly closer to Mazunte, than Puerto Escondido.
After picking up a car in Puerto Escondido, I stopped in Bahias de Huatulco, San Agustinillo and Mazunte, and had an amazing time! I definitely recommend renting a car for your trip to Mazunte, as you can explore this region at your own pace and not worry about catching public transportation.  
👉 Check my complete guide to renting a car in Mexico to save money and stay safe on the road.
My favorite platform for renting cars in Mexico is DiscoverCars. They offer a good inventory of vehicles, and basic insurance that's required for renting cars in Mexico. Unlike other car rental companies, they have no hidden fees and show you the actual price that you will pay.
CLICK HERE TO RENT A CAR FOR YOUR TRIP TO PUNTA COMETA
Puerto Escondido to Punta Cometa
If you are traveling from Puerto Escondido to Punta Cometa, you need to catch a colectivo to Pochutla. There, you will need to catch a pick-up truck (camioneta) toward Mazunte. Public transport from Puerto Escondido to Mazunte is very cheap (it costs about 20 Pesos per person), and is a perfect option if you are traveling on a budget. 
✅ Click here to book a guided tour of Mazunte and Punta Cometa from Puerto Escondido
The journey from Puerto Escondido to Mazunte should take about 1 hours 20 minutes in a car and just over 2 hours by public transport. Spend a night in Mazunte, if you make a way all the way from Puerto Escondido. 
Huatulco to Punta Cometa
To get from Huatulco to Punta Cometa, you can catch a van to Pochutla for about 50 Pesos, and from there to Mazunte. As with other public transportation along the Oaxaca Coast, always have cash on you, as credit cards are not accepted. 
👉 Find out how to get from Huatulco Airport to Mazunte
Where to stay in Mazunte, Mexico
Mazunte has a good variety of hotels and hostels where you can stay for a couple of days to enjoy this beautiful beach town. From small boutique hotels to beachfront luxury properties, there's something for everyone. Here are some of the options:
Luxury: Casa Lu Mazunte – One of the most beautiful boutique hotels in Mazunte, Casa Lu is a gorgeous beachfront hotel that offers free parking, pool and a gorgeous on-site bar and restaurants where you can grab a margarita and guacamole.
Mid-Budget: Casa Mazunte Tierra Viva – Located on the edge of a mangrove and in the center of Mazunte, this cute hotel is only 2 minutes away from Playa Rinconcito by walking and 9 minutes away from the Mexican Turtle Center.
Budget: Casa Rinconcito – A perfect budget hotel in Mazunte, El Rinconcito tucked away in a quiet streets of Mazunte and offers a quiet atmosphere and a quick access to some of the best things to do in Mazunte within a walking distance.
Punta Cometa Oaxaca: final word
Hiking to Punta Cometa is one of the best things to do in Mazunte. This place offers spectacular views of the Pacific Coastline and access to pristine Oaxaca beaches right nearby. It's also a perfect place for exercising, so whether you are staying in Mazunte for a few days or just quickly checking this town off your bucket list, don't miss out on Punta Cometa.