Raw Love Tulum is the perfect spot for vegans and vegetarians looking for fresh and flavorful vegan cuisine options while on vacation. Located in Ahau Hotel in Tulum Hotel Zone this plant-based café is known for its yummy food, relaxed atmosphere, and friendly staff.
The restaurant has a laid-back and inviting vibe, with cozy wicker and wooden lounge seats, sandy floors, colorful hammocks, and an excellent view of the beach. The decor features bright colors and bold patterns that create a fun and vibrant atmosphere.
➡️ LEARN ABOUT THE BEST BEACHFRONT HOTELS IN TULUM
Raw Love Tulum overview
The menu features an exciting mix of vegan cuisines from veggie burgers to a mouthwatering coconut curry and even a zucchini alfredo. Everything is made with fresh, locally sourced ingredients that come together to form bold and complex flavors in their dishes.
➡️ CHECK MY ARTICLE TO LEARN HOW TO VISIT TULUM ON A BUDGET
With so many unique options and fresh takes on classic dishes, you're sure to find something that you'll enjoy!
Raw Love is one of the best breakfast places in Tulum that offers an energizing selection of smoothies, juices, and smoothie bowls for you to enjoy. The smoothie bowls are always beautifully presented and super Instagrammable 🙂
Raw Love Tulum location
The restaurant has two locations, so you don't have to travel too far from your hotel.
In downtown Tulum, you can find Raw Love Beach at 77500 Tulum, Q.R., Mexico where it's open from 9 a.m. – 6 p.m.
➡️ PLANNING A GETAWAY? LEARN ABOUT RENTING A CAR IN TULUM
Or you can find Raw Love Tulum in the Hotel Zone situated in a tropical hut at the Ahau Tulum. The address for this location is Carr. Tulum-Boca Paila Km 7.5, in Tulum, and is also open from 9 a.m. – 6 p.m. This location also has a parking lot for the café at the hotel in case you plan on driving.
At the Hotel Zone location, you will also find the famous sculpture called "Ven A La Luz" ("Come to the Light"). This stunning installation is one you can't miss in Ahau's Sculpture Park and is truly larger than life. If you want to take a photo with this Instagram-worthy wood, steel, and greenery-laden sculpture, it's best to arrive early to avoid waiting in line.
✅ LEARN ABOUT THE BEST TIME TO VISIT TULUM
There is also a $3 USD (60 Mexican Pesos) fee if you would like to grab a photo with it. It's a bit pricey, but because this is one of the best photo spots in Tulum, it's worth the price!
Raw Love Tulum Sculpture Location
Did you know that the Raw Love Tulum Sculpture has been moved? If you've been to Tulum and recognize the sculpture but don't quite remember it being near Raw Love then you're right! This iconic sculpture was moved to Ahau Tulum's Sculpture Park from the main beach road to reduce traffic.
Tips for taking photos at Ven a La Luz
If you want to get the best photos with this iconic representation of the human connection with nature, I recommend going later in the day. Specifically, you should go just an hour before sunset.
Not only will you get the beautiful golden sunlight of the sunset, but there will also be less of a wait and you can take your time getting that perfect shot.
I know you're probably thinking, well why not just go during sunrise then?
When can I take photos at Ven a La Luz?
The sculpture park opens at 8 a.m., and my advice is to arrive by the opening time to avoid the line and have a place to yourself before everyone starts to arrive. Going after 10 a.m. means you will be standing in line, so you are better off waiting until the golden hour when the light is optimal.
The crowds line up every single day for this sculpture all afternoon. Avoid going in the middle of the day when it is most popular because you will end up waiting and the lighting will be harsher.
The sculpture is also a whopping 33 feet tall, so if you are going by yourself be sure to ask a friendly bystander or the staff to grab your photo and have your camera set to the wide-angle setting. This is because there isn't room to set up a tripod here.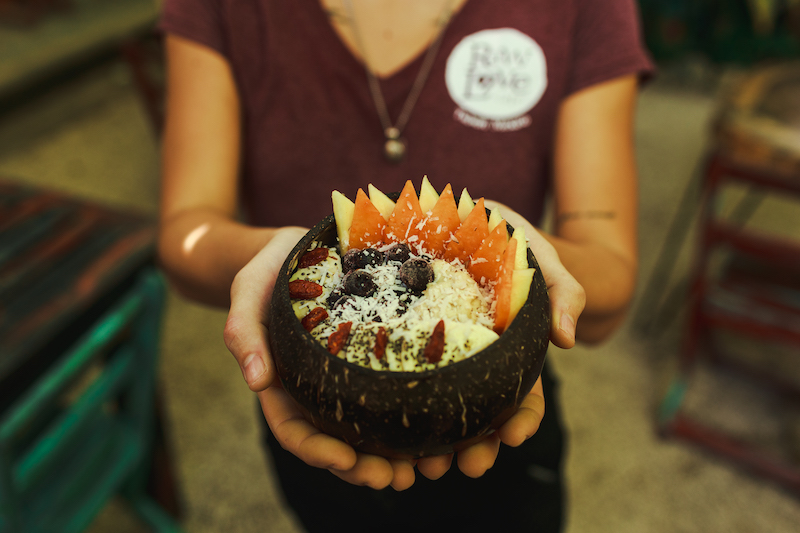 Raw Love Tulum Menu
Let's talk more about their delicious raw vegan menu. If you are new to raw vegan food, you're in for a treat. It's still completely vegan, the only difference is that everything is served completely raw or is heated to temperatures of 118 degrees Fahrenheit or less.
This way, you're sure to take in all of the key nutrients from the food you're consuming.
Before you panic, I promise you won't feel like you're grazing on bland vegetables. The menu comes beautifully plated and full of flavor. All of their menu options are also incredibly healthy and packed with superfoods.
Some of the favorites on this menu include all of their smoothie bowls (you really can't go wrong with any of them!), the Black Bean Burger, the Living Pizza, and the Zucchini Alfredo. You'll notice that its menu is on the pricier side compared to other eateries nearby.
But once you take your first bite you'll see it's well worth it!
✅ CHECK BEST RESTAURANTS IN HOLBOX, A POPULAR STOP IN YUCATAN
It's also worth noting there are a few items on the menu that have honey in or on them (something not everyone considers vegan). If you don't eat honey, be sure to ask them to omit this from your order to avoid any issues!
The items I recommend from the Raw Love menu include:
Avocado toast
Coconut Curry
Cream of Herbs Soup
Green Goddess Smoothie Bowl
Tropical Goddess Smoothie Bowl
Tips for Visiting Raw Love in Tulum
If you are visiting Raw Love in Tulum here are some quick tips to remember:
Budget a little more for this meal, it's a little pricier than other local eateries
Visit the Hotel Ahau location to grab a photo with Ven A La Luz
Grab a smoothie bowl to cool down from a hot day at the beach and recharge with vital nutrients
Dress casually or in comfortable beachwear, this is a laid-back location set on the beach
Go for the outdoor seating whenever it's available for the best view and vibes!
Read my complete guide to tipping in Mexico to know what gratuity you should leave for your server
What's near Raw Love Tulum?
Looking for other options in the area? There are other nearby hotels and resorts and plenty of restaurants in the area worth checking out. The Sculpture Park at Ahau is already a must! Some of the best shops and restaurants nearby include:
Aldo's Gelato – Cool down from the Mayan sun with this delicious gelato! Aldo's has a great variety of flavors, dipped cones, toppings, and more. This play is a favorite among locals and tourists alike.
Shiva – If you are looking to switch things up in your dining plans head to Shiva for an unforgettable Indian meal. This location is known for its ambiance, good music, and great food! Hookah lovers can even find a hookah lounge at this spot.
Aua De Mar – This beautiful Mexican restaurant is both casual and elegant while serving incredible food. Known for their excellent service and even better cuisine (try the tostadas or green curry!) Agua de Mar is a restaurant you'll want to add to your hit list.
Raw Love Tulum Hotel
One of the restaurant's locations is at the Ahau Hotel. You might be wondering if that hotel is worth checking out or even staying at so you can enjoy raw vegan food your entire trip. Let's talk about it!
Ahau Tulum is the perfect place for an eco-conscious traveler who wants to experience both luxury and relaxation. Ahau claims it offers "barefoot sophistication" for its guests right in the middle of the lush Mayan jungle.
✅ CLICK HERE TO BOOK YOUR STAY AT AHAU TULUM
This oasis is located only minutes away from nearby ancient Mayan ruins. With excellent hospitality, morning yoga classes, and a delicious bar and restaurant, there are so many reasons to book your stay here! Not to mention that it has a Raw Love Tulum Café for you to enjoy during your stay.
The hotel is best known for its amazing sculpture park and incredible location right along the beach. Stroll the powdery white sand, take a refreshing dip in the turquoise water, and watch as the sun sets over the horizon of this beautiful region.
If you are an eco-conscious traveler looking for a relaxing and luxurious option for your stay in Tulum, then we recommend giving Ahau a shot!
Other Vegan Restaurants in Tulum
Although Raw Love Tulum is a popular option for raw vegan lovers, there are many other great vegan options in Tulum to consider!
Here are 3 vegan restaurants in Tulum that I recommend, a little bit about their menus, and what makes them special.
El Bajon Vegan Tacos – Considered some of the best tacos in Tulum, this vegan taco bar serves up flavorful taco options for an affordable price. El Bajon Vegan Tacos is considered one of the top 10 Mexican restaurants in Tulum, so you don't want to miss out on these mouthwatering tacos during your stay in town.
Pizza Papi – The pizza here is so good that even non-vegans swear by it! Pizza Papi is known for their unique flavor combos like their spicy coconut pizza and delicious desserts like their vegan chocolate cake. You may not be able to go back to regular pizza after this vegan pizza experience!
Suculenta – Featuring a menu made with local Mayan ingredients, Suculenta is known for its excellent vegan tamales. This is something you would be hard-pressed to find and no one does quite as they do. Another menu highlight is the moist and incredibly flavorful carrot muffin, a local favorite.
Why visit Raw Love Tulum?
You should visit Raw Love Tulum if you are looking for delicious raw vegan food with immaculate vibes and the perfect beach view. Also – if you are a big smoothie or Acai bowl person, it doesn't get better than Raw Tulum.
The laid-back Boho vibe, the picturesque food, the sound of the waves crashing nearby, the epic photo moment at Ven a La Luz, the luxurious Ahau hotel. It's hard to think of reasons why you shouldn't visit Raw Love Tulum!
Where to stay in Tulum
Budget: Kaab Tulum – A popular budget hotel in downtown Tulum, Kaab has a restaurant, free private parking, a bar and a garden. The property has a pool family rooms and a nice spacious terrace.
Mid-budget: Zenses Wellness and Yoga Resort – If you want a combination of comfort, attentive staff and great yoga sessions, Zenses is one of the best places to stay In Tulum.
Luxury: Be Tulum Beach and Spa Resort – One of the best places to stay in Tulum, Be Tulum boasts superb views, 3 on-site restaurants and suites with private pools or hot tubs.
Raw Love Tulum: Final Word
Overall, Raw Tulum is the perfect place for a unique vegan foodie experience in Tulum. With its wonderful atmosphere and delicious raw vegan cuisine, this is the perfect pick-me-up after a morning soaking up the Mayan sun.
The article contributed by Linda from Looking for Linda