Nestled at the foothills of the Spring Mountains, Red Rock Canyon National Conservation Area more commonly referred to as Red Rock Canyon is home some of the most scenic hikes near Las Vegas. 
Red Rock hikes meander through dramatic canyons, orange cliffs, and give you some of the best views of the Las Vegas Valley thanks to its location to the west of Sin City.
Should I mention that it's one of the best spots for taking photos near Las Vegas?  
The bright orange color that you see throughout Red Rock Canyon comes from iron oxide that has accumulated here over centuries. On a bright sunny day, it makes for a spectacular photo background, no matter what brings you to Red Rock.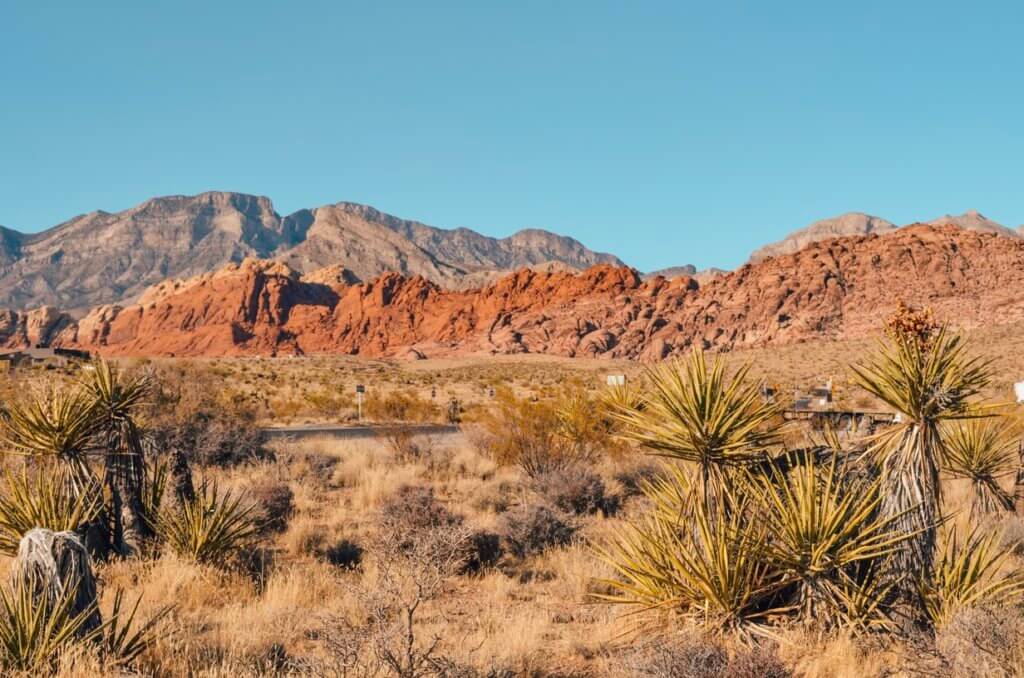 Best time to visit red Rock Canyon is from mid-fall through early spring. 
Winter is always a good time for hiking in Red Rock, however, days are short and it tends to get cold as the sun goes down. Summers bring triple-digit temperatures to Red Rock which is not ideal for hiking. If you plan on hiking at Red Rock from May through early September, you need to start at sunrise and finish no later than 11 a.m.
PRO TIP: Red Rock is one of the best day trips from Las Vegas. If you want to visit other scenic places near Sin City, check my guide. 
[convertkit form=1865538]
The entrance to Red Rock Canyon costs $15 per vehicle.
The park ranger at the entrance booth will give you the map of the area and will answer any questions that you might have. 
I recommend arriving early morning of you want to do at least a few Red Rock hikes and enjoy the area. Red Rock is one of the most popular day trips from Las Vegas and it can get crowded, especially on weekends. 
If you need some additional information, stop by at the Red Rock Canyon Visitor Center, a hub of educational exhibits about the area. Here you can also pick up a cool souvenir. 
America the Beautiful Pass
If you are an avid hiker or plan to visit other recreational areas that require a fee (for example the world-famous Death Valley National Park about 2,5 hours away from Las Vegas), I recommend purchasing America the Beautiful pass. 
It costs $80, while a typical fee for a national park in the United States is $35. You should especially consider this option if you plan on visiting other parks in the United States. 
If you are visiting Las Vegas for a weekend and don't have a lot of time, book an organized tour of Red Rock. There are several companies in Las Vegas that provide tours of this scenic area. Pink Jeep Tours is one of them. 
Red Rock Canyon directions
If you plan on doing Red Rock Canyon trails, there are a few ways to get to Red Rock Canyon from Las Vegas. 
If you are staying at one of the hotels on the Las Vegas Strip, it should take you about 30-40 minutes to get to Red Rock. But if you are staying in Henderson or in Downtown Las Vegas, your trip will take you slightly longer. 
The fastest way to get to Red Rock is by taking Beltway 215, exiting at West Charleston Boulevard and continuing west toward the entrance. 
PRO TIP: Unfortunately, there's no public transportation to Red Rock Canyon. To get there, you will have to rent a car. If you are coming from Sin City like most visitors, rent a car in Las Vegas ahead of your visit, especially if you travel from April through September when cars and hotels are booked up for months.
I recommend using Discover Cars to find an in inexpensive car for your trip.
The 13-mile one-way scenic drive cutting through Red Rock Canyon allows visitors to see all of the area's natural wonders. Many of Red Rock hikes are located along the loop, and it's to miss the best Red Rock Canyon trails when you have a map. 
However, with 26 Red Rock hikes available to visitors, it might be tough to pick just a few.
See my round-up of the best Red Rock Canyon trails:
Difficulty: Easy
Length: 6 miles
The first stop after the entrance is one of the most popular Red Rock hikes. 
The bright orange Calico Hills can be seen far from the distance and for many visitors, they are the primary attraction of Red Rock. The 6-mile hiking trail goes along the side of the red ridge and straight onto the rocks providing a closer look at the incredible orange formations.
Start your hike at Calico I or at Calico II. You can do about half of a hike or less and turn back if you get tired, as it requires some scrambling on the rocks further along the trail.  
Difficulty: Moderate 
Length: 2.5 miles
One of the most popular Red Rock Canyon hikes, Calico Tanks will take you through sandstone formations and culminate with a small pool of water and a gorgeous view of the Las Vegas Valley. While the trail has sandstone stairs, parts of it require scrambling. 
To find a trail, park at the Sandstone Quarry parking lot not far from Calico 1. If you are short on time, it's one of the must-do hikes at Red Rock because it boasts a lot of unique geology and history that provide a great introduction to the area.  
Difficulty: Strenuous 
Length: About 5 miles 
If you are in for some serious exercise, head to Turtlehead Peak Trail. 
The trail begins at the Sandstone Quarry Trail and gains about 2,000 feet in elevation. To get to the peak, you will have to do some walking along the steep ledges with sheer drop-offs, so put on hiking shoes with a good grip.
Before you decide to ascend the peak, get a paper map of the trail, because certain portions of it can be hard to navigate and the area has no cell phone coverage. Most of the trail is exposed, which means you need to bring plenty of snacks and water. When you make it to the top, you will be treated to an incredible view of the Red Rock Canyon below and the entire Las Vegas Valley with the Strip in the distance.
PRO TIP: This is a not a hike for a rookie. If you are a new hiker, consider doing this trail with someone who is more experienced.
Difficulty: Moderate
Distance: 2.5 miles
Ice Box Canyon is one of the most popular trails at Red Rock Canyon because it offers a refreshing hike during summer as it takes you through a shadowy high-wall canyon that hardly sees any sunlight. 
If you are lucky, you could also see a waterfall during winter until mid-spring. To see the falls, you have to hike in the open desert and do some scrambling over boulders in the wash. If you go all the way to the end, you will eventually hit a dead end, as there is no outlets.
One of the nice features of this canyon is its greenery and flowers that begin at the trailhead and start looking like a forest, the further you go into the canyon. 
It's one of the most scenic Red Rock hikes!
Difficulty: Easy-to-moderate 
Distance: 4.5 miles
Willow Spring Trail begins at the White Rock parking lot, and is considered easy-to-moderate. The loop spans about 4.5 miles and offers a nice mix of scenery including pine trees, cacti, and even some ancient pictographs.
If you want to add some challenge, hike the adjacent La Madre Spring which starts at the split of the two trails and has a higher elevation gain.
Difficulty: Moderate 
Distance: 2.4 miles
Named after the Keystone Thrust earthquake fault, this trail gradually ascends the hill and offers sprawling views of the area. This hike is relatively easy as it doesn't require scrambling and gains less than 500 feet in elevation.
From the area where you can see the Thrust Fault, you can continue along the canyon for another 2-3 miles via a loop before returning to the main loop via Keystone Loop Trail.
PRO TIP:  Make sure to stay on trails when you hike. When you get off trails, you could trample plants or animals that help to maintain that delicate balance in the desert ecosystem. In some cases, it takes years for the desert vegetation to grow again, so you should be careful about where you step.
Difficulty: Strenuous 
Distance: 14 miles
Bridge Mountain is one of the most rewarding and strenuous Red Rock Canyon hikes. 
Named after the sandstone formation near the summit of the hike in the shape of a bridge, this trail takes about 8 hours to complete. Most of it runs through backcountry and has virtually no cell phone service, except for a couple of spots.
Many parts of the hike are unmarked and scrambling is required in certain parts, which means you need to be an experienced hiker to attempt this trail. Before you even get to the ridge overlooking the red rock formations, you will have to navigate your way through a pinyon juniper forest, so superb orientation skills are a must.
You will also have to conquer several areas of sandstone and slickrock, but when you get to the end you will see the magnificent views of Red Rock Canyon. 
How to get to Bridge Mountain: Drive along the scenic loop until you get to the Willow Springs turnout. From there, you should follow the paved road until it turns into the dirt road (you will need a high-clearance vehicle) and continue for about 5 miles. You will find a small parking area on the right side and a sign marking the beginning of the trail.
8. Rainbow Mountain Loop Trail
Difficulty: Easy  
Distance: 3.2 miles
This easy hike is perfect for late fall and winter as it's pretty exposed and snakes through the desert below the colorful Rainbow Mountain. Since this is a loop trail, you can hike it in both directions.
To get to the trailhead, drive to the Oak Creek Canyon Road parking lot. The hike is located at the end of the Scenic Loop Drive, and you need to make a right turn on Oak Creek Canyon Road and head toward the end of the road where you will find a small parking area.
Difficulty: Easy
Distance: 0.6 miles 
The main attraction of the Lost Creek Canyon Trail is a seasonal waterfall. The trail is used for hiking and bird watching. 
To begin your hike, you need to find Lost Creek Canyon and follow the trail.
A free alternative to Red Rock hikes is Calico Basin, is a scenic area adjacent to Red Rock Canyon National Conservation Area. 
Calico Basin is home to Calico Basin Trail, a 5.2-mile loop trail that is rated as moderate and offers plenty of scenic views. Other hikes in the area are Turtlehead Loop Trail, Kraft Mountain Peak Trail, Red Springs Broadwalk and Guardian Angel Pass. 
To get to Calico Basin, make a right turn on Calico Basin Road about 1.5 miles before the entrance to the Red Rock Canyon, and keep driving north, and then west before you reach a turnout. 
Things to know before hiking at Red Rock
Red Rock Canyon is a true gem of Southern Nevada. 
Here you can find some of the most incredible scenery, diverse wildlife such and hiking trails. However, there are a few things you should know about Red Rock Canyon hikes, especially if you have never hiked in the desert.
– Bring water and snacks
Red Rock Canyon has no gas stations, stores or restaurants. Carrying water on your hikes is important because you get dehydrated in the desert very quickly, especially during summer. If you bring regular plastic bottle, your water will quickly get hot when you leave it in your car.
Consider brining a stainless steel water bottle that will keep your water cool.
– Don't rely on your cell phone
Cell phone coverage is spotty in parts of Red Rock Canyon. If you are going on a hike that requires navigation skills and is away from the main loop, you shouldn't rely on your phone for directions. Use a paper map or download an offline map ahead of your trip.
– Red Rock Canyon gets crowded
It's especially true on weekends and major holidays, so prepare to start your trip early if you want to beat the crowds. Sometimes, it gets so busy that park rangers have to close the main entrance. 
– Wear appropriate shoes and clothing
When it's hot, wear a hat to avoid a heatstroke and don't forget about comfortable hiking shoes that prevent you from slipping. Comfortable footwear is especially if you plan to climb peaks or walk on elevated areas.
– Put on sunscreen
The sun in the desert can be harsh. Even if it doesn't look that sunny, you can still get a sunburn. To avoid it, make sure to put on enough sunscreen before you hit the trail.
– Don't feed wildlife 
Despite its hot climate and rugged terrain, Red Rock Canyon National Conservation area is home to many forms of wildlife. Here, you can find the endangered desert tortoise, rabbits, wild horses and burros, that look similar to donkeys. It's illegal to feed wildlife inside Red Rock Canyon, so remember to keep your snacks to yourself.
Hotels Near Red Rock Canyon
1.Red Rock Casino Resort & Spa 
It's a high-end hotel that has a casino, restaurants and spa and a big shopping mall nearby. Although it comes at a higher price, it's the closest hotel to Red Rock Canyon in Las Vegas.
However, if you travel on a budget, there are also other hotels in the area.
2. Hampton Inn & Suites Las Vegas Red Rock Summerlin 
A good 3-star hotel if you want to relax and enjoy scenic views nearby without having to pay a high price. Breakfast included. 
3. La Quinta by Wyndham Las Vegas RedRock/Summerlin  
A 3-star hotel with a pool and hot tub that is close to Red Rock Canyon and is only 16 miles away from the Las Vegas Strip.
Other cool places to visit near Las Vegas
There are many cool places to visit near Las Vegas, and Red Rock Canyon is just one of them: 
If you have a couple of extra days, check some of these places:
Valley of Fire State Park
Located about one hour away from Las Vegas, Valley of Fire State Park is one of the most popular places to visit near Las Vegas. This place boasts incredible landscapes and scenic hiking trails, so you should have at least half a day for your trip.
Bryce Canyon National Park
Located in Utah, Bryce Canyon National Park is one of Utah's mighty five national parks. It takes about 3 hours to get from Las Vegas to Bryce Canyon by car, so the trip will take the most of your day. 
Disclaimer: This post contains affiliate links. At no cost to you, I might earn a small commission if you make a purchase through the links in this article.