Disclaimer: This post contains affiliate links. At no cost to you, I might earn a small commission if you make a purchase through the links in this article.
Seaweed in Tulum (or sargasso in Spanish) has become a real issue in recent years affecting beach conditions and experience for many travelers who come here to enjoy the magical scenery of this place.
Tulum is one of the most popular destinations in Mexico's Caribbean thanks to its white-sand beaches, crystalline cenotes, and ancient Mayan ruins overlooking the Caribbean. Tulum beachfront hotels are some of the most beautiful in entire Mexico!
If you are making your way here, the last thing you want is to have seaweed spoiling your vacation. In this article, I will tell you how to avoid seaweed in Tulum and make the most of your vacation.
✅ Check my complete guide on the best time to visit Tulum to avoid seaweed.
What is Tulum seaweed?
Sargassum (or sargasso in Spanish) is a leafy, greenish-brown algae. When it washes ashore, it begins to decompose and releases hydrogen sulfide gas which has an unpleasant smell that resembles rotten eggs.
The seaweed originates in the Sargasso Sea which is in the middle of the Atlantic due to the warming water temperatures – a direct result of the climate change.
The ocean currents drag the seaweed north toward the Caribbean Sea, and as seaweed travels, it forms the sargassum islands, which can be very harmful to marine life as it drops to the bottom and creates dead zones.
As soon as it reaches the beach, it has to be removed, as it affects swimming conditions and can also spoil the beach, if left uncleaned.
Travel resources for your trip to Tulum
When is the seaweed season in Tulum?
The seaweed season lasts from May until October. It coincides with the hurricane season in the Caribbean with the most seaweed arriving from June through August. In recent years, seaweed has been arriving in Tulum and other Caribbean beaches like Cancun, Playa Del Carmen and Mahahual throughout the year.
What months are seaweed in Tulum?
The first seaweed typically shows up on Tulum beaches in May, but in the last few years, it started to arrive as early as February, which has become a problem for the local tourism industry. Many beachfront hotels in Tulum have been scrambling to clear their beaches from the pesky seaweed.
In September 2022, local authorities installed a sargassum barrier to prevent seaweed from reaching Tulum beaches, which were removed later. The problem helped to some extent, but didn't resolve the problem long-term.
Read: The best time to visit Playa Del Carmen to avoid seaweed
What to know about seaweed in Tulum?
While seaweed might not seem like a big issue in small quantities, it can create a big problem when it starts to accumulate in big amounts. In the summer of 2022, many Tulum beaches were covered in seaweed, with some reports saying that it was the worst seaweed season in Tulum since 2018.
The seaweed has a district smell that resembles rotten eggs and can prevent you from walking on the beach or even getting in the water if there gets to be too much of it. It also spoils the turquoise color of the water which Tulum is so famous for.
Tulum seaweed 2023
Tulum is expected to get big amounts of seaweed in 2023, per local authorities, who say that the most algae will arrive on local beaches between August and September.
As of 2023, Playa del Carmen and Puerto Morelos have already seen sargassum as of the first week of January with over 4.57 tons of seaweed collected within the first two days in January.
Tulum Seaweed August 2023: the most recent update
In April 2023, local authorities have installed barriers that are supposed to prevent seaweed from reaching Tulum and other popular destinations in Rivera Maya.
As of August 2023, Tulum beach still sees seaweed. On cooler days when the current drags the seaweed the other direction the seaweed doesn't arrive, but on hotter sunny days, it comes back in greater quantities.
The issue is expected to persist until late August – early September. The entire Caribbean Coast of Mexico is expected to see the same amount of seaweed as in 2022, and possibly more.
Where to go to avoid the seaweed in Tulum
If you happen to visit Tulum during a time when there's a lot of seaweed, it could be a frustrating experience. Unfortunately, there's not much you can do about it, as the growing amount of seaweed is affected by the warming water which is a result of the climate change.
But worry not, some places in the region are great alternatives to Tulum, so you can avoid the seaweed.
✅ Check my guide to the best Tulum tours to escape the seaweed
Isla Mujeres
Where to stay in Isla Mujeres: Hotel Secreto
One of the most popular destinations in Mexico's Caribbean, Isla Mujeres is a small island that's perfect if you want to stay in the Caribbean. The seaweed typically collects close to the shore, and since Isla Mujeres is facing west, it doesn't see as much seaweed as towns along the coast like Tulum.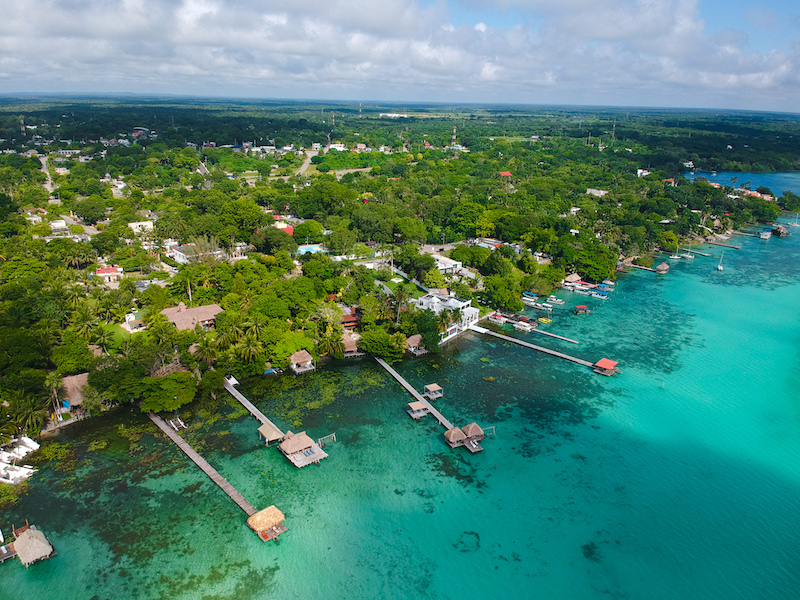 Bacalar
Where to stay in Bacalar: Habitas Bacalar
Bacalar is a small town in the southern part of Mexico's Quintana Roo State. Famous for its Lagoon of Seven Colors, Bacalar is on the lake, so you can forget about the seaweed. You can enjoy the lagoon from many wooden piers around Bacalar, or take a kayak tour, but the best way to do this is by taking a guided boat tour of the lagoon.
✅ Check my guide to the best Bacalar boat tours
Best Bacalar lagoon tours
What stops are included in the Bacalar boat tour:
A guided tour of the Bacalar Lagoon in a sailboat is a perfect option if you want to swim in the lagoon and visit cenotes, Canal de Los Piratas (pirate's channel), and Isla Pájaros (bird's island). Bacalar cenotes require a separate entry fee, and visiting them with a boat will save you some money.
Best private Bacalar lagoon tours
How to get to Bacalar from Tulum:
To get to Bacalar from Tulum, you can catch the ADO bus from the main bus terminal in Downtown Tulum or rent a car in Tulum, which is a great option if you want to have more freedom and visit popular destinations along the way.
✅ Is Bacalar expensive like Tulum? Read my guide to find out.
Xul-Ha
Where to stay in Xul-Ha: Posada Ixchel
Xul-Ha is a small town about 10 minutes away from Bacalar. It has a small lake where you can swim and kayak and offers a more quiet lifestyle that's perfect for a quiet getaway.
How to get to Xul-Ha from Bacalar:
To get to Xul-Ha, you can take a taxi from Bacalar, and ask them to drop you off in town. The journey shouldn't take more than 10-15 minutes.
Campeche
Where to stay in Campeche: Hacienda Puerto Campeche
Campeche is one of the three states that make up Mexico's Yucatán peninsula.
Mostly known for the colonial city of Campeche (or San Francisco de Campeche) that's also a UNESCO World Heritage Site, Campeche is home to some of the best beaches in Mexico that remain unknown to most travelers compared to places like Playa Del Carmen, Cancun, and even Tulum.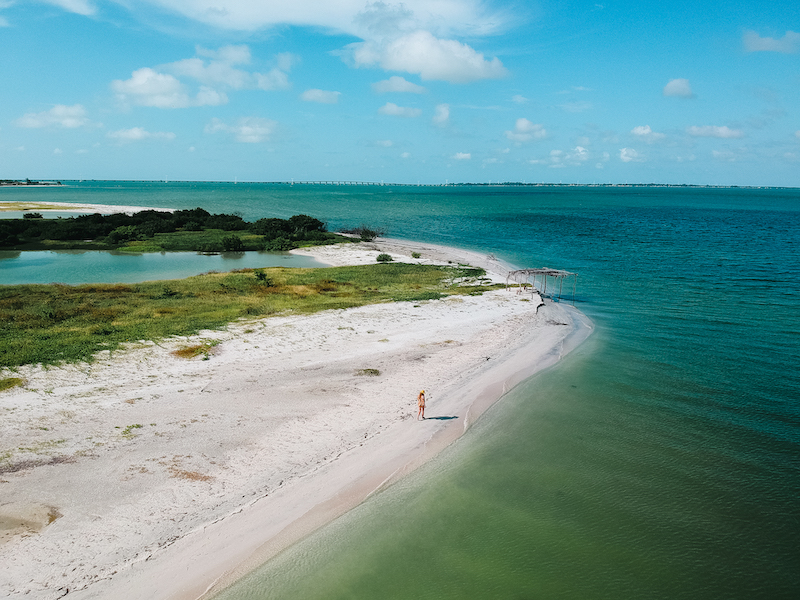 ✅ CHECK MY COMPLETE GUIDE TO THE BEST CAMPECHE BEACHES
Some of the best beaches in Campeche are Bahamitas Beach, Playa Sabancuy, and Isla Aguada. Not only Campeche beaches are uncrowded, but they also don't have the sargassum like Tulum.
How to get from Tulum to Campeche:
To get from Tulum to Campeche, you can take a bus or rent a car. You can rent a car in Tulum from several companies like AmericaCar Rental and others. I recommend and use DiscoverCars, a great online platform that offers rental cars in many parts of Mexico at flexible rates.
DiscoverCars have no hidden fees and you can also buy a Mexican car insurance through them which is mandatory when renting a car in Mexico.
✅ CLICK HERE TO CHECK RATES ON RENTAL CARS IN TULUM
Check my complete guide to renting a car in Tulum.
Tulum cenotes
Where to stay in Tulum: Be Tulum
You don't have to take a trip to another town to escape seaweed in Tulum. All you need to do is go to the cenotes, like Gran Cenote or Cenote Escondido near Tulum.
A cenote (pronounced seh-no-te) is a sinkhole filled with fresh groundwater that is formed when the bedrock collapsed exposing the groundwater underneath.
Best guided tours of Tulum cenotes
Check my guide to tipping in Mexico to find out how much your should leave for your guide in gratuities
There are over 6,000 cenotes in Mexico's Yucatan peninsula, that were formed when the bedrock collapsed exposing the groundwater underneath.
Although the vast majority of them are too hard or impossible to access, there are many cenotes where you can swim, snorkel and even dive, like some of the most popular cenotes near Tulum.
The most popular cenotes near Tulum
Gran Cenote – the closest cenote to Tulum, Gran Cenote is a semi-open cenote that's divided into several sections. You can reach it by a quick bike ride from Downtown Tulum, but the downside is that it gets busy very quickly. Arrive by the opening time at 8 a.m. before most people begin to arrive.
Cenote Calavera – Also known as the "Temple of Doom,"several small and large openings in the earth form a skull shape when viewed from above. It's located just past the entrance to Cenote Calavera. Entrance costs 250 Pesos.
Cenote Car Wash – This open cenote looks more like a big lake than lime-stone caverns. Many people come here to see its impressive underwater garden that can be seen while snorkeling or scuba diving.
Cenote Escondido – Cenote Escondido and Cenote Cristal are two neighboring cenotes on the opposites sides of Highway 307. They can be reached by a 10 minute bike ride from downtown Tulum. Each cenote costs 120 Pesos.
Coba
Where to stay in Coba: Kaan Coba
Coba is an archaeological area in the heart of the Yucatan that's about 40 minutes away from Tulum by car. Home to the tallest pyramid in the Yucatan Peninsula, these Mayan ruins are located near a small town which is also called Coba.
After exploring the area on foot, head to Coba cenotes for a refreshing swim. You can reach Coba by public transportation, a car rental or take a guided tour of Coba from Tulum, which is the best option since you will have a guide show you the archaeological area.
Merida
Where to stay in Merida: Rosas y Xocolate
If you are in the mood for a more cultural trip, head to Merida, the capital of Yucatan where you can learn about the Mayan history, tour archaeological areas, and swim in cenotes.
Choose one of the best guided tours from Merida
Even though Merida doesn't have beaches, you are unlikely to get bored here, as you will be able to choose from many great museums, and historic haciendas and taste the incredible Yucatec cuisine.
Valladolid
Where to stay in Valladolid: Hotel El Meson del Marques
Valladolid is a designated pueblo mágico and is a UNESCO Wold Heritage Site located in the hart of the Yucatan Peninsula. Valladolid makes a great day trip from Tulum, but you can easily spend a few days here if you want to explore the spectacular cenotes Suytun, Oxman and Zaci, admire colonial architecture and visit amazing Mayan cenotes in the area like Ek Balam or Chichen Itza.
So, does Tulum have a seaweed problem?
While seaweed used to arrive in Tulum only during specific months, in recent years, it started making appearances throughout the year. In the last few years, Tulum has received more seaweed because of the changing climate and the warming waters, which contribute to the production of seaweed.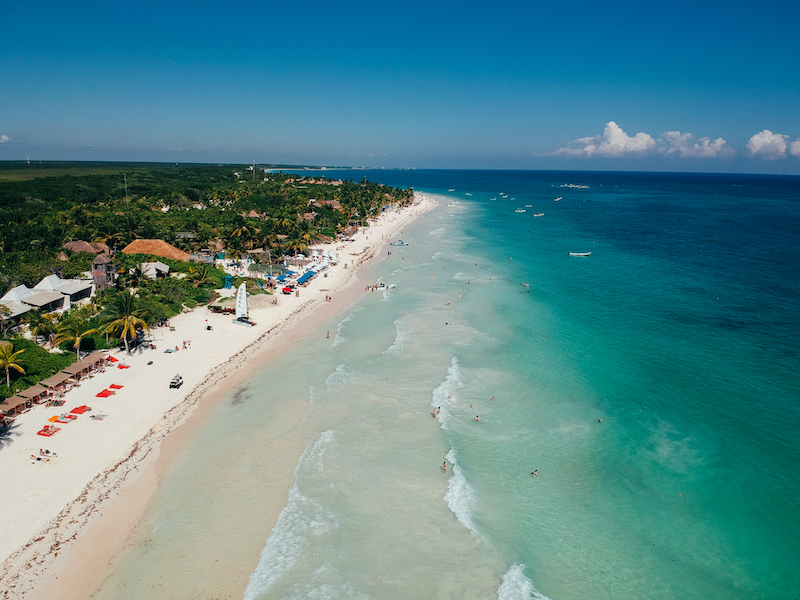 Where to stay in Tulum to avoid seaweed
Taking the issue of seaweed in Tulum into account, let's talk about where to stay in Tulum. Tulum's Hotel Zone is home to some of the most beautiful hotels in town where you can spend anywhere from a few hundred dollars per night and up. If you come during the seaweed season in Tulum, your might be very frustrated to find the beach covered in smelly algae.
➡️ Check my complete guide to where to stay in Tulum
Let's take a look at some of the best hotels with pools in Tulum where you can escape the problem and save money:
Aldea Zama
Aldea Zama is a new part of Tulum slightly south of downtown. It has a mix of apartment-style rentals, Airbnb's, and luxury hotels like Naay Tulum Curamoria Collection. Here you can also find some stores and a couple of great Tulum restaurants like Rossina.
➡️ BOOK YOUR STAY IN ZENSES TO ENJOY A BEAUTIFUL POOL AND YOGA CLASSES
Downtown Tulum
Tulum Pueblo (aka downtown Tulum) is the center of the action. Here you can find grocery stores, small local shops, markets, and some of the best restaurants in Tulum. Downtown Tulum is particularly popular with budget travelers thanks to a good variety of hostels and budget stays like
If you are looking for the best budget hotels in Tulum, this is the best part of town! It has many hotels with swimming pools, social events, and yoga sessions like Holistika.
➡️ BOOK YOUR STAY AT BARDO TULUM
Seaweed in Tulum: FAQ's
Where can you avoid seaweed in Mexico?
If you want to skip seaweed in Mexico altogether, visit the Pacific Coast where you can enjoy places like Huatulco, Mazunte, Puerto Escondido, Sayulita or, Baja California Peninsula, one of the most beautiful destinations in Mexico famous for its wildlife and rugged scenery.
The Pacific side of Mexico offers great opportunities for surfing, hiking, and wildlife watching. It's also less crowded than Mexico's Rivera Maya that's home to Cancun, Playa Del Carmen, and Tulum.
Although the most popular towns receive plenty of visitors, you can still find some less-discovered spots where few people venture.
What time of year is best to avoid seaweed?
The best time to avoid seaweed in Tulum and other parts of the Yucatán peninsula are November, December, and January. November is the shoulder season which is perfect if you want to save money and avoid the crowds and December is the beginning of the peak season before it starts getting too busy.
What are the worst months for seaweed in Tulum?
The worst months for seaweed are June, July, and August. During this time, seaweed arrives in bigger quantities, it's often rainy and the smell is more noticeable because of the rainy humid weather.
Is there seaweed in Tulum in December?
While there's typically no seaweed in Tulum in December, in 2022, there has been some seaweed that has arrived on Tulum beaches during this month.
Seaweed in Tulum: final word:
Although the seaweed problem in Tulum has been getting worse in the last couple of years, you can still enjoy this town as long as you know when to avoid seaweed. Plan your trip to Tulum from November through December and outside of summer to enjoy the white-sand Tulum beaches and clear turquoise waters free from seaweed.