Disclaimer: This post contains affiliate links. At no cost to you, I might earn a small commission if you purchase through the links in this article.
Sisal is a remote town in the northwestern corner of the Yucatan Peninsula. Located off the beaten path, Sisal is a perfect place to escape busy destinations in the region and enjoy a quiet atmosphere while watching the pelicans glide over the emerald-green water of the Gulf of Mexico.
Besides the incredible beaches, Sisal has gorgeous colonial architecture, a lighthouse, and a museum, making it a perfect destination if you are looking for a blend of nature and culture.
I spent a few days in Sisal and enjoyed every moment of it. If you want to get away from the major tourist destinations and explore one of the best-hidden gems of Mexico, this article is for you.
Sisal Pueblo Magico
Mexico Ministry of Tourism (SECTUR) designated Sisal as a pueblo mágico in 2020. Other pueblos mágicos in the state of Yucatan are Izamal, Mani and Valladolid.
What are pueblos mágicos?
Pueblos magicos (or magic towns) are the towns in Mexico that were given a "magical" status by the Mexican government because of their cultural, historical, or architectural significance. The government of Mexico created the first group of pueblos Magicos in 2001 to bring more tourists to rural areas and diversify their economy. There are over 130 Pueblos magicos in Mexico as of 2023.
A brief history of Sisal, Yucatan
During the colonial period, Sisal was mostly known for its cultivation of henequen, a fiber plant native to Mexico and Guatemala, but in pre-Columbian times, Sisal was a small Mayan village.
Once Sisal was colonized, it attracted many merchants and eventually became the main port town along the Yucatan's Coast. Today Sisal is no longer a port town, as it's been taken over by Progreso, and is known as a quiet fishing village with some of the best beaches in Yucatan.
The best thing to do in Sisal, Yucatan: a complete overview
1. Walk along the Malecon
Like many popular beach towns in Mexico, Sisal has a malecon (a walkway along the beach). Here you can watch local fishermen going about their day. It's a perfect place to start your tour around the town and get a sense of what life is like here.
FUN FACT: Sisal was Yucatán's main maritime port during the "Green Gold" boom era of henequen production, but now it's a quiet fishing village and a hidden gem of the Yucatan Peninsula.
2. Take a kayaking tour through the mangroves
When you explore Sisal, you will find local tour operators selling kayaking tours of the mangrove surrounding Sisal. If you like wildlife watching and want to spend time in nature, a kayaking tour is one of the best things to do in Sisal.
Mangroves are home to many bird species like pelicans, herons, and egrets. Your guide will help you to spot many animals as they can be hard to see with the naked eye.
I also recommend renting a kayak or paddleboard from one of the local businesses early morning before the wind picks up, so you can paddle along the beach for a perfect workout.
3. Watch flamingoes
You can book a flamingo tour from one of the local operators. Many kayaking mangrove tours typically bring you to remote spots where you can observe flamingoes, but it's not always the case, so clarify with your tour operator!
You usually have to pay in cash, so make sure to have Mexican Pesos on you, as credit cards are not always accepted.
✅ Cash is still king in many small towns in Mexico. Want to learn more of my Mexico travel tips? Click here.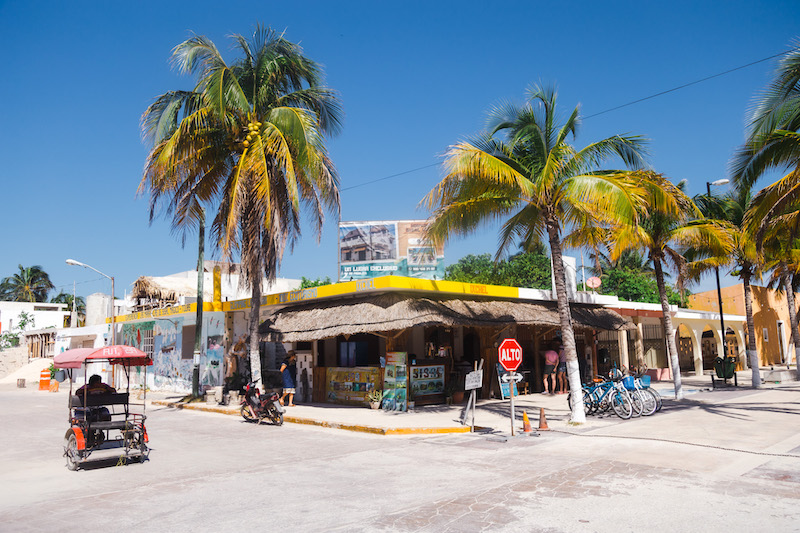 4. Grab a bite in one of Sisal restaurants
You will not find restaurant chains in Sisal, as most places here are uniquely local. As a vegan, I had limited choices, but if you like seafood, you will find many options in Sisal, as many restaurants here have seafood dishes thanks to local fishermen who always bring fresh catch.
Ceviche is a popular staple on many menus as well as seafood pasta and shrimp (Camarones in Spanish).
✅ Check my complete guide to tipping in Mexico.
I also recommend checking out small local markets with fresh fruits and vegetables.
5. Watch the sunset
You can watch the sunset from the Sisal Malecon or a rooftop in one of Sisal hotels like La Casona De Sisal or Casa Manuela, a gorgeous villa right in front of the beach in Sisal.
6. Take a day trip to Merida
Merida is the capital of the Yucatan State and is the largest city by population in the entire Yucatan Peninsula. Many travelers visit Merida first before coming to Sisal, but I recommend a few days in Merida, regardless of whether you visit Sisal first or not.
7. Go for a swim
Sisal boasts amazing beaches free from crowds and development, unlike destinations in Mexico's Rivera Maya. It's also a great place to escape Tulum seaweed.
When I visited Sisal in late March, there was some seaweed at the beach, but it was nowhere near as much as in Tulum.
I loved spending time on Sisal beaches and enjoyed its amazing calm waters. If you want to do the same, bring reef-safe sunscreen, so you don't hurt any marine animals who call these waters home.
✅ Check my guide to the best Campeche beaches along the Gulf of Mexico
Regular sunscreens often contain harmful chemicals which could be detrimental to aquatic animals. If you want to travel responsibly, ensure your sunscreen is reef safe.
8. Visit Sisal lighthouse and the nearby museum
Sisal was once the main port of Yucatan (now it's Progreso), and you can now find a small museum in the fort of Santiago in Sisal dedicated to the history of the area. Nearby, there's also a lighthouse which was built to help the ships navigate their way to the port of Sisal back in the day.
Address: C. 17 22, 97356 Sisal, Yucatan, Mexico
9. Take photos in front of the Sisal sign
The colorful Sisal sign is one of the top attractions in this small pueblo, and you can't leave without taking a quick snapshot in front of it.
10. Snack on a marquesita
Marquesita is a traditional Yucatec street food – a crispy pancake that comes with a variety of fillings like fruits, chocolate, and others. You can buy a marquesita for about 50 Pesos (2 USD) from one of the street vendors in Sisal.
What is Sisal Mexico known for?
Sisal is known for its pristine beaches along the Gulf Coast of Mexico, spectacular sunsets, and relaxed atmosphere.
Can you swim in Sisal?
Yes, you can swim in Sisal. The beaches in this town have small waves, and the bottom has soft sand.
Where can I see flamingoes in Sisal?
You can see flamingoes in Sisal by booking a guided tour of mangroves that often includes a stop in remote areas where flamingoes stay. Another option is to take a day trip to Celestun, a quiet village that offers quick access to a natural reserve where you see colonies of gorgeous pink flamingoes.
Where is Sisal?
Sisal sits on the far northwestern side of the Yucatan Peninsula in the municipality of Hunucma. Sisal is about 47 km from Merida. It takes about 40 minutes to get from Merida to Sisal by car and about 1,5 hours by bus.
What's the closest airport to Sisal?
The closest airport to Sisal is Manuel Crescencio Rejón International Airport (MID) in Merida about 36 miles (58 km) away. It has domestic flights from Mexico City, Guadalajara, and Monterrey and international flights from Houston and Miami.
How to get to Sisal?
While you can take public transport to Sisal, renting a car is the best option. You can rent a car in Cancun, Merida, Tulum, or any other major destination in the Yucatan Peninsula.
Given Merida's proximity to Sisal, it's a good idea to rent your car there, so you can have the most freedom for your trip.
Where to rent a car in Merida?
To find the best prices on rental cars in Merida, use DiscoverCars, the best platform for booking car rentals in Mexico and other countries.
DiscoverCars work with major car rental companies in Mexico and offer some of the best prices on many types of vehicles. You can also add full Mexican insurance for your car rental for less than $10 per day when booking your car with DiscoverCars.
Mexican car insurance
Car rental insurance is mandatory in Mexico for all drivers, and your car rental company will offer you to choose from several plans if you don't have one by the time you arrive. It's best to get your car rental insurance through DiscoverCars when booking your car.
DiscoverCars allows you to add Mexican car insurance (which is mandatory) for just under $10, which is super cheap compared to many other car rental companies.
✅ CLICK HERE TO CHECK PRICES ON MEXICO RENTAL CAR INSURANCE
What documents do I need to rent a car in Merida, Mexico?
To rent a car in Merida, you will need a valid driver's license, a passport, a credit or debit card, and Mexican car insurance.
A passport
When renting a car in Merida, you will need your passport. A representative of the car rental company will make copies of your passport before giving it back to you.
A driver's license
A valid driver's license is required to rent a car in Merida. If you are traveling to Mexico from countries that don't use the Roman language alphabet, you will need an international driver's license.
Can I drive in Mexico with a US license?
Yes, you can drive in Mexico with a valid US driver's license as well as driver's licenses from Canada, and EU, and the UK. If your driver's license is not in English, you might need to buy an International Driving Permit that is typically valid for two years.
A credit or debit card
You can use a debit or credit card to pay for your rental car in Merida. You can also use cash, but it's not the most common form of payment. A car rental company will put a hold on your credit card ranging between a few hundred dollars to over a thousand dollars. If you return your car rental with no damages, the hold on your credit card will go away.
A Mexican car insurance
To rent a car in Mexico or anywhere else in Mexico you will need Mexican car insurance. You can buy it from your car rental company to save time and avoid the hassle of buying it separately. When you book your car with DiscoverCars, you can buy your car through their platform, so when you arrive at the car rental office, all you need to do is show your reservation.
What to know about Mexico car insurance
Car rental insurance is mandatory in Mexico, and you can choose from basic, medium, and full coverage when filling out your paperwork. Read my article about renting a car in Mexico to find out more about Mexico car insurance, since it's a pretty big topic.
When renting a car in Merida Mexico, you can choose from three types of car insurance: basic, medium, and full coverage, with basic insurance offering only minimal protection and full coverage protecting you if your car is totaled or stolen.
Visiting Sisal with a guided tour from Merida
If you don't want to rent a car in Merida, you can also book this guided tour from Merida that includes an overview of Sisal followed by a fun adventure during which you get to kayak through the mangroves and watch birds and animals.
✅ CLICK HERE TO SAVE ON RENTAL CARS IN MERIDA
Visiting Sisal by taxi from Merida
You can take a taxi from Merida to Sisal, but it's going to be the most expensive option. If you are looking for convenience, it's best to rent a car, as the price of your taxi ride could easily equal the daily price of a car rental.
Visiting Sisal by colectivo
If you are on a budget, you can take a colectivo (a small shared van) from Merida to Hunucma and from Hunucma to Sisal. Keep in mind that while it's the cheapest option, it's also the slowest one. Depending on the day and time of your travel, the journey could take you anywhere between 1,5-2 hours, so be ready to spend more time on the road.
Book a tour of Celestun from Merida
If you would rather just watch Flamingoes, you can also book a guided tour of Celestun from Merida. This way you will skip Sisal, but you will be able to visit Celestun Biosphere Reserve and get round-trip transportation from your hotel.
Best hotels in Sisal, Yucatan
Sisal has a couple of hotels, but don't expect to have a ton of options here, because the money of the hotels you see listed online are guest houses, and the owners are not always there.
When I visited Sisal and decided to spend a night there, I had a tough time, because many places had no vacancies, and those that were available were more expensive. I highly recommend booking your hotel in Sisal ahead of your trip, so you don't have to deal with the same situation, as I did.
The house home features 4 bedrooms, 3 bathrooms with a flat-screen TV with cable channels, a dining area, a fully equipped kitchen, and a terrace with sea views.
Sisal, Yucatan: FAQ's
Should I go to Sisal or Progreso?
I visited Sisal and Progreso, but liked Sisal much better. Sisal is further from Merida than Progreso and has a more quiet atmosphere and cleaner beaches, whereas Progreso is a popular getaway for many people in Merida. Progreso was more crowded and sadly there was more trash on the streets and even on the beach.
Is Sisal safe?
Yes, Sisal is perfectly safe. It's a small town, and you generally don't have to worry about your safety. Be sure to keep an eye on your belongings though, especially when going for a swim at the beach.
What's the best time to visit Sisal?
There's no bad time to visit Sisal, however, the best weather here is from December through March, when the skies are clear and the chances of rain are low. Unlike many popular destinations along the Caribbean Coast of Mexico, Sisal doesn't get crowded, which means you can enjoy the best time of the year without sharing the beach with tons of people.
Summers in Sisal are very hot and humid, and while prices are low, you might not enjoy it as much during this time because of the heat.
What's the weather like in Sisal?
Sisal has a warm tropical climate similar to the rest of the Yucatan Peninsula. Winters are perfect in Sisal and have the best weather, while summers see the most rain with hurricanes occurring in August and September.
Is Sisal worth visiting?
Yes, Sisal is worth a visit. It's a hidden gem tucked away in the northwestern corner of the Yucatan Peninsula that boasts gorgeous beaches and a quiet atmosphere.
Sisal Yucatan: Final word
Sisal is one of my favorite places in the Yucatan Peninsula. While it takes time and effort to get here, you will be rewarded by some of the best beaches along the Gulf Coast of Mexico and spend time in nature.
Check my other posts to plan your Yucatan adventures: