Sushi in Tulum might not be your first choice, since this beach town is famous for delectable Mexican dishes. But as Tulum continues to grow quickly, it now has a wide variety of restaurants catering to a wide array of palettes.
I've visited most of the best Tulum sushi, and since I often get questions about restaurants in Tulum, I decided to put together this guide. So, whether you want to go for some flavorful rolls, or wondering whether you can have a vegetarian Japanese dish, keep on reading!
✅ Check my complete guide to where to eat in Tulum
BEST SUSHI TULUM: AN OVERVIEW
1. Spider Sushi Tulum
Spider Sushi is a new place in Tulum Aldea Zama where you can enjoy delicious lunch or dinner. The place has a nice casual atmosphere and many staples of Japanese cuisine like vegetable tempura, ramen noodles, and delectable fried rice made with fresh ingredients like veggies and fish.
Spider Sushi also has a pretty impressive variety of sushi, yakisoba and hot appetizers.
➡️ Check my complete guide to where to stay in Tulum by area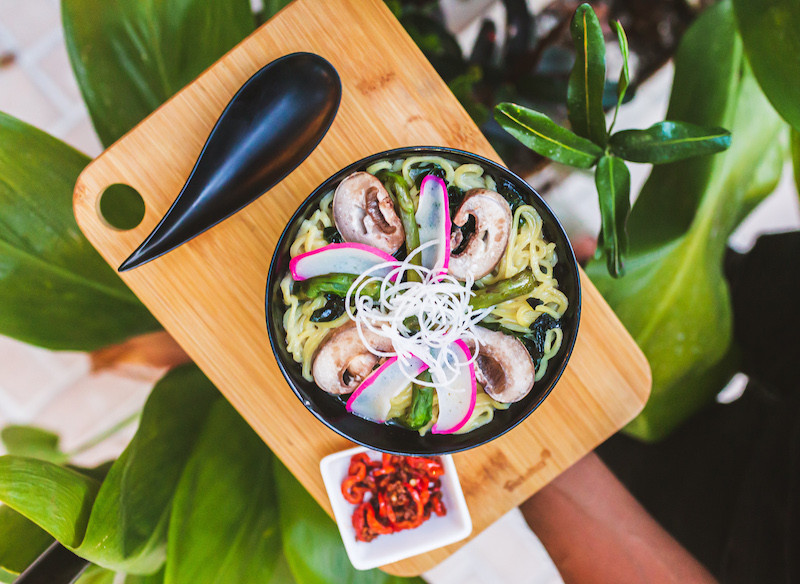 Of all sushi in Tulum, it's one of the best options for vegans and vegetarians like avocado rolls and tempura vegetables, as Spider Sushi menu has good options where meat is substituted for healthier options. Their portions are generous and happy customers keep coming back to this place!
The owners of the place are super friendly and are ready to answer any questions that you might have.
Address: And. Toloc, Aldea Zama, 77760 Tulum, Q.R.
2. UNO Japanese Noodles
Uno Japanese Noodles – If you are in the mood for some healthy Asian food, Uno is your place. This casual Japanese eatery serves sushi rolls, yakemishi, ramen, and fish soups.
✅ Find out how much you should leave in tips in Mexico
The restaurant is located in La Veleta, a new area of Tulum near Downtown Tulum (aka Tulum Centro) across from Aldea Zama, a popular residential area.
Address: C. 7 Sur, Centro, 77760 Tulum, Q.R.
3. Nikkori Tulum
Nikkori is a popular sushi spot in Aldea Zama Tulum that works great if you want comfort Japanese food while traveling in Mexico. Nikkori boasts a good selection of food and reasonable prices.
They offer many standard items from Japanese cuisine and you can also get some pretty decent deals on Tuesday and Thursday that have a promotion for sushi rolls where you buy one and get one free. Fridays also often have specials.
Some of the most popular items on the menu include rice pasta, sushi, and noodles. Don't forget to try their margaritas because they are delicious.
Address: Itzimna M. 226 L.A147, Aldea Zama local 1, 77760 Tulum, Q.R.
4. TOMIZEN
Tomizen is one of the best-hidden gems in Tulum when it comes to the local restaurant scene. The restaurant opened just recently and is quickly becoming popular with travelers who praise its flavorful food and great service.
➡️ Learn the best time to visit Tulum
I visited Tomizen a few times and absolutely loved their vegan ramen miso soup which comes with veggies and noodles. And their vegetable crispy rolls won't disappoint. This sushi place also has beautiful minimalistic decors and a nice atmosphere.
Tomizen is located in Downtown Tulum, along Avenida Tulum, and is super easy to find.
Address: C. Luna Sur 5, Tulum Centro, 77780 Tulum, Q.R.
5. NAO Sushi Tulum
A popular sushi spot in Downtown Tulum, Nao Sushi Tulum offers a mix of Mexican and Japanese food.
The menu includes a variety of ramen, flavorful sushi rolls, salmon teriyaki, and veggie dumplings. And their miso soups are really delicious.
Nao is located in the heart of Tulum which makes it a perfect spot for your lunch or dinner, as you can get there on foot from most hotels in the area.
Address: Av. Tulum entre calle Acuario sur y Júpiter sur, Tulum Centro, Centro, 77760 Tulum, Q.R.
6. Akuma Tiger Tulum
Akuma Tiger is one of my favorite sushi places in Tulum located just a few blocks away from Avenida Tulum which runs through the entire town.
As a vegan, I was able to try only non-meat sushi made with avocado, cucumbers, and corn filling as well as miso soup, but other travelers say that Akuma has some of the most flavorful sushi in Tulum!
✅ Read: Best breakfast places in Tulum
Akuma's sushi rolls come in perfect sizes and are crispy on the outside, soft on the inside, and cooked to perfection. The restaurant boasts plenty of great reviews from happy customers, who love the atmosphere and delicious food of this place.
I also loved the fact that you can watch your food being prepared right in front of you, as the chefs create all the food in the front area of the restaurant.
Address: Calle Polar Pte. entre av. Satélite y Géminis Nte, Tulum Centro, Centro, 77760 Tulum, Q.R.
7. UKAMI Sushi Tulum
Ukami is a hidden pearl of Tulum where you can try a combination of Mexican and Japanese food, with many reviewers saying that it's one of the best places to try sushi in Tulum.
Some of the menu options include shrimp tacos, different fried rice options, oysters, and numerous combinations of sushi. The place also offers vegetarian, vegan, and gluten-free options.
The restaurant boasts cute decorations and a laid-back vibe, outstanding service, and hospitality. If you are in Tulum Hotel Zone, Ukami is a must-stop!
Hours: 4 p.m.-11 p.m.
Address: Carretera Tulum – BocaPaila km 6.7, 77780 Tulum, Q.R.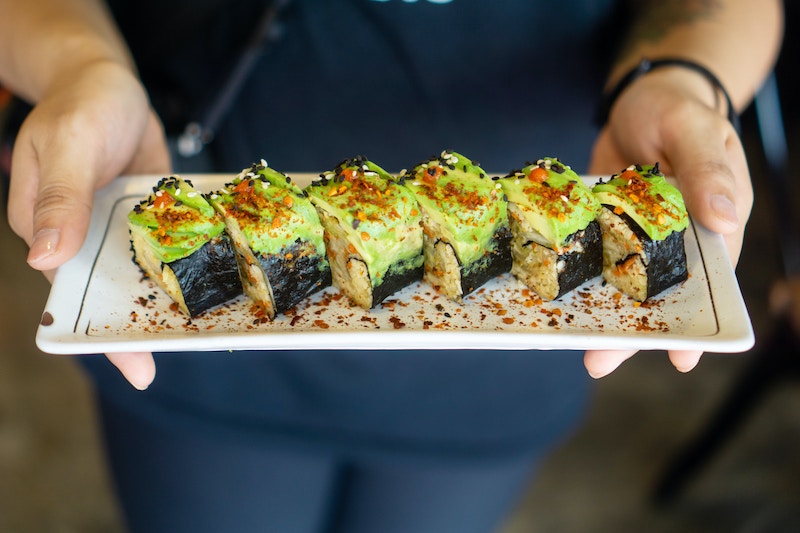 8. Funky Geisha
Decorated in a neat oriental style, Funky Geisha is one of the most popular places for sushi in the Tulum hotel zone. It's a perfect place to celebrate a birthday or other special occasion thanks to the delicious food, live entertainment, and wonderful ambiance
The flavors at Funky Geisha are out of this world, and the staff is friendly and welcoming and ready to go over the menu with you to make sure you are getting the right thing.
The restaurant has two menus: one regular and another one vegan. The regular menu at Funky Geisha offers classics like sushi, nigiri, pad Thai and a variety of noodles.
➡️ Read: The best guided tours from Tulum
The vegan menu has Vegetable Yakimeshi which comes with stir-fried rice with zucchini and carrots; Mushroom Curry which has Asian mushrooms, and Gohan rice, and Thai curry and fried tofu accompanied with arugula and avocado salad.
Funky Geisha has won several awards over the years including TripAdvisor's Traveler's Choice and OpenTable's Diners' Choice, and travelers leave glowing reviews for this place.
Eating at Funky Geisha is all about the experience as you will enjoy the delicious Asian food in a beautiful space decorated with oriental furniture and accessories, so you can feel truly special.
Address: Km 7.8, Carr. Tulum-Boca Paila, Tulum Beach, Zona Hotelera, 77780 Tulum, Q.R.
9. Tora | Japanese Restaurant in Tulum
Tora is where the nightlife atmosphere meets relaxed beach vibes. One of the best-rated restaurants in Tulum, Tora offers a fantastic atmosphere and neat ambiance with speedy service.
The tempura dishes include veggies and shrimp, and other dishes like wagyu, sashimi, nigiri, or Maki rolls are delicious and come with a gorgeous presentation. I particularly recommend a traditional Japanese hot rice pot that comes with mushrooms and is considered one of the staples of Japanese cuisine.
✅ Find out about the best beach restaurants in Tulum
And don't forget about drinks and desserts. I suggest Yuzu key lime pie, chocolate cookie balls, and Nutella to die for.
Whether you want to try a classic margarita or are more in the mood for a traditional Japanese sake, you will not be disappointed.
Address: Carr. Tulum-Boca Paila 5-Km 7, Tulum Beach, Zona Hotelera, 77780 Tulum, Q.R.
10. Sushi Club Tulum
A perfect spot to watch the colorful sunset while sampling a delicious meal, Sushi Club Tulum offers great vibes and even better sushi. From friend rice dishes to Low Mein, tuna tartar, and jalapeño hamachi, this restaurant's food is a real treat for the hungry traveler.
👉 Read my complete guide to renting a car in Tulum
If you are in the mood for a drink, I recommend mezcal "La Bendición" which makes a great addition to traditional Japanese staples.
Address: Carr. Tulum-Boca Paila km 9-8, Tulum Beach, 77780 Tulum, Q.R.
11. Kogure Sushi Tulum
Kogure is a popular Tulum sushi place with a view of the Caribbean and pleasant music where you can try the catch of the day and enjoy a nice ambiance.
Some of the most popular menu items include Tonkotsu Ramen, Tuna Poke Bowl, and a variety of rolls like spicy tuna rolls, soft shell crab rolls, sashimi, and gyoza.
Other popular items on the menu are shrimp appetizer, nigiri, soft shell crab roll, veggie fried rice, and miso soup.
Kogure is located within Pocna Hotel.
Address: Carr. Tulum a, Av. Boca Paila Km. 1.5, Zona Hotelera Tulum, 77780 Tulum, Q.R.