Las Vegas is a one-kind-of-place. 
Here you can see world-class entertainment, eat at famous restaurants, and rub shoulders with celebrities. 
But that's just one side of Las Vegas. 
It might come as a surprise, but Sin City also has many colorful photo spots on the Las Vegas Strip and well beyond it. My guide will help you find the best spot for your Las Vegas photo! 
Arriving in Las Vegas
While some visitors arrive in Las Vegas via the McCarran International Airport, others drive to Las Vegas from Los Angeles, San Francisco, or other major cities on the West Coast. Las Vegas is a popular stop among travelers who come to West Coast.
The McCarran International Airport has two terminals: Terminal 1 and Terminal 3. Las Vegas has limited public transportation options, although, some areas of Las Vegas including the Strip are served by bus routes. To save the money, avoid taxi cabs as they tend to overcharge, and take Uber or Lyft instead.
Or, you can book a car online and pick it up right at the airport!
PRO TIP: You can also save the hassle by arranging a pick-up from McCarran International Airport to Las Vegas with a comfortable airport transfer.
Where to stay in Las Vegas
If you want to be close to most things to do in Las Vegas, consider staying in one of Las Vegas Strip hotels. 
Here's a little secret: Hotel prices in Las Vegas tend to be lower during the off-season which runs from late October through mid-March. 
However, if you want to save on your Las Vegas accommodations, you might consider staying in hotels away from the Las Vegas Strip.The downside is that you will have to pay for car rides when you need to get around.
Budget Hotels in Las Vegas
When you come to Las Vegas, you don't have to stay in swanky 5-star resorts to have a great time. There are actually plenty of budget-friendly options near the Las Vegas Strip such as Excalibur; Motel 6 on Tropicana right across from MGM, or Sin City Hostel which is only a short bus ride away from the action of the Strip!
Mid-Range Hotels in Las Vegas
Got a bit more money to spend? Awesome! Here are a couple of hotels where you can enjoy great amenities and proximity to all the fun things Las Vegas without breaking your bank: SAHARA Las Vegas is a gorgeous newly renovated property that offers a pool, on-site shops and free parking. It also boasts a neat restaurant! 
The D Las Vegas is a good mid-range option if you want to stay in downtown Las Vegas and Circus Circus offers a theme park with a big rollercoaster and tons of entertainment! The STRAT is great for those who need to be closer to North Las Vegas Strip.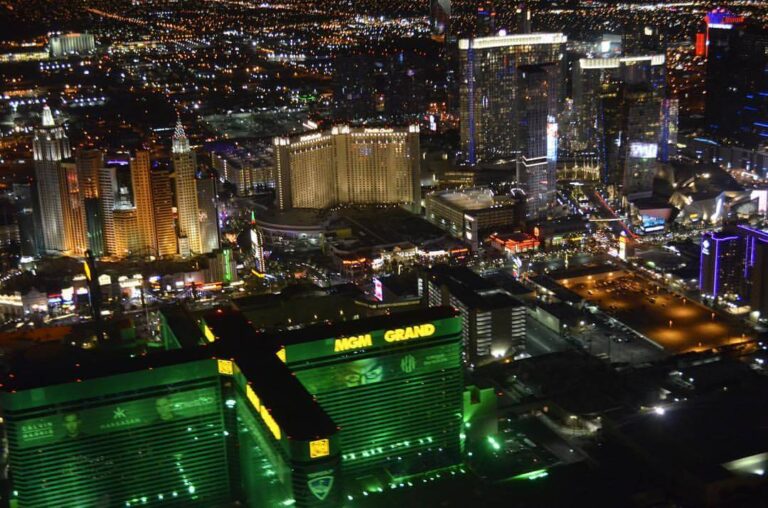 Luxury Hotels in Las Vegas
Nobody does luxury hotels better than Las Vegas! From the classics such as MGM Grand to new additions such as Aria, there are tons of hotels in Vegas if you got money to spend.
Bellagio is the classic Las Vegas stay with the famous fountains and central location along the strip. And Waldorf Astoria offers a more relaxed atmosphere with no casinos, nice spa, swimming pool and great dining. 
Best time to visit Las Vegas
Most tourists visit Las Vegas from May through September.
However, I do NOT recommend you come to Vegas during this time for a couple of reasons. 
First, flights are more expensive and often overbooked. Second, hotels and other tourist hot spots also take advantage of the high demand. Third, it's the when Las Vegas has the hottest weather with an average of 105 to 110 degrees Fahrenheit every day. 
October through mid-November and March through early May bring some of the best weather with mild temperatures and plenty of sunshine, so you can also enjoy some of the best hiking trails near Las Vegas.
Now let's start our trip around the most colorful photo spots in Las Vegas. Hope you enjoy the tour 🙂
1. Seven Magic Mountains
This is a perfect place to stop for a photo if you drive to Las Vegas from Los Angeles or decide to rent a car in Las Vegas. Seven Magic Mountains is a colorful art installation along Interstate -15 more than 20 miles away from the Las Vegas Strip. Seven Magic Mountains are the seven pillars created from huge neon-colored boulders.
This artwork is located in the middle of the desert and doesn't have any public transportation, so if you don't have a car, you will have to pay for Uber or Lyft to get there. 
If you drive to Seven Magic Mountains, head south on Las Vegas Boulevard toward the small unincorporated community called Sloan. There is no fee to enter the venue. 
Just remember to bring plenty of water. There are no stores or restaurants in the area!
2. The Las Vegas Strip
 If you are looking to take a shot of the dazzling Las Vegas Strip, there's no better option than booking a helicopter tour of the Las Vegas Strip. These tours cost between $100-150 and last between 15-20 minutes. I've been on a few of these tours and they are so much fun! It's a perfect opportunity to snap a panoramic shot of the famous Las Vegas skyline.
While you can book a group tour, you can also go with an individual tour that is going to be more expensive but will give you the ultimate experience of a private helicopter ride!
What's cool is that with GetYourGuide, you can book your helicopter tour online and cancel it for no fee up to 24 hours before the tour.
3. Las Vegas murals
To continue our tour of the most colorful photo spots in Las Vegas, let's head to the area East of Fremont Street Experience in downtown Las Vegas. The area has turned into an art mecca recently as a result of Life is Beautiful festival that started a few of years ago.
Most murals can be found on East of Fremont Street along North 7th Street and Stewart Avenue. If you are looking for good photo spots in Las Vegas, you will find a ton of them here! Another area is Charleston Boulevard and Third Street south of downtown Las Vegas. 
You can find a complete guide to the Las Vegas murals here.
4. Fremont Street Experience
Fremont Street or Fremont Street Experience is one of the best places to visit in Las Vegas.
Located in the heart of downtown Las Vegas, this venue boasts the world's largest LED canopy that produces colorful graphics accompanied by the loud music. Fremont Street is also home to many original hotels and casinos in Las Vegas; countless street artists, and awesome zip line that stretches right below the canopy.
Besides being a fun colorful place, Fremont Street is a great place to have a drink, people watch and enjoy all things Las Vegas! Make sure to include it in your Sin City itinerary!
5. The Neon Museum
Museums in Las Vegas? Absolutely! 
Just north of downtown Las Vegas sits the area called the Las Vegas Cultural Corridor that got its name because of the high concentration of museums. The famous Neon Museum or Boneyard known for its impressive collection of old vintage signs from Las Vegas casinos and restaurants. And besides all the cool history, it's one of the best photo spots in Las Vegas!  
However, it is a popular venue for special events such as birthday parties and weddings, so make sure to check the availability before your visit.
The Neon Museum address: 770 N. Las Vegas Boulevard in Las Vegas. 
You can get there from the Las Vegas Strip or downtown via Uber or Lyft. Tickets are required to enter Neon Museum and can be purchased in advance or at the ticket office. You can choose from the general admission, guided tours or the special tours that feature a historic video narrating the history of the old Las Vegas signs.
PRO TIP: While taking personal photos for blogs and social media is allowed at the Neon Museum, all professional photoshoots require a permit and can't be done during the general admission hours. The use of a tripod, multiple cameras and flashes are also not allowed at the Neon Museum. 
6. Bellagio Fountains
Now let's make our way to the Las Vegas Strip. 
One of the most famous places on the Las Vegas Strip is the Bellagio Fountains right in front of the Bellagio Hotel and Casino. Aside from its iconic fountain show, the Bellagio Fountains are also a popular place for taking photos from various angles.
If you want to get to know Las Vegas a bit better, consider booking a bus tour of Sin City!
When to watch the Bellagio Fountains Show: The fountains light up during the show from 3 p.m. to 8 p.m. every 30 minutes from Monday through Friday. And the show plays every 15 minutes from 8 p.m. until 12 a.m.
Traveling to Las Vegas on a weekend? The Bellagio Fountain show plays every 30 minutes from 12 p.m. to 8 p.m. and every 15 minutes from 8 p.m. to midnight on Saturdays. And on Sundays, you can enjoy the Bellagio Fountains show every half hour starting at 11 a.m.
7. Bellagio Flower Conservatory
Bellagio Conservatory and Botanical Gardens are one of the best free things to do in Las Vegas. 
Located inside the Bellagio Hotel and Casino, this elaborate art installation is comprised of millions of flowers, plants, artificial animals and other colorful elements. Every season, the Bellagio changes the art installation which means you can always see a fun new composition if you visit Las Vegas frequently.
8. The Linq Promenade
The Linq Promenade is a fairly new addition to the Las Vegas Strip. 
While it got its name after the Linq Hotel, the outdoor promenade is home to restaurants, stores and entertainment venues such as the Brooklyn Bowl and the High Roller, the tallest Ferris wheel in the world that offers 360-degree views of the Las Vegas Valley. 
If you want to get on a High Roller, but don't want to wait in line, book your tickets through Get Your Guide ahead of your trip!
9. The Venetian
One of the most famous Las Vegas Strip hotels, the Venetian is known for its canals that are made to resemble the iconic Italian city.
If you want to feel like a Venice tourist, take a gondola ride along the artificial Venice canals or stop at one of the casino's shops and restaurants. Besides being a replica of the famous Italian city, the Venetian has many photogenic corners, so make sure to spend some time walking around it with a camera.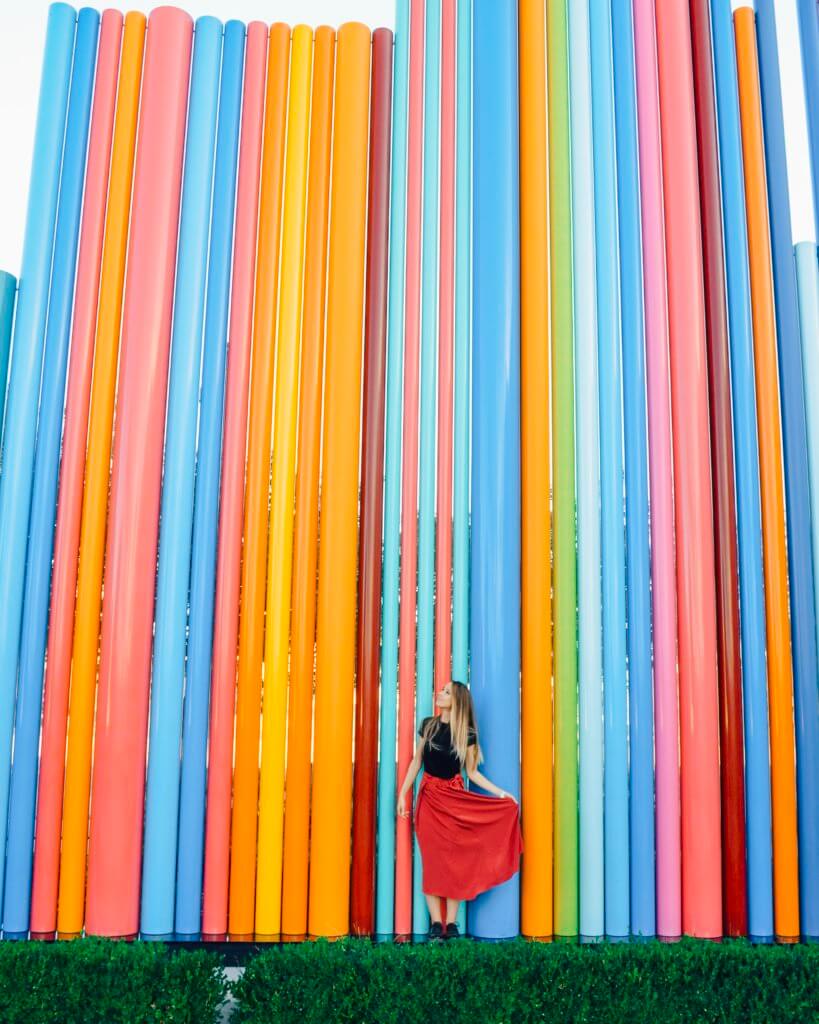 10. Symphony Park
This spot might come as a surprise because it's not as well known as some of the other popular photo spots in Las Vegas. Located near the Smith's Center, Symphony Park is mostly known for the colorful row of pipes. Symphony Park sits in the middle of the downtown Las Vegas a few miles north of the Las Vegas Strip. 
It is located at 361 Symphony Park Avenue in Las Vegas.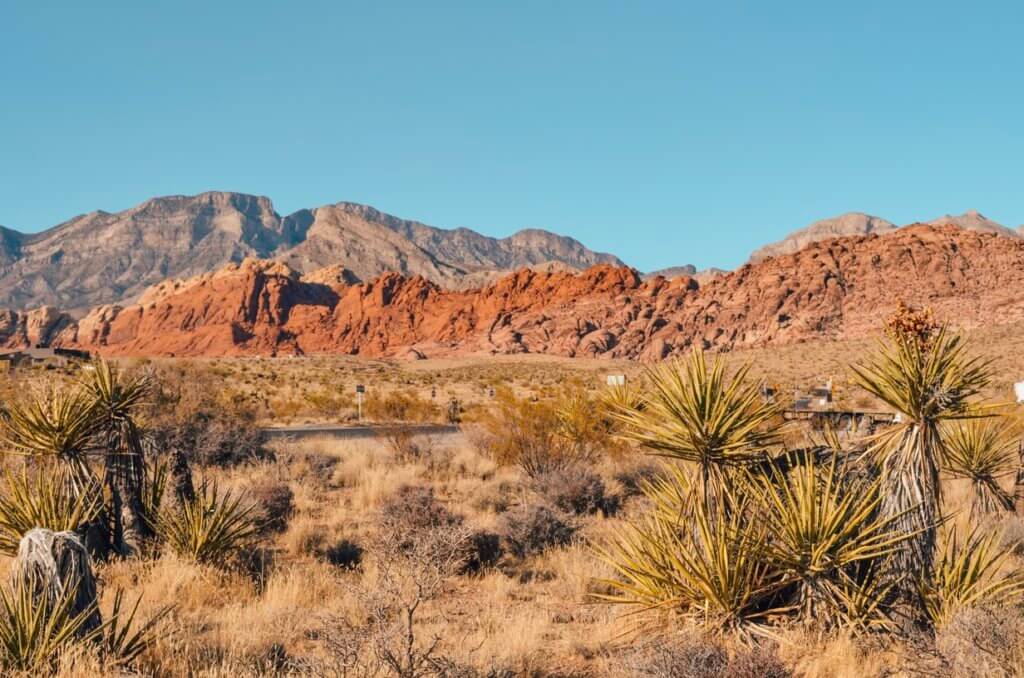 11. Red Rock Canyon National Conservation Area
Visiting Red Rock Canyon near Las Vegas is a must for everybody who wants to relax and see one of the best places away from the Las Vegas Strip. 
Situated 25 minutes west of the Strip, Red Rock Canyon is a true gem. You can spend all day hiking, mountain climbing, enjoying nature and taking photos. I recommend arriving early because this place quickly gets crowded, especially on weekends.
If you don't plan on renting a car to get around Las Vegas and visit places such as Red Rock Canyon, you might want to purchase a tour. And the good news is that there's a package that offers a combination of Red Rock and Seven Magic Mountains.
PRO TIP: If you want to stop at a corky store that's not flooded by tourists, head south of Red Rock Canyon to visit Cactus Joe's, a nursery off Blue Diamond Road that sells an assortment of desert plants such as cacti, Joshua trees, and other cute desert dwellers. It's a perfect spot to pick up an awesome Las Vegas souvenir and enjoy the neat desert garden and a nursery.
BONUS: If you have extra time, take a day trip to the Valley of Fire State Park, the largest state park in the state of Nevada. Located about one hour north from the Las Vegas Strip, Valley of Fire boasts amazing scenery, awesome hiking trails, and a great atmosphere. It's better to visit this place from late fall through early spring because it gets really hot in the desert, however, Valley of Fire is beautiful at any time of a year. 
My guide to the Valley of Fire will tell you everything you need to know about this place and help you to get ready for your visit.
Las Vegas public transportation
You can use several bus routes that serve the Las Vegas Strip and some of the surrounding areas such as downtown Las Vegas and many residential areas near the Las Vegas Strip. In addition, the Las Vegas Strip also has a Monorail train that runs between MGM Grand and SLS Las Vegas.
Monorail stops are located at MGM Grand, Bally's/Paris Las Vegas, Flamingo/Caesars Palace, Harrah's/The LINQ, Las Vegas Convention Center, Westgate Las Vegas and the SLS Las Vegas Station. You can buy tickets at kiosks at those stations.
Disclaimer: This post contains affiliate links. At no cost to you, I might earn a small commission if you make a purchase through the links in this article.