Mexico is one of my favorite countries. It boasts delicious food, vibrant culture, tons of history and some of the best beaches in the world!
Mexico's landscapes range from the Caribbean Coast to the lush jungles in the south to mountains in the middle and deserts up north. It's a country that takes time and effort to explore, and that is why so many travelers keep coming back here.
After traveling around to different parts of the country, I created a list of Mexico travel tips to help you plan your adventure.
My Mexico tips will provide insight into the country's culture, help you to save money and cover some of the most common mistakes that many tourists make while traveling the country.
Looking for the best things to do in Mexico? Check this article to discover best activities for any type of traveler!
Mexico Travel Tips For Saving Money
1. Rent a car. But watch out for scams
Renting a car is the best way to see Mexico: you get to see many places off the beaten track and travel at your own pace. Sounds awesome, right?
But before you rent a car in Mexico, there are a few things you should know.
First, stay away from low bait-and-switch offers that advertise prices as low as $5-10 per day. Many times, this too-good-to-be-true price is only a shield for an exorbitant rate that involves car insurance and fees.
To avoid mistakes and save money, read my complete guide to renting a car in Mexico 🚗
IMPORTANT MEXICO TIPS: A contract attached to a car rental agreement specifies what your rate is going to cover. If you have questions, ask your car rental company to make sure you understand what you are paying for.


Whether you want to explore the Yucatan Peninsula, Baja California or take a road trip through Chiapas, rent a car with Discover Cars that has affordable rates and good inventory in many destinations in Mexico.
I rented my cars from Discover Cars several times, and always loved their service and affordable rates.
2. Haggling is not a thing. But you can try it
Haggling isn't a thing in Mexico, but you can still try it, depending on the situation. For example, you could try to lower a price a bit while getting a taxi or buying a souvenir from a street vendor.
👉When taking a taxi in Mexico, always negotiate a price upfront. Most taxi drivers in Mexico are willing to haggle at least a little bit, so if a rate seems high, ask to lower it before agreeing on the final price.
3. Good hotels don't have to be expensive
Mexico has some of the most amazing deals on all-inclusive hotels in places like Cancun, Cabo San Lucas, and Puerto Vallarta. While these places have great buffets, and relaxing spas, you don't have to spend all your money to stay there.
Mid-range and even budget hotels in Mexico can be great stays, so always check your options. My favorite websites for finding great bargains on hotels in Mexico are Hotels.com and Agoda.com.
4. Skip the high season
Depending on the time of your visit to Mexico, prices on hotels can fluctuate greatly.
For example, coastal areas like Baja California, Jalisco, and the Rivera Maya have the highest prices on hotels and tours from December through April, when the weather is dry and sunny, and many visitors from colder climates seek warm getaways.
If possible, plan your trip to Mexico during the shoulder season from November through early December and from April through late May to get good deals.
5. Take colectivos to save money
Colectivos are small shared vans that are a great if you are looking to save some cash. ADO buses can get you around Mexico, as they have routes in many regions of the country, but colectivos are mostly local and can get you from one town to another for a relatively small price (20 to 50 Mexican Pesos).
Colectivos are common in Yucatan, but you can also find them in other places like Chiapas and Oaxaca.
6. Not all ATM's in Mexico are equal
Not all ATM's in Mexico are the same when it comes to commissions charged per transaction.
Some of them such as HSBC can charge high fees upward of 70 Mexican Pesos per transaction.
Santander and Banko Azteca ATM's have lower fees (just over 30 Pesos per transaction), and they are easy to find around airports, bus stations, and other major areas.
7. Always carry pesos
One of my top tips for Mexico travel is to carry local currency!
While many businesses accept credit cards (or tarjetas in Spanish) in tourist zones, you should always carry Mexican Pesos with you.
This is especially true if you plan to take a road trip or stop in one of Mexico's small towns where credit cards might be accepted only in select stores and restaurants. Also, souvenir vendors and local artisans in Mexican mercados (or markets) accept only cash.
8. … Because cash is still king in many parts of Mexico
You are going to traverse small, rural areas with limited options for food and services while traveling around Mexico, and it's essential to have at least some cash in your pocket.
I've taken many bus rides all over Mexico, some of which took over 10 hours, and most of the time the only way to pay for food, bathrooms and everything else on the road was with cash.
9. Eat where locals eat
When visiting popular destinations in Mexico, try to eat in local restaurants.
Major tourist zones like Zocalo in Mexico City, have popular restaurants, but prices there are often geared toward tourists and tend to be much higher than in restaurants frequented by locals. When you visit Mexico, go to local eateries like taquerias, where you can eat deliciously and inexpensively.
Eating in local restaurants is the best way to experience the Mexican gastronomy, and you will avoid paying high prices simply because you are dining in a tourist zone.
Mexico Travel Tips: Culture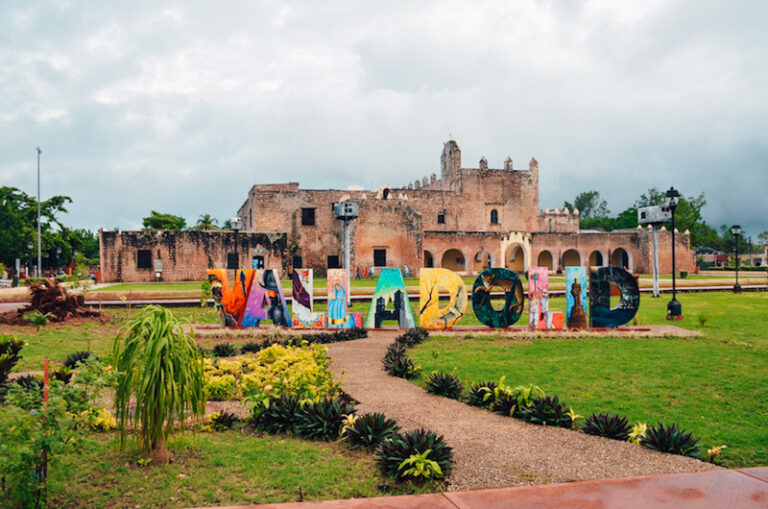 1. Venture outside touristy areas
This is one of my biggest tips for Mexico travel.
It could be very tempting to spend your entire vacation in the comfort zone of Cancun or Cabo San Lucas all-inclusive resorts, however, I don't recommend doing it for one simple reason:
You will miss out on Mexico's cultural landmarks.
Mexico is full of historical sites, wonderful cities, and Mayan ruins where you can learn the country's pre-colonial history, interact with locals, and taste regional Mexican dishes.
While you can explore Mexico by public transportation or organized tours, renting a car will give you the most freedom and flexibility. One of my top picks is City Car Rental, a local car rental company that offers services in many destinations around the country.
2. Pueblos Magicos are musts!
When you travel around Mexico, visit at least one of Mexico's Pueblos Magicos, or Magic Towns designated by the Mexican government because of their heritage and significance to the country's culture.
When you visit these places, expect fewer businesses catering exclusively to tourists and more local flair which makes for an awesome cultural trip.
There are over 130 Pueblos Magicos in Mexico, and if you want to visit them, check my list of the best Pueblos Magicos.
3. Don't forget to visit Mexico City
When it comes to Mexico travel, most people think about sun-drenched beaches and all-day margaritas.
But Mexico is so much more than that!
One destination that has become particularly popular is Mexico City.
The Mexican capital has emerged as one of the hottest destinations in Latin America with an incredible food scene, world-class museums and historic landmarks. Visiting Mexico City is one of my top tips for Mexico travel, if you want to learn the history of the country and better understand its culture.
I suggest no less than 5 days in Mexico City because there is too much to do here and you can take many day trips to see Pueblos Magicos, historic and natural landmarks within 1-2 hours from Mexico City.
4. Shop artisan markets in Mexico
Artisan markets in Mexico are part of the cultural experience 😊
Here you can buy everything from colorful textiles, handmade jewelry and clothing to home goods and so much more!
GOOD TO KNOW: Most popular destinations in the country like Mexico City, Oaxaca or San Cristobal De Las Casas have at least artisan market, but even coastal resorts towns like Playa del Carmen, Tulum or Puerto Vallarta have designated areas for artisans where you can buy handcraft goods and souvenirs.
Buying artisan goods is one of my top tips for Mexico travel because it's an excellent way to support local economy and make sure that your money goes to the people who live and work in the area.
5. Try regional Mexican dishes
Besides the famous staples such as tacos, burritos, and guacamole, Mexico boasts delicious regional cuisines in states like Oaxaca, Puebla and Yucatan that you shouldn't miss.
This is one of my top Mexico tips, especially if you are staying in a big resort where everything is catered to you. Do get out and try to eat where locals eat!
6. … And don't skip some street food too
From tacos to churros and marquesitas (crispy crepes filled with chocolates or fruits) to delicious corn, Mexico has tons of delicious street food (la comida callejera in Spanish). Go ahead and treat your taste buds to some regional delicacies!
This might not be one of the most obvious Mexico travel tips but it's important because you will get to try something delicious and support local vendors.
7. Learn basic Spanish
Most people who work in Mexico's tourism industry speak at least the basic level of English, but …
Speaking even basic Spanish can go a long way!
The further you get from the tourist zone, the less English you should expect. What's great about visiting these places is that you can see the real Mexico!
When it comes to Mexico travel, many people are concerned about safety, but speaking the language makes you feel a lot safer as you are able to understand things and properly assess a situation.😉
That's why learning at least some Spanish is one of my biggest Mexico travel tips.
Grab a couple of textbooks and get your Spanish game on!
8. Mayan ruins are excellent for learning history
As a true lover of Mexican Mayan ruins, I encourage you to visit at least one of them!
Mexico is a heaven for history buffs with thousands of ancient ruins, some which date 2,500-3,000 years back.
Before the arrival of Spanish conquistadores in the 16th century, Mexico was populated by Mayan people, among other indigenous groups, and the Mayan heritage is deeply entrenched into the country's identity.
IMPORTANT MEXICO TIPS: If you don't have a car rental, the best way to explore Mayan ruins is by taking guided tours. Get Your Guide offers daily trips to some of the best archaeological areas in Mexico.
While you probably heard about the UNESCO-listed Chichen Itza, one of the Seven Wonders of The World, Mexico has many less famous Mayan ruins like Coba that are just as impressive and important.
Learn about best Mayn ruins in Mexico here
Best Mayan ruins in Mexico
Calakmul – One of Mexico's most impressive Mayan ruins in the state of Campeche
Ek Balam – A less visited Mayan ruin site near Valladolid
Kohunlich – A Mayan ruin site about one hour away from Bacalar
Muyil – A small but a very cool archaeological area near Tulum that sees very few tourists compared to the famous Tulum ruins
Uxmal – A Mayan ruins site near Merida, that is also part of the Puuc Route that has other ruins and cenotes
Palenque – My favorite Mayan ruin site in the state of Chiapas
9. Take a dip in cenotes
If you visit Mexico's Yucatan Peninsula, make sure to take a dip in one of cenotes, water-filled caverns.
While some of the cenotes are open and above the ground, others are completely underground with many stalactites and stalagmites. Many of Mexico's cenotes have options for snorkeling, and some even offer diving, like Cenote Dos Ojos near Tulum.
Check my complete guide to some of the best cenotes in Mexico's Yucatan Peninsula.
Swimming in Mexico's cenotes is a unique experience that you will not get anywhere else in the world.
MEXICO TIPS: Every cenote has an entrance fee that has to be paid in cash, so bring some pesos with you. Many of them also offer lockers and snorkeling equipment for a small fee.
10. Show good manners
Most Mexican people are friendly and willing to help, especially when they see that you are a foreigner visiting their country.
Yes, they might be pitching tours or trying to sell you stuff but besides this seemingly pushy attitude, they are nice and will answer any question you have.
Make sure to show good manners though.
While Mexican people are relaxed and informal, manners and politeness play a big role in the Mexican culture. For example, strangers will address to you as usted (a polite form of you in Spanish), and staff will always greet you in stores and restaurants.
Helpful phrases in Spanish
To make things easier, I put together a list of travel phrases and expressions in Spanish. Please let me know if you have questions or want to know any other Mexico travel tips related to the language 😉
Buenos Dias – Good Morning
Buenas Tardes – Good Afternoon
Buenas Noches – Good Night
Adios – Goodbye
Gracias – Thank you
Por Favor – Please
No entiendo/no comprendo – I don't understand
Lo siento – Sorry
Disculpe – Excuse me
Hasta luego – See you later
La cuenta, por favor – Can I have a bill please?
Donde es? – Where is …?
Derecho – right
Izquerda – left
Pagar con tarjeta/efectivo – to pay with card/cash
11. Dress conservative in bigger cities
Don't go to Central Mexico cities rocking your jean shorts and a crop top. This applies to both men and women. Sorry guys, I'm not sure what men fashion is like these days, but I hope you get the point.
Central Mexico is just one example. Bigger inland cities have a more conservative ways of dressing, and you should bring some jeans, medium-length dresses and other clothes that to cover your legs and shoulders to avoid strange looks and unwanted attention.
12. Make sure to use the right bathroom
The letter M stands for "mujeres" which is women in Spanish. The letter C stands for "caballeros" which means gentlemen in Spanish. This might not be immediately obvious, but bathrooms in public places like restaurants and museums are generally well marked.
13. … And don't throw paper in toilet
The general rule in Mexico and you will see signs in bathrooms of many hotels is that you don't throw any paper in a toilet. This is because the drainage systems in many parts of Mexico are very old and could quickly break down if they become clogged.
Many hotels have clear signs about it, but it might not be the case everywhere you go, so keep it in mind.
14. The concept of time is different in Mexico
Mexican people like to use the word "ahorita," which means right now. But when someone tells you "ahorita" it doesn't mean that something will happen this very second, or in the next couple of minutes.
"Ahorita" could mean as little as a couple of minutes to a few hours, depending on the context. To avoid frustration, don't expect that you will get something instantly when someone tells you "ahorita."
It's just a common word that could have a variety of interpretations depending on the context.
15. Don't assume things start on time in Mexico
If you are coming to Mexico from a Western country, be aware that that things rarely start on time. Mexican concept of time is more similar to Latin American countries than the United States or Western Europe.
If your tour is running 10 to 15 minutes late, or your appointment is late, this is nothing unusual. Don't get upset or try to complain, simply accept it and go with the flow.
Mexico Travel Tips: Safety
1. Get Insurance
You shouldn't leave your home and get on a road without comprehensive travel insurance.
Nobody goes on a trip expecting bad things to happen, however, you never know what might occur on your next adventure.
World Nomads Insurance covers hospital visits, accidents, lost and damaged luggage as well as personal belongings, among other things. Those travelers who plan to stay in Mexico for an extended period of time, should consider Safety Wing, one of the best insurance options for long term travel.
2. Be ready for check points
If you are going on a road trip in Mexico, be prepared to drive through check points, depending on where you travel.
The government of Mexico takes many measures to keep the country safe, especially around tourist corridors, so it's not uncommon to drive through military check points.
It might be intimidating, but unless you manage to draw some suspicion, you will be most likely asked to show your passport. Be polite, answer questions and be ready to open your vehicle for an inspection.
3. Not all of Mexico is dangerous
Is Mexico safe to visit?
This is one of most common question that I get when I try to give someone one of my tips for Mexico. Taking into account the amount of bad press, the question isn't surprising.
Here's the thing:
Mexico gets a lot of bad rep because of its problems with cartel violence.
Popular areas of Mexico are a lifeline of the country's economy and are protected. That being said, crime can occur even in tourist heavy areas, and you should always be aware of your surroundings, no matter what part of Mexico you visit.
Check the situation in the place you plan to visit. Educate yourself on recent events and decide if visiting it is safe. If you are traveling to Mexico from the United States, check the U.S. Embassy Advisory for the most up-to-date information.
Your travel safety is your responsibility.
4. Watch out for scams
Scams are not really a thing in Mexico, but you should never let your guard down, especially in tourist zones.
Some of the most common Mexican scams are fake guides that can be sometimes found at entrances of major tourist areas trying to convince you that the only way tom visit is with a guided tour.
Another common scam in Mexico are unregistered taxis that are sometimes operated by professional criminals. Instead of hailing a cab, get a ride through Uber or other ride sharing app.
Finally, stay away from overly enthusiastic sales agents trying to sell you a time share with free breakfast, transportation and other cool "perks" that often come at super high prices.
5. Use ATM's associated only with major banks
Not carrying cash is one of the worst travel mistakes in Mexico, so let's talk about ATM's.
Although tourist scams in Mexico are not that common, one place where you can sometimes encounter them are ATM's (or cajeros electronicos in Spanish).
Use ONLY ATMs associated with major banks like Santander, Scotia Bank or Banco Azteca. Avoid ATM's that can be sometimes found in walls of random buildings. Criminals sometimes target these types of ATM's by placing skimming devices trying to steal financial information from the debit and credit cards.
6. Skip tap water
Tap water is not safe to drink in Mexico.
Locals don't drink it and you shouldn't drink it either. Always buy bottled water when you travel around the country or go to a restaurant. Some hotels in Mexico offer free water in their lobbies, so don't forget to bring your reusable water bottle.
7. … But Ice in your water is OK
While water in Mexico is not safe to drink, it's perfectly fine to have ice in your water.
8. Know how to drive in Mexico
Exploring Mexico by car is a lot of fun, and you can have one of the best experiences of your life visiting different regions of the country. But before you get on the road, here's what you need to know:
Watch out for topes (or speed bumps) Speed bumps are common in many parts of Mexico especially around pedestrian crossings and bus stations.
Don't pump your own gas. Mexican gas stations have attendants who put gas in your car when you get to the pump. Specify how much gas you need and clarify the price.
Leave a tip. Many of the people who help you pump gas make only minimum wage, and it's good to leave a little tip before leaving.
Mexico uses kilometers. One mile equals to about 1.6 kilometers (If you are traveling to Mexico from the United States).
Drive during the day. Depending on the region of Mexico, you should limit driving to day time. Some parts of Mexico are considered less safe than others, and you should check the most up-to-date information before planning your trip.
For a complete list of Mexico driving tips, check this article.
9. Don't show off your wealth
When traveling around Mexico avoid wearing jewelry and clothing that might suggest you have money.
It's generally a good idea to dress modestly and keeping things simple, even when you are visiting popular destinations in Mexico. A pair of shorts and a basic t-shirt is a perfect outfit if you plan to spend a day adventuring and visiting historic landmarks.
10. Leave your wallet in your hotel
Carrying all your money in your bag is one of the worst mistakes that you can make while traveling Mexico!
If you plan to explore all day long, leave your wallet locked in a safe in your hotel. Take enough cash and one credit card. In case you lose your bag, you will still have your wallet with other credit and debit cards.
11. Carry hand sanitizer
While cleanliness standards are high in popular parts of Mexico that are frequented by international visitors, it's not always the case in less developed, rural areas that see fewer tourism dollars.
To give you an idea, I've been to bathrooms with no soap and restaurants where food was cooked right in front of me. Carrying sanitizer and wet wipes is a good idea while traveling in Mexico.
Practical Mexico Travel Tips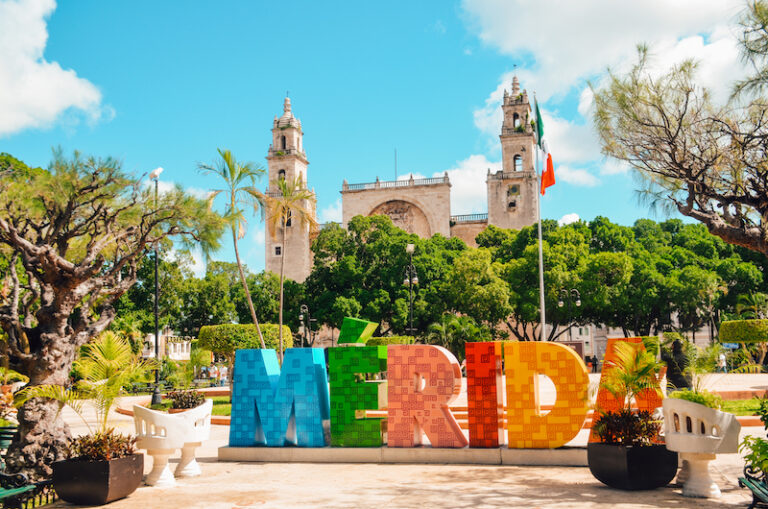 1. Mexico has many climates
Mexico might be famous for its white-sand beaches and turquoise waters, but it is not all warm and balmy.
For example, the Pacific Coast of Mexico has a dry climate and the middle has more mountainous and desert areas where temperatures can fluctuate significantly. And if you are high in the mountains, you might even see some snow.
Mexico City, for instance, has a climate which is more in line with other cities in the Northern Hemisphere, so don't forget to bring your jacket, especially in fall and winter.
In short, if you plan to hop around the country, one of my top Mexico travel tips is to bring more than just beachy clothes.
2. Be aware of the seaweed season
If you plan a fun getaway to Mexico's Caribbean, be aware of the sargassum season that starts in April when tons of seaweed gets washed ashore, affecting swimming conditions.
The issue of sargassum received a lot of attention in recent years especially in places like Tulum where many beaches were covered in this pesky seaweed.
Look up the Sargasso Monitoring Network of Cancun, that publishes frequent reports on conditions of Mexico's Caribbean.
PRO TIP: Check this article to get the most detailed and up-to-date information on how to get from Cancun to Tulum and save money on transportation.
3. Use a Telcel SIM card
If Mexico travel is in your plans, make sure to stay connected while traveling around the country.📱
You can easily get a wi-fi connection in places like restaurants and hotels, but once you start getting away, your connection could disappear very quickly.
To avoid this situation, get a Telcel SIM cars in one of Telcel stores, (the largest carrier in Mexico).
4. Get a VPN
VPN is a great way to protect your data while surfing online whether it's Mexico travel or not. Remember that your data could be at risk every time you connect to a wi-fi at a coffee shop, hotel or any public place. It only takes one wrong person to have your digital data stolen!
To protect your digital data while traveling in Mexico and other countries, Use Nord VPN, a trusted leader in customers' data protection.
5. Avoid ATM's on paydays
Most people in Mexico are paid twice a month, on the 15th and on the 30th, which means lines can be really long at ATMs on these days, especially during afternoons.
As a rule, avoid these days if you need to get some cash from your ATM.
6. Book your trip ahead of time
One of the most obvious tips for Mexico travel that is often overlooked is…
Don't forget to book your flight early!
To find cheap flights to Mexico, visit Cheap Air, a website that offers incredible bargains on international flights. And the best thing, it does all the work for you!
Using the Cheap Air could help you save a ton of money during the high season (late November through April) and Spring Break when many North American tourists come to Mexico. And don't forget about Christmas and New Year's, the busiest time in the coastal areas of Mexico.
7. Consider guided tours
Not many people want to buy a tour.
Tours can be expensive, and you have to walk along with a group of other people which can take a lot longer than visiting a place by yourself. But some places in Mexico are great for taking a guided tour to learn the history and culture of the region.
Guided tours are great for the ancient Mayan ruins such as Chichen Itza, Uxmal, and Ek Balam as well as incredible waterfalls and Mayan ruins in the state of Chiapas.
You can also do a guided tour of cenotes, water-filled caverns that in the Yucatán Peninsula. This is a great option if you don't have a lot of time and want to make the most out of your trip.
8. Download WhatsApp
WhatsApp is used widely in Mexico for personal and professional communication. If you travel around Mexico for a while, you will find it very handy for many things.
For example, many tour agencies, car rental companies and even taxi drivers in Mexico communicate with their customers via WhatsApp.
It's convenient and helps you to confirm everything and ask questions on the spot instead of having to wait for an email.
9. Bring ear plugs
Geographically, Mexico is part of North America, but culturally, it's a Latin American country. While smaller, more rural places in Mexico are more tranquillo (or calm), bigger cities can be loud, whether it's weekend or weekday.
Let's say you book a hotel in Playa Del Carmen on La Quinta Avenida. Don't expect things to quiet down at 9 p.m. If you stay in the center of action, be prepared for a lot of hustle and bustle outside your hotel and consider bringing your ear plugs unless you don't care about all the noise.
10. Have clothing for all seasons
If you plan on visiting the country's inland areas such as s Chiapas, Oaxaca, Mexico City and further up north, bring a jacket (and maybe even a hat) on your trip.
For example, San Cristobal De Las Casas, one of the most popular destinations in the state of Chiapas is significantly cooler than Palenque or coastal areas of the state because of its location in the mountains.
11. Pay attention to major Mexican holidays
Mexico has several big days that are important to know to better understand this country. Mexican people take pride in these holidays and spend with their friends and family to celebrate these special dates.
Day of the Dead – November 1-2
Benito Juárez Birth Day – March 16
Christmas – December 25
Semana Santa – Semana Santa (or Holy Week) runs from Palm Sunday to Easter Sunday. Most schools and many businesses close on these days.
Day of Mexico's Independence – September 16
A word about Cinco De Mayo
In the United States, many people know Cinco de Mayo as one of the most popular Mexican holidays.
While Mexico observes this day with re-inactions of the Battle of Puebla, and other festivities marking the historic date, it's not a federal holiday and offices, schools and businesses remain open.
12. Check visa requirements for your country
Mexico has pretty straightforward entry requirements.
While citizens of the United States and many European countries don't need a visa to enter the country, it's not the case for everybody. Residents of other countries for example, are required to get an e-visa before arriving in Mexico. Check your visa requirements before planning a trip to Mexico.
General Mexico Travel Tips
1. Keep your immigration paper slip safe
This is very important: When you go through the customs in Mexico, you will get back a small breakaway part of your immigration form that you had already filled out. Your job is to keep this little piece of paper safe and secure until your departure from the country when you have to present it to immigration officials.
Some immigration officers simply tear it away from your immigration form, insert it in your passport and hand it back to you without saying anything, especially, if it's busy. Some, however, do say that it's important to keep it safe. The point is, you will need this form on your way out, so make sure not to lose it.
2. ADO is the go-to company for bus trips
If you have traveled to Yucatan, you might be familiar with ADO, a bus company that serves the region.
ADO buses are very clean, modern and very affordable, of all things! You can easily travel by bus between different cities in Mexico, while paying as little as $10 USD (This is what I paid for some of travels around Yucatan).
ADO also has an app, which is great for those travelers who don't speak Spanish, as staff in ticket offices sometimes speak very little English, and might not be able to be able to help you, if you have a questions.
You can check prices and destinations on ADO's website.
You can also book ADO tickets for your trips around Mexico through busbud.com, a third party platform that allows you to find cheap bus tickets on the go.
3. Take your time exploring Mexico
Mexico is a diverse country with many regional and geographical differences.
While you might have seen the Mexican culture in movies and images produced by the Western pop-culture, you shouldn't come here expecting to see familiar stereotypes on every corner.
For example, the north of the country near the U.S.border is drastically different from southern states like Oaxaca and Chiapas. Likewise, Baja California, a peninsula in Mexico's Pacific is different from the country's mainland.
4. Don't underestimate the distance
Mexico is a huge and driving distances can be really long, depending on your itinerary.
For example, you begin your trip in Yucatán and plan to travel north, make sure to allocate extra time for your time on the road whether you are traveling by car or by bus. One of my top Mexico travel tips is to allocate enough time for your trip.
5. Take domestic flights
Taking domestic flights in Mexico will you save a lot of time!
AeroMexico is the most expensive and reputable carrier; Volarís is another popular (and slightly less pricey) option, and VivaAerobus is the budget airline that has the least stellar reputation because of its nickel-and-dime practices.
The company charges you extra for checking in your luggage, paying for tickets with a credit card and everything in between.
To put it short, taking a flight in Mexico will cost you more money, but it will help you to save hours and hours that you could spend exploring a new destination.
6. Tips are expected and appreciated
In Mexico, you are expected to leave from 10 to 20 percent of your total bill as a tip. Similar to the United States, waiters and waitresses in Mexico make low hourly wages, so your gratuity goes a long way.
Unless the service was absolutely horrible, you should leave at least 15 percent of your total bill.
Also, you might notice that service here is generally slower compared to the U.S. and Europe.
Mexican people take their time, so don't expect your server to check on you constantly and ask if you are doing OK. And when the time comes to pay your bill, it might take a bit longer.
You too, should enjoy your meal and take things a bit slower!
7. Museums are closed on Mondays
Museums in Mexico are closed on Mondays, so make sure to plan accordingly.
Also, Mexican nationals and permanent residents don't pay for museums on Sundays which is why they are normally busy on these days. Plan your visit to Mexican museums either on Tuesday of Friday when they are less crowded.
Here are a couple of important museums in Mexico:
Gran Museo Del Mundo Maya in Merida
Museum of Frida Kahlo (Casa Azul) in Mexico City
Museo Nacional De Antrologia in Mexico City
Palacio de Bellas Artes in Mexico City
Museo de las Culturas de Oaxaca in Oaxaca Juarez (aka Oaxaca City)
Museo de la Ballena y Ciencias del Mar in La Paz
8. … But most importantly, don't forget to have a great time!
Planning a trip can be hectic, especially if you have never been to Mexico. I hope my Mexico travel tips help you plan your trip and make it easier, safer and answer most of your questions.
Remember that while you can't prepare for everything, you can always bring a good attitude and positive mindset on your trip. I hope you enjoy your time to Mexico and get to visit some of the most incredible places that this country has to offer!
Disclaimer: This post contains affiliate links. At no cost to you, I might earn a small commission if you make a purchase through the links in this article.