California is the ultimate travel destination in the United States.
It has a fascinating history, rich culture, and incredibly diverse landscapes. From the rugged Mojave Desert to wide beaches in Southern California and towering Sierra Nevadas, and giant Sequoia trees in the north, the Golden State is a treasure trove of adventures.
As someone who has traveled California for a few years, I can say that careful planning is a must if you want to explore this huge state. That's why I created a post about the best places to visit in California.
Visiting the best places in California: Where do I begin?
I recommend starting your adventure in Southern California. Places like San Diego and Orange County work perfect because you can hop on the highway and proceed north. From there, you can make your way north along Highway 101 or go inland toward national parks such as Death Valley, Yosemite and Sequoia before arriving in San Francisco.
So if you are ready to buckle up, here are my top 20 places to visit in California: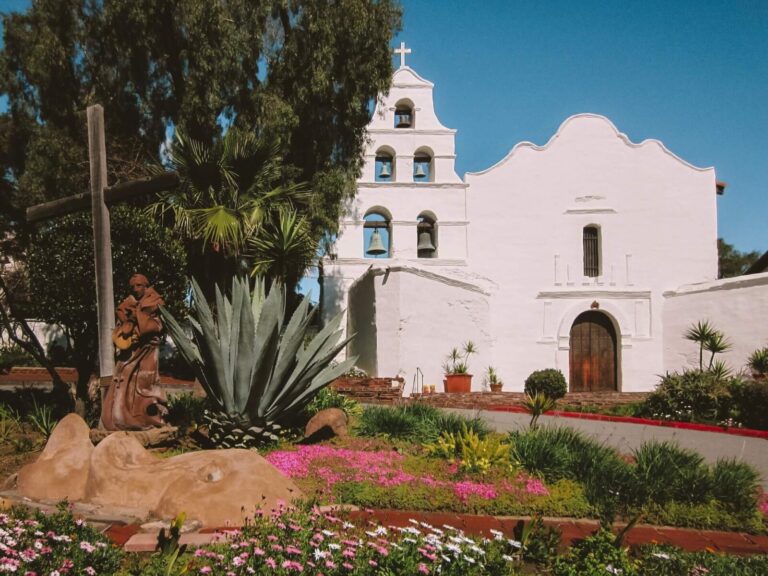 1. San Diego
A city with a sunny weather year-round and laid-back atmosphere, San Diego is one of the best places to visit in California thanks to its laid-back vibes, cultural landmarks and tons of beaches.
Begin your day in Balboa Park where you can enjoy the green space and visit museums; After that, visit Cabrillo National Monument to learn about how Spanish settlers came to San Diego before establishing their footprint in the rest of what's known as California today.
Relax and sunbathe at the famous Coronado Beach and catch a sunset at Sunset Cliffs National Park before heading to Gaslamp Quarter for some dining and entertainment in the evening. Spend 2-3 days in San Diego before heading north.
2. La Jolla
Pronounced (la-hoy-ah), this small coastal town makes for a great weekend trip from San Diego. La Jolla is home to high-end boutiques, art galleries, and white-sand beaches. It's also a great place for kayaking, and if you want to experience a true adventure, head to La Jolla Ecological Reserve where you can spot dolphins, sea lions, and other marine wildlife.
After a day of activities, head to Torrey Pines State Reserve, a 2,000-square-acre coastal park between La Jolla and Del Mar north of San Diego where you can enjoy scenic hiking trails and watch the colorful sunset.
Although Torrey Pines is in the urban area, it is considered one of the most rugged stretches of the California Coast thanks to the efforts of local people to preserve the area. If you are going to visit San Diego for the first time, Torrey Pines is one of the places that you should visit.
3. Laguna Beach
Laguna Beach is a true gem of Southern California that sits between Los Angeles and San Diego. Surrounded by majestic canyon, hidden ocean coves and countless tide pools, Laguna Beach is a destination for outdoor enthusiasts.
The city prohibits boats and fishing, which has created perfect conditions for thriving wildlife. Head to Laguna Beach tide pools where you can spot numerous marine animals during low tide.
Besides its gorgeous beaches, this small city boasts over 20,000 acres of protected wilderness where you can find trails for biking, running, and hiking. If you plan on doing a road trip along California Coast, Laguna Beach is a perfect place to take a break and reconnect with the nature.
4. Los Angeles
Los Angeles is the epitome of Southern California with its wide palm-fringed beaches, plenty of sunshine, and entertainment culture. People from all over the world come here to see the see glitzy areas such as Hollywood, Santa Monica, and Malibu.
Make sure to book your hotel in LA not far from the places that you want to visit. Los Angeles is notorious for its traffic, and last thing you want is to get stuck in it.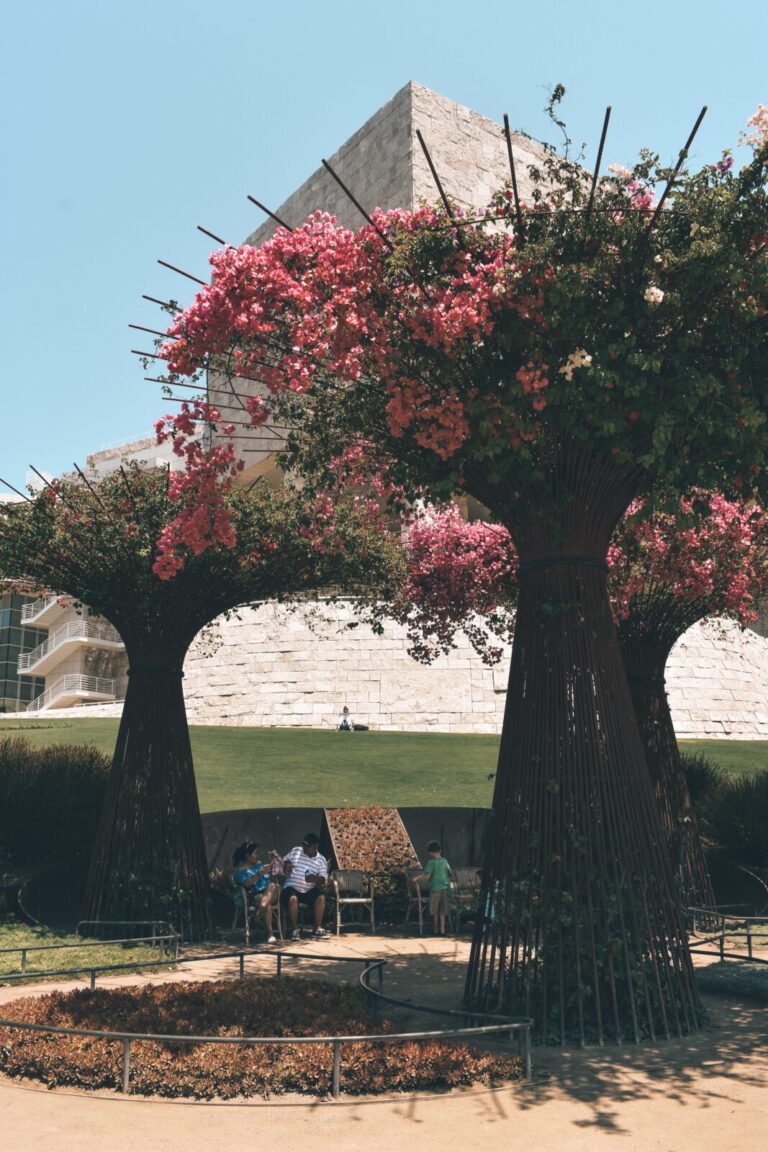 After visiting some of the most popular places in Los Angeles such as Hollywood Walk of Fame, Universal Studios, and blending with surfing crowd at Venice Beach, it's time to get a taste of LA culture. The city has dozens of world-class museums where you can see everything from modern art to famous masterpieces that date back centuries.
Among the best museums in Los Angeles are J. Paul Getty Museum, a big complex that has rotating exhibits from various ages; the Los Angeles County Museum of Art, that boasts a big collection of modern art; and the Board, a contemporary art museum in downtown Los Angeles.
Whether you want to enjoy all things art and culture, spend time at the beach, explore the food scene, or go hiking, Los Angeles is one of the best places to visit in California for any traveler.
5. Santa Catalina
Santa Catalina is a craggy island off the coast of Southern California that is often referred to as Catalina.
The capital of the island, Avalon might remind you of a small Mediterranean village thanks to a quiet harbor dotted with dozens of small boats. If you still have time to spare, head to Santa Catalina to take a breather from the hustle and bustle of LA.
Some of the most popular things to do in Santa Catalina are zip lining in the Descanso Canyon, kayaking and paddle boarding and watching wildlife such as seals and dolphins.
You can reach Santa Catalina Island from Long Beach or Dana Point via Catalina Express, a ferry that will take you across the ocean.
6. Santa Barbara
Another perfect weekend trip from Los Angeles, Santa Barbara is a place known for its wide, sandy beaches, idyllic atmosphere, and Stearns Wharf, the oldest working pier in California.
If you plan to travel from Los Angeles to San Francisco, this city should be more than just a pit stop on your itinerary. Despite its small size, Santa Barbara and the surrounding area offer enough activities to keep you busy for at least a few days. The area's vineyards alone could take an entire day to explore.
Explore El Presidio de Santa Barbara State Historic Park in the city's downtown, a former military settlement that was constructed by the Spanish settlers who wanted to protect their military outpost in California.
Continue to Old Mission Santa Barbara, one of 21 missions in California, that has a unique architectural style and a gorgeous setting against Santa Ynez mountains. Round up your day with a visit to State Street for a delicious dinner and some spa treatment before heading to East Beach to watch the colorful sunset.
I recommend spending a night in Santa Barbara before continuing your California road trip. Check my guide to best things to do in Santa Barbara to help you plan your trip!
7. San Luis Obispo
"The Happiest City in America," San Luis Obispo is nestled in the foothills of Santa Lucia Mountains along Central California Coast.
Explore San Luis Obispo and leave some time to hike one of Seven Sisters, the dormant volcanic peaks that surround this quaint town. Some of the most popular peaks for hiking are Bishop Peak and Cerro San Luis Obispo.
And don't forget to visit Pismo Beach, a small coastal town with a SoCal vibe that is popular for surfing and riding dune buggies and Avila Beach which is a destination for kayaking, paddle-boarding and sunbathing. Both of these places are located near San Luis Obispo.
Read my guide to learn about places to visit in San Luis Obispo.
8. Channel Islands National Park
Nicknamed the Galapagos Islands of North America, Channel Islands National Park is one of the least visited national parks in America.
To get there, you have to take a boat from neighboring Ventura, which is about 30-40 minutes by car from Santa Barbara.
However, the trip is well worth it – this place is home to many rare and endemic species that can't be found anywhere on the planet, which is a result of thousands-year isolation from the mainland. Channel Island National Park offers opportunities for outdoor recreation such as kayaking, camping, and hiking during warmer months, with winter being a more quiet time.
Channel Islands is one of the best places to visit in California if you want to escape the crowds and enjoy the rugged scenery.
PRO TIP: If you are going to the Channel Islands and want to do some kayaking, I recommend hiring an experienced tour guide as tides and waves can be unpredictable especially inside the caves. Several companies offer Channel Islands kayaking options.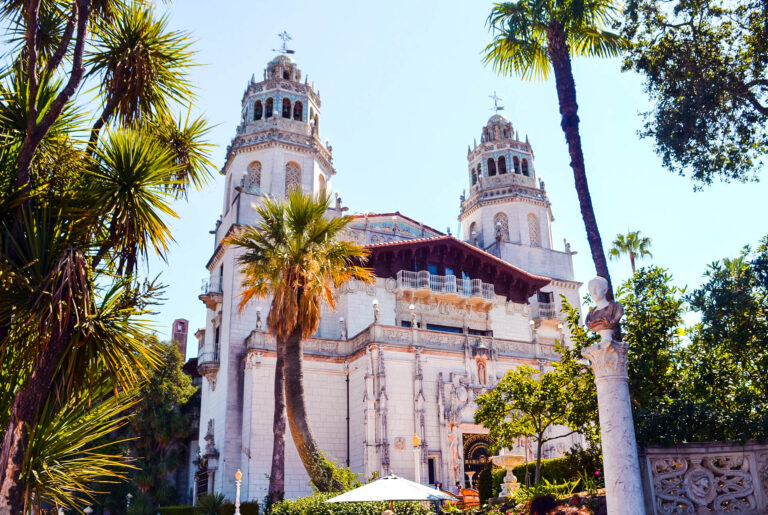 9. Hearst Castle
One of the major stops along Central California Coast, Hearst Castle is a National Historic Landmark that was built by William Randolph Hearst, a publishing magnate and designed by California's first female architect Julia Morgan.
This opulent mansion was finished in 1947 and today it is one of the most popular places to visit in California. The true grandeur of this place can be seen in 165 rooms, fountains, pools, and lush gardens that overlook the Pacific Ocean from the hill.
You can also take one of Heart Castle's Daily Tours to visit this place and visas your visit at Hearst Ranch Winery, where you can savor locally produced wine amid the rolling hills before continuing your journey to Big Sur.
The tour of the castle will take at least a few hours, so you might want to stay in nearby San Simeon.
10. Big Sur
California's iconic Highway 1 is one of the most famous roads in the world.
From wide sandy beaches of Southern California and the magnificent Big Sur in central part of the state to wine country and redwoods in the north, this coastal drive is one of the most beautiful parts of California.
But of all spots along Highway 1, Big Sur takes the prize.
This rugged stretch of Central California Coast from San Simeon to Carmel Highlands is characterized by its unspoiled coastline with tall redwoods, gorgeous hiking trails, and eco-friendly rustic resorts. If you decide to visit Big Sur, make sure to spend at least a couple of days there before continuing your trip north.
I recommend spending at least one night in Big Sur so you could enjoy one of the most beautiful places to visit in California!
Some of the highlights of Big Sur are McWay Falls, Pfeiffer Big Sur State Park, Julia Pfeiffer Burns State Park, and Pfeiffer Beach. Other popular things to do in Big Sur are Sand Dollar Beach, Garrapata State Park, and Andrew Molera State Park.
And if you are looking for a place to stay in Big Sur, check out these awesome glamping options!
If you have extra time, make a stop along the Monterey Peninsula where you can discover 17-Mile Drive and Pebble Beach. The views are outstanding.
11. Monterey
After spending a few days in Big Sur, it's a great idea to make a stop in Monterey, a small coastal town on the southern tip of Monterey Bay. Spend some time exploring the Monterey Bay area, hiking scenic trails, tasting local wine and watching wildlife such as harbor seals and sea lions that can be seen relaxing in local harbors.
12. San Francisco
A hub of Northern California, San Francisco is an unmissable stop along your California itinerary.
San Francisco is one of the most sophisticated cities in the United States thanks to its assortment of historic landmarks, rich entertainment and culture, and countless restaurants where you can find everything from high-end global cuisine to up-and-coming vegan dishes.
Visitors are attracted to San Francisco's incredible scenery made up of the rolling hills cloaked in dense fog and adorned by the Golden Gate Bridge. Some of the most popular places to visit in San Francisco are Fisherman's Wharf, Lombard Street, and Mission District where you can find many restaurants and shops.
When you visit San Francisco, consider purchasing City Pass that will help you to save money on some of the major tourist attractions in the city. San Francisco is simply one of the best places to visit in California and there are tons of reasons to stop in this city!
13. Muir Woods National Monument
Home to coastal redwoods that date 150 million years back, Muir Woods is a perfect place to visit after a few days in San Francisco.
Muir Woods has over 6 miles of hiking trails some of which connect with Mt. Tamalpais State Park. The trails here are super easy, so you will be fine even if you are not a very advanced hiker.
To get to Muir Woods from San Francisco, cross the Golden Gate Bridge via Highway 101 and take the Highway 1 exit. Then, drive on the winding road of Mt. Tamalpais for 12 miles before you reach the entrance of the monument. Alternatively, you can catch a shuttle bus at the Sausalito Ferry Terminal, Pohono Street Park & Ride, and other locations.
Reservation is required for Joh Muir Woods for all visitors traveling to the park by private vehicles and shuttle buses. It can be made online.
14. South Lake Tahoe
South Lake Tahoe is a small town on the southern shore of Lake Tahoe in Northern California. What makes South Lake Tahoe special is its awesome outdoor opportunities in places such as Emerald Bay State Park, and D.L. Bliss State Park. Besides popular Rubicon Trail, there are numerous South Lake Tahoe hiking trails, kayaking, paddle boarding and several beaches.
If you are craving some outdoors and great hiking, South Lake Tahoe is one of the best places to visit in California!
Check my guide to plan your trip to South Lake Tahoe.
15. Yosemite National Park
Visitors from all over the world come to Yosemite National Park to see its towering granite walls and hike scenic trails near cascading waterfalls. You too, should follow their example, and head to Yosemite for at least a couple of days.
If you plan to visit other national parks in the United States, my guide will help you create a perfect itinerary!
One of the most popular national parks in the United States, Yosemite has been designated as a UNESCO World Heritage Site. It boasts lush green meadows, gurgling streams, and over 800 miles of hiking trails. The heart of Yosemite National Park, Yosemite Valley is home to the highest waterfall in the continental United States, Upper Yosemite Falls that drops down from 2,425 feet!
Some of the most popular things to do in Yosemite are hiking Half Dome, a challenging trail that is a better fit for experienced hikers, as well as easier trails such as Vernal Falls, Nevada Falls, and Mirror Lake.
If you have limited time, and are not sure what places to include in your itinerary, make sure to stop in Yosemite because it is one of the most breathtaking places to visit in California!
16. Mammoth Lakes
Mammoth Lake is a mountain town in the Sierra Nevada just outside of Yosemite National Park.
Despite its small size, Mammoth Lakes offers tons of opportunities for outdoor adventures such as kayaking, hiking, and mountain biking. If time allows, make a stop in Mammoth Lakes for one night before continuing your adventures in Northern California. In winter Mammoth Lakes also offers a world-class ski resort just to the west of town.
17. Sequoia/Kings Canyon National Park
Home to General Sherman, the largest tree in the world, Sequoia National Park is a big bucket item on many travelers' lists.These two adjacent national parks boast deep canyons, towering mountains, and an incredible collection of giant sequoia trees.
Walk along the grove of sequoias to see the true magnitude of these giants and hike to scenic overlooks. Morro Rock is my favorite spot in Sequoia that provides 360-degree panoramic views of the Sierra Nevada mountains!
18. Death Valley National Park
Despite its scary name, Death Valley is one of the most interesting places to visit in California.
It has a cool history, unique geology, and tons of space, so you don't have to worry about crowded trails compared to some other national parks in California.
Death Valley has some of the hottest places in North America, with temperatures here reaching up to 120 degrees Fahrenheit in summer.
But It's not the only claim to fame that this place has.
It is also the largest national park in the lower 49 states with over 3 million acres of protected wilderness (only behind Denali National Park in Alaska).
One of my favorite places to stay near Death Valley is the famous Amargosa Opera House!
Badwater Basin, the lowest point in North America that sits at 282 feet below sea level is one of Death Valley's most prominent spots.
While it might be tough to explore and hike in Death Valley in summer because of the high temperatures, this national park is a great place to visit during winter when temperatures hover between the high 50s and 60s.
Check my guide to the best things to do in Death Valley National Park to plan your trip.
19. Alabama Hills
Alabama Hills is a perfect stop if you are driving from Death Valley to Yosemite National Park.
A group of quirky rock formations and sandstone hills located at the foothills of the snow-capped Sierra Nevada Mountains, this place offers incredible scenery and easy trails suitable for every hiker. The mix of high mountains and the rugged desert is truly unbelievable, and although this spot is relatively unknown, I think it's one of the best places to visit in California!
And the best part is that camping in Alabama Hills free and accessible to anybody with a tent or a camper, so you can save some money on hotels. However, make sure to arrive early as camping spots can fill up quickly especially during weekends.
20. Joshua Tree National Park
If you are going to drive from Las Vegas to Los Angeles, a stop at Joshua Tree National park is a must.
Joshua Tree is located just under two hours east from Los Angeles near Palm Springs which makes it one of the most popular places for recreation among Southern California residents.
What makes this national park so special is its stunning collection of Joshua Trees that populate its desert landscape. Along with Joshua Trees, you will find rugged mountains, boulders in all shapes and forms, and other quirky rock formations that make this park such a special place.
Joshua tree is a popular place with rock climbers and it also has a good variety of easy and moderate trails, which makes this place ideal for all hiking levels.
Visiting California
You can spend weeks and months traveling around California, and you will never stop being amazed at the incredible diversity of the Golden State. I hope my guide to best places to visit in California helps you plan your itinerary and create one of the most incredible adventures in your life!
Disclaimer: This post contains affiliate links. At no cost to you, I might earn a small commission if you make a purchase through the links in this article.