Disclaimer: This post contains affiliate links. At no cost to you, I might earn a small commission if you make a purchase through the links in this article.
Traveling to Corfu and wondering about the best places to visit on the island?
This article is for you!
Corfu is one of the most beautiful islands in the Ionian Sea famous for its turquoise waters and the rugged mountain slopes covered by lush vegetation. Corfu offers plenty of nature, hiking trails and opportunities for recreation, so make sure to include it in your Greek itinerary.
I Spend a few days on this island to enjoy some of the best things to do in Corfu and learn its history. This guide will give you a detailed overview of this dreamy destination and help you to plan a perfect road trip around the island.
Where is Corfu located?
Corfu belongs to the Ionian group of Greek islands that includes the big islands Corfu, Zakynthos, Lefkada, Ithaca, Paxos, Kythira and Kefalonia. There is also a number of much smaller Ionian islands that are far less known to tourists.
Corfu is easy to find on the map. It sits west of the mainland Greece and Albania. Corfu airport has daily flights from Athens and from several European countries. 
✅ Learn how to spend 3 days in Athens for a perfect getaway before flying to Corfu.
Best hotels in Corfu
Hotel Kaiser Bridge – This is one of the best hotels in Corfu, if you are looking for a great value. Hotel Kaiser Bridge is less than 10 minutes away from Old Town Corfu and offers spectacular views of the Ionian Sea, delicious buffet breakfast and a nice beach right across the road.
Thalia's House – If you are looking to spend a some time in Paleokastritsa, this place is a must. Gorgeous scenery, friendly hosts and good amenities.
Sidari Beach Hotel – One of the top-rated hotels in Sidari, this property is just 10 minutes away from the beach overlooking the famous Canal d' Amour. An on-site restaurant serves delicious food made from local ingredients.
How to get to your hotel from Corfu Airport
The easiest way to get from Corfu is by taking a taxi or renting a car. Another option is to book a private transport that will pick you up at the airport.
Best places to visit in Corfu: an overview
Corfu Greece boasts a charming downtown that has earned a world heritage status under UNESCO. The island spent almost four centuries under the Venetian rule and later 50 years under the British rule which influenced its architecture and cuisine.
1. Old Town Corfu
Where to stay: Acanthus Blue
Old Town is a is a UNESCO World Heritage site and one of the top places to visit in Corfu, and is a good starting point for your trip around the island. I highly recommend taking a guided tour where you can learn the history from your guide.
One of the most famous landmarks of Corfu is the 15-century Venetian Fortress. The highest point on the island marked by the lighthouse provides panoramic views of the city, and the surrounding area.
✅ CLICK HERE TO BOOK A SIGHTSEEING TOUR OF CORFU
The New Fortress is another major landmark on Corfu. Built by the Venetians as a fortification against the Turkish attacks it opens amazing views of the surrounding rooftops of the town.
The main landmark of Corfu, Greece is the Church of St. Spyridon, the patron of the island. The red dome of the church dominates the town's skyline and inside the you can find many frescoes and a sarcophagus that contains the relics of the saint. 
✅ BOOK A POPULAR FOOD AND CULTURE TOUR IN CORFU
If you like history, the Archeological Museum of Corfu is one of the best places to visit in Corfu, as it boasts a good collection of historic artifacts from the different periods of Greek history.
Best sightseeing tours of Corfu
After roaming around the town visit the Spianada Square – the largest square in Greece. Right around the square, you will find many important landmarks like Palace of St. Michael and St. George, the Maitland Rotunda and Liston promenade.
Things to do in Corfu Old Town
Also known as Kerkyra, Corfu is one of the most popular tourist destinations in Greece. Some of the top things to do in Corfu Old Town are exploring its narrow alleys, discovering the Old Venetian Quarter known as Campiello and shopping in the Old Town Market.
Other popular activities in Old Town Corfu include stopping in Esplanada Square and taking a quick boat trip to Vidos Island.
Best walking tours of Corfu
2. The Church of Saint George inside the Fortress of Corfu
When you visit the Old Fortress, check the beautiful church of Agios Giorgos, that looks more like a classic a Doric temple than a typical chapel. Visit early morning to enjoy the spectacular sunrise colors that light up the blue waters of the sea.
This church is one of the most popular attractions in Corfu and dates back to the 19th century when the British ruled the island. This is one of the best places to visit in Corfu for history buffs!
3. Pontikonisi (The Mouse Island)
Pontikonisi is a Greek islet located at the entrance of Halkiopoulos lagoon. Pontikonisi is also called "Mouse Island" because of its small size and is one fo the most popular places to visit in Corfu.
The islet is better-known for hosting the Byzantine chapel of Pantokrator, but it's also known for its legend which says that Pontikonissi was the name of Odysseus's ship that brought the king of Ithaca to the island of the Phaeacians.
During a bad storm the boat was washed out on the shores of the island, and Poseidon turned his boat into this green rock, giving it his name.
The island is opposite to Corfu Airport's runway, and is a great place to watching landing planes.
4. Corfu beaches
Exploring beaches is one of the best things to do in Corfu.
The northeast beaches of Corfu, Greece boast pebbles, crystal-clear waters and rugged landscapes with many coves. Discovering this part of the island is a real adventure and if you love road trips, you will have a great time. 
Here's a quick overview of the best Corfu beaches:
Paleokastritsa Beach – Located on the west coast, this is one of the most beautiful Corfu beaches. It features a series of small sandy coves surrounded by lush green hills, with turquoise waters ideal for swimming and snorkeling.
Glyfada Beach – Glyfada is a long sandy beach on the west coast that boasts shallow waters and stunning sunsets. It has beach bars and water sports facilities.
Sidari Beach – Located in the northern part of the island, Sidari Beach is known for its unique rock formations. It has a mix of sandy and pebbly areas and is surrounded by bars, restaurants, and shops.
Agios Gordios Beach – A long stretch of golden sand framed by cliffs, this beach has a relaxing atmosphere and various amenities such as beachfront tavernas and water sports options.
Kassiopi Beach – Situated in the village of Kassiopi, this beach offers a mix of pebbles and sand. It provides calm waters for swimming and beautiful views of the nearby Byzantine fortres.
Agios Georgios Beach – A wide sandy beach with shallow waters. It offers water sports activities and a selection of beachfront tavernas.
Kontogialos (Pelekas) Beach: Situated on the west coast near the village of Pelekas, Kontogialos Beach is a beautiful sandy beach surrounded by cliffs. It offers clear waters and is known for its stunning sunsets.
Nissaki Beach: Situated on the northeast coast, Nissaki Beach is a small pebbly beach nestled in a secluded bay. It offers clear waters and a tranquil atmosphere, perfect for relaxation.
5. Barbati
Where to stay: Barbati Beach Bungalow
Barbati is a small coastal village about 17 kilometers north of Corfu Town. It's surrounded by the hills and lush greenery and has clear waters and bright pebbles all around. To get to the Barbati beach, you have to drive/or walk down the winding road. As with other popular beaches in Corfu, it's best to arrive early morning if you would like to get a good spot. 
Best boat tours of Corfu
6. Nissaki
Where to stay: Villa Andonis
A neighbor of Barbati to the north, Nissaki is a small seaside village extended from the slopes of mount Pontokrator. On the slopes of the mountain you will find many villas with gorgeous views of the area. Nissaki is one of the best places to visit in Corfu if you want to relax and get away from the busy areas of the island.
Nissaki has few taverns and stores, so if you plan on staying there for a few days, you will probably have to get out at some point to find good dining options.
7. Kalami
One of the most popular places to stay in Corfu, Kalami Bay is a perfect combination of beauty and tranquillity. Kalami has earned a blue flag, the type of recognition that is awarded to the cleanest and well-maintained beaches in Europe. Its calm waters are prefect for yacht sailing and paddle boarding. This beach located along the horseshoe-shaped bay is a great place for relaxation.
It also offers boats, canoes and water skis for rent.
Things to do in Kalami, Corfu
If you want to see a perfect of example of rural Corfu, head over to one of mountain villages that can be accessed from Kalami. Here you will see traditional Byzantine churches, cobble-stone streets and winding streets. One of the villages is Old Sinies, however it has been deserted; and another one is Perithia.
And if you feel like going up to the highest point on Corfu, Mount Pontokrator, you will have a chance to see the Pontokrator monastery.
8. Sidari Beach and Canal d'Amour
Where to stay: Legends Hotel
When you make your way to the northern side of Corfu, Greece, stop at Canal d'Amour in Sidari also known as the Channel of Love – one of the most beautiful places in Corfu.
The place is famous because of its beautiful rock formations and the canal that goes under the cliff. The area is popular for beach going and cliff jumping. There are plenty of restaurants and hotels in Sidari, which makes it a perfect spot to spend a couple of days.
✅ CLICK HERE TO BOOK A CAR FOR YOUR CORFU ROAD TRIP
If you are looking for good night life, Sidari is one of the best places to visit in Corfu. It has a number of bars and night clubs, so if you are looking for a place to have fun, explore the main drag of this town.
9. Porto Timoni
One of the most beautiful places to visit in Corfu, Porto Timoni is a double-sided beach near Afionas village.
How to get to Porto Timoni?
You can reach Porto Timoni via a hike from Afionas or by a boat ride from several resorts in the area. I rented a car for my trip, and recommend you do the same.
What makes the place special is its green hills contrasting with the turquoise waters on both sides of the island. If you decide to visit Porto Timoni, you will need no less than 2-3 hours just on a hike alone. 
Beaches on both sides of Porto Timoni have peddles and rocks, and if you want a white sand beach, you might want to head to other beaches in Corfu. Porto Timoni doesn't have any facilities, so if you make your way down there, bring plenty of water, snacks and sunscreen.
PRO TIP: The trail to Porto Timoni goes along the side of the hill, and although it's not a difficult hike in general, it gets rocky and steep in some spots. Don't forget to put on comfortable shoes.
10. Paleokastritsa
Where to stay: Akrotiri Beach Resort Hotel
Paleokastritsa is a popular village on the northwestern side of Corfu that is surrounded by mountains and lush vegetation. Many travelers come to Paleokatsitsa because of its gorgeous coastline and some of the best beaches in Corfu that boast incredible aquamarine waters popular for snorkeling and scuba diving.
Best tours of Paleokastritsa
Paleokastritsa has 15 gorgeous beaches that can ONLY be accessed by boat. You will have to park your boat some 100 feet away from the shore and a swim. As you ride the waves, you will be able to get close to grotto caves and jump off the boat into the crystal clear waters of the Ionian Sea. 
One of the places where you can rent a boat in Paleokastritsa is Michalas Boat Rentals. The place offers various packages from several hours to all day boat rentals.
Spending a day exploring Paleokastritsa beaches was one of my favorite things to do in Corfu.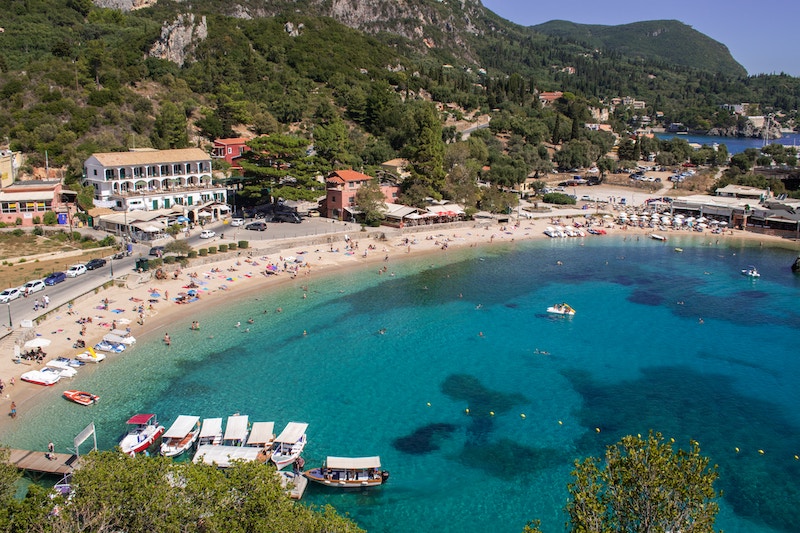 Rent a boat for a day to explore Paleokastritsa beaches
If you want to visit the best beaches in Paleokastritsa rent a boat for a day. In addition to paying a rental fee, you will have to cover the cost of fuel. Bring plenty of food, water and sunscreen as you will be riding a boat along some of the most pristine beaches in Greece where few other tourists go.
On top of its phenomenal beauty, Paleokastritsa also plays a part in the Greek mythology. According to the Greek myth, Odysseus was on his way back from Ithaca when Poseidon turned his ship into the rock.
11. Take a day trip to neighboring Paxos and Antipaxos
Corfu is surrounded by other smaller islands that can be reached by a quick boat ride. The best way to visit them is by taking a guided boat tour from Corfu. Visiting neighboring islands of Paxos and Antipaxos on a day trip is one of the most popular things to do in Corfu, and you can book your guided tour online.
The tour includes stops for swimming and also allows you to explore the spectacular blue caves as well as bask in the sun on the local beaches.
✅ CLICK HERE TO BOOK YOUR GUIDED TOUR OF PAXOS AND ANTIPAXOS
12. Glyfada
Where to stay: Ionian Senses Corfu
After touring Paleokastritsa beaches by boat, head south along the west coat of Corfu.
The next town on your itinerary is going to be Glyfada, home to one of the best beaches in Corfu. Here you will find green slopes hanging over the yellow sand beach. The beach has been awarded the Blue Flag, an award that recognizes its pristine conditions.
The shores of Glyfada have many bars and restaurants, and you can find many accommodations on the hills that surround the village. There are also plenty of sun loungers where you can relax and water activities to keep you busy for a couple fo hours.
13. Agios Georgios
Agios Georgios is a village in the southern part of Corfu. Unlike beaches on the northern part of the island, Agios Georgios is a wide sandy stretch with plenty of space and also boasts a good location next to Lake Korission.
14. Chlomos
The best hidden gem of Corfu is Chlomos, one of the island's oldest villages.
The little village tucked away in the mountains of the southern tip of the island offers a magnificent view of the southwestern part of the island. Right next to the village you will find several restaurants where you can enjoy a nice dinner and a beautiful scenery after your tour.
15. Take a day trip to Albania from Corfu
Taking a day trip from Corfu to Albania is one of the most fun things to do on the island, and you can do it by joining a guided tour.
This fun tour allows you to explore the Albanian coast to the city port of Saranda. A 20-km guided coach tour of Albania's south coast's is a perfect opportunity to see some of the most beautiufl untouched beaches.
Book you tour of Albania from Corfu
The highlight of the trip is a visit to Butrint – a UNESCO World Heritage site that's home to the ancient town.
How to get around Corfu
Corfu is about 62 km (40 miles) long, and to enjoy some of the best things to do in Corfu, you will need a vehicle. Getting around Corfu is relatively easy, and there are several transportation options available to explore the island:
1. Car Rental
Renting a car is a popular option for getting around Corfu as it gives you the freedom to explore at your own pace. There are several car rental agencies available at the airport, the port, and in major towns. Be sure to have a valid driver's license and familiarize yourself with local traffic rules.
I recommend renting a car with DiscoverCars that has a good inventory and flexible rates on many different types of cars.
✅ CLICK HERE TO BOOK A CAR FOR YOUR CORFU ROAD TRIP
2. Public buses
Corfu has a bus network that connects the main towns and popular beaches. Green buses are operated by the KTEL company, and their routes cover most of the island. You can look up schedules and fares online or at bus stations. The frequency of buses may vary depending on the season.
3. Taxis
Taxis are widely available on the island and can be found at taxi stands, major towns, and tourist areas. Taxis usually have meters and fares are regulated. Always confirm the price before starting your journey, as taxi rates could be high, espcially diring the high season.
4. Scooter or ATV Rental
Scooters and ATVs are a popular choice for exploring Corfu, especially for shorter distances or navigating narrow streets. Many rental agencies offer scooter and ATV rentals, and you will need a valid driver's license to rent one.
5. Bicycle Rental
Corfu has a few rental shops that offer bicycles for exploring the island. This is a great option if you enjoy cycling and want a more eco-friendly way to get around. Some areas in the northern part of Corfu have dedicated cycling lanes.
6. Water Taxis
If you want to visit nearby beaches or islands, water taxis are available in certain coastal areas. These taxis provide a scenic way to travel and can take you to secluded beaches or neighboring islands.
7. Walking
You can easily explore Corfu Old Town on foot. Many attractions, shops, and restaurants are within walking distance, and it allows you to immerse yourself in the charming atmosphere of the town.
Best places to visit in Corfu: FAQ
Which is the best part of Corfu to stay?
The best place to stay on Corfu is the historic Old Town. Here you can find many hotels and be within walking distance to major historic attractions on the island. It's also convenient starting point for your road trips around the island thanks to its central location.
What is the most beautiful side of Corfu?
The most beautiful part of Corfu is Paleokastritsa, a small village on the northwestern side of the island. Paleokastritsa is known for its gorgeous coastline made up several turquoise lagoons and pebbly beaches. If you like good adventure an want to enjoy one of the most scenic parts of Corfu, Paleokastritsa is a perfect place to stay.
Is Corfu famous for anything?
Corfu is known for its historic Old Town with Venetian-era, gorgeous coastline dotted with grottoes, beaches and coves. Due to its bigger size, Corfu is perfect for taking road trips, and the best way to explore the island is by renting a car.
Is Corfu better than Mykonos?
While Corfu is known for its history and spectacular coastline with grottoes and pebbly beaches, Mykonos is famous for its nightlife, high-end restaurants and the iconic wind mills. However, Mykonos is also a perfect place for relaxation where you can enjoy many gorgeous beaches and pristine countryside.
How much time to spend in Corfu?
I spent three days exploring Corfu, but I felt like it was not enough since the island is pretty big. Although you can check out some of the best things to do in Corfu in just a few days, I recommend no less than 5 days on the island, if you want to explore different parts of Corfu.
Corfu has close to 217 kilometers of the coastline. Aside from Old Town, most popular places to visit in Corfu are located along the coast, while inland areas might appear sleepy but nonetheless beautiful.
How many days to I need in Corfu?
Corfu is one of the most beautiful Greek islands, but unlike places like Santorini, you can enjoy some really cool road trips around Corfu. I recommend about 5 days for your stay in Corfu and 7 days if you want to explore the neighboring Paxos and Antipaxos islands.
How do I get to to Corfu?
Most visitors arrive in Corfu via Corfu International Airport (CFU) that has flights from many destinations in Europe.
You can check prices for flights to Corfu here.
What is the best time to visit Corfu?
Summer is the busiest time to visit Corfu when prices are the highest oh hotels and tours. I recommend visiting Corfu between April and late May before the beginning of the peak season and from September through October when the traffic slows down. Although the Mediterranean generally has a mild climate, winter is still too cold to be enjoying Corfu beaches.
Why visit Corfu?
Whether you are looking for culture, fun adventures or great food, Corfu has it all. Corfu is the largest of Ionian islands in Greece and from here, you can also take a day cruise to the neighboring Paxos and Antipaxos, two much smaller islands that sit south of Corfu.
Places to visit in Corfu: Final word
I hope my guide inspired you to put Corfu on your itinerary. From stunning beaches with clear waters and stunning coves to pastel-colored Old Town Corfu with its historic landmarks, there are many reasons why you should visit this beautiful island