Disclaimer: This post contains affiliate links. At no cost to you, I might earn a small commission if you make a purchase through the links in this article.
Lima Peru is a wonderful city to explore with diverse neighborhoods, seaside views, and loads of culture. I got everything you need to know about Uber in Lima Peru in 2023. From other ride-sharing apps, to all the pros and cons, you'll find out everything about rideshares and taxis in Lima as well as other transportation options.
Lima Peru is having a bit of a renaissance – after it abandoned for the lure of the Sacred Valley and Machu Picchu, travelers have discovered that this city is worth a few days of exploring.
From its Centro Historico with pedestrian boulevards and a fun changing of the guard ceremony, to the upscale parks of Miraflores, you'll find more than you expect in this capital city!
Is there Uber in Lima Peru?
Yes, there is Uber in Lima, Peru! It works really well, and will make getting around the city easy and inexpensive. During my 4 weeks in Peru, I found that Ubers are readily available, and much more convenient than taking standard taxi 🚕
Travel resources for your trip to Peru
WHY CONSIDER TAKING UBER IN LIMA?
There are several great reasons to consider taking Uber in Lima, here are a few of our top reasons! In fact, I found taking Uber so helpful, that I included "Use Uber When You Can" as one of my top Tips for Travel in South America.
Convenience
Uber is by far the most convenient way to get around Lima. You can call a car from wherever you are – no need to find a taxi stand or ask someone to order a ride for you. I had a great experience with Uber in Lima, as I was able to explore the area without worrying about getting back to my hotel on time.
Short waiting time
Uber is readily available in Lima – I was able to get a car most times within five minutes of calling one. This means you can get a car with very little notice, and don't need to plan a lot of waiting time into your travel plans ✈️
Better rates than a taxi
Uber has very competitive rates in Lima, they are often better than taxis! You also don't have to worry about paying a "tourist tax" as the app sets the price.
Eliminates the language barrier
Not fluent in Spanish? With Uber, the app has already communicated your destination to the driver, so you don't need to worry about communicating where you would like to go, or how much it will cost 💰
Not as likely to get ripped off as with a taxi
Uber is designed to be fair to the rider and the driver- so the price and destination are pre-determined by the time you get into the car. You're not as likely to get ripped off as with a taxi, where you will need to negotiate a rate, and then may find the driver asking for extras for tolls, etc. when you arrive.
HOW MUCH IS UBER IN LIMA?
Uber in Lima is relatively inexpensive. Here are some sample fares from December 2022. The current exchange rate is 3.8 Peruvian Soles (PEN) per USD 💴
Miraflores to Barranco: 8 PEN (about 2.00 USD)
Miraflores to Magic Water Circuit: 13 PEN (about 3.50 USD)
The Magic Water Circuit is one of our favorite things to do in Lima – although I was skeptical, it turned out to be a fun evening of running around the different water fountain stations. The light show takes place every evening at 6:50 p.m. with up to four shows per evening. This show includes digital projections, sound, and lights.
Miraflores to Centro Historico (Plaza Mayor): 15 PEN (about 4.00 USD)
Keep in mind that there are many places in the Centro Historico that are pedestrian only, so your car may need to drop you a block or two away from your final destination.
Miraflores to the Lima Airport: 50 PEN (about 13 USD)
Centro Historico to the Lima Airport: 40 PEN (about 11 USD)
Cars to the airport are easy to get, as most drivers like the higher fares. These fares change throughout the day based on expected traffic, and demand.
TAKING A TAXI VS TAKING UBER IN LIMA
After visiting Lima several times, I can say taxis at Lima Airport and anywhere else in the city are usually more expensive than Uber. When you get outside the main terminal at Lima Airport, you will see tons of taxi drivers offering you services, but if you want to save money, you should use Uber.
My experience with a taxi at Lima Airport
When I visited Lima for the first time, I took the first taxi cab that came along outside the Lima Airport, which was a HUGE MISTAKE! I asked my taxi driver if I could pay with a credit card, as I didn't have any cash, and he said "Yes."
We agreed on the price of $20 USD before we started the ride, so everything looked reasonable.
Once we got to my hotel, the taxi driver asked me to insert my card into the credit card machine and said he would charge me $20 as we agreed. He never gave me a receipt, and since it was very late and I was tired, I never bothered to check anything.
ANOTHER MISTAKE!
When I looked at my credit card statement, I found out that I was charged $60 USD for the ride 🙁 Because I never asked for the receipt, it was very difficult to prove to my credit card company that there was fraud.
While I'm sure that not every taxi driver in Lima is dishonest, you should take Uber to avoid taxi scams in Lima!
Do taxis in Lima take credit cards?
While some taxis in Lima take credit cards, the majority don't. If you are paying with a credit card for a taxi in Lima, make sure that the driver charges you the right amount and always ask for a receipt to avoid a scam.
Learn at least a couple of Spanish words to be able to communicate and ask questions, because not every taxi driver in Lima speaks or understands English.
Is it safe to take a taxi from Lima Airport?
While it's usually safe to take a taxi from Lima Airport, it's more expensive than Uber and it's not uncommon for taxi drivers to overcharge tourists who don't speak the language and don't know the city.
SAFETY TIPS FOR TAKING UBER IN LIMA
Brush up on Spanish to communicate with your driver
One of the great features of Uber and other ridesharing apps is that they cut down on the necessary communication between you and your driver- they already know where to take you, and the price is set.
However, we've often had drivers call as they are arriving, or text through the app, so a little Spanish goes a long way! Especially at busy intersections, this may allow you to more easily find your car and driver.
Keep someone posted about your whereabouts
Always make sure someone if aware of your plans. This is especially important if you are traveling solo. Text a friend or family member, make sure someone is aware of your overall plans. Remember that there is a safety feature built into the app, which will call for help if you need it while automatically providing your location and the car details.
Be polite, but don't divulge too much personal information
Of course, you want to be polite and chat with your driver, but be cautious of revealing too much personal information, or your plans for the evening.
Stay away from politics and any controversial topics
Avoid sensitive or controversial topics with your driver, as they may react strongly, and you may find your ride has turned unpleasant! While we have never had bad experiences talking with our Uber drivers, they may surprise you with their stories.
Don't leave any belongings in your Uber
Check the vehicle for any belongings before you exit. If you should leave something behind, you will have a record in your app of the vehicle and driver, but it's a pain to arrange to get things back. Call your driver via the app, or send them a message. If you haven't been able to retrieve the item in 24 hours, contact Uber and they will help you.
✅ GET THIS ANTI-THEFT BAG TO KEEP YOUR STUFF SAFE
If a driver behaves inappropriately, end the ride and exit the vehicle
If you have a driver that is acting inappropriately, or making you uncomfortable, ask them to end the ride and exit the vehicle. When in doubt, tell them you've changed your mind about your destination and to pull over somewhere safe.
LET ME HELP YOU PLAN YOUR TRIP TO PERU!
Besides being a travel blogger, I also create itineraries for my readers 😃 If you want me to plan your trip to Peru and give you the insider tips on how to make the most out of your visit to the country, fill out the form.
My custom itineraries include information on popular landmarks, restaurants, and hidden corners that most tourists miss. My goal is to help you explore this country with confidence and have tons of fun on your trip!
As part of my services, I also offer suggestions on flights, hotels and activities.
Can't wait to hear from you! 💛
CAN I TAKE UBER IN LIMA AIRPORT?
Yes, you can take Uber to and from the Lima airport. This is simple and easy to do, there are queues of cars dropping off passengers. When order Uber through the app, it will not park since there is no designated area, but pick you up off curbside.
Is Uber safe in Lima?
Yes, Uber is safe in Lima. Make sure to take safety precautions, and to operate only within the app.
Most scams that people report include the driver turning off Uber, or canceling the fare, then showing up and offering a ride anyway. They can then charge whatever they like at the end of the ride. One of the best features of Uber is that they can handle a payment, so the driver cannot demand more, and it's clear that no additional tip is expected (but you can still provide a tip through the app if you like).
UBER IN LIMA: ALTERNATIVES
There are several alternatives to Uber in Lima, including other rideshare platforms, buses, taxis, and car services.
Other ways to get to the Lima Airport
If you are a single traveler, you may prefer to take Quick Lama Airport Shuttle 🚎
If you prefer to pre-schedule your pick up or departure to the airport, Taxidatem is a good option. For $18 per car, they will pick you up or take you to either Miraflores or Barranco. This is a terrific option when you are arriving late and just want to find someone you trust holding a sign with your name on it.
Private transportation to Lima Airport
Whether you are trying to get to your hotel from Lima Airport or the other way around, consider taking private transportation. It's fast, inexpensive and will get you to you destination with hassle.
If you don't speak Spanish, and don't feel comfortable getting transportation on your own, private transportation is the best way to get from Lima Airport to your hotel and back.
Other ride share companies in Lima Peru
Uber isn't the only ridesharing game in town – you can also find rides via Cabify (which merged with EasyTaxi) and Taxibeat.
We stuck with Uber as we already had the app set up on our phones and are familiar with it. However, most drivers work with multiple services, so you can shop around for rates, or use the platform you prefer.
BEST GUIDED TOURS FROM LIMA
There are several fantastic places to visit that are an easy drive from Lima. You can take day trips from Lima to visit sites from the mysterious Nazca lines to the deserts of Huacachina.
Paracas and Huacachina
Paracas National Reserve includes the Ballestas Islands, known as the Galapagos of Peru. You'll also find AWD trips to desert oasis, and pisco tastings. The name Paracas means "rain of sand" in Quechua, the indigenous people who live in the Andes. You will often find high wind here.
This full day trip from Lima includes a boat tour of the Ballestas Islands where you'll see sea lions and seals, as well as try sand boarding and dune buggying in the desert of Huacachina.
Nazca lines
This two day tour includes the Ballestas Islands (the Galapagos of Peru), the desert of Huacachina, and a flight over the mysterious Nazca lines.
Palomino Island
Visit Palomino Island (Isla Guaneras) and swim alongside sea lions! You'll see wildlife ranging from penguins to guano birds, and take a supervised swim alongside the wild sea lions.
Marcahuasi Stone Forest
This tour takes you into the Stone Forest of Marcahuasi, a mystical site with monolithic stone formations. Learn all about the lore of this off-the-beaten-path location while checking out its epic viewpoints.
RENTING A CAR IN PERU
If you prefer to explore on your own rather than book an organized day trip, consider renting a car. Renting a car gives you the freedom to come and go as you please. Parking in Lima is generally easy, and you'll be able to visit different neighborhoods as well as head out of town on day trips.
If you want to explore the country, a car allows you to self-drive, and avoid long bus rides.
Where to rent a car in Peru?
To rent a car in Peru, you'll need to pick up and return your car to one of the major cities. Lima and Cusco are two of the most popular places to get a rental car. You can also rent a car in Arequipa and Piura.
Where to rent a car in Lima?
It's usually cheaper to rent and return a rental car from an airport. However, in Lima, it is advisable to rent your car in the city rather than at the airport, to avoid the long highway drive from the airport into town. Some companies will deliver your rental car to your hotel for an extra fee.
There are many companies available, though Alamo and Thrifty get some of the best ratings. In general, stick to the large, international companies, they tend to have cars in better condition.
How much does it cost to rent a car in Peru?
Rental prices vary, but cars picked up and returned in Lima generally start from around $20 USD per day for a small, manual car, and go up from there. If you will be driving from Lima to Cusco, you'll need to rent a 4X4 vehicle.
Renting a car in Peru with Discover Cars
I suggest renting a car in Peru with DiscoverCars, a rental car platform that offers a good selection of vehicles at affordable rates. Unlike other car rental platforms, DiscoverCars has no hidden fees.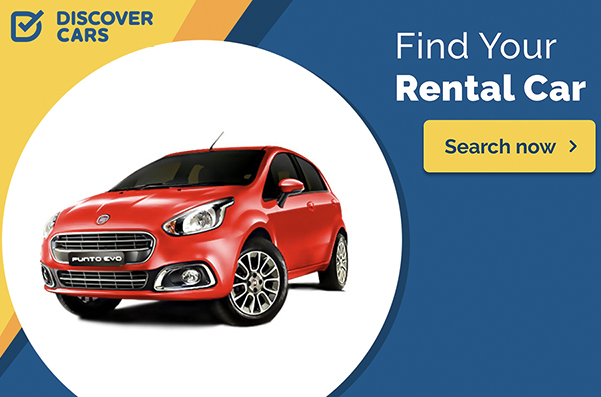 All you need to do is enter your travel dates, specify the type of a vehicle you want and browse through dozens of available vehicles. I've used DiscoverCars several times and always had a great experience with them, as they are always straightforward and transparent about their prices.
✅ CLICK HERE TO CHECK PRICES FOR CAR RENTALS IN PERU
PROS OF RENTING A CAR IN PERU
Renting a car in Peru has some advantages. You can move around on your own schedule, and avoid long bus rides. This is particularly an advantage if you are a family or larger group.
You can stop whenever you want for a lunch break, bathroom break, or just to enjoy the gorgeous scenery.
CONS OF RENTING A CAR IN PERU
The disadvantage of renting a car in Peru is dealing with aggressive drivers. Many traffic laws in Peru are merely suggestions, and you'll find many people honk then proceed, rather than using signals, or obeying the laws.
The distances in Peru can be long – for example, the driving distance from Lima to Cusco is approximately 20 hours! You can often fly between cities for less than the cost of the car rental, and in much less time.
Roads in rural areas may not be in great conditions. Many roads are very steep and narrow, navigating up and around mountains. And with limited services along the way, you could be waiting for a while if you need help.
👉I recommend renting a car in Peru only if you can be self-sufficient: able to change your tire and fix mechanical issues if they come up and can navigate the the road with minimal guidance.
WHAT PUBLIC TRANSPORTATION IS AVAILABLE IN LIMA, PERU?
Public transportation in Lima, Peru primarily consists of buses, the Lima Metro, and informal/shared taxis known as "colectivos." Here are some details about each mode of public transportation:
1. Buses
Buses are the most common mode of public transportation in Lima. They cover a vast network of routes throughout the city and are recognizable by their blue or white color.
Flag down the bus as it approaches, and have change ready to pay your fare. Buses stop often, and wherever they can find passengers. Be ready to jump on and off quickly. Buses in Lima are generally affordable, but they also can be crowded, especially during peak hours.
2. Lima Metro
Also known as "Metropolitano," Lima Metro is a rapid transit system that operates in Lima. It currently has two lines: Line 1 (red line) and Line 2 (orange line). The Lima Metro is an efficient and relatively comfortable mode of transportation, especially for longer distances.
3. Colectivos
Colectivos are informal/shared taxis that operate in Lima and follow fixed routes. Colectivos are recognizable by their distinct color schemes and route numbers displayed on their windshields.
Colectivos can be convenient for shorter distances or areas not covered by buses or the metro. However, they are not regulated like official taxis, and you should exercise caution when using them.
WHERE TO STAY IN LIMA, PERU
Costa del Sol Wyndham Lima City – One of the most popular hotels in Lima, Costa del Sol has an outdoor swimming pool great breakfast and on-site fitness center.
Radisson Red Miraflores – Located in Miraflores, this cute hotel boasts central location, excellent breakfast and delicious a la carte breakfast. The staff is super friendly and helpful.
La Paz Apart Hotel – A perfect stay if you are looking for more home-like experience, La Paz is just a few blocks from the beaches of Miraflores. Airport shuttle is available.
UBER PERU: OTHER CITIES
Uber operates in Lima, Arequipa, Chiclayo, Cusco and Piura. You can also use Cabify (which merged with EasyTaxi) to get around Lima, Arequipa, Chiclayo, Cusco, Piura, and Trujillo; Taxibeat is active in Lima, Arequipa, and Cusco.
Is there Uber in Cusco?
Yes, you can use Uber in Cusco. Uber is a great alternative to taxis in Cusco which usually have higher rates than Uber, just like anywhere else in the country. To use Uber in Cusco, you need to have the Uber app installed on your smartphone and request a ride to your destination.
Is there Uber in Arequipa?
Uber is also available in Arequipa, a major city in southern Peru that's popular with tourists. Uber in Arequipa offers a more convenient and often more affordable options for transportation compared to traditional taxis.
TAKING UBER IN LIMA PERU: FAQ'S
How do people get around Lima?
You can get around Lima by Uber, public transport, or on foot. The Historic part of Lima is perfectly walkable and you can easily explore popular areas like Miraflores and Barranco on foot.
What is the safest way to get from Lima Airport to the hotel?
The safest way to get from Lima Airport to your hotel is by calling Uber. Although taxis are widely available in Lima Airport and anywhere in the city, they are usually more expensive than Uber.
Can I use my Uber app in Lima?
Yes, you can use your Uber app in Lima. You can order the ride through the Uber app just like you would anywhere else.
Is Lima a walkable city?
Parts of Lima like downtown or popular neighborhoods including Miraflores and Barranco are perfectly walkable, but if you need to get around the city, you should use Uber. A typical Uber ride in Lima usually costs around $3-5 USD, if you are looking to get between major tourist landmarks.
How to get from airport Lima to the city?
The best way to from Lima Airport to the city is by taking an Uber. If you can't take Uber for some reason, look for Green Taxis which are painted in green color. Always negotiate your rate upfront, and if ever in doubt, ask your driver to show your their official license. If you take a taxi at Lima Airport, always pay in cash to avoid credit card scams.
How do I use Uber in Lima Peru?
Uber in Lima is easy to use! Simply use your Uber app as you would at home. Cars are readily available and will meet you at your pick up point.
Is there Lyft in Lima?
No, Lyft is not available in Lima. Uber, Cabify, and Beat (Taxibeat) are the available ridesharing apps that you can use in Lima, Peru.
Can you take Uber from Lima Airport?
Yes, you can take Uber from Lima Airport. Simply call an Uber when you exit the terminal.
What's the best way to get around Lima Peru?
Walking is the best way to get around any single neighborhood in Lima Peru. If you are moving between neighborhoods, use Uber.
UBER IN LIMA PERU: FINAL THOUGHTS
Uber in Lima, Peru is available and easy to use. Practice normal levels of caution, and you will find it an easy way to get around this metropolis. Uber allows you to easily move between neighborhoods, which are each easy to walk on foot once you arrive.