Wondering about where is Belize?
Belize is a Central American country nestled on a small piece of land between Mexico and Guatemala. This nation is a hidden gem of the region, and because of its location near much bigger neighbors, many travelers wonder about where Belize is on the map.
Where is Belize on the map?
Belize is located in Central America along the Eastern Caribbean Coast. It shares land borders with Mexico's State Quintana Roo to the north and the Department of Peten in Guatemala to the west. Belize also has a maritime border with Honduras.
✅ Belize or Costa Rica? Check my honest comparison of the two popular destinations in Central America.
How long is the coastline of Belize?
The coastline of Belize is 386 km (240 miles) long. Belize has close to 450 islands and three atolls in the Caribbean Sea. It's also home to the Great Meso-American Barrier Reef, the second-largest barrier reef in the world that spans 185 miles.
How big is Belize?
Belize occupies 22,966 square kilometers.
What's the capital of Belize?
The capital of Belize is Belmopan.
Is Belize in South America?
No, Belize is not in South America. Belize is a Central American country.
What is the population of Belize?
Belize is the most sparsely populated country in Central America that's home to slightly over 340,000 people. The country is a melting pot of cultures with Maya, Garifuna, and Mennonite cultures as well as North American ex-pats and Chinese and Arab immigrants all calling Belize home.
Regions of Belize
Belize has five regions that have their district geographical features and cultures. When you are visiting Belize, you should take time to explore all parts of the country to see the diversity of cultures and landscapes. 
✅ Belize or Cancun: Find out where to spend your vacation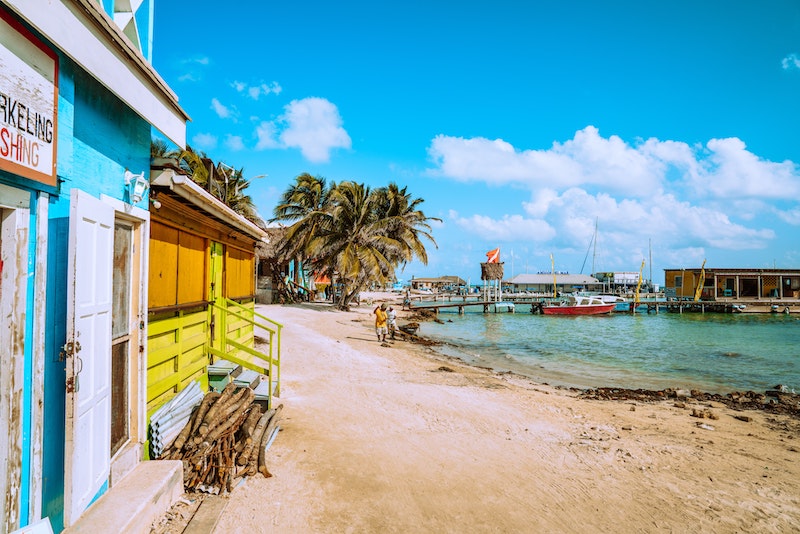 Belize islands
Belize boasts 450 islands from the popular Ambergris Caye to small wind-swept islets in the middle of the Caribbean that hardly see any visitors. After visiting some of the most popular islands in Belize, don't forget to stop at Glover's Reef Marine Reserve in the Glover Reef Atoll, which is home to a stunning array of biodiversity and is considered a prime spot for wildlife watching in Belize.
Northern Belize
Home to Corozal and Orange Walk, northern Belize is less popular with tourists than other parts of the country. This part of the country borders Mexico and is home to many hidden gems of Belize, like Corozal Bay Wildlife Sanctuary, and Santa Rita and Cerros Natural Sites.
Another highlight of northern Belize is Orange Walk, mostly known for its sugar cane production. The top tourist attraction in the area is Lamanai, an ancient Mayan ruin site located in the deep jungle along the New River Lagoon.
Western Belize
Home to Cayo District – the largest in the country, Western Belize has San Ignacio, a top destination in Belize for adventure and eco-tourism.
Southern Belize
Southern Belize is home to Hopkins and Placencia. Hopkins is known for its Garifuna culture, one of the most interesting cultures of the Caribbean, but it's also a perfect starting point for snorkeling, diving, and hiking.
✅ Check my detailed guide on how to get from Belize City to Placencia
Placencia is a small village at the end of the 16-mile peninsula, one of the most popular places in Belize for beach lovers.
Further south, you will find Punta Gorda, the largest town in southernmost Belize that's a great starting point for caving, visiting Mayan ruins in the area, and wildlife watching.
Eastern Belize
Eastern Belize is home to Belize City, and the two most popular islands in the country, Ambergris Caye and Caye Caulker. Most travelers start their Belize itinerary in Eastern Belize since it's home to Philip Goldson International Airport – the largest airport in the country that has daily flights to the United States and Canada.
How to get to Belize
You can get to Belize by taking a flight from the United States, or Canada or crossing the land border from Mexico or Guatemala.
By flight
Philip Goldson International Airport (BZE) is nine miles north of Belize City in Ladyville. It's the only international airport in the country, and your Belize itinerary will most likely start at Belize City Airport, which has domestic and international flights.
What airlines travel to Belize?
The airlines that fly to Belize are United, American Airlines, Alaska, and Southwest Airlines.
Belize also has domestic airlines, Tropic Air and Maya Island Air that serve destinations in Belize and Central America like Guatemala, Honduras, and El Salvador.
Crossing the border to Belize
If you travel to Belize from Europe or South America, you cross the land border with Belize from Mexico or Guatemala. Another option is to take a flight to Belize from Cancun on Air Tropic.
How to get around Belize?
To get around Belize, you can rent a car, or book a private shuttle or flight from Belize City Airport. Public buses are the cheapest way to travel around Belize, but they are notoriously slow and have no amenities. Many travelers in Belize prefer to take private shuttles to get between the most popular destinations in the country.
Trying to figure out where to stay in Belize? Check my guide here.
Belize has plenty to offer: from snorkeling and diving to spelunking in the caves and Mayan ruins like Xunantunich, Caracol, and Lamanai, Belize is a true paradise for the adventurous.
Here's how you can get around Belize to see its main highlights: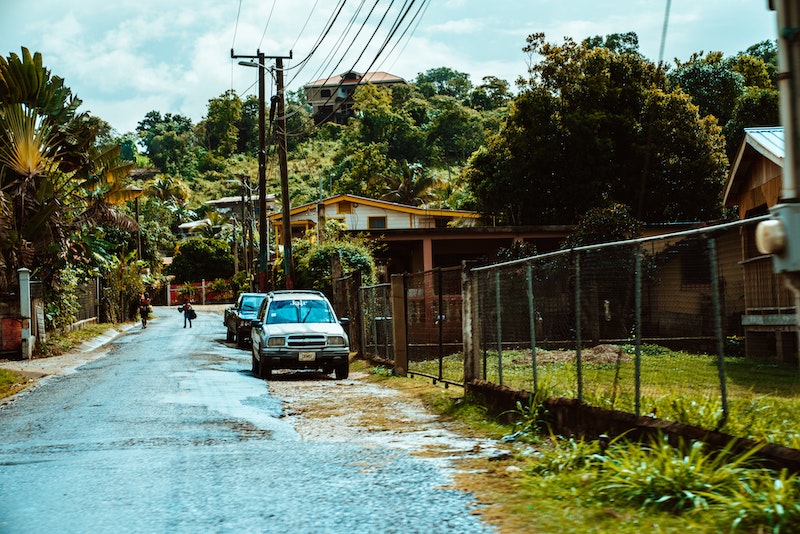 Car rental
Renting a car in Belize is the best way to see the country without relying on public transportation and expensive tours. While some places in Belize can be visited only with tours like ATM caves or Hot Chan Marine Reserve in the Great Meso-American Barrier Reef, most places in Belize can be visited by car.
If you want to rent a car in Belize, the best bet is to do so in Belize City after you land. Another alternative is to rent a car outside Belize City, however, you will need to catch a taxi from Belize City Airport, which will add more expenses to your trip.
Renting a car in Belize City
The best place to rent a car in Belize is Philip Goldson International Airport (BZE). They have several car rental companies, and you also don't have to get outside the airport to look for car rentals.
Where to rent a car in Belize City?
Check available options for car rentals in Belize through DiscoverCars.com, my favorite platform for finding car rentals in Belize. I frequently use DiscoverCars to find car rentals during my trips and have used it for renting a car in Belize.
✅ CLICK HERE TO RENT A CAR IN BELIZE WITH DISCOVERCARS
It has available cars and prices online, so all you need to do is type in your travel dates and look for the vehicle that you want. Once you select your vehicle, pay the price, and voila!
Tip for driving in Belize
If you rent a car in Belize, you should be aware of the poor infrastructure in many parts of the country.
While main highways in Belize are in good shape, secondary roads are less so. For example, while the highway from Belize City to San Ignacio is well-maintained, many roads around San Ignacio are bumpy, so you should be cautious when driving around town.
It's particularly true if you go to remote areas where roads are less maintained.
Taking a bus in Belize
Belize has several bus routes that connect different parts of the country with Belize City. Also known as chicken buses, Belize buses are painted in bright colors and have no amenities, so be prepared for an allowed ride with no AC and minimum space for your luggage.
Taking buses in Belize is a great way to save money, as you will pay an average of $10-15 USD for a one-way ticket. You will need to get to Novelo Bus Terminal in Belize City, from where you can take buses to different destinations in Belize.
PRO TIP: Take a taxi, because the area around the bus terminal is a bit seedy, and while you won't be in danger if you decide to walk, you will most definitely draw attention as a tourist.
Bus routes in Belize
Belize has several bus routes that connect different parts of the country with Belize City. Also known as chicken buses, Belize buses are painted in bright colors and have no amenities, so be prepared for an allowed ride with no AC and minimum space for your luggage.
Private shuttles in Belize
Private shuttles are the most popular way to get around Belize for many tourists. They are comfortable, and clean and get you around quickly and with no hassle.
An English-speaking driver will pick you up at the airport and transport you to your hotel. Belize private shuttles offer door-to-door services which allow you to relax and nap after a long day of traveling.
Why you should book your private shuttle in Belize ahead of time
Private shuttles can book up during the high season in Belize (December through March) when the demand is high. It's always best to book your private shuttle online, so by the time you arrive in Belize City, all you need to do is meet your driver at the arrivals
Private shuttles in Belize are not allowed to take passengers on the spot, and you will not be able to pay the driver at the airport if you haven't booked it online ahead of time.
Taking a taxi in Belize
You can get around Belize by taxi, but it will be very pricey. You can easily catch a taxi outside the main terminal at Belize City Airport or in many places in Belize
Taking flights in Belize
Unless you are short on time, I don't recommend traveling to Belize by plane, because you will miss out on seeing the country. Belize is very compact, and the longest drive within the country is from Belize City to Punta Gorda, which basically takes you north to south. Otherwise, you can get to most destinations in Belize within 1,5-2 hours of driving.
Where's Belize: FAQ
Do I need a passport to go to Belize?
If you travel to Belize from the United States or any other country, you will need a valid passport, and proof of your return ticket. If you are crossing the land border between Mexico and Belize or Mexico and Guatemala, you might have to pay additional fees, depending on how long you stay in the country.
Where is Belize City?
Belize City is the former capital and the largest city in the country. It sits along a small peninsula surrounded by the Caribbean Sea.
What's the official language of Belize?
The official language of Belize is Spanish, but a few other languages are spoken in different parts of the country including Spanish, creole, and various dialects of the Mayan language. In fact, Many Belizeans are multilingual, and you can often hear different languages in the same household.
What country does Belize belong to?
Belize is an independent nation, and it doesn't belong to any other country. Belize gained independence from Britain in 1981 and has been a self-governing country since then.
Is Belize a territory of the US?
No, Belize is not a territory of the United States. Belize gained independence from the United Kingdom on September 21, 1981, and was known as British Honduras before that.
Is Belize safe?
While most of Belize is safe for travel, Belize City has garnered a bad reputation because of the high rate of homicides per relatively small population.
Belize City does have some interesting landmarks like the Museum of Belize History, which warrant a quick stay here. Regardless of how much time you spend in the Belize capital, you should exercise reasonable caution.
Limit your activities to daytime and use only licensed taxis with green plates to get around. As a tourist, you are not likely to be the target of serious crime in Belize, but you should always stay alert, no matter what situation you are in.
Check my Belize travel trips to have the best experience and avoid mistakes
Safety tips for traveling Belize:
Don't show off your wealth – Belize is a tropical paradise, but a significant part of its population still lives below the poverty line. Dress down when you travel around the country, and avoid wearing expensive clothing and jewelry.
Limit your travel to daytime -If you plan to explore Belize, limit your travel today times especially if you are driving
Belize has a developing infrastructure – while the country has several highways that connect major towns, much of Belize's infrastructure is still in poor shape. Take it into account, especially if you plan to rent a car.