Disclaimer: This post contains affiliate links. At no cost to you, I might earn a small commission if you make a purchase through the links in this article.
Arizona is a southwestern state famous for its magnificent landscapes and Grand Canyon National Park. But in recent years, Arizona has been making headlines for another reason: its blistering hot temperatures.
In this article, we are going to take a look at why Arizona is so hot, and how you can deal with the triple-digit heat whether you are living in Arizona or visiting the state. 
Why is Arizona so hot?
Arizona has always had high temperatures due to its topography and weather patterns influenced by its geographical location. Arizona also has low humidity and and close to 300 days of sunshine on average. The rapid urbanization of Phoenix and the effects of climate change have been driving up the temperatures in the state in recent years.
Percentage of sunshine in Arizona per city:
| | | | |
| --- | --- | --- | --- |
| City | Sunny days | Partially sunny days | Totally sunny days |
| Flagstaff | 162 | 102 | 264 |
| Tucson | 193 | 91 | 284 |
| Phoenix | 211 | 85 | 296 |
| Yuma | 242 | 71 | 313 |
Why is Arizona so hot – top reasons
Geographical conditions
Arizona has a hot arid climate with plenty of sunshine and higher temperatures throughout the year.
Proximity to the equator
Arizona is also 2,300 miles from the equator and it sits along the lower elevation for the most part except for parts of Northern Arizona which have cooler temperatures throughout the year.
Growing urban areas
Phoenix has been experiencing rapid growth in recent years. It's one of the fastest-growing cities in the United States with many people moving here because of the lower cost of living, mild winters, and great outdoor opportunities.
The growing population needs more housing and infrastructure which means a reduction in vegetation. The urban part of Phoenix has mostly concrete and asphalt which trap the heat, making the problem worse.
The location of Phoenix Valley
Arizona receives little moisture from the west due to the rain shadow effect caused by the nearby mountains.
The Laguna Mountains in California are a natural barrier that prevents the cool air of the Pacific Ocean from getting to Arizona. As a result, the Phoenix Valley doesn't get much moisture and consistently stays hot.
Phoenix sits on the downside of the mountains and experiences high pressure throughout the year. It's a major contributor to the high temperatures in the Phoenix Valley and since there's no humidity, the heat lingers around much longer.
The Phoenix Valley is surrounded by mountains, which contribute to the updraft of heat, while rain, and clouds that can't make it into the valley.
How does Arizona's climate produce such hot temperatures?
Because Arizona is so hot, there's a lot of high air pressure over the state. The air sinks because of it, and clouds can't form. The lack of rain and humidity means the air heats up faster as there's nothing to absorb the heat.
Is Arizona the hottest state?
Arizona is one of the hottest states in America with an average temperature of 60.3 degrees Fahrenheit per year. The annual precipitation in Arizona ranges from 3 to 40 inches based on where you are in the state.
How hot is Arizona in summer?
The Grand Canyon State is known for its extremely dry summers. Arizona's summer temperatures range between 90 degrees Fahrenheit (32.2 degrees Celsius) and 120 degrees Fahrenheit (48.9 degrees Celsius).
Areas at high elevations like Flagstaff and Page have cooler temps, while bigger urban cities at a lower elevations like Phoenix and Yuma have much hotter temperatures.
What's the hottest month in Arizona?
July is the hottest month in Arizona. The average temperature in Arizona in July is 106 degrees Fahrenheit and the nightly average is about 85 degrees. Once the sun goes down, it starts to cool off quickly.
When was the hottest temperature in Arizona recorded?
The all-time highest temperature in Arizona was 128 degrees Fahrenheit in Lake Havasu City on June 29, 1994, Phoenix, Arizona's capital has been seeing increasingly hotter summers in recent years.
Is Phoenix one of the hottest cities in the United States?
Phoenix is the capital of Arizona located at an altitude of 1,086 feet that's often called one of the hottest cities in the United States. Although Phoenix has always had a dry arid climate, the temperatures in Arizona's largest city have been rising thanks to a combination of factors including rapid urbanization coupled with global warming.
Why is Phoenix so hot?
The temperatures in Phoenix have been rising in recent years, but it hasn't always been this way.
The city has been growing rapidly since the second half of the 20th century when many started coming to Phoenix in search of a more affordable place. The city has grown quickly which has resulted in the expansion of the urban area and continuous reduction of natural vegetation which helps to keep the temperatures cooler.
It created the urban heat island – parts of the urban area that trap the heat and re-emit it in bigger quantities than natural landscapes.
An urban heat island experiences consistently higher temperatures than surrounding areas because of buildings that retain heat, and a lot of concrete and asphalt in the area. They are hotter than rural areas, and need more energy for air conditioning and other utilities.
When was the hottest temperature in Phoenix recorded?
The city recorded its highest temperature in June 1990 when it reached 122 degrees. However, the summer of 2022 brought a record-breaking heat wave to Phoenix with 53 days topping 110F (43C) compared with a previous high of 33 days.
The extreme heat killed almost 200 people in Phoenix and made many wonders whether the city is going to be livable in the future if the trend continues.
What's the highest temperature recorded in the world?
California's Death Valley National Park had 130 degrees Fahrenheit on July 9, 2021, one of the highest temperatures ever recorded in the world. It previously set the world record for the highest temperature in July 1913, which was 134 degrees.
Where to escape the Arizona heat
Arizona has a diverse climate, and while Phoenix is notoriously hot, other places are less so. Let's take a look at some of the popular destinations in Arizona and nearby areas where you can escape the heat.
Flagstaff
Where to stay: Courtyard Flagstaff
Located in northern Arizona, Flagstaff sits at an elevation of 7,000 feet (2,134 meters) near San Francisco Peaks. The tallest mountain in Arizona, Mount Humphreys with an elevation of 12,633 feet is also near Flagstaff.
Interestingly enough, Flagstaff is also the highest point in the entire Route 66.
This town is perfect to escape from the summer heat, and you can find many cool hikes in the area. It's also just a short distance away from the Grand Canyon, one of the most popular West Coast national parks, so Flagstaff makes for a perfect base for your adventures.
Best things to do in Flagstaff
Other points of interest in Flagstaff include the Wupatki National Monument, Museum of Northern Arizona, and Lowell Observatory where you can marvel at the car's dark sky above the city.
If you are visiting Flagstaff in winter, don't forget to stop at Arizona Snowball, the state's top destination for skiing located near Flagstaff.
Downtown Flagstaff is home to the vibrant San Francisco Street, where you can find many popular bars and restaurants and have a fun night out after your outdoor adventures. Flagstaff Community Market is a perfect spot to grab some fresh produce from local farmers.
Page
Where to stay: La Quinta
Page is a town in Northern Arizona near the Utah border that's become popular with travelers. What's made Page one of the most visited destinations in Arizona is its proximity to Utah national parks and attractions like the Antelope Canyon and Horseshoe Bend.
Temperatures in Page are cooler than in Phoenix, but summers can still be pretty hot in summer, so always check the weather before heading out.
Puerto Penasco, Sonora
Where to stay: Peñasco del Sol Hotel
If you want a beach getaway, take a trip from Phoenix to Puerto Penasco (or Rocky Point), a small town in the Mexican state of Sonora, and one of the most popular vacation destinations in the region.
The best news is that the drive from Phoenix to Puerto Penasco takes less than 4 hours and once you arrive, you will enjoy the amazing beach town with plenty of fun activities like snorkeling, scuba diving, and paddle boarding.
✅ CHECK MY MEXICO TRAVEL TIPS AHEAD OF YOUR TRIP
One of the most popular things to do in Puerto Penasco is wildfire watching. Book a tour with one of the local companies to see adorable sea lions, dolphins, and whales.
Whether you want to kick back and relax on the beach or have an adventurous vacation, you will have a blast in Puerto Penasco.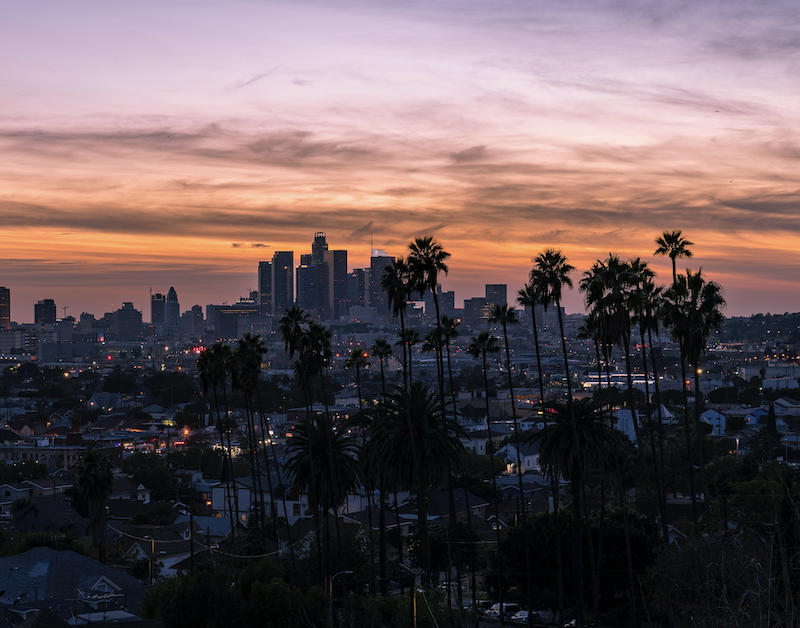 Los Angeles
Where to stay: Hotel Ziggy
Los Angeles is the second largest city in the United States where you can spend days and weeks exploring beaches, museums, and famous landmarks.
✅ Check my guide to the best day trips from Los Angeles
Whether you want to visit Los Angeles beaches in places like Malibu, Santa Monica, or others, explore world-renowned museums, or sample the local restaurant scene, you will have blast on your trip from Arizona!
It's also within a few hours from some of the best cities in Central California like San Luis Obispo and Santa Barbara.
How hot is Arizona: FAQ
Is Arizona too hot to live in?
Although Arizona can be hot in summer, it's a gorgeous state with superb scenery and year-round outdoor opportunities. Winters in Arizona have mild sunny weather, and Northern Arizona is a perfect place to escape the triple-digit summer heat thanks to its mountainous terrain that has cooler temperatures.
Is Arizona hotter than Florida?
The average temperatures are higher in Arizona than in Florida, but Florida often feels a lot hotter than Arizona due to its high humidity. Arizona has a dry sunny climate with a diverse terrain that consists of mountains, which makes the heat more tolerable once you escape bigger urban areas like Phoenix.
Is Arizona getting hotter?
According to the NOAA's National Center for Environmental Information 2022 report, Arizona is getting hotter, with temperatures having increased by 2.5 degrees Fahrenheit since the beginning of the 20th century. The number of extremely hot days has been above average since 1995, according to the report.
Arizona is the fastest-warming nation in the US and getting hotter year after year. The area is getting heated up because of UHI (Urban Heat Islands).
UHI's are rising temperatures in metropolitan cities because of modern development. The temperatures of Arizona are expected to rise even further in the coming years leading to drought-like conditions in the state.
Is Arizona the hottest state in America?
Arizona is home to Phoenix, which is ranked as the hottest city in the United States. The median temperature in Arizona is 60.3 degrees Fahrenheit, however, it's outranked by several southeastern states like Florida which has an average temperature of 70.3 degrees Fahrenheit.
Why is Arizona so hot: final thoughts
If you wondering whether Arizona is the hottest state, you are one of many people who have the same question. Although Arizona consistently experiences triple-digit heat during summer months in places like Yuma and Phoenix, it's still not one of the hottest states in the United States, if we look at its average temperature.
Although the elevation and geographical location of Arizona contribute to its hot climate, the increased development and loss of vegetation in major urban areas have accelerated Arizona's rising temperatures, especially in summer.
But despite the hot weather, Arizona is worth a visit. The state boasts plenty of sunshine and is great if you like the outdoors and wonderful desert scenery.