Disclaimer: This post contains affiliate links. At no cost to you, I might earn a small commission if you make a purchase through the links in this article.
Imagine a city with colorful architecture, the most delicious food you've ever tried, vibrant artisan markets, and friendly locals.
Welcome to Oaxaca, the hub of Mexico's culture and gastronomy, where centuries-old traditions are still alive and the smell of freshly made mole is in the air.
Some travelers say you don't know Mexico until you visit Oaxaca, and I couldn't agree more. But Oaxaca is more than just a quick stopover: It demands time and effort because the whole state of Oaxaca offers culture and stunning landscapes ranging from arid areas to mountains and gorgeous beaches.
This guide will help you make sure you don't miss some of the best things to do in Oaxaca and get the best cultural experience while visiting this city.
Where is Oaxaca located?
Pronounced (Wah-ah-kah) Oaxaca's full name is Oaxaca De Juarez, but many travelers and locals call it shortly Oaxaca. The city is located in the namesake state of Oaxaca in Southern Mexico. It borders the state of Chiapas to the south, Veracruz to the east, and the states of Puebla and Guerrero to the north.
Best Things To Do In Oaxaca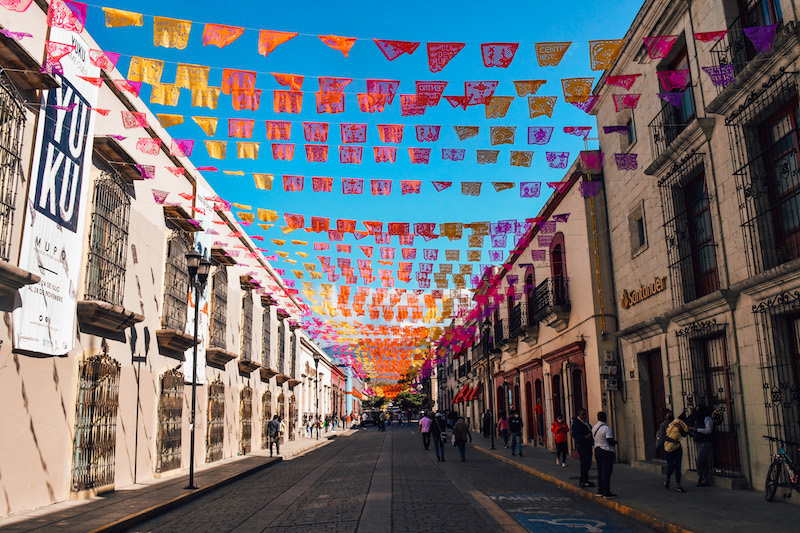 1. Join a free guided tour of Oaxaca
You just arrived in Oaxaca need to get your bearings in the new city. There's no better way to do it than by joining a free walking tour of Oaxaca that takes place two times per day. Local guides have excellent knowledge of the city and can answer any of your questions. Make sure to leave your gratuity at the end of the tour to show some appreciation for their work.
Daily tours of Oaxaca depart at 10 a.m. and 4 p.m. and last about two hours. Although this is a free activity, make sure to bring some cash tips for your tour guide who works so hard to show you this incredible city.
2. Taste Mezcal
If there's one thing you can't miss while visiting Oaxaca is trying Mezcal, a signature drink that plays an important role in the culture of this state. Mezcal is a distilled drink created from agave plants that grow in this part of Mexico and many local mezcaleros (people who produce this drink for sale), take great pride in it.
You can find Mezcal in many stores and restaurants in Oaxaca, however, if you want to get a glimpse into the process of making Mezcal and sample freshly made drink (or multiple versions of it), taking a mezcal tour in Oaxaca is a must.
PRO TIP: Learn about other must-have experience in Mexico here!
3. Marvel at Templo De Santo Domingo De Guzman
This baroque cathedral anchors a large plaza and is hard to miss even if you are visiting Oaxaca for a short time. Surrounded by huge agave plants, Temple De Santo Domingo de Guzman is one of the most iconic churches in Mexico thanks to its opulent interior decorations with more than 60,000 sheets of gold leaf and ornate ceilings.
Throughout its history, this temple had been used as a church and convent before being transformed into the military barracks in the 19th and 20th centuries. Whether you want to people-watch or admire Oaxaca's cultural treasures, spend some time near Temple De Santo Domingo.
4. Walk through Ethnobotanical Garden
Adjacent to the temple De Santo Domingo, Oaxaca Ethnobotanical Garden (Jardin Etnobotanico de Oaxaca) is hands down one of the best things to do in Oaxaca. Designed by artist Francisco Toledo to showcase Oaxaca's history through its flora, this garden is home to many plants that are arranged in cultural and geographical groups.
Oaxaca is one of the most biodiverse parts of Mexico thanks to its many climates ranging from colder ones in the mountains to arid inland and humid along the coast.
You can visit Oaxaca Ethnobotanical Garden only with a guided tour, which has to be purchased on the spot, so make sure to check the schedule ahead of your visit. Tours in Spanish are offered three times a day at 10 a.m., 12 p.m., and 5 p.m. and tours in English are offered at 11 a.m. on Tuesday, Thursday, and Saturday.
Arrive early as each tour has a limited number of spots and they fill up quickly. Payments are accepted only in cash.
5. Explore the ruins of Monte Alban
Mexico might be famous for its Mayan ruins, but that's not the only kind of ruins in this country. Before the arrival of Spanish conquistadors, the country was inhabited by many indigenous groups, including Zapotecs, Mixtecs, and Aztecs that still live in many southern parts of the country, including Oaxaca.
Monte Alban, the archaeological site about 25 minutes away from Oaxaca City was the center of the Zapotec empire from about 500 B.C.E. to 700 C.E.
The site is known as one of the most studied archeological areas in the Americas and boasts pyramids, underground passages, over 170 tombs, and sprawling terraces along the huge plaza. One of the most interesting features of Monte Alban is Los Danzantes, big stone slabs with carvings that are believed to portray war captives.
The site also offers incredible panoramic views thanks to its location 1,200 feet above the Oaxaca Valley. Due to the higher elevation, it often has slightly cooler temperatures and more wind than Oaxaca City, so grab your jacket.
Entrance fee to Monte Alban is 75 Pesos and has to be paid in cash.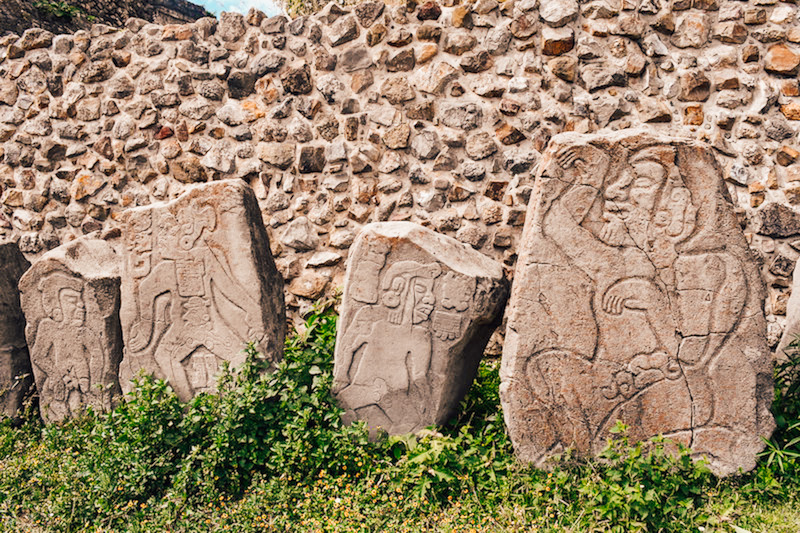 How to get to Monte Alban from Oaxaca
The easiest way to visit Monte Alban is by purchasing an organized tour from Oaxaca. A local guide will show you the highlights of Monte Alban and tell you the history of this ancient city. Tours to Monte Alban from Oaxaca run daily and you can purchase them in many tours agencies in Oaxaca or online through Get Your Guide.
Taking a colectivo to Monte Alban
If you don't want a guided tour of Monte Alban and would like to visit this archaeological area on your own, book a colectivo (a small shared van) with Lescas Tours, a local company that has an office in Zocalo.
I paid 100 Mexican Pesos for a round trip to Monte Alban with fewer Tours. You get dropped off in a parking lot outside of Monte Alban and picked up a few hours later (make sure to specify your pick-up time though).
PRO TIP: Taking these tours becomes much easier if you can speak Spanish. Check out more Mexico travel tips that will help you travel around the country safely and avoid some of the most common mistakes.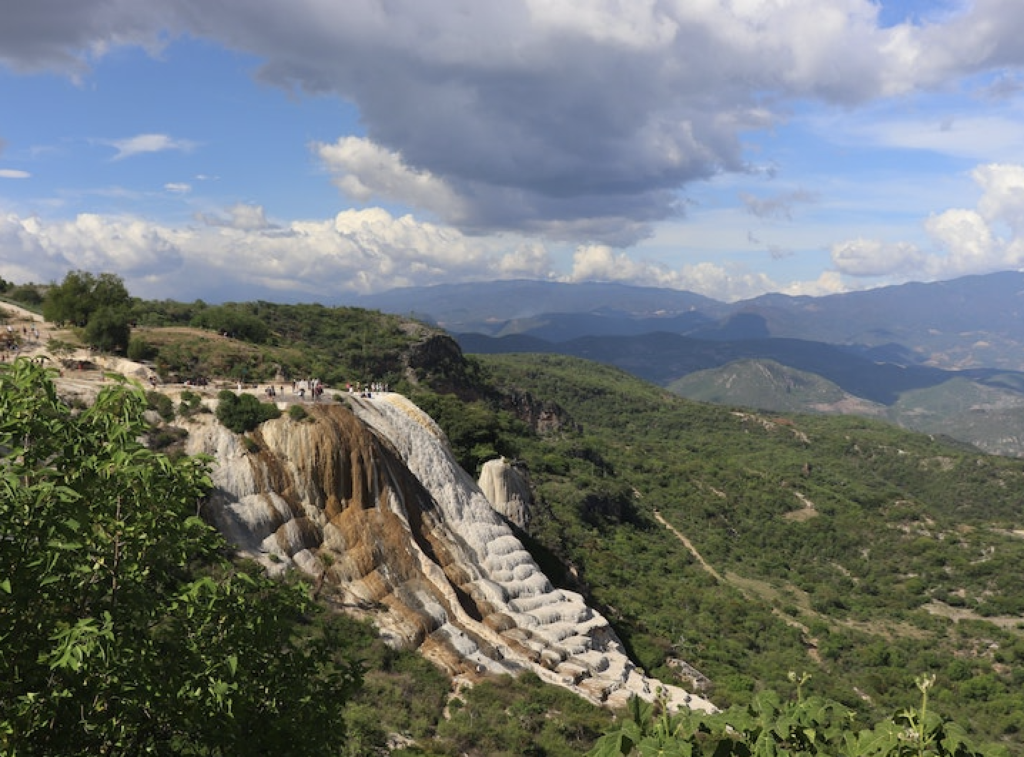 Take a day trip from Oaxaca
It could take you a couple of days to explore Oaxaca City, but there's so much more to this place. You don't have to stay in the city to enjoy some of the best things to do in Oaxaca, because there are many natural and cultural places within 2 hours of driving.
6. Hiereve El Agua
Located about 90 minutes from Oaxaca by car, this site boasts two petrified waterfalls that originated as a result of calcium-rich springs flowing down the cliffs. Translated as boiled water from Spanish, Hierve El Agua sits against the backdrop of stunning blue-green mountains and has numerous hiking trails. Consider guided tour of Hierve El Agua if you don't have a car.
7. Teotitlan Del Valle
Visiting local artisan villages is one of the best things to do in Oaxaca because there you will see how local artisans create hand-woven rugs and other textiles from scratch. Teotitlan del Valle is known as a hub of Zapotec weaving designs and also has a nice artisan market where you can buy locally made goods.
8. Mitla
An archaeological site about 1 hour away from Oaxaca, Mitla was once an important cultural center of Zapotecs. As with other day trips from Oaxaca, you can take a guided tour of Mitla or catch a bus from the Second Class Bus Station in Oaxaca for about 40 Pesos.
Visiting Mitla on a day trip is one of the best things to do in Oaxaca if you want to learn the Zapotec culture.
PRO TIP: Some tours make stops at all three sites or include stops in Hierve El Agua, traditional weaving villages, and a local Mezcaleria where you can sample the famous Oaxaca drink. If time is short, consider one of these tours to maximize your time and hit several spots in one day.
9. Shop Oaxaca markets
If you like handcraft clothing, arts and crafts, Oaxaca is your place! This state has an incredible artisan scene with many local artisans making colorful dresses, shoes, and all sorts of accessories. If you are visiting Oaxaca for the first time, visit at least one artisan market
Best Oaxaca markets
Mercado Benito Juarez – a typical Oaxaca market where you can find a mix of artisan arts and crafts, fresh produce, and food
Mercado De Artesanias – best artisan market in Oaxaca with souvenirs, textiles, and handcraft goods
Mercado 20 de Noviembre – a great market with a wide variety of inexpensive food
10. Buy alebrijes
When you visit Oaxaca's artisan markets, you will notice many artisans selling brightly colored figurines of animals and imaginary creatures such as dragons and unicorns. These pieces of art are called Alebrijes and have horns, wings, antlers – sometimes all at once!
Alebrijes are a unique concept of Mexican folk art.
Alebrijes originated after Mexican artist Pedro Linares saw mythical creatures in his dream while he was ill and began recreating them in paper-mâché after he recovered. The trend got popular and was adopted in several parts of Mexico, most notably in Oaxaca where local master Manuel Jimenez used copal trees to make the first Oaxaca alebrijes.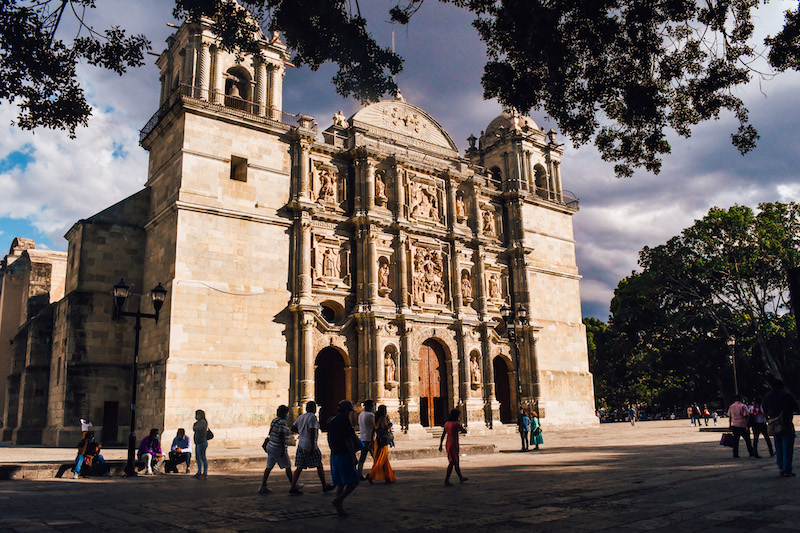 11. Take a break in Oaxaca's Zocalo
The heart of Oaxaca, Zocalo is the city's main square that sits between the Palacio de Gobierno and Catedral De Oaxaca. It's a popular place for locals and visitors who come here to relax and enjoy the many restaurants and artisan markets in the area.
It's also where many events take place throughout the year, such as the ceremonies during Mexico's Day of Independence which is marked on September 16, and more esoteric La Noche De Rabanos that occurs on December 23 and involves local people carving radishes into quirky art displays.
12. Check out Oaxaca's pedestrian-only street
Connecting Zocalo and the Templo de Santo Domingo is Calle Alcala (or Calle Macedonio Alcala), a pedestrian-only street surrounded by colonial buildings that house restaurants, bars, galleries, and, stores. Since traffic in Oaxaca has gotten worse in recent years, Calle Alcala is a great way to navigate the city without losing much time.
13. Visit Plaza De La Danza
A few blocks from Zocalo you will find a large square heralded by the Ex-Convento de San Jose. The square is often used for music and art performances. Laid out with the volcanic stone, this plaza is less famous than other popular places to visit in Oaxaca, but if you happen to pass by, stop for a couple of moments to appreciate it.
If you want to try more Oaxaca delicacies, head to the southern end of the plaza where you can try signature Oaxaca sorbet (or nieve de Oaxaca) made from red prickly pear.
14. Celebrate Day of The Dead in Oaxaca
Olan your Oaxaca trip for late October, or early November to witness the famous Die De Los Muertos (Day of The Dead). Oaxaca puts on some of the most colorful celebrations in entire Mexico, and being part of this huge and important festival is nothing short of magical.
The Day of the Dead is a blend of Mesoamerican rituals and Spanish culture and has a very special place in Mexican culture.
Although the name of this holiday sounds rather somber, the entire event has a cheerful spirit to it: Mexican people view death differently, and before and during the event people in Oaxaca (and all over the country) pay respects to their loved ones who passed away be creating colorful altars, bringing offerings and food to cemeteries and organizing colorful parades.
15. And don't forget about Guelaguetza Festival!
Enjoying local festivals is one of the best things to do in Oaxaca since the state has so many of them. If you didn't make it to the Day of the Dead, you can also try Guelaguetza, Oaxaca's folk festival that takes place on two consecutive Mondays in July. The exact dates of the event vary every year, so make sure to check the local calendar.
The largest folk festival in the Americas, Guelaguetza is the event when people from all over Oaxaca come to celebrate their delicious food, colorful textiles, ethnic dances, and colorful costumes. Although Guelaguetza is less famous than Dia De Los Muertos, it's just as impressive, as you get to see the true Oaxaca spirit through this colorful celebration.
16. Try Oaxaca mole
Even if you have never been to Oaxaca, you probably heard about the mole, a signature sauce that is made from a mix of ingredients including seeds, dried fruits, tomatoes, chili, and sometimes, even chocolate! Mole is often found in empanadas and is also served alongside many dishes including meat and vegetables.
Trying mole is one of the best things to do in Oaxaca for foodies!
While the state of Puebla takes pride in inventing mole, Oaxaca is famous for having the highest variety of mole sauces. You can find seven of them here with the most famous one being Mole Poblano, that's why trying it is one of those things to do in Oaxaca that you cannot miss!
There are many different types of mole in Oaxaca and most restaurants in the city serve at least a few types of this famous sauce.
Other famous Oaxaca foods that you should try
Tlayudas – The most famous street food in Oaxaca, Tlayudas are huge tortillas that are grilled on an open flame and filled with your choice of stuffing. Tlayudas can be either open like tortas or folded similar to quesadillas. You can find them anywhere you go in Oaxaca and shouldn't miss a chance to try this Oaxaca staple.
Memelas – Memelas are which grilled tortillas topped with bean paste and an assortment of cheese and meat. Memelas are staples of Oaxaca cuisine and can be eaten at any time of the day!
Tamales – Tamales are another Oaxaca staple made with cornmeal dough that comes with a variety of fillings. If you are a vegan the good news, is that tamales are one of the most vegan-friendly foods in Oaxaca as they are often filled with veggies, potatoes, and other non-animal ingredients.
17. Sip some hot chocolate
Aside from mole and other gastronomic staples, Oaxaca also produces cocoa beans. This means that it's a good place to try delicious hot chocolate that are often served in cute clay cups. There are many cafes in Oaxaca where you can grab a cup of hot chocolate, and here are some of my favorite places:
Oaxaca En Una Taza – located near Templo de Santo Domingo, this cute coffee shop has hot chocolate and delicious pastries.
Cafe Brujula – Another local cafe where you can try signature Oaxaca hot chocolate, tea, chai, and coffee.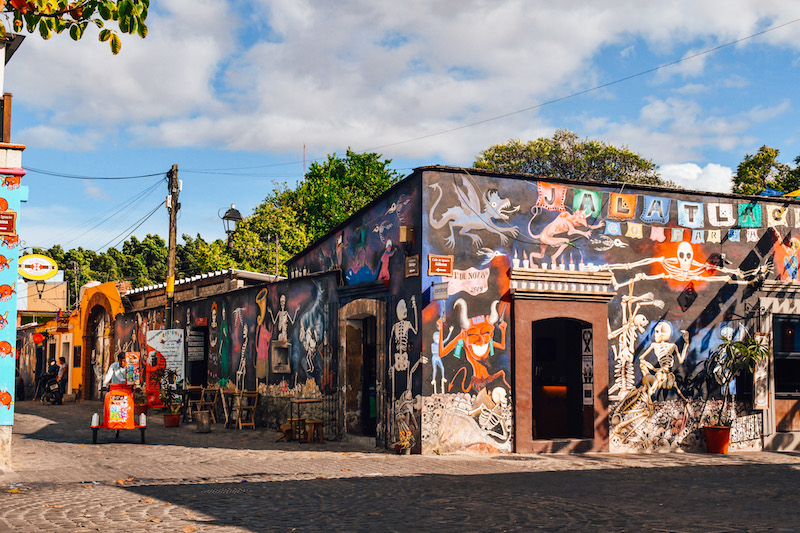 18. Explore Oaxaca's street art
Oaxaca has tons and tons of colorful street murals. Exploring the colorful streets of Oaxaca where you can find many cool murals is one of the best free things to do in Oaxaca!
The murals in Oaxaca are fun and colorful, and many of them also have specific messing with topics such as indigenous rights and political issues. Oaxaca street art often has deep meaning to it, and I could go on for a while about it, but the best way to see it for yourself is to wander the streets of Oaxaca Centro.
19. Enjoy colorful barrios Jalatlaco y Xochimilco
Jalatlaco and Xochimilco are perfect if you want to get away from the touristy areas of Oaxaca and get a better feel of this city. Despite its cheerful ambiance with all the murals and bright-colored buildings, Jalatlaco has managed to fly under the tourist radar.
Located just 10 minutes away from the center of Oaxaca, Jalatlaco has more of a local flair to it. While this area doesn't offer much in terms of the best things to do in Oaxaca, its charm is in narrow cobblestoned streets lined with colorful homes. In Jalatlaco, you can find the Temple of San Matias Jalatlaco, which is believed to date to the 17th century and has a beautiful facade.
Xochimilco is another best-kept secret of Oaxaca that is home to many local artisans, and colorful buildings. Spend some time wandering the streets of Xochimilco to get a taste of authentic Oaxaca.
20. Visit museums of Oaxaca
One of the most cultural cities in Mexico, Oaxaca boasts several museums. Make sure to spare at least half a day to visit some of the Oaxaca museums and appreciate the local art scene
Museo Textil de Oaxaca – a great museum if you want to learn about Oaxaca's famous textiles. Entrance is free
Rufino Tamayo Museum – one of the most interesting museums in Oaxaca with tons of Pre-Columbian artifacts. Entrance fee is 90 Pesos
Museo De Las Culturas (Museum of Cultures) – An interesting museum that traces the history of Oaxaca from Pre-columbian days to the modern-day. The museum boasts an impressive array of artifacts many of which date to the Pre-hispanic period. Entrance fee is 70 pesos. From this museum, you can also get great views of the Ethnobotanical Garden and the Santo Domingo Church.
21. Eat at best Oaxaca restaurants
As the foodie capital of Mexico, there are many good restaurants in Oaxaca. From small unpretentious cafes tucked into Oaxaca streets that are perfect for solo travelers to famous restaurants where top chefs serve the most elaborate Oaxaca dishes, there are many places in Oaxaca where you can grab a bite.
As a vegan traveler, I never found it difficult to find food in Oaxaca, since so many Mexican dishes, including the famous mole in Oaxaca, can be "veganzied" upon request.
Best vegan restaurants in Oaxaca
Hierba Dulce – if you are a vegan traveler wanting to try mole and other Oaxacan dishes that are not always vegan, head to Hierba Dulce. This beautiful restaurant in the city center has an entirely plant-based menu and super friendly staff.
Trigo Verde – a casual eatery, Trigo Verde is one of the best restaurants in Oaxaca for a hungry vegan with great comfort food options.
La Campane – a restaurant with an Italian menu with a designated vegan and vegetarian section. Located near Templo de Santo Domingo, it's a great spot if you want to grab a bite after a few hours of sightseeing
Etnofood – Fully vegan restaurant that offers Oaxaca dishes and also offers cooking classes. Must visit while in Oaxaca!
Los Muchitos – Located a bit away from Oaxaca Center, Los Muchitos has a full vegan menu with tacos, burgers, and other popular comfort food.
Best casual restaurants in Oaxaca
Restaurante Coronita – If you want to try different types of Oaxaca mole in a casual atmosphere, there's no better place than Restaurants Coronita, an Oaxaca landmark that has been around since 1948.
Boulenc – one of the most popular eaters in Oaxaca, Boulenc specializes in pastries, bread, and pizzas. This is one of the best casual restaurants in Oaxaca if you are looking for a relaxed atmosphere in a cozy space
Casa Taviche – a showcase of the best Mexican food, Casa Taviche offers a taste of the menu regions of Mexico. Aside from Oaxaca food, you can also find some Yucatec dishes such as Cochinita pibil as well as several others. It also has options for plant-based eaters.
Best fine dining restaurants in Oaxaca
Restaurante Casa Oaxaca – one of the most popular restaurants in Oaxaca, this place offers a taste of Oaxaca hospitality and an assortment of traditional Oaxaca dishes from different regions of Oaxaca.
Origen – a restaurant that has an award-winning chef, a home-like atmosphere, and specialty dishes, Origen is one of the most popular restaurants among Oaxaca's foodies as it offers modern interpretations of many traditional Oaxaca foods.
Catedral Restaurant – located just a block away from Zocalo, this well-established fine dining restaurant has a good Avery of local flavors.
22. Explore Oaxaca neighborhoods
Exploring the city on foot is one of the best things to do in Oaxaca and is a perfect way to get to know the area. Spend a couple of hours wandering the streets of Oaxaca during your trip.
Oaxaca Centro
Oaxaca Centro is the heart of the city, and the most popular area to stay among many tourists who travel to Oaxaca. Booking a hotel in Centro means you will be a short distance away from some of the best things to do in Oaxaca.
Some of the most popular hotels in Oaxaca Centro are Hotel Escondido and Pug Seal Oaxaca, a colorful, super artsy property steps away from major attractions in Oaxaca.
Santo Domingo
Santo Domingo is the northern part of Oaxaca Centro that boasts beautiful cobblestone streets and historic buildings. It's home to the best things to do in Oaxaca including El Templo de Santo Domingo, and nearby ethnobotanical garden, and a handful of museums. It's also where you will find some of the best and restaurants in Oaxaca.
Hotel La Casona De Tita is one of the bets hotels in Santo Domingo Oaxaca that is popular among couples and solo travelers. Casa Carmen Reforma is another popular hotel in the area that is considered one of the best boutique hotels in Oaxaca.
La Reforma
This newer neighborhood located on a highway across from Santo Domingo lacks the Oaxaca feel and doesn't offer any historic buildings or pretty sights, but it offers more affordable accommodations compared to Oaxaca Centro and Santo Domingo. You can get to Oaxaca Centro from here by taxi or a 20-minute walk.
Casa Los Cantaros is a cozy boutique hotel in the heart of La Reforma where you can relax after a day of exploring Oaxaca.
Jalatlaco
A hidden gem of Oaxaca, Jalatlaco is a colorful barrio about 10 minutes away from the city center. Its cobblestoned streets boast colorful murals, cozy cafes, and coffee shops. If want to escape the busy streets of Oaxaca and stay in a more quiet area with local flair, consider booking one of the hotels in Jalatlaco.
Hotel City Centro Oaxaca is a sustainable property 5 minutes away by walking from Jalatlaco. It's also one of the most beautiful, highly rated hotels in Oaxaca.
Xochimilco
This neighborhood offers an authentic taste of Oaxaca thanks to the many artisans who live in work here. It's located north of the city center just across the highway. While there's no big artisan market, it's not uncommon to see individual vendors selling their arts and crafts while walking the streets of Xochimilco.
El Callejon Boutique Hotel is a beautiful place about 0.2 miles away from Xochimilco
More cool things to do in Oaxaca
24. Catch some sun on Oaxaca beaches
There's nothing like the Oaxaca coastline! After spending a couple of days in this colorful city, catch a bus to Oaxaca Coast. Whether you want to enjoy some yoga in rustic Mazunte, explore some of the best beaches in Mexico in Bahias de Huatulco, or grab a surfboard and catch the wave in Puerto Escondido, Oaxaca Coast has it all!
Unlike some of the most popular destinations in Mexico's Caribbean, Oaxaca beaches are still relatively "undiscovered" and the lack of mass tourism is one of the biggest draws here. That's why so many people who come to Oaxaca Coast for a few days end up staying here much longer.
PRO TIP: Read my guide about the best Oaxaca beaches to plan your trip here.
25. Visit Oaxaca Pueblos Magicos
If you have traveled around Mexico, you might have heard about Pueblos Magicos, or "magic towns" that have been given their special status by the Mexican government.
Oaxaca has several pueblos mágicos: Mazunte, a charming rustic town on the coast, Santa Catrina Juquila, one of the most important religious destinations in Mexico; San Pablo De Mitla, home to the well-known ruins and Huautla De Jimenez, a scenic destination that is surrounded by mountains, rivers, and waterfalls.
Best things to do in Oaxaca: FAQ's
How to get to Oaxaca?
There are several ways to get to Oaxaca. If you are traveling from Mexico, the easiest way to get to Oaxaca is by plane from Mexico City, Guadalajara, and Tuxtla Guttierez. You can also take a bus from many destinations within the country which is going to be cheaper than a plane but takes longer. If you are flying to Oaxaca from the United States, you can take a flight from Houston and several other destinations.
How to get from Mexico City to Oaxaca?
Many travelers visit Oaxaca after spending a couple of days in the country's capital. If you are one of them, you can either catch the ADO bus to Oaxaca from the main bus terminal in Mexico City or take a flight from Mexico City, which will be more expensive but will save you many hours on the road.
How to get from San Cristobal De Las Casas to Oaxaca?
The capital of the neighboring Chiapas State, San Cristobal De Las Casas (or shortly San Cristobal) is a big tourist hub in Southern Mexico with many travelers stopping there before making their way to Oaxaca (or the other way around). Although there are no flights between San Cristobal De Las Casas and Oaxaca, there are daily flights from the capital of Chiapas, Tuxtla Guttierez to Oaxaca.
Another option is to take a bus from the main bus station in San Cristobal to Oaxaca, however, be prepared for a very long ride. The last time I did it, it took about 12 hours.
Do I need to rent a car in Oaxaca?
This is one of the most common questions about Oaxaca travel. And there are a few ways to answer it. If you plan to travel to Oaxaca City, you can explore most places on foot or get around by public transportation or taxis. However, if you plan to take day trips from Oaxaca, and travel at your own pace, renting a car is a good idea.
You can rent a car in several places around Oaxaca, including Oaxaca airport, and around town. If you are looking for a good car rental company, I recommend City Car Rental that has reasonable prices and good inventory and has offices in many popular destinations of Mexico.
Taking guided tours from Oaxaca
If renting a car in Oaxaca is not in your plans, no problem.
The good news is that many tour agencies in Oaxaca offer daily tours of the most popular places to visit near Oaxaca, so you can always take an organized tour to visit Monte Alban, Hierve El Agua, and traditional weaving villages. One of my favorite websites for booking tours is Get Your Guide where you can find tons of great tours in Oaxaca and many other parts of Mexico.
Is Oaxaca safe to visit?
Since travel safety in Mexico is a common question among many travelers, you too might wonder whether it's safe to visit Oaxaca. The answer is yes, yes, and yes. The city of Oaxaca and the rest of the state are considered among the safest destinations in Mexico, and I never felt unsafe during a few weeks here.
What is the best time to visit Oaxaca?
Consider the dry season which lasts from December through May. This, however, comes with a caveat, because the dry season is also the busiest time in Oaxaca when travelers from all over the globe come here which drives up prices of hotels and tours. Oaxaca is super busy in late October and early November because of the Day of the Dead celebrations with many people coming to town from all over the place.
If you are looking for the best time to visit Oaxaca, consider shoulder season which is in November before it gets too busy, and May before the rainy season begins (June through September).
Best things to do in Oaxaca: Final thoughts
If you are still wondering whether Oaxaca is worth a visit, I want to dispel any doubts that you might have. Yes, yes, and yes! Oaxaca is one of the most beautiful destinations in Mexico and this town deserves a spot on your Mexico itinerary for so many reasons!
While you might have to hop around a bit to visit Oaxaca (especially if you are visiting from the United States or Europe), the journey is well worth it! Oaxaca is the taste of authentic Mexico and it boasts stunning landscapes, colorful artisan villages, and markets, delicious homemade food, and tons of wonderful landmarks.