Disclaimer: This post contains affiliate links. At no cost to you, I might earn a small commission if you make a purchase through the links in this article.
Famous for the snow-capped mountains, Alpine villages and thundering waterfalls, Switzerland is a bucket list place for many adventurers.
Switzerland is influenced by its many neighbors, and yet, it has its own unique identity. The postcard views are abundant throughout this country, whether you spend time in cities or venture into the mountains.
My Switzerland itinerary will show you the best places beyond the popular staples like Zermatt or Lauterbrunnen that sometimes can feel a bit touristy.
Buckle up and get ready to put some cool places on your bucket list!
PRO TIP: Want to avoid mistakes while traveling this country? Check my top tips for Switzerland travel that will help you enjoy your Switzerland itinerary without falling into most common tourist pitfalls.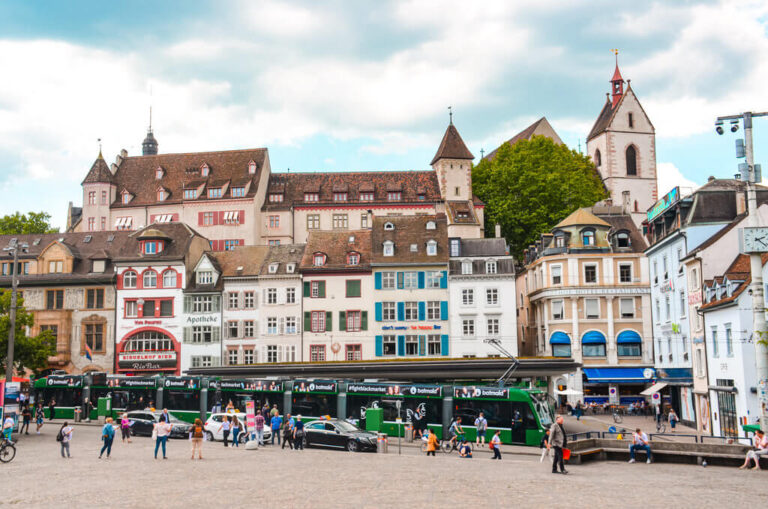 Where to begin your Switzerland itinerary
If you arrive to Switzerland from outside Europe, it makes sense to begin your trip to Switzerland from Zurich, Geneva and Basel that have international connections. Since most travelers spend about 5-7 days in Switzerland, planning your trip requires time and preparation, as there are too many places in Switzerland that are worth a stop.
PRO TIP: If you are not flying to Zurich airport, another option is to fly into Milan Malpensa Airport, which is under one hour from the border of Italy and Switzerland. This way, you can start your Switzerland road trip in Ticino, a southern canton that boasts a Mediterranean flair.
Your Switzerland itinerary: a complete overview
Day 1: Zurich
Where to stay: Hotel Seehof
Zurich is the largest city in Switzerland and also one of the most expensive cities in the world.
Located on the shores of Lake Zurich, this city is a great stating point for your itinerary because it offers a good intro to the country and has plenty of things to keep you busy for a few days.
✅ Read my complete guide on how to get from Zurich to Lucerne
Best places to visit in Zurich
Old Town Zurich has centuries-old architecture and historic landmarks such as the old protestant church Grossmunster, Peter Kirche and Framunster.
To get a panoramic shot of Zurich, climb to the top of Grossmunster. There, you will be able to get on an observation platform and see Fraumunster, the Limmat River and the Old Town of Zurich.
✅ Check my complete guide to Uber in Zurich to get around the city quickly
If you want to have some fun, head to Langstrasse that has many restaurants and nightlife. In summer, mark your calendar for the biggest annual event in Zurich, The Street Parade, which is also the most attended techno parade in Europe.
Best day trips from Zurich
You can also enjoy Uetliberg, the closest mountain to Zurich from which you can soak in the views of the area; shop till you drop along the Bahnhofstrasse, Zurich's shopping district where you can find many stores from H&M to luxury boutiques; or visit one of Zurich museums like the Swiss National Museum to learn about the history of the country.
Best free things to do in Zurich
Zurich is an expensive city, and you can spend a pretty penny here without trying hard. To stay within your budget, take advantage of the free things to do in Zurich.
Take a stroll along the Limit River that flows through Old Town of Zurich or grab some food and enjoy the views on one of the benches along the river bank. You can also walk to the top of Lindenhof Hill a few minutes away from Old Town of Zurich from where you can get amazing views of the city.
If you are short on time, book your sightseeing tour of Zurich which will help you to see the city's main highlights just in a day.
Day 2: Luzern
Where to stay: Hotel Des Alpes
Luzern (Lucerne in English) is a classic Swiss town: It's compact, it has a nice Old Town and it is easy to get around on foot. Luzern is about 50 minutes south of Zurich by train, and makes for a perfect day trip.
✅ Learn about where to stay in Lucerne
The city's signature landmark, Kapellburcke (the Chapel Bridge) is what draws a lot of tourists. However, there are plenty of other things to do in Luzern such as the old town, Musegg Wall, and Hofkirche.
Best places to visit in Luzern
One of the best places to visit in Luzern is the Swiss Museum of Transport. The most popular museum in Switzerland, this place showcases road signs and everything that related to different modes of transport, and makes for a fun afternoon visit.
One of the most popular things to do in Luzern is Mount Rigi. Take a boat from Lucerne to Vitznau and get on the cogwheel train to the summit of Mount Rigi.
Another way to get to Mount Rigi is by a boat. Weggis dock is 15 minutes uphill to the cable car (Luftseilbahn). From there, you can take a 10-minute cable car to the resort Rigi-Kaltbad, and catch the red cogwheel train on the Vitznau–Rigi line to the peak of Mount Rigi.
Finish your day in Luzern by taking a cable car from the valley station in Kriens near Lucerne to Mount Pilatus where you can hike and see a wonderful panorama of Luzern.
PRO TIP: If you are in Switzerland only for a few days and don't plan on buying the Swiss Rail Pass, download Omio App for booking your train tickets around Europe. I have used this app numerous times, and really loved how easy and simple it was to use.
Best tours of Lucerne
Day 3: Bern
Where to stay: Hotel Jardin Bern
Catch a 1-hour train from Luzern to Bern and spend a day in the Swiss capital.
Bern boasts a medieval old town on the shores of the Aare River. One of the most notable feature of Bern's Old Town are the arcade-style buildings where you can find many stores, restaurants and cafes.
While Bern lies slightly off the popular tourist route, it is one of the best places to visit in Switzerland, if you are looking to see more culture of the country.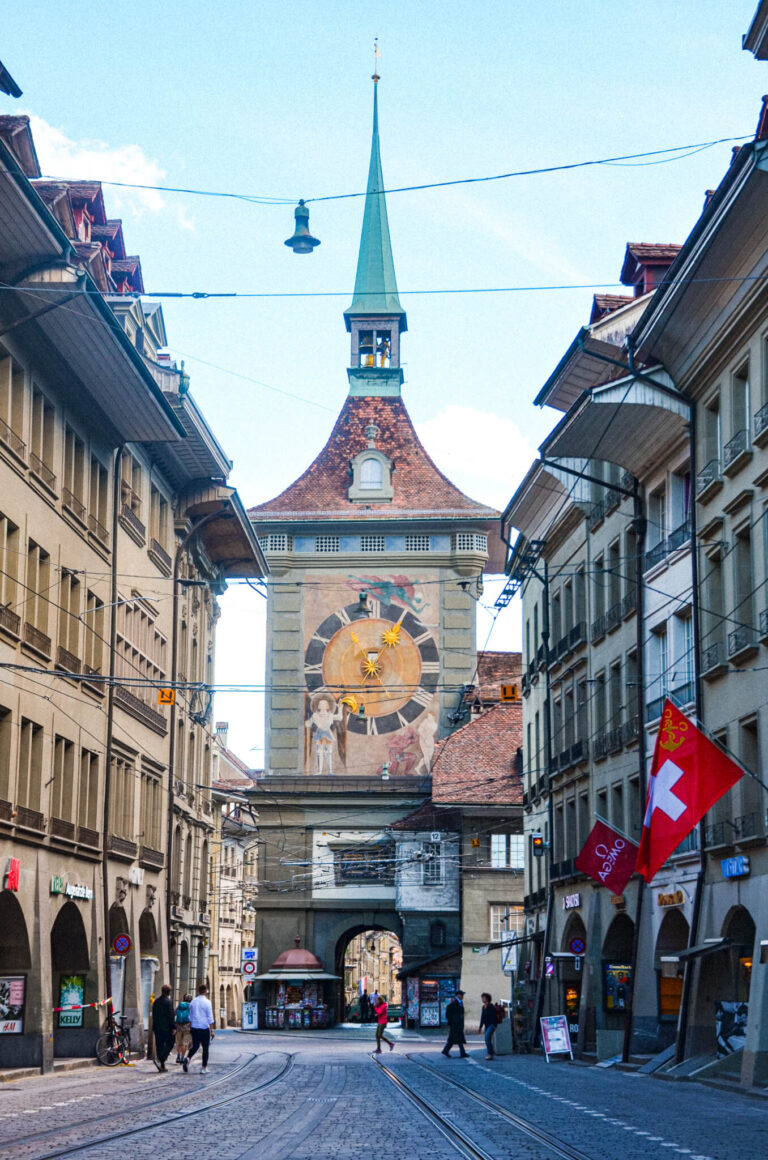 Visitors enjoy sightseeing in Old City Bern that has many landmarks such as Zytglogge, a medieval clock tower with moving figurines; The Bern Minster, a Swiss Gothic cathedral built during the reformation era; and many typical Swiss fountains – the most famous of them is "Kindlifresserbrunnen" which is literally translated "child eating fountain.
The unsettling figure portrays a man eating babies out of a bag – Read more about this sculpture and other things to do in Bern, Switzerland.
PRO TIP: Use public fountains to fill up your water bottle. Tap water in this country is very high quality, so you can save money instead of buying bottled water.
Best tours of Bern
Bernese Oberland
Where to stay: Hotel Regina
Bernese Oberland is one of the most breathtaking parts of Switzerland with tall snow-powdered mountains, deep valleys carved by glaciers and green Alpine meadows that most people picture when they think of this country.
Here you can visit Jungfraujoch and Schilthorn, some of the most well known mountains in the region.
You can get to Schilthorn from Murren via Winteregg railway station. While tickets are available at the ticket office and online, book your tickets in advance because it's one of the most popular places in the country.
Day 4: Schilthorn. Skip Jungfrau
Jungfrau is on everybody's bucket list.
It's crowded and expensive, and while being on top of it is cool, you don't get to see the actual mountain. Visit Schilthorn, a less expensive, and also less crowded mountain that boasts a great panoramic view of the Eiger, Monch and Jungfrau. It's a perfect alternative to Jungfrau!
After soaking in views of Schilthorn, stop in a revolving restaurant Piz Gloria for a delicious meal where you can get 360-degrees views of the Swiss Alps without getting outside. Here you can also learn about one of James Boys movies that was filed here back in the day!
Best tours of Schilthorn
Bernese Oberland boasts many picturesque mountain towns. One of the most popular villages in the Jungfrau region is Grindelwald that has hotels, restaurants and stores.
Other areas to stay near Jungfrau are Wengen, Mürren and Lauterbrunnen.
PRO TIP: While a day is often enough to check cities off your bucket list, this is not the case with the Swiss mountains. If you want to hike and enjoy Bernese Oberland and visit places like Thun and Interlaken without rushing, spend from 3 to 5 days there.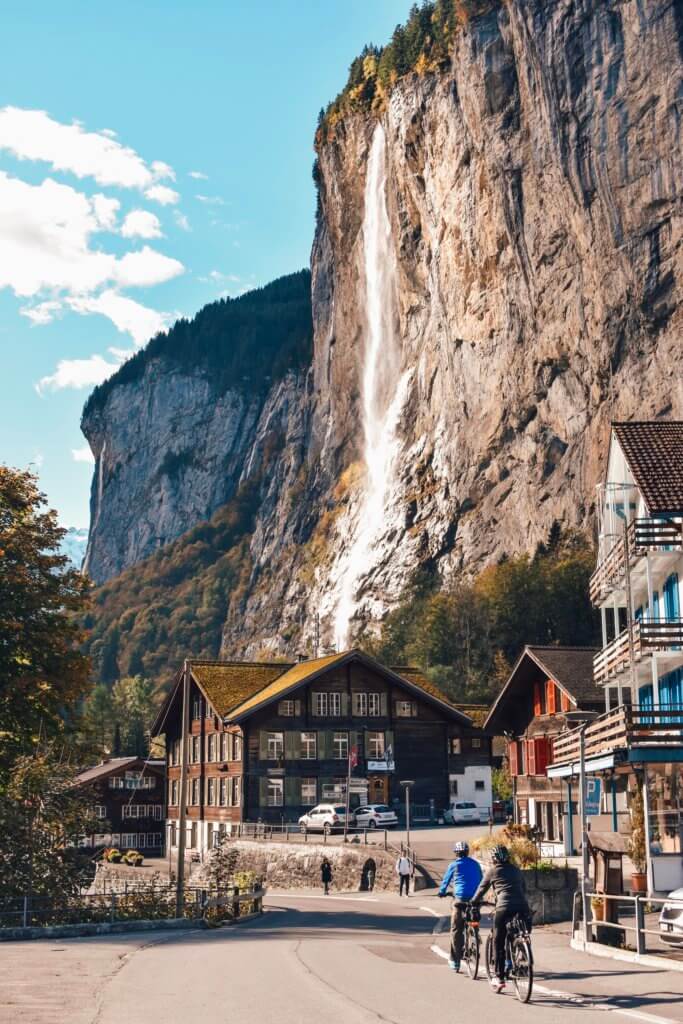 Day 5: Lauterbrunnen
Where to stay: Hotel Silberhorn
Your trip isn't complete without venturing into the mountains – one of the most popular things to do in Switzerland, and there's no better place to start than Lauterbrunnen Valley – a crown jewel of the Jungfrau region that boasts wonderful postcard views of the Swiss Alps.
Nestled between the gigantic mountains, this glacial valley is a popular stop for mountaineers, base jumpers and skiers because it offers a quick access to some of the most famous mountain peaks in Switzerland.
The Lauterbrunnen Valley has dozens of thundering waterfalls which make it a bucket list for travelers from all over the world. Wandering around here is a pure joy, and although Lauterbrunnen is touristy, it will be one the main highlights on your itinerary.
You can reach Lauterbrunnen from Bern by train via a connection in Interlaken. Check the SBB website to find out how to get Swiss Rail Pass and plan your journey.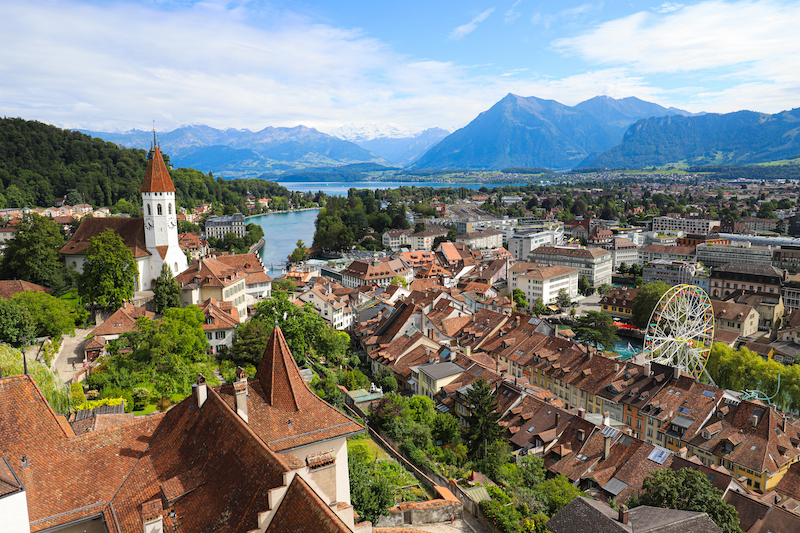 LET ME HELP YOU PLAN YOUR TRIP TO SWITZERLAND!
Besides being a travel blogger, I also create itineraries for my readers 😃 If you want me to plan your trip to Switzerland, provide insider tips and do all the research for you, fill out the form.
My custom itineraries include information on popular landmarks, restaurants, and hidden corners that most tourists miss. As part of my services, I also create suggestions on flights, hotels and activities.
Can't wait to hear from you! 💛
Day 6: Zermatt
Where to stay: Wellness Hotel Alpenhof
Located at the foothills of the legendary Matterhorn, Zermatt is a famous resort in the canton Valais, that is a popular stop for many travelers.
Here you can ski in the middle of the summer, reach the dizzying heights thanks to the wonders of the Swiss engineering, or climb one of the world's most famous mountains.
On a clear day, Matterhorn can be seen from several points in the area such as Gornergat, Rothorn and Glacier Paradise, the highest cable car in Europe. It's important to plan your trip to Zermatt on a clear day, so you can see this world-famous peak and get the panoramic views of the Swiss Alps surrounding it.
Best tours of Zermatt
To get a good taste of Zermatt, spend 2-3 days in the area. Some of the most popular activities here are mountain biking, skiing, ice skating and hiking. The Zermatt village has plenty of restaurants and accommodation from simple hostels like Zermatt Youth Hostel to luxury 5-star hotels like Mont Cervin Palace in the heart of Zermatt.
If you are looking for good hotels in Zermatt, I recommend Agoda, a great website for finding accommodations.
You can reach Zermatt by train from Interlaken in just over 2 hours, but you will have to change trains two times.
Day 7: Ticino
Where to stay: Hotel Victoria
OK, here's the deal: After visiting Bernese Oberland, Zermatt and other, many travelers go to Geneva or back to Zurich to catch their flight back home.
I want to give you a different option if you are looking to see the different side of the country.
The Italian-speaking canton Ticino is a true gem that boasts Mediterranean flare, warm climate and the architecture similar to that in Northern Italy. It is home to some of the best places in the country if you want to explore the country off the beaten track.
PRO TIP: Although you can get around most of the country by public transportation, Ticino is one place where renting a car makes more sense. The region has many small towns and scenic overlooks, and while you can visit them by public transportation, it will take longer.
👉 Exploring Ticino is a great idea, if you have a little bit more time, like 10 days in Switzerland.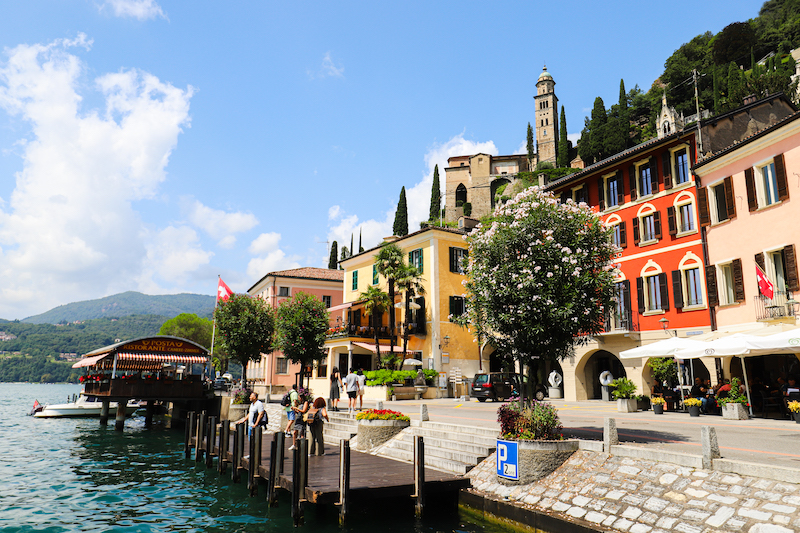 Places to visit in Ticino
Some of the most beautiful places in Ticino are Lugano, Morcote, Locarno and Valle Verzasca.I recommend setting one day aside for your trip to Valle Verzasca where you can find an unspoiled nature and charming mountain towns such as Sonogno and Lavertezzo.
To enjoy some of the best places to visit in Ticino, spend no less than 3 days in the region. You can easily spend a week here because there is so much to do in terms of culture and outdoors, but some travelers stay in Ticino for just a couple of days.
GOOD TO KNOW: Ticino is a common stop for travelers who head south to Italy through Switzerland. From Ticino, you can quickly reach Lake Como and Milan, which makes it a perfect stop if you are going to Italy.
Take a drive on Gotthard Pass
If you travel Switzerland during summer, and plan to visit Ticino, take a scenic route along the Gotthard Pass in the Swiss Alps that connects northern and southern parts of the country. The highest point of the pass is located at the elevation of nearly 7,000 feet and the ride along the pass offers 360-degree views of the Alps. It is a perfect addition to your road trip if you have a car rental.
Day 9: Lausanne
Where to stay: Discovery Hotel
If you continue your trip in Geneva, don't forget to add Lausanne to your road trip.
The fourth-largest city in the country, Lausanne was built on three hills. Here you can get a good exercise by climbing to the historic old town where you can find the ornate Lausanne cathedral and marvel at Lake Geneva surrounded by the French Alps.
Lausanne has a relaxed pace, which makes it a perfect place to chill and take a boat ride along Lake Geneva if you want to visit Vevey, Montreux and Nyon.
Lausanne is also a home of the International Olympic Committee. The city is located in the wine-making region, and so this is your perfect chance to try some quality Swiss wine and treat yourself to some delicious sweet treats.
Best day trips from Lausanne
Day 10: Lavaux
Lavaux is a hidden gem, and you should include it on your itinerary before it becomes too popular!
A UNESCO heritage site, Lavaux, is a district comprised of terraced vineyards stretching about 19 miles along the shores of Lake Geneva.
These wine terraces are ultimately one of the most beautiful places to visit in Switzerland thanks to the cute villages on the slopes and stunning landscapes. Wander through Lavaux vineyards and sip some locally produced wine when you come here.
Lavaux is just east of Lausanne and can be accessed via a combination of boat or train and a boat from the city. It's a perfect place to put on your itinerary if you want to take a break from the crowded spots, and a boat ride along Lake Geneva that will bring you here from Lausanne is an absolute must!
Castle de Chillon
Chillon Castle (or Chateau De Chillon) is a fairytale-like castle located along Lake Geneva near Montreux. One of the most beautiful castles in Switzerland, this medieval fortress is a great day trip from Geneva, Lausanne and other towns in the region of Lake Geneva, so if you have a few spare days, stop by.
How much time do you need for Switzerland?
While a classic Switzerland itinerary is about 7 days, I recommend at least 10 days in Switzerland for your trip which will allow you to see the country without rushing through. This country has too much scenic beauty and in my opinion, it's one of those places where choosing a path less travelled and taking time to enjoy it really pays off.
Spending extra time in places like Bernese Oberland and Ticino will help you see places beyond the tourist playbook and create memories for lifetime. I suggest 14 days in Switzerland for the best experience.
Popular scenic routes by train in Switzerland
Bernina Express Switzerland – Nicknamed "from glaciers to palms," Bernina Express will take you from Chur through the high Alps to the palm-fringed promenades of Ticino. Taking this scenic route is one of the most popular things to do, so get your tickets ahead of time!
The Glacier Express – This scenic ride will take you from Zermatt to St. Moritz. It's a great option if you want to visit the famous ski resorts.
The Golden Pass – This train route is from Luzern to Montreux and is a perfect option if you are looking for an easy option that can be done in a short time during your itinerary.
Bonus: Other places to add to your trip
If you have extra time, consider adding several other destinations to your itinerary.
Basel – Switzerland's third most populous city, Basel sits on the Rhine River near France and Germany. It has the most museums in Switzerland and also offers rich architecture and history.
Iseltwald – A gorgeous village along the shores of Lake Brienz, Iseltwald is one of the best places to visit in Switzerland thanks to its fairytale-lake architecture, and opportunities for hiking, kayaking and paddle boarding on the gorgeous lake.
Ticino – Exploring Ticino takes time. Here you will find beautiful mountain villages, green valleys and tons of scenic hikes. I suggest 5-7 days in Ticino, so adding an additional time to your Swiss trip will help you see more of this stunning place.
Bernese Oberland – This is the part of Switzerland where you should add the most time. Bernese Oberland boasts gorgeous scenery and has many hikes and scenic overlooks.
Kleine Scheidegg – A mountain pass with gorgeous view of the surrounding Alps, Kleine Scheidegg Sita at an elevation of 2,061 m (6,762 ft) between the peaks of Eiger and Lauberhorn in Bernese Oberland. It's a popular starting point for hikes in the area and a perfect sunset watching spot.
St. Moritz – Located in Eastern Switzerland, St. Moritz is a popular ski resort in winter and scenic holiday destination in summer that can be accessed via Bernina Express.
3 Days in Switzerland itinerary
Three days in Switzerland is a really short time.
If you decide to visit a few destinations in 3 days, you will be able to see only the most basic highlights. But if you stick to one city or area such as Zurich or the Bern region, you will be able to get a better feel of the area.
Zurich – Arrive to Zurich and spend a day exploring the city.
Bern – Spend a day in Bern before catching a train to Interlaken in the evening.
Interlaken – Catch a 50-minute train to Interlaken, gateway to Bernese Oberland before leaving back to Zurich.
10 Days in Switzerland itinerary
10 days in Switzerland is enough for a classic itinerary around the country, as it allows you to visit more places. If you are visiting the country for the first time, 10 days in Switzerland is enough to get a taste of the country and decide what places you want to visit next time.
Zurich – Arrive to Zurich and after taking some rest explore the city.
Luzern – Take a trip to Luzern from Zurich in the morning. Spend a day in Luzern. Finish your day by taking a cable car ride from the valley station in Kriens near Lucerne to Mount Pilatus.
Bern – Catch a train to Bern from Luzern and spend a day in the Swiss Capital. Get on a train to Interlaken in the evening from where you can get to the Jungfrau region.
Lauterbrunnen – Spend a day exploring Lauterbrunnen and take a cable car to Murren and Schilthorn. Explore mountain villages Grindelwald and Wengen. Do some hiking.
Zermatt – Take a day trip to Zermatt via train from Interlaken. Spend a day hiking around Zermatt and take a cable car to Glacier Paradise to enjoy the views of Matterhorn.
Geneva via Lausanne – Finish your trip in Geneva via a stop in Lausanne.
14 Days in Switzerland itinerary
2 weeks in Switzerland is a good amount of time that will allow you to visit the most popular destinations and hit a couple of less touristy spots. If you can spend 14 days in Switzerland, you can take your time and enjoy some of the most popular landmarks like Zermatt and Interlaken without rushing.
I recommend spending a bit more time in a specific region during 2 weeks in Switzerland, like Bernese Oberland, Ticino or Zermatt.
Lugano – arrive to Lugano from Milan via a train ride or by car. Spend 3 days in the Canton of Ticino. Besides, Lugano some of the places to Ticino are Ascona, Bellinzona, Valley Verzasca and Locarno.
Zermatt – Take a train from Lugano to Zermatt. Spend 2-3 days in the area.
Interlaken – Continue from Zermatt to Interlaken. Spend 4 days exploring Bernese Oberland.
Bern/Basel – After spending 4 days in the mountains, head to Bern or Basel for 1 day.
Geneva – Catch a train to Geneva via a stop in Lausanne. Spend 2 days exploring the Lake Geneva region where you can visit Lavaux, Chillon Castle and Vevey.
Luzern – From Geneva, head to Luzern for a day.
Zurich – Finish your itinerary with a day trip to Zurich before leaving the country.
How to get around Switzerland?
The best way to travel Switzerland is by train.
Getting around Switzerland by train is quick and sometimes less expensive than renting a car. The Swiss cities are walkable and have good public transportation, so you don't always need to rent a car, especially if your itinerary is mostly based around visiting cities. Get your Swiss Rail Pass ahead of the trip.
Renting a car in Switzeland
Renting a car in Switzerland can be pricey. In addition to your rental vehicle, you have to cover gas and parking fees which add up as you spend more days on the road. Also, Switzerland has many speed radars that will give you a steep fine when you drive too fast.
Following the rules really pays off here!
On the other side, renting a car allows you to take a ride along many mountain passes and not worry about having to catch your next train. I suggest DiscoverCars, a great car rental company that offers cars at competitive rates in many popular destinations in Switzerland.
Traveling Switzerland by train
If you plan on traveling in Switzerland by train and bus consider buying the Swiss Rail Pass. It allows you to get on a train, bus and tour boats. It also provides free admission into many museums in Switzerland and discounts on many cable cars and funiculars.
PRO TIP: Download the SBB app on your phone to check train schedules, platforms, and connections. You can even book your train tickets on the app ahead of your trip.
What to take on your trip
To plan your trip, you need to get a few things that will help you make your trip easier. I'm going to give you a quick run down to prepare for your adventure.
Universal adapter – Electronics from mainland Europe, North America or Asia will not charge in Switzerland without a proper adaptor. That's probably one of the most important things you should get for your trip if you don't want to overpay for it while on the road.
Insurance – You shouldn't go on a multi-week international trip without proper insurance whether you plan to spend your time in Switzerland or continue to other countries.
Good hiking shoes – A pair of good hiking shoes and proper gear are musts if you include hiking in the mountains on your itinerary.
Sunscreen – The sun can be brutal at high altitudes. When you go high in the mountains, don't forget to apply sunscreen to avoid sunburn.
Frequently asked questions about Switzerland
What's the currency in Switzerland?
The official currency of Switzerland is Swiss Frank. You can pay with credit cards almost anywhere within Switzerland, however, you should still carry some cash with you while you travel.
What language is spoken in Switzerland?
Switzerland has four official languages: German, French, Italian and Romansch. English is widely spoken and understood in most parts of the country.
Do I need a visa for Switzerland?
Whether you need a visa for Switzerland or not depends on what country you are from and what's going to be the purpose of your visit. There are two types of visas for Switzerland:
Schengen Visa, type C which allows you to enter the country and stay for up to 90 days within 180 days.
National Visa which allows for a stay in Switzerland longer than 90 days.
How much time do you need for Switzerland itinerary?
Plan no less than a week for your trip if you want to see the highlights of the country. Switzerland is a small but an incredibly scenic country, and you can spend months discovering its fairytale-like cities, small mountain villages and hiking in the Alps. If you can afford to spend 14 days in Switzerland, you will be able to enjoy some of the most amazing landmarks in the country without rushing.
How to plan your Switzerland trip?
While Switzerland is known as one of the most scenic destinations in the world, it's also very expensive. That's why you should create a budget and carefully plan your expenses ahead of your trip. Staying in budget hotels, cooking your food and skipping overpriced tourist attractions and using the Swiss Travel Pass can save you a good chunk of change.
After all, visiting one of the most expensive countries in Europe doesn't have to break your bank.
Best travel resources for planning your trip
Whether you need to book a car, organize a tour or book a flight, consider using some of my suggested services.
Agoda.com – a great website for budget accommodations. Since hotels in Switzerland can be expensive, this platform comes in very handy for planning your trip to Switzerland.
WorldNomads – Great service for insurance coverage that will keep you safe on the road while traveling Switzerland.
Safety Wing – Excellent insurance plan for long-term travelers that offers competitive rates is you are planning to stay on the road several weeks in a row.
GetYourGuide – Thinking about booking a tour? Get Your Guide is my favorite platform that offers great deals and top-notch guides in some of the most popular places.
DiscoverCars – There's nothing like exploring the Swiss Mountains at your own pace. Consider renting a car at Discover Cars if you want more freedom while traveling.
CheapoAir.com – One of the best platforms for saving money on flights.
Booking.com – a popular website with tons and tons of options for accommodations of all sorts.