Disclaimer: This post contains affiliate links. At no cost to you, I might earn a small commission if you make a purchase through the links in this article.
Looking for best places to visit in Yucatan? This part of Mexico has been on the tourist radar for years thanks to popular mainstays like Cancun and Playa Del Carmen. But there's a lot more to this part of Mexico than all-inclusive resorts and white-sand beaches.
Yucatan is made up of three states: Quintana Roo, Yucatan and Campeche and covers a pretty big geographical area.
The region has a rich cultural heritage that can be seen in its colonial architecture and spectacular Mayan ruins. Despite a big party scene along the coast, there are many other things to do in Yucatan Peninsula for those travelers who want to learn the rich culture of this region and get outside the tourist bubble.
From hidden beaches and charming pueblos, to cenotes and vast natural areas, there are tons wonderful places to visit in Yucatan Mexico and I'm going to tell you how you can visit them.
Best places to visit in Yucatan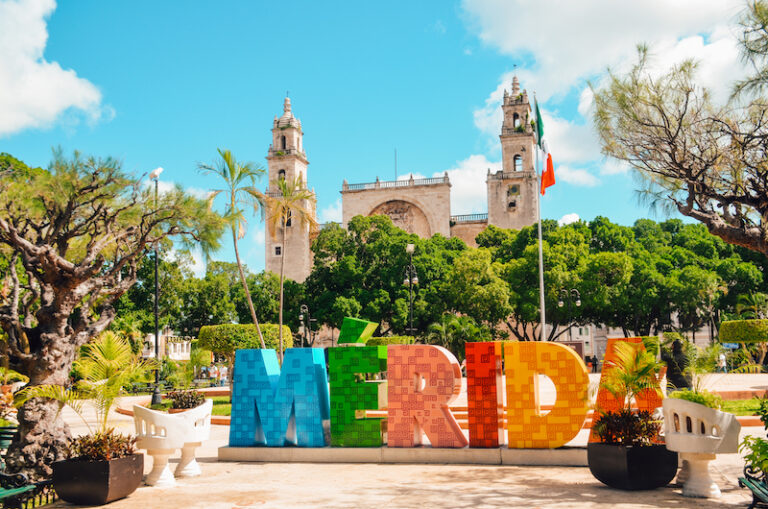 1. Merida
Where to stay: Gran Real Yucatan
Nicknamed "La Ciudad Blanca" (The While City), Merida is the capital of Yucatan that until recently has been flying under the tourist radar. Merida is one of the best cities in the Yucatan Peninsula to learn the Mayan culture.
Merida boasts wonderful landmarks, green spaces, and tons of restaurants. Some of the unmissable stops in Merida are Paseo de Montejo that leads to Monumento a la Patria and Plaza Grande where you can find an impressive Catedral de Merida.
About 60 percent of Merida's population have Mayan heritage and you can find Mayan arts and crafts in many souvenir stores around the city.
For starters, s stop at Gran Museo Del Mundo Maya de Merida is a must! Here you can get a glimpse into the Mayan history and its role in the Mexican culture. Just remember that it's closed on Mondays like other museums in Mexico.
Best tours of Merida
PRO TIP: Take advantage free walking tours in Merida to learn the city. Just don't forget to bring some cash to leave a gratuity for your guide.
Spend at least 3 days in Merida. The city also has amazing Mayan ruins within one hour of driving and cenotes where you can refresh after a day of adventures.
Rent a car to explore Ruta Puuc (or Puuc Route) a historic route that includes a collection of Mayan ruins Sayil, Kabah, and Labna, all wonderful and less-explored sites, that can be visited on a day trip from Merida.
And how about exploring some of the best day trips from Merida? The Yellow City Izamal, or Celestun Biosphere where you can watch thousands flamingoes in the wild make for a perfect getaway!
👉 To learn more about Merida, check my complete guide to the best things to do in the Yucatan capital.
2. Progreso
Where to stay: Progreso Beach Hotel
Because of its location in the middle of the Yucatan Peninsula, visiting the beach is not one of the most obvious things to do in Merida.
The beachside town of Progreso is only 30 minutes north and makes for a perfect getaway from the Yucatan Capital if you want to relax.
Located along Mexico's Gulf Coast, Progreso is popular for water sports like paddleboarding and kite surfing. There are several kite surfing schools in Progreso, and, if you want to learn this water sport, you can take a lesson in one of them.
You can visit Progreso from Merida by Colectivo or by rental car.
3. Izamal
Where to stay: Hotel Hacienda Izamal
Nicknamed the yellow city (la Ciudad Amarilla in Spanish), Izamal is one of the best cities in the Yucatan Mexico, because of its striking yellow architecture and a small town charm.
Designated by the Mexican government as Pueblo Magico, because of its cultural significance, Izamal became popular with travelers who are looking to see a more authentic side of Yucatan, get to know its people and enjoy traditional Yucatec dishes.
Best tours of Izamal
Izmamal is located in the middle of the Yucatan Peninsula, and you can get here from major cities like Merida and Cancun.
The main landmark of Izamal is Convento de San Antonio de Padua that was built by Spanish conquistadors on top of the Mayan pyramid Pop-Hol-Chac in 1561 and was used to convert the native Mayan population to the Catholic religion.
Did you know that Izamal is just one of Mexico's 132 Pueblos Magicos? Visiting them is one of the best experiences you can have while traveling the country!
Izamal has several Mayan ruins including the Kinich Kakmo Pyramid that offers an amazing 360-degree view of Izamal.
It's a perfect place to watch the sunset and the entrance is free!
Wandering around the streets of Izamal is so much fun. Instead of coming here for a couple of hours, spend a day here before staying in one of cozy hotels.
If you are visiting in summer, bring a hat. There's very little shade in Izamal and can be really hot! If you can, visit Izamal in late fall or winter when temperatures are more mild.
4. Uxmal
Where to stay: Hyatt Regency Merida
Uxmal is one of the archeological areas in Mexico that's part of the historic Ruta Puuc, a collection of remote Mayan ruin sites in southern part of the Yucatan state. If you don't have time to visit other ruins along this route, Uxmal is a must.
Best tours of Uxmal
Uxmal is about one hour away from Merida. You can catch a colectivo from the main bus station in Merida, rent a car or take a taxi to visit Uxmal.
You can also visit Uxmal with a tour from Merida. Tours depart daily and some also include stops at nearby cenotes.
During its height, Uxmal was one of the most powerful Mayan cities in Yucatan Mexico and you can still see the remains of its old glory when you visit this site.
One of the coolest features of Uxmal is the Pyramid of the Magician, an impressive 35-meter tall structure with rounded corners. While it is not open for climbing, you can walk around to admire its sheer size and incredible details.
Entrance to Uxmal is 413 Mexican Pesos per person.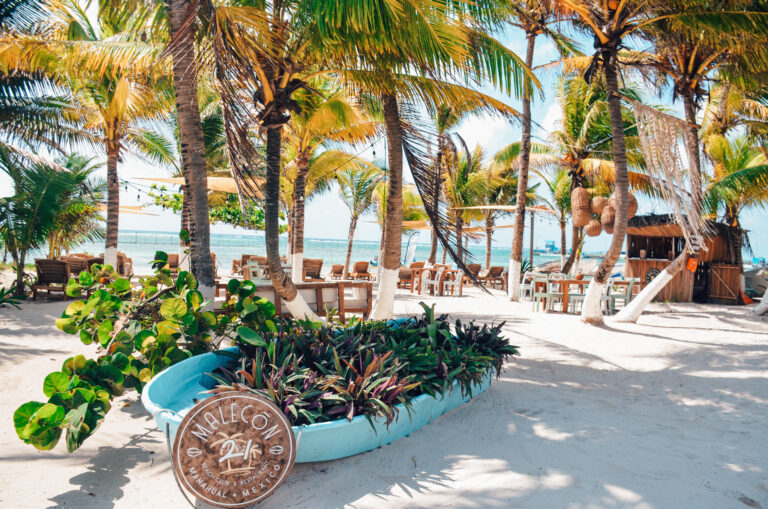 5. Mahahual
Where to stay: Noah Beach Hotel and Suites
Tucked away from the main highway traversing Quintana Roo State, Mahahual is a hidden paradise in the Costa Maya region.
Diving is one of the best things to do in Yucatan Mexico, because of its proximity to The Great Mesoamerican Barrier Reef, the second largest barrier reef in the world.
Mahahual is an excellent place to try diving, because the barrier reef is just a few hundred feet away from the shore!
While the town appears quiet and sleepy, I can say that it's not the case! And if you love diving and laid-back beach vibes, there's a chance you might think Mahahual is one of the best places to visit in Yucatan.
Besides diving, Mahahual is known for its relaxed atmosphere. You can bike along Malecon (the promenade that runs through town), shop for souvenirs, and visit nearby Mayan ruins. And, if you get bored, rent a kayak or paddle board to explore the amazing turquoise waters.
I spent 3 days in Mahahual and loved every second of my stay!
6. Sian Ka'an Biosphere Reserve
Where to stay: Mistiq Hotel
Yucatan Peninsula is one of the most popular destinations in Mexico, but it still has untouched areas where you can see some incredible flora and fauna in its prime habitat.
One of these places is the Sian Ka'an Biosphere Reserve, the largest protected area in the region with over 1.3-million wilderness.
Best tours of Sian Kaan Biosphere Reserve
Home to a wide array of biodiversity such as monkeys, manatees, dolphins, turtles, Sian Ka'an was designated as a UNESCO World Heritage Site in 1987.
It makes for a perfect getaway if you want to spend time in nature and learn about the biodiversity of this region.
The lagoons of Sian Ka'an boast crystal clear water framed by the lush mangroves. As you swim through the canals, you can spot a few animals such as monkeys, manatees and even dolphins!
Tours to Sian Ka'an depart daily from Tulum, and there are also some tours from Playa Del Carmen. Most tours start early morning and end late in the afternoon.
7. Tulum
Where to stay: Azucar Hotel Tulum
From the stunning Mayan ruins overlooking the Caribbean Sea, to some of the best beaches in Mexico, it's easy to see why Tulum has become so popular.
✅ Find out where to stay in Tulum. Learn about best hotels and areas for any taste and budget.
Tulum was just a quiet fishing village a decade ago, but today it's one of the most popular destinations in Mexico's Caribbean with many tourists coming here to swim in the beautiful Tulum cenotes, enjoy white sugar sand beaches and explore ancient Mayan ruins.
Book your adventure in Tulum
Visiting Tulum and nearby cenotes is one of the most popular things to do in Yucatan. And if you don't have a car, you can join a guided tour to enjoy everything that Tulum has to offer.
Tulum is one of the most popular destinations in Yucatan Mexico.
✅ Check my guide to the best Tulum private tours
But luckily, you don't need to break the bank to afford a trip to Tulum. This charming pueblo has many hotels for different budgets and Tulum restaurants offer a variety of options from traditional Mexican to international cuisines.
8. Gran Cenote
Located just outside of Tulum, Gran Cenote can easily be reached by taxi or by bicycle from downtown Tulum.
If you want to visit Gran Cenote, come here early. It's a popular cenote and gets busy very quickly, so it's a good idea to arrive by opening time.
👉 Read my guide to learn how to visit Gran Cenote from Tulum.
Joining a guided tour of Gran Cenote is a great option for those travelers who don't have a car rental but want to visit multiple cenotes and some of the Mayan ruins in just one day.
9. Laguna Ka'an Luum
Located about 15 minutes away from downtown Tulum along Highway 307, Laguna Kaan Luum is one of the best places to visit in Yucatan for a quick getaway.
The most notable feature of the lagoon is the dark blue cenote in the middle which creates a stark contrast with the lighter outer areas of the lagoon.
Laguna Kaan Luum is a perfect place to relax in the nature thanks to shallow waters, a wooden pier and opportunities for paddle boarding.
Book a tour of Laguna Kaan Luum
If you don't have a car rental and don't want to deal with public transportation, book a tour of Laguna Kaan Luum. This is an excellent way to enjoy the lagoon without a hassle.
The laguna looks like a huge lake and has some basic facilities, hammocks, restrooms and huts where you can hide from the sun. Entrance cost: 300 pesos. If you want to fly your drone, you have to pay additional 150 pesos.
GOOD TO KNOW: My complete guide to Laguna Ka'an Luum will help you plan your trip
10. Muyil
Where to stay: Encantada Tulum
Muyil is a small archaeological area just south of Tulum. It's a perfect place to escape the crowds and spend time in the nature.
Muyil was one of the earliest and longest inhabited Maya sites on the eastern side of the Yucatan Peninsula.
Located in the middle of the dense jungle, it is dominated by an impressive pyramid (El Castillo) that stands 56 feet tall and also boasts a boardwalk through the lagoon which leads to a cool observation tower.
Muyil also has access to Sian Ka'an Biosphere Reserve, one of the largest protected areas in Mexico with hundreds of species of birds, reptiles and marine animals.
Combine a stop in Muyil with a tour of Sian Kaan for best experience. Some guided tours also include stops in Muyil and Sian Kaan.
I spent a day at Muyil and I got to check the ruins, climbed the tower, and took a boat tour of Sian Ka'an where my guide and all of our group took a swim in one of the canals.
11. Akumal
Where to stay: Casa Gatos
A hidden paradise in Mexico's Caribbean, Akumal is one of the best places to swim with sea turtles.
Located just north of Tulum, Akumal is home to the incredible sea turtles that can be seen very close to the shore.
GOOD TO KNOW: If you decide to take a snorkeling tour in Akumal to see these majestic creatures, make sure to keep your distance (at least 10 feet) and not to bother or touch them. This has become somewhat of a problem, as many turtles have left this area because of the increased tourism activity in the waters of Akumal.
In addition, book a tour with a licensed tour guide who can give you proper guidelines for snorkeling.
Be respectful to all marine creatures, and remember that you are a guest in their world, not the other way around. And use a reef safe sunscreen that will not hurt turtles and bleach the reefs!
12. Valladolid
Where to stay: Casa Azul
There's no better place to get a glimpse into Yucatan's culture than Valladolid.
Valladolid is a UNESCO World Heritage Site that has become one of the most popular cities in the Yucatan Peninsula thanks to its gorgeous pastel-colored buildings, and proximity to cenotes, like Cenote Suytun and Cenote Zacil.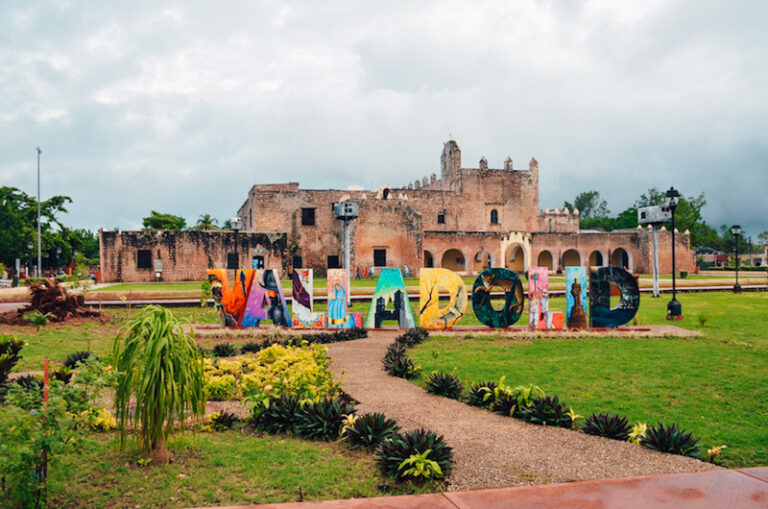 After exploring Valladolid landmarks such as the Cathedral of San Gervasio, Calzada de Los Frailes, and Convent de San Bernardino de Siena, spend a day visiting nearby cenotes such as cenote Ik Kil and cenote Suytun, and after that, head toward Ek Balam, a hidden Mayan ruin site that only a few people get to see.
And don't forget to try local Yucatec cuisine in one of the authentic restaurants in Valladolid. Panuchos, sopa de lima and churros are some of the most popular staples of the Yucatec cuisine.
If time is short, visit Valladolid on a day tour that also includes a stop in Chichen Itza and several cenotes.
13. Ek Balam
Where to stay: TecnoHotel Valladolid
Ek Balam is the Mayan ruin site that is translated as "The Black Jaguar" from the Mayan language. The best thing about Ek Balam is its location away from the major travel route, and it's not as busy as popular Chichen Itza ruins.
You can catch a colectivo to Ek Balam from Valladolid, which should be about 200 pesos, take a taxi or book a guided tour of Ek Balam.
Best tours of Ek Balam
The most prominent feature of Ek Balam is the El Torre tower. One of the biggest pyramids in the entire Yucatan peninsula, El Torre reaches 100 feet and boasts some of the most amazing stone-carved designs.
Archaeologists discovered Ek Balam ruins only in the late 1980s, when the extensive excavation work was conducted at the site. With only 1 square mile uncovered of the total 10 miles, Ek Balam is one of the most fascinating Mayan ruins in the region.
Make a stop in Ek Balam, if you want to enjoy one of the least discovered places in Yucatan, Mexico.
Entrance fee: 460 pesos
14. Uayma
Yucatan Peninsula has plenty of hidden gems. Uayma, is a small village about 15 km from Valladolid that can be easily reached by car rental or by taxi.
A must-stop on your Yucatan itinerary, Uayma is a quiet place but it has become quite popular in recent years thanks to the majestic Church of Santo Domingo with its colorful facade. Many travelers come to Uxmal specifically because of this gorgeous church, but it's not the only thing that Uayma has to offer.
When you walk through the streets of this small village, you will see many traditional Mayan houses as well as more modern constructions. The famous "La Casa de los Pianos", a colonial-style building houses a hotel and offers a grand view of the temple.
Combine a visit to Uayma with a visit to Ek Balam and some of the less-visited cenotes near Valladolid:
15. Chichen Itza
Where to stay: One Playa Del Carmen
Chichen Itza is a UNESCO World Heritage Site and one of the Seven Wonders of The World, Chichen Itza is dominated by the big pyramid Kukulkan. It also has a well-preserved market, Ball Court for the Mesoamerican game Pok a Tok, and a Temple of Warriors.
El Caracol, one of the buildings in the complex was used to gauge the movements of the sun and planets.
Best tours of Chichen Itza
Plan your trip to Chichen Itza for a weekday, and arrive by the time the site opens to avoid the crowds. You can also hire one of the guides on site for additional fee to get a tour of the area.
👉 I recommend skip the line ticket to Chichen Itza.
Alternatively, you can visit Chichen Itza with a guided tour from Cancun, one of the most popular options. The most popular tours of Chichen Itza also includes a visit to Cenote Ik Kil.
Entrance fee: 500 Pesos
16. Coba ruins
Where to stay: Zamas Hotel
If you are visiting Tulum and want to take a day trip without driving too far, visit Coba ruins.
While Coba might not be as famous as Chichen Itza it sprawls over 80 miles and offers plenty of shade, which comes a huge relief on a hot sunny day. This archeological site has numerous constructions and boasts the tallest pyramid in the Yucatan Peninsula, Nohoch Mul.
Best tours of Coba ruins
While a trip to Coba is a good option if you have a car rental, you can also join a guided tour.
For a fun trip, combine your tour of Coba Ruins with a quick visit to nearby cenotes Tankach-Ha, Choo-Ha, and Multum-Ha within 15 minutes of driving to Coba.
This archaeological area is located near a small town (also called Coba) where you can find stores and restaurants catering to tourists.
Coba ruins are spread out across the archaeological area with some of the sites located over 1 mile away from one another. Most of the trail goes through the jungle, and you can rent a bicycle or hire a bike taxi to save some time.
Entrance fee: 75 Pesos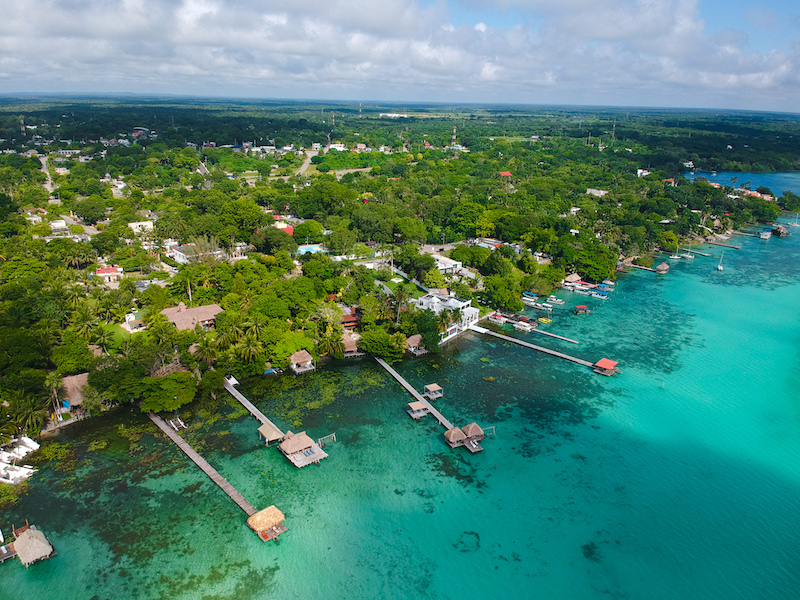 17. Bacalar
Where to stay: La Galuna Bacalar
Until recently, Bacalar was one of Yucatan's best-kept secrets. This quiet town is tucked away into the southern reaches of Quintana Roo and is famous for its stunning lagoon of Seven Colors.
When the sun shines, the lagoon turns up various shades of blue that range from dark blue to turquoise.
Best tours of Bacalar lagoon
✅ Read my guide to the best boat tours in Bacalar
Make sure to choose a sailboat, as they don't damage the fragile ecosystem of Bacalar unlike motorized boats. And skip the sunscreen when it's time to jump in the water.
Bacalar is a perfect destination for backpackers and budget travelers, as it offers many hostels and other moderately-priced accommodations. Spend at least one night in Bacalar instead of trying to cram the entire trip into one day. Bacalar might be a small town but it has plenty to do, so plan no less than 3 days here.
👉My guide to the best hotels in Bacalar will help you choose the best stay!
18. Calakmul
Where to stay: Casa Ka'an
Calakmul is one of the least known but one of the most impressive Mayan ruins in Yucatan. Located in the state of Campeche, it's halfway between Bacalar and Escarcega in the Calakmul Biosphere Reserve.
While Calakmul is a remote place, visiting it is a special experience because of its charm and authenticity to it compared to other Mayan ruins in Yucatan that have been so commercialized.
From the entrance where you pay for tickets and can hire a guide (which I recommend), you have to drive for about one hour through the jungle to get to the entrance of the ruins.
Once you arrive at the site, you can climb the Great Pyramid, the largest of all Mayan pyramids from where you can enjoy the view of the surrounding jungle.
Bring water and snacks because there are no stores or restaurants here.
19. Xpu-jil
Where to stay: Casa Las Lolas
There's a good chance you never heard about Xpu-jil, a small town in the state of Campeche not far from Calakmul ruins.
Translated as "cat tail" from the Mayan language, Xpujil is a small town along the highway that boasts a remarkable collection of Mayan ruins, which makes it a worthy stop on your Yucatan itinerary.
Becan, Chicanna, Hormiguero and Xpu-jil are some of the least visited Mayan ruins in Mexico, which is part of the appeal. But aside from that, they are remarkably beautiful and tranquil. When I climbed to the top of the main pyramid in Becan I was the only person there!
As with other Mayan ruins in Mexico, don't forget to bring cash to pay for entrance and carry plenty of water.
20. Playa Del Carmen
Where to stay: Cielo y Mar
Playa Del Carmen is one of the most popular places to visit in Yucatan, and the busiest destination in the region after Cancun. It's great if you are looking for a good variety of restaurants, hotels, and shopping.
👉 XCaret Park is one of the most popular attractions near Playa del Carmen. And you can book your admission tickets to XCaret online ahead of your visit!
Playa Del Carmen is one of the best cities in the Yucatan Peninsula if you are looking for convenience.
First, Cancun is just a short drive away. Second, you are just a boat ride away from Cozumel that offers world-class diving and snorkeling. And popular destinations Valladolid and Tulum are a few hours away from Playa Del Carmen.
Playa Del Carmen is also near some of the most popular attractions in the Yucatan Peninsula such as Xcaret Park, Rio Secreto, and some of the most beautiful cenotes such as El Jardin De Eden, Cenote Azul, Cenote Cristalino, Cenote Nicte Ha.
Best tours from Playa del Carmen
One of my favorite cenotes near Playa Del Carmen is Actun Chen that was named one of the most impressive underground walks in the world by National Geographic. It's a stunning place that can be visited as part of Actun Chen Natural Park.
Read my guide to the best hotels in Playa del Carmen to plan your stay.
21. Isla Mujeres
Where to stay: Cabanas Maria Del Mar
Isla Mujeres is a gorgeous island just 15 minutes away from Cancun by ferry.
Translated as the "Island of Women" from Spanish, Isla Mujeres was a sacred island to the goddess Ixchel and is known for its white sugary beaches and the proximity to the whale sharks that migrate through the Caribbean every summer.
Although Isla Mujeres is a popular day trip from Cancun, you will probably want to stay here once you get a taste of this island: the relaxed atmosphere and stunning views of the Caribbean in every direction are what make this place so special!
Since most people end up leaving Isla Mujeres after just one day, you have a great chance to have this stunning island all to yourself unlike some of the most popular destinations in the region.
Spend your day lazying on the beach, snorkeling, tasting delicious food and catching the sun!
Isla Mujeres is a tiny island, barely 4 miles long and 2,000 feet wide, and offers slower pace and relaxed atmosphere.
22. Puerto Morelos
Where to stay: Hotel Amar Inn
If you want to escape the hustle and bustle of Playa Del Carmen for a day head to nearby Puerto Morelos, a quiet fishing village that feels a lot more quiet than the busy tourist hotspots that surround it.
Puerto Morelos has enough restaurants and plenty of amazing views to keep you busy and offer a much-needed respite if you are looking for a quiet place to hunker down between your adventures in Yucatan.
Best tours of Puerto Morelos
After relaxing and spending time on the beach, explore this quiet charming town and head south of the plaza where you can find Mexican artisans selling crafts and goods from small trinkets to hammocks and beautiful dream catchers.
23. Cozumel
Where to stay: Hotel B Cozumel
Mexico's Caribbean main destination for scuba diving, Cozumel is an island off the coast of the Yucatan Peninsula that offers some of the best things to do for adventure lovers.
Scuba diving is not the only activity you can enjoy in Cozumel. This island boasts tons of cool things to do from exploring local beaches to snorkeling and swimming with sting rays.
Punta Sur Eco Beach Park is a natural reserve which is a fantastic place to enjoy wildlife, and take in the incredible views of the Caribbean.
Best Cozumel Tours
And, if you are looking for a fun tour, consider El Cielo where you can see hundreds of sea stars dotting the bottom.
The sight is truly spectacular!
San Gervasio ruins are a little-known spot on Cozumel where you can learn more about Mayan history, and Kaokao Chocolate Factory is a great place to visit on a colder day to learn the process of making chocolate.
And of course, no trip to Cozumel is complete without spending time at the beach. Among the most spectacular beaches in Cozumel are Palancar beach, Paradise beach, and Mr. Sancho's Beach Club.
24. Isla Contoy
Where to stay: Cabanas Maria Del Mar
Located north of Isla Mujeres, Isla Contoy is one of the most incredible natural wonders of the Yucatan Peninsula that somehow has managed to scape tourist attention.
This paradise-like island with clear waters and sugary white beaches boasts rustic vibes and sees relatively few visitors, compared to many popular destinations in Mexico Caribbean.
Best tours of Isla Contoy
Eco tours is one of the most popular activities on this uninhibited island since it has been designated a protected area and became one of the prime destinations for nesting birds and turtles.
You can take a guided a tour of Isla Contoy from Isla Mujeres or other nearby destinations.
25. Xpu-Ha Beach
Where to stay: Hotel Esencia
Located away from huge resorts, this pristineXpu-Ha beach feels like a little slice of paradise. There is a ton of space and all you need to do is to bring your towel, sunscreen, and a hat to enjoy this wonderful place.
This place offers a few beachside restaurants and amazing postcard views of the Caribbean without crowds with soft sand and crystal clear turquoise waters.
After all, there's a reason why Xpu-Ha is called one of the best beaches in Mexico.
Xpu-Ha beach sits just south of Puerto Aventuras off Carretera 307 and can be easily accessed at any time of the year.
26. Cenotes
The Yucatan Peninsula is home to over 6,000 cenotes (pronounced sey-noh-tays), natural sinkholes filled with crystal-clear water that is perfect for swimming and snorkeling.
Some are completely underground, and others are partially underground or completely open. While some cenotes have become famous, some of them still remain undiscovered.
Best cenotes in the Yucatan Mexico:
Gran Cenote near Tulum – come early because this is one of the most popular cenotes in the region.
Suytun Cenote near Valladolid – one of the most photogenic cenotes thanks to the ray of light that creates a cool effect.
Cenote Dos Ojos – one of the best cenotes for diving in Yucatan thanks to a big system of underground caves. You can also rent snorkeling gear at the entrance.
Cenote Ik Kil – a super popular cenote not far from Chichen Itza, Cenote Ik Kil is a favorite among many photographers, because of its photogenic features, so don't forget your camera.
Cenote Azul – located northwest of Tulum, near Xpu-ha beach, this wonderful cenote is a collection of clear blue pools connected via several walkways.
Other beautiful cenotes in Yucatan Mexico are cenote Tak Be Ha, Cenote Yaxbacaltun, Cenote Chichuan, and Cenote Zaci near Valladolid, but there are too many beautiful cenotes in the region to make a shortlist.
27. El Cuyo
Where to stay: Coconut Palm House
If you are looking for a place off-the-beaten track, head to El Cuyo is a small town along the Gulf of Mexico that remains relatively undiscovered.
This pueblo offers a mix of a small town charm with empty powdery beaches patrolled by cute pelicans. Especially popular with kite surfers because of the perfect water conditions, El Cuyo offers opportunities for water sports such as kayaking, paddle boarding and bike riding along the beach.
HOW TO GET TO EL CUYO: If you decide to come here, you will need to take a bus from Cancun, Playa Del Carmen, get off in a small town Tizmin and catch a bus to El Cuyo from there.
28. Las Coloradas
Where to stay: Hotel Zaci
Mexico is home to many natural wonders, but a few of them as breathtaking as Las Coloradas, stunning pink lakes on the northern tip of the Yucatan Peninsula.
Located near the tiny fishing village of about 1,000 people, Las Coloradas is also part of the 150,000 acre Rio Lagartos Biosphere Reserve – protected wetlands area where you can spot crocodiles, flamingoes and tons of other birds.
The easiest way to visit Las Coloradas is with a guided tour, which can be arranged from many parts of the Yucatan Peninsula including Playa Del Carmen, Cancun and Valladolid.
Another option is to visit Las Coloradas with a rental car. In this case, you will have to catch a boat from a dock in Rio Lagartos.
Tours cost about 13 USD and take about two hours.
The closest tourist destination to Las Coloradas is El Cuyo, and if you get a tour of Los Coloradas from here, you will not have to spend hours on the road.
29. Rio Lagartos
Where to stay: Costa Esmeralda
When you come to El Cuyo, make sure to visit Rio Lagartos, a protected biosphere that is home to many species such as beautiful pink flamingoes that live in the mangrove-rich habitat popular for wildlife watching.
Although it's easier to visit Rio Lagartos from El Cuyo, you can also take a guided tour of Rio Lagartos from many other places in Yucatan.
While there are no direct buses to Rio Lagartos, you can get to Tizmin, and make your way to Rio Lagartos from there by bus or colectivos. Make sure to bring plenty of cash with you, as many businesses in the town of Rio Lagartos near the biosphere do not accept credit cards.
30. Isla Holbox
Where to stay: Casa Las Tortugas
Separated from the mainland Yucatan by a small channel, Isla Holbox feel like a small oasis along Mexico's Gulf Coast.
To get to Isla Holbox, you can either take a flight from Cancun, rent a car or take a bus to the small town Chiquila from where you can catch a water taxi to Hotbox.
✅ Check my complete guide to the best hotels in Holbox
Another option is private transportation from Cancun to Chiquila from where you will catch a ferry to Holbox.
Holbox is known for its pristine beaches that stretch for miles, clear warm water, and snorkeling with white sharks that can be done from June through September. It has no paved roads and the main mode of transportation here is a bicycle and golf carts.
Isla Holbox is also one of the best places to visit in Yucatan for bioluminescence, and you can do it with a guided tour!
Unlike other in Quintana Too, that can sometimes feel too busy, Isla Holbox is a laid back destination with relaxed vibes. It's a perfect place if you are looking for a perfect island getaway.
Best places to visit in Yucatan: FAQ's
Do you need a car in Yucatan?
The best way to travel around Yucatan is by car! This way you don't have to rely on public transportation or guided tours that can be pricey and offer limited options. When you have a rental car, you can plan your trip however you like and visit hidden gems that many tourists don't get to see.
Car rentals in Yucatan
I suggest renting a car when you land in Cancun or in any major city like Playa Del Carmen or Merida. One of the best car rental companies here is Discover Cars that offers a great inventory and flexible rates.
I've used them multiple times and always had a great experience!


PRO TIP: If you need help with renting your car in Mexico, read my article that will help you to avoid most common mistakes and stay safe on the road.
Getting around Yucatan Peninsula by bus
If want to visit Yucatan on a budget, consider ADO buses.
ADO is the main bus company in Yucatan, that provides transportation in the region at affordable rates. ADO buses are modern, clean and come with enough space for your luggage, so if you are going to take a longer ride, you can take a nap and relax.
PRO TIP: Whether you are going to travel by car or bus, read my tips to avoid the worst mistakes while traveling in Mexico.
Looking to explore the country beyond the Yucatan Peninsula? Check my guide to the best things to do in Mexico that will help you plan your adventure!
What are the best months to visit Yucatan?
The Yucatan has a humid, tropical climate and temperatures here rarely drop below 20 degrees Celsius. The dry season lasts from early December through May and has the best weather with plenty of sun and clear skies which is perfect for enjoying beaches and spending time outside.
However, it's also the busiest time in the Yucatan Peninsula. Many visitors from colder climates come here to escape cold weather in their countries, and prices on accommodations and tours tend to be higher during this time. If you are looking for better prices, visit during the shoulder season which is from October through November or May through June.
What is Yucatan known for?
Yucatan is known for its Mayan culture, wonderful biodiversity, gorgeous beaches and warm, tropical climate.
How many days do you need in Yucatan?
The Yucatan Peninsula is vast and demands time and effort. To enjoy some of the best things to do in Yucatan without rushing, plan between 2 to 3 weeks for your trip around the peninsula. It's a good amount of time to visit popular destinations like Tulum, Merida and also enjoy cenotes and Mayan ruins.
How do I get to Yucatan, Mexico?
While Cancun International Airport (CUN) is the main transportation hub in the region, there are also several smaller airports in the area.
Manuel Crescencio Rejón International Airport (formerly known as Mérida-Rejón Airport) in Merida has flights from major destinations in Mexico as well as Miami and Houston.
Cozumel International Airport located on the Caribbean Island of Cozumel has connections from Mexico City as well as several destinations in the United States.
Campeche International Airport has daily flights from Mexico City
Chetumal International Airport in Chetumal, the capital of Quintana Roo State near the border with Belize. Chetumal International Aiport has connections from major cities in Mexico like Mexico City and Guadalajara and is on track to add Miami flights in 2022.
Is Yucatan expensive?
Yucatan is one of the most popular destinations in Mexico, and prices here are a bit higher than in less visited parts of the country. If you are budget traveler, you can still manage to spend between $30-50 a day while traveling around the peninsula.
Is Yucatan, Mexico safe?
Tourism is a lifeline of the Yucatan economy with millions of tourists visiting this region every year, and is considered one of the safest places in Mexico.
However, it's your job to check the most current situation no matter what region of the country you plan to visit. Whether you are heading to Yucatan or traveling to other parts of the country, always do your homework, be aware of your surroundings and use common sense.
Consider purchasing insurance for your Mexico trip. It will protect you in case of hospital visits, lost and damaged luggage, and so much more!
Is Yucatan worth visiting?
Yucatan is one of the most beautiful and diverse parts of Mexico that's definitely worth a trip! It's home to many historical landmarks, beautiful colonial cities, pristine beaches and vast untouched jungle. Exploring Yucatan takes time but it's a lot of fun!
Final thoughts
Although I've been to Yucatan multiple times, I always look forward to coming back. While I especially enjoy hidden gems of this vast peninsula, I also love visiting popular beaches in Quintana Roo and exploring Mayan ruins in the middle of the jungle. I hope you too, will get to cross some of the cool places off your bucket list soon!