Disclaimer: This post contains affiliate links. At no cost to you, I might earn a small commission if you make a purchase through the links in this article.
Traveling from Zurich to Lucerne and wondering how to plan your trip?
Zurich and Lucerne are two Swiss destinations that are among the most often frequented by tourists. Zurich is the largest city in Switzerland and is the main transportation hub in the country, while Lucerne is cozier, quieter, and chock full of old-town charm.
Switzerland has much to offer, from modern cities to iconic mountain towns with beautiful architecture, and spectacular scenery tucked away in the Swiss Alps.
So why limit a trip to Switzerland to just a single spot?
Zurich is often used as a starting point for a Switzerland itinerary because it has the main international airport in the country. Lucerne is one of the most popular day trips from Zurich, thanks to its proximity and the variety of things to do from culture to outdoors.
Taking a train, driving a rental car, or booking a tour to Lucerne are the most popular options. This guide will walk you through the available options so that you can choose the one that suits your vacation best.
Zurich vs Lucerne
Zurich is the largest city in Switzerland and is the financial capital of the country. It has a high-end shopping district, expensive restaurants, Swiss product specialty shops, museums, and historical landmarks. While it's one of the most expensive cities Europe, it offers great entertainment and culture.
✅ Learn about the best time to visit Switzerland
What is Lucerne known for?
Lucerne is best known for its medieval architecture, especially the historic Chapel Bridge that spans across the Reuss River and connects the Old Town to the river's right bank. Constructed in 1333, it's the oldest wooden pedestrian bridge in Europe.
Although it's not all original, since a fire destroyed a large part of it in 1993, it has been rebuilt. Paintings cover the roof, illustrating various aspects of the history of Lucerne. The city is walkable and offers quick access to some of the best places in Central Switzerland like Mount Pilatus, Engelberg, Mount Rigi and Brunnen.
Best guided tours of Lucerne
How long does it take to get from Zurich to Lucerne?
Zurich and Lucerne are only 52 kilometers, or about 32 miles apart, and the trip between them takes as little as 35 minutes, depending on the mode of transportation and your exact departure and destination points.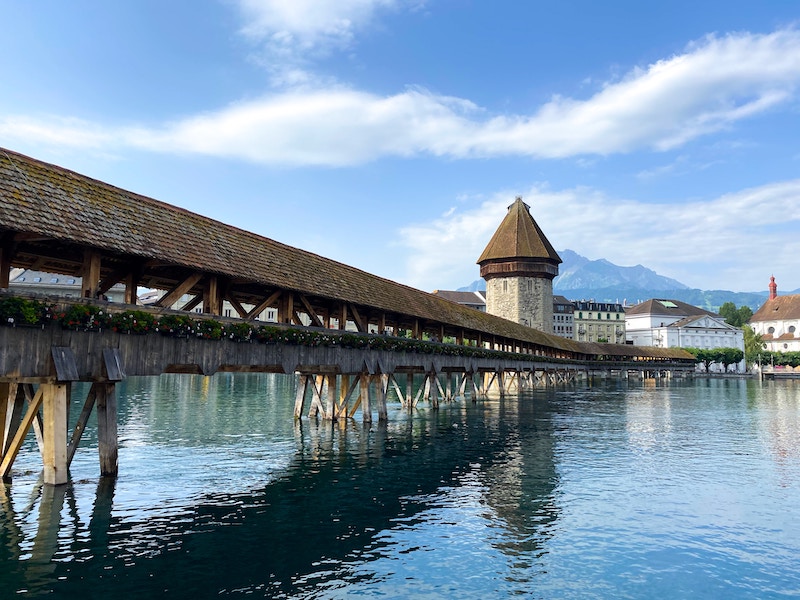 1. Zurich to Lucerne by train
Taking a train to Lucerne from Zurich is easy. Go to www.SBB.ch or download the SBB app to check the options for getting around Switzerland by train. It also includes information on buses, trams, and boats.
How to book your trip with SBB app in Switzerland?
Enter the starting and ending destination, and a list of options will pop up with information on the types of transportation, the time the trip will take, and any relevant connection details.
You can also purchase local public transportation with your train ticket. So, by checking the box for "city surcharge Lucerne," and paying the additional 8.20 Swiss Francs, additional public transport from the train station in Lucerne to other parts of the city is automatically included in your fare – no need to purchase a separate ticket when you arrive!
✅ Read my guide on the most common mistakes to avoid on your Switzerland trip
How long is the train from Zurich to Lucerne?
A train ride to Lucerne from Zurich takes about 48 minutes. The exact time will depend on the departure station in Zurich. Going from the Zurich Airport station will take slightly over an hour and a half, while you can get to Lucerne from Zurich Hauptbahnhof (Zurich HB) in only 41 minutes.
Is the train from Zurich to Lucerne scenic?
Even though the direct train will give some views of Lake Zurich and Rotsee Lake, most of the trip is not very scenic because it goes through tunnels cut through the mountains.
There are scenic and panoramic trains that you can take instead. But they will take longer, cost more and are not likely to be covered by the Swiss Travel Pass.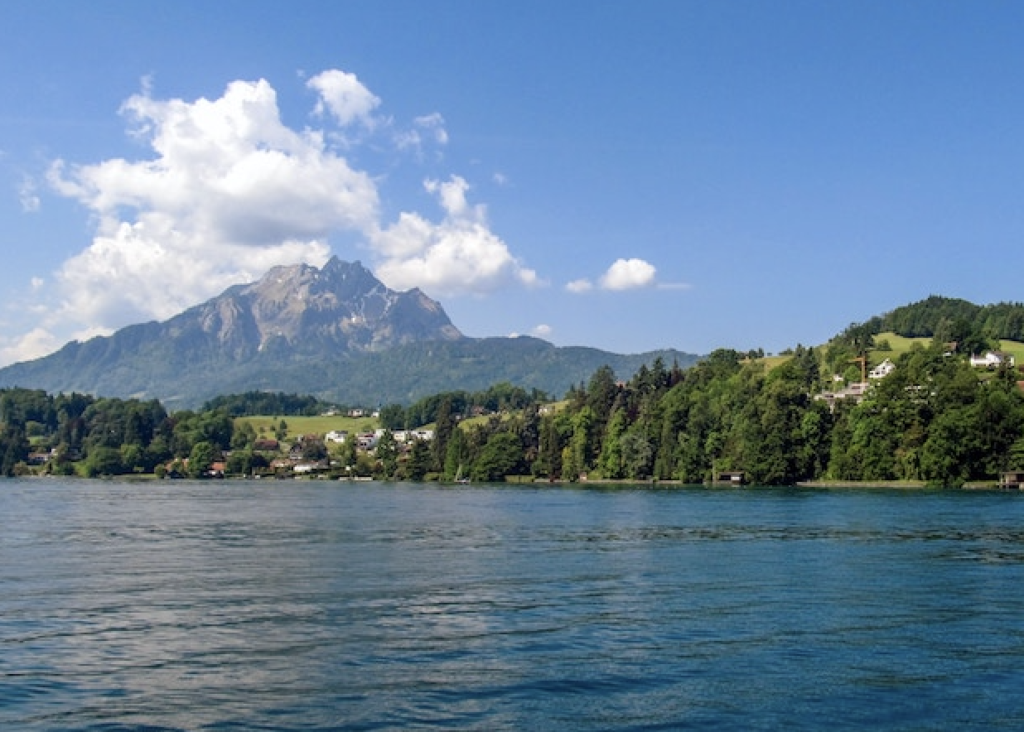 Scenic Trains from Zurich to Lucerne
Switzerland has several scenic train routes, but most do not go directly to Lucerne. The closest thing to a direct route is the Voralpen Express, going from Lake Zurich to Lucerne through the countryside.
More famous Swiss scenic trains are the Golden Pass Railway, the Glacier Express, and the Bernina Express because they run through more dramatic mountainous areas of the country. 
Check: the best day trips from Zurich
The Golden Pass Railway
The Golden Pass Railway runs from Lucerne to the southwest. Zurich is in the opposite direction, so while it won't help you to make the trip to Lucerne from Zurich, it is a great option if you choose to continue west from Lucerne to Interlaken.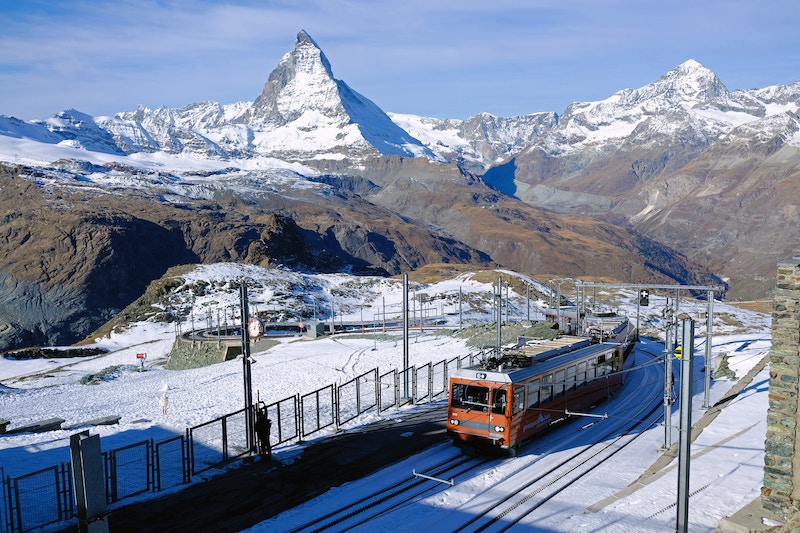 The Glacier Express
The Glacier Express and the Bernina Express don't run through either Zurich or Lucerne. Both are in the south of Switzerland.
✅ BOOK 3-DAY GLACIER EXPRESS TOUR FROM ZURICH
Both the Glacier Express and the Bernina Express run from St. Moritz to Chur, but the Glacier Express continues almost parallel to the path from Zurich to Lucerne over to Andermatt, Brig, and Zermatt. If you want to ride one of these iconic Swiss trains, you need a separate day trip from Zurich.
Book your seats on the Bernina Express Scenic Train
How much is the train from Zurich to Lucerne?
Full-price, one-way tickets to Lucerne from Zurich start at 12.6 Swiss Francs per person. You can purchase tickets to Lucerne at the kiosks at all train stations.
Do I need to book train tickets to Lucerne online?
Booking tickets online is cheaper, but not required. The prices shown by default on the SBB website are for travelers with a half-fare travel card because so many Switzerland residents have one.
Make sure to switch your travel option on the ticket page to "full price" if you don't have the half-fare card to avoid a fee when your ticket is checked on the train.
Other Platforms for Purchasing Train Tickets in Switzerland
You can purchase the same tickets through third-party providers such as Omio, RailEurope, or TheTrainLine. Omio has the price in Euros, but the rest of those options display prices in USD.
A route ticket from Lucerne to Zurich
For an additional fee, the "route ticket" or 1st class can be chosen. A "route ticket" is a flexible ticket that allows you to take the selected route at any time on the day it is purchased, whereas the default "supersaver ticket one way" will only be valid for the exact times you've selected and paid for.
The first-class cars have bigger, comfier seats, and fewer passengers, so it tends to be quieter, but the second-class cars usually have plenty of seats available and don't make for a bad experience either. A big "1" or "2" on the outside of the train cars will indicate which class they belong to.
What are the departure and arrival train stations?
The main train stations in Zurich are Zurich HB and the Zurich Airport. Aside from them, Zurich has five major railway stations throughout the city: Stadelhofen, Oerlikon, Altstetten, Hardbrucke, and Enge.
The Lucerne railway station is the main train station in Lucerne.
Smaller stations in the city are the Lucerne Allmend/Messe, the Littau Bahnhof, and the Lucerne Verkehrshaus railway station.
How many trains are there per day and when do they depart?
Swiss Federal Railways operates 40 trains between Zurich and Lucerne per day.
Zurich Airport to Lucerne by train
The Zurich Airport has a large train station beneath it that can be used to get to other stations in the Zurich city center or other cities in Switzerland. To go directly to Lucerne from Zurich Airport, use the same process described above to book tickets in advance or at the kiosks in the train station.
The Swiss Pass
The Swiss Travel Pass is a travel pass for tourists that allows for unlimited travel on bus, boat, train, and other city transportation for 3, 4, 6, 8, or 15 consecutive days. It also includes access to over 500 museums throughout Switzerland, cable car tickets for Rigi, Stanserhorn, Stoos, Brunni, and Klewenalp, and a 25 or 50 percent discount for most mountain cable car tickets.
What museums does the Swiss Travel Pass cover?
The list of museums in Zurich and Lucerne that are free or discounted with the Swiss Travel Pass is at www.museumspass.ch. The Swiss Transport Museum in Lucerne is not free with the Swiss Travel Pass, but tickets are discounted by 50 percent.
How much does the Swiss Travel Pass cost?
The cheapest of the options, the 2nd class 3-day pass, costs $258 for an adult 25 years and older, $183 for a traveler between the ages of 16 and 24, and is free for anyone below the age of 16 traveling with at least one parent.
Without a parent, children under 6 will still travel free, but children between the ages of 6 to 15 will be charged half of the adult fare.
The longest and most expensive second-class option which is for 15 days, is $477, $342, and free (or half of the adult fare without a parent) for the same age ranges. These prices are locked in for the entirety of 2023.
➡️ You can buy it online at www.swiss-pass.ch and print it or display it on a phone.
How do you use the Swiss Travel Pass?
To use the Swiss Travel Pass, get on the train you want to take, and present the pass to the ticket inspector when they check tickets. They may ask to see a passport to verify the traveler's identification. To use it for museum or cable car tickets, you will need to display your Swiss Travel Pass at the ticket counter.
Is the Swiss Travel Pass worth the cost?
The convenience of having all your transportation and some of your entrance fees paid for at once is one of the advantages the Swiss Travel Pass offers, but whether or not it makes sense to purchase the pass will depend on how often you would take advantage of the transport and museums that it covers.
Since attractions in Switzerland can be expensive, it could save you money if you want to check out a bunch of museums, or it may not be the right choice if you plan to use public transport infrequently or not at all.
2. Zurich to Lucerne by car
Renting a car is a great alternative to taking a train because you have an opportunity to enjoy some of the best scenery in Switzerland. While there are many tunnels along the way, but there are also large parts of the drive on open roads, where you can pull off for scenic overlooks.
Why rent a car in Zurich?
Renting a car in Zurich allows you more flexibility with a car compared to the train. Although there are a lot of trains from Zurich to Lucerne daily, it has a set schedule and you can't stop whenever you want!
Where to rent a car in Zurich?
Check available options for car rentals in Zurich through DiscoverCars, my favorite platform for finding car rentals in Switzerland. I frequently use DiscoverCars for renting cars during my trips and have used it for renting a car in Switzerland.
DiscoverCars has available cars and prices online, so all you need to do is type in your travel dates and look for the vehicle that you want. All you need to do is select your vehicle, pay the price and voila!
✅ CLICK HERE TO CHECK PRICES ON CAR RENTALS IN ZURICH
How long does it take from Zurich to Lucerne by car?
The trip to Lucerne from Zurich by car takes as little as 35 minutes.
Renting a car in Switzerland
To rent a car in Switzerland, you need a license for at least 1 year and be at least 20 years old. Many of the major rental car companies have a counter at the Zurich Airport, so you can pick up your ride as soon as you arrive.
What is driving like in Switzerland?
The roads throughout Switzerland are well-maintained but can be narrow and winding in the Alps. The speed limits are set accordingly. Your best bet is to follow them because they are enforced by cameras. If they catch you speeding, you could quickly rack up many fines without knowing it until weeks later when the tickets arrive in the mail.
If you choose to rent a car, make sure to explore the area between Zurich and Lucerne! Unlike the train, a rental car gives you the amazing ability to stop in many beautiful places along the way.
How much does it cost to rent a car in Zurich?
Rental car prices fluctuate throughout the year, but on average, it will cost about $525 per week ($75 per day) to rent a car in Zurich.
However, a small car with only 3 seats and room for 3 bags could cost as little as $22 per day, and you'll find the lowest rental prices in November. Between ages 20 and 25, the rental rates will likely be higher due to a "young driver surcharge."
Renting a car in Switzerland: What you need to know
There are some other important things to know about renting a car in Switzerland.
3. Private transportation from Zurich Airport to Lucerne
A private car from Zurich Airport to Lucerne is a great option after a long flight that allows you to skip public transportation and allows you to relax.
And English-speaking driver will pick you up at the airport and take you straight to your hotel in Lucerne, while you unwind and enjoy the ride.
4. Guided tours of Lucerne from Zurich
Several guided day trips of Lucerne are available on Viator which includes transportation between the two and allows you to see the main sites in Lucerne like the Chapel Bridge, the Swiss Museum of Transport, or the Lion Monument.
✅ BOOK A POPULAR DAY TRIP OF LUCERNE AND MOUNT TITLIS FROM ZURICH
The cheapest option costs just over $80 per person and has stops in Lucerne and Engelberg, a resort town under Mt. Titlis. This tour gives a feel for Lucerne and the famous mountains nearby without the added cost of going up the mountains.
The focus is more on Engelberg though, so if you want to spend longer than the budgeted hour in Lucerne, this is not the right tour.
Best guided tours of Lucerne from Zurich
On the other hand, for $100 you can take a tour focused on just Lucerne that includes a Lake Lucerne cruise! The guide will show you the main attractions and then allow you to explore Lucerne and take the audio-guided cruise until the agreed-upon pickup time.
Tours that include Lucerne and a trip up Mt. Rigi or Mt. Stanserhorn will each cost a little over $150, and that price does include the mountain cable car ticket. Because of the amount of time given to getting to and exploring the mountains on these tours, the time in Lucerne is limited to about 2 hours.
These tours are great if you want to see many sites in the area without coordinating a day trip by yourself. Since each option allows for a different amount of time in Lucerne, the right tour for you is dependent on how many sites in Lucerne you want to explore.
5. Taking Uber to Lucerne from Zurich
While you can technically take an Uber from Zurich to Lucerne, the cost will be externally extremely high, so it's easier to take a train or rent a car. I don't recommend taking Uber from to Lucerne unless you are in a hurry and need quick transportation.
Where to stay in Lucerne
You're likely visiting Lucerne for the beautiful old-town charm, so the best area to stay in Lucerne is, therefore, the old town, Altstadt.
Lucerne To Zurich
To get back to Zurich from Lucerne, most of the advice in this transportation guide still applies, but in reverse. You can always drive a rental car or book one of the many trains that run from Lucerne to Zurich. However, there aren't tours that include transportation that runs in that direction, because the majority of people start their journeys in Zurich, rather than taking a guided day tour there.
Zurich to Lucerne: FAQ
Is Lucerne Switzerland worth visiting?
Yes, Lucerne is worth a stop. It's one of the most popular destinations in Switzerland for a reason. It combines history, amazing scenery, and culture in a way that a few other places do.
When is the best time to visit Lucerne?
Lucerne is great to visit at any time of the year! In the summer, enjoy activities on Lake Lucerne. Winter offers great opportunities for skiing, tubing, snowshoeing, and more in the surrounding Alps.
Is Lucerne expensive?
Yes. All of Switzerland is relatively expensive, and Lucerne is no exception. It's still a bit cheaper than Zurich, and you can save up money by staying in hostels, cooking your meals, and joining group tours to split the cost with other travelers.
How many days do I need in Lucerne?
Although a day trip to Lucerne is sufficient to get a feel for the city and see the main attractions, two days there will allow time to explore the entire city without feeling rushed.
What is there to see between Zurich and Lucerne?
A couple of things worth stopping to see on the way to Lucerne are Zug, Mt. Rooterberg, Lake Lucerne, and Uetliberg, a small town with popular hiking and biking trails.
Zurich to Lucerne: Final word
Regardless of how you get there, Zurich and Lucerne are both worth exploring. As you can see in this transportation guide, there are several fantastic transportation options to fit any budget and schedule, so make sure to include Lucerne your Swiss itinerary.