The oldest colony in the world, Puerto Rico is full of charm and history in addition to sugary sand beaches and turquoise waters framed by the lush mountains. If you too, want to explore some of the best things to do in Puerto Rico but don't know where to begin your journey, take a look at my guide that will help you plan your itinerary.
Puerto Rico is an unincorporated territory of the United States, however, it boasts a Caribbean flair and a distinct identity. English and Spanish are the two official languages of Puerto Rico, although the majority of the population speak Spanish.
Why visit Puerto Rico?
Puerto Rico boasts incredible geographic diversity, colorful history, and warm, friendly locals. It is also home to untouched rain forests, pristine coastlines, and plenty of sunshine.
There's a good reason why Puerto Rico has become one of the most popular destinations in the Caribbean, particularly among travelers from the United States. As an American, you don't need a passport to visit Puerto Rico, and there are plenty of daily flights from the United States to Puerto Rico.
Brief Puerto Rico History
Before the arrival of Christopher Columbus in 1493, Puerto Rico was inhabited by the indigenous Taino People.
Columbus initially named the island San Juan Bautista, but it was soon renamed Puerto Rico (Rich Port) after large deposits of gold were discovered in its rivers. Under Spanish rule, the island became a strategic military outpost and was repeatedly attacked by the Dutch and English.
Following a series of uprisings in the late 1800s, when residents demanded freedom from Spain, Puerto Rico become autonomous. In 1898, Puerto Rico became an official U.S. territory as a result of the Spanish-American war.
PRO TIP: Read about other amazing destinations in the Caribbean to plan your adventures in the region.


Renting a car for your trip to Puerto Rico
The best way to explore Puerto Rico is by renting a car. Public transportation is not always reliable, and having car rental is the best way to get around the island and enjoy some of the best things to do in Puerto Rico at your own pace. I recommend DiscoverCars that offers great inventory of cars and competitive prices.
Where to begin your Puerto Rico Trip
I recommend starting your trip in San Juan, the capital of Puerto Rico, and drive around the island clockwise. From San Juan, drive south through Ponce, the second largest town in Puerto Rico, and continue west toward Cabo Rojo. From there, head north to Rincon and Isabella and make your way east toward Arecibo before arriving in San Juan.
Weather permitting, spare the east side of Puerto Rico for later, and explore El Yunque National Forest and the islands of Vieques and Culebra, if you have extra time.
Best time to visit Puerto Rico
If you are looking for nice sunny weather, the best time to visit Puerto Rico is from December through April. This is the high season in Puerto Rico and most of the Caribbean, which is perfect for spending time outside and exploring the island. May through October is the hurricane season in the region, with frequent rainstorms, however, prices also tend to be lower on accommodations, tours, and car rentals in Puerto Rico during this time.
Things to do in Puerto Rico
Whether you want to explore popular things to do in Puerto Rico or explore hidden gems that only locals know, the island will not disappoint you. Many travelers spend only a few days in San Juan and nearby areas, however, Puerto Rico is so much more than that!
From the lush rainforest with waterfalls and hiking trails to beautiful white-sand Caribbean beaches and rich colonial history, this island is full of diverse landscapes and opportunities for adventure that demand time and effort.
1. Explore Old San Juan on foot
Where to stay in San Juan: La Capitana Old San Juan
Puerto Rico has a strong cultural identity with rich history and traditions, and there's no better place to experience it than Old San Juan with its colorful facades.
The heart of the island, Old San Juan is home to many top attractions in Puerto Rico, including El Castillo San Felipe del Morro, Castillo de San Cristobal as well as many historic buildings. El Castillo San Felipe Del Morro in particular offers an incredible lesson in the island's history and is by far one of the best things to do in Puerto Rico if you are visiting for the first time.
The entrance costs $20, but if you have America The Beautiful Pass, you can enter for free.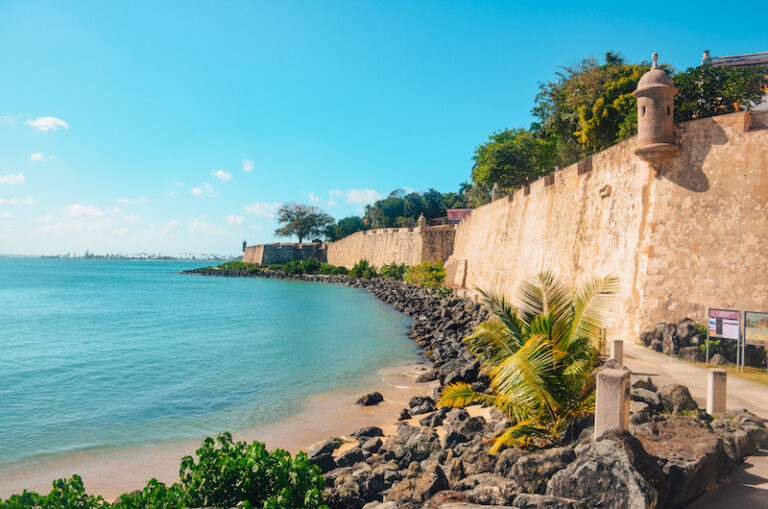 Many tourists stay for a day in Old San Juan, but If you have extra time, consider spending more time there. A good way to learn the history of this place is to take a walking tour of San Juan or one of rum tasting tours. This famous drink is one of Puerto Rico's top exports. I particularly recommend the sailing tour of San Juan where you can enjoy the grand views of this beautiful city from the water while learning about its history.
Most popular tours of San Juan, Puerto Rico
2. Tour Castillo San Felipe Del Morro
Visiting Castillo San Felipe Del Morro (or El Morro) is one of the unmissable things to do in Puerto Rico. This historic fortress dominates San Juan's landscape, but there's a long, dark history behind this place.
Built in the 16th century to defend Puerto Rico against the pirates roaming the waters of the Caribbean, Castillo San Felipe Del Morro has seen many battles and to this day this huge fortification has many cannons and other forms of artillery that were used against unwelcome guests.
Spare a couple of hours for your tour of Castillo San Felipe Del Morro. This is a big museum under an open sky, and there's so much to learn here! The exhibit takes you through different parts of the fortress where you can see what life looked like here back in the day for those who were protecting the island.
A city helicopter tour is an excellent way to get a bird-eye view of the Morro and the entire San Juan.
Address: 501 Calle Norzagaray, San Juan, 00901, Puerto Rico
3. Take a sunset cruise from San Juan
Enjoying the Island of Enchantment from a boat is one of the best things to do in Puerto Rico, and you can easily do it with one of the local companies in San Juan. There's nothing like watching the incredible skyline of this city light up in warm colors.
4. Learn history of Puerto Rico at Museo De Las Americas
Located in the old Army Barracks, Museo De Las Americas is one of the best museums in Puerto Rico that is worth visiting if you want to learn the history of the island. Here you can find interactive exhibits and art galleries telling you the Pre-Hispanic history of Puerto Rico and the region when the island was inhabited by the indigenous Taino people.
Address: Calle Beneficencia, San Juan, 00926, Puerto Rico
5. Sip on some Pina Colada
You. Can't. Leave. Puerto Rico without trying Pina Colada – the signature drink of this Caribbean island. You can find Pina Coladas everywhere in Puerto Rico – on city streets, bars and restaurants, so take a moment and sip on this delicious drink made from rich pineapple juice, coconut cream, and rum.
6. Make a stop in Ponce
Ponce is the second-largest city in Puerto Rico that is often missed by tourists traveling around the island. And yet, Ponce is worth a stop, as it's home to some of the best under-radar things to do in Puerto Rico with colorful colonial architecture, parks, restaurants, and historic monuments.
Some of the most prominent landmarks in Ponce are Castillo Cerralles, Parque de Bombas, Hacienda Buena Vista and La Guancha Paseo Tablado.
Throughout the year, Ponce hosts tons of festivals, cultural events showcasing the vibrant culture of the Caribbean. One of the best festivals in Puerto Rico, Ponce Carnival is held in Ponce every year before Easter and brings tons of festivities, good music, and food to the streets of the city.
7. Visit Ponce Historic Museum
When it comes to the best things to do in Puerto Rico, Ponce Historic Museum deserves a mention. The museum is located in the historic Casa Salazar-Candal District of Ponce and provides a closer look into the history of the island and showcases its art and culture.
Address: Museo de la Historia de Ponce 53 Calle Reina Isabel, Ponce, Puerto Rico
8. Explore cave system at Camuy River Cave Park
One of the biggest cave systems in the world, Rio Camuy Cave Park boasts over 200 caverns with impressive stalactites and stalagmites that you can explore all day long. The huge subterranean network of caves stretches far below the surface of the island, and you can visit it on a guided tour that will take you through the different parts of this impressive underground system.
This is one of the best places to visit in Puerto Rico if you are an adventure lover, and it can be done with an organized tour.
Address: Carr. 129 K. 18.9, Quebrada, 00669, Puerto Rico
9. Take a trip to Caguana Indigenous Ceremonial Center
The Caguana Indigenous Ceremonial Center is a testament to Puerto Rico's indigenous tribes who had their own distinct identity and culture. The island has changed since it was discovered by the Spanish conquistadors and the indigenous Taino people ceased to exist due to diseases that were brought to the island by Spaniards.
The Caguana Indigenous Center includes several attractions, the most famous of them are the so-called Taino Stonehenge, part of the indigenous ceremonial site built in a circle that contains petroglyphs and serves as a testament to the island's history. The best way to visit this place is with a tour.
Address: Carr. 111 Km. 12.4 Utuado, 00641, Puerto Rico.
10. Spend a day in Cabo Rojo
Where to stay in Cabo Rojo: Hotel Perichi's
Located at the southwestern tip of Puerto Rico, Cabo Rojo is an absolute must. Home to some of the most beautiful things to do in Puerto Rico, Cabo Rojo is the small coastal region popular among locals for weekend getaways.
Among the top highlights of the area is the historic Los Morellos Lighthouse located atop the Limestone cliffs. Built by Spaniards in 1877, this lighthouse is still functional and it helps the ships to find their way through the Mona Passage that connects the Caribbean Sea and the Atlantic Ocean.
To get to the lighthouse, you will need to drive on an unpaved road, then park your car by the side and walk uphill for a couple of minutes.
11. Sunbathe on Playa Sucia
To the left side of the lighthouse, you will find a crescent-shaped Playa Sucia (Or La Playella). More popular with locals than tourists, it's translated from Spanish as "The Dirty Beach." But don't worry, this beach is pristine, and is considered as one of the best beaches in Puerto Rico. The name most likely comes from the fact that you can find some seaweed here depending on the season.
PRO TIP: Playa Sucia doesn't offer any facilities, unlike other more touristy beaches in the area. Bring snacks, water, and sunscreen, as the sun here can be pretty strong.
12. Snap some photos of Salt Flats
One of Cabo Rojo's main attractions is the salt flats (or Salinas De Cabo Rojo) that boast many shades of orange and pink. The salt flats are part of the Cabo Rojo Wildlife Refuge where you can do bird watching and hike trails. The area has an interpretive center where you can learn about salt production and an observation tower from which you can watch the process of salt mining if you get there at the right time.
Salt Flats is by far one of the best places to visit in Puerto Rico if you are looking for a cool photo spot.
13. Tour Puerto Rican Coffee Farms
Everybody knows Puerto Rico as a rum destination, and you can sample this famous drink around San Juan, and even take organized rum tours.
But not everybody knows that Puerto Rico also produces world-class coffee!
Although the island currently faces a labor shortage in the coffee industry, it doesn't take away from the fact that Puerto Rican coffee is so worth trying! To do that, you can visit one of the local haciendas where coffee is produced, and you can do it with an organized tour.
14. Stop in foodie capital Mayaguez
The foodie capital of Puerto Rico and a center of tourism on the island's west coast, Mayaguez is famous for its delicious sweet bread that you can try in many local bakeries like Massa Artisan Bakery and Panaderia La Candelaria.
If you are a foodie, visiting Mayaguez restaurants is one of the best things to do in Puerto Rico, but that's not everything that there is to this place: this town also boasts cool museums and art galleries and is also a great starting point for those travelers who want to get away from the coast and explore some of the best national parks in Puerto Rico.
15. Catch the wave in Rincon
Where to stay in Rincon: Rincon of the Seas Grand Caribbean Hotel
A laid-back surf town on the west side of Puerto Rico, Rincon is home to some of the best surfing in the region, and a sizable expat community. Nicknamed "the surfing capital of the Caribbean," Rincon a great place to relax, kick back and enjoy some delicious sustainable food at one of many food trucks that this area has to offer.
Some of the most popular beaches for surfing in Rincon are Domes Beach and Maria's Beach. And if you don't plan on surfing, visit a more quiet Balnearos beach where you can swim and snorkel. In winter, Rincon beaches facing the Mona passage are great for spotting humpback whales who come migrate to the region to escape the freezing waters of the North Atlantic Ocean.
16. Soar above the trees at Rainforest Zipline Park
One of the best things to do in Puerto Rico for adventure lovers, Rainforest Zipline Park provides an incredible opportunity to explore Puerto Rico's lush rainforest in a fun way. Soar above the spectacular scenery in one zip-line stretching as far as 2,300 feet.
If you don't have a car, the best way to visit it is by taking a organized tour.
Address: Road 191, Kilometer 1.1, Rio Grande, Puerto Rico, 00745
17. Dive to see Spanish shipwrecks
Puerto Rico is known for its spectacular coastline that attracts water sports enthusiasts from all over the world, and it's also known for many shipwrecks dating back centuries that can be found off the coast of Culebra and Rincon, that are popular among divers. You can book a tour with one of the local companies to explore these historic treasures.
18. Swim in Cascada Gozalandia
Puerto Rico might be famous for its beaches, however, the heart of the island is a home to tropical forests where you can find incredible waterfalls. One of my favorite waterfalls in Puerto Rico is Cascada Gozalandia, an off-the-beaten-track waterfall located on the west side of the island near the small town of San Sebastian. To access the waterfall, you need to take a paved 0.6-mile trail.
PRO TIP: Cascada Gozalandia is located about 40 minutes from Rincon and is a perfect stop if you traveling north toward Isabella or Arecibo. Another option is to take a tour that combines a stop at waterfalls with Cueva Ventana.
Address: Sec Lechuza, San Sebastián 00685, Puerto Rico
19. Make a stop in Arecibo
Where to stay in Arecibo: Ventana Al Atlantico Boutique Hotel
Arecibo is a small coastal town located on the northern shore of Puerto Rico.
Home to the Arecibo Observatory where iconic radio telescope that collapsed in late 2020, Arecibo also boasts many other landmarks including Arecibo Lighthouse and Historical Park, Cambalache State Forest, and Lago Dos Bocas, a spectacular lake where you can take a boat ride and relax in a gorgeous setting.
20. Hike around the cliffs to see Cueva Del Indio
One of the most popular things to do in Puerto Rico among tourists, Cueva Del Indio is an impressive collection of rock bridges, arches, and cliffs that have been formed by the crashing waves of the Atlantic Ocean. To enter the area, you have to pay a fee at the entrance after parking your car. If you come here, make sure to bring your camera, as this area offers some great opportunities for photography.
21. Discover biodiversity at Humacao Nature Reserve
A top destination for eco-tourism on the island, Humacao Nature Reserve is one of the must-do things to do in Puerto Rico if you want to see the incredible biodiversity of this place. Free to the public, the reserve is home to many iguanas and coqui frogs, among other species.
The reserve is home to many unique ecosystems that can't be found anywhere else on the island such as mangroves, swamps, and lagoons. It's a perfect place to visit if you want to get off the beaten track and visit a place with fewer tourists.
Address: Park Entrance Road, Punta Santiago, Humacao, Puerto Rico, 00791, Puerto Rico
22. Take a guided tour of La Cueva Ventana
A deep cave that is shaped like a window, La Cueva Ventana is one of main attractions near Arecibo that overlooks a sprawling valley down below. Also inside the cave, you can find some petroglyphs (or rock carvings) that were left by Tainos who lived on the island before the arrival of Christopher Columbus.
The best way to explore La Cueva Ventana is by taking a guided tour where you can learn the history of the area and its place in Puerto Rico's culture.
PRO TIP: Don't forget to wear proper hiking shoes and bring plenty of water, as the hike to the cave is pretty strenuous.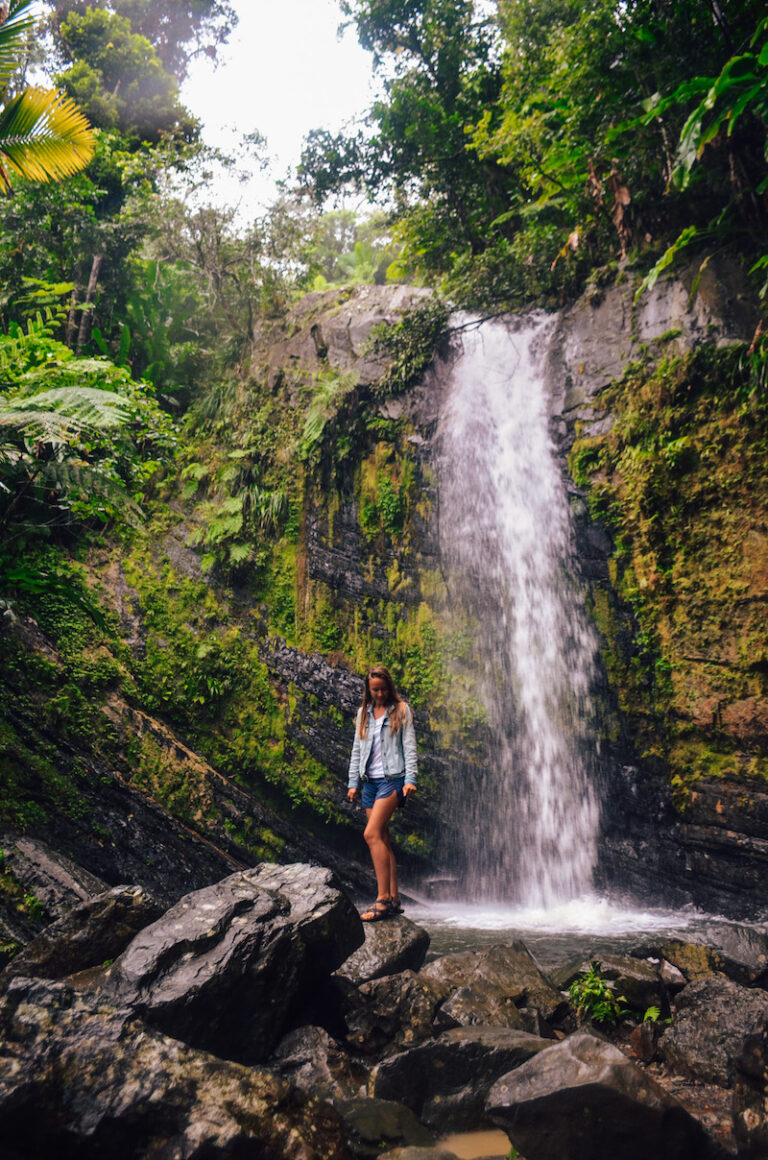 23. Go on a hike in El Yunque National Forest
No trip to Puerto Rico is complete without a visit to El Yunque National Forest, one of the most beautiful places in Puerto Rico and is the only tropical rainforest in the U.S. National Forest System. Located just an hour away from San Juan, El Yunque National Forest boasts over 28,000 acres of lush rainforest.
Visiting El Yunque is great if you need some exercise after spending time at the beach. Here, you can marvel at stunning waterfalls, hike scenic trails through the rainforest and take a refreshing dip in natural pools. But keep in mind that this place gets about 120 inches of rain per year, which means there's a good chance you could see some rain.
Best tours of El Yunque National Forest
When I hiked El Yunque, the rain here was very sporadic, however, a good pair of hiking shoes came in handy, as trails were muddy. Open hours are from 7:30 a.m.-6 p.m. every day except for Christmas. Don't forget to make your reservation online ahead of your visit at:
Right outside the park, you can also find a zipline, which is a lot of fun, if you want to take a thrill ride through the lush rainforest.
24. Spend a night in Fajardo
One of the best off—beaten track things to do in Puerto Rico, Fajardo is a small town located on the eastern coast of the island.
Many travelers skip Fajardo, and yet, this town was the original beach destination of the island and to this day, it boasts cool beaches with great wildlife and tons of activities. One of the best things about staying in Fajardo is that from here, you can easily get on a boat trip to nearby islands such as Culebra and Vieques where you can swim and snorkel, instead of having to drive from San Juan.
25. Relax on Seven Seas Beach
Situated on the northeastern side of the island, Sean Seas Beach (or Playa Seven Seas) is one elf Puerto Rico's best-kept secrets.
Easily accessible from Fajardo, Seven Seas Beach is one of the best beaches in Puerto Rico, and the best part is that it has very few visitors. This half-moon-shaped beach boasts soft white sand and crystal clear waters. Nearby, you can find casual eateries and small restaurants with typical Puerto Rican food. Parking is available near the beach.
26. Take a trip to Isla Culebra
Where to stay on Isla Culebra: Aleli Cottages
Part of Puerto Rico, Isla Culebra is a small tropical island with over ten beaches where you can swim, snorkel, and surf. Its pristine nature and relaxed atmosphere make it a perfect getaway if you are tired of being on the road after exploring Puerto Rico for days in a row.
My favorite beach on Culebra was hands-down Flamenco beach. Its gorgeous crystal-clear waters and white sand have earned its title of one of the prettiest in the Caribbean and one of the best beaches in America. In the evening, you can grab some food in downtown Isla Culebra and walk around its quiet streets.
My top pick is Culebra Coffee, a local eatery that offers delicious salads, sandwiches, and smoothies that can also be made vegan and vegetarian on request.
Best tours of Culebra Island
Since Isla Culebra is part of Puerto Rico, you can take a quick flight here from San Juan, if you want to spend a night on the island. You can also book a boat snorkeling tour from the island of Puerto Rico that will bring you to Culebra. Keep in mind though that the tour will take up your entire day. And because Isla Culebra is small, you can easily explore the island by renting a cart at the airport.
FUN FACT: Isla Culebra is located halfway between Puerto Rico and the U.S. Virgin Islands and if you make it to Tortola's Beach on the northeastern side of Isla Culebra, you can even see St. Thomas, the main town of the U.S. Virgin Islands in the distance!
27. Enjoy Playa Flamenco
Often called one of the most beautiful beaches in the world, Playa Flamenco is an unmissable stop on your Puerto Rico itinerary. Many travelers fly to Isla Culebra just to see this incredible crescent-shaped beach, and once you get here, it's easy to see what makes it so popular.
The beach boasts perfect white sand and crystal clear waters that are ideal for swimming, snorkeling, and kayaking. It's also a perfect place to chill, relax and spend a lazy afternoon taking in the incredible scenery of this place. To get here, you can rent a golf cart in one of the many shops around Culebra Island.
28. Take a boat ride to Isla Culebrita
Right near Isla Culebra, you will find its small cousin, Isla Culebrita which can be accessed by a quick boat ride from Culebra.
29. … Or Vieques Island
Where to stay on Vieques Island: Hacienda Tamarindo
To the south of Culebra sits Vieques Island, another popular getaway for Puerto Rico travelers. Similar to Culebra, Vieques offers a low-key atmosphere with its untouched landscapes. And just like Culebra, it also has a small airport with daily flights to San Juan.
One of the main attractions on Vieques is Bioluminescent Bay (also known as Mosquito Bay) which can be accessed via a boat tour from Puerto Rico. However, there's more to Vieques than that: Most of the island is designated as a National Wildlife Refuge and there are many bays and beaches where you can relax, swim and snorkel.
Popular stops on Vieques include Sun Bay Beach, the Ceiba Tree, and the small town of Esperanza where you can grab a bite and find accommodations.
PRO TIP: Whether you want to visit Isla Culebra or Vieques, I recommend spending more than just a day on your trip. While taking day-long snorkeling or sailing trip from the main island of Puerto Rico is a good option, if you don't have a lot of time, both of these islands have a lot to offer and while Culebra can be explored in about a day, Vieques demands 2-3 days.
30. Kayak in Bioluminescent Mosquito Bay (Vieques)
Home to unique bioluminescent organisms that glow in the dark, Mosquito Bay is one of the most mysterious – and beautiful places to visit in Puerto Rico (technically it's located on the eastern side of Vieques Island).
The moniker of this area comes from the pirate El Mosquito who was using this place as a hideout and contrary to what you might think, it has nothing to do with mosquitos.
The east time to visit Mosquito Bay is during the night when the waves light up in blue glitter – one of the most incredible natural sights in the Caribbean. You can arrange tours of Mosquito Bay with one of the local providers as swimming is not allowed here, and you can only get close to this stunning natural sight by kayak.
31. See magnificent horses on Vieques
The most popular island off the coast of Puerto Rico, Vieques is home to wonderful black beaches where you can find thousands of free-roaming horses. You can easily spot them while walking around and say hello from the distance – these gorgeous animals are wild and free and enjoy the freedom on this island.
32. Grab some street food in Santurce
Walking through Santurce is one of the best things to do in Puerto Rico for art lovers.
A colorful neighborhood of Puerto Rico, Santurce boasts a great up-and-coming art scene with many artsy cafes and cool food trucks where you can sample local delicacies. Miramar Food Truck which is open daily from 12 p.m. until 11 p.m. is particularly popular among locals and visitors, as well as Peru Food Truck and Que Toston.
33. Say hello to monkeys on Cayo Santiago
Also known as the monkey island, Cayo Santiago is home to the largest settlement of monkeys in Puerto Rico that have been imported here years back. Although you can't visit the island, you can wave hello to the monkey colonies from the boat if you take a snorkeling tour of the area.
How many days to spend in Puerto Rico
I recommend spending at least a week in Puerto Rico if you want to explore some of the most beautiful places and get off the beaten track a couple of times.
As an official U.S. Territory, Puerto Rico is a popular destination for American travelers, due to its location in the Caribbean and the fact that as an American, you don't need a passport to get here. This means that hotels can be booked up, especially during winter and prices can be in the hundreds of dollars even for a very simple room. If you plan to travel around Puerto Rico, book your hotels ahead of time.
What to bring in Puerto Rico
Go PRO – Puerto Rico is an action-packed destination, and if you want to capture your adventures, I recommend bringing a GoPro with you.
Insurance – Don't get on a road without having good insurance. I recommend World Nomads Travel Insurance for all trips because of its comprehensive policy that covers accidents, hospital visits, canceled flights, and theft.
Reef Safe Sunscreen – If you plan on getting doing snorkeling in Puerto Rico, you should grab a reef-safe sunscreen before you leave on your trip. Regular sunscreen can be extremely harmful to coral reefs and marine ecosystems, and you should use reef-safe sunscreen if you plan on doing water adventures.
Cash – Credit cards are widely accepted in Puerto Rico, but if you want to grab fresh fruit at a local market or buy a snack at a roadside food stand, be ready to pay in cash. The good part is that Puerto Rico uses U.S. dollars, so you will not need to exchange your money unless you are coming from overseas.
Disclaimer: This post contains affiliate links. At no cost to you, I might earn a small commission if you make a purchase through the links in this article.