The oldest colony in the world, Puerto Rico is full of charm and history in addition to sugary sand beaches and turquoise waters framed by the lush mountains. If you too, want to explore some of the best things to do in Puerto Rico but don't know where to begin your journey, take a look at my guide that will help you plan your itinerary.
Puerto Rico is an unincorporated territory of the United States, however, it boasts a Caribbean flair and a distinct identity. English and Spanish are the two official languages of Puerto Rico, although the majority of the population speak Spanish.
Before the arrival of Christopher Columbus in 1493, Puerto Rico was inhabited by the indigenous Taino People. Columbus initially named the island San Juan Bautista, but it was soon renamed Puerto Rico (Rich Port) after large deposits of gold were discovered in its rivers. Under Spanish rule, the island became a strategic military outpost and was repeatedly attacked by the Dutch and English.
Following a series of uprisings in the late 1800s, when residents demanded freedom from Spain, Puerto Rico become autonomous. In 1898, Puerto Rico became an official U.S. territory as a result of the Spanish-American war.
PRO TIP: Read about other amazing destinations in the Caribbean to plan your adventures in the region.
Where to begin your Puerto Rico Trip
I recommend starting your trip in San Juan, the capital of Puerto Rico, and continuing clockwise. From San Juan, drive south through Ponce, the second largest town in Puerto Rico, and west toward Cabo Rojo. From there, head north to Rincon and Isabella and make your way east toward Arecibo before arriving in San Juan.
Weather permitting, spare the east side of Puerto Rico for later, and explore El Yunque National Forest and the islands of Vieques and Culebra, if you have extra time.
Renting a car in Puerto Rico
The best way to see Puerto Rico is by renting a car. If you want to travel around the island, you might not want to rely on public transportation and hitchhiking. I recommend booking your car online ahead of time, especially if you travel in winter when visitation in Puerto Rico is the highest.
Things to do in Puerto Rico
Whether you want to explore popular things to do in Puerto Rico or explore hidden gems that only locals know, the island will not disappoint you. Many travelers spend only a few days in San Juan and nearby areas, however, Puerto Rico is so much more than that!
From the lush rainforest with waterfalls and hiking trails to beautiful white-sand Caribbean beaches and rich colonial history, this island is full of diverse landscapes and opportunities for adventure that demand time and effort.
Where to stay in San Juan: La Capitana Old San Juan
Puerto Rico has a strong cultural identity with rich history and traditions, and there's no better place to experience it than Old San Juan with its colorful facades.
The heart of the island, Old San Juan is home to many top attractions in Puerto Rico, including El Castillo San Felipe del Morro, Castillo de San Cristobal as well as many historic buildings. El Castillo San Felipe Del Morro in particular offers an incredible lesson in the island's history and is by far one of the best things to do in Puerto Rico if you are visiting for the first time. 
The entrance costs $20, but if you have America The Beautiful Pass, you can enter for free.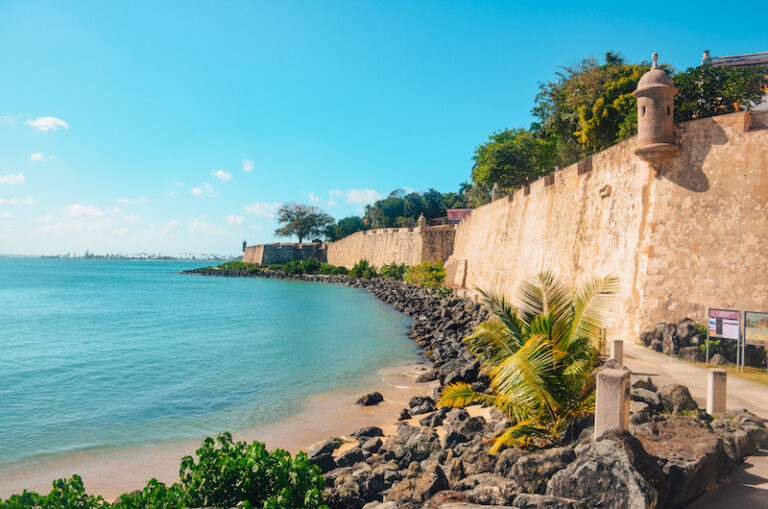 Many tourists stay for a day in Old San Juan, but If you have extra time, consider spending more time there. A good way to learn the history of this place is to take a walking tour of San Juan or one of rum tasting tours. This famous drink is one of Puerto Rico's top exports. I particularly recommend the sailing tour of San Juan where you can enjoy the grand views of this beautiful city from the water while learning about its history.
Where to stay in Cabo Rojo: Hotel Perichi's
Located at the southwestern tip of Puerto Rico, Cabo Rojo is an absolute must. Home to some of the most beautiful things to do in Puerto Rico, Cabo Rojo is the small coastal region popular among locals for weekend getaways.
Among the top highlights of the area is the historic Los Morellos Lighthouse located atop the Limestone cliffs. Built by Spaniards in 1877, this lighthouse is still functional and it helps the ships to find their way through the Mona Passage that connects the Caribbean Sea and the Atlantic Ocean.
To get to the lighthouse, you will need to drive on an unpaved road, then park your car by the side and walk uphill for a couple of minutes.
To the left side of the lighthouse, you will find a crescent-shaped Playa Sucia (Or La Playella). More popular with locals than tourists, it's translated from Spanish as "The Dirty Beach." But don't worry, this beach is pristine, and is considered as one of the best beaches in Puerto Rico. The name most likely comes from the fact that you can find some seaweed here depending on the season.
PRO TIP: Playa Sucia doesn't offer any facilities, unlike other more touristy beaches in the area. Bring snacks, water, and sunscreen, as the sun here can be pretty strong.
One of Cabo Rojo's main attractions is the salt flats (or Salinas De Cabo Rojo) that boast many shades of orange and pink. The salt flats are part of the Cabo Rojo Wildlife Refuge where you can do bird watching and hike trails. The area has an interpretive center where you can learn about salt production and an observation tower from which you can watch the process of salt mining if you get there at the right time.
Salt Flats is by far one of the best places to visit in Puerto Rico if you are looking for a cool photo spot.
Where to stay in Rincon: Rincon of the Seas Grand Caribbean Hotel
A laid-back surf town on the west side of Puerto Rico, Rincon is home to some of the best surfing in the region, and a sizable expat community. Nicknamed "the surfing capital of the Caribbean," Rincon a great place to relax, kick back and enjoy some delicious sustainable food at one of many food trucks that this area has to offer.
Some of the most popular beaches for surfing in Rincon are Domes Beach and Maria's Beach. And if you don't plan on surfing, visit a more quiet Balnearos beach where you can swim and snorkel. In winter, Rincon beaches facing the Mona passage are great for spotting humpback whales who come migrate to the region to escape the freezing waters of the North Atlantic Ocean.
Puerto Rico might be famous for its beaches, however, the heart of the island is a home to tropical forests where you can find incredible waterfalls. One of my favorite waterfalls in Puerto Rico is Cascada Gozalandia, an off-the-beaten-track waterfall located on the west side of the island near the small town of San Sebastian. To access the waterfall, you need to take a paved 0.6-mile trail
PRO TIP: Cascada Gozalandia is located about 40 minutes from Rincon and is a perfect stop if you traveling north toward Isabella or Arecibo.
Where to stay in Arecibo: Ventana Al Atlantico Boutique Hotel
Arecibo is a small coastal town located on the northern shore of Puerto Rico.
Home to the Arecibo Observatory where iconic radio telescope that collapsed in late 2020, Arecibo also boasts many other landmarks including Arecibo Lighthouse and Historical Park, Cambalache State Forest, and Lago Dos Bocas, a spectacular lake where you can take a boat ride and relax in a gorgeous setting.
One of the most popular things to do in Puerto Rico among tourists, Cueva Del Indio is an impressive collection of rock bridges, arches, and cliffs that have been formed by the crashing waves of the Atlantic Ocean. To enter the area, you have to pay a fee at the entrance after parking your car. If you come here, make sure to bring your camera, as this area offers some great opportunities for photography.
A deep cave that is shaped like a window, La Cueva Ventana is one of main attractions near Arecibo that overlooks a sprawling valley down below. Also inside the cave, you can find some petroglyphs (or rock carvings) that were left by Tainos who lived on the island before the arrival of Christopher Columbus. The best way to explore La Cueva Ventana is by taking a guided tour where you can learn the history of the area and its place in Puerto Rico's culture.
PRO TIP: Don't forget to wear proper hiking shoes and bring plenty of water, as the hike to the cave is pretty strenuous.
8. El Yunque National Forest
No trip to Puerto Rico is complete without a visit to El Yunque National Forest, one of the most beautiful places in Puerto Rico and is the only tropical rainforest in the U.S. National Forest System. Located just an hour away from San Juan, El Yunque National Forest has over 28,000 acres of lush rainforest.
Visiting El Yunque is great if you need some exercise after spending time at the beach. Here, you can marvel at stunning waterfalls, hike scenic trails through the rainforest and take a refreshing dip in natural pools. But keep in mind that this place gets about 120 inches of rain per year, which means there's a good chance you could see some rain.
When I hiked El Yunque, the rain here was very sporadic, however, a good pair of hiking shoes came in handy, as trails were muddy. Open hours are from 7:30 a.m.-6 p.m. every day except for Christmas. Don't forget to make your reservation online ahead of your visit at:
Right outside the park, you can also find a zipline, which is a lot of fun, if you want to take a thrill ride through the lush rainforest.
Where to stay on Isla Culebra: Aleli Cottages 
Part of Puerto Rico, Isla Culebra is a small tropical island with over ten beaches where you can swim, snorkel, and surf. Its pristine nature and relaxed atmosphere make it a perfect getaway if you are tired of being on the road after exploring Puerto Rico for days in a row.
My favorite beach on Culebra was hands-down Flamenco beach. Its gorgeous crystal-clear waters and white sand have earned its title of one of the prettiest in the Caribbean and one of the best beaches in America. In the evening, you can grab some food in downtown Isla Culebra and walk around its quiet streets.
My top pick is Culebra Coffee, a local eatery that offers delicious salads, sandwiches, and smoothies that can also be made vegan and vegetarian on request.
Since Isla Culebra is part of Puerto Rico, you can take a quick flight here from San Juan, if you want to spend a night on the island. You can also book a boat snorkeling tour from the island of Puerto Rico that will bring you to Culebra. Keep in mind though that the tour will take up your entire day. And since Isla Culebra is small, you can easily explore the island by renting a cart at the airport.
FUN FACT: Isla Culebra is located halfway between Puerto Rico and the U.S. Virgin Islands and if you make it to Tortola's Beach on the northeastern side of Isla Culebra, you can even see St. Thomas, the main town of the U.S. Virgin Islands in the distance!
Where to stay on Vieques Island: Hacienda Tamarindo
To the south of Culebra sits Vieques Island, another popular getaway for Puerto Rico travelers. Similar to Culebra, Vieques offers a low-key atmosphere with its untouched landscapes. And just like Culebra, it also has a small airport with daily flights to San Juan.
One of the main attractions on Vieques is Bioluminescent Bay (also known as Mosquito Bay) which can be accessed via a boat tour from Puerto Rico. However, there's more to Vieques than that: Most of the island is designated as a National Wildlife Refuge and there are many bays and beaches where you can relax, swim and snorkel.
Popular stops on Vieques include Sun Bay Beach, the Ceiba Tree, and the small town of Esperanza where you can grab a bite and find accommodations.
PRO TIP: Whether you want to visit Isla Culebra or Vieques, I recommend spending more than just a day on your trip. While taking day-long snorkeling or sailing trip from the main island of Puerto Rico is a good option, if you don't have a lot of time, both of these islands have a lot to offer and while Culebra can be explored in about a day, Vieques demands 2-3 days.
How many days to spend in Puerto Rico
I recommend spending at least a week in Puerto Rico if you want to explore some of the most beautiful places and get off the beaten track a couple of times.
As an official U.S. Territory, Puerto Rico is a popular destination for American travelers, due to its location in the Caribbean and the fact that as an American, you don't need a passport to get here. This means that hotels can be booked up, especially during winter and prices can be in the hundreds of dollars even for a very simple room. If you plan to travel around Puerto Rico, book your hotels ahead of time.
What to bring in Puerto Rico
Go PRO – Puerto Rico is an action-packed destination, and if you want to capture your adventures, I recommend bringing a GoPro with you.
Insurance – Don't get on a road without having good insurance. I recommend World Nomads Travel Insurance for all trips because of its comprehensive policy that covers accidents, hospital visits, canceled flights, and theft.
Reef Safe Sunscreen – If you plan on getting doing snorkeling in Puerto Rico, you should grab a reef-safe sunscreen before you leave on your trip. Regular sunscreen can be extremely harmful to coral reefs and marine ecosystems, and you should use reef-safe sunscreen if you plan on doing water adventures.
Cash – Credit cards are widely accepted in Puerto Rico, but if you want to grab fresh fruit at a local market or buy a snack at a roadside food stand, be ready to pay in cash. The good part is that Puerto Rico uses U.S. dollars, so you will not need to exchange your money unless you are coming from overseas.
Disclaimer: This post contains affiliate links. At no cost to you, I might earn a small commission if you make a purchase through the links in this article.