Disclaimer: This post contains affiliate links. At no cost to you, I might earn a small commission if you make a purchase through the links in this article.
Misol Ha Waterfalls, also known as Cascadas de Misol-Ha, is a natural attraction located in the Mexican state of Chiapas, near the archaeological site of Palenque. The name of this waterfall means "water falling" in the local indigenous language.
This impressive 35-meter (115-foot) tall waterfall that plunges into a natural pool below is surrounded by lush tropical vegetation, creating a perfect place for spending some time in the nature.
✅ BOOK A POPULAR GUIDED TOUR OF MISOL HA WATERFALLS
Visitors can enjoy the breathtaking view of the waterfall from a viewpoint near the pool or take a boat ride that goes behind the cascading water, providing a unique perspective. The area around the waterfall is well-maintained and has walking paths, picnic areas, and small food stalls.
Swimming is allowed at the base of the waterfall, providing a refreshing experience in the gorgeous setting. A plunge in the pool of water surrounding the waterfall makes for a refreshing swim on a hot sunny day.
GET A TRAVEL INSURNACE FOR YOUR MEXICO TRIP
This waterfall is a popular tourist destination and attracts domestic and international visitors. It's a great place for nature lovers, photographers, and those seeking a peaceful retreat.
WHERE IS MISOL HA WATERFALL?
Misol-Ha is about 20 kilometers (12 miles) southeast of Palenque, a famous archaeological site and one of the most popular places to visit in Chiapas.
The waterfall is part of the Misol-Ha Ecological Park, which offers stunning natural scenery and a chance to explore the surrounding rainforest. The waterfall itself is about 35 meters (115 feet) tall, and visitors can admire it from a viewing platform or take a refreshing swim in the pool at its base.
HOW TO GET TO MISOL HA FROM PALENQUE?
To get from Palenque to these waterfalls, you can take a colectivo from downtown Palenque, rent a car, or join a guided tour, which is the most popular option for many tourists who visit Palenque.
1. By car rental
The most convenient way to reach this place from Palenque is by car. You can rent a car in Palenque or hire a taxi for the trip. The waterfalls are located about 20 kilometers (12 miles) from Palenque, and the journey takes approximately 30 minutes.
I always use DiscoverCars for my trips and have always had a great experience with them. Unlike some other car rental companies, DiscoverCars have no hidden fees or surcharges, so you always pay what you see online.
You can rent a car in Tuxtla Guttierez, Cancun, Tulum, or any other major destination in the region.
What is the drive like from Palenque to Misol Ha?
The drive from Palenque is pretty straightforward, all you need to do is just follow road signs, and watch out for the right turn off the main highway that leads to the entrance of the waterfalls.
➡️ CHECK PRICES ON CAR RENTALS IN MEXICO
2. By public transportation
If you prefer using public transportation, you can take a colectivo (shared van) or a bus from Palenque. You can catch colectivos at the Palenque bus station or along the main road. Colectivos depart about every 30 minutes once they get full, but you shoudl always allow some extra time, since it's a slower drive.
How much is a colectivo from Palenque to Misol-Ha?
A colectivo costs about 40 pesos per person and has to be paid in cash. It takes around 45-50 minutes to reach the waterfalls from Palenque by colectivo, as they make numerous stops in small villages along the way. The road to the waterfalls has many speed bumps and sharp turns, which means a ride can be somewhat slow depending on the road condirions.
How to get back from Misol-Ha to Palenque?
To return to Palenque, you'll need to return to the same place on the main road (but on the other side) and flag a passing colectivo. Be prepared to be waiting a while and consider that you could always try hitchhiking with someone leaving the waterfall.
3. Guided tours
Another option is to join a guided tour from Palenque that includes a visit to Misol Ha Waterfalls. Many tour agencies and operators in Palenque offer day trips that combine visits to the waterfalls with the ruins of Palenque or Agua Azul.
These tours often include transportation, a guide, and sometimes meals.
If you don't have a car rental, guided tours offer the best value for your money, because you will be able to visit numerous attractions in just one day.
Best guided tours of Misol Ha from Palenque
✅ BOOK A POPULAR GUIDED TOUR OF MISOL HA WATERFALLS
Always check the latest information regarding transportation options and schedules, as they may change depending on the season or holidays.
HOW TALL IS MISOL-HA?
Misol Ha Waterfalls has an approximate height of 35 meters (115 feet). The water plunges from a cliff into a pool below, creating a spectacular sight. The height can vary slightly depending on factors such as rainfall and water flow, which could fluctuate depending on the season.
HOW MUCH IS THE ENTRANCE TO MISOL-HA?
The entrance costs 30 Pesos per person and has to be paid in cash. As you get close to the waterfalls, you will pass a checkpoint along the road where people from the local community collect payments.
After you make a payment, you will get a ticket that you will need to keep for the duration of your visit. If you take a guided tour, your entrance fees are usually included, but always check with your tour operator before getting on the road.
➡️ BOOK THIS POPULAR TOUR OF AGUA AZUL, MISOL-HA AND PALENQUE
OTHER WATERFALLS NEAR PALENQUE
Aside from Misol-Ha, there are several other waterfalls near Palenque that are worth visiting. Here are the most popular ones: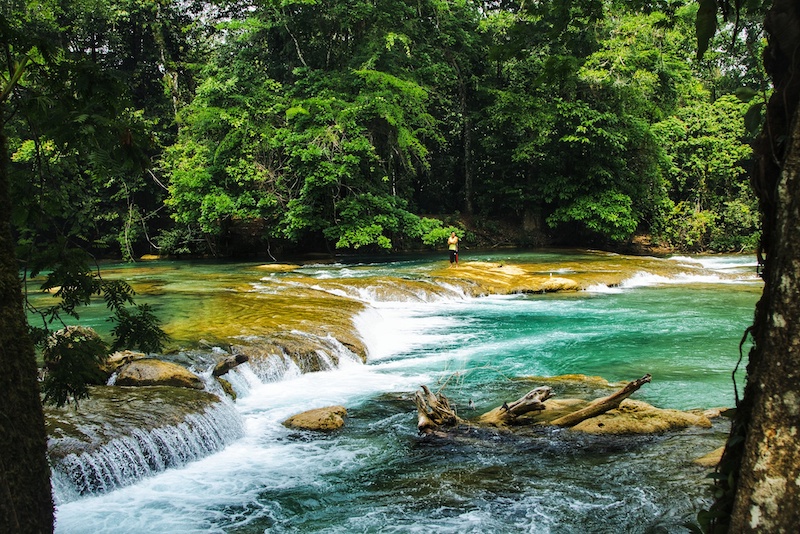 1. Agua Azul Waterfalls
Agua Azul is one of the most famous waterfalls in Chiapas approximately 64 kilometers (40 miles) from Palenque. The cascades consist of numerous levels with gorgous turquoise water that create a stunning visual display.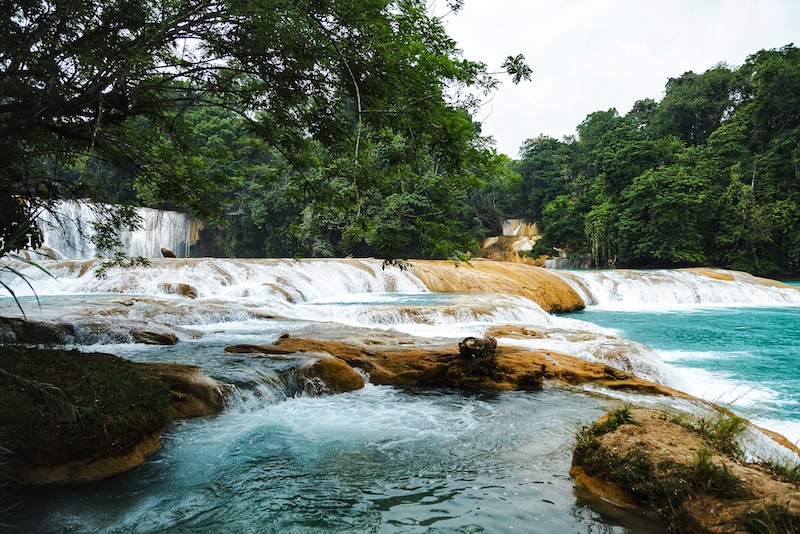 Most tours also include a stop at Agua Azul, which is perfect if you want to visit some of the most beautiful places in Chiapas on the same day.
✅ BOOK A POPULAR TOUR OF AGUA AZUL AND MISOL HA WATERFALLS
2. Roberto Barrios Waterfalls
Roberto Barrios Waterfalls is another beautiful natural attraction near Palenque, about 72 kilometers (45 miles) away. It features a series of cascades with clear blue-green water. Visitors can swim, hike, and explore the area's lush vegetation.
✅ BOOK A GUIDED TOUR OF ROBERTO BARRIOS FROM PALENQUE
3. Welib-Há Waterfalls
Welib-Há Waterfalls is a lesser-known gem about 90 kilometers (56 miles) from Palenque. It offers a peaceful setting with several small waterfalls flowing into natural pools. It is an excellent option for those seeking a quieter and less crowded experience.
4. El Chiflón Waterfalls
While a bit farther away from Palenque (approximately 190 kilometers or 118 miles), El Chiflón Waterfalls are worth mentioning. It's a series of impressive waterfalls with the tallest, called Velo de Novia, reaching around 120 meters (394 feet) in height.
The cascades are surrounded by lush green landscapes, and there are hiking trails to explore the area.
Most tours of El Chiflon depart of San Cristobal De Las Casas, the cultural capital of Chiapas. I recommend spending a few days in San Cristobal, before taking a tour to El Chiflon.
Best tours of El Chiflon in Chiapas
GOOD TO KNOW: El Chiflon tours also include a stop at Lagunas De Montebello, one of the most stunning national parks in Mexico along the border with Guatemala.
When planning a visit to Chiapas waterfalls, always consider transportation options, entry fees, and any safety guidelines or restrictions that may be in place. Check the current conditions and accessibility of the waterfalls before your visit, as they may be affected by weather or other factors.
CAN I SWIM IN MISOL-HA?
Yes, you can swim at the base of the Misol-Ha Waterfall. The pool formed by the waterfall provides a refreshing opportunity for visitors to take a swim and cool off in the clear waters. It's a popular activity for tourists, especially during the warmer months. Use caution and follow any safety guidelines or instructions provided by the park authorities.
WHERE TO STAY IN THE AREA:
If you want to spend the night in the area, you should book a hotel in Palenque which offers a great base for exploring the Mayan ruins and some of the best Chiapas waterfalls.
Budget: Hotel Cañada Internacional – if you are looking for a great value while staying in Palenque, book this hotel. Outdoor swimming pool, free parking and super friendly staff who can help you make the most out of your experience.
Mid-budget: Casa 5 Bed & Breakfast – One of the best mid-budget hotels in Palenque, Casa 5 is a popular option with free Wi-Fi, and a continental breakfast.
Luxury: Chan-Kah Resort Village – Located in the jungle near Palenque, this resort is one of the best stays in town where you can enjoy spa, restaurantsm bars and outdoor swimming pools.
TIPS FOR VISITING MISOL-HA WATERFALL
✅ Combine a trip to Misol-Ha with other waterfalls
Since Misol-Ha is close to other waterfalls in Chiapas, it makes sense to combine a trip to this waterfall with Agua Azul or Roberto Barrios, the most popular waterfalls near Palenque.
✅ Wear comfortable footwear
As with any other waterfalls, wear comfortable hiking shoes or sandals with good grip when visiting any waterfalls in Chiapas.
✅ Plan your trip for early morning
If you plan to visit this waterfall, it's best to visit early morning before all the guided tours begin arriving and it gets busy.
✅ Bring your swimsuit
Although I didn't swim at Misol-Ha waterfall, I was told that it's possible, as you can get in the water in certain areas of the waterfall. If you plan to do so, make sure to do it only in the area where it's safe.
✅ Bring cash
The entrance has to be paid in cash. If you have only a credit card, you will be turned around and will have to go back to Palenque, as there are no ATM's in the area.
✅ Leave your food and drinks at home
No food or beverages are allowed here, so if you wnat to have a quick bite, you need to do it before entering the waterfall area. Just outside the entrance, there are several restaurants, so you can have a meal if you get hungry.
Final word
Misol Ha waterfall is one of the most popular waterfalls in Chiapas, located less than 1 hour away from Palenque which is onften visisted along with Agua Azul and Palenque Ruins. You can visit this place with a guided tour, but if you feel more adventurous, you can also rent a car or catch a public bus.